Everything you Need to Know about the 7 Dollar Affiliate Marketing Course + Tips to Set Yourself up for Success
Your skepticism may just be what's keeping you broke! That's funny because most would quicker spend $25 on a scratch off lottery ticket than actually investing into a $7 affiliate marketing course.
7 bucks to give you all the knowledge that you need to start a successful 6 figure, semi-passive, online entrepreneurial career! Yes please!
I laugh every time I think about the fact that I invested thousands of dollars into college. Then worked for ten years, as an engineer, at one of the biggest companies in the world. But made more money in one year with affiliate marketing than I did in those ten years combined!
And right now, most of you are living just like I did! Paycheck to paycheck, drowning in debt.
It just doesn't make sense! Time to change that mindset if you want to get out of the rat race. It's time to start slaying those financial goals and enjoying life for a change!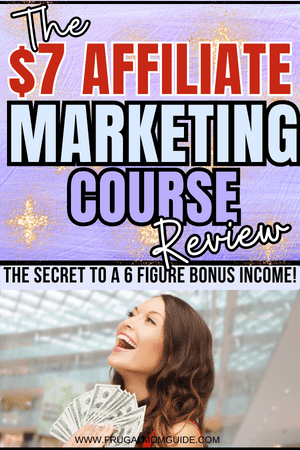 This post may contain affiliate links. This means that we may make a commission if you make a purchase via a qualifying link (at no extra cost to you!). You can read our full disclosure for more info.
Just loosely saying that the $7 affiliate marketing course changed my life, is definitely an understatement!
I'm not going to say that 7 bucks is less than the tip you paid on the last burger you bought! Or the coffee you had this morning! Okay…maybe I did say it.
It's not because I want you to feel bad and guilty, just aware of how casually you spend your money. Even though you're broke, you still spend poorly! It's a cycle!
How about you spend a few dollars on something that would actually make you money for once in your life!
Now listing all the nonsense that you buy that costs more than $7 would definitely take a while. Instead, let's look at some statistics and facts to determine just how unjustified, not wanting to purchase the $7 affiliate marketing course really is:
1. Approximately half of Americans play the lottery, at around $86 per month.
2. More than half of the students in the US leave school in debt, with $29K being the average amount owed.
3. 56% of Americans now believe that a four year college degree isn't worth it.
Yet we continue to spend a bajillion dollars on those…without even thinking twice!
As far as the lottery goes…whatever floats your boat. As long as you can afford it and you do understand that your odds of winning are extremely slim…almost none existent.
If you enjoy the thrill of it, go for it. Just don't consider it as an investment!
When it comes to a university degree…I'm all for education and furthering of your studies. But it has to be an investment! A degree is not a trophy to casually put on display…it's an investment into securing a better future.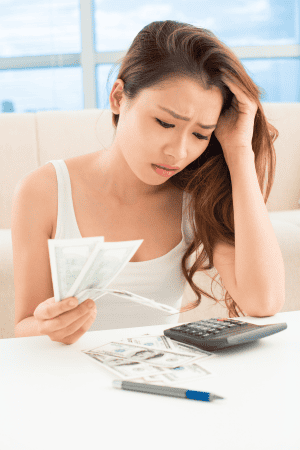 Instead, we loosely pick and pursue a college degree without any real thought into the worthwhileness of the time, effort and money that goes into it!
When kids ask me for advice on what they should study, I always tell them to pick something that they'd enjoy but would make them money. Whatever you choose to study, will take a lot of sacrifice. Might as well pick something that would make you rich!
While you wrap your head around that, what if I told you that over the course of 15 days, you could learn how to grow a million dollar business?!
Not four years! Just a little over 2 weeks! And it costs 7 bucks! Don't you think a $7 affiliate marketing course is worth the investment?
As much as I appreciate the fact that my engineering degree was able to land me a job that paid my bills, bought me groceries over the years, and kept me afloat…it was affiliate marketing and my online hustle that paid for my dream house, truck and annual vacations. All in cash!
Competitive salary my rear end! More like my 9-5 salary was always fiercely competing with my basic expenses!
How about we keep the concept of being grateful, thankful and contented part of our spiritual development. It's best not to let it encroach too much into our finances. That's how managers of nine-to-fives get us trapped and committed to the monotonous daily grind!
Don't you think you are worth more than just barely getting by?
Let's see how to get you financially freed with the best few dollars you'd ever spend…the $7 affiliate marketing course!
What is Affiliate Marketing?
Affiliate Marketing is promoting another person's (or company's) product or service, in exchange for a sales commission. The more customers you send their way, the more money you earn.
You do not actually own any of the items you are selling. Neither did you create it yourself. You are simply a "middleman" facilitating the sales process, for a percentage of the profit.
How much do beginner Affiliate Marketers earn?
Beginner Affiliate Marketers can safely expect to earn between $0 and $1000 monthly. Obviously, if you are just getting started, you would be building from $0. You can expect to quickly earn over $1000 per month, as long as you market the right product, with the right strategy.
As long as you climb into this initial $1000 category, sales commissions typically snowball dramatically from there. Usually, earnings grow exponentially to multiple five figures ($10,000 +) each month!
You can check out The Steps to Six Figure Affiliate Marketing for all the details that you need to understand the concept of Affiliate Marketing.
Once you digest this information, you'd be able to fully appreciate the value of the 7 dollar affiliate marketing course, that we're about to review.
What is the $7 Affiliate Marketing Course?
The $7 Affiliate Marketing Course is a 15 day program that guides you through everything that you need to know, and do, to start running a successful online business. Additionally, because the information presented is so valuable, the course itself has a very high paying affiliate program.
It teaches exactly how to develop business ideas, get started online, set up your sales funnel, grow profits, manage wealth and how to go about being a financially savvy entrepreneur. All while earning you thousands of dollars, each month, for sharing the word about the course itself.
This affiliate marketing $7 course is without a doubt, the best 7 bucks that you'd ever spend in your life. For such a relatively insignificant sum of money, it's a super budget friendly investment, with positive life altering potential.
If you are interested in e-commerce or online entrepreneurship, while earning hefty affiliate commissions, you can check out all the details to the best affiliate marketing course ever created, HERE!
You'd get information as to what the course is about and view the full 15 day syllabus breakdown. Review the bonus add-ons and see exactly how much value you're getting for $7.
Pros & Cons of the 7 Dollar Affiliate Marketing Course
All things considered, if you're looking at investing in a better life and future for yourself or family, it doesn't get better than education and a solid business plan. The $7 Affiliate Marketing Course essentially merges that concept into one package, at an ultra affordable price point.
Just the fact that you get all the tools you need to create and grow a profitable online business, while being part of a high ticket affiliate program, is simply amazing!
For a measly $7 it's just too good to pass up!
Pros of the $7 Affiliate Marketing Course
1. All the Education that You Need to Set up Your Own Business Online
2. Learn How to Set Up Your Sales Pages to Receive Digital Payments
3. Be Guided on How to Gain / Improve Sales and Boost Income
4. Personal Coach and Mentorship Present
5. High Dollar Affiliate Marketing Program
6. Transferrable Skills Taught
7. Insights to Improving Your Money Mindset
8. Learn How to Become a Better Entrepreneur
9. Gain Money Management Skills
10. Amazing Value for Money
11. It's Just 15 Days from Start to Finish – but you can absolutely send an email and have them unlock all the days upfront so you can dive right in and soak up all the value in 2 – 3 days!
12. 30 Day Money Back Guarantee if You're Not Completely Satisfied
Plain and simple…the 7 dollar affiliate program is just crazy good value for money!
Cons of the Affiliate Marketing 7 Dollar Course
1. You May Need to Give up a Coffee to Pay for it.
After all the 7 dollars needs to come from somewhere!
Just to be completely open and honest with you…you won't just be spoon fed into receiving tens of thousands of dollars monthly. However, this course is as close to that as it gets.
It's not a get rich quick scheme! You'd be given all the tools you need to build your own business, along with the knowledge to successfully manage it into a profit generating powerhouse!
Again…all of this is while you churn out five figure affiliate commissions from promoting the course itself. That's some next level win-win stuff!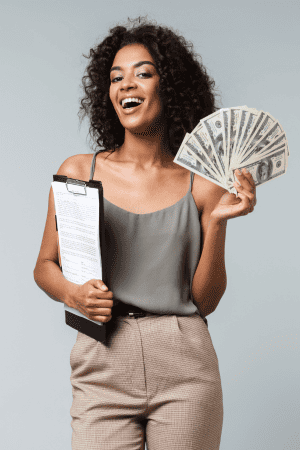 Is the $7 Affiliate Marketing Course worth it?
If you review just the value that the course itself provides in terms of helping you to create and grow your own business, you're looking at several thousand dollars for just the tutorials. At $7? I would say that it's worth it a hundred times over!
When you weigh that knowledge against the hundreds of thousands, or even millions, of dollars that you'd earn over the course of your life because of the income that your online business generates…you tell me! Do you think the $7 would be worth it? You can bet your last 7 bucks it would be!
We are talking about paying $7 for all the technical competencies that you'd need to build a six figure, semi passive, online business! How can the $7 Affiliate Marketing Course be anything but the best 7 bucks that you'd ever spend in your life?!
Now to top off the already richest cake ever imaginable, with the most mouth watering icing ever! The $7 Affiliate Marketing Course's affiliate program! Yummy!
With a 30 day money back guarantee, there is absolutely nothing to lose. And a lifetime of financial freedom, peace of mind and happiness to gain!
Is never having to worry about your finances, ever again, worth a one time payment of seven dollars? Again…you tell me!
---
Need a little help and motivation to increase your Affiliate Marketing income? Why not grab our eBook? It's totally free!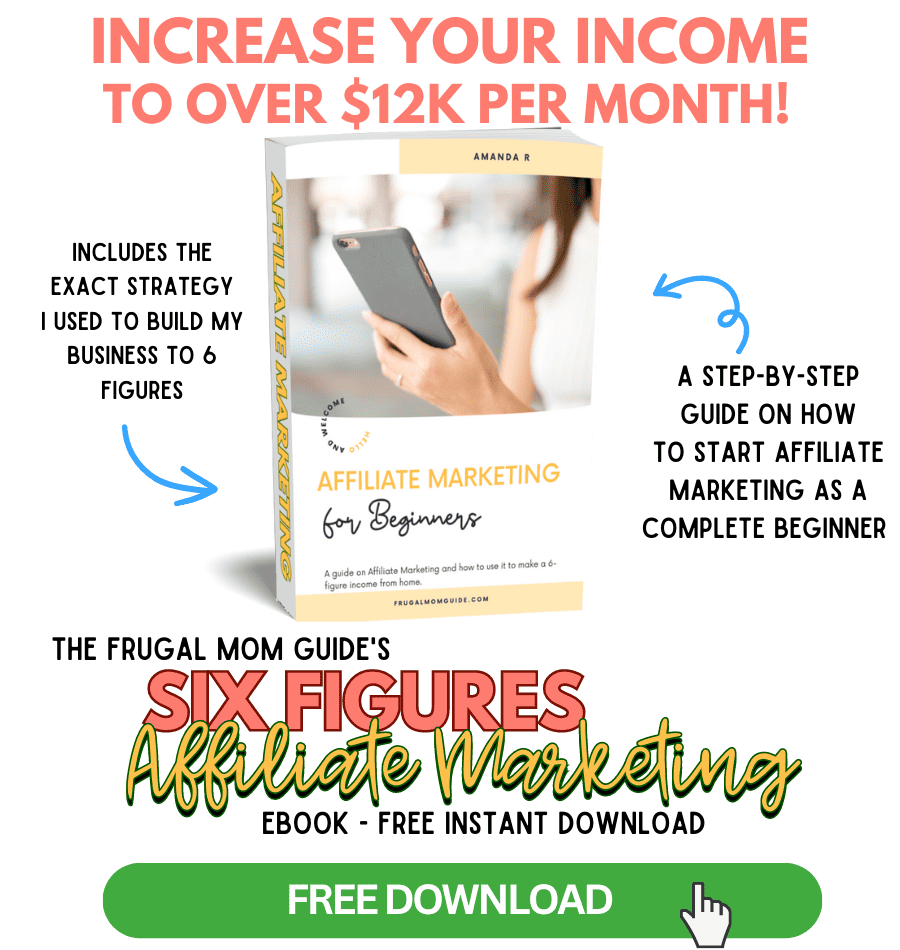 ---
Affiliate Marketing $7 Course Reviews
My Personal Experience
My online business created and managed with insights earned from the Affiliate Marketing $7 Course, along with affiliate commissions, transformed my life and that of my family.
I'm not sure what your financial goals are, but this is what the $7 Affiliate Marketing Course did for me:
1. Built me a six figure, semi passive income stream.
2. Retired me from a chaotic, corporate life.
3. Eliminated my debt.
4. Paid for my dream house in cash.
Just so you're clear…I'm talking about a 3500 sq ft, 2 story, Florida style house, sitting on a third acre of land, in a cul-de-sac, in the suburbs. With all high end finishings! A million dollar house, paid in full!
5. Paid for my new, $80K, custom truck.
6. Pays for our vacations anytime we want.
Disney vacations, Euro trips, Caribbean cruises…you name it!
7. Affords me peace of mind, knowing my family and I have a financially secure future!
Reviews from Others
There are tons of other persons out there that have similar testimonies! The $7 Affiliate Marketing Course has improved the life drastically for many people around the world.
There are countless rags to riches stories! Plus persons boasting that they no longer live paycheck to paycheck, but are now living their best financial lives!
The success stories are truly impressive. And quite touching and emotional at times!
SO, ARE YOU READY TO LEARN THE SECRETS OF THE SIX-FIGURE AFFILIATE MARKETERS?
Look no further! From choosing your niche, to launching your business, to making your first 4-figure commission, this course will guide you every step of the way.
Trust me, I started with no experience and with no clue about what I was doing. And yet the commissions started rolling in…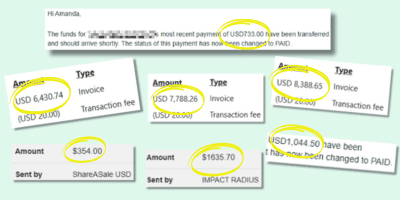 Thankfully, I took a chance on myself and invested $7 and 15 days in this course to learn all the skills I needed to make over $12K every single month.
If I could do it as a complete beginner, you can too!
Additional Info on the Affiliate Marketing 7 Dollar Course – FAQs
Is the affiliate marketing course free?
The best affiliate marketing course on the market is not free, but it is extremely reasonably priced at a super low, one time payment of $7. For the value it provides, this 15 day program is an amazing deal!
How much does the affiliate marketing course cost?
The 15 day digital business builder and affiliate marketing course, costs just $7. It's the best value for money you can get and definitely worth the investment!
What is the best affiliate marketing course?
The best affiliate marketing course is the 7 dollar affiliate marketing and online business builder program. Without a doubt!
Over the course of 15 days you'd receive all the coaching that you need to build a profitable online business, while earning high ticket commissions from being part of their affiliate program.
Related Posts on the $7 Affiliate Marketing Course
The 7 Proven Steps to Six Figure Affiliate Marketing
How to Get Free PayPal Money (No Surveys)
How to Sell Junk Cars Without the Title
Final Thoughts on the $7 Affiliate Marketing Course
For the low price of the course itself, the knowledge you'd gain, the affiliate commissions from their program and the fact that you have a month to decide if you want to stick with it or not…it's a no brainer!
Take the shot with the $7 Affiliate Marketing Course! You'd be guaranteed to hit the bullseye!
For a mere 7 bucks, that you'd probably blow on candy or an overpriced coffee…you basically have nothing to lose!
Do you have any other thoughts or questions regarding the affiliate marketing 7 dollar course? We'd love to hear from you in the comments section below!
Don't forget to follow us on Pinterest, Instagram and Facebook for more money making advice and tips for conquering your financial goals!
Liked this post? Pin it!
$7 Affiliate Marketing Course (An Honest Review)