Hey there! I'm Amanda!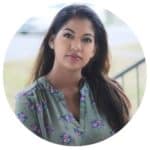 My goal is to help you live a happier life by becoming debt free, developing a reliable side income and achieving financial freedom.
I also share tips and tricks on how to manage your family and home on a budget. You might love checking out some delicious frugal recipes and/or parenting hacks.
Welcome! I'm so happy that you're here!
To get started, here's a little bit about me:
I'm Amanda Ramkissoon, founder and owner of The Frugal Mom Guide.
I wear many hats.
I am a child of God, mom to two littles, oilfield wife and high school Math teacher. I love sharing God's word, taking care of my little family and changing the world, one student at a time.
I know the stress of drowning in debt, living paycheck to paycheck and having less income than expenses each month. We struggled with unhealthy financial habits for years.
When I realized that I was crying every time I logged in to our online banking portal at the end of the month, I decided that enough was enough.
My husband and I buckled down and worked twice as hard to pay off our debt, and I started this blog as a side hustle to increase our income. We also created a budget that we follow religiously each month, and learned how to spend less and save more.
Our new financial habits helped us achieve things like:
-Paying off debt from a failed brick and mortar business
-Paying off students loans
-Saving an emergency fund
-Saving $24000 in 7 months as a downpayment for our land
-Taking vacations that are paid for in cash
-Currently saving $15000 in 6 months as a contingency fund for our upcoming house building project
-Becoming financially stable
and more!
How The Frugal Mom Guide can work for you
You and I are similar. We both love our families and want to find the best ways to take of them. Sometimes, we need to find ways to do this on a budget. If you can get the same product, for half the price, why not, Right?
I love teaching how to create a budget and which budgeting process may work best for you.
I share how to make extra money when things are tight and you need it ASAP.
I teach how to make money online from home when you're looking for a reliable side hustle.
I love sharing:
and more!
I also share deals, motivation and other goodies on Facebook, Instagram and Pinterest!
The Frugal Mom Guide can equip you with the right tools and resources to become the boss of your money once and for all!
The Frugal Mom Guide has been featured!
I've shared our family's financial story and our frugal living and finance tips on sites like CreditCards.com, US News and World Report, OppLoans, Newsday, New York Amsterdam News and more. My goal is to help as many people as possible achieve their financial goals too!
About Amanda Ramkissoon
Amanda Ramkissoon is the creator and founder of The Frugal Mom Guide.
Amanda is a high school Mathematics teacher and personal finance blogger. She writes about personal finance, frugal living, money management, debt repayment, saving money and making money (outside of the typical 9-5). Utilizing years of experience, she also writes about how to manage the home on a budget – sharing budget-friendly recipes, frugal home decor, parenting tips, and more.
Amanda graduated from The University of the West Indies with a Bachelor of Science Degree in Mathematics and Geography.
She loves the challenge of finding ways to live a high-end life without the high-end price tag. She is always sourcing the best deals that will ultimately lead to the highest savings. Amanda loves combining her Math skills, frugal genes and passion for teaching, to show you how you can take control of your finances too.
CONTACT ME
Advertisers – Do you want to advertise on The Frugal Mom Guide? Need a media kit?
Press – Do you need a quote or would you like to book an interview?
General Questions – Do you have a general question?
Please send your inquiry to [email protected]
Please note that I am not a certified financial advisor and the information shared on this site is based on my personal experiences. It is important that you consult with a tax or financial professional for assistance for your financial situation.
Thank you for stopping by!