Hey there! We are Amanda & Lorrenzo!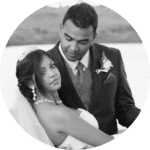 We are the "frugal parents" behind The Frugal Mom Guide. Our goal is to help you live a happier life by becoming debt free, developing a reliable side income and achieving financial freedom.
We also share tips and tricks on how to manage your family and home on a budget. You might love checking out some delicious frugal recipes and/or parenting hacks.
Welcome! We are so happy that you're here!
To get started, here's a little bit about us:
Meet Amanda!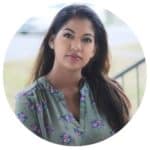 Amanda Ramkissoon is the founder and CEO of The Frugal Mom Guide.
I wear many hats.
I am a child of God, mom to two littles, oilfield wife and high school Math teacher. I love sharing God's word, taking care of my little family and changing the world, one student at a time.
I know the stress of drowning in debt, living paycheck to paycheck and having less income than expenses each month. We struggled with unhealthy financial habits for years.
When I realized that I was crying every time I logged in to our online banking portal at the end of the month, I decided that enough was enough.
My husband and I buckled down and worked twice as hard to pay off our debt, and I started this blog as a side hustle to increase our income. We also created a budget that we follow religiously each month, and learned how to spend less and save more.
Our new financial habits helped us achieve things like:
-Paying off debt from a failed brick and mortar business
-Paying off students loans
-Saving an emergency fund
-Saving $24000 in 7 months as a downpayment for our land
-Taking vacations that are paid for in cash
-Currently saving $15000 in 6 months as a contingency fund for our upcoming house building project
-Becoming financially stable
and more!
Meet Lorrenzo!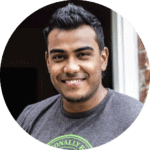 Lorrenzo Ramkissoon is the COO of The Frugal Mom Guide.
I am a Petroleum Engineering major and started serving the industry immediately after graduating at the age of 22. I got married to my wife, Amanda soon after. Our first child then came along afterwards.
After many years of constant travelling, being away from family and routinely working in high pressure environments (physically and mentally ☺️), pursuing freedom from 18 hour workdays became priority. Hard work and dedication also does not translate into financial independence when you have a salaried job.
Ridiculous work hours and the physical demands of the job meant that no matter what, I was underpaid. Chronic subpar spending habits ensured that I was extremely underpaid. No matter what, my wife and I couldn't develop the healthy financial life we wanted.
It was only when we put both pieces of the financial pie together, that we started to progress: good spending habits and multiple income streams. My wife started The Frugal Mom Guide and I assisted her on the rare occasion that I had spare time.
When COVID hit and travel restrictions along with work from home mandates set in, my company started hinting at an international transfer for me. I could no longer hop on a plane and fly to one of the busier locations to support them as necessary. I needed to move, indefinitely.
Make my wife quit her day job, disrupt my family, disregard their comfort in our home country and put all our financial eggs in one basket? NO! Leave them behind for whoever knows how long? DOUBLE NO!
I realized that I needed to put in a greater effort into building The Frugal Mom Guide brand. My wife and I embarked on a journey to fully compensate for my salary and by the grace of God we got there, and more! It actually took off far greater than anticipated.
Two days before my company finalized chartering a plane to move me half way around the world, I declined. I negotiated and accepted a settlement package. I walked away and I've never looked back since. Even when they tried offering me packages that they thought were convincing to get me to return in the subsequent months, I politely rejected.
As a matter of fact, I started giggling quietly. I left a six figure job and in no time, I was making more than my old manager's manager. I never thought this was possible!
This was only possible because my wife was financially intelligent enough to develop an alternative income stream while I battled with the stresses of a demanding job. A job and a lifestyle that I grew to hate, but was acceptable in the eyes of society. It was only me and my little family that understood how we felt.
I now enjoy offering financial, BD and technical consulting services to companies in the oil and gas industry, while exercising my new found love of personal finance blogging. All from my home office.
I get to make money, play with my kids, spend time with my wife and do fun family stuff whenever we please. Life is amazing!
I know how I felt and I'd like to help you on your journey to financial freedom and flexibility.
I simply want to share the message that with faith in God, commitment to family and wise financial practices, you too can get out of the rat race! Live the life you dreamed of as a kid, you deserve it!
---
How The Frugal Mom Guide can work for you
You and I are similar. We both love our families and want to find the best ways to take of them. Sometimes, we need to find ways to do this on a budget. If you can get the same product, for half the price, why not, Right?
We love teaching how to create a budget and which budgeting process may work best for you.
We share how to make extra money when things are tight and you need it ASAP.
We teach how to make money online from home when you're looking for a reliable side hustle.
We also love sharing:
and more!
We also share deals, motivation and other goodies on Facebook, Instagram and Pinterest!
The Frugal Mom Guide can equip you with the right tools and resources to become the boss of your money once and for all!
---
The Frugal Mom Guide has been featured!
We've shared our family's financial story and our frugal living and finance tips on sites like CreditCards.com, US News and World Report, OppLoans, Newsday, New York Amsterdam News, Yahoo Finance, GOBankingRates and more. Our goal is to help as many people as possible achieve their financial goals too!
---
About Amanda Ramkissoon
Amanda Ramkissoon is the founder and CEO of The Frugal Mom Guide.
Amanda is a high school Mathematics teacher and personal finance blogger. She writes about personal finance, frugal living, money management, debt repayment, saving money and making money (outside of the typical 9-5). Utilizing years of experience, she also writes about how to manage the home on a budget – sharing budget-friendly recipes, frugal home decor, parenting tips, and more.
Amanda graduated from The University of the West Indies with a Bachelor of Science Degree in Mathematics and Geography.
She loves the challenge of finding ways to live a high-end life without the high-end price tag. She is always sourcing the best deals that will ultimately lead to the highest savings. Amanda loves combining her Math skills, frugal genes and passion for teaching, to show you how you can take control of your finances too.
About Lorrenzo Ramkissoon
Lorrenzo Ramkissoon is the COO of The Frugal Mom Guide.
Lorrenzo is a Petroleum Engineer, Business Development expert and Personal Finance blogger. After graduating with a Master of Engineering degree in Petroleum Engineering, he went on to building a successful career with one of the largest companies in the Oil and Gas industry, in the world.
He progressed to occupy the role of Principal Engineer and Business Development Professional where he was tasked with overseeing the technical and financial management of several high profile, multi-million dollar projects globally.
As part of his career advancement, he was required to complete several Financial Management, Accounting, Project Management and Business Development and Acquisition seminars and rigorous top level trainings.
He now combines his corporate background with his personal money management experiences to offer consulting services to oil and gas companies, while promoting the importance of smart personal financial practices, diversification and tips to enjoying life on a budget, with The Frugal Mom Guide.
---
CONTACT US
Advertisers – Do you want to advertise on The Frugal Mom Guide? Need a media kit?
Press – Do you need a quote or would you like to book an interview?
General Questions – Do you have a general question?
Please send your inquiry to [email protected] or [email protected]
Please note that we are not certified financial advisors and the information shared on this site is based on our personal experiences. It is important that you consult with a tax or financial professional for assistance for your financial situation.
Thank you for stopping by!