This post may contain affiliate links.
We all have days where we just want to kick our feet up, turn on Netflix and drink a cup of coffee (or wine!). And boy do we know how impossible this is to do with kids around. Sometimes it's being called 'Mama' for the sixty-seventh time for the day or maybe it's dealing with a sibling fight worse than Denzel Washington's fight scene in The Equalizer. Surely, motherhood is tiring. Wouldn't it be great if you can just entertain kids at home without ever leaving your couch? Well, you can!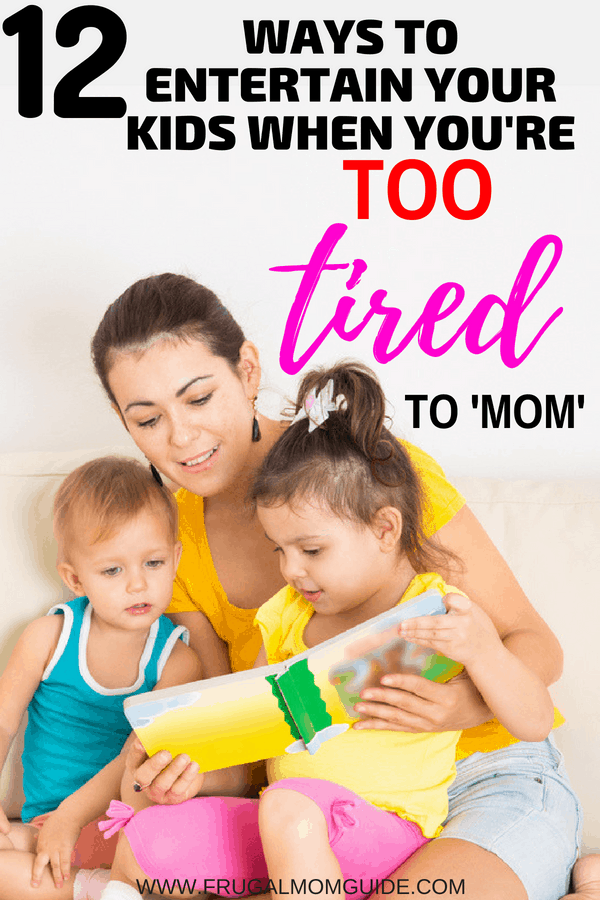 12 Ways to Entertain Kids at Home Without ever Leaving your Couch
1. Simon Says
Simon Says is a classic game that provides hours of fun. Explain the instructions to your kids and let them know that you are Simon. Now you can put up your feet and relax all whilst entertaining your kids! Click here if you can't remember the rules and need to refresh your memory. This game is also perfect for kids' brain development as it helps them pay attention to detail, improves listening skills and following of instructions.
2. I spy
'I spy with my little eye, something the color blue.' This game is a favorite in our household. Everyone takes a turn to spy and we all try to guess what it is. It helps smaller kids with learning colors quickly and is a great way to entertain kids at home!
3. Board Games
All you need to do is set up your game and have hours of lazy fun with your kids! There are so many great options. Games like Scrabble, Googly Eyes and Monopoly.
4. Reading
Gather all the books nearby and take turns reading out loud. This is a perfect way to spend a lazy day but still engage in fun activities with your kids. When you spend a lot of time reading together, you are also investing time in your child's education. Check out this post on 10 Habits of Parents who Raise A+ Students.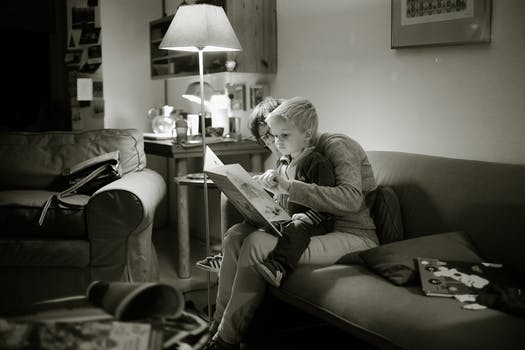 5. Alphabet Object Spy
This game is especially entertaining and educational for younger kids. Choose a letter from the alphabet and have your child spy an object in the room that starts with that letter. You can go on and on for as long as you like. If you come back to the same letter, let him choose another object instead. What a fun and intellectual way to entertain your kids at home!
6. Watch Movies
Grab some popcorn and have a movie marathon! You can spend quality time with your kids and you don't even need to move a muscle (after you grab the popcorn, of course!)
7. Captain, May I?
In this game, one person is chosen as the captain (you). Your kids then line up at the opposite end of the room. The captain starts by calling out one of the player's names and telling him, "John, you may take three baby steps." John now has to ask, "Captain, may I?" The captain then answers with "Yes, you may" or "No, you may not." If the player moves without asking permission, then he has to go back to the starting line and start all over again. The person who reaches to you first wins the game!
Types of steps that can be called by the captain:
Baby Step: Tiny step forward, the length of one child's foot
Backward Step: Move back one step
Giant Step: Move forward with one very large step
Frog Jump: Stoop and jump forward as far as possible
Banana Slip: Slide forward as far as you can using one foot
Related: 7 Parenting Mistakes and How they can be Reversed (before it's too late)
8. Musical Statues
Similarly to musical chairs, you play music but while the music is playing, the kids are allowed to dance. As soon as the music stops, they need to freeze like statues. They need to stay frozen while you inspect them. If anyone shakes, he is out. The winner is the one who lasts the longest. You can play this game over and over and the kids get to enjoy dancing too!
9. Rock, Paper, Scissors Or Thumb Fight
You know this game. Kids love it! There's something about the anticipation and uncertainty of what is coming next. Get proper instructions here.
My 2 year old also loves thumb fight! Sometimes I even let him win (shhh!).
10. Ten Questions
In this game, you have to think about something. Then your kids are allowed to ask ten questions (or however many questions you decide on) to try to guess what you're thinking of. The trick is that these questions can only be closed-ended questions, that is, questions with yes or no answers. Your kids could guess at any time and can keep on guessing until they get it or give up.
Let's say you're thinking about a cat. Some of the questions they might start asking may be:
Is it alive? You'd say 'yes'
Is it a person? You'd say 'no'
Is it an animal? You'd say 'yes' (They might start to guess at this point and can continue asking questions if they get it wrong)
Does it have four legs? You'd say 'yes'
Does it purr? You'd say 'yes'
At this point, they can correctly guess that the answer is a cat.
11. Play an instrument or sing songs
Hey Mama. Do you play the guitar? Are you a musician of some sort? Well grab up your instrument and play a tune! Entertain your kids and teach them how to play too!
Are you musically challenged? Me too (LOL). But that doesn't stop me from grabbing up one of my kids' toy piano or drums and singing out some tunes with them. SO MUCH FUN!
12. Talk
Talk about dreams, life goals and ask questions. Get involved and give advice. Tell jokes and stories. Enjoy each other's company!
All these are great ways to entertain kids at home. The best part is you can bypass the mom guilt on days when you're exhausted and have hours of fun without ever leaving your couch!
Are there any other ways that you entertain your kids at home when you're tired? Share your lazy parenting hacks in the comments below!
Don't forget to share and pin for later! While you're there, I'd love for you to follow me on Pinterest!
Until next time,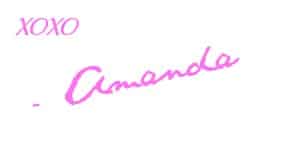 You may also like:
9 Fun Rainy Day Activities for Kids
This One Habit can Make you a More Patient Mom
Is your child struggling because of YOU? 12 Habits of Parents who Raise A+ Students