How to Master Cupcake Pricing for the Biggest Profits (Detailed Price list for Cupcakes Included)
You've decided to pursue your love for baking cupcakes, and you're turning it into a side hustle. Yay! Great job! This, right here, is already quite an achievement worth celebrating. But still, as cliché as this sounds, it is only just the beginning of your business journey.
Of course your biggest goal for your business is to make it a financial success, right? Well, this will depend on several factors, including your customer service, the quality of your products, and your marketing skills. However, the most important factor may be your cupcake prices!
The actual pricing of cupcakes directly affects your profits, which directly affects your business growth! If you want to set yourself up for long-term success, you must ensure that you work out the perfect cupcake prices – for every flavor, type and design.
Don't worry, we've got all the details on cupcake pricing to make you the most profitable cupcake biz in town!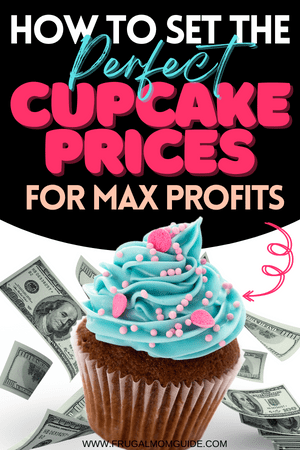 This post may contain affiliate links. This means that we may make a commission if you make a purchase via a qualifying link (at no extra cost to you!). You can read our full disclosure for more info.
It's no secret that the cupcake trend has recently exploded, and now is a great time for anyone who owns a cupcake business. Themed cupcakes add to the perfect aesthetic decor, and makes for a dreamy, IG-worthy photo op.
People are also obsessed with cupcake tiers, and love that they can have many different flavor options, as compared to having just a regular cake. Added to this is the fact that they're easier to serve at parties, which makes them all the more popular!
Now, all of this is great news for you and your business. But how do you set the best prices for your cupcakes? How do you find that perfect dollar amount that reflects your innovative skills, pays for your time and effort, brings in a decent profit, and also satisfies your customers?
Let's find out!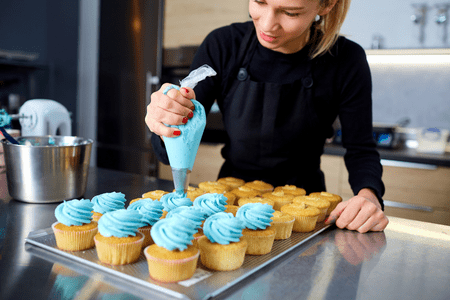 The 2 Main Pricing Strategies for the Pricing of Cupcakes
There is no "one size fits all" rule when it comes to pricing of cupcakes. Cupcakes may vary completely from one baker to the next, in terms of flavor, designs and intricacy.
This is why there isn't a standard price of a cupcake. However, there is a standard price range that customers are willing to pay. What you need to figure out is where your cupcakes fall within this range, whether it's on the lower end, or the higher end of the scale! (Spoiler Alert: Most Pricing Experts will advise you to choose the higher end!)
First and foremost, your cupcakes should always be priced to cover the cost of ingredients, the cost of running your business, your hourly wage, profits, plus a markup that can cover any sales, discounts and wholesale pricing.
In fact, there are two types of pricing strategies to consider:
• Cost-plus Pricing – This is the most common strategy used by small businesses, and includes adding up your costs and then adding an extra percentage for profits.
• Competitive Pricing – This is where you try to match or come close to the prices of competing products that are already on the market.
Believe it or not, Pricing Experts and Consultants believe that the latter is more likely to increase your profits, so we will look at this strategy first.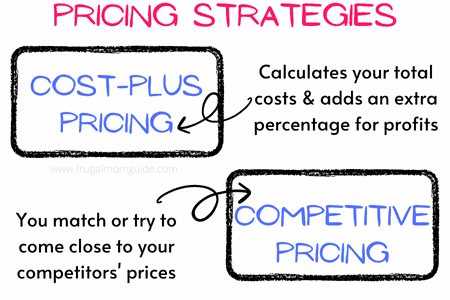 How to Use Competitive Pricing to Determine your Cupcake Prices
Competitive pricing is a great strategy to use when your product is almost identical to your competitors'. Reviewing the prices of your competition gives you a fair idea of what consumers are willing to pay for different types of cupcakes.
Let's say you want to determine the price of a dozen chocolate cupcakes. You research your competition and notice the following prices set by other cupcakes businesses in your area:
Butter & Crumble – $35 per dozen for chocolate cupcakes
The Happy Cupcake – $31 per dozen for chocolate cupcakes
Betty Bakes – $27 per dozen for chocolate cupcakes
Cupcake Creations – $23 per dozen for chocolate cupcakes
Sugar & Spice Cakery – $20 per dozen for chocolate cupcakes
What you (and customers) can see is that the price of a dozen cupcakes ranges from $20 to $35. The customer will perceive the Butter & Crumble products as high-quality and Sugar & Spice Cakery's as inferior.
Your cupcakes should fall within this perceived price range. Your best bet is a dollar amount that falls just under $35 per dozen. Of course, you can choose a higher price tag for your cupcakes but you'll need to sell the advantages of your cupcakes over your competition's!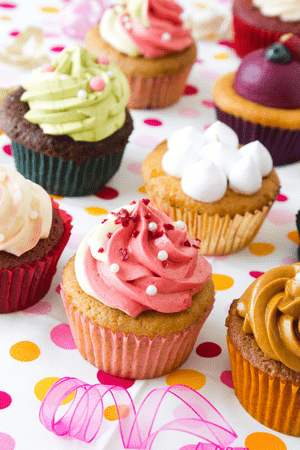 3 Tips to Consider when using Cost-plus Pricing
1. Consider your Production Costs & Overhead Costs
This is the single most important factor to consider when setting your cupcake prices, using this pricing strategy. If you ignore all else, this is one thing that cannot be disregarded! The amount of profit you make literally depends on this.
Your production costs include all things used to make your cupcakes. This is the cost of ingredients, your time (your hourly wage), packaging and labels.
Overhead costs include the cost of product photography, business cards, purchasing of new pans and decorating tools, time spent on social media business pages, electricity for baking etc.
Sit with pen and paper, and write down every single expense per month. Also write down all of the ingredients needed for each type of cupcake.
Take note of the prices so you can calculate the total production cost for each type of cupcake. This can be done for all flavors and sizes of cupcakes that you plan to offer.
In order to break-even, your cupcake prices must be able to cover your total production costs AND overhead costs. But we aren't just aiming to break-even now, are we? This brings us to our next point.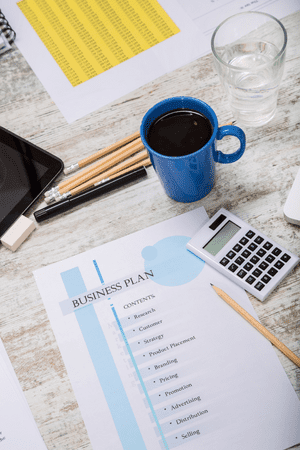 2. Add Profits
So we aren't just aiming to break-even. We're aiming to create a successful cupcake business, so your cupcake prices will need to bring in a profit too. Your profit is any money that your business makes after you deduct ALL costs. It does not include the hourly wages that you pay yourself.
Once you calculate the minimum price per cupcake (or per dozen) from the first step above, you'll need to decide on what profit margin you'd like for your business. Generally, most businesses aim to have a 5 – 20% profit margin, with around 10% being the average.
3. Add a Markup
A markup ensures that you can still be profitable if you decide to have a sale or discount, or to cover incidentals. Markups can range from 10% to 40%.
Again, remember that competitive pricing is the most recommended method when it comes to pricing of cupcakes (or any other product). Many times, the use of the cost-plus pricing method results in setting prices that are much too low and you miss out on a significant share of profit!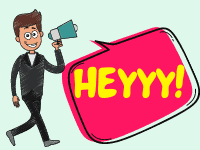 WANT TO MAKE SOME EXTRA CASH FROM YOUR PHONE IMMEDIATELY?
Join Swagbucks to complete surveys and do other simple online tasks to make extra cash and get free gift cards every month.
I make $1000+ from this!
Why wait? Join now to start making money!
Cupcake Pricing 101
How much should I charge for cupcakes?
Generally, one dozen of cupcakes will go for around $30. How much you decide to charge for cupcakes depends on many different factors, including the size of the cupcakes, the flavor, the quality, the demand, how exclusive it is, and even the intricacy of the decorations.
On average, a great price for half a dozen of standard cupcakes is around $16. Each cupcake can be sold for around $3. Minis can be sold for around $1 – $1.50 each.
Cupcake prices can also vary from state to state. This is why using the competitive pricing method to set your prices is so important!
If you offer specialty cupcakes such as vegan and gluten-free options, this will also require a higher price tag.
You will actually need to research your competitors and/or calculate your total costs and markups before deciding on your final cupcake prices.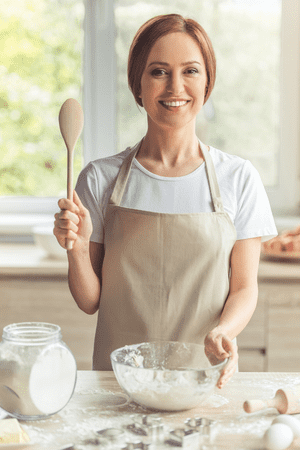 How much does it cost to make 12 cupcakes?
Assuming you already have your cupcake pans, the average cost to make one dozen basic cupcakes is around $1.75. This price will increase for other flavors, when using higher-quality ingredients, when adding frosting etc. Let's look at a breakdown of how this cost was obtained.
Real prices of real products from my local grocery store were used to calculate the cost of each ingredient. I divided the price of the entire item into the smaller units to create the list below.
2 eggs – $0.36
1 tsp vanilla – $0.39
2⁄3 cup sugar – $0.10
1⁄2 cup butter – $0.59
1 cup flour – $0.26
1 tsp baking powder – $0.05
1⁄2 tsp salt – negligible
Total = $1.75 per dozen
How much does it cost to make 1 cupcake?
Using our calculations from above, the cost to make 1 basic cupcake will be around $0.15. Again, you may not be selling basic cupcakes when you start your business, so the cost of your cupcakes will increase as you upgrade the flavors, the ingredients and add frosting!
By the time you add on these extras, the cost to make one cupcake may be around $1.
What is the selling price of each cupcake?
The selling price of each cupcake is around $2 – $3 depending on the flavors, ingredients used, type of frosting, toppers and quality.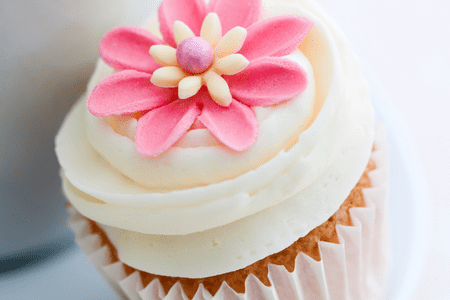 How much do 12 cupcakes sell for?
The price of one dozen cupcakes can range from $20 – $40 depending on the flavors, ingredients used, quality, toppers, frosting and design. Research your competitors before making any final decisions with respect to your pricing of cupcakes!
How much do 6 cupcakes sell for?
The price of 6 cupcakes will depend on the price you set for a dozen. Take your price for a dozen, divide it by 2, then add on $1 – $2 to that price. This is to ensure that purchasing one dozen is always the best deal.
For example, if you sell your Chocolate Dream cupcakes for $32 per dozen, 6 of these should sell for around:
($32 ÷ 2) + $2
$16 + $2
= $18
How much to charge for 24 cupcakes?
24 cupcakes are two dozens, and so, should be sold by your standard price per dozen. If one dozen cupcakes is usually sold for $30, then 24 cupcakes, or two dozens, should be sold for $60.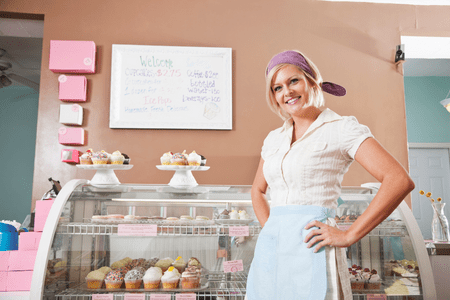 Sample Price List for Cupcakes
Here's a sample price list for cupcakes of various flavors, to help you get started with your own pricing. These are based on current average prices in real cupcake shops. If you're a home baker, you can feel free to lower the prices based on your lower overhead costs.
The Cupcake Studio


Menu & Price List
Regular Cupcakes
1 dozen (12) – $30
half dozen (6) – $16
1 regular cupcake – $3.25 each
Mini Cupcakes
1 dozen (12) – $21
half dozen (6) – $11
Vegan/Gluten Free Cupcakes (Standard Size)
1 dozen (12) – $42
half dozen (6) – $23
1 vegan/gluten free cupcake – $4.25
Vegan/Gluten Free Mini Cupcakes
1 dozen (12) – $23
half dozen (6) – $13
Available Flavors:
Chocoholic, Wedding Cake, Classic Vanilla, Snicker Doodle
5 Cupcake Recipes that are Easy for Beginners to Make & Sell
Now that we've got cupcake pricing covered, having delicious flavors that draw in customers, is a must! Here are five delicious cupcake recipes that are easy to make, and will help you rake in some huge profits!
1. Strawberry Coconut Cupcakes
This Strawberry Coconut Cupcake recipe from Quiche My Grits is super pretty, and is also perfect for beginner bakers who are just starting up a cupcake baking biz. It's easy and delicious, and will have your customers begging for more!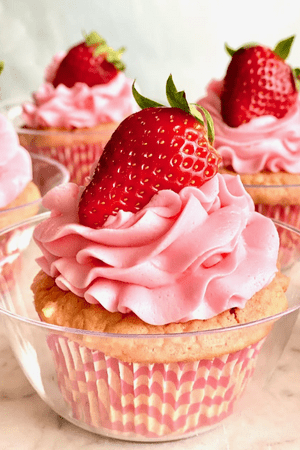 2. Gluten-Free Cupcakes
This Gluten-Free Cupcake Recipe from Meaningful Eats is perfect to add to your line up of gluten free options for your business. These cupcakes are moist and fluffy, and absolutely delicious!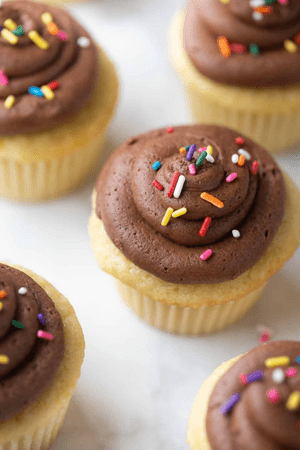 3. Vegan Blackberry Orange Cupcakes
This Vegan Blackberry Orange Cupcake recipe from Food Sharing Vegan is another perfect option to add to your cupcake line up for your vegan customers! It's so yummy, light and fluffy! This recipe also includes variations if you want to change things up.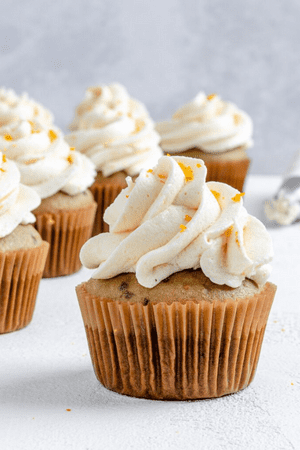 4. Easy Vanilla Cupcakes
How pretty are these Vanilla Cupcakes from Beyond Frosting?! They are ultra moist and topped with delicious vanilla buttercream frosting. This is surely a must-add to your cupcake menu!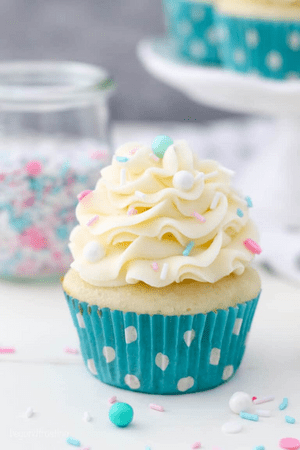 5. Chocolate Cupcakes
These Chocolate Cupcakes from Joy Food Sunshine, are incredibly moist, with a rich chocolate flavor, and the perfect texture! As a chocolate lover myself, I know that this cupcake would have me knocking on your Cakery door every day, begging you to just TAKE MY MONEY!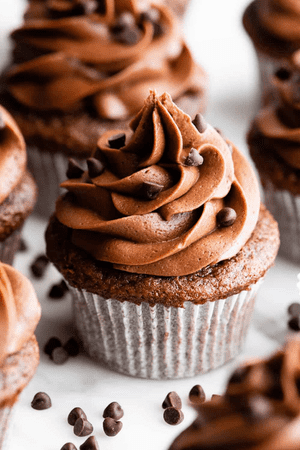 As you start your business, you will learn which flavors are your customers' favorites, and how to leverage this info with respect to your cupcake pricing.
Additional Info on Pricing of Cupcakes – FAQs
How much do cupcakes cost?
Cupcakes cost about $0.15 to $1.00 each to make. They sell for around $2 – $3 each. The price itself of each cupcake depends on the flavor, the ingredients, the quality, the toppers and the type of frosting used. Specialty cupcakes, such as vegan and gluten-free can have a higher price tag attached.
How much does it cost to make 100 cupcakes?
Based on calculations above, the cost to make 100 basic cupcakes is around $15. This cost increases with higher-quality ingredients, gourmet flavors, customized toppers and premium frosting.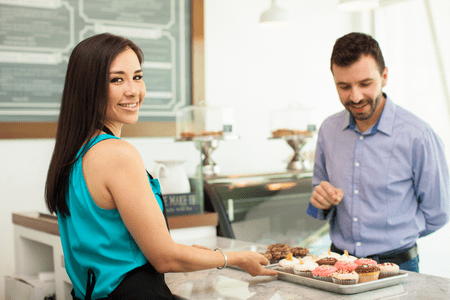 How much to charge for a cupcake?
When deciding on how much to charge for a cupcake, you must take into consideration all of the variables and factors involved. Using the competitive pricing method when pricing cupcakes, is highly recommended! You should also ensure that all costs, profits and markups are covered.
Cupcake prices will obviously depend on the size, flavor, quality, toppers, frosting and design. Specialty cupcakes, such as vegan and gluten free should also cost more.
The average price of a regular cupcake is $2 – $3. If you've done your research and this cupcake pricing can rake in profits, then this is a pretty good starting point.
Related Posts on Profitable Pricing of Cupcakes
23 Easy Resin Crafts to Sell for Huge Profits
How to Make Candles to Sell for Extra Cash
47 Hot Craft Ideas that are Easy & Profitable
Final Thoughts on Mastering the Pricing of Cupcakes for Business Success
Now that you know how to determine the best pricing of cupcakes for your business, you're all set to start raking in those big profits! Get started with your social media pages, your marketing plan, any necessary licenses and baking tools that you need. You've got this!
Do you have any other questions, comments and tips on setting the perfect cupcake prices? Be sure to share with us in the comments below. We'd love to hear from you!
Don't forget to follow us on Facebook, Pinterest and Instagram for more money making inspiration!
Liked this post? Pin it!
Pricing of Cupcakes to Max your Profits for your Cake Biz