How to Save Money on Monthly Expenses with Tello Mobile
*This post is sponsored by Tello Mobile. However, all opinions expressed are my own.*
Let's face it…the best way to have extra money is to save from the money you already have!
And the most guaranteed way to have that extra cash, is by paying less for the essential services in your life. Save money on monthly expenses!
Now we all know the essentials of life: food, shelter and good cell phone service!
How about letting Tello Mobile save you money on the last part, so you can focus on the food and shelter? Sounds good?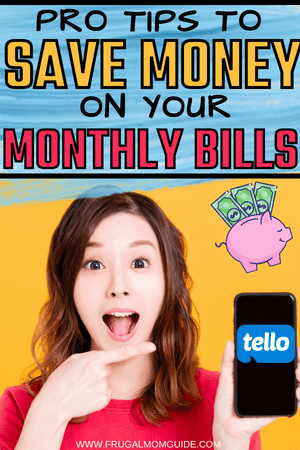 This post may contain affiliate links. This means that we may make a commission (at no extra cost to you!) if you make a purchase via a qualifying link. You can read our full disclosure for more info!
Think about it! If you have to pay for a service, you might as well pay the least possible right?!
The difference in price between what you budgeted to pay and what you actually paid, is yours to keep.
Tello Mobile can shave a ton of cash from your existing budget, for essential services, and put that money right in your pocket!
Not to sound grim but the only guarantee in life are expenses. On the flip side, if you saved money on your expenses…that's guaranteed savings!
Tello Mobile basically transforms your phone bill and associated services into a "glass half full" scenario. All the money they save you, stays in your bank account.
Time to explore how you can save money on your monthly expenses with Tello Mobile, and transform your life.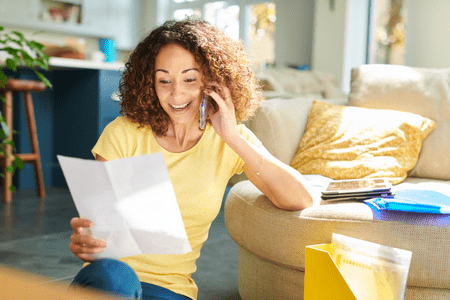 What is Tello Mobile?
Tello Mobile is a US based mobile provider that specializes in offering premium, customizable phone plans at a fraction of the traditional market price.
Basically you get top-tier service and a plan specific to your needs, at an affordable price!
They boast of a solid 4G LTE / 5G nationwide coverage, coupled with a 4.5 stars TrustPilot score from over 9000 reviews!
Receiving a score categorized as "Excellent", from thousands of consumers, is rare in the telecommunications industry and is testimony to the quality of service and affordability that Tello Mobile provides!
How can you save money on monthly expenses with Tello Mobile?
Save Money with Flexible Plans and Rates
You can max out with Unlimited Data and Unlimited Minutes (with Free Text) for $29 per Month!
That's unheard of!
Or customize a plan that best suits you, from a host of options to choose from, for as little as $5 per Month!
Insanely good value for money!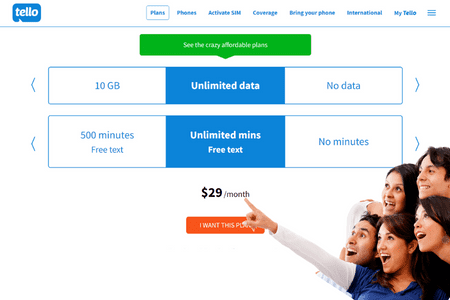 Tello Mobile has something for everyone. Pick or build a plan that's right for you and save money on monthly expenses with Tello Mobile! Get started here!
Save Cash with the Best Customizable Family Plans
For no additional setup cost per line added, you can build a plan that's perfect for your family!
Account management is as easy as it gets and you can downgrade or upgrade your package whenever you wish! For free!
There are already assembled family plans, that you can choose from, if you wish to go this route.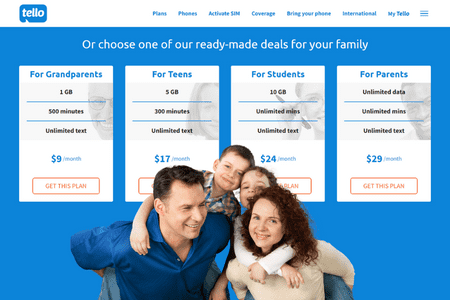 Free Tethering / Hotspot
Tello Mobile is so generous that they even offer free tethering on your data.
You can share your data to all your friends, family and your additional devices for no added costs.
Free International Calling
Tello offers free international calling to 60+ countries, with every plan!
That's mind blowing value for your hard earned money. Especially if you have family, friends or business overseas.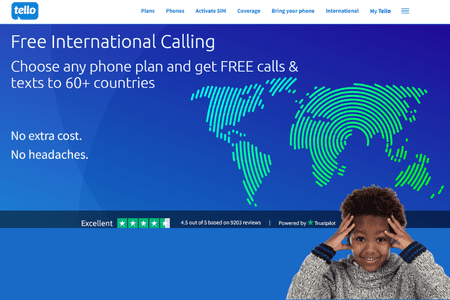 No Fees / No Penalties / No Contract Obligations
There are no cost associated contractual obligations, activation fees or termination fees.
Sign up with Tello Mobile and see for yourself what the hype is about. With zero hidden fees, you have nothing to lose!
Amazing Referral Program
As I always say…Money saved is money earned! And you've seen the host of ways that Tello can save you money!
To make it even sweeter, Tello Mobile offers you the option to directly make money! With their Referral Program!
When you sign up, you get a unique link. When your friends and family members sign up via your link, you both get $10 Tello Dollars to use on your next phone bills.
Mind blown! Can this service provider get any better?!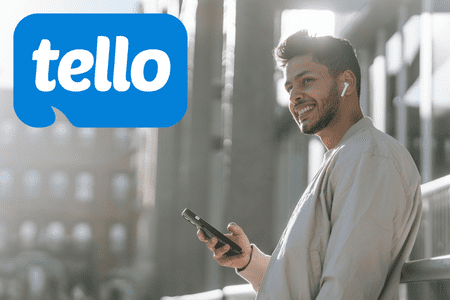 Great Deals on Cell Phones
Tello Mobile offers great deals on phones from the most basic and budget friendly options to all the latest smartphones.
There are also options for new and certified refurbished devices. The Tello SIM also comes absolutely free when you purchase a device. e-Sim requirements are also covered.
Shipping is free and no contract requirements! Check them out and you can opt out if you wish. But we're pretty sure you'd choose to stick with them.
It's just too amazing having Tello in your back pocket! Literally and figuratively!
Bring Your Own Phone Program
Hey! Even if you have your own phone, Tello is fine with that. They'd hook you up with a SIM or e-SIM, as the case might be and get you rolling on their network.
Tello is that committed to saving you money! No need to buy a new device.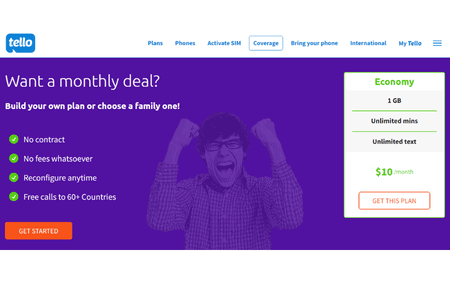 Best in Class Customer Support
You can get in contact with a Tello customer service representative at any time.
They offer 24/7 human customer support, to guide you through any issue that you may have.
What Can Tello Mobile Do For You?
Tello Mobile, without a doubt, provides the best service, quality and range of options, at the lowest prices…for every combination of cellphone and data service that you can think of!
Looking for the best international phone plans?
Try Tello Mobile!
Cheap international phone plans?
Check out Tello Mobile today!
Interested in cheap home phone plans?
Tello is your answer!
Want cheap phone plans for kids?
Go to Tello Mobile now!
Best rates and cheap phone plans for 2 lines?
Tello Mobile has you covered!
Cheapest phone plans with unlimited everything?
It just doesn't get better than Tello Mobile's $29 per month plan!
Cheapest family phone plans?
Tello Mobile is the answer to your prayers!
Affordable phone plans start and ends with Tello Mobile!
Frequently Asked Questions for How to Lower Your Phone Bill
FAQ: How can I save money on my cell phone bill?
Sign up with Tello Mobile and pick or customize a package that suits your needs. You pay for what you need and get exactly that!
Packages start as low as $5 per month!
FAQ: How much should your phone bill be?
Under no circumstances should your phone bill be more than $29 per month! That's the price of the unlimited everything package from Tello Mobile!
Related Posts to How to Save Money on Monthly Expenses
10 Financial Resolutions for Financial Freedom
How to Afford Moving Out at an Early Age
Final Thoughts on Tello Mobile's Affordable Phone Plans
There are no ifs, buts, or maybes…Tello Mobile's range of premium services and premium packages at pauper price points is the way to go!
You are guaranteed to save money on your monthly expenses like mobile internet and cellphone bills once you give them a shot!
Stop losing money today and sign up with Tello Mobile!
Do you have any comments for saving money on your cellphone package? For those of you already with Tello, let us know how amazing the service is. Share with us in the comments below. We'd love to hear from you!
Don't forget to follow us on Pinterest, Instagram and Facebook for more financial discussions, money making chit-chats and frugal living tips!
LIKED THIS POST? PIN IT!
How To Lower Your Phone Bill & Save Money on Monthly Expenses with Tello Mobile