Budget-friendly Valentines Gifts that She will Love
With Valentine's Day right around the corner, you may be looking for a special gift to show appreciation to your other half. If you're anything like my hubby and I, then you and your significant other may not be looking to spend a ton on Valentine's gifts. And this means that you're probably wondering if there's any way that you can find something unique and beautiful to show that you care, but without putting a huge dent into your budget.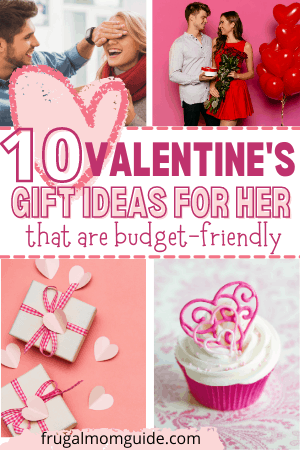 This post may contain affiliate links. You can read our full disclosure for more info.
I know not everyone will agree with me but I find Valentine's Day is so commercialized now that it has lost its true meaning. At the risk of sounding cheesy, Valentine's Day should be 'celebrated' every day – not just of February 14th.
You should choose to treat your other half special every single day. And treating them special shouldn't have a price tag attached to it.
Whatever happened to the simple things? Valentine's Day has become such an over-the-top holiday – way too over-the-top for my liking!
I do recognize that it is a day to show appreciation to our loved ones though. And I love doing sentimental things for my husband. One year I wrote him a poem. And another year, I baked him keto-friendly cookies and bought him two keto-friendly drinks to go with it.
We also get our kids something special. But overall, we don't break the bank to celebrate the holiday!
Enough about us though. You're probably here because you're looking for a way to celebrate with your special someone, without having to spend too much! So I've put together a list of the BEST gifts that your girl will LOVE!!
10 Budget-Friendly Valentine's Day Gifts for Her
1. Video Gamer Valentine's Day T-Shirt
This Video Gamer Valentine's Day t-shirt will make the cutest present if your girl loves to game with you! There are five colors and different sizes to choose from. And if you want to make it more special, you can even get one for yourself so you guys can match!
2. Photo Frame with a Picture of the Both of You
Getting just a photo frame is a huge no. However, print your favorite picture of you two for the frame (this frame is perfect!), add a note of a special memory you guys shared on the day that the picture was taken, and you would have just totally leveled up your romance level. Add it to a cute gift box and you're all set!

3. Matching Coffee Mugs
If you and your spouse are coffee/tea lovers, then these matching coffee mugs will make a cute gift! I don't know about you, but in our household, some of my most favorite moments are shared over a cup of coffee with my husband on a quiet morning.
If you want to add a little something more, you can even fill her cup up with some of her favorite chocolates or a some cute stuffers.
4. Bath Bomb Gift Set
If your significant other loves taking baths, she will love this Bath Bomb Gift Set! This gift set features a set of six bath bombs, beautifully packaged.
You can easily pair this with something like a foaming bath (this one is super soothing and will help her sleep better!). Add a cute card or note, and you've got the perfect present!
5. Conversation Starter Game
This conversation starter game set will add some fun to your future date nights at home and teach you so much about each other! It's a really great tool to strengthen and develop your relationship. The thing is, no matter how long you've been together, there's always something new to learn!
6. The One Year Love Language Minute Devotional
This book is perfect for Christian couples and will make a great gift for your significant other this Valentine's! This devotional was written by bestselling author, Gary Chapman, a speaker and counsellor who has a passion for helping people form long lasting relationships.
These daily devotions really help incorporate God's love into your marriage and relationship, as it starts off with a Bible scripture. The daily devotionals are short, but also insightful and encouraging. It truly can help strengthen your relationship and so, will make a wonderful Valentine's present!
7. What I Love About You Journal
This little fill-in-the blanks journal makes a cute gift with a personal touch! The book itself is small and neat, and includes blank spaces where you write in things like what you love about the person.
Some of the prompts include:
I love how you ___________ everyday.
I believe the world needs your unique ____________.
I would love to create a ___________ for you.
Imagine how special your girl will feel when she receives this personalized gift from you! This is one of those gifts that she will keep and cherish forever!
There are some things you can't put a price on… But just by the way, the price of this one is less than the cost of your weekly Starbucks run.
8. International Snacks Subscription Box
If you are one of those who believe that your spouse or girlfriend should be receive special treatment for the entire year (and NOT just on Valentine's), why not sign her up for an international snack box every month?
The Treats International Subscription Box is such a thoughtful and fun gift to give! It's a subscription service for international snacks that will send her a box of snacks from a different country every month.
Snacks include candy, crackers, chocolates, chips, cookies and more! The cost of each box each month is very minimal, and she will be super excited to receive her surprise month after month (you never know which country you will receive).
The box also comes with cards about the countries and information about the snacks. It's so much more than having snacks to eat… the experience is SO worth it!
9. Chocolates
For Valentine's Day, you can never go wrong with chocolates! Whether you want to buy a few different types and gift them together, or pair one of these packets with one of the other budget-friendly gifts on this list, is totally up to you!
In case you have no idea which chocolates to get, here are my top recommendations! These are all Valentine's/ heart themed as well!
Dove Hearts (These include both milk chocolate & dark chocolate)
Ferrero Rocher Heart Shaped Valentine's Gift Box (Hazelnut Milk Chocolate)
Dove Valentine's Assorted Chocolate Candy Heart Gift Box
10. Valentine's Coloring Book
How cute is this Valentine's Day Adult Coloring Book as a Valentine's Day gift?! Again, this is one of those gifts that is so much more than just a present, it's thoughtful and about the experience. Your wife or girlfriend can use this to de-stress on hard days, and every time she picks it up, she will be reminded of you!
This is perfect for the creative girl in your life!
Bonus Budget-Friendly Valentine's Day Gifts for Her
• Cook her a romantic dinner
• Bake her cupcakes
• Add heart-shaped helium balloons to any of the budget-friendly gifts on this list to take it up a level
• Get her a bouquet of flowers (doesn't have to be roses or other expensive flowers)
Related Posts on Budget-Friendly Valentine's Day Gifts
25 Fun & Budget-Friendly Date Night Ideas
Final Thoughts on Budget-Friendly Valentine's Day Gifts
You don't have to spend hundreds of dollars to show your other half how much you care and love them! These gifts are all so unique and sentimental, they're priceless… Better than their more expensive counterparts dare I say.
Yea, dozens of roses and expensive getaways are romantic, but so is building a financial future, setting goals, saving for a house and all the other things you'll achieve together as a couple.
If you have a girlfriend or wife who doesn't need expensive gifts to feel happy, I'm sure any one of the special gifts on this list will bring a smile to her face!
So which one of these gifts do you think you'll want to get her? Do you have any other budget-friendly gift ideas? Share with us in the comments below. We'd love to hear from you!
Don't forget to follow us on Pinterest, Instagram and Facebook for more money saving and budget-friendly lifestyle tips!
Liked this post? Pin it for later!
10 Budget Friendly Valentine's Day Gifts for Her