Budget Friendly & Simple Chicken Pasta Casserole
*This post is sponsored by Walmart. However, all opinions expressed are my own.*
This budget friendly chicken pasta casserole is one of the best dishes that you can whip up quickly, on a tight budget, while still looking like a super star chef!
Not to mention, you get to fill those hungry tummies with yummy food, with a recipe that is super flexible.
To top it off, use this simple chicken pasta casserole to use up whatever items you have in your pantry and fridge!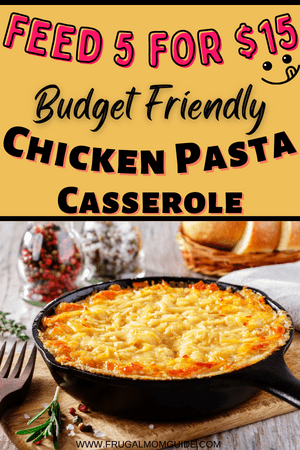 This post may contain affiliate links. This means that we may make a commission (at no extra cost to you!) if you make a purchase via a qualifying link. You can read our full disclosure for more info!
If you want to show off some next level cooking, without ruining your budget, this simple chicken pasta casserole is your answer.
It's great for typical lunches, dinners as well as an excellent option for those at home date nights or evenings when you crave some comfort food.
With salaries unable to match up with inflation rates and rising grocery prices, we all wish we could eat nicely while keeping spending to a minimum.
You can never go wrong with a delicious and budget friendly chicken pasta casserole!
You can save even more with a Walmart+ Membership!
There are so many benefits, including free shipping straight to your door ($35 order min. Restrictions apply.)! Grocery shopping and cooking at home has never been easier.
Benefits of the Budget Friendly Chicken Pasta Casserole Recipe
Very Economical
1. The core ingredients are very low priced.
2. You can feed an entire family of 5 to 6 persons, comfortably for under $15.
3. The choice of meat and vegetables can be substituted for whatever you have available.
4. Great way to utilize leftover cooked meat and vegetables.
5. Herbs and seasonings can be added or tweaked to suit your specific likings.
Absolutely Delicious
1. The budget-friendly chicken pasta casserole is yummy. What else can you ask for?!
2. Great option for picky eaters.
3. You get the posh restaurant taste and satisfaction for just a couple bucks per person.
Quick and Easy to Make
1. Perfect for busy persons, working parents and people constantly on the go.
2. Preparation time is 15 minutes and cook time is 30 minutes, 45 minutes total.
3. Total time to have the meal ready can be even less if using left overs!
Suitable for Various Occasions
1. Great for date nights, dinners, lunches.
2. Easy to pack for "to-go" lunches for kids and working people.
3. Easy to reheat and tastes just as good as leftovers.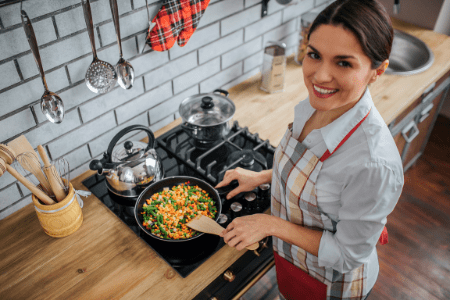 Feed 5 for $15 Cheesy Chicken Pasta Casserole Recipe
Preparation Time: 15 minutes
Cook Time: 30 minutes
Total Time: 45 minutes
Tools and Equipment: 8″ x 12″ Baking Dish, Casserole Dish or similar 1.8 – 2 quart Baking Dish
Number of Servings: 5 – 6 Servings
Ingredients
1lb (16 oz) uncooked Penne Pasta
1lb Boneless Chicken
1/2 cup green Bell Pepper
1/2 cup chopped Celery
1 chopped, medium sized Onion
4 tablespoons Vegetable Oil
1 teaspoon Chili Powder
10 1/2 oz (1 can) Cream of Chicken Soup
1 cup Milk
3 oz Parmesan Cheese
8 oz shredded Cheddar Cheese
1 teaspoon Black Pepper
1 teaspoon Salt
Cooking Instructions for Budget Friendly Chicken Pasta Casserole
1. Season chopped chicken with 1/2 teaspoon salt, 1/2 teaspoon chili powder and 1/2 teaspoon black pepper.
2. Add vegetable oil to frying pan and stir fry chicken, onions, bell peppers and celery for 5 minutes.
3. Prepare pasta al dente, as per the directions on the packaging.
4. Pre-heat oven to 350 °F.
5. Transfer strained pasta to a large mixing bowl.
6. Add in the cooked chicken (with onions, bell peppers and celery) to the pasta.
7. Add all the other ingredients to the bowl also (cheeses, milk and remaining seasoning). Save approximately 2 tablespoons of cheddar cheese for later.
8. Mix in all the ingredients well.
9. Transfer the mixture to the baking dish or casserole dish and spread evenly.
10. Sprinkle the remaining 2 tablespoons of cheddar cheese over the top.
11. Place the dish in the oven and bake for 30 minutes or until golden brown.
12. Serve and enjoy while hot!
Pro Tips for Dump & Bake Chicken Pasta Casserole
1. Any pasta would do. Just follow the brand instructions for al dente.
2. The following substitutions can be made:
– Green bell pepper for red or yellow to add color.
– Onions for red onion or green onions if you wish.
– Vegetable oil for corn oil, canola oil, olive oil or butter.
3. Add mushrooms or any additional vegetables that you like.
4. Make use of what's in your fridge or pantry. Meat type, pasta type and seasonings are not written in stone!
5. Add bread crumbs on top, before baking, for an extra crunch.
6. You can add extra seasonings, chilis, habaneros or whatever flavors that you like.
7. When reheating, just add a splash of milk before putting in the oven or microwave. This restores the freshness and creaminess to the casserole!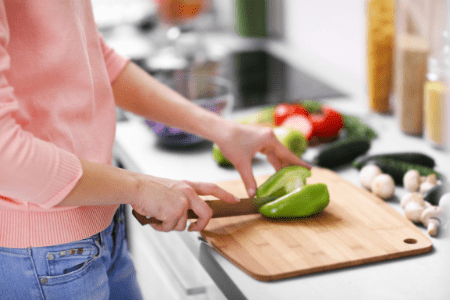 Frequently Asked Questions for Budget Friendly Chicken Pasta Casserole Recipe
FAQ: Can you put raw chicken in a casserole?
Usually, chicken is cooked and then put into a casserole. The seasoning and flavor of the meat is highlighted when this is done.
However, it is safe to put uncooked meat into a casserole, as long as it is baked thoroughly afterwards. It is important to ensure that the meat is properly cooked and bacteria is killed.
FAQ: Do you cook pasta before making pasta bake?
Pasta is cooked al dente before making pasta bake. In other words, it is cooked but not fully. The pasta becomes fully cooked when baked.
FAQ: What is chicken casserole made of?
A chicken casserole is made up of chicken, cheese and pasta. Seasonings and vegetables of your choice can be added.
Related Posts to Simple Chicken Pasta Casserole
15 Money Saving Tips for the Kitchen
Final Thoughts on The Frugal Cheesy Chicken Pasta Casserole Recipe
Now you can win your family over with your cooking, while saving money on your grocery bill!
This budget friendly chicken pasta casserole recipe is as delicious, frugal and versatile as it gets. Your spouse, kids and wallet will definitely be smiling!
Do you have any tips or tricks for saving money with cooking recipes? How do you prepare your casseroles? Share with us in the comments below. We'd love to hear from you!
Don't forget to follow us on Pinterest, Instagram and Facebook for more recipes and frugal living tips!
Liked this post? Pin it!
Budget Friendly Chicken Pasta Casserole Recipe – Feed 5 for Under $15