A list of the Best Cheap Air Fryer Recipes for when Money is Tight
Currently, my air fryer is probably the most used appliance in my kitchen – well, apart from my refrigerator and microwave. I am always looking for new air fryer meals to add to my weekly meal plan!
Honestly, our air fryer has made cooking lunch and dinner so much easier and healthier! It has made it possible to have all of our favorite meals as often as we like, with zero guilt whatsoever!
If you are looking for air fryer meal options that are budget-friendly, but still easy and delicious, then you're in the right place.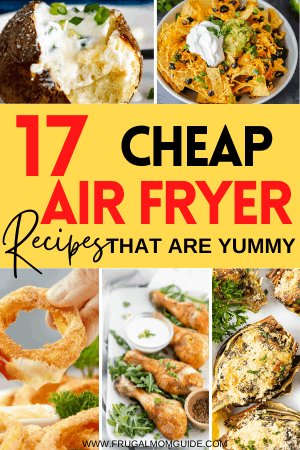 This post may contain affiliate links. This means that we may receive a commission if you make a purchase via a qualifying link. You can read our full disclosure for more info.
As a frugal person, I'm obviously picky about what I buy and I'm very careful with my spending. Naturally, I did a ton of research before I invested in my air fryer. But let me tell you… I have no regrets at all!
I ended up choosing this air fryer. It has made cooking at home super easy. And by extension I've saved a ton of money by meal planning and cooking our own meals.
If you're looking to add some cheap air fryer recipes to your cooking schedule, check out this list that I've put together!
17 Cheap Air Fryer Recipes that are Yummy
1. Air Fryer Breakfast Potatoes
This is an easy healthy air fryer breakfast potatoes recipe made with red baby potato cubes. This paleo and whole30 friendly breakfast potato recipe from Momma Fit Lyndsey is perfect for a hash with eggs or on its own!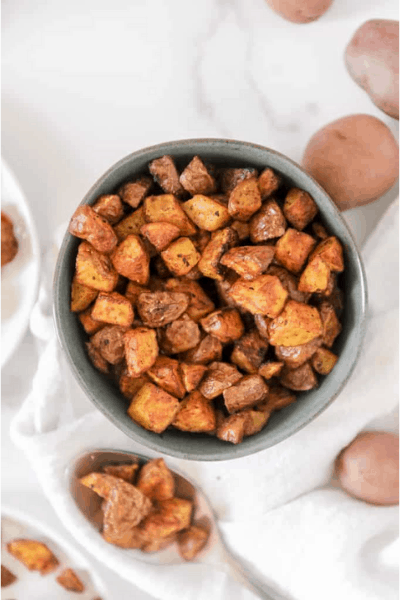 2. Copycat Olive Garden Breadsticks
This Copycat Olive Garden breadsticks from Belly Rules The Mind are the spot on version of the classic dish. These soft, buttery breadsticks are as delicious as the ones they serve in the restaurant, in the comfort of your home. Pair them with your favorite pasta or soup and salad for a treat you and your family will love!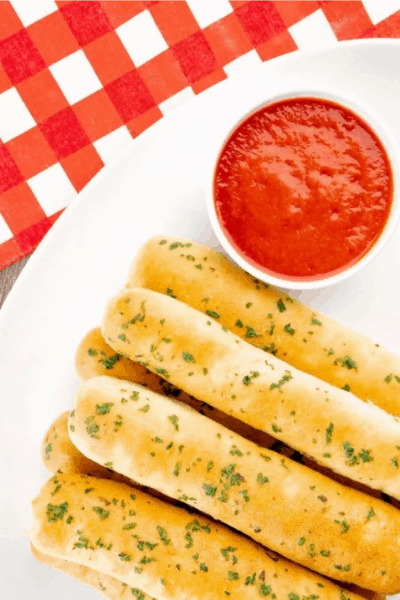 3. Air Fryer Ravioli
This family favorite toasted ravioli from I Heart Air Frying is cooked crispy in the air fryer. Serve as an appetizer or a hearty main course.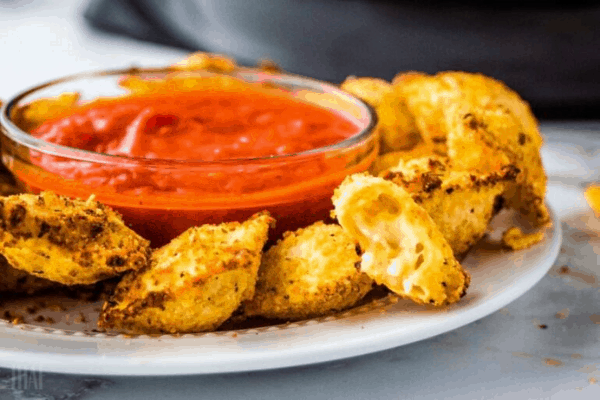 If you struggle with finding meals that are CHEAP, yummy and kids-approved, then the $5 Meal Plan is a must!
This is for you if:
✔️ You struggle with finding quick, easy, healthy & cheap meals
✔️ You struggle staying on track with your meal budget
✔️ You want to kick your 'takeout addiction' to the curb
✔️ You want to save an extra $200 – $300 every month
The $5 Meal Plan makes meal planning simple and effortless. You'll save time AND money as you'll get a customized meal plan sent directly to you each week. The best part is that each meal costs around $2 per person (or less)!
So if you just want to check out $5 meal plan (with no strings attached), try it here for free (for 2 weeks).
4. Air Fryer Chicken Wings
These air fryer chicken wings from Easy and Delish can be quickly cooked from frozen and are served with a delicious homemade BBQ sauce. They cost $1 per person.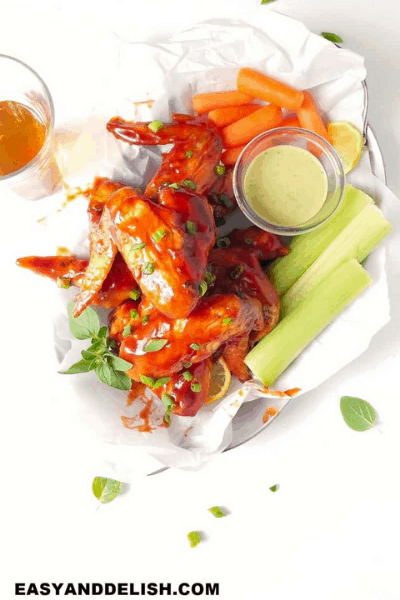 5. Greek Air Fryer Meatballs
All you need to do to make these greek air fryer meatballs is throw ground chicken in a bowl with a few Mediterranean flavors, panko crumbs and an egg. Mix, make bite-sized balls and air fry for just 10 minutes. Get the full recipe from Scrummy Lane.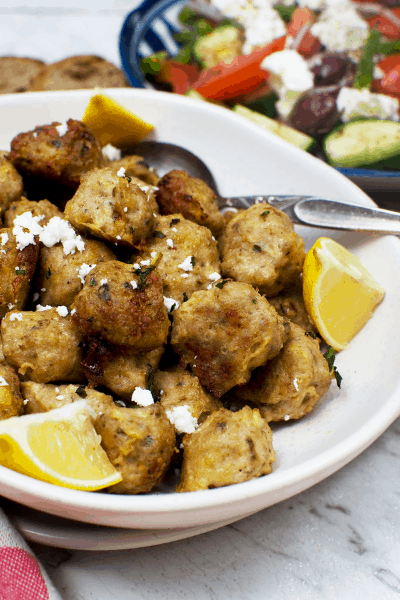 6. Air Fryer Hash Browns
This is the crispiest hash browns ever, made from scratch with just a handful of ingredients! This budget friendly dish from The Healthy Kitchen is one the entire family will devour.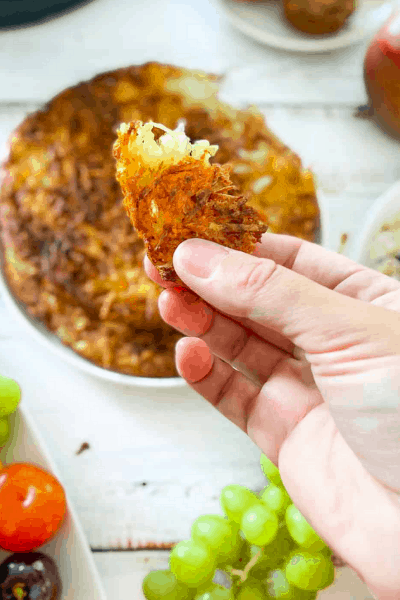 ---
Pssst! Did you know you can save more money by meal planning? Meal Planning saves me thousands of dollars every year! Not sure how to get started? Grab a copy of my free Meal Planning e-guide below.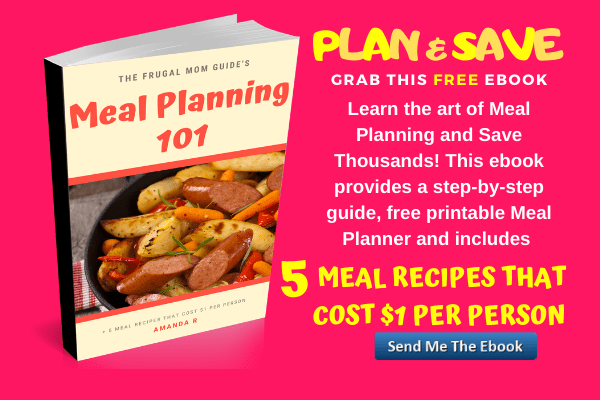 ---
7. Air Fryer Baked Potatoes
This easy air fryer baked potato recipe from Crave The Good is quick, requires only 3 ingredients, and may just deliver the best baked potato you've ever had.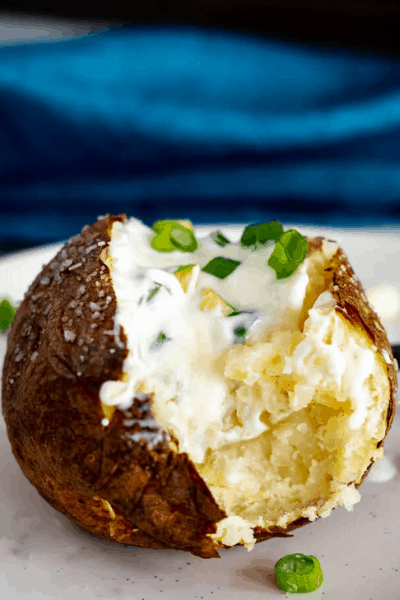 8. Air Fryer Nachos
These air fryer nachos from Rescue Dog Kitchen are easy, tasty, and ready to enjoy in minutes! All thanks to the air fryer, nachos are super easy to make!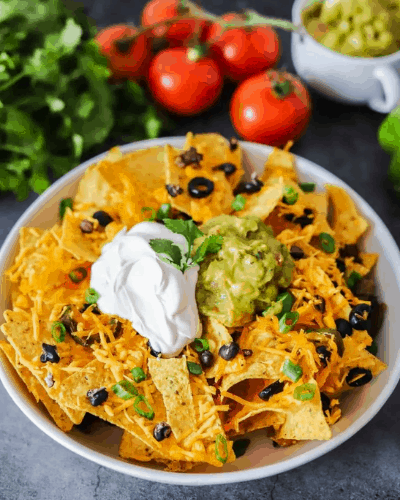 9. Air Fryer Stuffed Baby Artichokes
The most delicious method for how to cook baby artichokes – fill them with spinach dip! This air fryer baby artichokes recipe from Wholesome Yum also has an oven option. Just 7 ingredients + 10 minutes cook time!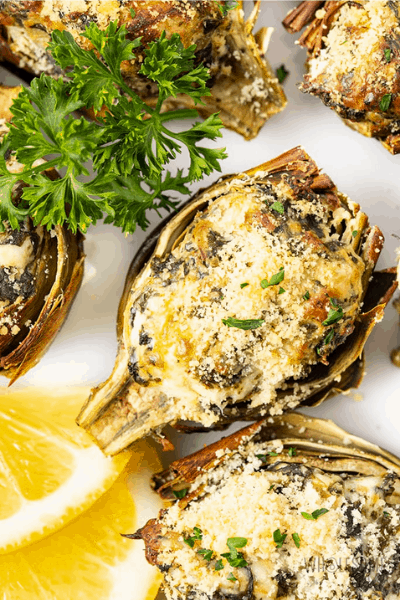 10. Air Fryer Sweet Potato Chips
These crunchy air fryer sweet potato chips from Aleka's Get-Together are a healthy snack or party appetizer that are air fried instead of deep fried! They also happen to be vegan, paleo, whole 30 and super delicious! I like to serve these chips with a tasty sauce on the side for dipping!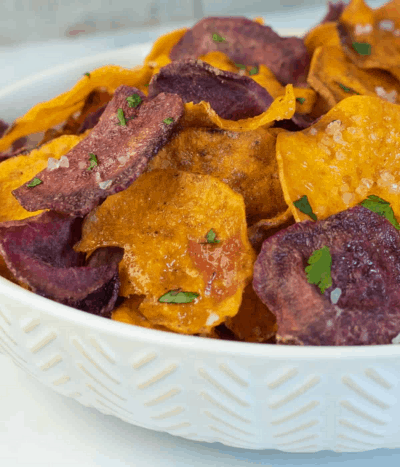 11. Air Fried Blueberry Hand Pies
Air fried blueberry hand pies are quick and easy. Light and flaky and filled with blueberry pie filling, these are a delicious dessert on the go. Get the recipe for these pies from The Busted Oven.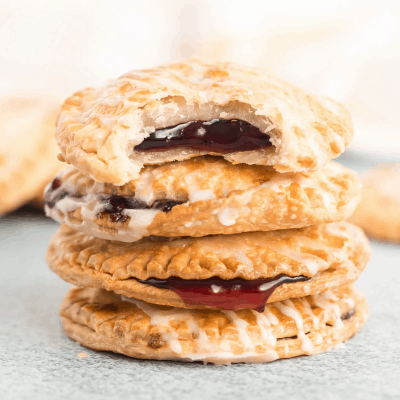 12. Air Fryer Potato Wedges
These homemade air fryer potato wedges from Simply Air Fryer are easy to make with just a few basic ingredients. They are not only versatile but also an affordable side dish option!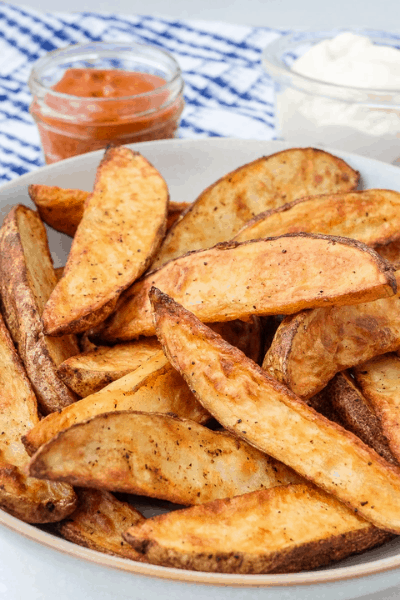 13. Parmesan Air Fryer Broccoli
This parmesan air fryer broccoli is great budget-friendly side dish. It's delicious and simple to make. Get the details from The Typical Mom.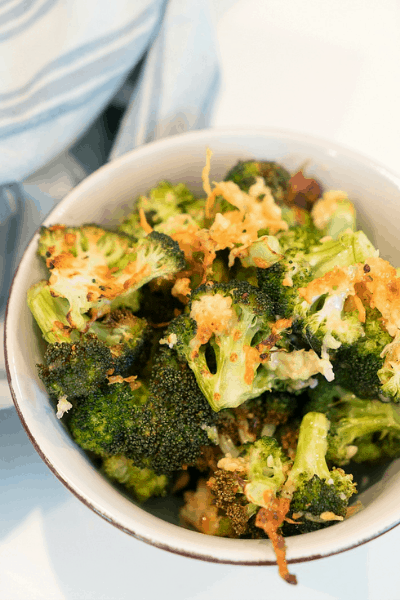 14. Air Fryer Onion Rings
These air fryer onion rings from Healthy Recipes 101 are an easy way to make a delicious dish using just a few ingredients. Simply coat sliced onions with breadcrumbs, cheese, and your favorite seasonings before air-frying for 10 minutes, and serve!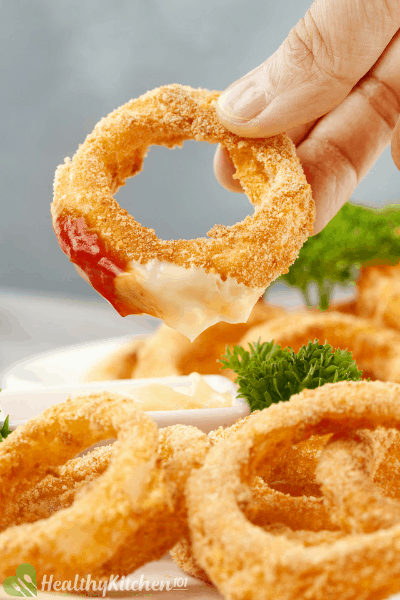 15. Air Fryer Green Beans
The best air fryer green beans are tender, crisp, and perfectly seasoned with a little salt, pepper, and garlic powder. Enjoy these deliciously snackable green beans as an easy weeknight side dish. Get the recipe from The Forked Spoon.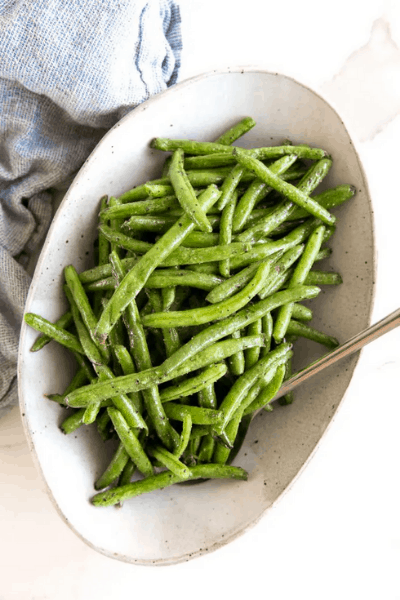 16. Air Fryer Chicken Drumsticks
These air fryer chicken drumsticks from My Sugar Free Kitchen are crispy and golden and packed with sweet, salty and savory flavor. Easy to make in the air fryer without oil, its a healthy way to enjoy tender, juicy chicken without the greasy after effects.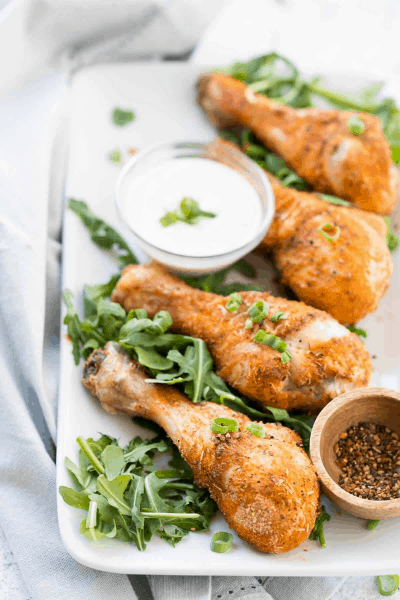 17. Air Fryer Burgers
Easy Air Fryer Burgers – Juicy and flavorful burgers cooked perfectly in the air fryer! Get the recipe for these delicious air fryer burgers from Bitz N Giggles.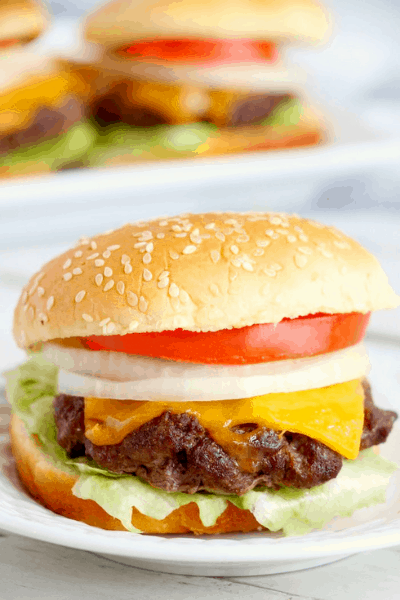 Bonus Tips for Cheap Air Fryer Recipes & Meals
Adding the above cheap air fryer recipes to your cooking schedule can help you save tons of money. But throw in some of these additional money saving tips, and you may even be able to easily triple your savings!
You may want to consider:
• Meal Planning
Meal planning can save you hundreds of dollars because it allows you to take the guessing out of things. You choose meals and make a plan that is within your budget, and you stick to it. By making a meal plan, you are less likely to grab take-out and you'll save a ton by cooking at home (especially by cooking these cheap air fryer meals!).
• Using coupons
Use coupons to get discounts on the items that you need for your meals that you've planned. Every dollar counts!
• Using Money Saving Sites/Apps
Like I said, every dollar counts, right? Well money saving sites like Rakuten, gives you cash back after you purchase your items. This cash back can amount to hundreds of dollars! Just be sure that you are only purchasing items that you need!
• Doing a Pantry Challenge
Why not save money by making meals using recipes from your pantry only… NO grocery runs allowed! Which air fryer recipe on this list will you be able to make if you decided to do a pantry challenge right now?
• Swapping out ingredients for cheaper alternatives
Is there an ingredient in one of the recipes that is still too pricey for your liking? Swap it out for something cheaper! Also, avoid name brand products when trying to save money, as there is always a more affordable option that can get the job done!
• Starting a Kitchen Garden
Starting a kitchen garden takes a lot of time and effort but can save you so much money. Start planting fruits, veggies and herbs that you regularly purchase and you'll notice how much your saving account grows!
For the weeks that you are super busy and you absolutely CANNOT cook at home, at least have some control over how much you spend on takeout and how healthy your meals are. When it's impossible to cook at home,
freshly
will deliver chef-cooked, healthy meals to your door. AND if you're anything like me, you'll love a good deal.
Grab $40 OFF your freshly purchase here
!
Related Posts on Cheap Air Fryer Recipes
12 Budget-Friendly Dinner Ideas for when Money is Tight
12 Cheap Breakfast Ideas that are Easy and Delicious
12 $1 Per Person Struggle Meals you Need to Add to your Menu Now
Final Thoughts on Cheap Air Fryer Recipes
Are there any other cheap air fryer meals that you make regularly? Share with us in the comments below. We'd love to hear from you!
Don't forget to follow us on Pinterest, Instagram and Facebook for more cheap recipes, frugal living tips and money saving inspiration!
Liked this post? Don't forget to Pin it!
Cheap Air Fryer Recipes that are Easy and Delicious