Easy, Cheap and Delicious Dinner Recipes to Help Save Money
If you want to save a ton of cash on your current meal budget, you're in the right place! You heard right…a ton. It's not pennies, but real cash. Save hundreds per month and thousands per year with these $1 dinner recipes.
Dinner is the most significant meal of the day, which is usually consumed on an evening. When it comes to frugal mommy hood, dinner is of critical importance for a couple reasons. Firstly, dinner time is the time when most members of the family come together to unwind and share a meal. It is important to healthy family relationships and bonding.
Secondly, the reason why you are here…most significant means largest and therefore most costly!
This post may contain affiliate links. You can read our full disclosure for more info.
According to CNN, the average household spends approximately 30% of its meals budget on food away from home. On average a meal at home costs $4.50, while it costs $8 when purchased outside of your own kitchen.
Purchasing dinner on a regular basis is just ridiculous if you are trying to save money. If you simply prepare food at home, you save just under half of the money you were planning to spend on take out. That's without even trying.
Let's up the game a bit! After all, you are here for the scrumptious, mouth watering, delectable and super CHEAP dinner recipes.
For every $1 meal you incorporate into your daily meal plan, you save a whopping 78% as if you had prepared a typical meal at home. You could also eat dinner for more than a week for every take out meal you buy. Do the Math!
These $1 per person dinner meals are a blessing on your budget. Your wallet would be smiling from all the cash you'd be saving. Just so you don't think I'm about to serve you up a side of cardboard and fried air, cheap dining can also be fine dining. They taste delicious!
Let's have a look at these $1 dinner recipes.
12 Cheap Dinner Ideas that Cost $1 per Person
1. Cheesy Chicken Fajita Casserole
Make this easy, cheesy chicken fajita casserole from Little Sunny Kitchen using just 5 ingredients. It is so easy and cheap, yet so flavorful. Total prep time is under 40 minutes and it's all made in one dish.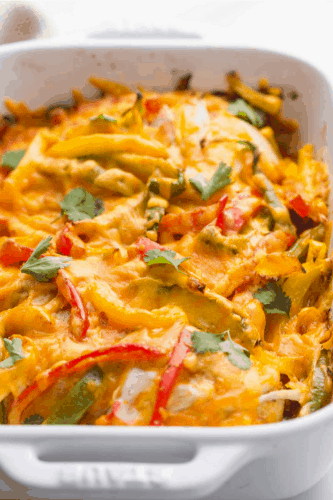 2. Chicken Patty Parmesan
Get the taste of a popular Italian dish from Diana Rambles, at a fraction of the cost, with this Chicken Patty Parmesan. It is sure to become a family favorite!
Super cheap, kid friendly and has less than 30 minutes of prep time.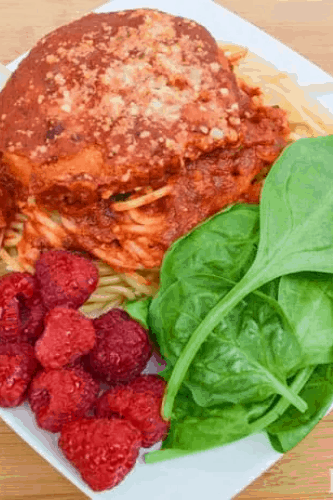 HEY!
If you struggle with finding meals that are CHEAP, yummy and kids-approved, then the $5 Meal Plan is a must!
This is for you if:
✔️ You struggle with finding quick, easy, healthy & cheap meals
✔️ You struggle staying on track with your meal budget
✔️ You want to kick your 'takeout addiction' to the curb
✔️ You want to save an extra $200 – $300 every month
The $5 Meal Plan makes meal planning simple and effortless. You'll save time AND money as you'll get a customized meal plan sent directly to you each week. The best part is that each meal costs around $2 per person (or less)!
So if you just want to check out $5 meal plan (with no strings attached), try it here for free (for 2 weeks).
3. Instant Pot Chicken and Rice
Rice is a wonderful, frugal ingredient to help stretch your food budget. This Instant Pot Chicken and Rice dish from Feast for a Fraction is packed with delicious flavor and comes in at less than $1 per serving!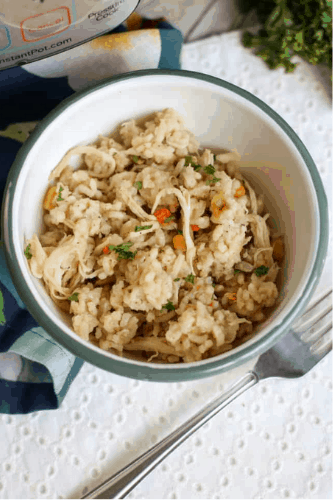 4. Sloppy Joe Mini Pies
If you love sloppy joes, you're going to love these Sloppy Joe Mini Pies from Lindsey Blogs. They are a fun take on the easy family meal and great when you're on a meal budget!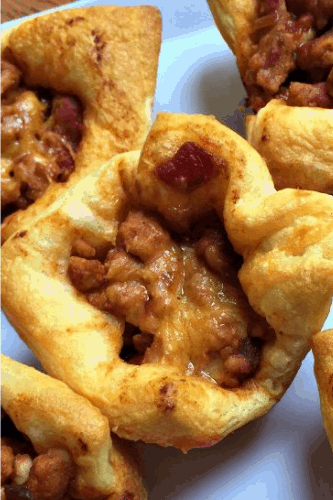 5. Instant Pot Vegetable Chow Mein
This Instant Pot Vegetable Chow Mein recipe is a go-to recipe for nights where you had a tiresome and busy day. This noodle meal, from Belly Rules the Mind, is a sure hit and everyone will gobble it up. Very easy and frugal recipe!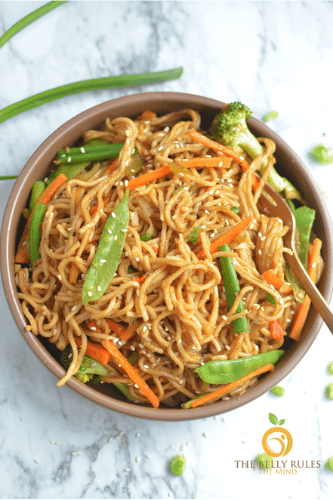 ---
Pssst! Did you know you can save more money by meal planning? Meal Planning saves me thousands of dollars every year! Not sure how to get started? Grab a copy of my free Meal Planning e-guide below.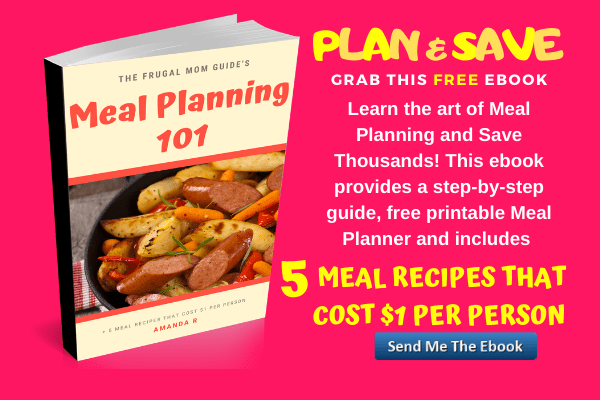 ---
6. Crispy Potato Tacos
Crispy Potato Tacos are also known as "Taquitos Dorados de Papa" or "Tacos de Papa" in Spanish. If you're looking for a vegetarian taco idea, try these crispy tacos stuffed with a flavorful and cheesy mashed potato mixture, from Muy Bueno Cookbook.
This taco recipe needs to be on your rotating list of easy, cheap dinner ideas!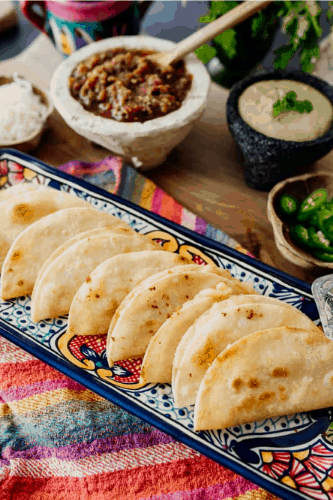 7. Minestrone Soup
This rich, "tomatoey" Minestrone Soup recipe, from The Kitchen Girl, is loaded with vegetables, beans and shell pasta. If you love Olive Garden Minestrone Soup, you'll love this easy copycat recipe made for Instant Pot or stove!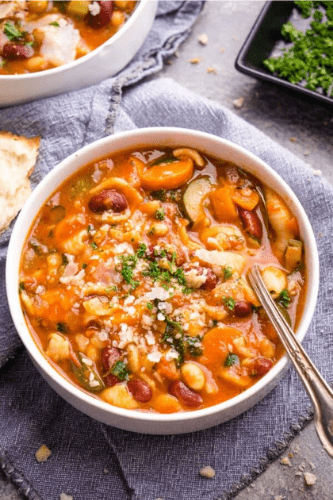 8. 15 Minute Garlic Butter Pasta
Make a delicious Garlic Butter Pasta with Parmesan Cheese in just 15 minutes, with just a few common ingredients. Creamy, cheesy, garlicky and with a touch of peppery heat! This pasta, from Always use Butter, is perfect as a meal on its own or served alongside your favorite protein.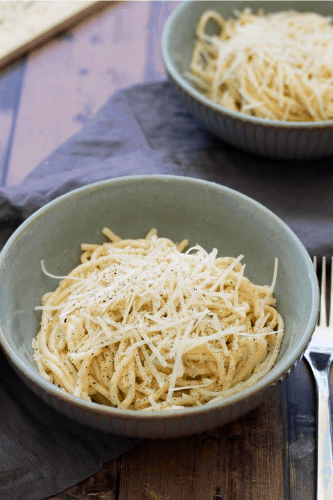 9. Cream Chipped Beef on Toast
Creamed Chipped Beef on Toast is a twist on a classic, staple dish. This recipe from Simply Happenings is made with cheap ingredients and most are already in your cupboard! It's made in 10 minutes or less with dried beef (that runs only $0.80 per packet) mixed with seasoned white gravy.
Served over a crunchy piece of toast, this is a delicious and super frugal recipe that is as easy as it gets.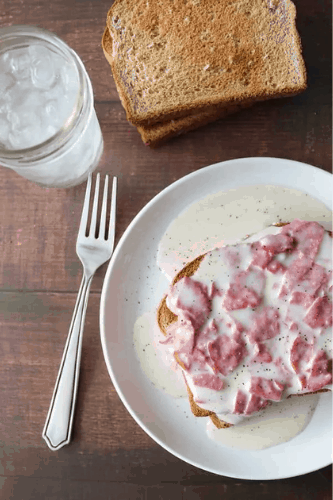 10. Cheesy Corn Hotdish
This simple Cheesy Corn Hotdish (casserole) recipe from Cheap Recipe Blog is a breeze to make and is super affordable. Comfort food at its finest…and cheapest!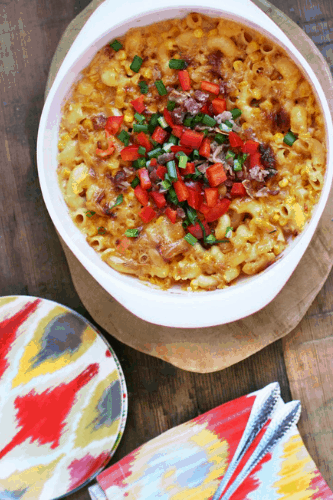 11. One-Pot Cauliflower & Red Lentil Curry
This One-Pot Cauliflower & Red Lentil Curry, from Plant-Powered Cooking, is easy, fast, and delicious. It's a pantry-friendly and budget-friendly meal that makes enough to feed a family with plenty of leftovers.
Stretch it even further by serving it over rice!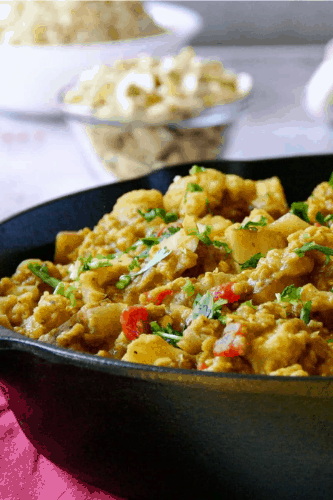 12. Easy Twice Baked Potatoes
The Forked Spoon boasts of having the best Twice Baked Potatoes Recipe. This cheap and easy recipe is cheesy, creamy and loaded with fluffy mashed potatoes. They are filled with gooey cheddar cheese, crumbly bacon and fresh chives to make a dish that you can enjoy as an easy side dish, appetizer, or satisfying meal.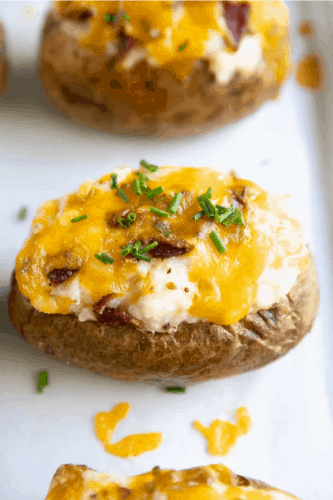 Bonus Tips for Cheap Dinner Ideas
• Be creative but don't get too adventurous – If you know your kids are a fussy bunch, don't try to force feed them exotic, ethnic foods just for the sake of trying to save a penny. You'd end up having to dump it and your money would be wasted.
Stick to what you know your family likes and work around those basic ingredients. After all, dinner time is all about family!
• Consult your pantry first – I cant stress this enough. Spending money to make money is probably "Big Business Strategy 101" but it definitely does not apply to cooking a delicious, budget friendly meal.
Cook meals based on what you currently have available before buying additional ingredients!
• Substitute / Omit Ingredients – I can't count the number of times people have asked me for a recipe for something that I made because it was "so full of flavor" and I couldn't remember half of the spices and seasonings that I added.
Stick to reason of course and substitute or eliminate the heck out of herbs and spices. Don't just buy ingredients for the sake of following a recipe.
For example, if you like spicy food, tossing in some garlic powder, black pepper or cayenne pepper powder ain't gonna hurt a thing!
• Start a Kitchen Garden – This is frugal cooking tip number one. Basically, if you grow your own herbs, spices and vegetables, you won't have to buy.
Also…the fresher the better and there's nothing fresher than hand picked!
• Use coupons to save money or buy in bulk if possible.
For the weeks that you are super busy and you absolutely CANNOT cook at home, at least have some control over how much you spend on takeout and how healthy your meals are. When it's impossible to cook at home,
freshly
will deliver chef-cooked, healthy meals to your door. AND if you're anything like me, you'll love a good deal.
Grab $40 OFF your freshly purchase here
!
Related Posts on Easy Cheap Dinner Recipes
12 Budget Friendly Recipes that Cost $1 per Person
12 Cheap Breakfast Ideas that Cost $1 per Person
37 Cheap Keto Recipes to get Fit without Breaking the Bank
The $18 per Week Meal Plan (includes 21 Meals + Snacks & Shopping List)
17 Cheap Air Fryer Recipes you'll Wish you Knew Sooner
12 Cheap School Lunches for Kids
Final thoughts on Cheap Dinner Ideas
Having a great family or solo dinner is totally doable, even while on a tight budget. Dinners are all about winding down, relaxation and having a lovely and valuable family experience. There's no reason not to have a mouth watering (wallet friendly) dish in front of you.
Hey…if all you have is your TV and your goldfish, that's family enough! You deserve a cheap, delicious dinner also!
Are there any other cheap dinner recipes that you'd like to share? Let us know in the comments below. We'd love to hear from you!
Don't forget to follow us on Pinterest, Facebook and Instagram for more budget-friendly recipes and money saving inspiration.
Liked this post? Pin it!
12 Cheap Dinner Ideas that Cost $1 per Person