The Best Easy & Cheap School Lunch Box Ideas that Cost $1 per Person
Sometimes it's difficult to find the balance between fun school lunch ideas and cheap school lunch ideas for kids. Add a picky eater (or two) into the mix and making school lunches can reach the height of frustration.
Personally, I struggle to find school lunches that are easy, healthy, and something that my kids will even eat. Actually there are only a handful of meals that they each love. And there are even less that they BOTH love.
This busy mama will not be cooking two different meals on a school morning! So I'm always looking for simple meals that they'll both enjoy – anything to make my life easier!
By now, you've realized that school lunch prep in our home is a daunting task. In my hopes to find more school lunch options for this upcoming school year, I've put together these amazing school lunch ideas that are easy, delicious and budget-friendly!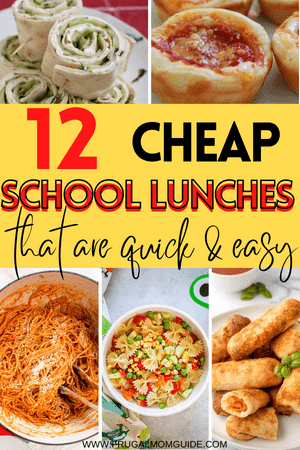 This post may contain affiliate links. This means that we may make a commission (at no extra cost to you!) if you make a purchase via a qualifying link. You can read our full disclosure for more info.
As a working mom (I work 9-5 AND juggle our business at home after hours), easy is the name of the game. And as a frugal mom, budget-friendly options are also a must.
I also go crazy for aesthetic bento boxes and perfectly curated lunch box videos. Unfortunately, I just don't have the time for those right now.
Despite my limitations however, I always aim to have a lunchbox that is meeting nutritional standards. According to a recent study of 528 pre-school children's lunchboxes in California, it was found that "more than 80% of lunchboxes contained discretionary foods, such as chips and sugar-sweetened drinks, whilst only 16% included vegetables."
In an effort to prioritize our kids' health, you can always add fresh fruit, vegetables and other healthy sides to the lunchbox, along with any of the options from this list. This will ensure that their lunchboxes are filled with a balanced and nutritious meal!
Now let's have a look at these healthy and cheap school lunch ideas.
12 Cheap School Lunch Ideas for Kids
1. 10 Minutes Easy Spaghetti
This 10 Minutes Easy Spaghetti from iFOODreal is perfect for busy mornings when you need a quick meal. It requires very little meal prep and it is also super affordable. You can even make this the night before, to further simplify the morning chaos!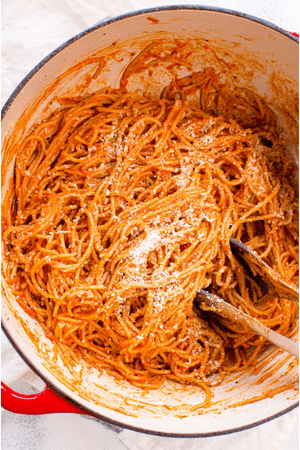 2. Banana Carrot Oatmeal Muffins
These Banana Carrot Oatmeal Muffins from Sungrown Kitchen require just a few ingredients, and just a few minutes of your time, but will yield enough for a few days!
They are a great way to sneak in some extra fruit and veggies. Best of all, they are gluten-free, dairy-free and nut-free, making it perfect for school!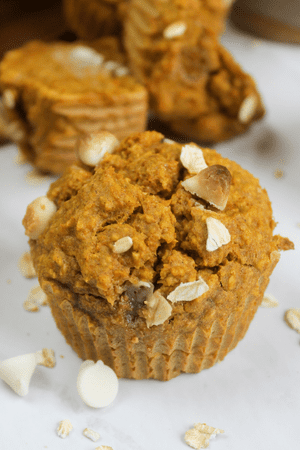 HEY!
If you struggle with finding meals that are CHEAP, yummy and kids-approved, then the $5 Meal Plan is a must!
This is for you if:
✔️ You struggle with finding quick, easy, healthy & cheap meals
✔️ You struggle staying on track with your meal budget
✔️ You want to kick your 'takeout addiction' to the curb
✔️ You want to save an extra $200 – $300 every month
The $5 Meal Plan makes meal planning simple and effortless. You'll save time AND money as you'll get a customized meal plan sent directly to you each week. The best part is that each meal costs around $2 per person (or less)!
So if you just want to check out $5 meal plan (with no strings attached), try it here for free (for 2 weeks).
3. Tuna Salad Sandwich
Fantabulosity's delicious Tuna Salad Sandwich is yet another easy recipe that can be made in just 10 minutes! This classic tuna salad recipe uses simple ingredients and is the perfect addition to a school lunch box!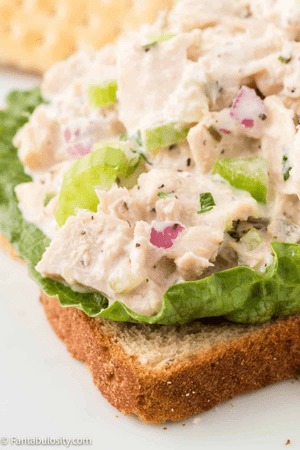 4. Cheese Ramen
If your kids love mac and cheese, you've gotta give this Cheese Ramen from Spoons of Flavor a try! Best of all, it can be made in just 5 minutes and is super budget-friendly!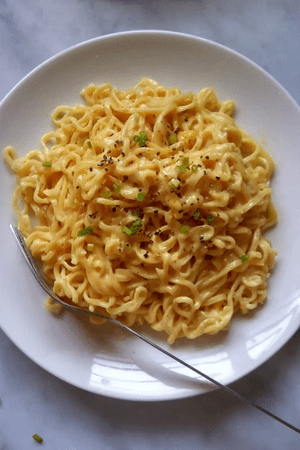 5. Cucumber Pinwheels
These Cucumber Pinwheels from Christina's Cucina are so fun, they'll surely be a big hit with your kids! This recipe is easy, healthy and requires just three ingredients. It's perfect for your kid's lunch box!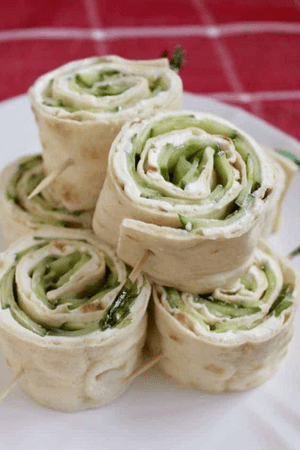 6. Kid-Friendly Pasta Salad
Little Sunny Kitchen's Kid-Friendly Pasta Salad is packed with colorful veggies, making this a nutritious addition to any school lunchbox!
Don't hesitate to swap out the veggies to add those that your kids love and enjoy (and those that suit your budget too)!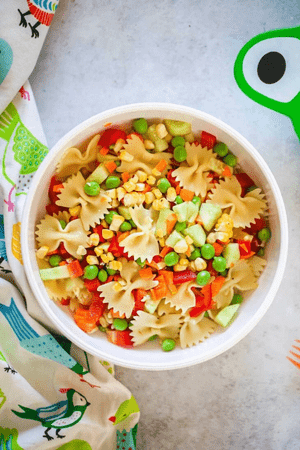 7. Broccoli, Ham and Cheese Pop Tarts
Make delicious Broccoli, Ham and Cheese Pop Tarts as school lunches for just $1 per Pop Tart! Your kids will be begging for this every week! This simple recipe is from Easy and Delish.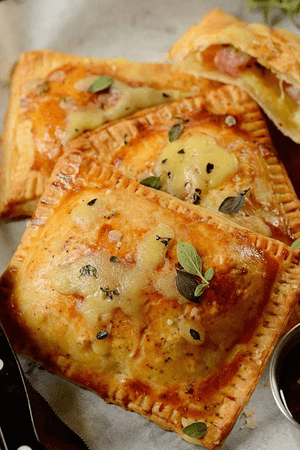 8. Tomato Pulao
If you have a more adventurous eater on your hands, or a child who loves rice dishes, you'll want to try this Tomato Pulao rice recipe from Recipe Pocket!
It's a one pot Indian recipe that is extremely quick to make. This is a great addition to your weekly school lunch line up!
9. Air Fryer Tortilla De Patatas (Spanish Omelette)
Make this Air Fryer Tortilla De Patatas from Recipe This, with just 4 ingredients (and that includes the salt!). This recipe is quick, easy and healthy, and can even be made ahead of time.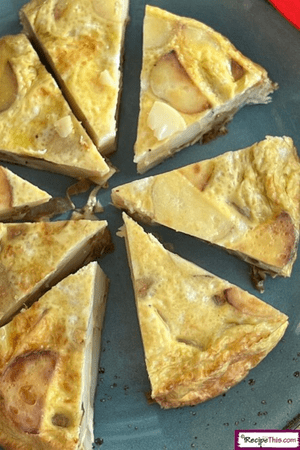 10. Pepperoni Rolls
Your kids will be begging for these Pepperoni Rolls from On My Kids Plate! These are easy to make, and super delish. Plus they are so simple to pack for school lunches.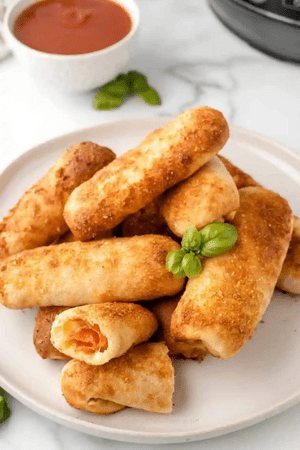 11. Mini Chicago Deep Dish Pizzas
This is yet another option for little pizza lovers. They will definitely be a huge fan of these Mini Chicago Deep Dish Pizzas from Practically Homemade! You'll be surprised by how simple this is to make!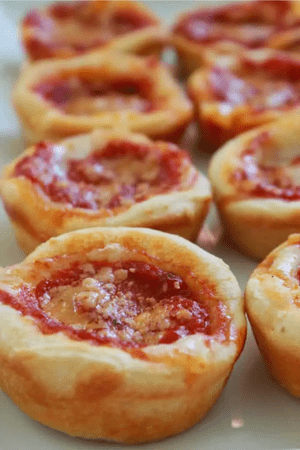 12. Double Noodle Soup
On colder days, soups will be a key part of your school lunch planning. This Double Noodle Soup from Sweet Hazel Honey is a must!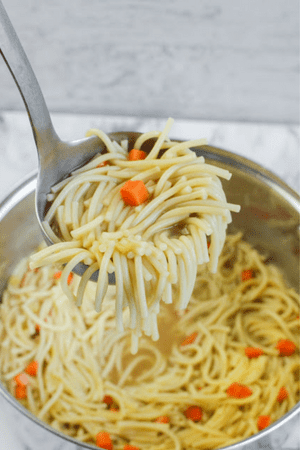 Bonus Tips for Packing Cheap School Lunches
• Stick to a Budget
Your first step to packing cheap school lunches is to decide on a budget and stick to it! The term "cheap" is subjective after all.
Every weekend you'll need to decide how much money you can spend on school lunches (and food in general) for the upcoming week. This determines what kind of meals you can pack, and how much money can be allocated towards your school lunch prep.
For example, last school year, I couldn't afford to do the whole Bento Boxes deal with all the bells and whistles. This year, I really want to make room in my budget for it! I blame the 3815602 TikTok videos I've watched of people packing lunch for their kids! What can I say? Influencers gotta influence… (lol)
So anyways, I plan to get these lunch boxes (in blue and pink), these adorable fruit picks, these fruit & sandwich cutters and lunchbox cards. How freakin' adorable, RIGHT?! These aren't exactly "frugal" purchases but my kids are getting older and I'm trying to find a balance and savor every moment of childhood!
So, yes, decide on your budget and stick to it!
• Meal Plan
Now it's time to meal plan. This means choosing meals that align with your budget! Meals should also be healthy, easy to make, and your kids' favorites!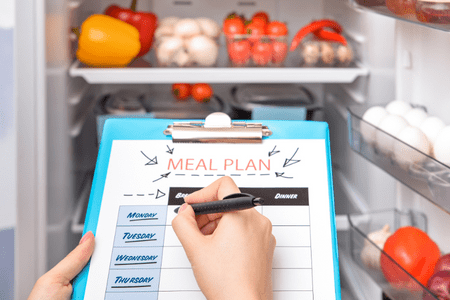 • Keep it Simple
The easiest way to ensure that school lunch prep is not frustrating is to keep it simple. This means planning quick meals, using leftovers when possible, incorporating make-ahead recipes and meal prepping on a weekend, or the night before!
• Meal Prep
Meal prep is a huge part of school lunch success! The extent of meal prepping is totally up to you and will depend on your schedule. You can choose to do all your meal prep on a weekend, or meal prep the night before to make mornings less chaotic.
Meal prep can include cutting all the vegetables for the upcoming week, prepping and marinating your meats, and separating your daily ingredients into different baskets or bowls.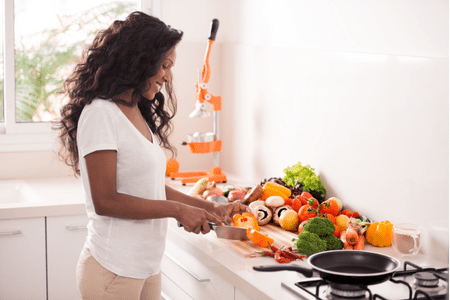 • Buy in Bulk
Buying in bulk can help you save money and stay on budget. Items that are great for buying in bulk include non-perishables that are favorites such as crackers, nutritious snack bars, and drinks.
You can also bulk buy ingredients for meals that frequently make it on your school lunch list. This includes things like jars of pasta sauce, packs of pasta, tins of tuna etc.
Buying in bulk is a surefire way of ensuring that you stay on track with your cheap school lunch ideas!
---
Pssst! Did you know you can save more money by meal planning? Meal Planning saves me thousands of dollars every year! Not sure how to get started? Grab a copy of my free Meal Planning e-guide below.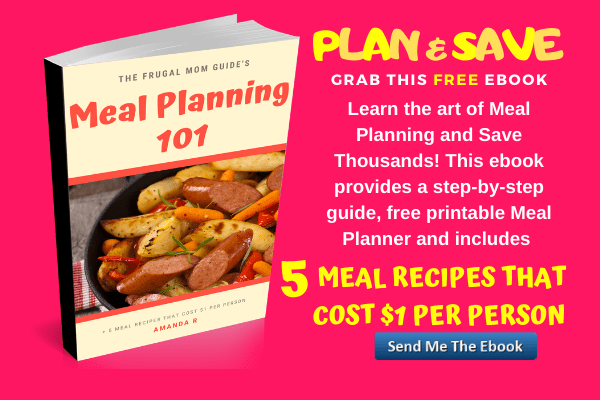 ---
Additional Info on Cheap School Lunch Ideas – FAQs
What is the cheapest school lunch?
All of the recipes on this list average $1 per person, so they can all be considered cheap school lunch ideas. You'll want to ensure that your kids' lunchboxes are also healthy and nutritious so I strongly suggest adding sides of fresh fruit and veggies as well.
What can I pack for lunch instead of a sandwich?
There are many lunches that can be packed instead of a sandwich. These include pasta recipes like spaghetti or pasta salad, noodles, mini pizzas, muffins, soups and even various rice recipes! There are so many healthy and delicious non-sandwich school lunch ideas for kids!
What can you put in a kids lunch box?
When you're packing school lunches, ensure that the meal is one that is healthy and well-balanced. Half the meal should be fruits & veggies, quarter whole grains/carbs and quarter protein. Remember that this is just a guide.
I usually add a portion of the "main meal" and a side of fresh fruit and vegetables. Often, the main meal already has meat or some sort of protein in it. I also add a snack, water and juice.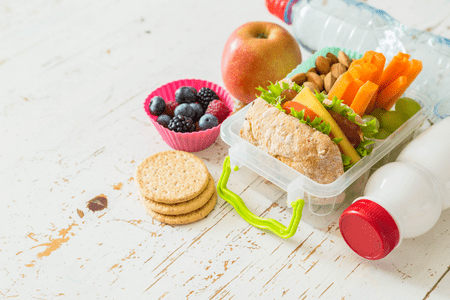 What is the easiest lunch?
The easiest lunch is one that requires the least effort on a busy school morning. This can be because it was already prepped and just had to be popped into the oven, or microwave. It can also be because it's a recipe that can be made in under 5 minutes.
Sandwiches are usually the easiest lunch, but one pot dishes or quick prep meals come in really close too!
Related Posts on Cheap School Lunch Ideas for Kids
17 Cheap Air Fryer Recipes that are Easy & Delicious
12 Cheap Dinner Ideas (that Cost $1 per Person)
The $18 Per Week Budget Meal Plan to Save Money
Final Thoughts on Cheap School Lunch Ideas for Kids
There are so many cheap school lunch ideas for kids. You'll need to choose options that are easy for you make and those that your kids will love! And if it's something that the adults can enjoy also, then that's a huge win too!
Do you have any other frugal and cheap school lunches that you swear by? Do you have any tips to help make school morning easier? Share with us in the comments below. We'd love to hear from you!
Also, don't forget to follow us on Pinterest, Instagram and Facebook for more cheap meals, frugal living tips and money saving inspiration!
Liked this post? Pin it!
12 Cheap School Lunch Ideas for Kids