Easy Cheap Breakfast Recipes your Family will Love
A great day begins with breakfast! I know many of you machines run off pure caffeine and adrenaline until lunch time. However, for me, a nice breakfast just has a way of setting up my entire day for success. Breakfast makes me feel satisfied, energized and mentally prepared to conquer all my tasks.
As a matter of fact "breakfast is the most important meal of the day" isn't just a cliché that your mom blurted constantly to get you to finish your toast while growing up. There are a lot of scientific facts behind the need to get your day started with breakfast. The bottom line is that your mind and body just function better when fed a good breakfast.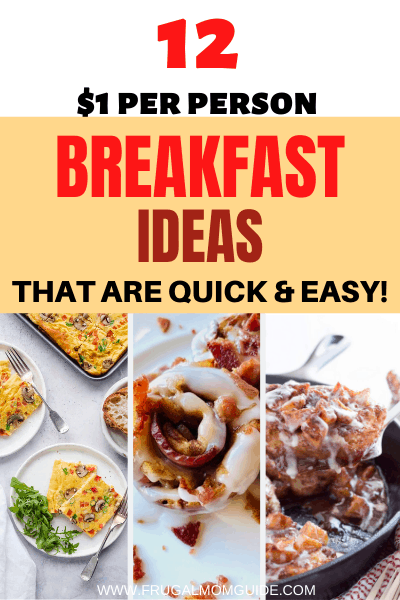 This post may contain affiliate links. You can read our full disclosure for more info.
As much as I love a nice meal, a cheap meal just hits the right spot also. What if you could have both? Who said a nice breakfast has to break the bank? Remember frugality is all about managing resources wisely. Meals are no different.
The average American household spends a little under 10% of their budget on food. This may not sound like a lot but it's because life is kicking your butt left right and center and swiping the other 90% away. What if you could create a little more wiggle room in your budget while still eating well?
If you manage your ingredients well, stick to a budget, you can definitely have yourself some delicious, wholesome, cheap breakfast ideas to get your day started like a true champion.
12 Cheap Breakfast Ideas that Cost $1 per Person
1. Fluffy, Fluffy Pancakes
A whole hearted American breakfast begins with pancakes. Just the appearance of a stack of these bad boys can brighten even the dullest of days. Pancakes are also a complete, classic breakfast dish.
This low cost option is made mostly from pantry staples and is absolutely delicious. This recipe from Chocolates & Chai is quick, easy, and doesn't require any buttermilk!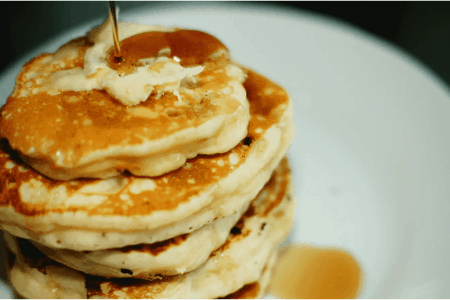 2. Sheet Pan Eggs
Having an omelet for breakfast makes you feel like royalty. Instead of making several omelets over and over in a skillet, have a shot at this easy Sheet Pan Eggs recipe from Little Sunny Kitchen.
It is super simple with the potential to feed an entire family on a budget. It is made in just 30 minutes and perfect for breakfast and brunch.
Remember, as long as you have eggs and cheese, you have an omelet. All other ingredients are a bonus.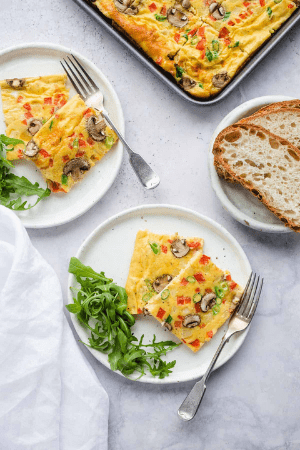 HEY!
If you struggle with finding meals that are CHEAP, yummy and kids-approved, then the $5 Meal Plan is a must!
This is for you if:
✔️ You struggle with finding quick, easy, healthy & cheap meals
✔️ You struggle staying on track with your meal budget
✔️ You want to kick your 'takeout addiction' to the curb
✔️ You want to save an extra $200 – $300 every month
The $5 Meal Plan makes meal planning simple and effortless. You'll save time AND money as you'll get a customized meal plan sent directly to you each week. The best part is that each meal costs around $2 per person (or less)!
So if you just want to check out $5 meal plan (with no strings attached), try it here for free (for 2 weeks).
3. Hearty Breakfast Sandwiches
This yummy breakfast recipe from Moneywise Moms costs less than $1 per serving.
The entire family loves these Hearty Breakfast Sandwiches to start a busy day and they are a big hit with teens! Make your own at home for a fraction of a dollar and save money over fast food or takeout.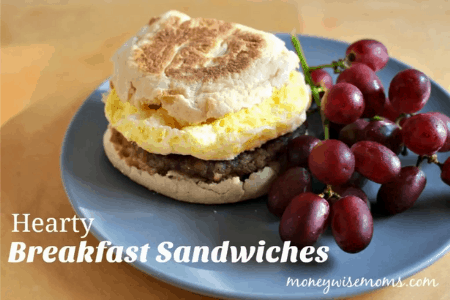 4. Eggs Benedict Breakfast Braid
As continue with our recipes fit for royalty, have a go at this delicious, guest-worthy Eggs Benedict Breakfast Braid for breakfast, brunch or anytime! It comes from Easy Budget Recipes and costs just 88¢ per serving!
5. Poached Eggs
Poached eggs from Healthy Kitchen 101 are the perfect way to turn a dollar into elegance. This recipe needs only 4 ingredients to create a delicate dish of simple flavors.
Packed with protein and the flair of a fancy restaurant, this breakfast meal is sure to start your day (and wallet) in the right mood!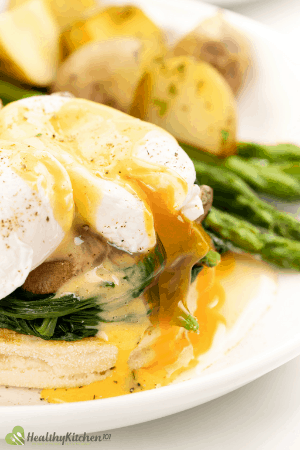 ---
Pssst! Did you know you can save more money by meal planning? Meal Planning saves me thousands of dollars every year! Not sure how to get started? Grab a copy of my free Meal Planning e-guide below.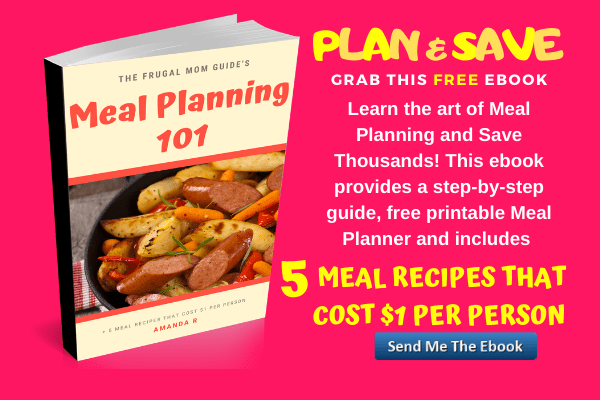 ---
6. Easy Churros
This recipe from Budget Delicious for Easy Churros is a game changer. Once you see how easy and economical it is to make homemade churros, you'll want to whip up a batch of these all the time.
They are crispy, crunchy, golden fried piped dough, tossed in powdered sugar and are perfect for breakfast and dessert!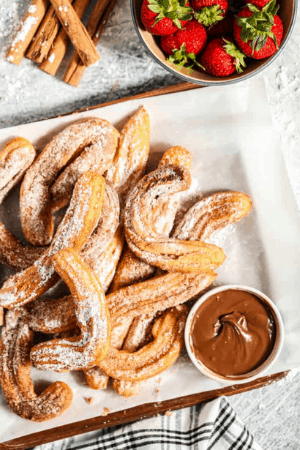 7. Apple Pie Oatmeal
Take a look at this Apple Pie Oatmeal recipe from Profusion Curry. This gourmet breakfast recipe is made with inexpensive ingredients but still gives off an indulgent impression when being eaten dessert for breakfast or brunch.
Essentially it is made from oats and apples, along with a few spices and flavorings.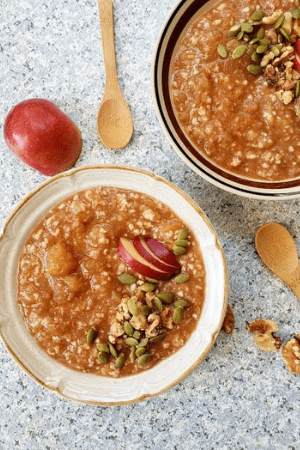 8. Bacon Cinnamon Rolls
These sticky, gooey and soft Bacon Cinnamon Rolls from Aubrey's Kitchen are surprisingly easy, quick and economical. They surely have the wow factor with crunchy bacon making the best sweet and salty breakfast, snack or desert.
At only 60 cents per serving, you can't go wrong!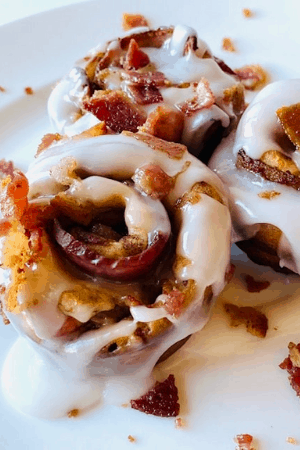 9. Skillet Apple Pie Biscuits
These Skillet Apple Pie Biscuits from Borrowed Bites are dipped in butter, coated in brown sugar, cinnamon and topped with an amazing 5-ingredient apple pie filling. They are then baked in a skillet to sticky perfection.
This recipe is deceivingly inexpensive and a perfect weekend breakfast or dessert!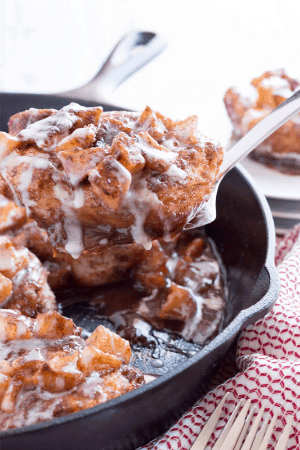 10. Keto Belgian Chaffles
These Keto and low carb waffles from The Short Order Cook are made from just 2 ingredients, shredded cheese and eggs. Put together, the ingredients combine to make Keto Belgian Chaffles.
There is not an easier or a more economical breakfast for those trying to watch their carb intake.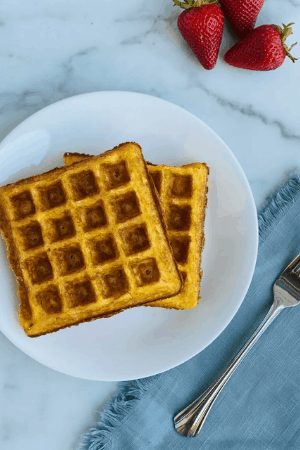 11. Apple Oatmeal Recipe
Mom Foodie gives a very scrumptious Apple Oatmeal Muffins recipe. These are great for a quick breakfast and utilize oats, a healthy, filling and inexpensive breakfast ingredient. The muffins are budget friendly, kids love them and they provide plenty of soluble fiber.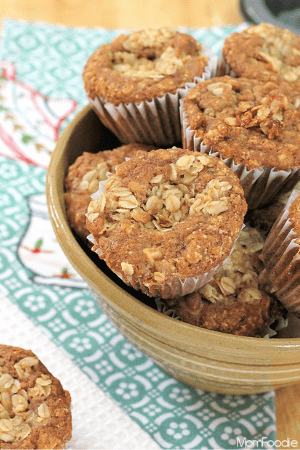 12. Egg, Sausage and Potato Scramble
This mouth watering Egg, Sausage and Potato Scramble from I Heart Recipes transforms these three simple ingredients into an explosion of flavor. This is guaranteed to start your day with a burst of energy and satisfaction.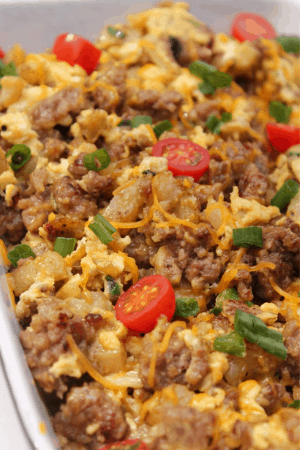 Bonus Tips for Cheap Breakfast Ideas
• Consult your pantry first – Cook meals based on what you currently have available before buying additional ingredients.
• Substitute Ingredients – Don't just buy ingredients for the sake of following a recipe. Many seasonings can be substituted and the meal would taste just as good. Breakfast recipes are generally not complicated and substituting dried seasonings for fresh and vice versa generally would not be a deal breaker.
• Omit Ingredients – Again…breakfast is basically fool proof. Toasted bread is a breakfast meal. An egg, scrambled with salt is a meal. Most of the fancy spices and seasonings are just toppings that persons have added to personalize their recipes. Don't be scared to leave one or two out if you don't have.
• Start a Kitchen Garden – Grow some herbs to use as seasonings. This would save you money. Not to mention, the fresh stuff tastes way better.
• Use coupons to save money or buy in bulk if possible.
For the weeks that you are super busy and you absolutely CANNOT cook at home, at least have some control over how much you spend on takeout and how healthy your meals are. When it's impossible to cook at home,
freshly
will deliver chef-cooked, healthy meals to your door. AND if you're anything like me, you'll love a good deal.
Grab $40 OFF your freshly purchase here
!
Related Posts on Easy Cheap Breakfast Recipes
12 Budget Friendly Recipes that Cost $1 per Person
37 Cheap Keto Recipes to get Fit without Breaking the Bank
The $18 per Week Meal Plan (includes 21 Meals + Snacks & Shopping List)
12 Cheap Dinner Ideas that Cost $1 per Person
17 Budget-Friendly Air Fryer Recipes that are Easy and Delicious
12 Cheap School Lunch Ideas for Kids
Final thoughts on Cheap Breakfast Ideas
As you can see, having a nice (but cheap) breakfast is totally possible. Add these easy breakfast recipes to your menu planning to please both your family and your wallet!
Are there any other cheap breakfast ideas that you swear by? Share with us in the comments below. We'd love to hear from you!
Don't forget to follow us on Pinterest, Facebook and Instagram for more budget-friendly recipes and money saving inspiration.
Liked this post? Pin it!
12 Cheap Breakfast Ideas that Cost $1 per Person