Your kitchen is probably one of your most expensive rooms in your home! I mean… why wouldn't it be? It has the most number of electrical appliances, you constantly have to restock it and it always seems to have a never-ending list of chores to complete! If you can find ways to cut down costs and apply some of these money saving tips for the kitchen, you may end up a rich man (or woman!).
OK, maybe I am exaggerating a bit. But what I make no mistake about is the fact that following these money saving kitchen tips and frugal kitchen hacks will surely be an ease on your pockets!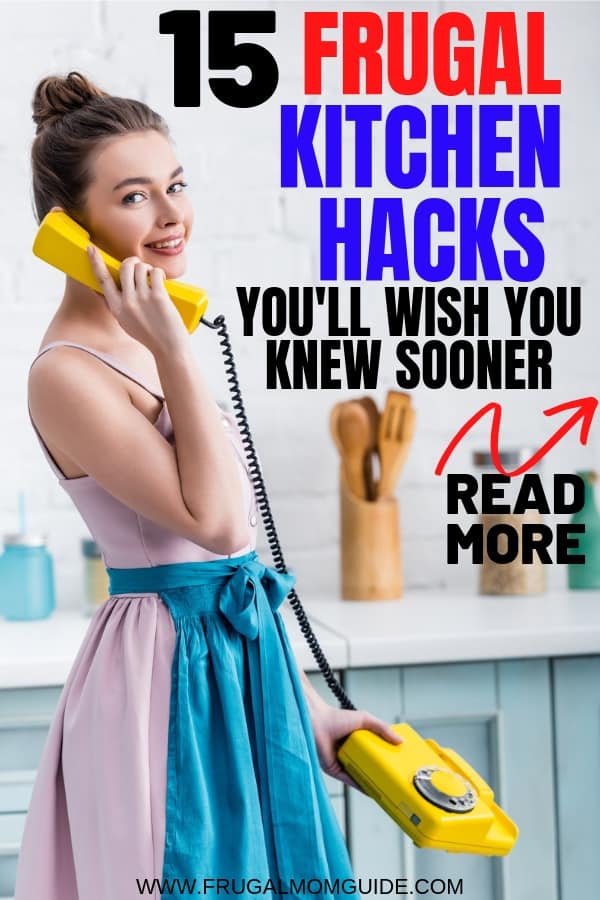 This post may contain some affiliate links. You can read our full disclosure for more info.
I am ALWAYS looking for ways to cut costs in our home. Sometimes when you're in debt and you have no choice, or trying to save money for a downpayment on a house or a dream vacation, frugal living is the smartest choice you can make.
I like to think that I'm putting my money to better use. Reallocating the purpose of my dollar – to another more enjoyable event. Know what I mean?
When I look at my kitchen and what a money suck it is, I knew I had to find ways to save money in there! Actually, all of these little tips combined can help you save hundreds of dollars per month. Now what will you do with some extra hundreds in your pocket?
15 Genius Money Saving Tips for the Kitchen
1. Minimize Kitchen Appliances & Unplug when not in Use
How many kitchen appliances do you own? Do you use all of them? How often?
If you're not a minimalist at heart, your extra unnecessary appliances can cost you a fortune. For starters, you have spent money to purchase it and secondly, it uses electricity even if it's just sitting, plugged in, on your kitchen counter!
So what do you do?
Think back to the last time you used your waffle maker, melon baller or pineapple slicer. Can't remember? Well you can either pack it away or even get a sale for it if you feel like it might never get used again! Save money AND make money?! YES PLEASE!
As for the appliances that you DO use, unplug them when you leave the house. You'd be surprised by how much money you can save on your electric bill by simply unplugging (with the exception of your refrigerator of course!).
Here's a neat hack for you, or call it overly frugal if you may.
I LOVE freshly brewed coffee. And every coffee lover knows that if you leave the coffee sitting for too long in the pot, it will start to taste burnt after a while. Sooo here's what I do… I brew my coffee, have a fresh cup (YUM!), and switch it off and unplug immediately. After a few hours, when I'm ready for my second cup, I pour from the pot into my coffee cup, reheat in the microwave and I'm good to go! It's almost as good as freshly brewed coffee and so much better than that burnt taste of it sitting in the pot while the coffee maker is switched on.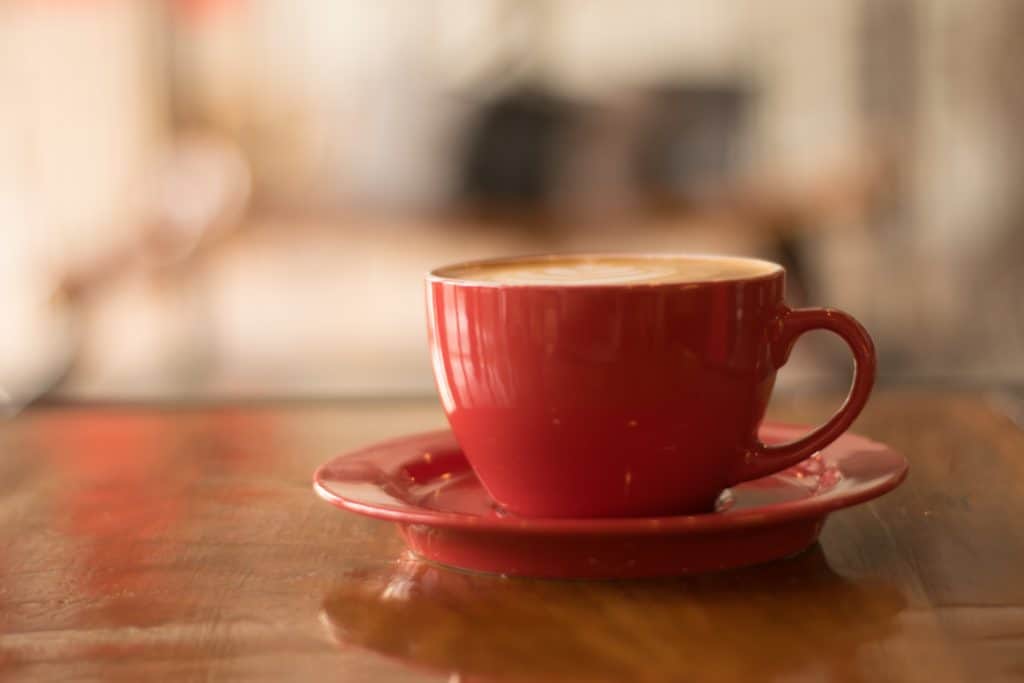 Another option is to add just enough water for one cup at first and brew. Pour your coffee and switch off. When you're ready for your second (or third or fourth), add a little more coffee to the filter to freshen it up. Bear in mind that you're using a lot of energy (aka increasing your electricity bill) every time you brew.
***Please DO NOT reuse coffee grounds/coffee that has been sitting for too long! Exercise good judgement when it comes to frugality!
Lastly, quit opening and closing your refrigerator and oven doors often. Any appliance that has to heat/cool uses a lot of energy to get the work done. This translates into more dollars for you. To limit the amount of work your appliances have to do, leave the doors close as much as you can.
For example, every time you open your refrigerator door, it allows heat in and when it's closed again, it has to work twice as hard to keep the food cold. The same goes for your oven. While baking, every time you open the oven door, cool air from outside gets inside. When you close it again, it has to use more energy to keep the food hot and baking!
Check out these other genius ways to save money on your electric bill in other rooms of your home!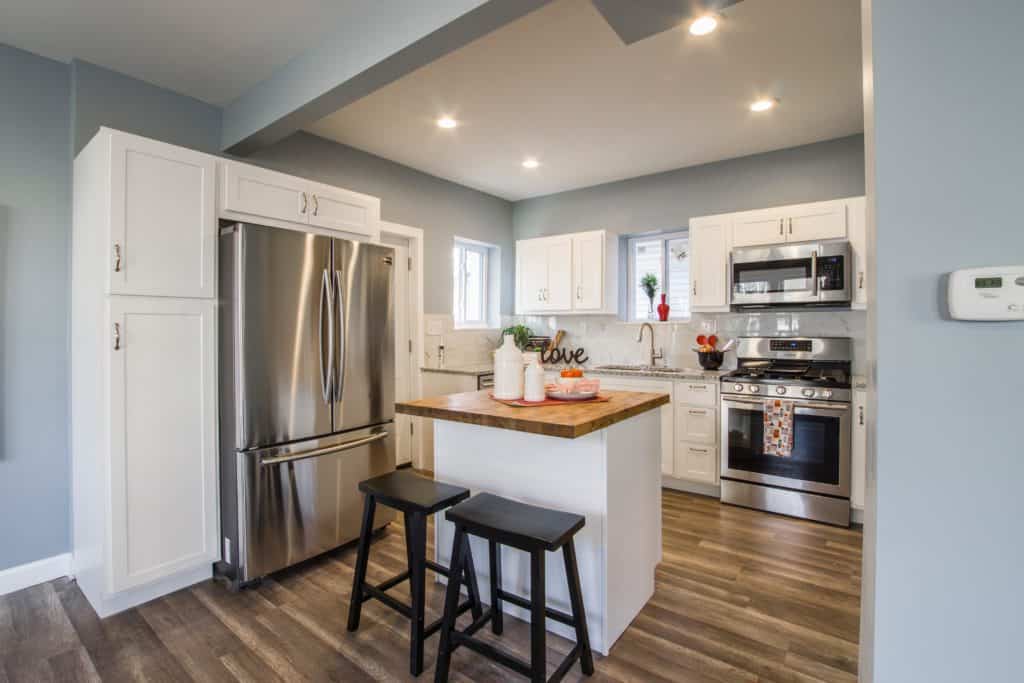 2. Use Dish Cloths instead of Paper Towels
This one is so simple. It focuses on using items that can be reused so that you can save money. Imagine how much money is spent on paper towels per year. I can think of quite a few things that I'd like to do with that money instead!
Now, instead of using paper towels to clean spills and messes, I use dish cloths which I alternate and wash to save money. This option is also zero-waste and environment friendly so that's a win!
Invest in a few dish cloths or DIY with old pieces of scrap cloth at home. The environment and your wallet will thank you!
3. Meal Plan as a Money Saving Tip for the Kitchen
I can't tell you how much meal planning was a game changer for me! Guys, if there's nothing else on this list that you do, do this! If you want to save money, meal planning is the way to go.
Meal planning took the guessing out of things for me. You know those days when you just don't know what to cook, you don't feel to cook and you just say **** it, let's get takeout? Believe it or not, meal planning helped us save tons on money each week because it prevented this from happening!
Every Saturday, I sit and plan my meals for the upcoming week. I take into consideration our budget, what is already in the pantry, if we have appointments, parties etc. on any particular day, and what specials/deals are on that week. I stick to cheap, frugal but healthy meals!
Good cheap meals include rice, beans, potatoes and pasta. These are almost always part of our plan every week. I also include veggies (and I'm in the process of setting up a little kitchen garden to save money here too) and meat. Some days we go meatless and get our protein from eggs instead.
A bonus tip for saving on meat and vegetables is to go to the butcher's or farmers' market closer to closing time to get the very best deals. Because these are perishables, the vendors usually just want to get them off their hands around this time.
---
Pssst! Did you know you can save more money by meal planning? Meal Planning saves me thousands of dollars every year! Not sure how to get started? Grab a copy of my free Meal Planning e-guide below.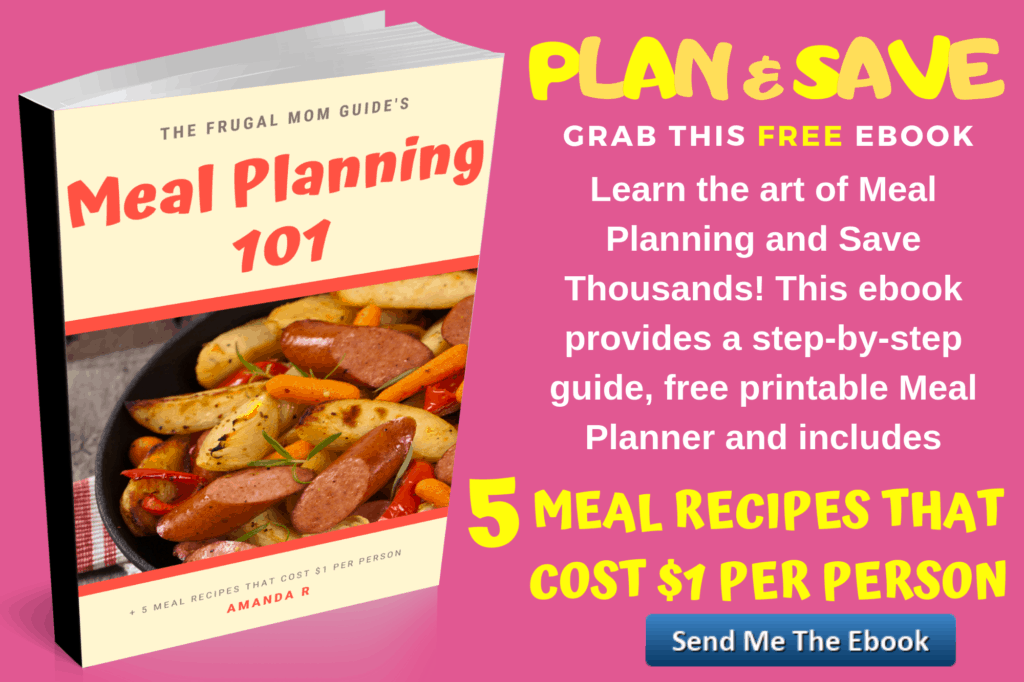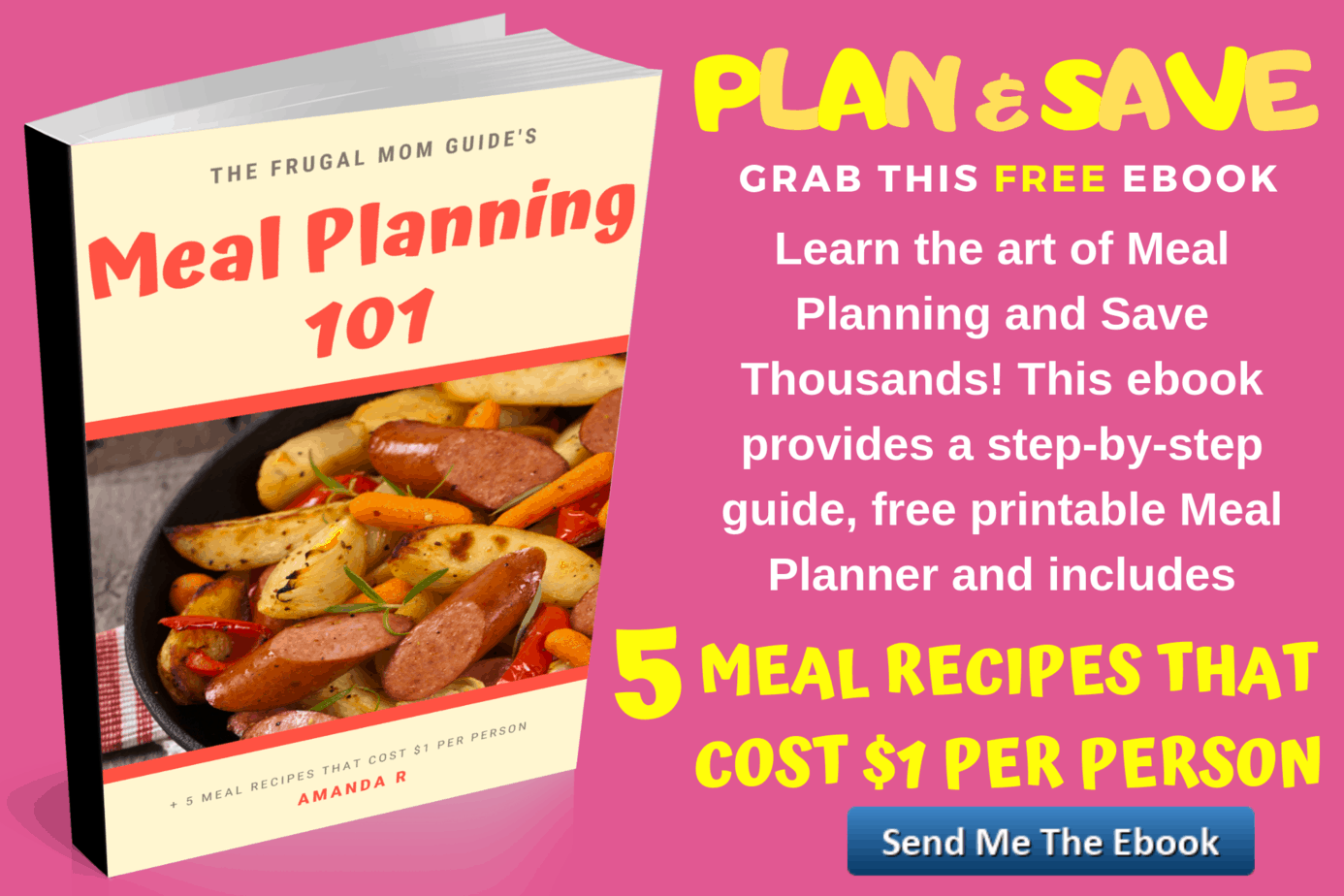 ---
4. Cook Meals from Scratch
After meal planning and sticking to your grocery list, the next step is sticking to your meal plan and cooking your own food at home! Not only is this cheaper but, it's also way more healthy for you and your family!
Cooking your own meals, as opposed to getting takeout regularly will help you reduce your spending and save more!
5. Stretch your Meals as a Money Saving Tip for the Kitchen
Stretch your meals as much as possible by adding filler ingredients. This means increasing the number of servings for each recipe without actually spending a lot more money.
A perfect example is to stretch your minced meat by adding tomato sauce or mushrooms or carrots. Another example is the adding of water (and a few extra seasonings) to soup and broth.
You can also make magic by cooking several meals using one whole chicken. Stretch your meals in any way that you can!
6. Hand wash dishes
Hand wash your dishes. It saves time and money.
Think about it. If every time you use a plate, you take a few seconds to wash it quickly, you eliminate an extra evening chore AND save money on running the dishwasher, using extra water, using extra dish soap etc.
BONUS TIP – Mix your dish soap with water to make it last longer.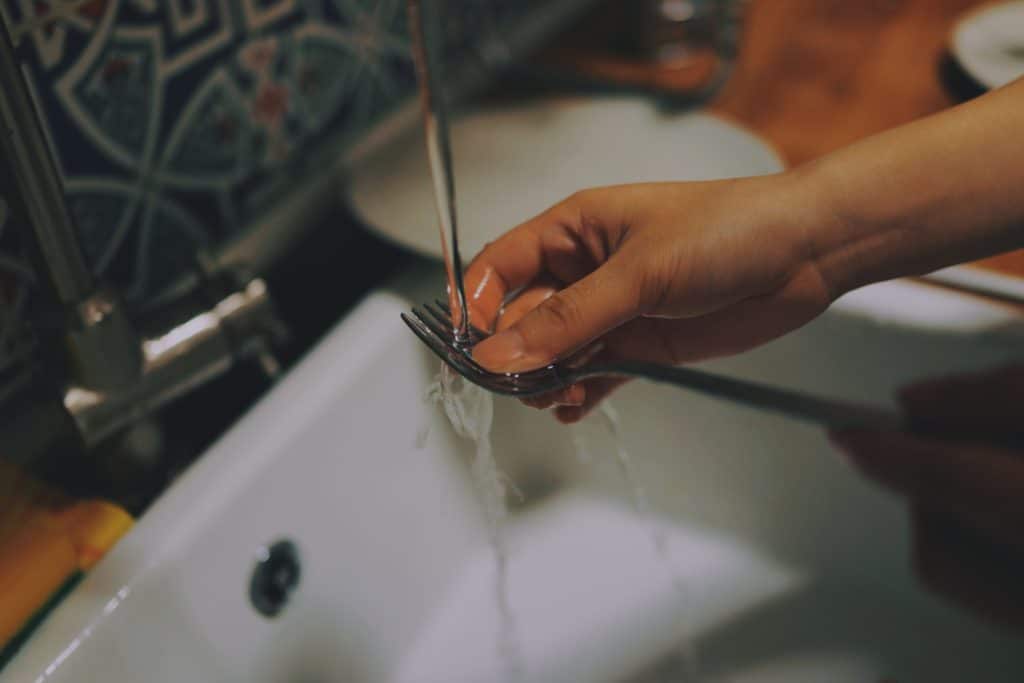 7. Have a Pantry & Refrigerator Inventory
This doesn't have to be some complicated project. This can be as simple as sticking a notebook page or magnetic whiteboard onto your pantry door or refrigerator and taking note of what you have in there.
A magnetic board will work best since you can erase and make changes easily and you wouldn't have to waste paper.
Simply write down the food and how many servings and the date you put it in there. eg. Mashed Potatoes x3 – 4th May. As you use, reduce the number of servings and make the relevant changes.
Now it's super easy to keep track of your food and leftovers because waste not, want not!
8. Don't Waste Water as a Money Saving Tip for the Kitchen
This money saving kitchen tip is pretty self explanatory. Keep water conservation in mind and increase your savings today!
By the way, sort of unrelated but this tip totally brought up the memory of the Sesame Street clip of the boy who left the water running while brushing his teeth. You know? The one where the fish called him because the water level in his pond was going down? Does this totally age me?
9. Open a window instead of using the overhead range hood
Smoky kitchen? Open the window and save electricity! It's as simple as that!
Related Reads:
How We Saved $24 000 in 7 Months on One Income
37 Free Things to do to Rock a No-Spend Challenge
How to Stop Living Paycheck to Paycheck (Using these Money Management & Money Saving Tips)
9 Money Saving Challenges to help you Crush your Financial Goals This Year
25 Fail-Proof Frugal Living Tips to Reduce your Household Expenses This Year
10. Avoid Name Brands
You really don't need the most expensive brand of kitchen products and food items to make your meals and maintain your kitchen. When you're at the grocery store, make it a habit to read labels and check ingredients. 9 out of 10 times, you can find another brand that has the identical product for more than half of the price tag!
BONUS TIP – Oftentimes, the 'store brand' is actually made by a name brand company and is the same quality but is available for a much cheaper price.
Use apps like Ebates and Drop to get cash back after you've done your grocery shopping!
11. DIY Kitchen Products
From cleaning products to air fresheners to seasoning mixes, you can almost DIY a cleaner, healthier, chemical-free version.
For example, to get rid of freezer smells, put some coffee granules in a clean sock and leave it in the refrigerator. Or mix vinegar in water to spray and clean countertops and floors.
12. Shop Second hand
Need something for your kitchen? See if you can score it second hand before you decide to pay full price! From appliances to kitchenware, you can always find it second hand!
13. Grow your own food
Start a vegetable garden and grow your own herbs! Just yesterday, my dad brought me some veggies from his kitchen garden and raved about how much more delicious the produce was! It also resulted in saving a lot of money each month.
This has been something I've been wanting to set up for a while now but I just can't seem to find the time. After talking to my dad yesterday, and getting his advice, this is definitely on my To-Do List for this month! Of course, I will post and share all my tips along the way!
The hardest part is the initial setting up. Once you get everything in place, it gets easier along the way. I'm so excited because it's so easy to keep replanting the seeds, and for something like green onions you can always regrow them by placing the bulbs in the soil.
If you have the resources to start growing your own food, go for it! It is healthier and will save you so much money!
14. Use ALL Leftovers
Do not waste anything! Eat leftovers or utilize them in another meal later on in the week!
Once there's leftover, there's almost always something that you can stretch and make utilizing it. For example, you can use meat one day, eat it again the next, reuse it in another meal the day after, and then use the bones to make soup the last day.
You can also use veggie scraps and meat bones to make stock. Also, if you open a particular ingredient but you don't use it all out, remember that freezing the remainder for a later date is always an option. The same applies to uneaten leftovers in your refrigerator!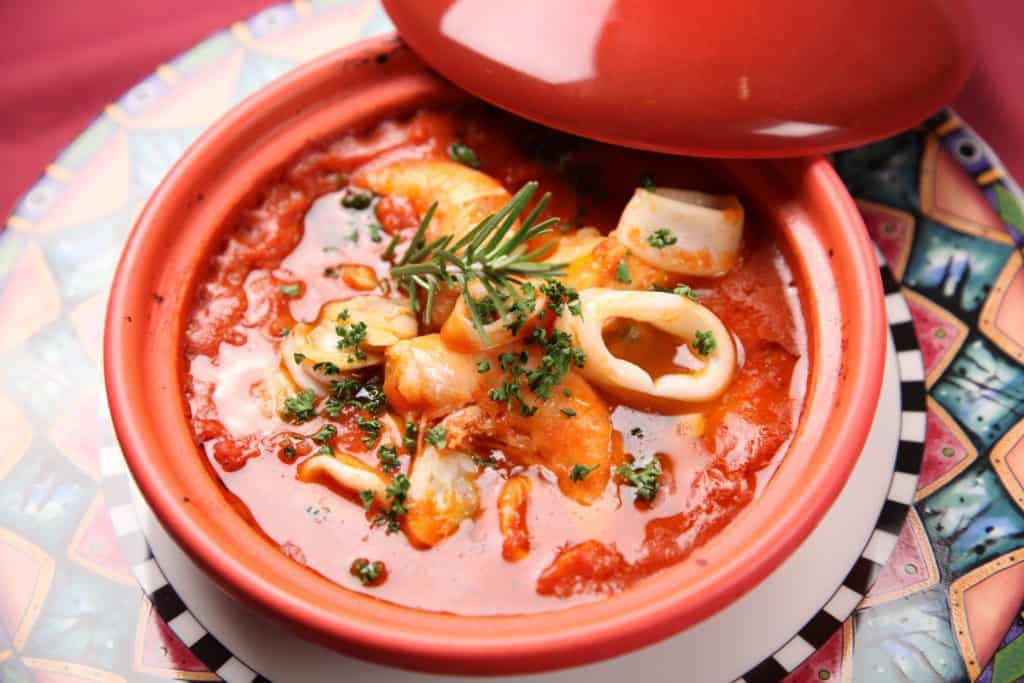 15. Buy in Season and in Bulk
When you're looking for money saving tips for the kitchen, you need to shop smart. Whenever possible, buy frequently used items in bulk to increase your savings and make your meal plan around items that are in season.
Usually when an item is in season and widely available (meaning that you don't have to go to the ends of the earth to try to source it), it will be cheaper priced than other items.
Saving Money in the Kitchen is Easy!
There are so many easy ways to save money in the kitchen! It's pretty amazing how every dollars adds up to result in hundreds of dollars in savings at the end of each month. If you're looking to save more, adopt a frugal lifestyle and manage your money better, then this list of money saving tips for the kitchen is a pretty good place to start!
Do you have any other money saving tips for the kitchen that work for you? Share with us in the comments below. I'd love to hear from you!
Don't forget to share and pin for later!
Until next time,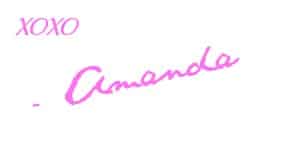 HEY! PIN ME FOR LATER!