Catchy Garage Ads & Garage Sale Ad Examples + Tips for a Successful Garage Sale
When you want to make some extra cash, having a garage sale can be a good idea. If you have too much stuff collecting dust at the back of your closet, you could be sitting on a gold mine! If you're interested in getting your hands on some much-needed money, let's get started with some garage sale tips and examples of garage sale ads to get you the best bang for your buck!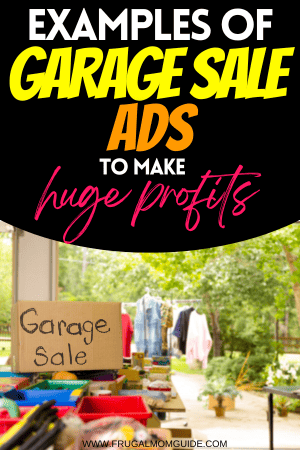 This post may contain affiliate links. This means that we may make a commission if you make a purchase via a qualifying link (at no extra cost to you!). You can read our full disclosure for more info.
According to Encyclopedia.com, Americans host an average of 6.5 to 9 million garage sales each year, vending goods out of their homes! And for good reason, obviously! There is huge money to be made from your household clutter.
In fact, H & R Block states that garage sales are a more than $210 million industry! And you can absolutely be cutting a piece of that money pie too. Of course, a successful garage sale starts with an effective garage sale ad.
What should I put in my

Garage Sale Ad

?
Your ad gives the first impression of your sale, so it is important to reel in potential customers with an excellent design. A good garage sale flyer or ad should have all of the following elements.
An Eye-catching Design
To capture the attention of your audience, an eye-catching design is a must! No-one will be reading your ad if they just scroll right past or drive right by. This means that you need to use bright and bold colors, large fonts that are easy to read, and engaging images.
A Catchy Headline
The second step to creating effective yard sale signs is coming up with a catchy headline. It should be something that immediately grabs the reader's attention. The best headlines are bold, short and catchy. (A few examples are listed lower in this post.)
You may also want to emphasize urgency. For example, "ULTIMATE GARAGE SALE – ONE DAY ONLY!" or "UNTIL STOCKS LAST" are great phrases to add on to your headline.
If you want to show a little personality in your ad, you can also opt to go the humorous route. Funny headlines captivate your reader, which leads to more shoppers, which leads to more money in your pocket!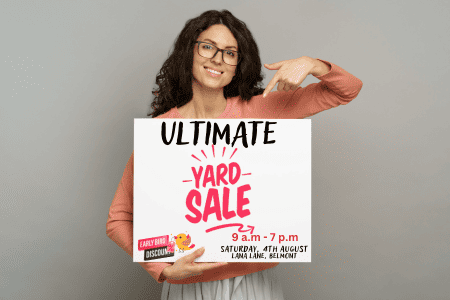 Date and Time
Obviously, adding the specific date and the specific time to your garage sale ad is important information for a successful sale. The exact time you plan to start the sale is absolutely necessary. Otherwise, you may end up with early birds at your door, at the crack of dawn (not even kidding!).
Whether you add a closing time or not is totally up to you. Adding "until stocks last" is a good way to state that it will end when all items are sold.
Address
You should also add your street name to your garage sale ad. Adding your exact house number is not necessary and should actually be avoided for safety reasons. Additional signs can be placed along the street on the morning of the sale.
Garage sale ads on notice boards can even have a tear-off strip with the address, making it easy for people to keep the info.
Tease the Items for Sale (Especially Big-Ticket Items)
People want to know what's in it for them. To attract more customers, you can also add photos or enticing descriptions, with super low prices. If you have any valuable items or big ticket items such as furniture, appliances or electronics, state this in your ad upfront, and mention your low prices. This will bring more potential buyers which will result in a profitable garage sale!
If the sale is a multi-family garage sale, stating this can also bring in more customers. Adding that you have a fairly large selection of items up for grabs will also attract more shoppers on the day of the sale.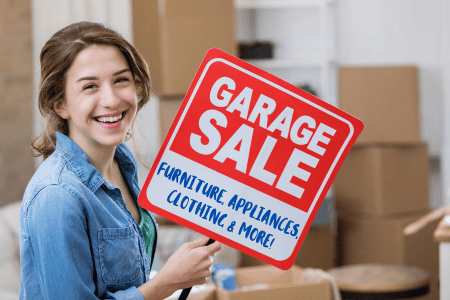 Include Deals & Special Discounts
Are you having any deals, discounts and specials? Mention this in your ad! Savvy shoppers are always looking for an unbeatable bargain! Who doesn't love early bird discounts, lightning deals every hour, and super cheap bundles at a steal of a deal?!
Anatomy of an Effective Garage Sale Ad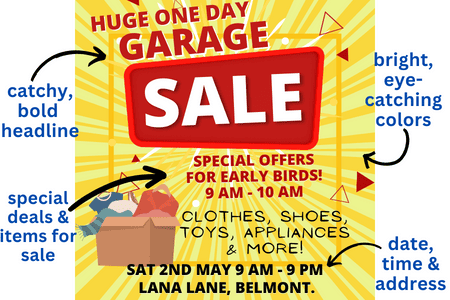 >
Examples of Garage Sale Ads
1. Fun & Colorful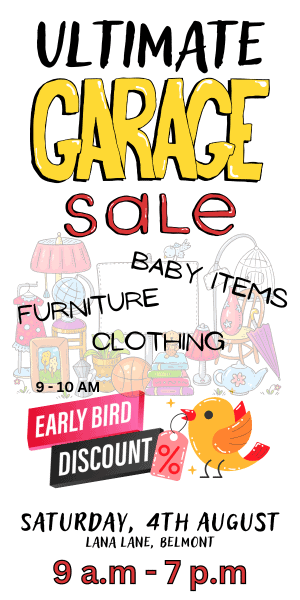 2. Simple & Aesthetic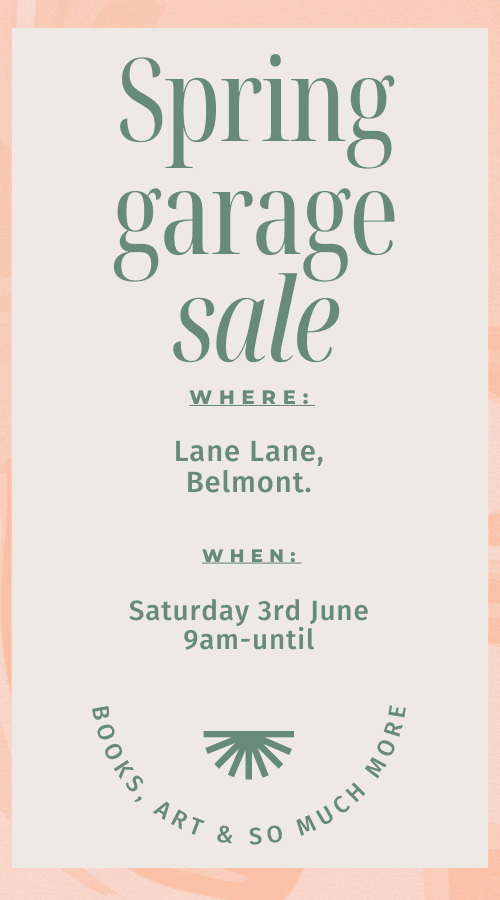 3. Bold Colors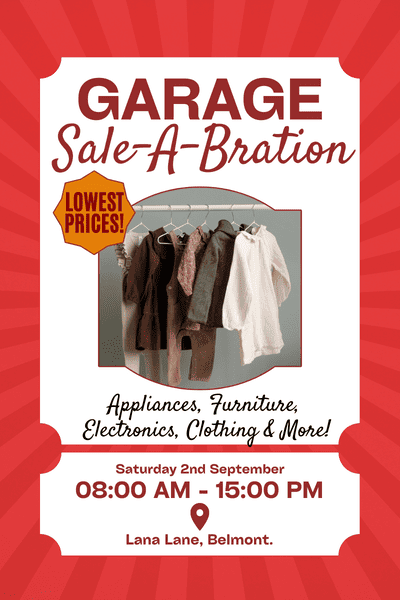 4. Super Large Fonts that Stand Out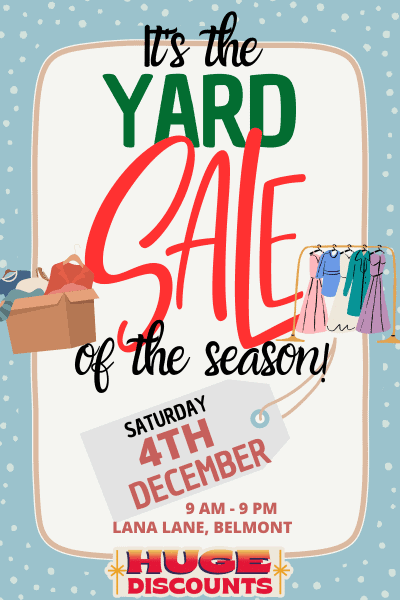 5. Simple & Minimalist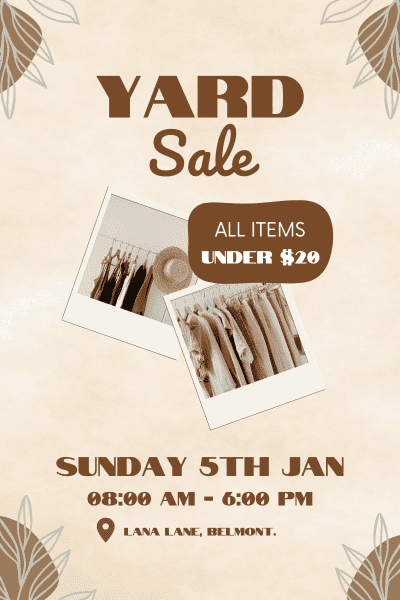 Garage Sale Ad Examples with Catchy Headlines
These catchy garage sale ads and headlines will surely captivate your reader's attention. Choose your favorite for your sale flyer!
Huge Garage Sale-A-Bration!!

The Ultimate Garage Sale

Huge Blowout Garage Sale

Unbeatable Garage Sale Prices

It's the Yard Sale you've been waiting for!

Best Garage Sale of the Season

Massive Antique Hoarder Downsizing Sale

Attic of Vintage Stuff for Sale (for Cheap!)

Garage Sale Madness

One Day Garage Sale Blowout

Garage Sale – Everything Must Go!

Yard Sale – Put our junk in your trunk!

Hurry! Hurry! Hurry! If you miss this Garage Sale, you'll be sorry!

Garage Sale Extravaganza

Yard Sale – Buy All you can Haul

Yard Sale with Incredible Deals on Incredible Finds

Shop-Til-You Drop Garage Sale

Everything-Must-Go Garage Sale
---
Need a little help and motivation to increase your income? Why not grab our digital eBook? It's totally free!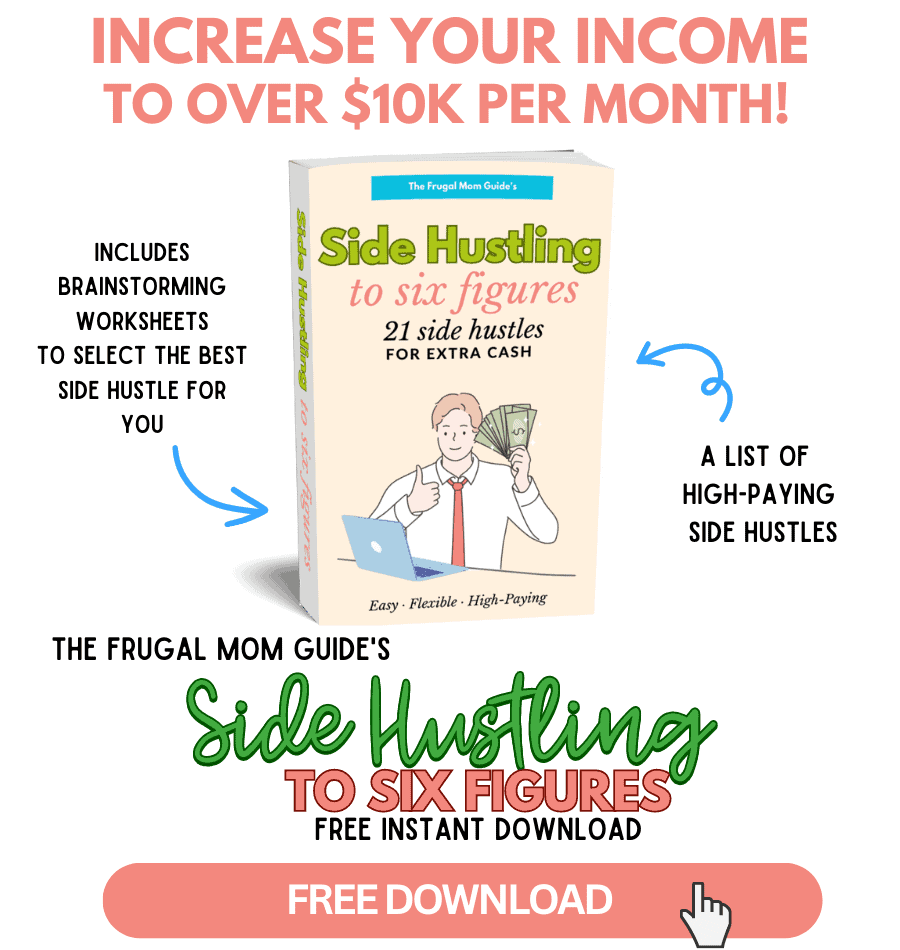 Places to Advertise Your Next Garage Sale
1. Social Media
Social media is a great way to advertise your garage sale for free! It's as simple as uploading your ad to your personal Facebook or Instagram account. From there, you can share to your local community groups and also ask your friends to reshare your post.
Facebook Marketplace is another way to get the word out about your sale. This is such a great way to get thousands of eyes on your ad and will definitely ensure a successful yard sale!
2. WhatsApp
Similarly, you can post your ad as your WhatsApp Status and share to your friends and WhatsApp groups.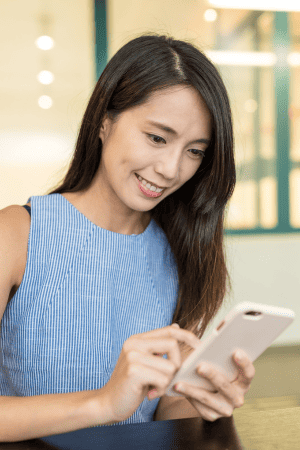 3. Online Ads
You can choose to go one step further and run a paid ad on Facebook or Instagram. This gets your ad in front of a wider audience, apart from your friends and Facebook groups.
Remember that paid ads will cut into your garage sale profits, so you'll need to assess the feasibility of doing this. Is it worth spending a little to reach more potential customers?
4. Craigslist & eBay
Craigslist and eBay are a must when it comes to advertising your next garage sale!
5. Local Newspaper
Another paid ad option is in the classified ads section of your local paper. If the price is right, it may be worth it to run your yard sale ad for a few days before your event to attract more customers.
6. Posters in your Local Community Notice Boards
What better way to advertise a local garage sale than by posting ads around your local community?
Print some flyers and posters and stick them up around town to get the word out! You can ask permission to put ads up on the schools or the local grocery stores' notice boards.
7. Word of Mouth
Simply telling your friends and relatives about your sale is a form of advertising. You can also ask them to pass on the information.
10 Garage Sale Tips for Huge Profits
In addition to having great signs for your next garage sale, here are some simple but effective tips that will make a big impact! The easiest way to double up on profits is to use all of these together when planning your upcoming sale.
1. Price to Sell & Use Proper Price Tags
When setting your prices, remember to price items to sell! This was unused junk… *ahem* treasure that was just collecting dust in your home. You'd like to get it off your hands, right? Remember this when deciding on your prices.
Determine prices before the sale and attach price tags to all the items. Although you'd like to price low, don't go TOO low where there's no wiggle room for negotiation. Remember that hagglers will try to beat you down for a further discount.
Lastly, choose prices that are easy, round numbers. For example, small items may be priced at $1.00, or a bundle of 5 items for $2.00. This will make it easier when it comes to finding loose change.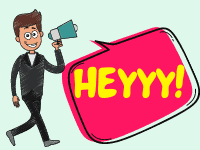 WANT TO MAKE EXTRA MONEY FROM YOUR PHONE?
Join Swagbucks to complete surveys and do other simple online tasks to make extra cash every month.
I make $1000+ from this!
Why wait? Join now to start making money!
2. Dealing with Early Birds
To minimize the number of early birds, be sure to set clear sale hours. You will notice that all our examples of garage sale ads above indicated a distinct starting time for the sale. Of course, a few people may still come earlier, so prep for this just in case.
Using "Early Bird Specials" during a specific hour may also encourage customers to come during that set period, and not too early. Who wants customers coming to their yard sale at the crack of dawn?
For example, the best time to start your sale is around 9 a.m. And so, you can offer a special "Early Bird Discount" during the first hour, 9 to 10 a.m. People know if they come any earlier, they'll miss out on these specials.
When you do start to let people in, one of the most important things is to have loose change. If the first few customers have large bills, you'll want to ensure that you have sufficient float to give correct change.
You should also anticipate long lines, since a lot of people come early to grab up the best deals. Make certain that you organize enough help to deal with the early birds, lines and crowds. This brings me to the next point.
3. Get Family Members to Help
Garage sales are a lot of work. So, the more hands on deck, the better. Get family members to help prepare and set up before the sale, to work on the day of the sale and to help after the sale. Remember to divvy up the tasks, delegating jobs to each family member.
At the end of the day, make sure to express your appreciation, through words and maybe a pizza! (lol)
4. Choose the Right Day & Date
Fridays, Saturdays and Sundays are the best days for having a successful garage sale, with Saturdays (especially Saturday morning) being the most popular.
Think about it, most people are at work or busy during the week. People also tend to be more free with their spending on a weekend!
Also remember that the best time for a garage sale is usually the first weekend of the month. This is when most people have the money to spend, as it is the weekend after payday!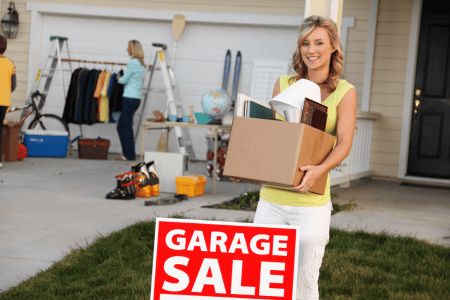 ​
5. Choose the Right Start Time (and End Time)
Decide on an appropriate starting and ending time for your sale. If you do have an end time, be prepared for an influx of last minute shoppers at that time.
6. Have Cardboard Boxes and Bags Readily Available
For customers who purchase a huge haul, you'll need to have bags and boxes available to simplify the process. Cardboard boxes will be perfect for large items and plastic bags can be used for the small things. You can start saving these from weeks in advance as part of your garage sale prep.
7. Don't use your Full Address
Secure your safety by omitting your exact address from your ads. You'll notice that none of our examples of garage sale ads include a specific address. This is to avoid creepers from scoping out your house beforehand.
Adding a generalized street or area on your ad is okay. On the morning of the sale, you can add extra signage along the streets, pointing customers in the right direction.
8. Advertise Multi Days as One Day Sales
If you're having a two day garage sale, advertise them on two separate ads or posters. So, instead of advertising "Two Day Garage Sale – Friday 26th & Saturday 27th", split them into two ads, "Massive Garage Sale – Friday 26th" and "Huge Blowout Garage Sale – Saturday 27th".
Make every effort to design them differently, and do not just do a copy and paste. This is to avoid losing customers unnecessarily.
When people hear about two day sales, they automatically think that all the good stuff will be sold out by the Friday. They may not even make the effort to visit on the Saturday.
Similarly, some may not want to patronize on the Friday because there is no rush to do so. One day sales give the feeling of a limited time offer, which can activate FOMO.
9. Bundle Similar Items
To get everything off your hands, you can bundle similar items into a deal that customers just can't say no to! For example, a baby stroller, car seat and highchair make the perfect package deal! The customer feels like they are scoring a good deal, and you'll be pocketing some extra money!
10. Ensure All Items are in Good Condition
They say one man's trash is another man's treasure, but please don't take this for its literal meaning and sell anything that belongs in the dump! Ensure that you are only selling items that are in good condition. If it belongs in a bin, put it in there.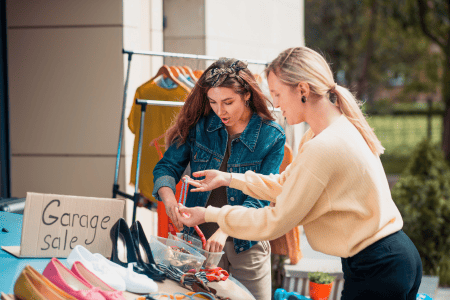 Popular Items (Garage Sale Hot Sellers)
Craft supplies
Old textbooks, comic books & novels
Baby clothes
Costume jewelry
Brand name products (e.g. shoes, clothing & accessories)
Vinyl records
Power tools
Lawn mower
Sports equipment
Exercise equipment
Furniture
Vintage dishes
Salt and Pepper shakers
China
Glassware
Game pieces
Swap cards
Dolls
Toys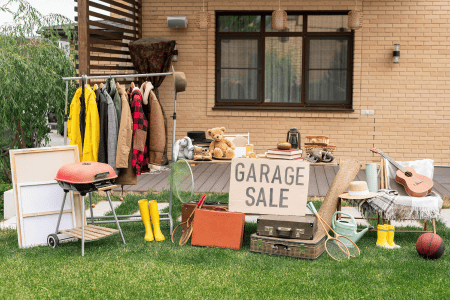 Additional Information on Examples of Garage Sale Ads – FAQs
What do you write to advertise a garage sale?
To advertise a garage sale, your ads should have a catchy headline, the date and time of the sale, the street name or general area, and also some of the items that will be on sale on the day. You can also include some of the offers and deals that will be offered on the day.
What is the fastest way to organize a garage sale?
The fastest way to organize a garage sale is to get your family members to help with the decluttering, organizing and pricing of items, setting up and ensuring that things run smoothly on the day.
Do stuffed animals sell at garage sales?
Yes, stuffed animals sell at garage sales! Some will sell faster than others depending on their brand and popularity. For example, well known characters from TV shows and movies will sell easier than a random teddy bear.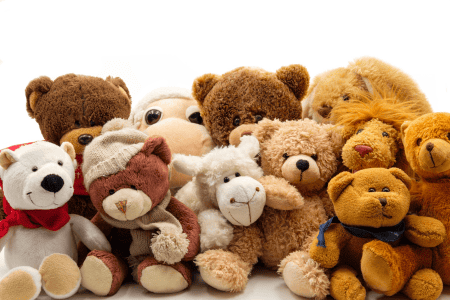 How to display clothes at garage sale?
The most practical way to display clothes at a garage sale is by using hangers and racks. If you do not have clothing proper clothing racks and stands, one can be built using pvc pipes and fittings. Clothing racks make it easy for customers to look through the pieces without leaving a mess.
Is a garage sale worth it?
Yes, absolutely! At the end of a well-organized garage sale, you can change your clutter into hundreds (or even thousands) of dollars! In addition to this, you would have decluttered your home and cleared out your unused junk.
Related Posts on Garage Sale Ad Examples
7 Best Places to Sell Jewelry for Extra Cash
23 Places to Sell your Used Appliances Immediately
How to Sell your Used Items at Nearby Pawn Shops for Extra Money
Final Thoughts on Examples of Garage Sale Ads
Without a doubt, having a garage sale is a fantastic way to turn your clutter into cash. However, to ensure that your sale is successful and that you get all of your extra stuff off your hands, it's important to spend time organizing and pricing items, and advertising for your sale.
Remember that with no ads, there'd be no customers, and without customers, there'd be no money!
Would you like to share any of your own examples of garage sale ads? Do you have any additional tips for a successful sale? Share with us in the comments below. We'd love to hear from you!
Liked this post? Pin it!
Best Examples of Garage Sale Ads + Free Tips to Make Money