9 Actionable Holiday Budgeting Tips to Control your Holiday Spending this Christmas
As we approach the most magical time of the year, I am sure we are all focused on making the most of it. It's the season to be merry and to show love to the persons in our lives. However, it is exactly that…showing love and appreciation to persons. It is not the season to rake up debt and to hang our hats out of reach.
The holiday season is without a doubt, the most tempting time of the year for the disciples of frugal living. Many times, we get caught up in the festivities and commercialism and forget the true reason for the season.
Accompanying this trap comes the huge dent that is put into our finances. Think about it like this…why would we want to give a luxurious gift while simultaneously receiving the gift of poverty in return?
Over the years many people, including myself, have squandered money foolishly over the holiday season and then spent the first quarter of the upcoming year trying to recover.
It's a bitter cycle. So let's not do that this year! Let's start the new year financially smarter and stronger! Yea?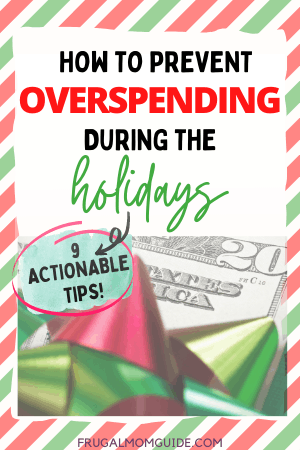 This post may contain affiliate links. You can read our full disclosure for more info.
Banks and the business moguls have molded the holiday season to put pressure on innocent, loving and caring persons (such as you and I) to hemorrhage money during this time by equating love with money.
Be careful!
In fact, according to Investopedia, a study done by the National Retail Federation showed that holiday spending in 2019 was projected to be over $1 trillion nationwide! Wow.
37% of the persons questioned, stated that they would spend over $1000 on gifts!
Considering that this year would have been financially tough for many, it may be a great idea to cut back a bit and realize that spending money is not necessary to show love.
You probably also need a reminder that you do not NEED new Christmas decor or matching pjs. That being said, let's go straight to these fail-proof holiday budgeting tips. I must warn you that some of these are very detailed so grab a cup of coffee and make yourself comfy! 🙂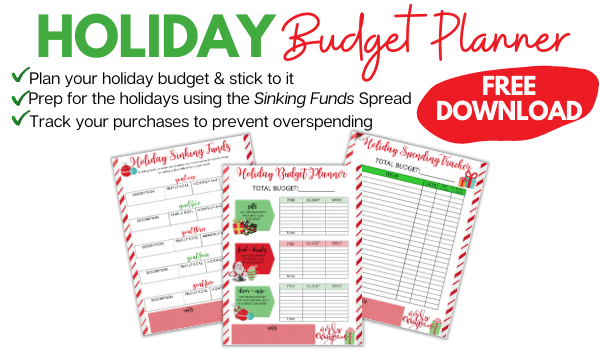 9 Sure-fire Tips to Keep your Holiday Spending Low this Year
1. Set a Budget
I'll use this opportunity to get the biggest cliché in the book of financial advice out of the way first and foremost. Pay your bills, set aside your savings, go through your usual motions with regards to budgeting and allocate your quantity of funds that you feel comfortable to spend on the holiday season.
If you use one of the creative budgeting methods that we've spoken about previously, this is your time to do so. Set a cap to your holiday spending and stick to this like a diet plan. Okay…maybe not like YOUR diet plan. (Definitely not like MY diet plan 🤣)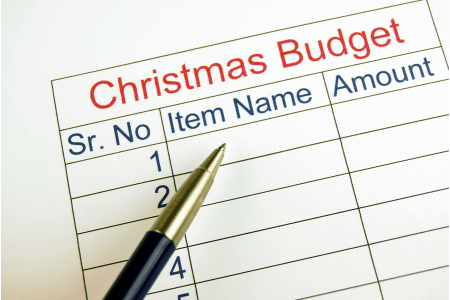 One point to note is that holiday budgeting may require a few months of planning and monetary allocation and not just your November/December salaries. However, the bottom line is to engage in a plan that is comfortable for you.
As long as your bills are being paid, your saving plans are on track and your monthly living situation is right for you, a monthly fund allocated to the holiday season can be put in place.
Just as you may have a monthly vacation allocation, plan for a holiday stash as well. (If it's already November/December this year, it's okay… Just remember this tip for next year!)
As I said before, however you chose to obtain your holiday fund, it is strictly up to you. The most important thing is not to spend in excess of that amount.
2. Plan your Payment Method – Cash/Credit Card/Debit Account
Everyone's financial situation is different. What may be right for me, may not apply to you. Assess yourself and think about a payment plan for the holiday season that is right for you.
I don't mean taking a loan with a payment plan! If you need to take a loan to get through the holidays then you are definitely living above your means. Don't do this! As much as banks may advertise pre-approved holiday loan specials that may seem enticing, you do not need to do this to prove anything to anyone.
If you need to set aside cash in an envelope every month because of your inability to manage electronic spending, go ahead and do so. I know the concept of spending cash is prehistoric but maybe you need to go back to basics, take a step into the past and rekindle your relationship with our founding fathers' faces.
If over the years you've found yourself going over budget with your debit or credit card, then you need to reintroduce yourself to Mr. Cash this season.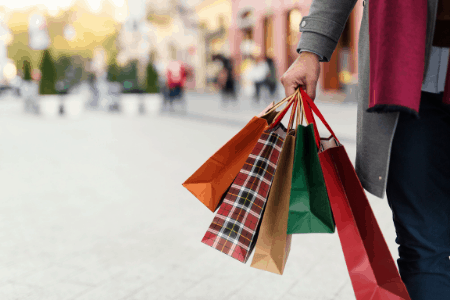 If you wish, a debit account can be set up strictly for your holiday funds. A standing order can be put in place so funds are transferred during the course of the year and set aside just for holiday spending. When you are ready to do your shopping, you would have your money available in that specific account.
Another advantage of this method is that you can set up barriers with your bank to put limits on the amount of transactions that you are able to perform using this account.
For example, discuss setting it up so unlimited deposits can be made during the year but only a single withdrawal per month. By doing this, if you genuinely have an emergency during a given month, you do have access to the money but only for a single withdrawal, so it does not become a bad habit.
For those persons that are at the pinnacle of financial maturity, with your credit cards in check, feel free to use the holidays to gather some credit card points.
You can use this opportunity where frequent spending is the norm to capitalize on whatever benefits you have with your particular credit card provider. Whether it be cash back, airline miles, bonus points, go ahead and rake them up. There is no reason to miss out. Just remember to pay your bill during the interest free grace period.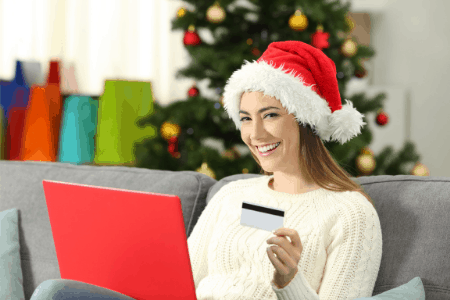 For our credit card unicorns that have perfected the credit card system to the point where you have built up so many points during the year where you can now do your holiday shopping with your bonus points…congratulations! You have defeated the banks! Power to you! Feel free to spend your points on the holidays and keep up the good work!
For those of you that have never thought of doing this and you are in a position to use your credit card to gather points, while not spiraling into credit card debt, maybe you can look into this idea moving forward.
Gather your points during the year to try to build your holiday funds by simply capitalizing on your credit card benefits. Use your credit card for you!
3. Cut back on Personal Luxuries
After budgeting, this point is probably the second chapter of the book of frugal living and is as self-explanatory as can be.
Make your own coffee and cut back on the Starbucks, do your own landscaping… the list goes on. Do what you need to do to trim the fat from your life to save money.
As I always say… get creative. Less money wasted equals more money in your pocket. This point is not specific to the holidays but is a bonus at the holiday time. It is just a genuine benefit of having a frugal lifestyle.
4. Do your Research/homework before Buying
Be careful around sales! As grandma said…what glitters isn't always gold!
Businessmen have perfected the art of polishing "turds" to entice innocent persons into making purchases. Do your research!
A sale may simply be a bunch of items that they jacked up the price tag for and then advertised a discount. You may think you are paying 50% off but in fact you are being hit with the typical list price or even more.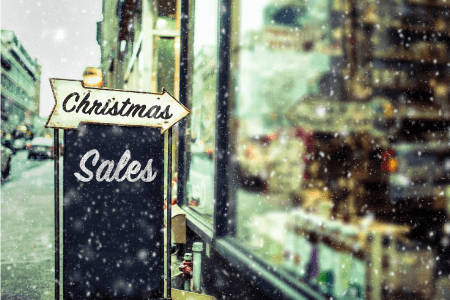 Shop around and compare prices in different stores before settling in on a purchase. Take your phone out and do a quick online price check for a particular item before picking up. Protect yourself from being legally conned.
5. Shop early/Avoid Last minute shopping
Somehow, the holiday weather, decorations, music and overall ambiance have become synonymous with loosening of wallets and purses.
It's a recipe for debt generation in a culturally acceptable manner. The only way to counteract this spirit of free-flowing cash and bad spending is to do your shopping prior to the actual holiday season.
Businesses strategize on setting the right mood to stimulate spending, so be aware. They have created a deadly concoction to promote impulse buys and poor financial decisions.
Also remember that you do not NEED a ton of new Christmas decor that will only be used for one month of the year. Hey, I never said no Christmas decor, because I always say that frugal living doesn't mean you have to rob yourself of joy.
All I'm saying is that you really need to think about how much you can AFFORD to spend on decor and stick to that amount only.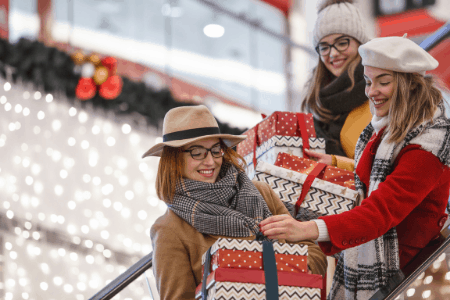 Persons tend to get carried away during holiday season.
As weird as it may seem doing your holiday shopping months before the season, only you understand your financial struggles and goals. Do what you need to do to keep your holiday spending low.
Shopping early is a good idea.
6. Make a List
If it's good enough for good old Saint Nick…it's sure enough good enough for you. I mean…they made a song about this technique. Go ahead…make your list and check it twice. Get rid of those naughty persons from it and stick to the nice.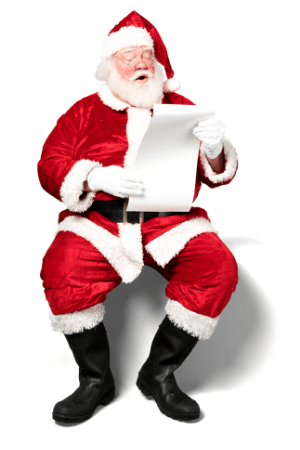 Also, be selective with your gift giving. Not everyone needs a gift. Your neighbor's mom who you communicate with once every other year probably does not need a gift!
Be smart with your gift giving. Many times we fall into a gift giving web where we are worried about how others may feel if they don't receive a gift. Before you know it, you overspend on random persons and are flat broke. Keep your gift giving circle exclusive, personal and private.
Years ago, when things were financially tough with my parents, they made a decision to only buy gifts for children during the holidays. This worked well because no adult felt missed or underappreciated.
Also, any mature thinking adult would always feel happy once the kids are happy during the holiday season. After all, the holidays are for the kids!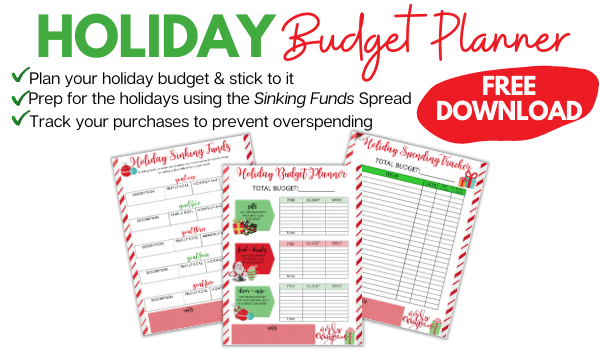 7. Secret Santa/Angel and Earthling method
The Secret Santa gift giving technique is also known as the Angel and Earthling tradition. This gift giving concept is a gift in itself, especially when it comes to gift giving for extended family and workplaces. It does require some planning as everyone needs to be on board.
You and your gang go ahead and draw random names from a bag, set a price tag and run with it. You only have to purchase a gift for the name you've secretly drawn. This way, everyone receives a gift of similar value, everyone receives something relatively nice and you are not single handedly responsible for satisfying everyone.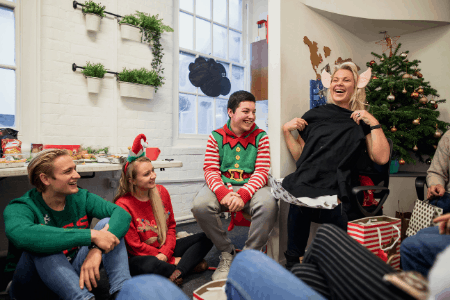 This method promotes teamwork and a family atmosphere, while showing appreciation for each other, which is ultimately the goal.
It is the perfect recipe for promoting love and harmony without breaking the bank.
8. Give the Gift of Something Homemade
Get those creative juices flowing! If your secret talent is creating sock puppets and nothing else, you may want to stay clear away from this one. However, for those closet artists, sculptors, bakers and poets…this is your time to shine.
My husband always says that the best gift he ever got from me was a poem I wrote for him when we were dating. Other more expensive gifts, including electronics, sporting equipment, clothing have all come and gone but he still has the same original poem I wrote for him 11 years ago safely tucked in his wallet. I had no idea he would have loved it so much.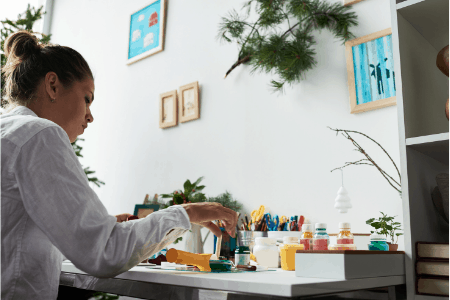 Bake your friend a batch of cookies and attach a card. Trust me…they would love it! The right person would always appreciate the right creative gift. Do not underestimate the power of something homemade and from the heart.
9. Give the Gift of Time
The holiday season is all about sharing love and spending time with loved ones. Pay your relatives a visit. Have a meal with them.
Do not dismiss this idea. In a fast-paced world where everyone is caught up in their own schedules, time is probably more precious than any other gift you can give. It is also a limited resource.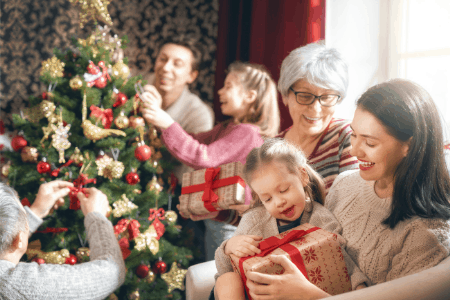 The right persons would always appreciate time together as opposed to an empty material present.There is no better way to show love than to give the gift of time.
Related Posts on Controlling Holiday Spending
17+ Kids Toys (Under $10) That Will Make Exciting Presents without Leaving you Broke
DIY Christmas Decor that are Beautiful and Budget-friendly
Dollar Tree DIY Christmas Wreath
Final Thoughts on Holiday Budgeting & Keeping Holiday Spending Low
Now you know that it is totally possible to have wonderful, magical Christmas season without breaking the bank! Remember that holiday budgeting is a must if you want to avoid starting the new year in a financial rut!
Do you have any other tips to keep holiday spending low? Share with us in the comments below. I'd love to hear from you!
Don't forget to grab your free Holiday Spending Trackers and Planners!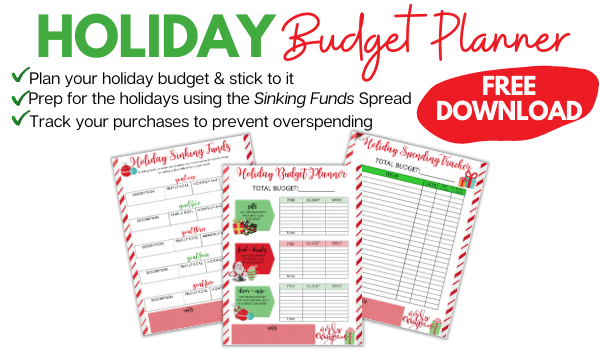 And be sure to follow me on IG and join our frugal living community (Facebook Group) to connect with like-minded frugal folks! 🙂
Enjoy your holiday season! Be a blessing to each other and stay frugal!
Liked this post? Pin it for later!
9 Fail-Proof Tips to Keep your Holiday Spending Low