Easy Mother's Day Gifts DIY Ideas
With Mother's Day right around the corner, you're probably looking for the BEST Mother's Day Gifts DIY Ideas that will please the mom in your life. And if this is indeed the case, well you've landed in the right place!
I have put together a TON of awesome DIY gift ideas that are not only simple to do, but are budget-friendly too! Win!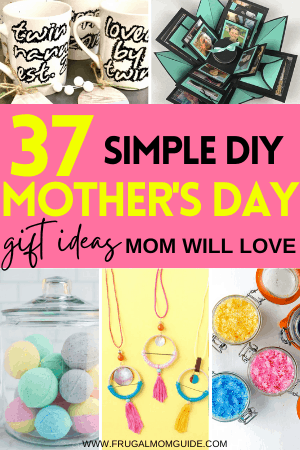 This post may contain affiliate links. You can read our full disclosure for more info.
As a mom myself, I know the warm, fuzzy feeling that fills your heart when you receive something handmade with love. In my opinion, it's better than anything my 5 year old or 8 year old can ask their dad to go out to buy for me.
My love for handmade and DIYs led me to put together this collection of beautiful gift ideas. And there's something for everyone.
Trust me, whether the mom in your life is in her 20s or even in her 60s, there's something from this list that she will love! Plus there's a gift here that can be made by a 2 year old – or by a 40 year old. There is seriously something for every skill level.
Most important, Mom will love any of these.
37 Mother's Day Gifts DIY Ideas that Mom will Love
• Things that Mom can use:
These gift ideas are all grouped to make browsing (and finding one that suits your preference) easier! Let's start with stuff that Mom can use. Many of these can be used for pampering and self-care and so, will make a wonderful Mother's Day gift this year!
1. Silky Bath Fizzies with Essential Oils
These indulgent bath fizzies from Get Green Be Well will let mom relax and destress with aromatherapy while taking a hot bath. She'll appreciate them so much!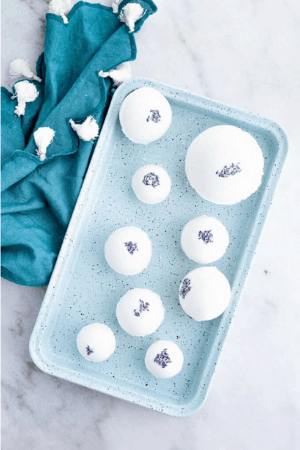 2. Coconut Oil Sugar Scrubs
These DIY Sparkling Flower-Scented Coconut Oil Sugar Scrubs (with free printable labels) from Boulder Locavore are perfect for Mother's Day gifts for a home spa day!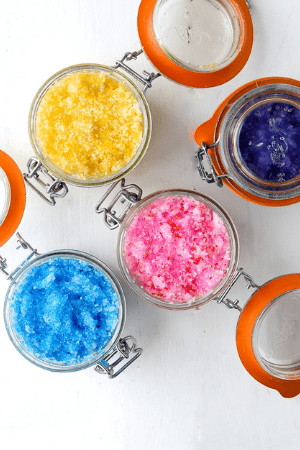 3. Lemon Coconut Sugar Scrub
If you're looking for another sugar scrub option, you'll definitely want to check out this Lemon Coconut Sugar Scrub with lavender flowers from Life Currents. It's easy to make. It's pretty to look at. It helps make your skin soft and healthy. And, it smells so lovely!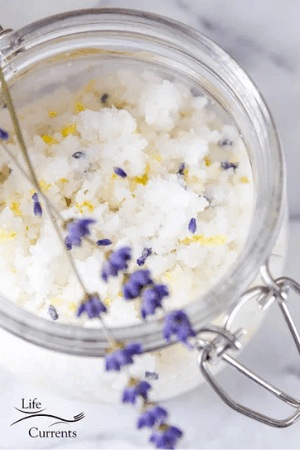 4. Homemade Lavender Vanilla Soap
By now you may have realized that there's something really special about adding lavender to any self-care and pampering routine. Imagine how special Mom will feel receiving these amazing Lavender Vanilla Soaps that are made especially for her, by YOU! Get the tutorial from Ottawa Mommy Club.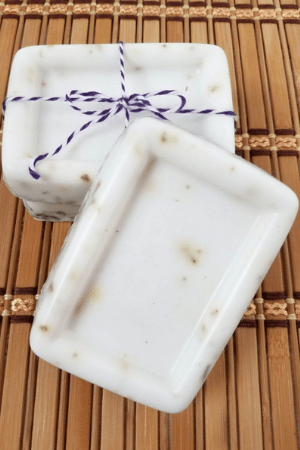 5. Bath Bombs
Mom will swear that these beautiful colored bath bombs were bought in a store! She will be delighted to know that these were handmade just for her! Crafts by Amanda teaches how to make these at home – you'll be surprised by how super simple these are!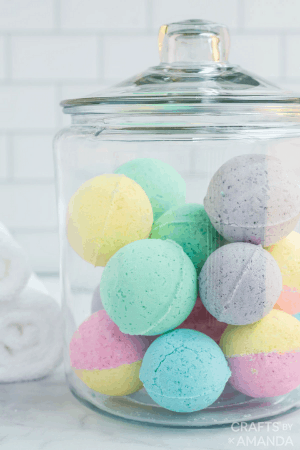 FAQ: What is the best homemade gift for Mother's Day?
Choosing the best homemade gift for Mother's Day will depend on the mom. The best homemade gift for Mother's Day will vary from person to person.
However, most moms will love anything from this list of Mother's Day Gifts DIY Ideas. Moms love homemade baked goodies, breakfast in bed, massages at home, homemade tea towels, paintings or handmade crafts, to name a few.
6. Scandinavian Hoop Necklaces
Why not make mom a DIY necklace for Mother's Day that she'll actually want to wear? These Scandinavian Hoop Necklaces from Lovely Indeed are so easy the kids can help too!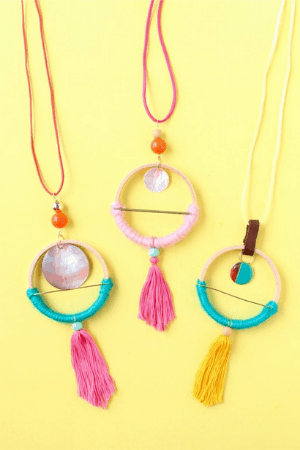 7. Copper and Marble Jewelry Stand
A Marble and Copper Jewelry Stand is something that Mom can treasure and actually use! It's so lovely she almost won't be able to guess it's handmade (unless you tell her!). Get the tutorial from Lovely Indeed.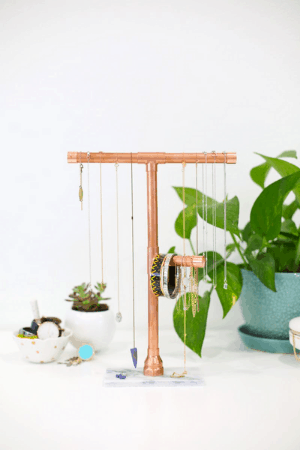 8. Fabric Corner Bookmark
Does your mom love to read? Then make her this handy fabric bookmark. With basic sewing skills and a couple of small pieces of fabric you can handmake something truly wonderful and incredibly practical. Crafty Sewing Sew has the full tutorial!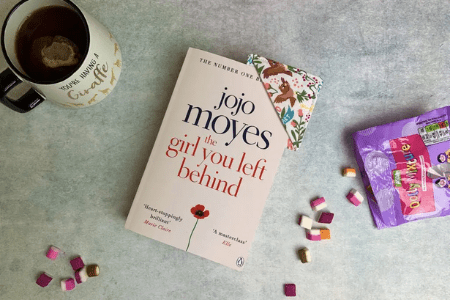 FAQ: What can I send instead of flowers for Mother's Day?
If you're looking for something other than flowers as a present for Mother's Day, any one of these DIY ideas will light up Mom's day! Sentimental moms will especially love these homemade and handmade options!
9. Lavender Candle
What will pair perfectly with Mom's Lavender Scrubs for her spa nights? Some lavender candles of course! Crafts by Amanda shows you how easy it is to use dried lavender stems to make these pretty floral DIY Lavender candles in mason jars.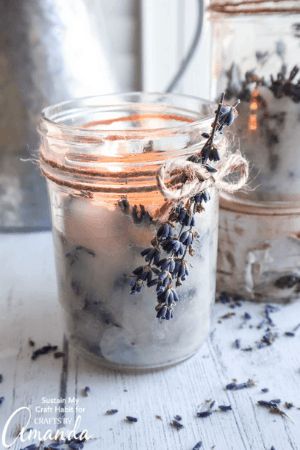 10. Sharpie Mugs
Everyone knows mama needs her coffee! She'll enjoy it so much more in a mug that was personally crafted by one of her favorite littles! There are 5 different techniques, so toddlers all the way up to teens can get in on this craft! Get the tutorial for these Sharpie Mugs from A Hundred Affections.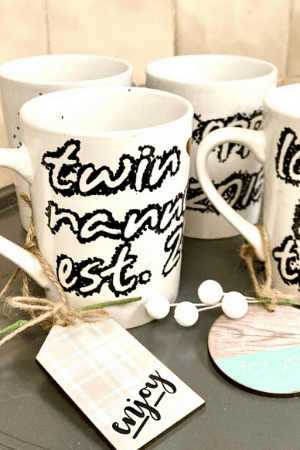 11. Marbled Mugs
And if you're looking for a different mug design, you'll definitely want to check these out!
These easy DIY marbled nail polish mugs from Strength and Sunshine make the perfect homemade gift! A simple craft done in a few minutes that looks like it took hours of work!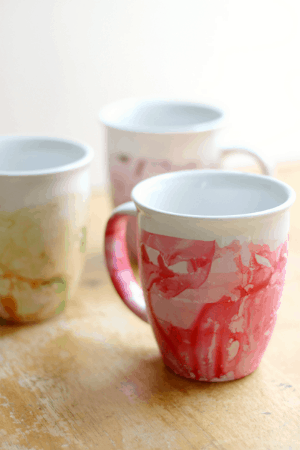 • Yummy things for Mommy:
So let's get to all the yummy stuff that Mom can eat now. No Mother's Day Gifts DIY List will be complete without some treats and baked goodies. These are all delicious and can be packaged nicely to make that perfect gift for Mom!
12. White Chocolate Mocha Coffee Bombs
Any mom will love a package of these easy to make White Chocolate Mocha Coffee Bombs! When she drops it in her mug of coffee it will transform into her coffeeshop favorite! Get the recipe from The Helpful GF.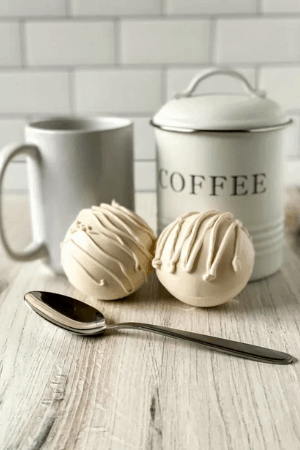 13. Cupcake Flower Pot
These beautiful (and delicious!) Cupcake Flower Pots from Food Meanderings will have Mom smiling from ear to ear!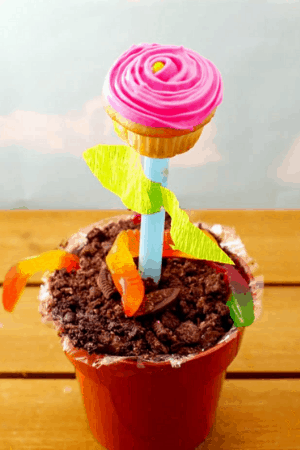 14. Homemade Tea Bags
Pair these custom tea bags with a cozy mug (*hint hint* one of the above homemade options will be great!) for some indulgent mama care. Add personalized tea tabs for a thoughtful touch. Learn how to make them from Pretty Delightful.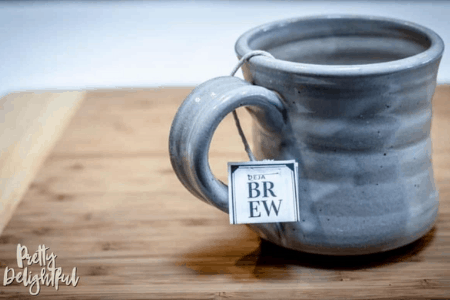 • Mother's Day Gifts DIY for a Sentimental Mom:
Now on to sentimental gifts for Mom. The following will have a special place in her heart and may even cause a few tears to be shed (all happy of course!).
15. Silhouette Portraits
These lovely DIY Silhouette Portraits from Chaotically Yours are easy to make using a few modern hacks. They perfectly capture a moment in time and make amazing gifts!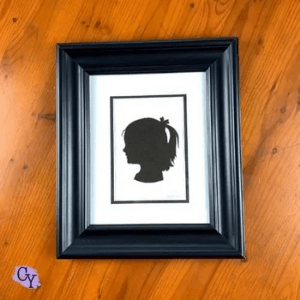 16. Family Map
Your family might be spread out, but they can still be close at heart! Make a DIY Family Map gift for Mom this Mother's Day! Get the tutorial from Julie Measures.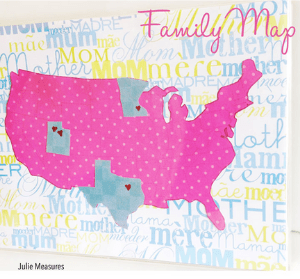 17. Thumbprint Heart Keychain
This is a sweet and simple project for the little ones for Mother's Day! Here's a DIY clay thumbprint heart keychain that's adorable and precious – can also be made as a necklace, too! Get the tutorial from A Hundred Affections.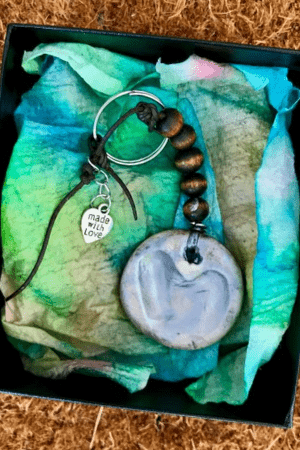 18. DIY Explosion Box
Surprise mom with this explosion box from Chaotically Yours. The explosion box will be full of memories that she'll cherish forever!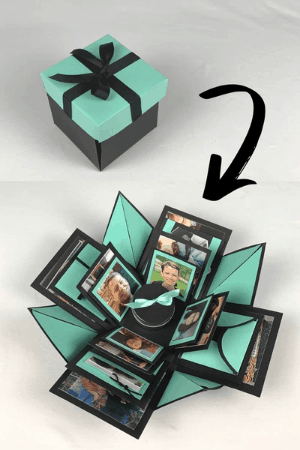 • Gifts that Mom can use as Decor:
These pieces will make great gifts and Mom can use them around the home as decor. These are so beautiful that Mom will question whether you got them from a store!
19. Personalized Plant Pot
Show mom how much you care when you give her this personalized plant pot. Not only will she love the pot, but the aloe is so easy to grow, too! Learn how to make this personalized plant pot from Single Girls DIY.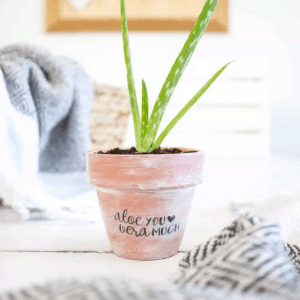 20. Geometric Candle Holder
Make mom a beautiful candle holder to decorate her house! This geometric candle holder from Our Kind of Crazy looks super expensive but is so simple to make. Mom will love adding this piece of decor to her home and will feel so special that it is one-of-a-kind and made by YOU!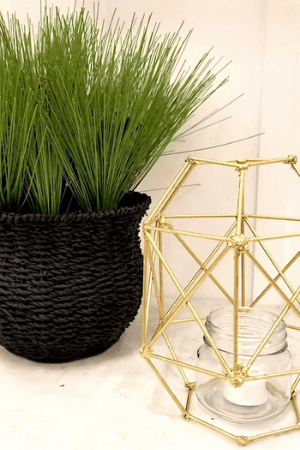 21. Candle Holder
And if you're looking for another type of candle holder for Mom, you can check out this DIY Leaf Candle Holder from Craftsy Hacks.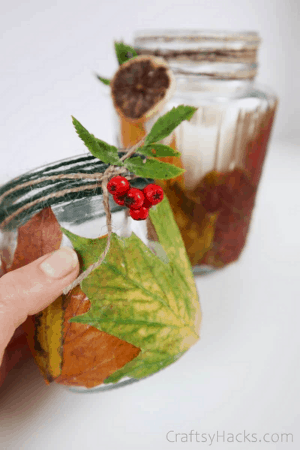 22. Mini Canvas
These mini canvas Mother's Day gifts from Craft Rocker are a beautiful and budget-friendly idea that comes together in a flash.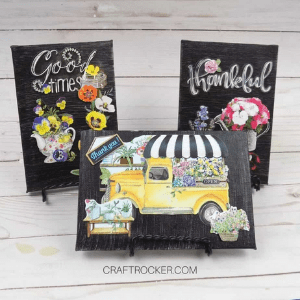 23. Throw Pillow
Upcycle old baby clothes into a throw pillow for mom. This way she can be reminded of those precious moments on a daily basis. This one is both sentimental and decorative and will make the perfect Mother's Day gift! Get the tutorial for this beautiful throw pillow from Sustain My Craft Habit.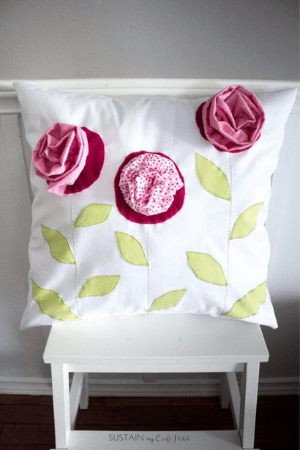 24. Pine Cone Flowers
This is another wonderful DIY gift idea from Sustain My Craft Habit! Imagine giving Mom flowers that last all year! These Pine Cone Flowers are beautiful and will make a lovely Mother's Day present!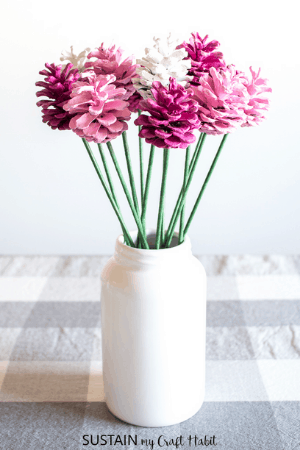 25. Pallet Picture Frame
This DIY Pallet Picture Frame from 5 Minutes for Mom is a perfect mother's day gift. Kids can help create this project and it will become a treasured keepsake.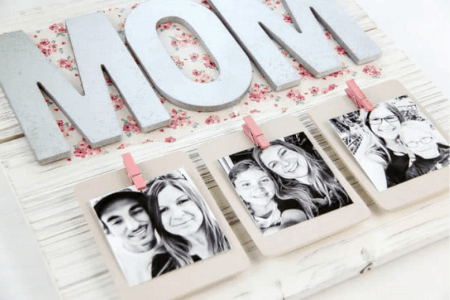 26. Miniature Garden
This is another great Mother's Day Gifts DIY Idea from 5 Minutes for Mom! Make mom this Miniature Edible Garden this year. Kids will love helping to plant the garden and they can help Mom take care of it later.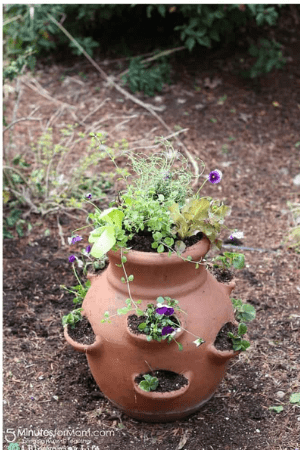 • Stuff for Kids to DIY:
27. Watercolor Tea Towel
This easy kid-friendly craft creates a beautiful watercolor tea towel that will actually get used! Get the tutorial from Five Marigolds.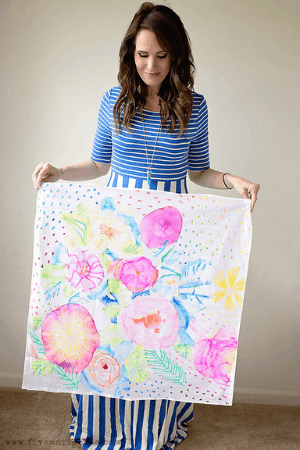 28. Stepping Stones
With a stepping stone kit, your child can make a charming garden accent for any yard. And once you make one, all you need to do is purchase stepping stone cement mix and some decorative items to complete more. Learn how to make beautiful stepping stones from Needle Pointers.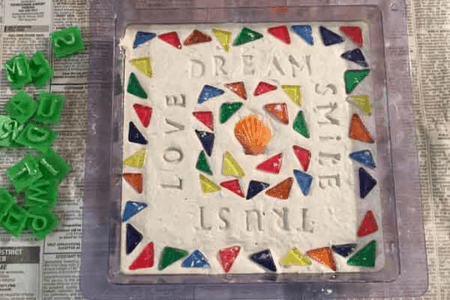 29. Construction Paper Flower Pots
Make these adorable DIY Cardboard Construction Paper Flower Pots from Glitter Inc with your kids! You can easily use things you have at home. Not to mention, this sweet kids craft doubles as the perfect Mother's Day gift!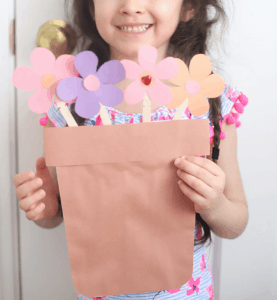 30. Paper Flower Wreath
Kids will have fun making this Colorful Paper Flower Wreath from Ottawa Mommy Club. And Mom will love it when she gets this as a Mother's Day gift this year!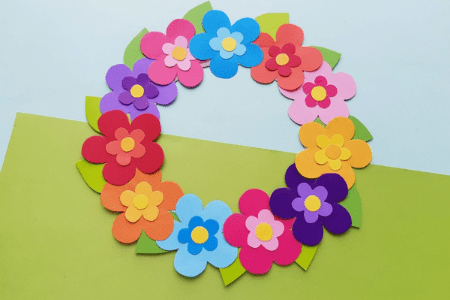 31. Lottery Ticket Flower Gift Basket
Celebrate Mother's Day with easy-to-make lottery ticket flower pots! This DIY from Get Your Holiday On is sure to be a winner in Mom's eyes.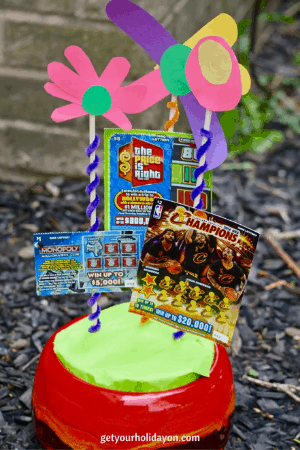 32. Colorful Nail Art
Kids will love to make this beautiful Nail Art from Lil Tigers. And Mom can also display this DIY gift as decor. Win Win!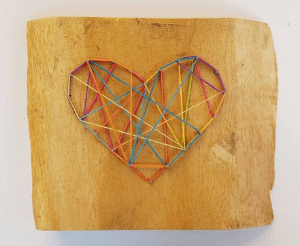 33. Clutch Purse
This easy clutch purse comes together in just 5 minutes, using just a round placemat. Glue it or sew it, add an embellishment and the clutch purse is ready. Get the tutorial from Hello Sewing.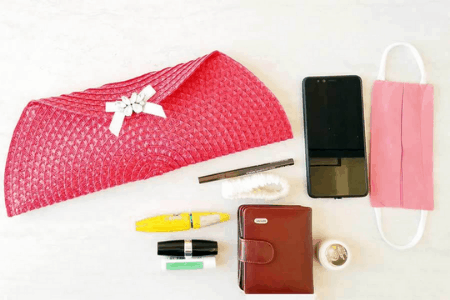 34. Origami Card
This easy origami flower card from Fluxing Well is perfect for a simple Mother's Day gift.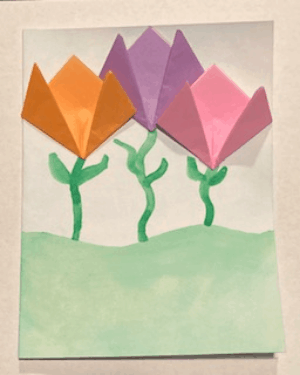 35. Personalized Plastic Plant Pots
Kids will have fun painting and decorating these plastic plant pots from Red Ted Art for Mom!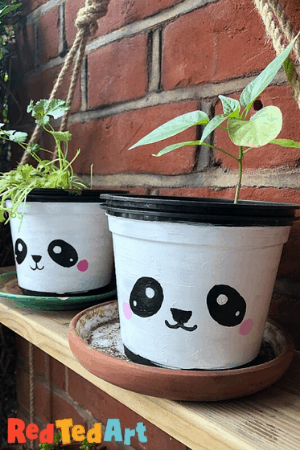 36. Farmers Market Tote
These DIY Stamped Farmers Market Totes from Barley & Birch are super cute and super easy to make!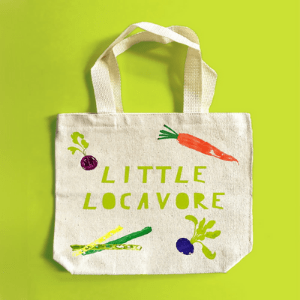 37. Fabric Rose
If you're looking to add a touch of homemade to the gift wrapping or if you want to make Mom a bouquet of flowers that will never die, learning to make these fabric roses is a must! Luckily, Hello Sewing shows exactly how to make these!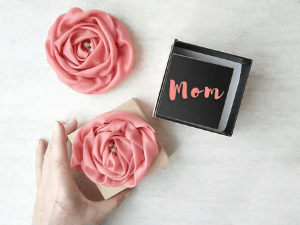 FAQ: What should I make for Mother's Day?
You can choose any of the gifts from this list to make for your mom for Mother's Day. You will know the things that she likes most and the things that she uses most often. Think about her everyday habits and hobbies and choose based on these.
Related Posts on Mother's Day Gifts DIY
5 Amazing Freebies You Don't Want to Miss (Free Subscriptions, Internet & More!)
Final Thoughts on Mother's Day Gifts DIY
As a mom myself, I can safely say that moms everywhere will love any one of these DIY gift ideas! In fact, most moms appreciate anything that is made with love – my refrigerator door is proof of this.
So go ahead and choose something that suits your preference to show Mom how much you love her!
Which of these Mother's Day DIY Gift ideas do you think you'll try? Share with us in the comments below. We'd love to hear from you!
Don't forget to follow us on Pinterest, Instagram and Facebook for more budget-friendly lifestyle & money-saving inspo!
Liked this post? Pin it!
Mother's Day Gifts DIY that Mom Will Love