Watermelon Mint Limeade – Summer Watermelon Drink (Non Alcoholic)
*This post is sponsored by Walmart. However, all opinions expressed are my own.*
If you can sum up a Caribbean beach vacation or a summer pool party in a drink, it would definitely be this watermelon mint limeade, summer watermelon drink!
A summer watermelon drink should be cool, refreshing, revitalizing and energizing!
How about all that, for just a couple bucks? This budget friendly watermelon mint limeade has it all!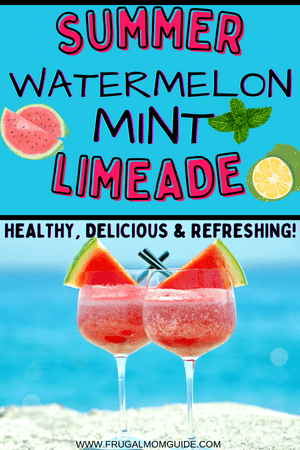 This post may contain affiliate links. This means that we may make a commission (at no extra cost to you!) if you make a purchase via a qualifying link. You can read our full disclosure for more info!
The bottom line is that everyone loves a summer watermelon drink and if you can get it done at a reasonable price, that's a win for everyone.
Tantalize your taste buds, beat the heat and get the host of health benefits that come with fresh watermelon, lime and mint!
Be a hit at those outdoor parties and picnics without breaking the bank. Yes please!
You can save even more with a Walmart+ Membership!
There are so many benefits, including free shipping straight to your door ($35 order min. Restrictions apply.)! Grocery shopping and cooking at home has never been easier.
Benefits of a Summer Watermelon Drink
Healthy
Fresh Watermelon – Watermelon is an amazing fruit! It is filled with vitamins and minerals and is power packed with goodness!
Benefits include: Regulates blood pressure and promotes blood circulation, promotes heart health, anti stress, anti cancer, reduces inflammation, anti aging, promotes good skin health, hydrates, relieves muscle soreness, promotes digestive health and contains antioxidants.
Fresh Lime – Limes are also packed with vitamins and minerals that offer good health benefits!
Benefits include: High in vitamin C and antioxidants, improves immunity, promotes heart health, promotes kidney health, promotes healthy skin.
Fresh Mint Leaves – Mint leaves also offer great health benefits!
Benefits include: Promotes good stomach health, boosts immunity, promotes healthy skin, reduces stress, promotes good oral health.
Very Economical
Serve 8 persons a healthy glass of refreshing goodness with this watermelon mint limeade recipe, all for just a couple bucks.
This delicious summer watermelon drink, when served at a picnic costs less than the paper cup that it's served in. Amazing!
Additional Benefits
Added benefits to this watermelon mint limeade summer watermelon drink recipe include the fact that it is absolutely yummy, refreshing, quick and easy to make and suitable for various occasions.
This recipe is sure to be a hit with kids and adults!
Parents of athletic kids and physically active adults should definitely take note of this summer watermelon drink! It's great for recovering from a workout!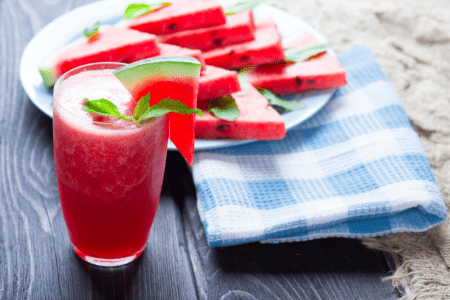 Watermelon Mint Limeade – Summer Watermelon Drink
Total Preparation Time: 15 minutes
Tools and Equipment: Blender or juicer, strainer, pitcher.
Number of Servings: 8 Servings
Ingredients
1 medium sized Watermelon
3 Limes
10 Mint Leaves
20 oz Club Soda
10 oz Sprite
1/2 cup White Sugar or Low Calorie Sweetener (Optional)
1/2 cup Water
Preparation Instructions for Watermelon Mint Limeade
1. Cut watermelon into cubes, remove and discard the skin.
2. Place cubes into a juicer or blender and blend until smooth.
3. Strain juice into a pitcher.
4. Add 1/2 cup of boiling water into a cup or bowl and stir in the 1/2 cup of sugar or sweetener until completely dissolved, to make a syrup.
Note that this is optional and you can adjust the amount of sweetener or totally omit depending on your preference.
5. Add the syrup to the watermelon juice in the pitcher.
6. Add 20 oz club soda to the mixture in the pitcher.
7. Crush 10 mint leaves and add the crushed leaves to mixture.
8. Add in the strained juice from 3 limes.
9. Stir the mixture gently and include the 10 oz of Sprite.
10. Serve in tall glasses or cups with ice and enjoy!
Pro Tips for the Watermelon Mint Limeade
1. Tweak the amount of sugar used or omit completely depending on your taste or preference.
2. If the watermelon is not sweet or the drink turns out a bit more watery than you would like, just add more sprite. No need to make more syrup!
3. Garnish with whole mint leaves or watermelon wedges to make your summer watermelon drink pop.
4. Chill or serve with crushed ice for an even more refreshing effect.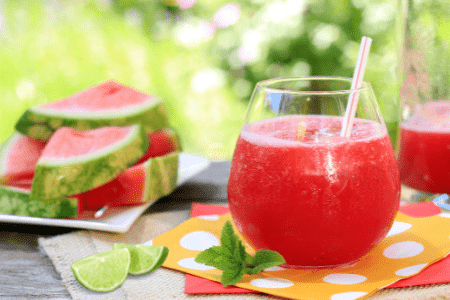 Frequently Asked Questions for Summer Watermelon Drinks
FAQ: Is watermelon mint water good for you?
Watermelon mint water is loaded with vitamins and minerals and gives a host of health benefits including promoting good heart health and blood circulation.
It also boosts immunity and promotes good digestive and skin health.
FAQ: What is watermelon agua fresca made of?
Watermelon agua fresca is simply blending fresh watermelon with a bit of lime juice and sugar. Other fruits can be added in based on your preferences.
Related Posts to Watermelon Mint Limeade & Summer Watermelon Drinks
15 Money Saving Tips for the Kitchen
Final Thoughts on The Watermelon Mint Limeade Recipe
Once you've had your first sip of this amazing, budget friendly summer watermelon drink, you too would agree that it screams refreshment.
Whether you're looking for summer drinks for kids or just fun summer drinks in general, this ticks all the boxes. It's sure to be a big hit at any summer event!
Do you have any other refreshing summer drink recipes? Do you have a special spin on a summer watermelon drink or your version of the watermelon mint limeade?
Share with us in the comments below. We'd love to hear from you!
Don't forget to follow us on Pinterest, Instagram and Facebook for more recipes and frugal living tips!
Liked this post? Pin it!
Budget Friendly Watermelon Mint Limeade – Summer Watermelon Drink Recipe!