Hello September! Guys, doesn't it feel like August just flew by? It's already time for my second month blog income report! I've made SO much progress this month and I can't wait to lay it all out for you!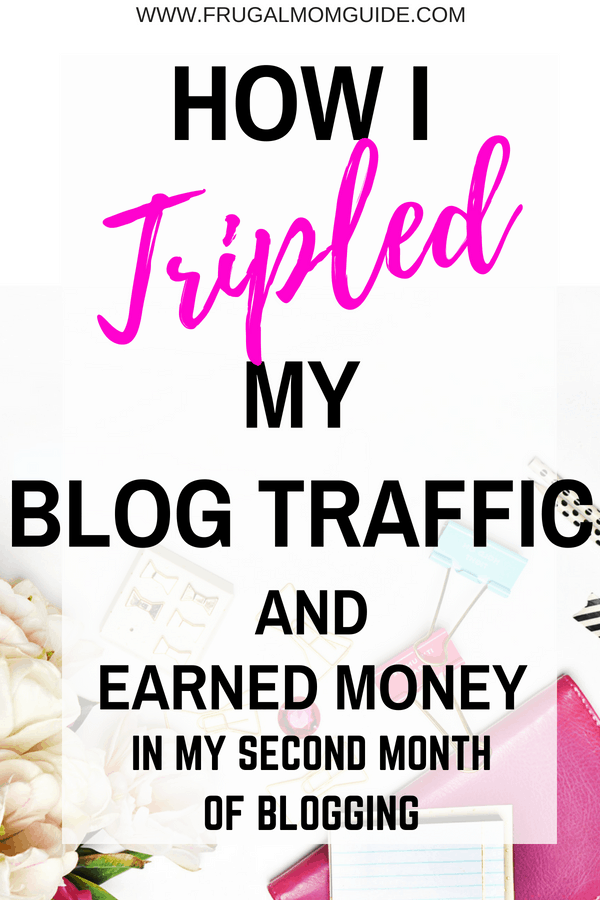 This post may contain some affiliate links. This means that we may receive a small commission (at no extra cost to you!) if you purchase through these links. All products listed here are products that we use and love! You can read our full disclosure to get more info.
Why am I doing a blog income report?
Well, like every other blogger, I became obsessed with reading blog income reports and craving the same success. I read my first blog income report almost 5 years ago! Yup, I've been obsessed THAT long. It was pinch of yum's blog income and I followed Bjork's reports closely. Their success is so inspirational! I have learned so much from Pinch of Yum and other bloggers who post monthly reports and I'm hoping that my reports can do the same for someone also. So if you're reading this and STILL wondering if to start a blog, go ahead and give it a try with my step-by-step tutorial! There is always room for a new blog on the block!
I am also doing these blog income reports to track my progress and I hope (in fact, I know) that years (or maybe months?) from now, when this blog is generating a full-time monthly income, I can look back at these income reports and remember how it all started. 🙂
August at a Glance
August was a month of many updates and changes.
Firstly, my husband Lorrenzo made his debut and joined me on my blogging journey at the beginning of the month! I'm so excited to share this aspect of my life with him.
(Updated August 2019: My hubby quit blogging with me about a week after he wrote this post. HA! Goes to show that blogging really has to be your passion for you to stick it through.)
This month I also purchased a new blog theme (will review it soon) and changed the entire layout and style of my blog. I am still working on changing the feature photos on all my posts to match my new theme and colors. This is time consuming, y'all!
This month, I finally received my verification letter from Google Adsense and started displaying Adsense Ads again. They sent me this letter for me to verify the address that my cheques will be sent to and unfortunately ads could not be displayed on my site until the address was confirmed. Adsense has a $100 threshold payment though, so even though I'm earning money every month, it will be a few months until I earn over $100 to receive payment.
I also got accepted into the Amazon Affiliates program this month. Woop Woop! I'm still updating past posts with affiliate links.
I finally got my cookie policy, disclosure and disclaimer and privacy policy done. I also got the whole GDPR thing sorted by using a cookie plugin.
I know that in July's Blog Income Report, I said that I'd like to focus more on blog traffic but I ended up not tackling traffic as aggressively as I had planned. I decided instead to write some more posts and update past posts with higher quality pinnable images. I did as many as three images in some of my past posts. You know we all hear that content is king. I feel that traffic will keep increasing once I keep writing good content that provides valuable information to my audience.
This month's blog posts include:
First Month Blog Income Report – July 2018
Car Maintenance for Women – How Women Pay More
7 Parenting Mistakes and How They can be Reversed (Before it's too late)
7 Back to School Ideas for Moms on a Budget
6 Simple Habits that will Save You Hundreds on Car Costs
100+ Pinterest Group Boards to Join to Boost your Blog Traffic
7 Tips to Help Kids Focus in School
7 Reasons why Boys need their Dad
How I Mastered Pinterest SEO and got my pins to Rank High in Pinterest Search (with my one-month-old blog)
7 Ways to Earn Extra Money from Home
A Parent's Guide to Emergency Preparedness for Kids
Wow! That's quite a list there! Well, they do say that content is king, right?
August Struggles
What I struggled with this month was inconsistent traffic. One day I'd have 300 visitors and the next day, I'd have 70. As soon as a post got traction, I'd see it reach 300 shares and then fall off the grid the next day, even though I continued to consistently promote it. This is something I need to figure out.
It was also disappointing to see glitches with my social share plugin. I'd have 250 shares on a particular post and then the counter would reset another day. And y'all know the excitement that comes with seeing your share counts increase, right?! I'm still using the same Shareaholic plugin. I can just hope that it wouldn't happen again but right now, I prefer to stick to a free plugin as I don't want too many expenses (until I start to make more!). If you have any other free plugin recommendations, I'd be happy for you to share with me!
August Wins
My pins started showing up in the Pinterest Search Engine which can only mean that my traffic will start to increase. I wrote all about how I focused on Pinterest SEO to be able to achieve this huge win with a one-month-old blog.
Our August Numbers
Let me just start by saying up front that absolutely nothing was done on blog 2 (my blog for my high school students) I have NO idea how some moms run 2-3 (and more) successful blogs. It's hard getting two new blogs seen and I have decided that for now, I will focus my time and energy on this (frugal mom guide) blog. Maybe as this starts to take off, I can continue adding content to the other blog.
(Updated August 2019: I completely quit Blog #2 as it's VERY difficult to grow two new blogs from scratch)
So here are the numbers for August.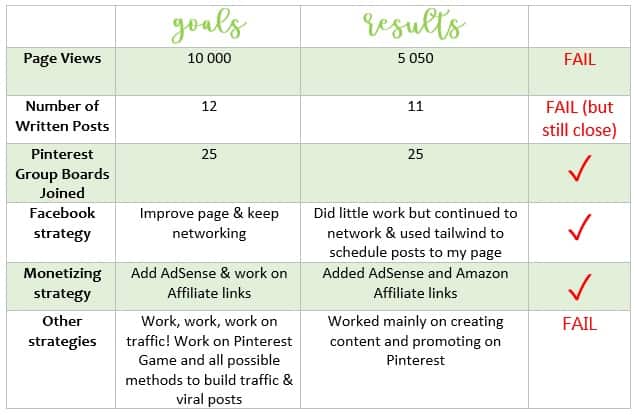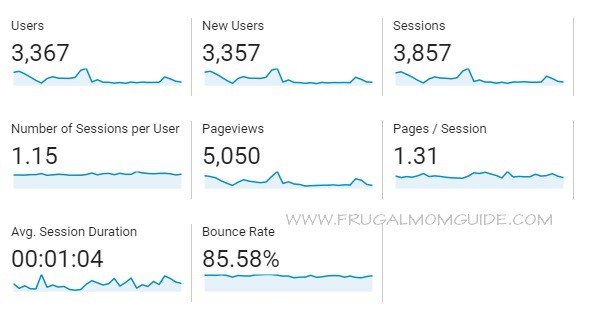 In September, I'd like to work more on increasing the Average Session Duration and decreasing my Bounce Rate.
Generally, even though I didn't meet all of my blogging goals for August, I'm still happy with my results. My pageviews increased by over 300% from last month! Progress was made and that's what's important. In case you're wondering how I jumped from 1676 to 5050 in one month, I will stress the big part Pinterest had to play in this. My post on how I mastered Pinterest SEO explains exactly what I've been doing on Pinterest throughout the last month.
September Blogging Goals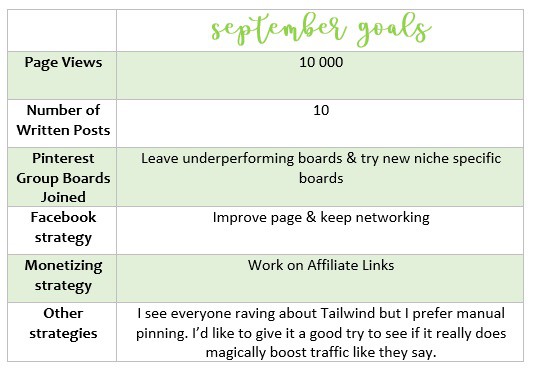 I'm going to attempt the 10K page views goal again! My main focus will be using Pinterest and creating evergreen content. I also plan to create a freebie for an opt-in and get started on building my subscribers list.
School starts for me (MEH!) so I know September will be a bit of a struggle juggling family, work, home & my blog but I'm sure that with the help of God, I will make it all work!
The Money
This is the part you were waiting for.
This month, we earned $78.62. I know that we usually see bloggers' incomes grow and ours actually declined (even though our page views increased). Firstly, I can't even begin to explain why Adsense income was higher last month. I'm not sure if it has anything to do with clicks. This month's figure means that I need to up my affiliate game. It was disappointing that I made $0 from the Amazon Affiliates program especially since I think they kick you out of their program if you make no sales within three months. So I'm a bit worried about this. Let's hope next month is better in the Amazon Affiliates department.
Also, I want to explain again that for now, I'm reporting my income on an 'as earned' basis. Some of these programs payout anywhere from 60-90 days later so this money hasn't actually hit my bank account yet.
The breakdown
Google Adsense – $3.62 (I didn't have Adsense installed for the entire month but I'm sure it wouldn't have been much higher even if I did *sigh*)
Affiliate Programs – $75.00*
*The Affiliate Programs I used this month include:
Bluehost – I've used Bluehost for the last 5 years (with other blogs) and I highly recommend them!
Shareasale – Allows you to partner with thousands of brands and companies and become affiliates for each
Tailwind – Personally, I prefer manual pinning but like I mentioned above, I'm going to give Tailwind a proper try. You can sign up through this link to get one month of Tailwind free. It's always better to try something first before going all in and purchasing it.
Grammarly – Even the best English experts may miss a Grammar error. Grammarly is a blogger's best friend. I explained exactly how it helps bloggers to improve their blog content. The best part is you have access to so much with just the free version.
Pinteresting Strategies – The ebook that helped me increase my pageviews! It is written by Carly from Mommy on Purpose and she explains, step-by-step, the exact Pinterest strategies that she used to increase her pageviews from 0 to 200K within the first few months with her new blog. These strategies are what helped her to start making a full-time monthly income by her 9th month of blogging.
Expenses
Stock Photos + New Blog theme – $95
This month has a negative balance but I'm sure that my investments will be well worth it in the end.
Related Read:
March 2019 Blog Income Report – How I Got into Mediavine and Made over $200
What I've learned this month
I've learned that blogging is a journey and that every day I must try my best. I cannot compare my progress to another blogger's because our circumstances are different. I've also learned that I must stop worrying about things that I cannot change or have no control over. Who knew blogging could teach so many life lessons?!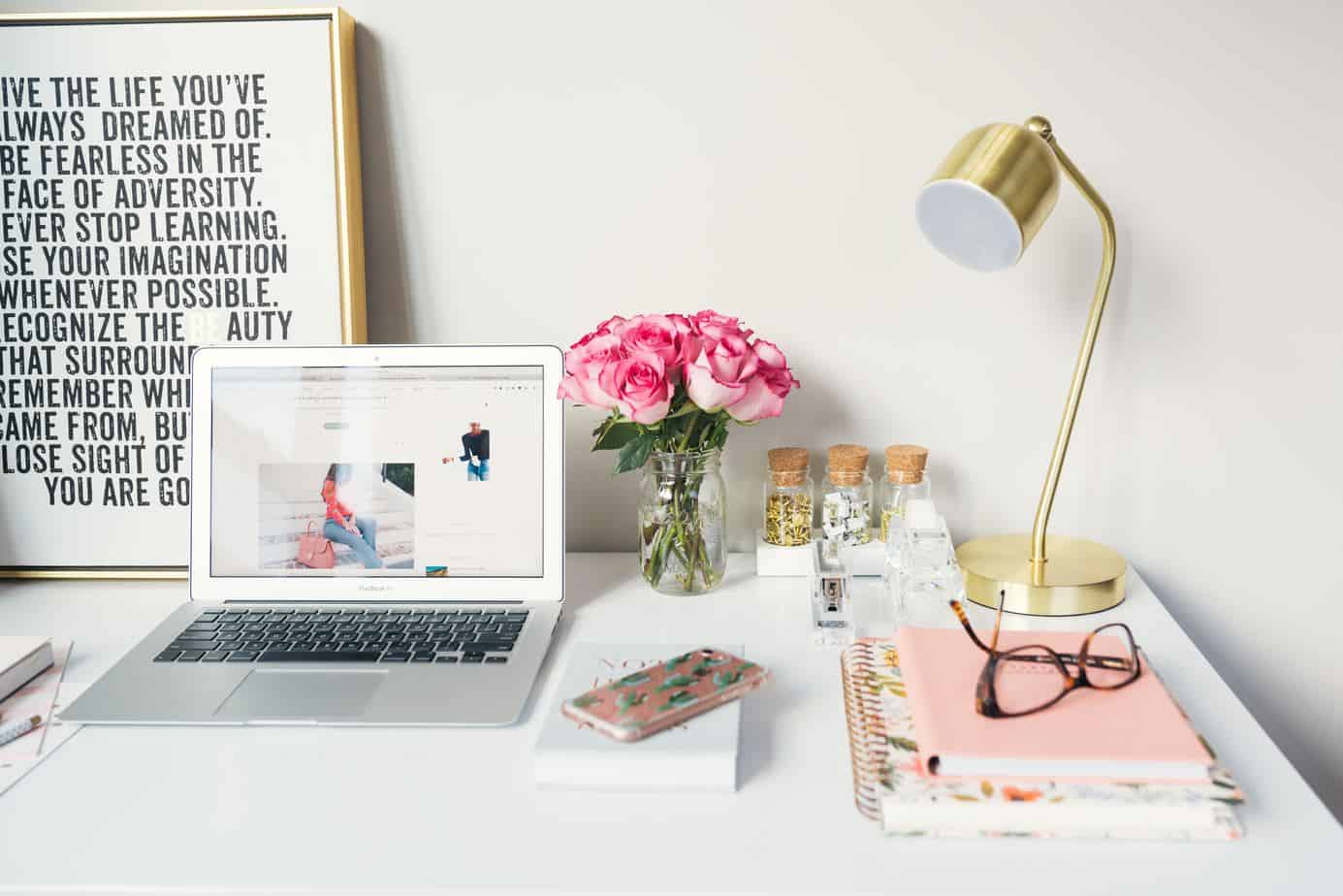 So that brings me to the end of our August 2018 Blog Income Report. I've decided that when my blog money starts hitting my bank account, I want to use it to help others. I haven't decided who or how but I will pray about it and let God lead me to make a decision.
Thanks for reading! Don't forget to share and pin for later!
OHH and I'm on Pinterest! 🙂
Until next time,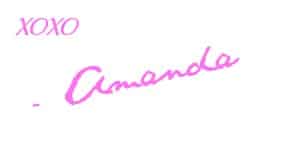 You may also like:
How to Start a Money Making Blog
How I Made $200+ in my First Month of Blogging
100+ Pinterest Group Boards to Join to Skyrocket your Blog Traffic