Hello April! It's officially the end of Quarter 1 and the start of Quarter 2! Yay! Hey guys! It has been so long since I've done a blog income report and I must admit that it was because I was pretty discouraged to show my numbers and progress for some months. In retrospect, I probably shouldn't have because MOST new blogs don't get high traffic straight away – so if you're currently feeling this way, don't worry, just keep it at!
Apart from feeling discouraged, I didn't share an income report because I felt like I didn't have anything of value or substance to share or teach. So I felt like sharing my numbers made no sense at all. This month however, I have BIG news! I FINALLY GOT IN TO MEDIAVINE! WOOHOOOO! This has been a huge goal of mine since I first started my blog so to get here was an amazing feeling! Hop aboard. I'll show you how I reached my goal and update you on what happened during all the months in between.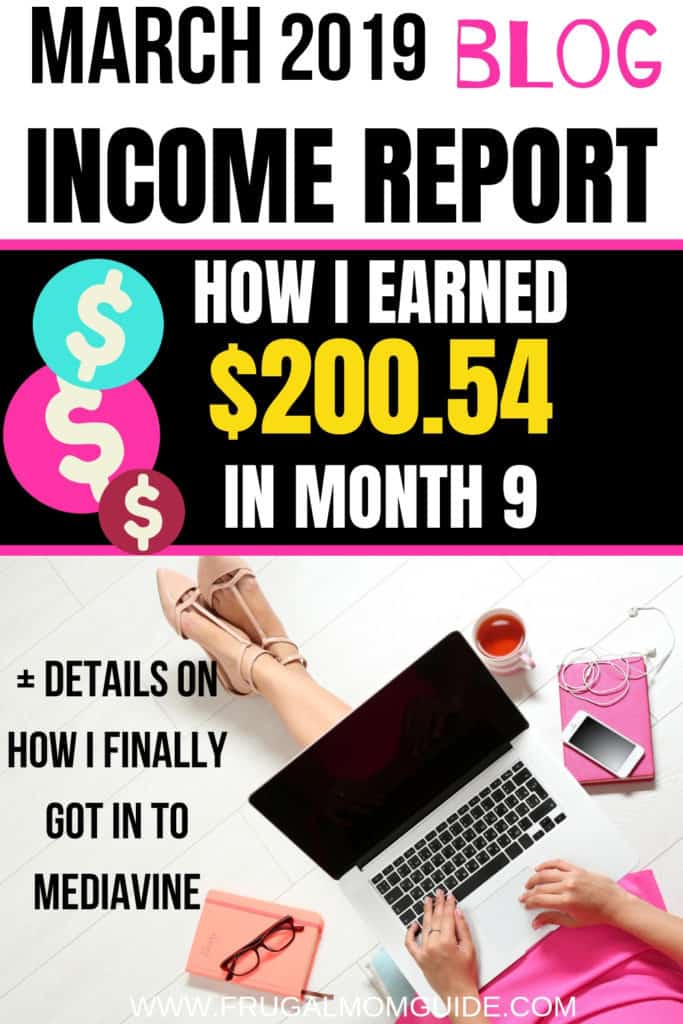 This post may contain some affiliate links. You can read our full disclosure for more info.
Why am I doing a blog income report?
Well, like every other blogger, I became obsessed with reading blog income reports and craving the same success. I read my first blog income report almost 5 years ago! Yup, I've been obsessed THAT long. It was Pinch of Yum's blog income and I followed Bjork's reports closely. Their success is so inspirational! I have learned so much from Pinch of Yum and other bloggers who post monthly reports and I'm hoping that my reports can do the same for someone also. So if you're reading this and STILL wondering if to start a blog, go ahead and give it a try with my step-by-step tutorial! There is always room for a new blog on the block!
I am also doing these blog income reports to track my progress and I hope (in fact, I know) that years (or maybe months?) from now, when this blog is generating a full-time monthly income, I can look back at these income reports and remember how it all started.
My last blog income report was my August 2018 blog income report where I showed how I earned money after two months of blogging. After this, my income wasn't very high and my traffic plateaued so I didn't do any income report in September 2018.
The same happened in October and November and I felt really discouraged. But then something happened… I joined Dare to Conquer (formerly Billionaire Blog Club) and my traffic skyrocketed! In fact, it grew SO MUCH that it got me into Mediavine (a premium ad company that pays way better than Google Adsense!). I'll show you in a bit how I made 10 times as much with Mediavine than I did with Adsense!
How Dare to Conquer changed the Game for me!
If you haven't heard of Dare to Conquer, it's a complete course which shows you exactly what you need to do to grow your blog online business – that's right, the first step is realizing that you're an entrepreneur and not just a blogger.
The course is created by Paul Scrivens (aka Scrivs) and trust me, you'll NEVER find another course like this!
It comprises of several individual courses which cover Pinterest, SEO, affiliate marketing, the $100K Climb (a road map showing exactly what you need to do to make $100 000+ per year from your blog/online business) and so much more!
Why buy courses from every corner of the internet when you can get it all in one place?
And just in case you're thinking this course creator is JUST LIKE every other course creator out there, let me clear things up for you. Paul Scrivens doesn't just talk the talk, the man also walks the walk!
He has at least 14 successful blogs, each in a different niche. He doesn't just make money from blogging about blogging. He has learned the secret of making money in almost all niches and he has decided to show us how to do the same. I mean, the dude made $728 506.78 from blogging in 2018 – so I'm all ears!
I don't know about you but if someone's showing me exactly what I need to do to make $100K per year in 18 months or less, count me in!
Special Offer on DTC!
So I paid a pretty penny for access to DTC last year. It seriously is the best money I spent though and I've made it all back and more by now. Now, you have a chance to get everything in DTC for even less! Scrivs has decided to offer ALL the Dare to Conquer courses for only $99 per month!
That's right – you're getting the complete package of courses for a subscription of less than $100 per month!
It's really a collection of multiple courses.
$100K Climb ($1 999) [This course is a detailed roadmap outlining exactly what you need to do to make $100K from your site in 18 months or less!]
Hero Branding($99)
Tribe Love($99)
Content Creation Cocktail($149)
SEO My Goodness($199)
Dating Pinterest($199)
Affiliate Marketing Magic($199)
6-Figure Product Creation($299)
Feel Good Funnels($299)
You'll get all of the above for just $99 per month. You can choose to subscribe for one month and access all the info in that month or stick around longer and get all the updates and new courses that are added.
You can also choose to purchase courses individually but why do that when you can access ALL for less than 100 bucks, right? You know I'm all about getting the most value for your dollar!
If you're finally ready to make 6 figures with your site, click here to access this special DTC offer. You'll make back that money and more from everything you'll learn!
March at a Glance
Ok now back to my numbers.
March was an AMAZING month! As previously mentioned, Mediavine ads went live on my site this month! I truly believe that this is the start to my blog generating a full time income. In case you were wondering, this is my 9th month blogging, so it is VERY possible to reach this level within your first year of blogging (with a lot of hard work of course!).
This month my blog had 27 176 pageviews which is a decline from February (the month I got to apply to Mediavine). I only had Mediavine ads live on my site for half of the month but I made almost $200 as compared to the $20 I made with Adsense at the beginning of the month! That's almost 10 times more, y'all!!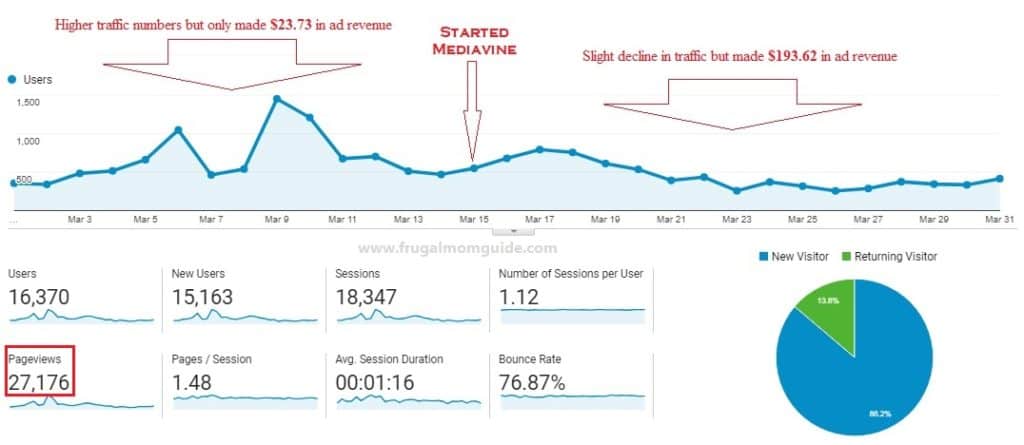 Here's a quick glance at my traffic figures over the last few months.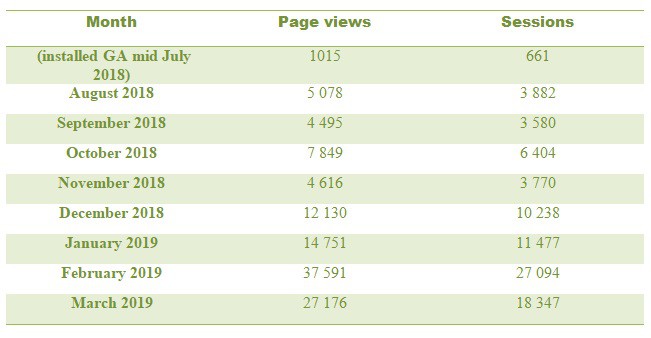 What caused my Traffic to Grow?
So are you wondering what happened to cause the jump in my traffic numbers? Again, I preach that Dare to Conquer is what happened!
Paul himself is always available to answer any question or help in any way he could. In fact, in November, I messaged him directly, totally discouraged (see how often I am using this word?) that I was averaging 5k pageviews per month for the last three months. I knew my blog was a baby blog but I was on a mission – a mission to grow as quickly as I could.
When I sent my message, Scrivs immediately replied! He looked at my Google Analytics, offered me some personalized advice and BOOM – next month, 12, 130 pageviews!
In January, I went even further to create new niche, keyword-rich personal Pinterest boards. I created about 10 new boards, aimed at creating a new pin most days and started using Tailwind to schedule them first to my most relevant personal boards and then to cycle through group boards. (Psst – Use this link to get a free month of Tailwind!)
I also revisited Carly's Pinteresting Strategies course and voila, I had the winning combination!
By February, I had made the 25K Sessions that I needed to apply to Mediavine.
Throughout these months, I worked on my blog almost every single night. Some nights turned into early mornings. I'd get a few hours sleep, go to my 9-5, take care of my kids, be the best wife that I could be, and go back to blogging again. My home was and still is a mess. What can I say? You can't win all!
Related Reads:
August 2018 Blog Income Report
July 2018 Blog Income Report – How I Made $200+ in my First Month of Blogging
25 Explain How to Skyrocket Traffic to get in to High Paying Ad Networks
How to Master Blogging with a Full Time Job
How to Start a Money Making Blog – A Step by Step Guide
The Numbers
So here's the part that you've been patiently waiting for! Remember, I am reporting on an 'as earned' basis (for now, at least). I have already received income from the past few months (and my Adsense account finally hit $100 so I have a cheque coming in the mail this week) but these are not included in this report since they were earned in months prior to March. I am going to try to keep up with these income reports now so this report shows money earned in March only.
How much did I earn in March?
$200.54
Here's a breakdown of what was earned this month.
Mediavine Ads – $193.62 (I only had mediavine ads up for half the month)
Amazon Affiliates – $6.92
March was a good month but clearly I need to work on diversifying my income. March was a busy month for me at work plus my son was sick for many nights so I didn't get to work on my blog as much as I would have liked to. However, April is another month, another opportunity to grow my blog even more.
April Goals
This month, I'd like to work on content creation and publishing more often, Google SEO, affiliate marketing and of course growing my income. My next major goal is to hit $1K per month. I'm excited for another month as I continue to pour my heart, soul, tears and sweat into turning my little hobby blog into a full time income and business!
A quick look at the Blogging Resources that have been working for me:
Again, here's a quick list of the resources that helped me increase my traffic.
Dare to Conquer – Get all the courses for just $99 per month. Includes various courses with everything you need to know about taking your blog to 6 figures!
Pinteresting Strategies – Previously an ebook but now a course that will help you master Pinterest to increase traffic.
Tailwind – To pin consistently and with purpose
What I've Learned So Far
So far, I've learned that blogging success requires hard work, constant care and attention. The great thing about blogging however is that you can put the work in now and earn from it forever, passive income at its best!
I've also learned to keep working and pursuing your goals no matter how discouraged you feel. It will pay off in the end!
Now over to you!
Where are you in your blogging journey? What are your blogging goals and what are the steps that you are taking to achieve them? Share with us in the comments below! I'd love to hear from you!
Don't forget to share and pin for later! While you're there, I'd love for you to follow me on Pinterest!
Until next time,