I absolutely love decorating my home. I decorate any and every chance I get. But decorating can cost SO MUCH money. And as you already know, I am super frugal and love getting a bang for my buck.
My love for decorating and my love for saving often clashes. So to satisfy one without ruining the other, I try to stick to simple DIY decor projects and decorating on a budget.
I know that there are many of you out there that share these same sentiments. You love to decorate and you love to save too. But don't worry, you can absolutely do both at the same time!
Fall is here and you might already have visions of pumpkins and burlap and turkeys (Hello Thanksgiving!) and all the other fun Fall decor ideas. If you want to decorate for fall on a budget, these super simple DIY Fall Decor Projects may be right up your alley! Decorating for Fall on a budget can be both easy and fun! You'll see.
Most of these decor projects look like a million bucks and your house guests will never even guess that you did it yourself!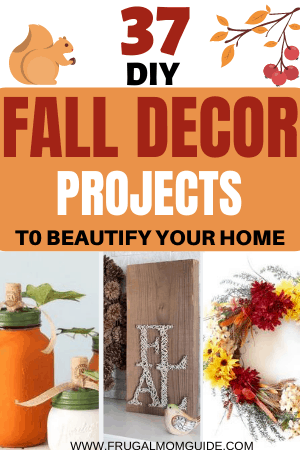 This post may contain some affiliate links. You can read our full disclosure for more info.
Decorating for Fall on a Budget
If you're looking to transform your home into a magazine worthy space this Fall, but you're not willing to compromise your budget, these DIY Fall decor projects will surely do the trick.
Sometimes all you need is a little extra time to dedicate to your projects and a little sprinkle of creativity.
The best part is that you do the work once, and you'll have lovely, one-of-a-kind Fall decor pieces to reuse for many years to come!
And let me let you in on a little secret – lean in just a little bit closer. *Some of these can even be sold to make some extra side money* You're welcome! 😉 I mean if they cost nothing to make, but can be sold for a lot, why not, right? If side hustling and selling crafts seems like something you might be interested in, be sure to check out these easy crafts to sell to make extra money!
Anyways, let's get to it.
Here are some of the simplest and most beautiful pieces to get started this year!
37 DIY Fall Decor Projects to try this year
1. Pumpkin Burlap Sign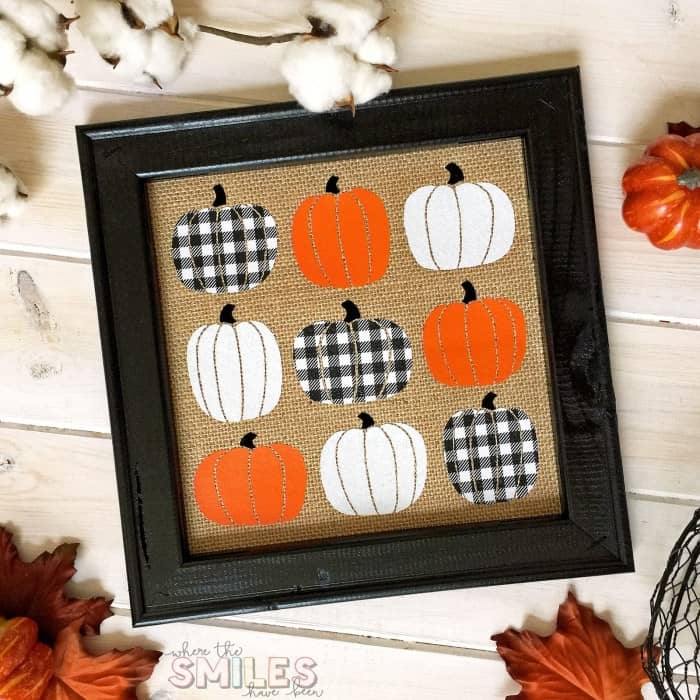 This burlap sign from Where The Smiles Have Been screams Fall! Christine explains every step and detail from start to finish so that you too can display this gorgeous piece in your home!
2. Dollar Tree Fall Wreath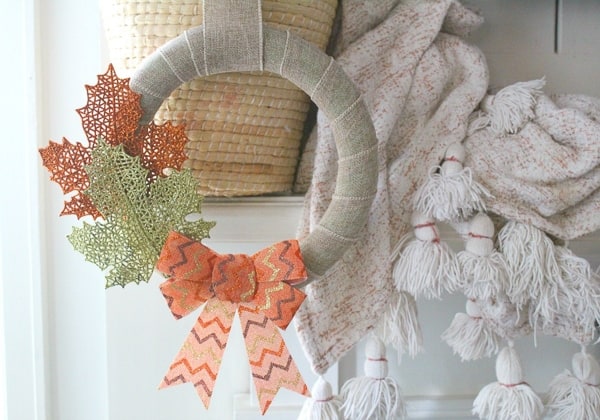 This Fall Wreath from Mommy Made That is absolutely beautiful AND affordable! This wreath is made using items from the Dollar Tree and will spruce up your home without straining your pocket!
3. Origami Pumpkin Garland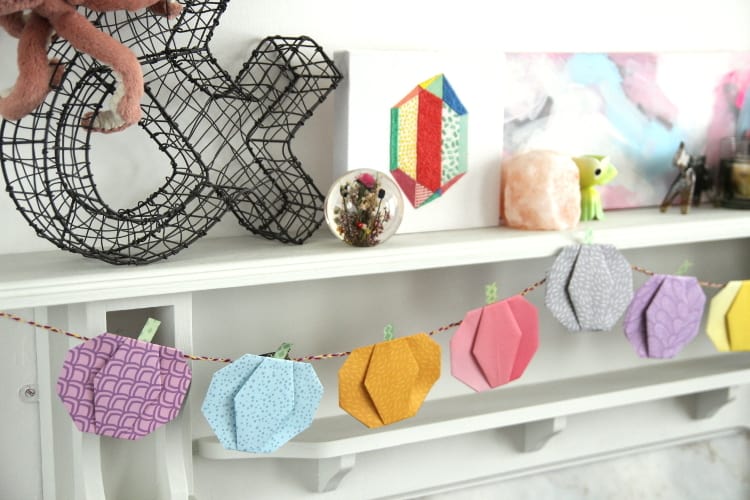 This pumpkin garland from Gathering Beauty is super cute and adorable. Choose patterns and colors to suit your taste and decor and you'll have a perfect addition to your Fall decor line up!
4. Dollar Store Fall Centerpiece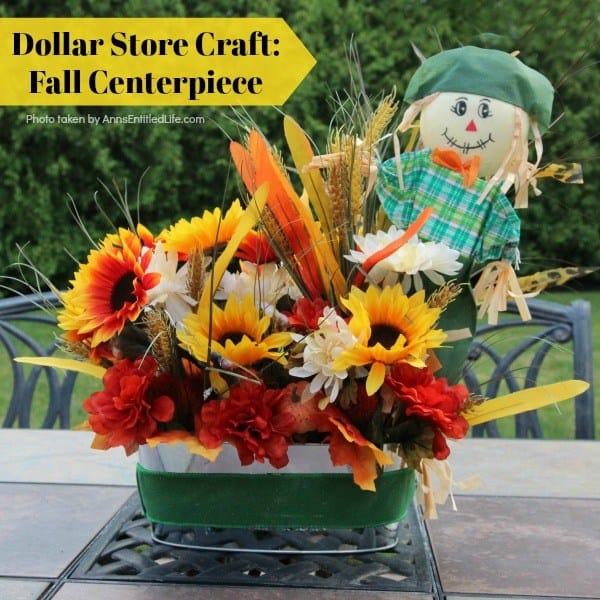 This centerpiece from Ann's Entitled Life is yet another DIY Fall decor project that is both beautiful and budget friendly! All the basic materials can be found in your local dollar store, yet the end result looks like a million bucks.
5. Pumpkin Mason Jar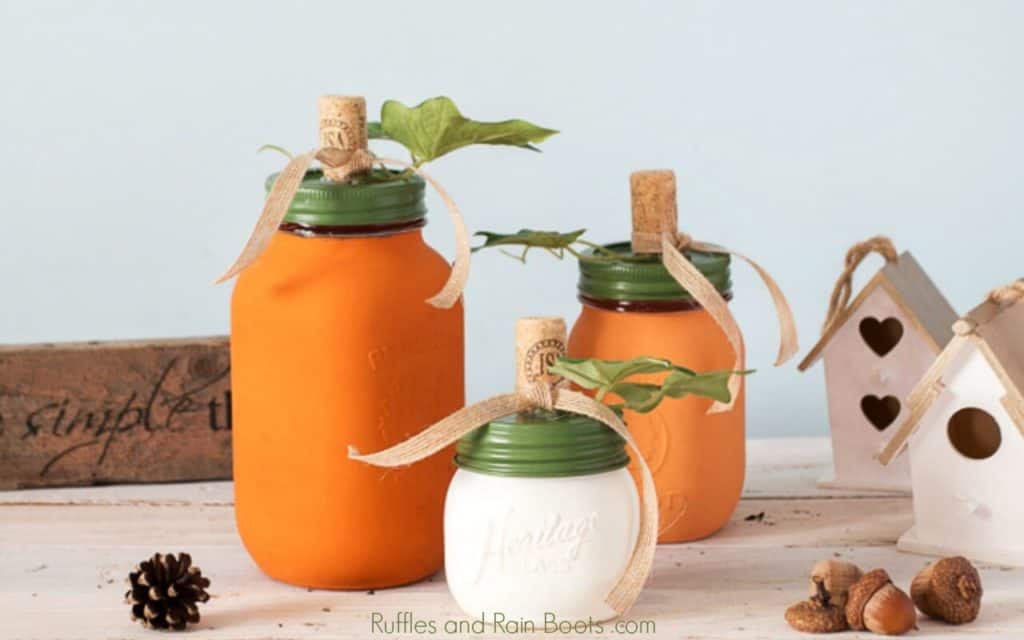 These pumpkin mason jars from Ruffles and Rain Boots are a must have in your home this Fall! They are seriously so easy to make even though they look so fancy and high end. They can even be great DIY gifts that everyone will be sure to love!
6. Fall String Art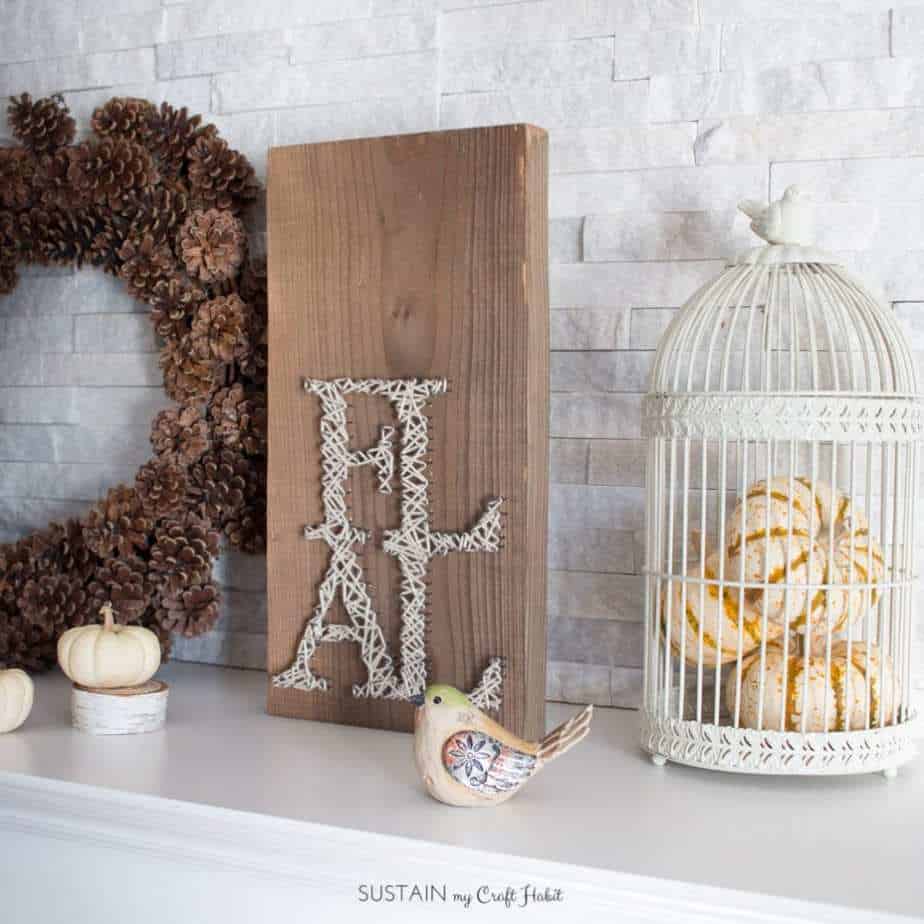 How gorgeous is this Fall String Art from Sustain My Craft Habit! If you're into rustic designs, this piece will be a perfect addition to your home this Autumn. The best part is that you probably have most of the materials lying around your house already!
7. White Pumpkin Decor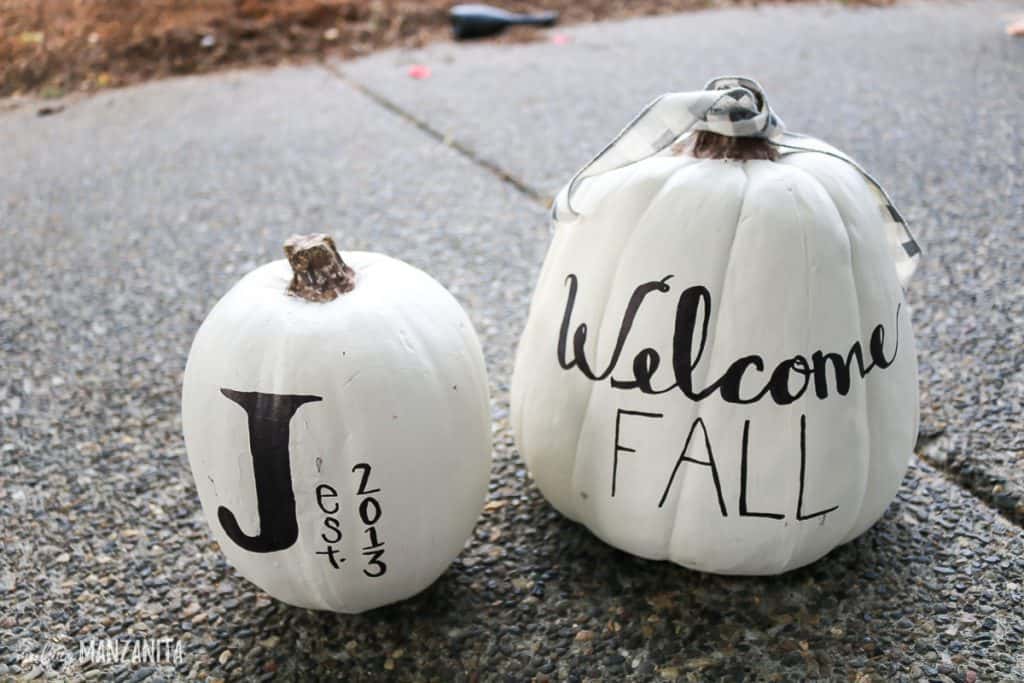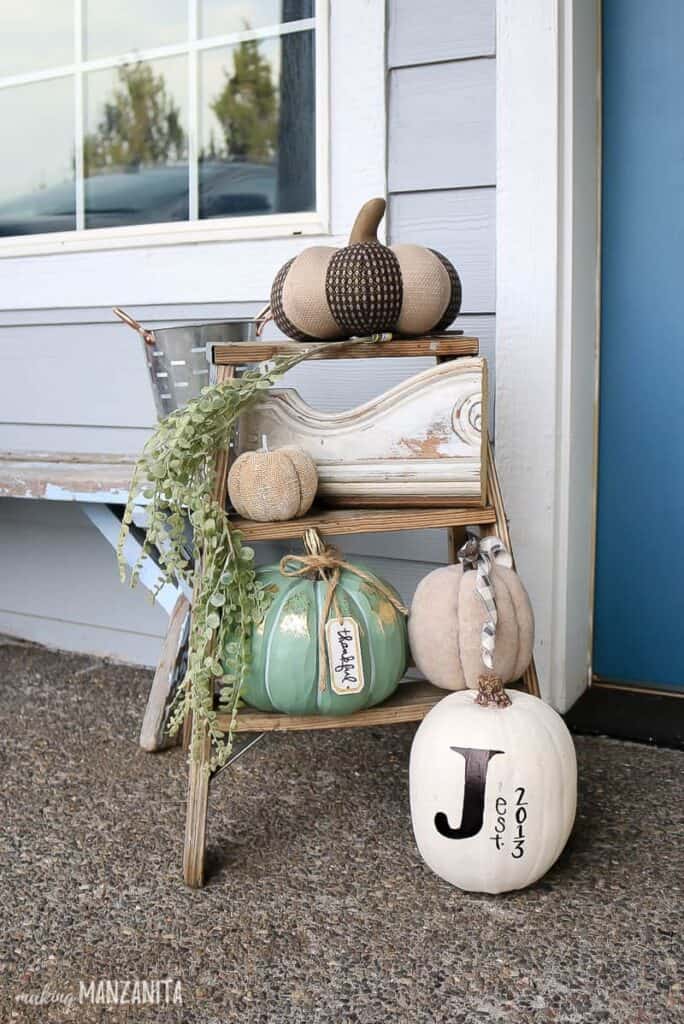 These painted pumpkins from Making Manzanita are super simple, beautiful and affordable! Doing fall decor on a budget? Then this DIY Fall Decor project is a must this year!
8. Fall Pillow Covers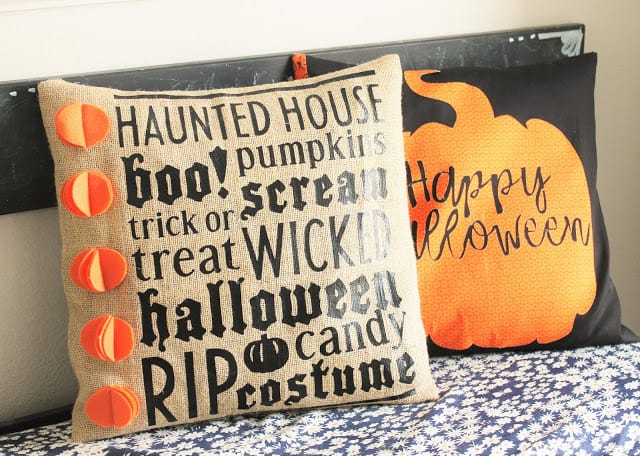 If cricut crafting is your forte, then you'll love these Fall Pillow Covers from Sew Simple Home! And get this, Chelsea has designed these so that they can be flipped around when Halloween is over, which converts it to a Fall design so that they can be used all the way through to Thanksgiving!
9. Paper Leaf Fall Wreath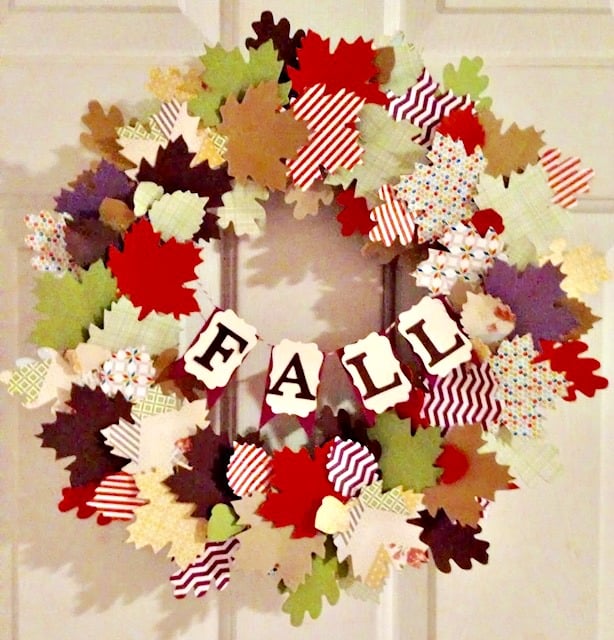 Cricut lovers, here's another Fall beauty for you! This DIY Paper Leaf Fall Wreath from Our Crafty Mom will bring life and color to your living space this Autumn! How stunning is this piece?!
10. Buffalo Check Fall Wreath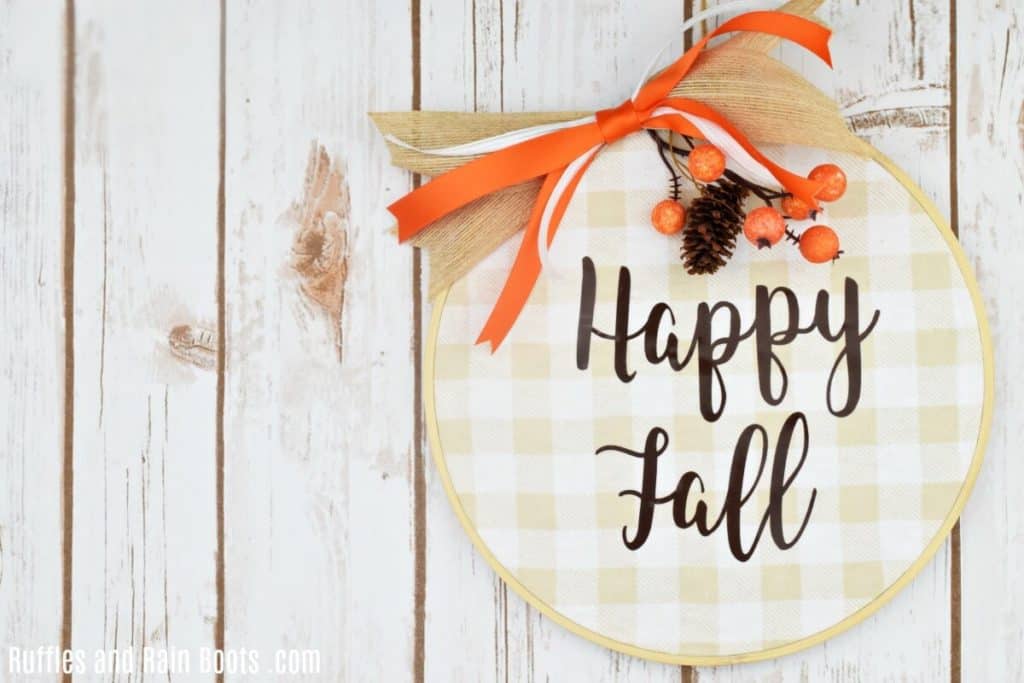 This is yet another beautiful Fall piece from Ruffles and Rain Boots! These colors and patterns will add the perfect Autumn touch to your space and this tutorial comes with a free SVG File!
11. Easy Fall Centerpiece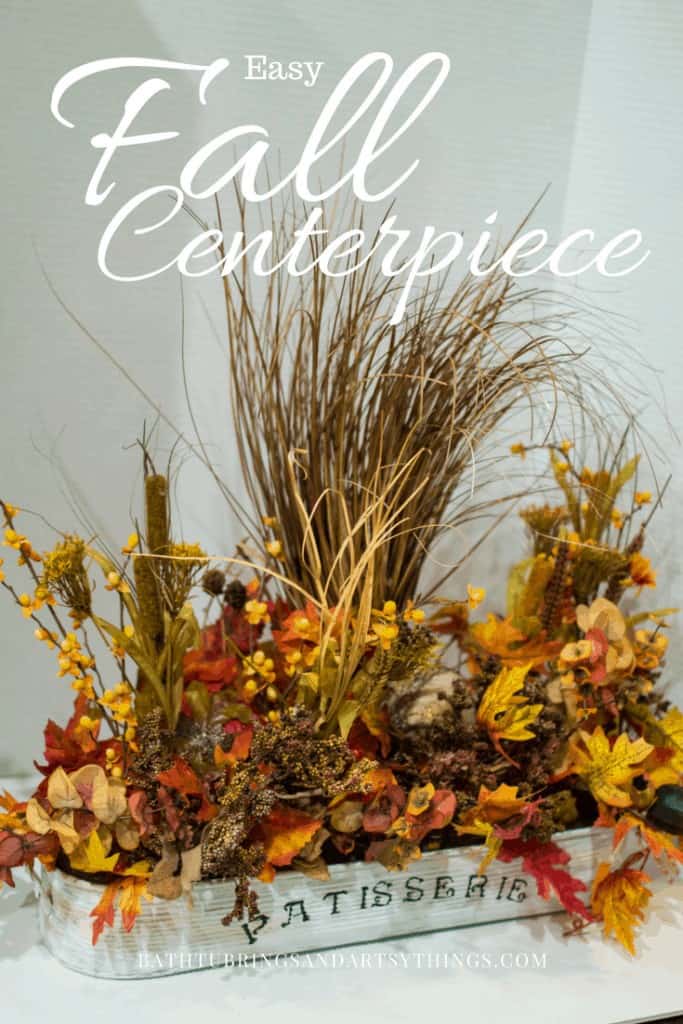 Your dining room table will look straight out-of-a-magazine with this unique Fall centerpiece from Bathtub Rings and Artsy Things! It's super simple to create and will complement your home in a special way!
12. Neutral Fall Wreath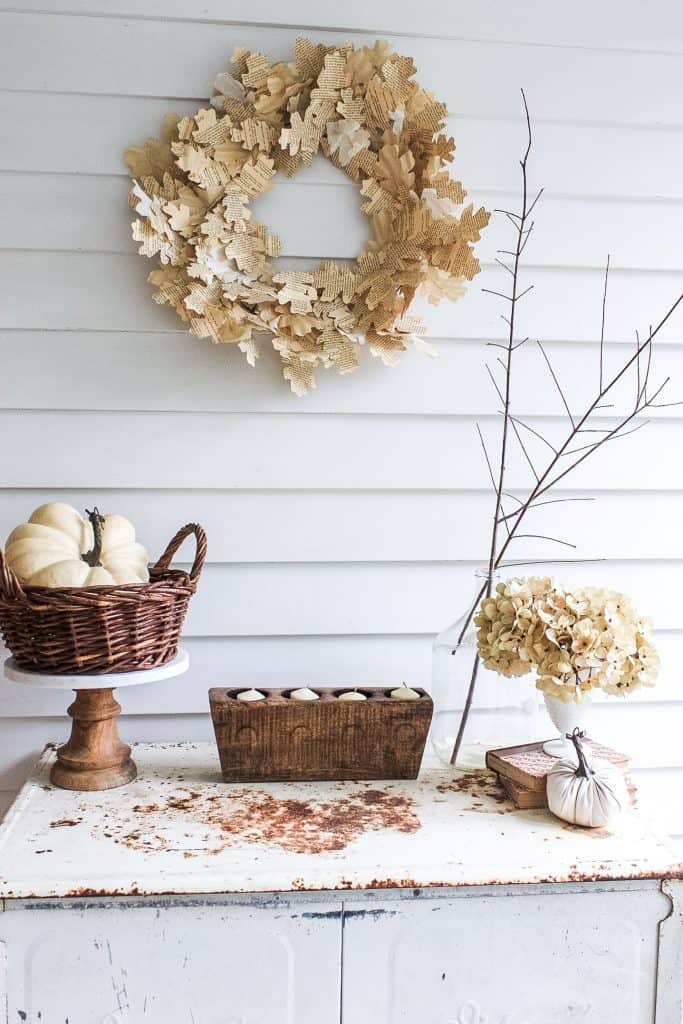 This rustic DIY Neutral Fall Wreath from One Thousand Oaks is a timeless decor piece and will be hanging in your home for years to come! It's simple to make and you may already have the materials lying around your home!
13. Easy Fall Wreath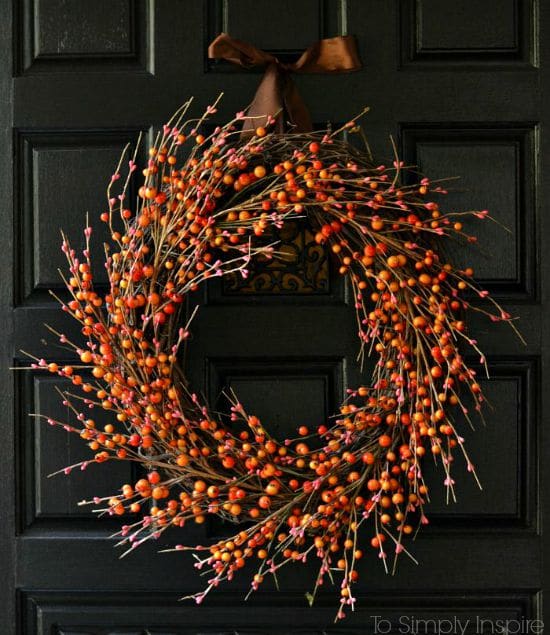 You can never have too many wreaths in your decor stash, and this easy DIY Fall Wreath from To Simply Inspire does not disappoint! This wreath takes less than 15 minutes to make and the orange berry stems will give you all the Fall feels!
14. Grapevine and Pumpkins Fall Wreath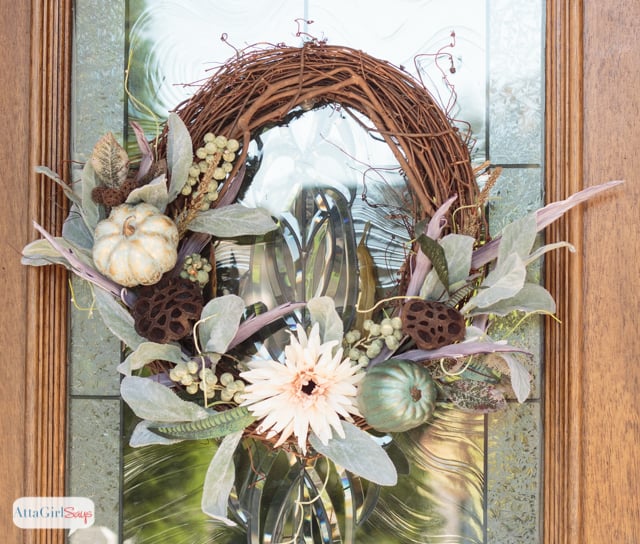 Here is yet another beautiful DIY Fall Wreath that will spruce up your front door. This beauty is from Atta Girl Says and uses a lovely color combo of lavender, dusky green, brown, copper and gold.
15. Fall Pallet Wood Sign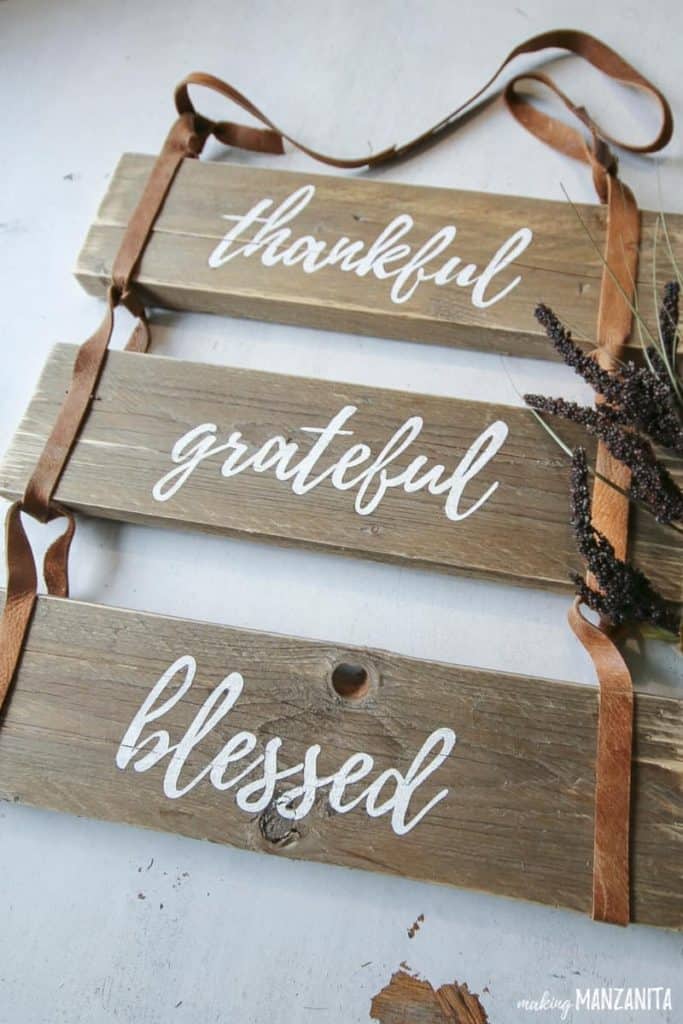 This is another stunner from Making Manzanita and seriously looks like it was picked up from a fancy, high end store. This is a must have for your home this Fall!
16. Beautiful Fall Wreath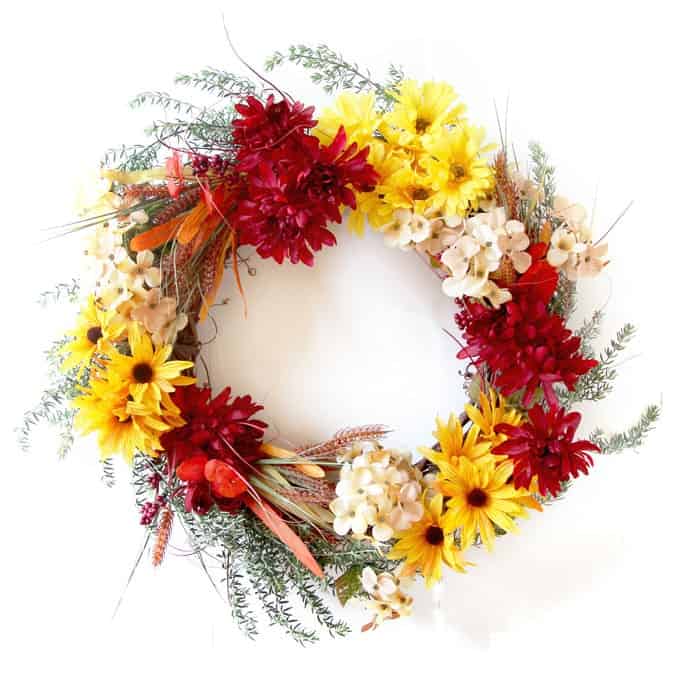 Here's another gorgeous option if you're looking for a Fall Wreath! This beauty comes from A Piece of Rainbow. It can be made in less than 10 minutes and is bursting with all the Fall colors!
17. Leopard Print Fall Banner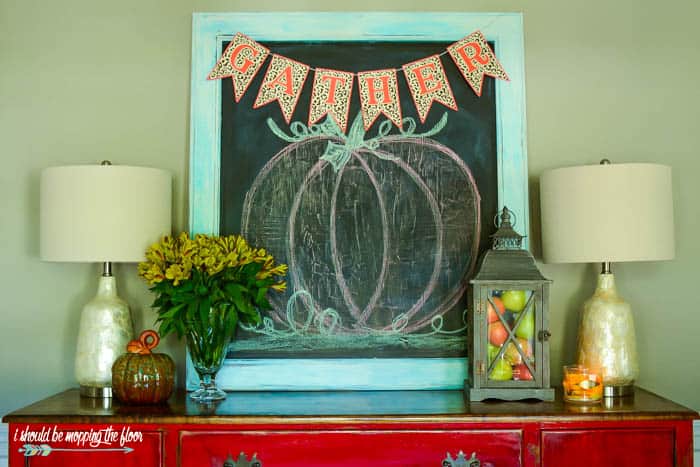 This Fall banner from I Should Be Mopping The Floor will just tie in all your fall decor together like one pretty, big bow on the top. It's super simple to make and will only take you a few minutes!
18. Thanksgiving Printable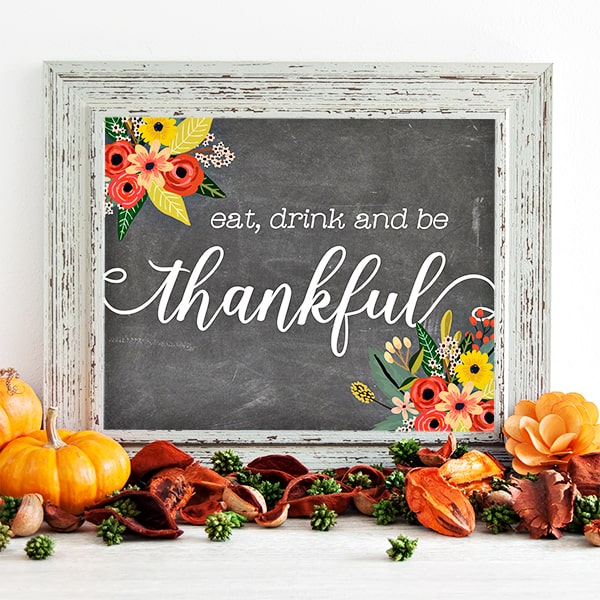 Grab this free Thanksgiving printable from Home Cooking Memories and take your Fall Display to the next level! This project is so simple – just print and frame! It doesn't get easier (and cheaper!) than this!
19. Autumn Leaf Wreath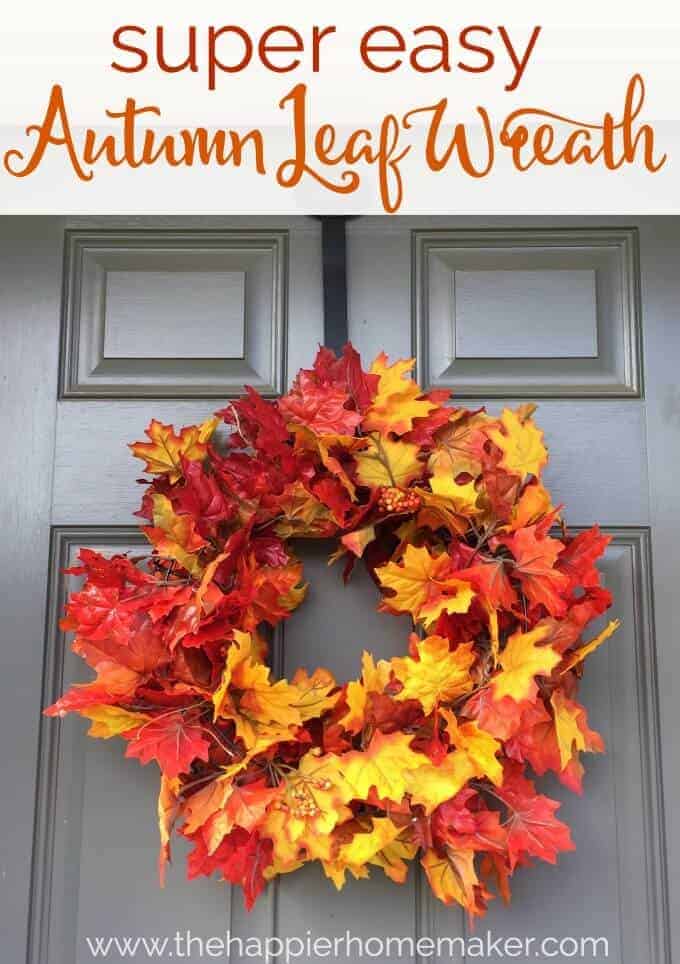 This Autumn Leaf Wreath from The Happier Homemaker is the epitome of Fall. From the perfect blend of Fall colors to the shape of the leaves themselves – this is a project you'll definitely want to try!
20. No Sew Fabric Pumpkins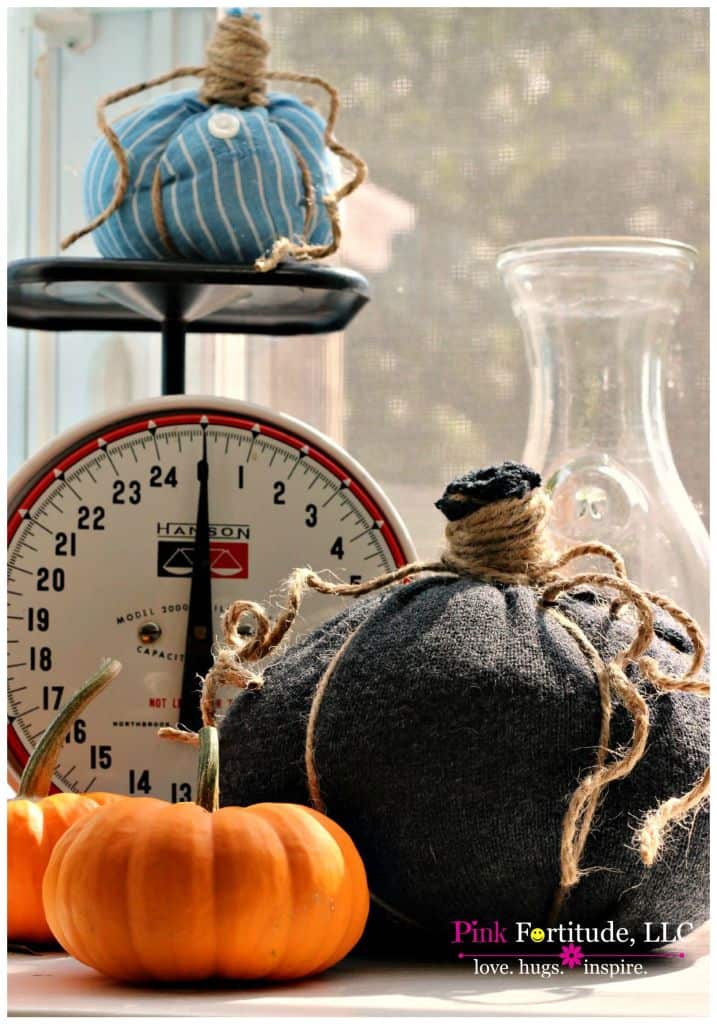 If you have any old shirts, sweaters, or come across a cheap yard sale find, this is a brilliant way to upcycle the fabric into these cute and festive fall pumpkins. Holly from Pink Fortitude shows how
21. Thanksgiving Pie Banner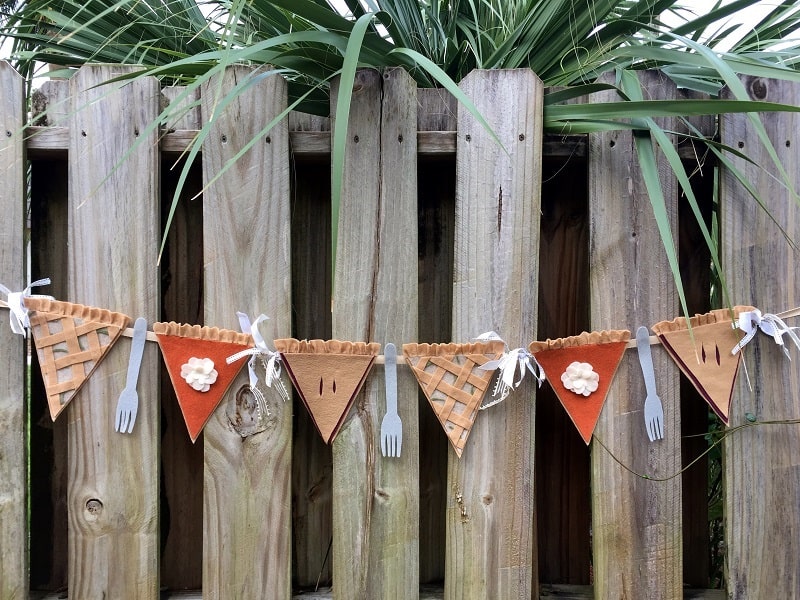 How cute is this pie banner from Creatively Beth?! Thanksgiving is all about traditions, family, and pie, especially PIE! "Bake" Pumpkin Pie, Apple Pie, and Blueberry Pie from felt in just an hour and keep the kitchen CLEAN!
22. Fall Table Centerpiece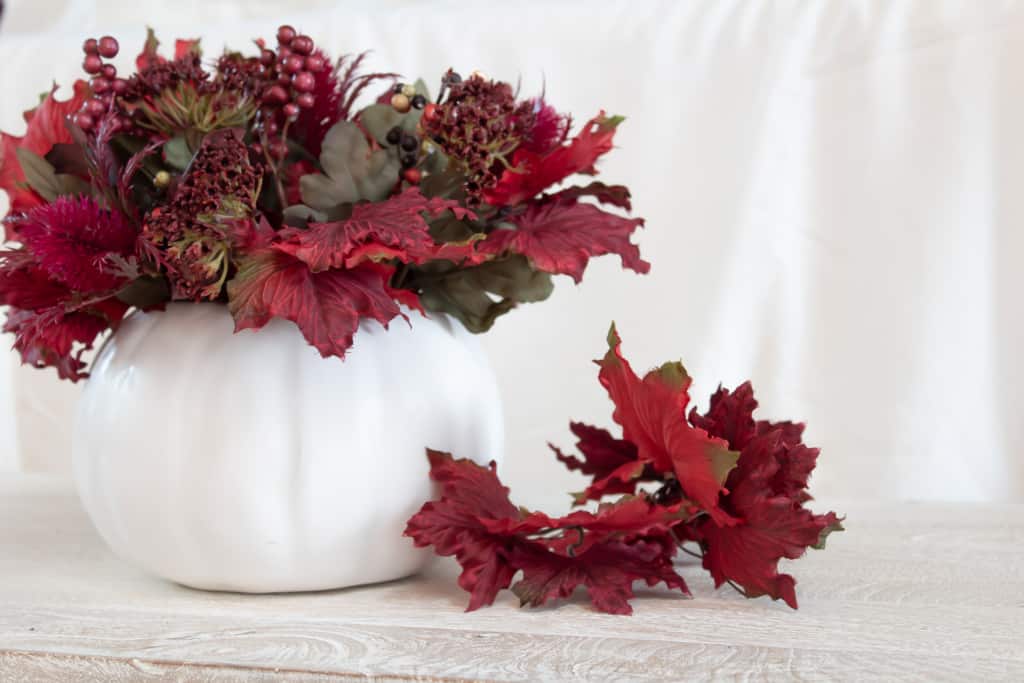 This tutorial from The Lived-in Look shows a super easy and elegant way to create a fall centerpiece. Outdoor foliage can even be used as a frugal alternative to faux stems.
23. Faux Apple Centerpiece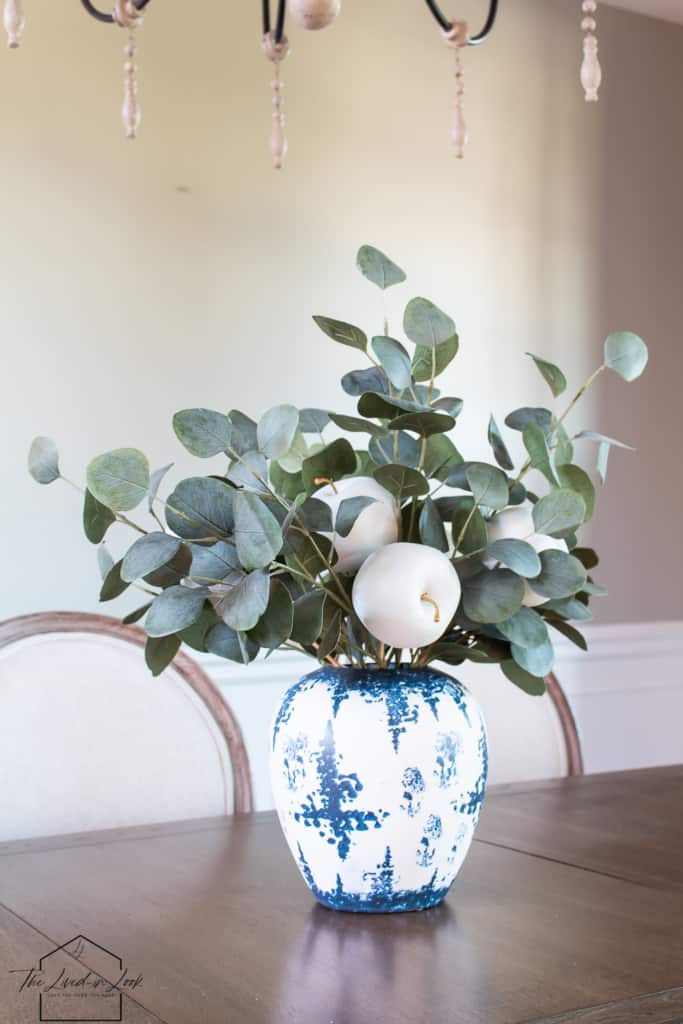 This faux apple centerpiece is another great option for your Fall tablescape. You can use dollar tree fruit and a little spray paint to make this easy and festive fall arrangement. Get the details from The Lived-in Look.
24. Fall Place Setting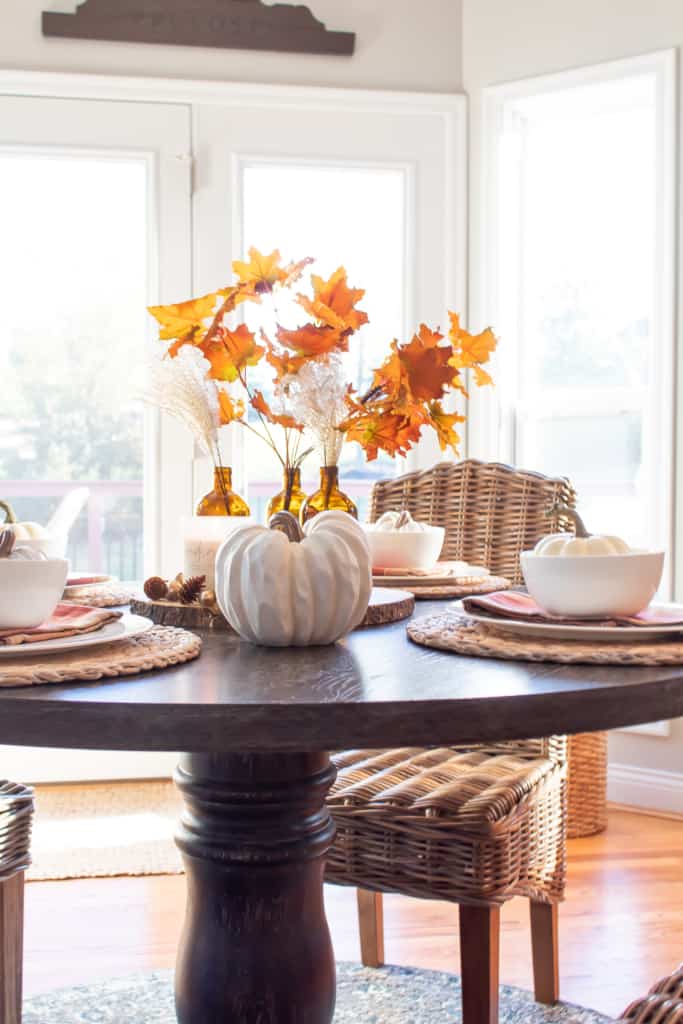 Thrift store bottles and dollar tree fall leaves create an easy diy fall place setting. Want to know how this Fall Place Setting was created on a budget? Check out The Lived-in Look to learn how.
25. DIY Repurposed Fence boards Fall Decor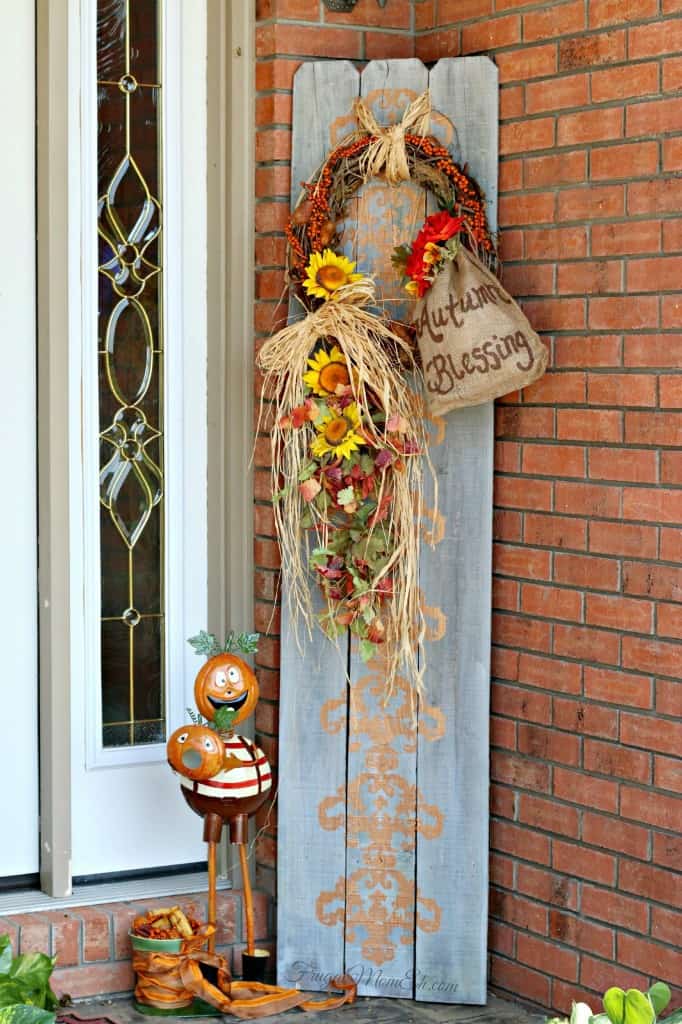 This fall decor piece is perfect for your front porch! It uses wood planks and a few other cheap materials but seriously looks like it could cost hundreds from a department store. Learn how to create this one-of-a-kind statement piece from Frugal Mom Eh.
26. Mason Jar Lid Pumpkins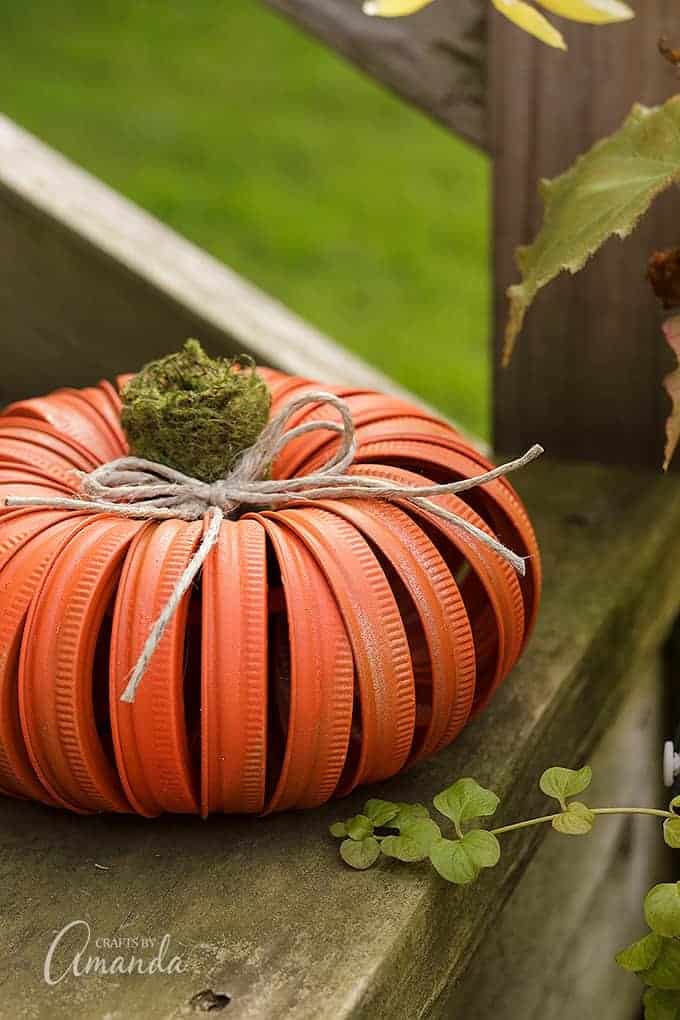 Use your collection of canning lids to create adorable mason jar lid pumpkins in a few different variations! Get the details from Crafts By Amanda.
27. DIY Book Pumpkin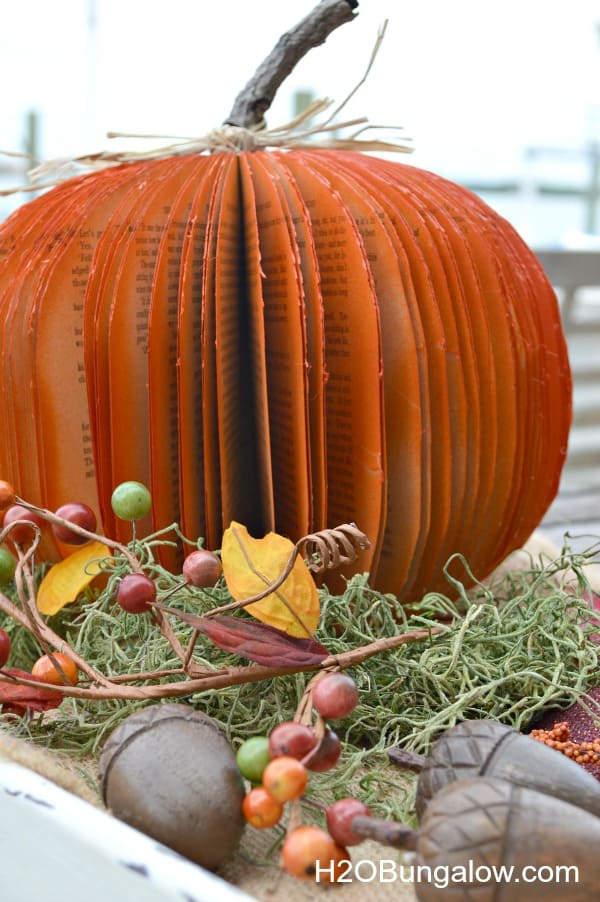 This is probably going to make the book lovers cringe… but it's so easy to pick up an extra book at Dollar Tree or somewhere similar. If you've got a book that you don't use (maybe with torn pages, or falling apart) already lying around your house, that's even better! Learn how to make this simple decor piece from H2OBungalow.
28. Pumpkin Flower Arrangement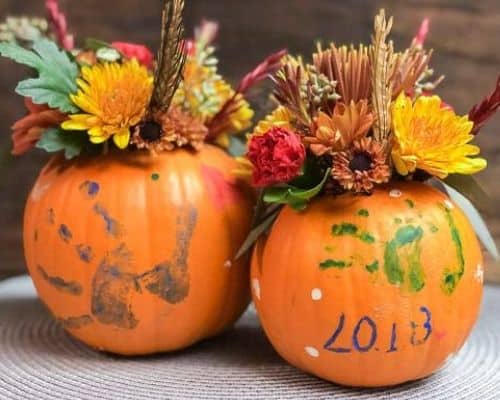 Why not make your own Pumpkin flower arrangement and save yourself some dollars; they are much cheaper to make than buy. It will look fabulous on your front porch or even on your dinner table. Get the details from Pumpkinlicious!
29. Pumpkin Decor from Repurposed Wood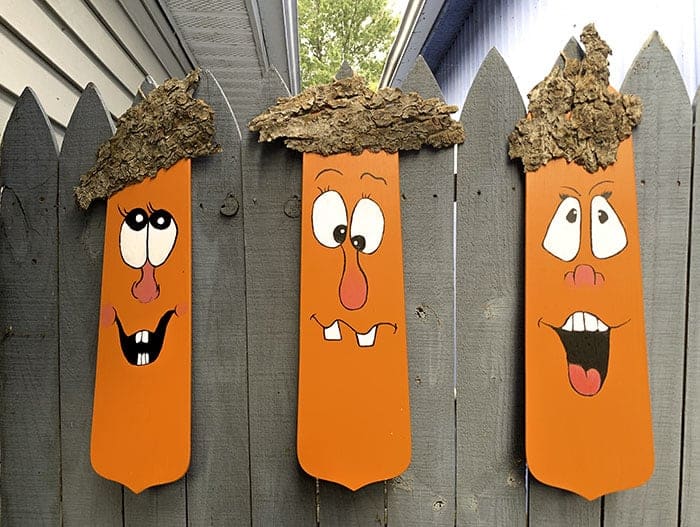 If you're looking fo decor that is cute and fun, then this piece from Hungarican Journey is a must! Paint crazy pumpkin faces on repurposed wood. Wood is for FREE and you can use a little a bit of your kids acrylic paint.
30. Fall Centerpiece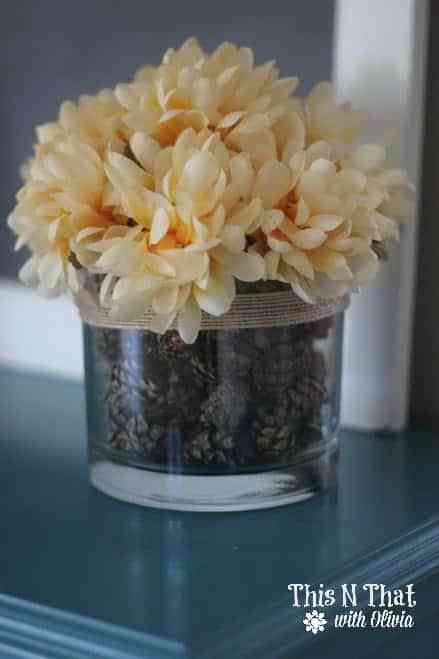 This fall centerpiece is so simple to make but brings with it such a high level of class and beauty! It is a great addition to your fall home decor. Learn how to create this from This N' That With Olivia.
31. Nordic Gnomes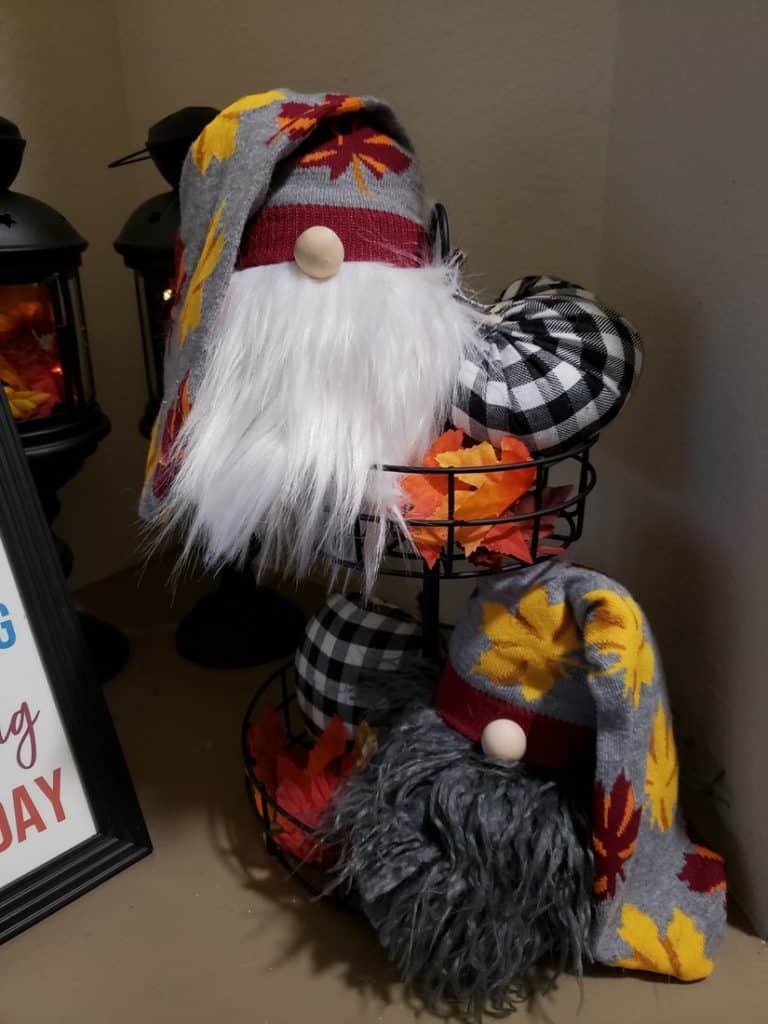 How cute are these gnomes? These Thanksgiving Nordic Gnomes were made in just 30 minutes for easy Thanksgiving seasonal decor. Get the tutorial from Mooshu Jenne.
32. Dollar Tree Farmhouse Frames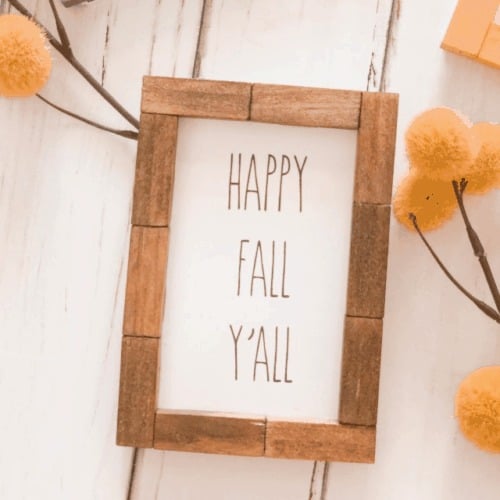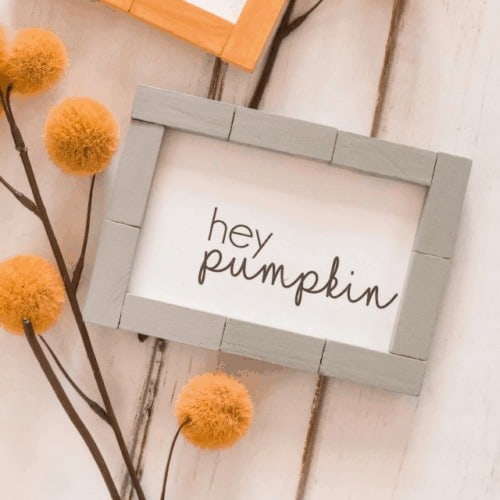 These pieces are so easy to create and cost almost nothing! Learn how from Her Happy Home.
33. Dollar Store Flower Pumpkin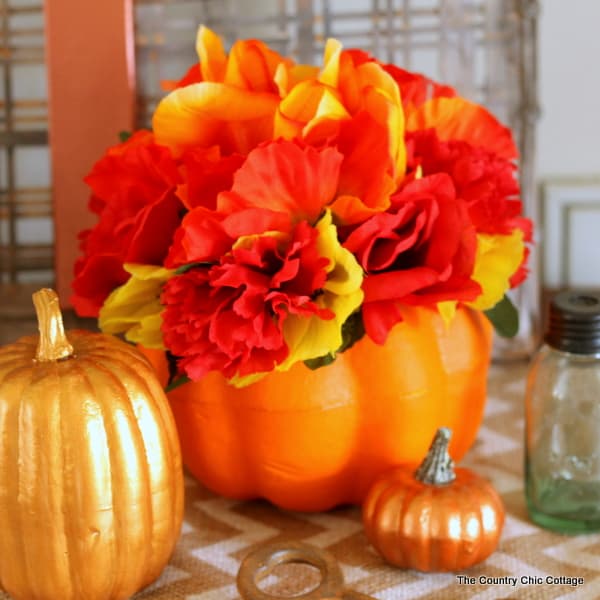 This fall pumpkin is super simple to make and only costs a few dollars. Get the details from The Country Chic Cottage.
34. DIY Fall Gel Air Freshener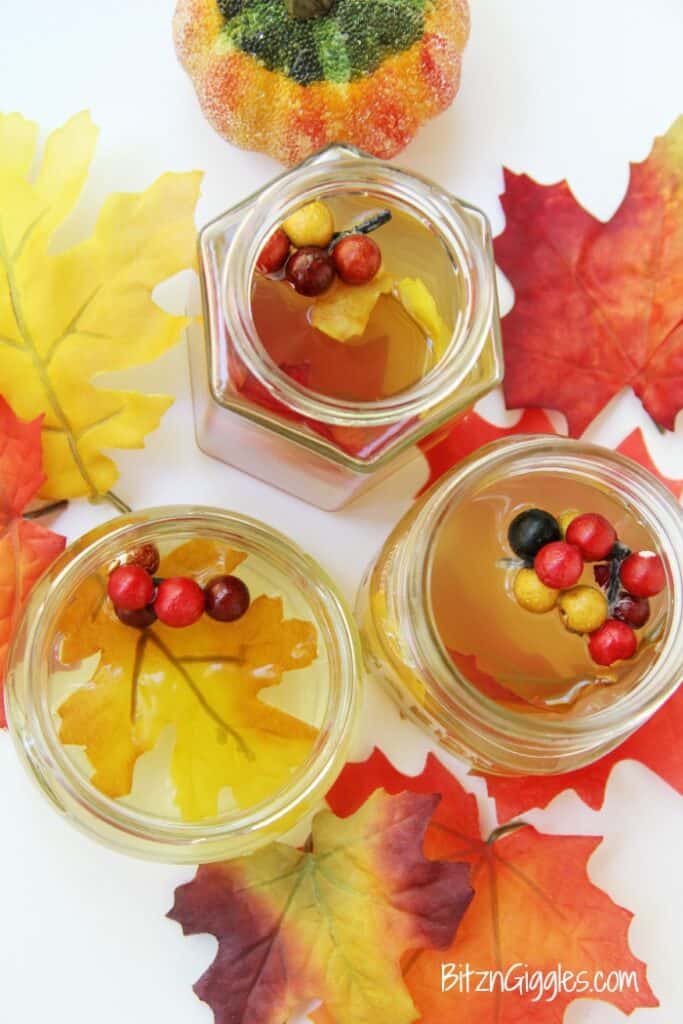 This can be made with just a few ingredients and makes your home look and smell like Fall! Learn how to make this pretty Fall decor from Bitz & Giggles.
35. No Sew Elegant Decorated Pumpkins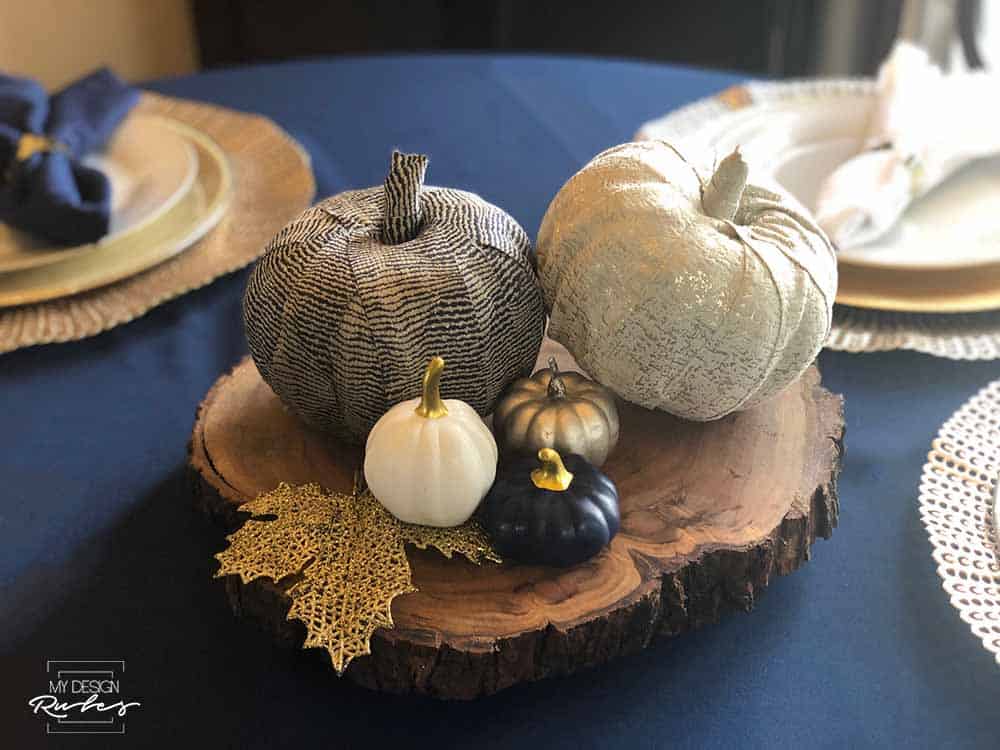 These pumpkins are so classy and pretty and would be perfect if you're trying to add some glam to your home this Fall. Get the details from My Design Rules.
36. DIY Fall Doormat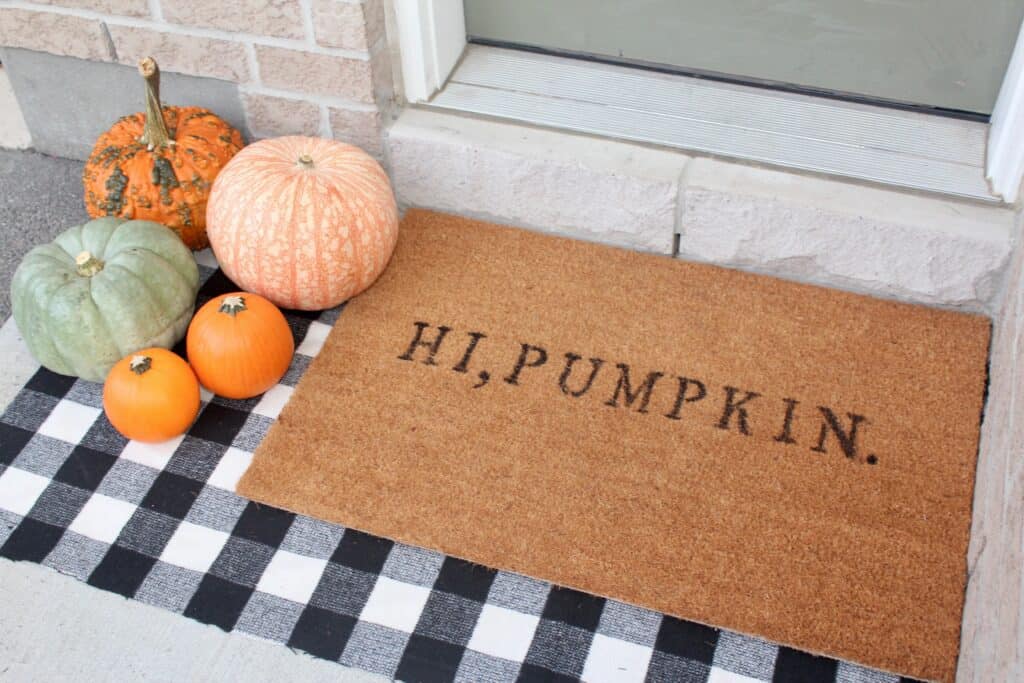 A personalized mat can add the perfect fall touch to your front porch or outdoor space. Learn how to get this look from Feeling Nifty.
37. DIY Wood Pumpkins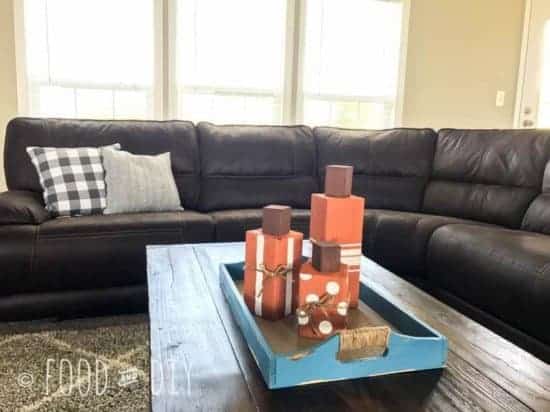 These unique wood pumpkins from Food and DIY are so simple and easy to make. Best of all, these can be made using materials that you already have and they can add the perfect Fall touch to any area of your home!
Related Reads
10 Must Have Fall Decor Pieces Under $10 Each
DIY Christmas Wreath Tutorial (Under $5 minutes & Under $10)
I truly hope that these projects gave you all the Fall inspo you need to decorate and spruce up your home this Fall! If you do take pictures of your Fall Decor this year, be sure to tag me on IG (@frugalmomguide) and follow me while you're at it! I'd love to see your creativity and hard work! 🙂
Enjoy and happy crafting! OH, and happy Fall!
Liked this post? Pin it for later!