FeetFinder Review: How to Make Money Selling Feet Pics & Videos
If you want to get ahead in life, side hustling is of paramount importance. Earning extra money not only buffers your short term financial situation, but can also set you up with some savings for the future.
Not to mention, having a backup plan with a second full time or part time gig, really takes the mental edge out of everyday life.
However, when most persons hear "side hustle", they quickly steer towards common part time jobs such as: landscaping, babysitting, pet sitting, handyman jobs, and the list of "conventional" jobs goes on…
I mean…we were raised to think this way. We delivered newspapers as 10 year olds and mowed lawns as teenagers. That's what we were taught to do to earn extra money.
But what are introverts to do? What if you hate the outdoors or have no handy skills? How about foot modeling with FeetFinder?!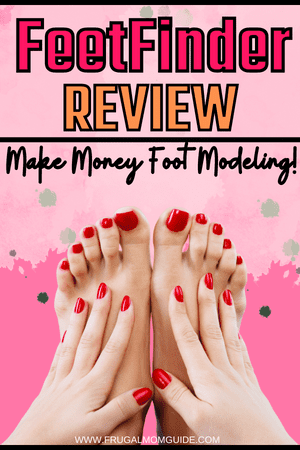 This post may contain affiliate links. This means that we may make a commission (at no extra cost to you!) if you make a purchase via a qualifying link. You can read our full disclosure for more info!
No hand tools? No problem! Maybe plumbing isn't for you! Your feet are the only tools you'd need to make thousands of dollars monthly with FeetFinder!
Well…your feet and a good camera of course!
Let's get started with this comprehensive FeetFinder review, to get all the ins and outs for a lucrative career in foot modeling.
What is FeetFinder?
FeetFinder is one of the largest online forums that specializes in custom feet content. Persons can utilize the website to buy, sell or view feet related photos and videos.
They boast of being the safest and most secure website for feet content, whilst offering the most user friendly experience possible.
With over one million active daily users, it's definitely the go-to site for feet enthusiasts and models looking to earn extra cash! It is also available in almost every country in the world.
FeetFinder is strictly for foot content and offers a safe and secure environment for those interested in obtaining content or for persons wanting to sell.
Is FeetFinder Legit?
FeetFinder is 100% legit and one of the best, safest and most reputable websites out there for foot models wanting to earn a decent pay day.
Considering the platform currently has a TrustScore of 4.9/5 from Trustpilot, coming from over five thousand reviews…that's as solid as it gets.
FeetFinder is completely legitimate and needs to be your first stop, if earning money from selling feet pics and vids is something you're interested in.
Obviously if you are a fan of feet content, you can check them out too.
How to Make Money with FeetFinder?
FeetFinder is a convenient and easy to use website for persons keen on buying, selling or viewing foot content.
For sellers, the sign up process takes just a couple minutes. You'd be asked to submit a photo ID, which would need to undergo verification by FeetFinder, prior to the new account being approved.
FeetFinder is 100% committed to safeguarding its buyers and sellers. The verification process is required to ensure that all content comes from actual persons and accounts are authentic.
All sellers also need to be confirmed to be over the age of 18, before being allowed to upload content.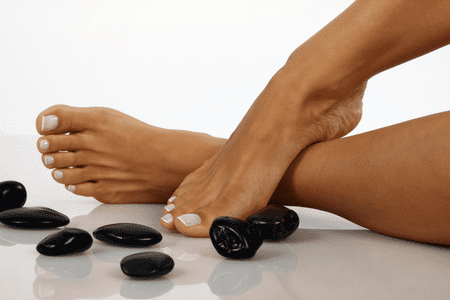 Buyers can reach out to purchase available content from sellers, at prices advertised. Or subscribe to access all their content for a monthly fee, set by the seller.
Buyers can also liaise with sellers for customized content and negotiate prices.
Content uploaded to the site are categorized so persons searching for a certain style, or type of content, can easily access them.
There are categories such as: high heels, soles, nail polish, pedicure, tattoo, etc. There's even sections for: male, socks, chubby feet, boots, dirty feet…and the list goes on!
Let's get one thing straight…foot modeling is for everyone! All you need are your feet and a camera. And there's money to be made!
Regardless of what you or your feet look like, people are willing to pay for content. As a matter of fact, it's totally up to you whether you even want your face, or other body parts, to be in the photos or videos.
That's the sweet part about making money as a foot model…you can remain anonymous if you choose.
Even though the FeetFinder admin would have a copy of your ID, it's strictly confidential and no one else ever has to know!
FeetFinder Review: Payment Details
Whatever you choose to charge your clients for your content is up to you. 80% of your sales goes straight into your pocket, while FeetFinder takes the remaining 20%.
Keep in mind that this 20% is very small considering that FeetFinder offers great customer service and tech support as a package deal to support their sellers' modelling businesses.
FeetFinder also uses their percentage share to maintain the website, keep things fresh and to guarantee a steady flow of new clients for their models.
The seller's images are blurred on the site, but buyers are allowed a preview. This ensures that sellers get paid and buyers get what they pay for.

Is FeetFinder Safe?
FeetFinder is completely safe! From payment processing to personal safety…the website has everything under control to guarantee the safety and well being of users and sellers.
FeetFinder partners with global financial processing and e-payment experts Paxum and Segpay. Sellers based in the United States receive payment via Segpay whilst international sellers get their payments routed through Paxum.
Both companies are highly regarded and reputable.
From a personal safety angle, FeetFinder ensures all interactions between clients and models are strictly professional. No physical interactions or requests for meet ups are permitted.
All users are screened to ensure legitimacy and the "18+ age rule" is enforced.
A PCI compliant security and third party firewall system also ensures all your data remains safe and hidden.
FeetFinder Review: How Much Money Can You Make?
There are tons of personal stories out there with persons that earn thousands of dollars each month from selling feet pics. A six figure income is definitely on the cards once you put the work in.
Just like any other hustle, what you put in, is what you get out. With mediocre effort, you can rake in a cool couple hundred bucks a month.
Or, if you go hard…thousands of dollars are there to be made!
Remember, you are a model and business person. It's all about putting good quality content out there and building your client relationships.
Once this is done well, you'd be cashing in all day long!
Is Side Hustling with FeetFinder Worth It?
Side hustling as a foot model with FeetFinder is definitely worth it! As long as that's something you feel comfortable doing.
If you enjoy modeling and photography…why not cash in?! There's money to be made.
You set your boundaries and operate within them. At the end of the day, you are your own boss, with your own business, operating at your own terms!
Set up your account and make that money!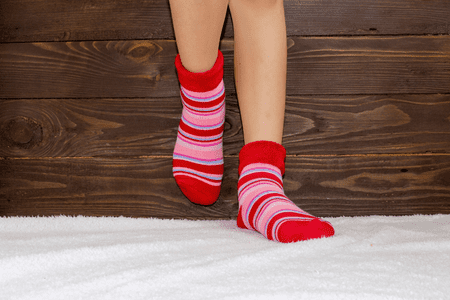 Advantages of Selling Feet Pics and Videos with FeetFinder
1. You make extra money, with potential for full time income!
2. You own your own business.
3. You operate under your terms and conditions.
4. Safe and convenient platform with excellent technical support.
5. Efficient payment processing.
6. No limit to how much money you can make.
7. Discreet and private. No one ever needs to know your identity if you wish to remain secret.
8. Everyone can make money as a foot model, regardless of your gender or physical characteristics.
9. FeetFinder offers support and guidelines to ensure that you receive maximum sales possible.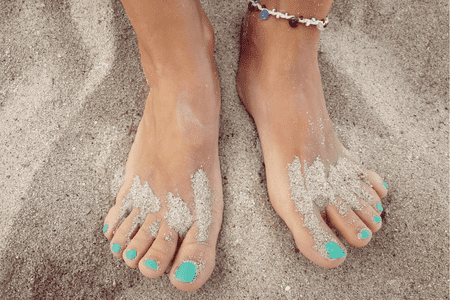 FeetFinder Review: Frequently Asked Questions
FAQ: Is there a FeetFinder App?
FeetFinder currently only operates as a website. There are no apps available for iOS or Android at this point in time.
FAQ: Is FeetFinder safe?
FeetFinder is completely safe for sellers, as well as for those interested in viewing or purchasing feet content.
Model to client interactions are monitored and set up to guarantee an overall safe and secure experience for everyone involved.
All financial transactions are completely secure.
FAQ: Is non-feet content available on FeetFinder?
FeetFinder is strictly for selling feet related content. Non-feet content is not permitted.
FAQ: Is there an age restriction to sell on FeetFinder?
FeetFinder is a strictly 18 years or older type forum. Minors are not allowed. All sellers are screened to ensure that they are compliant with this rule.
FAQ: Do I need to show my face to sell feet pics?
There is no need to show your face in your feet pics and videos. However, this is strictly your decision. You can remain completely anonymous if you wish.
FAQ: Can men sell feet pics?
Men can definitely sell feet pics and vids also. As a matter of fact, there are several categories available that men's content can fall into.
Men can absolutely get a slice of the pie by earning money selling feet content on FeetFinder!
FAQ: Can I sell photos of my feet if they are ugly?
Ugly feet, dirty feet, boots, socks, shoes…there are categories for everyone! As long as you own feet and a camera…you can make money! Regardless of what your feet look like!
If you want to make money selling feet content, head over to FeetFinder today!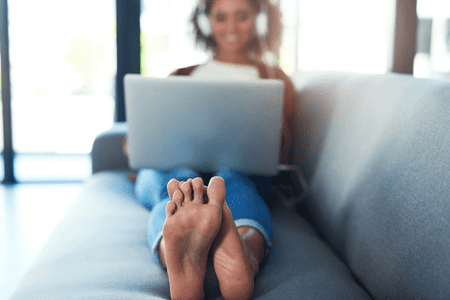 Related Posts to Making Money with FeetFinder
How to Make Money from Home as a Woman
Final Thoughts on Making Money as a FeetFinder Model
As you can see, there is a lot of money to be made from selling feet content on FeetFinder! Everyone can get in on the action as well.
You set your boundaries, put the content out there, call your price…and count that cash as it flies into your bank account!
Do you have any other thoughts on this FeetFinder review? How about making money as a foot model? Share with us in the comments below. We'd love to hear from you!
Don't forget to follow us on Pinterest, Instagram and Facebook for more financial advice and tips for making and saving money!
Liked this post? Pin it!
FeetFinder Review: The Guide to Selling Feet Pics & Videos Online