The Guide to Moving out at 18 with No Money
How to move out at 18 and actually be able to afford it?
Financial freedom and personal independence may be emotionally satisfying, but it comes with some major planning. Especially if you are trying to achieve it at a young age!
The good news is that, it's fairly straightforward. It just takes some strategizing, hard work and discipline.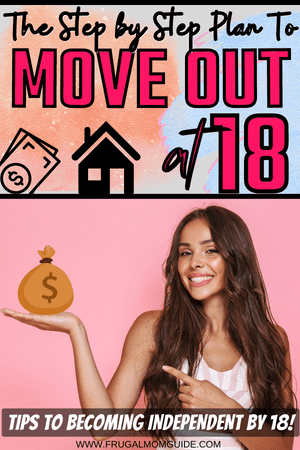 This post may contain affiliate links. This means that we may make a commission (at no extra cost to you!) if you make a purchase via a qualifying link. You can read our full disclosure for more info!
Just the fact that you are thinking about moving out at 18, means that you are already tough enough to start making brave decisions.
Actually, at 18, you're legally considered an adult. But it's still a super awkward stage!
You're legally accountable for your actions, but you can't drink or purchase alcohol!
You can officially make major purchases on your own, but you may not have any credit history!
You're expected to have an idea of the career path that you want, or settled on a college major. But you need your parent's consent in order to start.
You are expected to be somewhat independent, but still seek consent. It's confusing!
As a matter of fact, living at your parents' house can be tough. You need their consent for everything.
If you're dependent on your parents and they're strict, life can get pretty sour! We've all heard the "my house, my rules" lecture!
Moving out at 18 with no money isn't the easiest task, especially if you don't have your parents' blessing. You're genuinely on your own…emotionally and financially!
Even though we currently live in a world where multi-generational households are at an all time high, you may not want to fall in with that trend.
How to move out at 18 may be your top priority. But how do you go about being independent?
The perfect scenario would be giving yourself some time to build towards it. Building and completing a moving out at 18 checklist, so to speak.
Ideally, you shouldn't wait until you are 18, to start thinking about how to move out at 18!
That being said, even if you are already 18, broke and wondering: can you move out at 18…the answer is YES!
With some guidance and dedication on your end, moving out at 18 with no money, shouldn't be too difficult. Let's explore the things that must be done, in order to make the process as seamless as possible.
How to Move Out at 18 with No Money?
Moving out at 18 with no money can be a confusing time. You want to be independent, but you don't know exactly where to start.
Is it hard to move out at 18? It can be, if you don't have any direction. However, once you follow these tips for moving out at 18, you should be good to go.
13 Steps to Moving out at 18 with No Money
1. Get a Job
One of the first things to do, to make moving out at 18 possible, is to get a job if you don't already have one!
Actually, moving out at 18 with no money, can only happen, if you have some form of income plan. If you are already 18, get a job immediately, or at least some form of part time employment.
You'd need to decide if you want to be in school full time and work part time. Or, if you are on the verge of college, determine if you prefer to work full time and go to school part time.
How to move out with no money, is not impossible, as long as money is on the way. That is, you have a job and just awaiting pay day.
Full time income, part time income, investment income, income from a big inheritance…as long as money is coming in!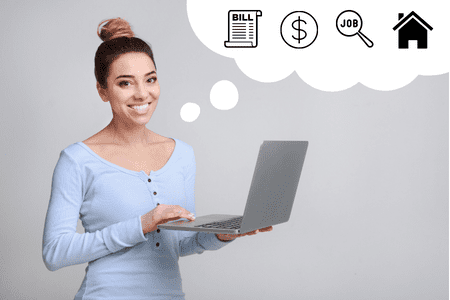 Actually, even if you inherited a large sum of money and considering moving out at 18, you'd still want to have some form of additional income.
This way, you can keep topping back off what you spend on a monthly basis. Even large sums of money can disappear if not managed properly.
If you are wondering what you can do to earn a living, you can check out 67 Jobs for a Happy and Rich Life.
If you are an early-mid teen and how to move out at 18 is a recurring thought in your mind, you need to start putting things in place ASAP.
More than likely, you'd be in school and limited with the time that you can use to earn money. Not to mention, many places are skeptical to hire minors.
On top of it all, your parents may not even approve of you leaving home to get a job or be okay with you working after school hours.
You can make use of these 37 Legit Online Jobs for Teens, to make money from home. At least moving out at 18 with no money, won't be an issue!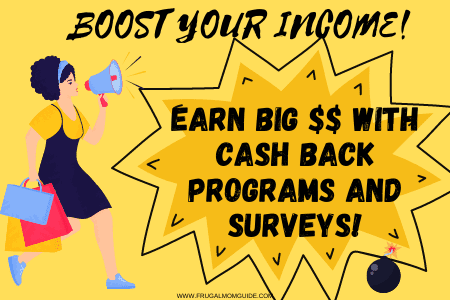 SIGN UP TO EARN FREE GIFT CARDS & CASH!
(I make $1000+ from these sites monthly!)
Swagbucks gets you free gift cards, cash payout via PayPal (can cash out after earning as little as $3), plus you'll immediately get a $10 sign up bonus!
Survey Junkie's benefits include gift cards, cash payout via PayPal (a low minimum payout of just $3)!
With MyPoints, you'll get gift cards, cash payout via PayPal (with just $5 needed to be able to cash out), plus a $10 sign up bonus!
Join InboxDollars for gift cards, cash via PayPal ($30 minimum payout) or personal checks, plus a $5 sign up bonus.
Sign up with Reward Survey and grab a $30 sign up bonus!
2. Make a Budget
Now that you're leaving the emotional, financial and physical shelter of your parents' home, you need to start planning how you'd be managing your spending.
Your monthly expenses need to be covered by you, from now on! You need to ensure that you understand all your living expenses and you can afford them.
The worst thing you can do is to not have a plan and end up spending more that you earn, by dipping into credit cards and unnecessary loans.
Debt at a young age can financially cripple you for a long time!
Remember, you now need to cover: food, rent, utilities, transportation costs, gas, healthcare and all the additional amenities you expect to enjoy.
A simple thing such as internet that you may have been enjoying free before, would now have to be covered by you. No more free Wi-Fi!
Review your income, fixed expenses, goals and come up with a financial plan that can work for you!
Only then you'd be able to understand exactly how much eating out and recreational activity you can afford. You also need to factor in some savings as well.
You can review the 50-30-20 Budget Template, which is a good rule of thumb budgeting guide.
Hey! Looking for a budgeting aid?
Keep track of your spending, find the best deals on your bills, cancel unwanted subscriptions and save money today with Trim!
3. Side Hustle
Side hustling and earning money in your spare time, is one of the best bits of financial advice that you can give to anyone! It is a golden answer for how to move out at 18!
Even if you have the best job in the world and a bank full of savings, you can never go wrong with earning additional income in your free time.
This is a big aid to becoming financially free. And for staying financially free, if you already are!
There are tons of jobs that you can do in your off time. You just need to decide what works for you, as long as you are bringing in that money.
You can consider delivery jobs, tutoring jobs or online jobs. If you have a special skill, you can do odd jobs around your neighborhood as well.
You can have a look at the Guide to Making Money with an Odd Jobs App, for more information.
There are also lots of money to be made from Watching Ads for Payment and Paid Focus Groups as well!
If you want to take your side hustle game to another level, try starting a blog for a six figure side hustle!
4. Get Your Bills on Your Name Officially
Now that you are moving out at 18, you need to start paying your own bills! You need to transfer all your existing monthly costs to your name, legally. Or set up your own accounts.
Utilities such as electricity, water, gas, your internet, insurance and subscriptions, all need to be billed to your name now. At your new address!
There are a few reasons for getting bills on your name, if you're moving out at 18:
• You need to start paying your own bills
A key part of being independent is paying for your own stuff. Bills included!
You can probably start off by looking for economical and reliable packages for cable, internet and insurance, because you may have been part of a family plan before.
New member discounts may also be beneficial to you. Just be sure to ask for this when signing up.
As far as gas, electricity and water rates go…it's just time to grow up and handle your business!
How to move out at 18? Start paying some bills!
• Your bills need to be delivered to your new address
After claiming yourself, your own stash of bills, they'd need to be delivered to your new residence whenever they are issued.
Whether they are released monthly, quarterly or annually, the bills need an address to go to.
If you're moving out at 18, your bills need to come to your name, at your new address.
• The legal implications
Depending on where you live, many legal transactions require a proof of address to be presented, along with your ID.
Proof of address is typically a legally recognized utility bill, bank statement or internet bill, that comes with your name on it.
By having bills on your name, at your new address, you can carry out whatever transactions that you need to…completely independent!
If not, you may be asked for an authorization letter from a parent, if your address is legally theirs.
5. Set Up a Savings Plan
How to move out at 18, comfortably? Start saving money early and then continue after you are moved out!
The most embarrassing thing that can happen to you is that you make a bold move into adulthood by moving out at 18, and then end up running back home at the first financial hiccup.
Accidents, incidents and unforeseen circumstances happen. You need to have a savings buffer, stashed away in your bank account for a rainy day!
You may wake up one morning and realize your car battery is dead. Your laptop broke and needs repair. An appliance malfunctioned and needs servicing.
All those are costs! And covering those costs are part of being an independent adult!
Not everything would be covered by insurance as well. Some costs just need to be covered out of pocket.
Even if you have insurance, and you make a claim, you may still need to cover the deductible.
Dental work, medical care, vehicle maintenance, servicing of items in or around your new home…all potentially unexpected costs. You need to have savings in store for this.
Living paycheck to paycheck is very risky business, if your independence is important to you!
6. Have a Professional Emergency Plan
Leading over from unexpected financial burdens, we need to target the importance of having a structured emergency plan.
Apart from your savings on a monthly basis, you need an additional strategy in case of big emergencies. For example: insurance, cost sharing programs, membership discount cards, etc.
This would ease the sting out of big emergencies such as for: medical care, dental care, vehicular repair in the event of accidents and crisis at home such as flood, fire, vandalism, robberies, etc.
At a minimum, you should have some form of: vehicular insurance, home insurance or renter's insurance and a medical plan of some sort.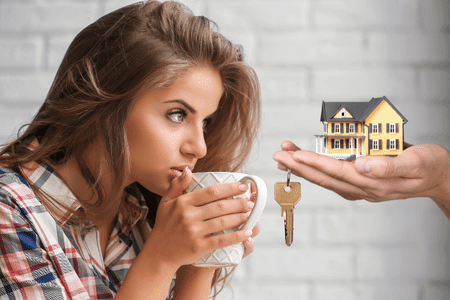 7. Find Affordable and Reliable Housing
Of course, if you're wondering how to move out at 18, you'd need to have a place to move to. Permanent housing is priority!
You need to have a solid plan for your housing situation. Bunking here, there and everywhere is not a plan…that's a recipe for ending up in the streets!
You can team up with a friend to split costs in a roommate type deal, if housing costs are high. If you're planning on moving out at 18, to go to college, this is fairly common.
If you want your own space, you can also look for smaller, low cost options. There are also low income communities that can provide a decent option for you, once your income doesn't exceed their criteria.
Keep in mind, if you are moving out at 18 with no money, for college…there are tons of grants and scholarships that you can apply for.
Grants and scholarships do not need to be repaid. They may be just what you need to score decent accommodation. You may also qualify for more than one, so start researching and applying!
8. Organize Dependable Transportation
Having your own car is all well and good, as long as you can keep up with the payments, insurance cost and maintenance. If this fits in your budget…perfect!
However, for someone wondering how to move out at 18 with no money, vehicular costs may be overlooked. Especially if mom or dad was taking care of it previously.
You need safe and reliable transport to take you to work or school on time. Even if it means giving up your own car and swapping over to taking the bus or train, carpooling with a friend, or even a bicycle.
Repetitive tardiness at work can get you fired. Or you can get kicked out of your academic program, if you are studying.
It's all about having a reliable and affordable means of transport, to get you where you need to be, in a timely manner. So plan wisely!
9. Determine Your Priorities
Filtering your wants from your needs can really put things into financial perspective. This must be done if you plan on moving out at 18!
Many costs that were sheltered from you previously, now need to be covered by you. This may hit you like a cold shower if you aren't prepared.
You need to assess the must haves in your life and trim away the fat, that you just cannot afford. It may be just temporary, but sacrifices would have to be made regardless.
For example, before I left for college, I loved working out at the gym. I enjoyed a high protein diet, rich in breakfast protein shakes and steak dinners.
That quickly went away when I had to pay for it. Mom was buying that stuff before. I couldn't afford it!
How to live on your own at 18, may just boil down to eliminating some luxuries until you build yourself financially.
10. Learn How to Grocery Shop and Cook
Believe it or not, a big part of adulthood is being able to feed yourself. Learn to cook! Even if it's super simple meals.
Chances are, if you are thinking about how to move out at 18 with no money, you cannot afford to buy takeout or eat out often.
Being able to whip up some quick, easy, frugal meals will be a gift to your stomach and wallet. That being said, you'd need to know how to grocery shop for food and essentials also!
You can check out these Budget Friendly Recipes and the Ultimate List of Cheap Food and Groceries to get you started!
Just be sure to make use of basic ways to save money on your shopping such as:
The Honey browser extension, that automatically searches for coupons and deals while you shop online.
Or, shop with Rakuten for cash back rewards! Plus a free $30 sign up bonus!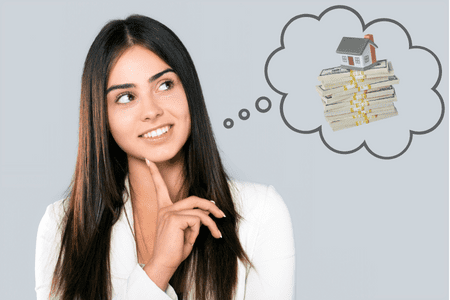 11. Learn Basic Housekeeping Skills
When it comes to the question of how to move out at 18, another big reality is actually being able to take care of a house. Or apartment, or condo or whatever you choose to live in!
As in, being able to manage the actual hardware of the structure. You won't be able to call your landlord for every little reason.
Plus, calling a professional handyman, landscaper, plumber, electrician or janitor, can get extremely expensive. It's just not sustainable.
Pipes leak ever so often. Drains get clogged. Toilet handles get broken. Bulbs need changing from time to time.
You need to be able to cover basic repairs on your own. Or if you are a complete home repair dud, be sure to budget in some money for basic repairs.
If you are planning on moving out at 18, having some basic handy skills can save you hundreds of dollars each month!
12. Learn to Live Frugally and Use Hacks to Save
Saving money with money saving hacks and frugal living tricks, can be a game changer.
Perform all your usual purchases, that you've budgeted for. Just use additional special resources such as cash back reward sites, coupons or apps that can save you money.
Money saved is money back in your pocket, for you to cover other expenses, or enjoy in the future!
Rakuten can save you hundreds of dollars with cashback monthly! Plus $30 to get started!
Rocket Money (Formerly Truebill) helps to manage your money to save hundreds each month!
Find instant coupons and deals while shopping online with Honey!
Trim helps you to find the best deals to save on your monthly bills!
13. Learn to Make Use of Free Stuff
Money saved, by making use of free products and services, is extra money earned. There is no reason why you can't take advantage of existing opportunities to give yourself some wiggle room in your budget.
Learn to make use of free stuff. Your bank account will thank you! It will make moving out at 18 with no money a whole lot easier.
Firstly, there are lots of apps that give free money. You need to check these out! There are also a host of options for free services such as: free dental care, free eye care, free legal services, free clothes and insurance.
When you add these up, they can make you or save you thousands monthly! You can check out How to Make $100 a Day for all the details!
Bonus Tip For How to Move out at 18: Build Your Credit!
Even if you are not quite considering buying a house, but just moving out at 18 into a rental property, you should think about building your credit.
A good credit score can help you to obtain lower interest rates on vehicle loans or credit cards. It can also help you to be approved for a nice apartment.
If you are just 18 and tackling life on your own, building your credit score may be easier said than done. Thankfully, there are a couple things that you can do. So start ASAP!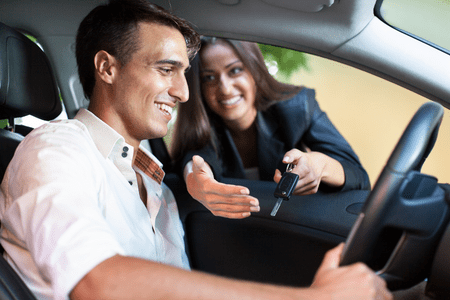 How to Build Credit for Moving Out at 18?
Get Approved as an Authorized User
One of the best hacks for building credit in young adults is by signing them up as an authorized user, on a friend or family member's credit card.
As a matter of fact, depending on the financial institution, kids can be added as authorized users on their parents' credit card from the time they are born.
Banks such as Bank of America, Capital One, Chase, Citibank and Wells Fargo have no minimum age requirement. Others have limits ranging from 13 to 18 years old.
At 18, kids can be added to their parents' cards, as authorized users, without any issue. At any institution.
If you are concerned about how to move out at 18 and want good credit, discuss this option with your parents or a close friend.
You may be able to start building good credit from a very young age, depending on your parents' bank. Even if you are already 18, you should get on board as quickly as possible and start working on it.
The authorized user doesn't actually need to make any purchases, if this is of concern. The credit of the primary user would automatically be mirrored onto them.
Just be sure that the primary card user practices healthy credit score habits, as a negative score would also be transferred.
Obtain a Secured Credit Card
Secured credit cards are another option and quite easy to acquire. It also helps build credit, just like conventional credit cards.
Secured cards work by the user presenting an upfront deposit. Whatever that deposit is, you get that value in credit.
For example, a user depositing $500 will get a credit limit of $500.
Tips for Building Credit Faster
1. Keep a low balance on your credit card
Credit card utilization accounts for 30% of your credit score. This is not how much you spend on your card each month, but the balance that remains on your card at the end of the billing cycle.
The lower your utilization, the better your score! Ideally you'd want to keep your utilization to below 30% and even under 10%, if possible.
2. Pay on time
Late credit card payments negatively affect your score, and are kept on your credit card report for 7 years. Be sure to pay on time!
3. Pay in full
Your credit card payment history makes up 35% of your credit score. You need to not only make payments on time, but to make them in full, in order to maintain a good score.
4. Monitor your score
Keep track of your score with one of the free apps out there (e.g. Credit Karma). This way you'd know if something went wrong and figure out what you can do to keep it on the right track.
5. Be patient
It takes time to build credit. Be patient and continue practicing good spending habits. Monitor your credit score and follow the rules above to keep your credit positively impacted.
Pro Tips for How to Move Out with No Money
1. Carefully Plan Your Move
Do not make any rash decisions! I cannot stress this enough! Moving out needs to be a carefully planned and orchestrated process.
As you can see, there is a lot to think about before making this step! Do not let a small disagreement, or a sudden urge, push you into moving out at 18 with no money.
2. Do Not Destroy Relationships in the Process
Burning bridges are never a good idea. Relationships should always be preserved if possible. You never know what the future holds and who you would be dependent on!
Be as kind and as considerate to your parents as you can.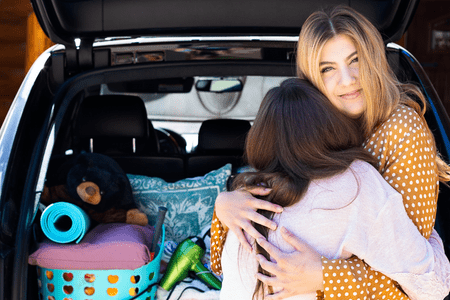 3. Determine what to Pack
Plan and figure out what needs to be packed. Are you going some place warm, cold? Do you need to buy your own bedding?
Is your new place coming furnished and with appliances? You need to know what you need to pack, what you need to buy and what you can afford.
4. Only Move with Items that You Own
Do not pack things that aren't yours for the move. This can ruin relationships. If you own it, pack it.
If you don't own something but you need it, ask for it, or plan to buy your own. No stealing please!
5. Discuss Your Move with Friends and Family
Do not keep your plan to move a secret! This can cause permanent damage to relationships. Friends and family could feel betrayed, insulted and abandoned.
Discuss your feelings, plans and be as open as possible. You need all the support you can get!
6. Understand Your New Expenses
You need to review your budget and all the costs that will now be coming your way. Be certain that you can handle it. Moving out at 18 is a bold move.
7. Factor in Moving Costs
Depending on how many items you own and plan on moving with, and how far you are moving to, you would need to cover some moving costs.
Factor in your moving costs into your budget. This can get quite expensive.
8. Do Not Move In with Strangers
You are leaving your parents' house and moving out on your own or with a roommate. Do not move in with people you do not know. This can turn out bad.
Even if your relationship with your parents isn't the best…at least you know them. Strangers can do or demand anything. Do not risk it!
9. Do Not Run Away!
There are people that love and care for you. Talk to them and discuss your plans to move. Do not run away!
In case of an emergency, you need to know who to contact and they need to know how to contact you.
How to Move Out at 18? – The Moving Process!
1. Make a Moving Checklist
Make a list of everything that you need to take with you and all the things that need to be done before you leave.
2. Pack Your Things
Box up what needs to be boxed. Bubble wrap the fragile items. And stuff what needs to go in suitcases.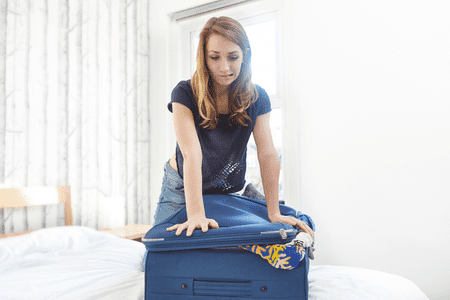 3. Contact the Movers
If applicable, contact the moving company. Or family and friends that will be assisting. If it's just a few items, you may be good on your own.
4. Prioritize the Items to Be Moved
You would want the major stuff to be sent ahead so that they get situated first. Furniture and appliances should be in the first batch.
At least you'd be able to get some food, water or a place to rest while unpacking and waiting for the rest of your belongings to arrive.
5. Make the Move
It's now time for you to learn how to live on your own at 18. Make the move and start acclimatizing to your new place.
5. Review Your Moving out Checklist
Once you get to your new home, review the moving out at 18 checklist and confirm that everything arrived. Make arrangements to buy any essentials that you need.
6. Enjoy Your Decision
Moving out is a brave decision. Independence is intimidating, but satisfying. Enjoy it!
Frequently Asked Questions for Can I Move Out at 18
FAQ: What age do most people move out?
Many people move out of their parents' house at age 18, to go to college or if they join the military. However, this is just momentary for most as they typically return home after completing their studies.
The average age that people fully move out of their parents' house is 27.
FAQ: How much money should I have saved before moving out?
Ideally, you would want to have three to six months' worth of living expenses saved up before moving out. This should be along with a steady monthly income that covers your expenditure.
Depending on where you live, and the exact cost figure associated with your situation, you would need to save accordingly.
FAQ: Do people move out when they are 18?
Many people move out when they are 18. This is the typical age for persons to leave home and go to college or join the military.
Since you are considered an adult at 18, you can move out on your own, if you wish. You are also legally allowed to rent or purchase your own place and sign the necessary legal paperwork without parental consent.
FAQ: How old do you have to be to move out?
Legally, you need to be an adult to move out and to be accountable for decisions on your own. This is at minimum, 18 years old.
As long as you are over the age of 18, you can move out, once you can afford it.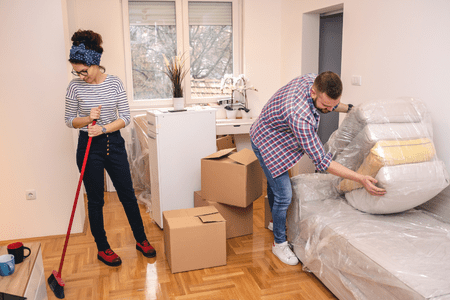 FAQ: At what age should you move out?
You should move out when you are comfortable to move out and you have at least three to six months' worth of living expenses saved up. You should also have a steady income stream.
If the situation exists where you need to live home and fend for yourself, you may not have any other choice but to move out 18.
FAQ: How do you move out when you have no money?
You can move out without money, as long as you have a job and waiting for pay day. Or you are awaiting the arrival of some form of income.
Eventually bills would need to be paid and you would have to cover certain living expenses. Not having money on the actual day of the move may not be an issue but you would need money in time.
In order to move out with no money, for college, you would need a scholarship or grant of some sort.
Related Posts to Can You Move Out at 18
41 Legit Ways to Flip Money Fast
How to Make Money Selling Scrap Metal
The Best Instant Sign Up Bonus Instant Withdraw Apps
Final Thoughts on How to Move Out at a Young Age with No Money
Now you have all the details with regards to moving out at 18! It's a big decision and is 100% possible, with planning.
As long as you fully understand what is required from an independent adult, and you have systems in place to handle it…you are all set!
Do you have any other comments with regards to moving out at 18? Or, how to move out with no money?
Share with us in the comments below. We'd love to hear from you!
Don't forget to follow us on Pinterest, Instagram and Facebook for more financial advice, money making tips and frugal living discussions!
Liked this post? Pin it!
How to Move Out at 18 – The 13 Steps to Affording Independence Early in Life