The Complete Guide to Scrap Yards Near Me!
What if you could turn rusty metal into real money? You can, with a metal scrap yard near me locator!
We've got you covered for finding the best paying scrap yards in your area. Plus all the knowledge that you need, along with tips and tricks for getting the best dollar for your junk metal!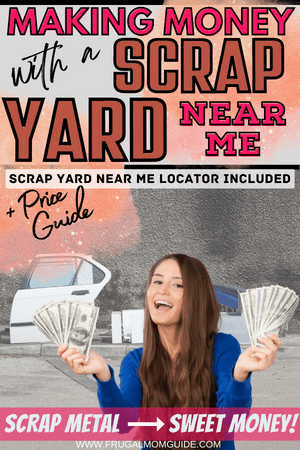 This post may contain affiliate links. This means that we may make a commission (at no extra cost to you!) if you make a purchase via a qualifying link. You can read our full disclosure for more info!
One man's trash is another man's treasure. And we're not talking about relationship ending cliches here!
Your trash metal may actually be worth a fortune!
As a matter of fact, the global metal recycling industry is forecasted to reach over $368 billion by 2030.
That's crazy money! But real money, in a real, profitable industry! Wouldn't it be nice to have a slice of that pie?
If you have a pile of metal lying around your yard, or in storage, a scrap yard near me finder may be the answer to your prayers! And a blessing to your wallet!
However, before you rush over and cash out, let's also see how you can make the most money!
We'd review some pricing guides and expert tips, so you can be fully educated when you get to the scrap yard near me locator.
Remember, the more scrap iron knowledge you have, the better your negotiating power. This equals more money for you!
How to Find the Highest Paying Scrap Yards Near Me?
If you have a pile of metallic junk, an old car, vehicle parts, appliances or even metal trimmings from a construction project, you need to run a metal scrap yard near me search!
Use the locator below to get to your closest scrap yard!
Highest Paying Metal Scrap Yard Near Me Locator
Enter your zip code in the box below to complete your Scrap Yard Near Me search:
The results would be shown in Google Maps!
Note: The search box above also applies to a scrap metal near me search as well.
Just punch in your zip code and you'd be taken to the best scrap metal dealers in your area. It's up to you whether you want to contact them to buy, sell or discuss prices!
What is Scrap Metal?
Scrap metal is metallic waste, or materials made up of varying types of metals, that can be recycled.
This can be metallic material trimmings, left over from cutting larger pieces. Or entire metal objects, that were once used and now junked.
Large or small objects…as long as they are metallic and recyclable, they can be scrap metal.
From a pile of tin cans to an old steel bridge. You can find scrap metal everywhere!
Note that items containing small amounts of non-metallic components, can be loosely considered scrap metal. As long as the vast majority of the overall structure is metallic.
A good example of this is when cars are recycled at metal scrap yards. Focus would obviously be on salvaging the metallic components for scrap, at the expense of the non-metallic ones.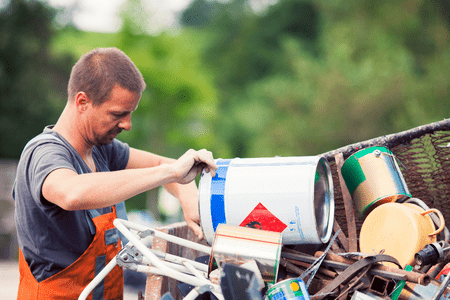 However, referring to a car or old appliance as scrap metal, is just loose terminology. You would only be paid for the weights of the actual metallic components, if you sell to your nearest scrap yard.
Note that, common appliances and equipment that are sold at scrap yards are paid per pound, whole. This is because they have the weight of the non metallic components already figured out.
These include refrigerators, washers, dryers, microwaves and junked cars.
Types of Scrap Metal
There are two main categories of scrap metal: ferrous metals and non-ferrous metals. Ferrous metals are those that contain iron, or contain iron based metals, such as steel. Non-ferrous ferrous metals are those that contain no iron in them.
Depending on where you look, you may also see a third category of scrap metals, known as eScrap. These are scrap metals which are harvested by recycling old electronic devices.
Scrap Yards Near Me and Non-Ferrous Scrap Metals
The average person equates the idea of scrap metal to generalized images of rusted cars, old appliances and a trash compactor busy at work.
But, it is important to understand that scrap metals are not all of equal equal value!
We'd get to the actual detailed pricing structure for scrap metal, at your nearest scrap yard, later on.
Just keep in mind that generally non-ferrous scrap metals fetch a higher price, at a metal scrap yard near me transaction, as compared to ferrous ones.
These metals are more sought after and considered more valuable. Examples of non-ferrous scrap metals include: aluminum, brass, bronze, copper, nickel, zinc, magnesium, lead, titanium and tin.
Precious metals such as gold, silver and platinum are also non-ferrous. Obviously, these won't be sold in a scrap metal near me deal.
You'd want to check out The Guide to the Best Pawn Shops, if you're looking to offload some precious metal!
Scrap Yards Near Me and Ferrous Scrap Metals
Ferrous scrap metals can still fetch you a pretty penny, in a scrap metal near me deal, as long as you have a decent amount.
Pound for pound, it is cheaper than non-ferrous metals. But, if that is what you have, there is money to be made!
Popular examples of ferrous scrap metals include steel, cast iron and wrought iron.
eScrap Metal and Scrap Dealers Near Me
eScrap materials are electronic devices that can be sold for their recycling value. They contain valuable metals in them, that are salvaged at specialized recycling plants.
Electronics such as cell phones, DVD players, computer CPUs, hard drives, computer chips and laptops can all be sold as eScrap metal.
It must be noted however, that not all of the dealers that show up in your scrap places near me search, will purchase eScrap.
Only certain metal scrap yards, deal with eScrap! Not all! So it may be worth a shot to give them a call before heading over, if you have some eScrap to offload.
What is a Metal Scrap Yard and How Does it Work?
A metal scrap yard is a business place that purchases ferrous and non-ferrous metals, and occasionally eScrap material, for the purpose of recycling them.
They are essentially centers for the recycling of scrap metal. Persons can sell off scrap metal, and other metal based objects such as: unroadworthy vehicles, old appliances, generators, radiators, etc.
Metal scrap yards pay for scrap metal by the pound. They then sort, package and sell them over to larger recycling plants, mills and manufacturers, that are interested in purchasing the material.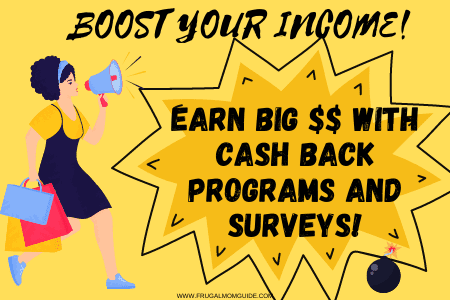 SIGN UP TO EARN FREE GIFT CARDS & CASH!
(I make $1000+ from these sites monthly!)
Swagbucks gets you free gift cards, cash payout via PayPal (can cash out after earning as little as $3), plus you'll immediately get a $10 sign up bonus!
Survey Junkie's benefits include gift cards, cash payout via PayPal (a low minimum payout of just $3)!
With MyPoints, you'll get gift cards, cash payout via PayPal (with just $5 needed to be able to cash out), plus a $10 sign up bonus!
Join InboxDollars for gift cards, cash via PayPal ($30 minimum payout) or personal checks, plus a $5 sign up bonus.
Sign up with Reward Survey and grab a $30 sign up bonus!
Why is Scrap Metal Valuable?
Scrap metal is in high demand and sort after, simply because it is cheaper for manufacturers to purchase scrap and recycle them, instead of purchasing new metal, or metal made from scratch.
Of course, there are a bunch of environmental positives that come from recycling as well. It's just better for the earth!
The environmental advantages, coupled with the economic benefits just makes the scrap iron industry beneficial to all.
When it comes to the money aspects, I'm sure you're interested in knowing why you can make a ton of cash from a ton of old junk.
It's way cheaper for companies that manufacture metal products, to recycle existing metallic items, than to buy new.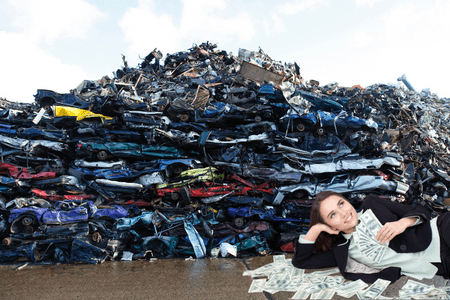 Mining the raw materials and developing them through the various chemical and mechanical processes, is super expensive.
Buying scrap metal is cost effective, so metallic waste is a very valuable asset.
So do these big companies a favor: run a search for scrap yards near me and sell off your metal scrap!
You make some money and they save money, by buying your unwanted metal. The scrap yard in the middle also gets a nice cut too.
Plus you're helping the planet!
Advantages of Scrap Yards Near Me
Running a metal scrap yard near me search, and taking your junk there, does the following:
1. Removes items from filling up landfills.
Recycling is always better than discarding when it comes to preserving the planet.
2. Saves toxic chemicals from entering the environment.
Many metal objects also contain toxic chemicals. Pollutants like lead and mercury can leach their way into the earth, eventually making their way to rivers and other water sources.
3. Recycling metals reduces the need to mine additional raw material.
The mining industry is not the most environmentally friendly and sustainable industry out there. The more we can reduce the need for this activity, the better it is for the earth.
4. The scrap iron industry creates many employment opportunities.
By supporting your nearest scrap yard, you create jobs for workers who collect, sort and prepare the items.
5. Lower manufacturing costs for producers.
If manufacturers and producers of metal products can benefit from cheaper base materials, the finished product would cost less to produce.
Therefore, bigger profit margins for manufacturers.
6. Metal goods would cost less.
Similar to what we stated above, lower costs for manufacturers means cheaper end prices for consumers, like us!
Items such as building materials, cars and appliances would be cheaper, since it would cost less to produce. That benefit would trickle back to you and I.
7. You make money.
Do I even need to say more? You get to sell off some items and make decent money!
8. You get to declutter.
Cash for trash right?! You can get rid of old, unwanted items, free up some yard space…and make money while doing it!
Scrap Metal Items that Can be Sold at Your Closest Scrap Yard
Just so you know, aluminum, copper and brass as the most sort after and valuable scrap metals, that can be offloaded at your nearest scrap yard.
These metals are all non-ferrous and are the most profitable, pound for pound, when it comes to metal scrap yards.
If you can get your hand on some of these, you'd be able to sell for good money. However, there's money to be made with the other metals too.
Wait though! Don't go grabbing at all the metal objects at your disposal, and going dumpster diving just yet!
It's important to have an idea of where everyday objects are classified in terms of metallurgy. After all, with a coat of paint applied, all metal looks the same.
Items that exist all around us, and we interact with on a daily basis, are made up of many different metals.
As you understand now, some of these metals when scrapped are worth more than others.
If you have a choice for what you want to sell at your metal scrap yard near me transaction, you'd want to prioritize the more valuable stuff.
Let's review the most common metals that are sold and traded at scrap metal dealers, the day to day items that they are found in, and what you can expect for a price!
Aluminum ($0.15 – $0.68 per lb)
Non-Ferrous
Aluminum is used to build a lot of everyday items. That's why it's more available than you may think, and in high demand.
It's also easy to handle at scrap yards as it is light and compacts with relative ease.
Aluminum is used for: car parts, car rims, sheeting, siding, pots, pans, bicycle frames, window frames, door frames, gates, ladders, outdoor furniture, etc.
One of the most common uses of aluminum is soda cans also. You can collect these and sell.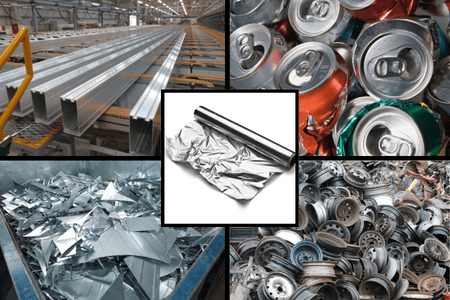 Copper ($2.25 – $2.85 per lb)
Non-Ferrous
Copper is everywhere! You probably don't realize it because items made from copper are usually hidden by insulation or some form of coating.
Copper is found in: electrical cables, electronic devices, appliances, air condition units, vehicle electrical components, guttering, roofing, sinks, heating systems, motors, etc.
Note that pennies are not fully copper, this is a common misconception. Up to 1982, they were 95% copper but now they are just copper dipped.
Scrap dealers should not accept pennies as scrap copper!
Brass ($1.65 – $1.80 per lb)
Non-Ferrous
Brass is known for its beauty and corrosion resistance.
You can find brass in: musical instruments, decorative ornaments, locks, hinges, plumbing, valves, gears, bearings, zippers, electrical sockets and plugs.
Bullet casings are also commonly made from brass.
If you are an avid shooter or have a good relationship with a gun range owner, maybe you can gather enough scrap brass to sell to the nearest scrap yard.
Bronze ($1.70 – $2.20 per lb)
Non-Ferrous
Bronze is another metal known for its aesthetics, as well as functional benefits. When it comes to machinery, it is known as a metal with frictional benefits.
Bronze is found in: musical instruments, decorative figures, electrical items, ship propellers, auto parts, ceiling and wall panels, furniture trim, bushings, etc.
Tin ($150 per ton)
Non-Ferrous
Tin is known for its corrosion resistance and polished look. It is often used to coat other metals.
Tin is found in: bearings, plating of steel cans for food storage, auto and aerospace parts and for creating solder for electronic devices.
Lead ($0.11 – $0.12 per lb)
Non-Ferrous
Lead is known infamously, as an item found over the years in many household components such as pipes, paint, ceramics and gasoline.
Despite the stigma against lead, it is still quite useful!
It has been phased out of many manufacturing processes with new federal regulations. But is still present in a lot of others.
You can find lead in: vehicle batteries, ammunition, fishing sinkers, radiation shields, pipes, weight lifting weights and diving belts.
Steel ($165 – $225 per ton)
Ferrous
Steel is the most important construction and engineering material in the world. It is present in every aspect of life and used everywhere!
Even the floor below you is probably reinforced with steel. You just may not see it.
Steel is present in: vehicles, buildings, appliances, industrial tools, medical tools, bridges, etc.
An amazing characteristic of steel, that makes it a prized commodity, is that it can be recycled countless times without ever losing its properties.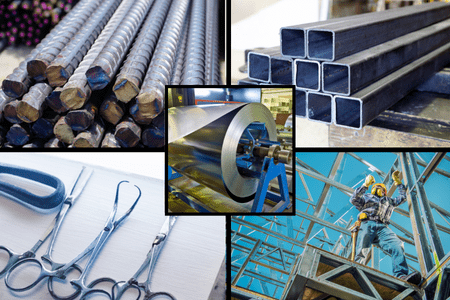 Wrought Iron ($120 per ton)
Ferrous
Wrought iron is an iron alloy with a low carbon content. It is softer than cast iron and widely used in the construction industry.
Wrought iron is popular for: fences, railings, gates, ornamental items, decorative hardware pieces.
Cast Iron ($200 per ton)
Ferrous
Cast iron is a hard and brittle iron alloy. It is known to have good tensile strength.
Cast iron is used for making: cookware, electrical fittings, tools, machine components, automotive parts.
Cell Phones ($0.12 – $2.50 per lb)
e-Scrap
Everyone has a bunch of old cell phones lying around, and they can be sold for eScrap. You'd be surprised at how much cash they may be worth.
Not all metal scrap yards deal with eScrap though. It might be worth a call before heading over.
Computers, Chips and Hard Drives ($0.23 – $5.70 per lb)
e-Scrap
Old computers, laptops, CPUs, chips and hard drives can fetch a pretty penny as eScrap.
Hard drive boards go for the highest rate per pound. Those without the boards can still be sold, but for a lower price.
You can get around $0.65 per pound for whole laptops. Old tablets, TVs, digital thermostats and other tech gadgets have chips in them too! Sell them all if they're junk.
Important Pointers for Scrap Places Near Me
1. Prices change daily
The prices in this post, should just be used as a guide. What you were paid yesterday, may not apply to today. Prices change quickly and without notice.
You can check out the iScrap app, for the latest prices if you're on the verge of a metal scrap yard near me operation.
2. Scrap yards can pay what they want
Scrap yards are not held to these prices, even the ones in the iScrap app. They are free to pay whatever they choose.
The advantage of knowing the market prices for scrap metal, is that this will give you some bargaining power!
You can also call around to see which of the dealers, in your metal scrap yard near me search results, pays the best. Do this before physically going to make a sale.
3. Prices vary by location
Just like any other item and service, prices vary based on location.
Taxes are different from state to state and across cities. Other costs, such as logistics and labor, vary also. All these would play a part in determining scrap metal prices.
4. Prices vary based on how the metal is presented
Clean, pure metal sheets, pipes and bars may fetch a higher price than if the metal is contaminated by other components or formed into an object.
This is simply because the scrap yard would then need to dedicate time and labor into preparing a "contaminated" item for sale to a buyer.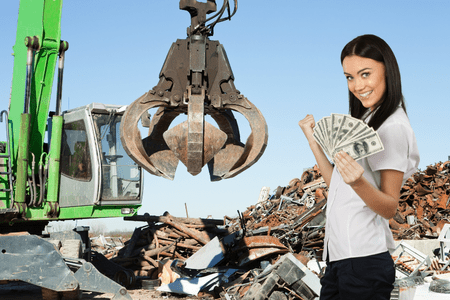 For example, even though you can get up to $0.68 per pound for aluminum, insulated aluminum wire fetches around $0.14 per pound.
This is because the weight of the insulation, and cost of removal, needs to be factored in.
Similarly, copper goes for $2.85 but insulated copper wire can be sold for around $0.80 per pound.
Items that are painted and rusted, or contain multiple metals bolted together, or metals that need to be separated from non-metals…will be priced cheaper as well.
Price Guide for Scrap Metal Near Me
As we said before, these prices change very often! You need to check online for the market prices on a daily basis.
You should also verify these prices with a phone call, to your nearest scrap dealer, before heading out.
You can expect to earn around the following rates, for the respective metals and items listed:
Aluminum
Aluminum Cans – $0.43 / lb
Aluminum Radiators – $0.28 / lb
Aluminum Siding – $0.42 / lb
Aluminum Sheets – $0.37 / lb
Aluminum Rims – $0.60 / lb
Aluminum Electric Motors – $0.18 / lb
Copper
Bare Copper Wire – $2.85 / lb
Copper Tubing – $2.40 / lb
Insulated Copper Wire – $0.80 / lb
Roofing Copper – $2.25 / lb
Copper Transformers – $0.20 / lb
Brass
Brass Shells – $1.65 / lb
Brass Scrap- $1.80 / lb
Brass Pipe – $1.90 / lb
Brass Radiators – $1.75 / lb
Bronze
Bronze – $2.20 / lb
Bronze Turnings – $1.70 / lb
Iron
Light Iron – $120.00 / ton
Cast Iron – $165.00 / ton
Scrap Iron – $165.00 / ton
Steel
Steel – $170.00 / ton
Stainless Steel – $0.22 / lb
Structural Steel – $200.00 / ton
Miscellaneous Whole Metal Objects
Complete Car – $135.00 / ton
Dishwasher – $130.00 / ton
Dryers – $100.00 / ton
Refrigerators – $120.00 / ton
Steel Case Batteries – $0.11 / lb
Lead Batteries – $0.11 / lb
Forklift Batteries – $0.14 / lb
Water Heaters – $115.00 / ton
eScrap
Hard Drives without Boards – $0.23 / lb
Hard Drive Boards – $5.70 / lb
Laptops – $0.65 / lb
Memory – $9.50 / lb
Telecom Equipment – $1.60 / lb
Most Valuable Scrap Metals
As we covered before, non-ferrous metals are the most valuable, especially: brass, copper and aluminum. Of the three, copper is the most sought after, and most expensive.
If you are considering getting rid of some metal waste, run a scrap metal near me search. Those old copper pipes and aluminum rims, may be more valuable than you think!
Even though the other metals would make you a lot of money, if sold in a large quantity, you need a lot of man power and equipment to sell steel and iron by the ton.
If you're just running a small, side hustle, you'd definitely want to prioritize your resources on copper, aluminum and brass.
Copper scrap yards near me, should be your number one priority!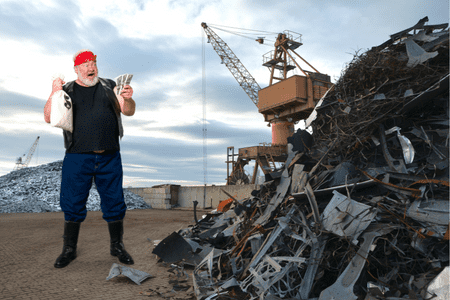 What Determines the Price of Scrap Metal?
There are four primary factors that affect the price of scrap metal. These are: type, weight, supply / demand and location!
1. Type
Some metals are harder and more expensive to manufacture than others. This is just based on their chemical properties and the details associated with the mining and processing of their ores.
Different types of metals are more reactive, cheaper to acquire, and so on.
2. Weight
Different metals have different prices, per unit of weight (pounds, tons, etc.). But the bottom line is: they are priced by weight!
The more of a particular scrap metal that you have, in terms of weight, the more money you are paid. Price is calculated based on weight, not volume!
3. Supply and Demand
Just like basically anything else in the world, the prices of scrap metal are dictated by supply and demand.
If there is plenty of an item, and no major demand to keep supplies in check, it becomes low priced.
If an item is scarce, or it's availability cannot match up with the demand for it, it becomes more expensive.
Metals that are in high demand, would always be pricier than those that are not.
4. Location
Location affects prices! That's a fact! Prices are dictated by costs that the buyers themselves incur.
These can be logistics costs, taxes, operational costs, etc.
Things to Scrap Around the House
If you are looking for the best items to scrap for money, around the house, you should focus on unwanted items that are made from copper, brass and aluminum. Or items that have these metals in them.
Around the house you can find copper in: pipes, fittings, cables, wiring, heaters, water heater tanks. It is also found in appliances and electronics.
Aluminum can be found in: metal framing (windows and doors), siding, cans, car parts, appliances and bicycle frames.
Brass can be obtained from bullet shells, or by scrapping: hinges, door knobs and decorative figures, intricate railings, bed frames and ornaments.
How to Sell Scrap Metal at a Metal Scrap Yard
It is extremely simple to make money selling scrap iron. The actual selling transaction is also very straightforward.
Follow the process below to sell scrap metal for money:
1. Gather as much scrap metal as you can.
If your time and resources are limited, you'd want to prioritize the high dollar and quick turnover metals like copper, brass and aluminum.
2. Identify, sort and prepare your scrap metal for sale.
Gather the similar type metals and group them together: steel with steel, copper with copper, and so on.
If you can, clean them up a bit! Remove contaminants and non-metals if possible.
3. Perform a scrap yards near me search.
Using the search box at the top of this article, perform a search for metal scrap yards near me and narrow down some potential dealers.
4. Call a few of the nearest scrap yards.
Call around to compare the going rates for the metals that you have available for sale. Pick the most profitable option for you.
Try to haggle a bit and negotiate a better deal if possible.
If you have multiple metal types, it may be worthwhile to sell them to different dealers, depending on the offers you receive. Or you can use this as leverage to score a big deal with one dealer.
5. Take your items to the scrap dealer of choice.
Load up your items on a truck, while maintaining the sorting. Head over to the scrap yard that you selected.
You would need to enter via the designated inbound section and wait your turn to get to the scale.
6. Get your scrap metal weighed.
The employees at the scrap dealership would sort out your items into ferrous and non-ferrous scrap.
They may simply use a forklift and some elbow grease, or a magnetic crane for larger items.
7. Accept your offer, complete paperwork and get paid.
Once the weights, metal types and grades have been sorted out by the scrap yard, your payment would be calculated.
Just sign off on the required declarations, legal documents, receipts and receive your payment. You may be paid via cash or check.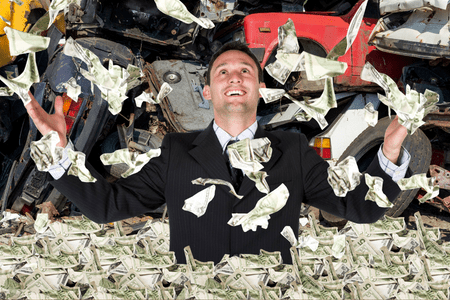 Pro Tips to Earn the Most Money at a Scrap Yard Near Me
There are a couple ultra simple tips that can be followed to ensure that you get the most value for your scrap metal.
That is, maximum money in your pocket when you go to sell. They are:
1. Preparation pays!
Sort – Place your scrap metals in piles according to type.
This would help you to understand exactly what you have. You can place a value to it and ensure top dollar.
As part of the sorting process, try isolating the items into various bins, according to type. You can label accordingly. This way they won't get mixed up again.
Clean – Remove non-metal contaminants.
You do not want the scrap metal dealer guessing the weight of the plastic or rubber elements that are mixed in with your metals. Remove them if possible.
This way you don't lose out on any metal weight due to bad estimations. A little work on your end, up front, would earn you a lot more money!
Strategize – Figure out: who you will be selling to, what you are selling to them, where they are located and how much money you will earn.
It may be worthwhile to drive a bit further, than the closest option in your metal scrap yard near me search, to make a bit more money.
That's why you need to call around a bit before and plan your sales. Determine who is paying the best prices by metal type and formulate a sales plan.
It may also be worth the effort to sell different metals to different dealers, if the price is right.
Or haggle to get them all sold at one place, in a manner convenient to you. That brings us to Tip #2!
2. Don't be scared to negotiate!
Haggle your way to getting the best prices! The thing about scrap yards is that they can offer you whatever they want.
That's why you need to be educated on the value of your items, and confident in your negotiating skills. You could be talking about hundreds of dollars in extra money in your pocket!
Don't be afraid to be firm, as long as you are respectful and realistic with regards to the value of your scrap goods.
Frequently Asked Questions for Scrap Yards Near Me
FAQ: What is the difference between a salvage yard and a scrap yard?
Scrap yards purchase metals and metallic items, for the purpose of recycling them. Salvage yards purchase items, for the purpose of stripping them down and reselling the parts.
Both scrap yards and salvage yards buy vehicles, large machinery and even appliances.
However, you'd receive more money at a salvage yard for your item than a scrap yard. If your item is in fairly decent, salvageable condition, that is.
FAQ: What is the highest paying scrap metal?
The highest paying and most sought after scrap metal is copper.
Aluminum and brass are also considered valuable and in demand, but not quite as high as copper.
FAQ: What are the latest scrap metal prices?
The latest scrap metal prices can be found at the iScrap website. However, this is just a guide and not figures that scrap dealers are mandated to pay.
FAQ: How much is Aluminum per pound?
Aluminum goes for $0.15 to $0.68 per pound. However, prices can rise above or dip below this depending on the world's supply and demand situation.
The aluminum item itself, that is up for sale, also dictates the price. Cans, sheets, rims, radiators, wire, etc. all have a different price.
FAQ: What's the difference between number 1 and number 2 copper?
Number 1 copper is copper that is free from paint, solder, putty, coatings, oils or heavy oxidation. Number 2 copper is copper that is contaminated by soldering, paints, coatings and other impurities.
Number 1 copper is basically pure copper and more valuable than number 2.
FAQ: Who's paying the most for scrap?
The only way to find out who's paying the most for scrap is to run a scrap yards near me search and to contact the dealers.
Prices change often so you need to call them, let them know exactly what you have available and you'd be able to figure out who is paying the most, at that time.
FAQ: What is the best thing to scrap for money?
The best thing to scrap for money is whatever is unwanted and available. That being said, eScrap or anything that contains copper, aluminum or brass would be the way to go.
Old appliances, radiators, air conditioners, water heaters or large quantities of eScrap like laptops, CPUs and cellphones are good money earners.
FAQ: How much money can you make scrapping metal?
You can earn between $18K and $73K a year scrapping metal. It all depends on how much effort you put in.
Work from home metal scrap yard dealers have been know to make upwards of $50K comfortably.
Managers and technical staff members of large recycling organizations also earn well into six figures.
FAQ: Where do scrap yards sell their metal?
Scrap yards sell their metal to larger scrap yards, metal processing plants or mills.
These larger processing facilities then recycle the metal back into a state that can be used by manufacturing companies.
FAQ: How much is a pound of copper worth?
Copper typically fluctuates between the low $2 and low $3 mark, per pound. However, it crossed $5 per pound momentarily, in March, 2022.
The exact value changes on a day to day basis.
FAQ: What items does a scrap man take?
Scrap men take any items that are made fully or primarily of metal, that can be recycled.
Items like: unwanted car parts, old appliances, discarded metal furniture, junk metal tools and rejects from construction projects are usually taken.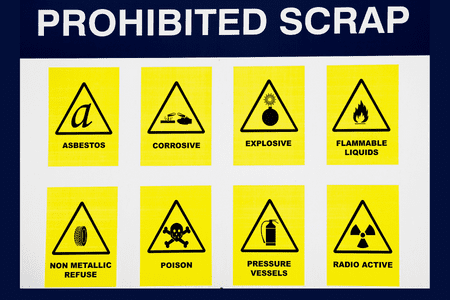 FAQ: What is the most valuable scrap metal right now?
The most valuable scrap metal is copper. It is way more expensive than the other metals that scrap dealers buy, per pound.
The exact price per pound depends on the nature of the copper item. The highest grade copper, called bare bright can fetch around $3 per pound.
FAQ: Where can I get rid of metal near me?
The fist step to get rid of metal, is to simply plug your zip code into the zip code locator box at the top of this article. You'd receive a list of dealers that can be contacted to buy your scrap!
FAQ: Are magnets worth money?
Generally, magnets are not worth anything at scrap yards.
Metal scrap yards would buy magnets that are included inside appliances, that they deal with. Not as an isolated item.
FAQ: Where are the best places to find scrap copper?
The best places to find scrap copper are: electricity cables, air conditioning units, copper pipes, copper roofing, motors, generators, industrial machinery and appliances.
Older appliances also tend to have more copper wiring than newer ones.
FAQ: Can you make money scrapping?
You can absolutely make money scrapping. Scrap iron sellers earn $18K to over 70K annually.
With dedication and proper management, you can even earn upwards of $70K and into six figures. That's if you choose to make a full time career out of it.
Related Posts to Scrap Places Near Me
The 30 Best Consignment Shops Near Me
Legit Envelope Stuffing Jobs From Home
Final Thoughts on the Highest Paying Scrap Yards Near Me
Now you can confidently use the knowledge that we shared, and the zip code locator, to ace your way to thousands of dollars!
Go ahead and flip that junk metal to jaw-dropping money. There's a lot of money to be made from selling scrap metal.
Plus it's a win for the environment and economy!
Do you have any additional advice for making money with metal scrap yards? How do you go about selecting the right one? Any haggling tips?
Share with us in the comments below. We'd love to hear from you!
Don't forget to follow us on Facebook, Instagram and Pinterest for more money making ideas, frugal living tips and financial chit-chats!
Liked this post? Pin it!
The Best Metal Scrap Yard Near Me – Scrap Yard Locator & Pricing Guide!