Best Online Consignment Stores & Consignment Shops Near Me to Make Money and Save Money
Are you one of those persons with a closet full of clothes that you never wear?
Do you have an attic full of stuff that lost its purpose in your life but you don't want to part with it for free?
Are you short on cash and looking to make an extra buck?
If you answered yes to any or all of those questions, a Consignment Shop may be the answer you are looking for.
On the flip side, if you are tight on cash but shopping around for affordable clothes, electronics, appliances and furniture, a Consignment Shop may also be right for you.
Whether you are looking to buy or sell, but your budget is tight, a Consignment Shop near you is a good starting point.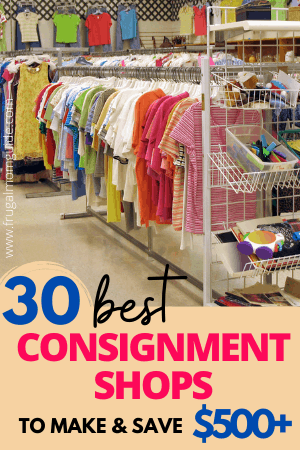 This post may contain affiliate links. You can read our full disclosure for more info.
If you're not too sure where to start and you're wondering, "Where are the best best consignment shops near me?", we've got you covered! We'll help you find and decide on the best consignment shops, both in your area and online!
How Can I find the best Consignment Shops Near Me?
Finding the best local consignment shops near you is now easier than ever with our Consignment Shop Zip Code Search.
All you need to do is enter your zip code in the search box below and hit the button to find the best consignment shops nearest to you, ranked by real Google Reviews.
Beginner's Guide: Consignment Shops 101
What is a Consignment Shop?
A Consignment Shop is a store that sells items for an owner, in exchange for a commission. These items are usually second hand (used).
Basically, the owner of the goods establishes an agreement with the store owner where they retain ownership until the items are sold, if they are sold. Only when/if the products are sold by the store, is the owner paid.
Consignment stores sell a variety of products depending on the one that you choose.
Some specialize in furniture and household appliances, electronics, sporting goods or clothing, shoes and fashion accessories.
There is an option for many everyday items that you may be in the market to purchase or sell. It's just a matter of finding the right store for you.
Typically consignment stores establish a product cycle period of between 30 and 90 days. After an established period, the item may be discounted or returned to the owner. Once the items are sold, the store takes between 25 – 60% of the selling price as compensation.
As an even sweeter deal, store owners even offer in-store credit to product owners. This means that you may be able to "trade" a lesser value of your products for a greater value of other items in the store instead of taking the cash.
Of course, everything is agreed upon ahead of time.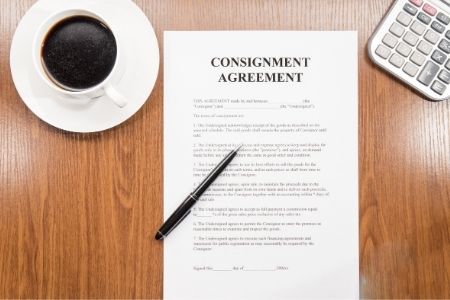 FAQ – What is the difference between a Consignment Shop, a Thrift Store and a Pawn Shop?
A consignment shop is a business that is established for profit. The store sells your used items, keeps a percentage and you get paid the rest. They are set up to make money by capitalizing on your need to either sell or purchase certain items.
Thrift stores, on the other hand, are set up to sell second items but typically for a charitable cause. Most items are donated to them and they sell it to raise funds for charity.
Organizations such as Goodwill and Salvation Army are good examples of establishments structured around thrift shops. Churches and private schools may also have a thrift store set up to raise funds.
From a purchaser's point of view, shopping at a thrift store would be a very similar experience to shopping at a consignment shop. For a seller that's looking to make some money, it's definitely not the same.
A pawn shop is a store that purchases and sells second hand items but they pay the seller immediately. The concept of consignment does not apply to pawn shops as the seller receives an instant payment that is negotiated with the store owner.
Pawn shops usually have stereotypes associated with them as there is a tendency for them to target sellers that are in desperate need of cash. As a result of this "strategy", sellers definitely would not get the best rates for their products as compared to the consignment options.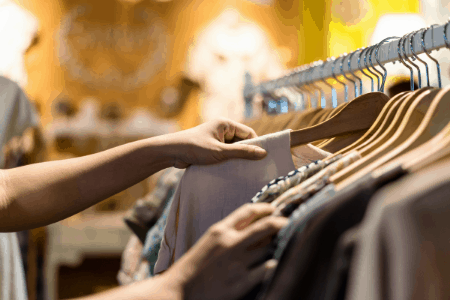 Why sell at a Consignment Shop?
1. Make extra money
Let's face it…we all would like to have some extra money.
Even if you are the most organized, minimalist, penny pincher out there, I'm sure you have items that you just don't need any more.
Whether it's a few pairs of shoes or articles of clothing that have lost their place in your life, there must be something that you can cut ties with and sell off.
Remember, toys, furniture and baby items that your kids have outgrown are also perfect to sell to consignment shops. The bottom line is that you can make extra money by selling to consignment shops.
Typically 30% of the list price is the starting rate that is offered to sellers for most items. Store credit usually sweetens the deal right around 50% if the seller agrees to take store goods instead of cash. This is absolutely up for negotiation but is a good starting guide.
2. Get rid of clutter
On the other hand, you probably had a room full of items that you identified to get rid of, but you're racking your brain trying to figure out a way to sell them off.
Consignment shops are a great option. It's just a matter of inquiring as to which store is the right one for you.
Therefore, you make money and get rid of unwanted items in your house. It is genuinely a win-win. Being paid to reduce clutter? Yes, please!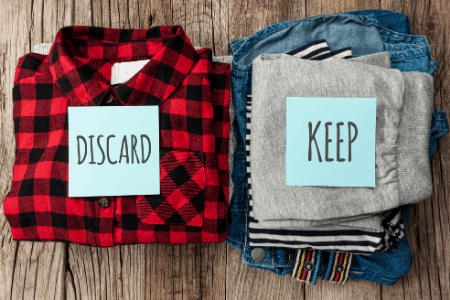 3. Privacy
One major advantage of consignment shops is the fact that it is relatively private. It is not much different as compared to attending any typical appointment.
You simply contact the store, organize your merchandise, set up an agreement and you are done. Consignment shops are way less invasive as compared to a yard sale or posting ads on social media!
This way, you never have to interact with strangers or divulge your address. Avoid those awkward conversations. You know why you are selling your stuff and you do not need to explain to anyone. No one knows your business and your privacy is respected.
4. Warm and inviting experience
Consignment shops also typically have a warm and inviting feel. They are usually private, family run small businesses.
Therefore, they come with the "mom and pops" feel that are synonymous with those establishments. You definitely should not be intimidated by the transaction and it should be as homely as it gets.
5. A "One Stop Shop" for a variety of products
Consignment shops usually sell a wide variety of items under one roof.
For example, the same store may sell clothes, toys and furniture. Therefore, the selling experience is as convenient as can be.
Most of the items you are trying to get rid of, if not all, would be accepted by a single shop.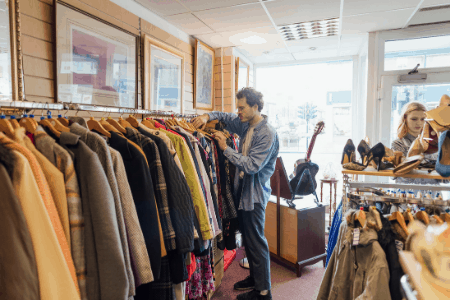 6. Good value for money
Most consignment shops have standard rates for certain items. For example, shoes may be $10 and shirts may be $5. Furniture, toys and electronics would fall into different ranges as established by the store.
It's ultimately up to you, the seller, to agree to let your items go for whatever rate you are offered. Also, if your items do not sell within a certain period of time, you can choose to retain the items or to reduce the selling price.
The higher the price the item is sold for, the more money you make and the more the store retains as commission. It is in everyone's best interest to receive the best value for the item.
Basically, the process is very fair for all parties involved.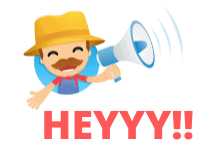 Want a chance to make some extra cash? Sign up with RewardSurvey to do quick surveys and make hundreds of dollars per month! You can even use Swagbucks to get paid to do regular everyday tasks like watching videos and searching the web! I got paid $1000+ by using these free tools!

7. Option to trade
Many consignment shops offer sellers the option for store credit at a more attractive rate than the dollar value of the items being sold.
You may be able to walk out with $60 worth of store merchandise in exchange for $50 worth of your items, if you chose not to take the cash.
All things considered, since consignment shops sell a variety of products, you may be able to "trade" your baby's used items for some furniture that is actually appealing to you. The options are endless.
Why buy at a Consignment Shop?
1. Low Prices
Let's just get this one out the way. We are all looking for good deals and trying to stretch our dollar. Consignment shops are a good option to get good quality items at low prices. And consignment shops are getting ever popular for this.
In fact, according to a report by The Shelf, purchasing from resale shops is no longer for low income folks and grandmas anymore… everyone is doing it!
2. Regular Replenishment of Merchandise
Consignment shops receive new products on a daily basis. Therefore, buyers have a wide variety of options to choose from.
Also, there is constantly something new to see. You may not have gotten what you wanted yesterday but it's worth giving them another shot before going to pay full list price at a department store.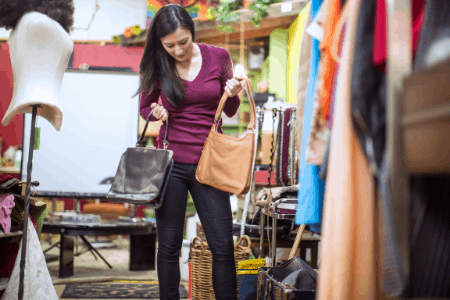 3. Name Brand and Trendy Products
Consignment shops sell what they receive. These items were once the personal items of previous owners. Technically, until you buy them, they remain the personal belongings of the original owner.
These stores can be a gold mine, filled with name brand treasures. On top of this, store owners filter the products they accept to ensure they remain trendy and seasonal.
The last thing a store owner wants is a store filled with unwanted junk so they keep trendy, fashionable items.
4. Good Quality Items
Store owners don't accept trash. The items need to be of good quality. For the buyer, it's a safe option to go to the store and be comfortable that they will receive a decent standard of products.
5. Unique Products
Department stores can have a tedious vibe to them as they are packed with aisles upon aisles of what can appear to be a maze of similar, boring items.
Consignment shops are spattered with figurative diamonds. You never know what goodie you may come across!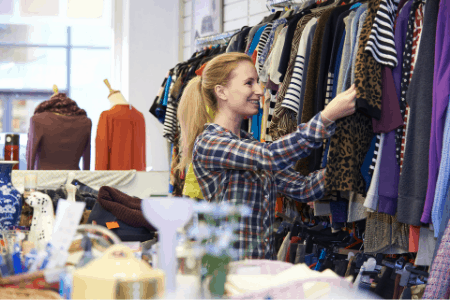 7. Support Small Businesses
Personally, I'm a huge advocate for small businesses. A small business is a mom and a dad trying to put food on the table and trying to send their kids to college.
Giving them a sale has way greater personal impacts than giving corporate giants your cash!
8. Do your part to save the environment
The more we reduce our waste and reuse items, the less trash ends up in landfills. Supporting consignment shops basically keeps those items from becoming waste.
Online Consignment Store vs Actual Store (Brick and Mortar)
Now that you understand how consignment shops work, you would need to select the right type for you.
If you're searching for "best consignment shops near me" then you're probably interested in an actual store. But before making a final decision, you should know the difference between the two.
There are two main categories of consignment shops, online consignment store or the traditional brick and mortar type.
As you already know, a brick and mortar store is your typical neighborhood shop with an actual physical location. This business is the old faithful concept that comes with a location address and has a front door that you can walk in.
More recently, online consignment stores have grown in popularity. If you want, you can set up a website and create your own online forum for buying and selling goods via a consignment model. However, there are numerous online sites and apps that specialize in exactly this.
Basically, you just need to pick the one that specializes in your genre of merchandise and follow their requirements.
Depending on the nature of your items and if you are a seller, special considerations such as extra packaging for fragile items may need to be considered, as you would be responsible for shipping.
If you think that an online consignment store is more up your alley, check out the list below!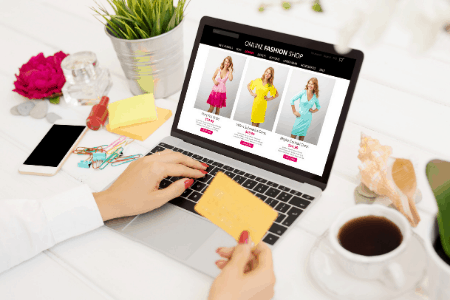 Best Online Consignment Shops Near Me
Poshmark – Poshmark is a large online consignment shop specializing in trendy clothing, shoes and fashion accessories.
OfferUp – OfferUp gives an avenue to buy or sell almost anything. They even created a special plan to support persons involved in real estate, by offering special packages to stage homes in order to sell them faster.
Trove – Trove is a great option if you are looking to declutter or in the market to purchase good quality, lightly used, clothes, shoes and household items.
Carousell – Carousell specializes in everything. It presents a forum for buyers and sellers to negotiate and engage in transactions such as buying or selling lightly used clothing.
Grailed – Grailed is the world's largest online consignment shop specializing in menswear.
thredUP – ThredUp is a great option to buy or sell quality clothing, shoes and accessories at great discounted prices.
Vinted – Vinted is another option to buy or sell lightly used clothing, shoes and accessories.
Re-SEE – Re-SEE is a classy online platform that specializes in fashionable clothes, accessories, vintage items and even collector books.
LePrix – Buy and sell clothing and accessories, as long as they are a designer brand.
Depop – Buy and sell unique fashion items and accessories. Depop is focused on creating and maintaining a bold and artistic market.
The RealReal – If you are looking to buy or sell luxury items, The RealReal is the place for you. Shop for or sell off used designer clothing, accessories, fine art and home goods.
Worthy – worthy.com is a fast and secure way to buy or sell jewelry online. The site does all the hard work and you are guaranteed the best price for your items, if you are selling, as they go through an auction.
Chairish – In the market for elegant décor, furniture and household accessories? Check out Chairish.
Vestiaire Collective – Vestiaire Collective is an online shop for posh women's and men's clothing as well as art and lifestyle accessories.
Rebag – Rebag is the website or app to go to when you are looking to buy or sell lightly used designer handbags, watches and accessories.
Tradesy – Tradesy is the platform for items of elegance. Buy or sell designer clothing, handbags, shoes and wedding accessories.
Mercari – Mercari is a popular site for a range of items including clothing, art, sporting goods and electronics.
Everything But The House – ebth.com and its app is an auction based online consignment shop targeting home décor and furniture. However, you can list almost anything as it touches a bit of fashion accessories, toys, outdoor gear and even automobiles.
eBay – eBay is an honorary guest in this post and probably pioneered the entire concept of buying and selling random used goods. Basically you can buy or sell almost anything on eBay, regardless of condition.
LetGo – To those of you that remember the LetGo ads, LetGo was acquired by OfferUp in 2020.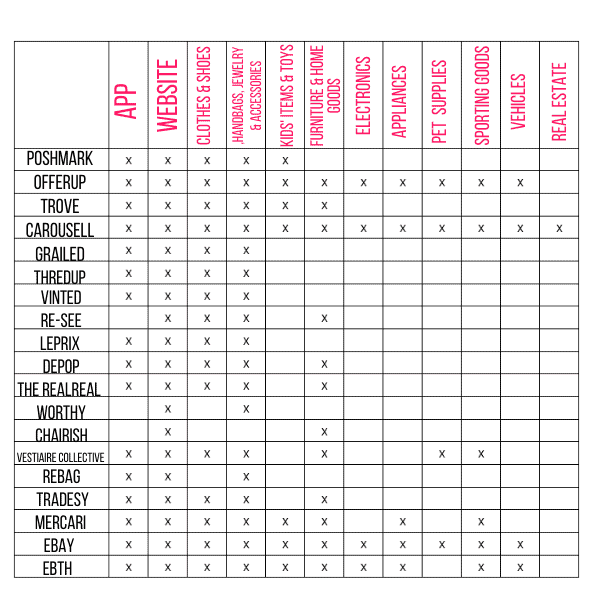 Most Popular Consignment Shops Near Me (Physical Shops)
Now that we've made our way through a list of the best online consignment stores, if you're still interested in actual, physical consignment shops, here is a list of the best and most popular ones!
If you use our above Consignment Store Finder to locate the best 'consignment shops near me', see if you find any of these shops listed below on your map!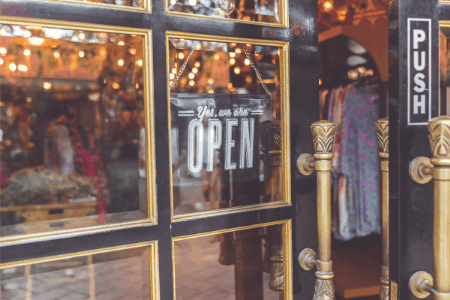 Buffalo Exchange – With locations in approximately 50 locations is 19 states, Buffalo Exchange is probably the flagship of Brick and Mortar Consignment Shops.
They specialize in lightly used clothing, jewelry and accessories with a favoring for designer brands. Priority is always given to trendy and seasonal items to ensure that their shelves remain relevant.
Plato's Closet – #1 Ranked Teen Resale Franchise by Entrepreneur Magazine, Plato's Closet has locations throughout the United States with a focus on clothing, shoes and accessories for teenagers and young adults.
They concentrate on stocking brands and styles that are trending amongst that particular age group.
Style Encore – Style Encore has several locations across the US and focus on stylish, relevant, gently used clothing, shoes and accessories.
Crossroads Trading – Crossroads trading is also a multi-state franchise consignment shop with a very similar structure to Buffalo Exchange. They also favor designer brands and usually stock good quality clothing, shoes and fashion accessories.
The Wasteland – The Wasteland is similar to Buffalo Exchange and Crossroads Trading but is operational in the state of California only. If you live in California, be sure to check them out.
Beacon's Closet – Popular, fashionable adult clothing, shoes and accessories located in New York.
Awoke Vintage – Whilst we're in the state of New York, if you are interested in buying or selling used vintage clothing, check out Awoke Vintage.
Once Upon a Child – With a focus on gently used kids clothing, shoes, toys and paraphernalia, this multi-state consignment shop is a great option for parents in the market for children's items. De-clutter your child's closet and top them up with relevant items, One Upon a Child is a great option.
On the hunt for used music equipment or looking to sell, check out Music Go Round or Guitar Center. If you are hunting for outdoor gear and sporting goods, Play it Again Sports is a good starting point.
Rules for Consignment Shops
Now that you fully understand how consignment shops work, there are two golden rules that you need to follow when buying or selling used stuff. After all, saving is the aim and Frugal Living is the game!
Don't buy unless you sell more to the store – Set yourself a personal rule. You can purchase a few items, or trade as the case might be, but only after selling a higher value to the store! This generally keeps your closet in check as it is easy to end up stocking a closet full of things you never wear or use.
Clean your stuff up – Filter through your items, wash them, clean them, and sort them. If they are scratched or slightly torn, try to repair them. The only way to avoid them being rejected or to receive top dollar is to have them in decent condition.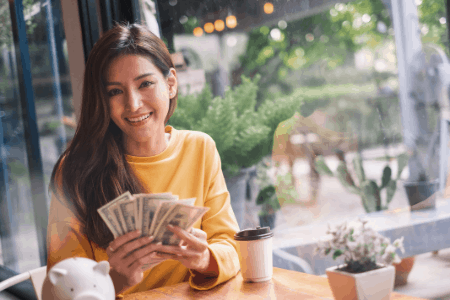 Related Posts on Consignment Shops Near Me
30+ Ways to Make $500 in a Week
19 Easy Ways to Make Money Fast Today
21 Passive Income Ideas that will Make you Money while you Sleep
37+ Best Online Jobs for Teens to Make Money from Home
OfferUp vs Letgo – Everything you Need to Know to Make & Save Money
What is Counter Credit? (A Comprehensive Guide)
Final Thoughts on Consignment Shops Near Me
So now you know everything you need to know about making money and saving money by using consignment stores, both online and local.
Do you usually sell or buy from consignment stores? Do you have any bonus tips? Share with us in the comments below. I'd love to hear from you!
Liked this post? Pin it for later!
30 Best Consignment Shops Near Me to Make & Save Money