A Comprehensive Comparison of Letgo vs OfferUp
If you're looking to sell and buy items, you may have come across sites and apps like Offerup, Letgo and Craigslist. If you're looking for more details with respect to the pros and cons of each, you're in the right place!
I'm pretty sure your goal is to conduct your transaction in the safest way possible, and to walk away with the most amount of money in your pocket. If you need help choosing from Offerup, Letgo or even Craigslist, keep reading. We will go into detail to help you figure out which is best for you!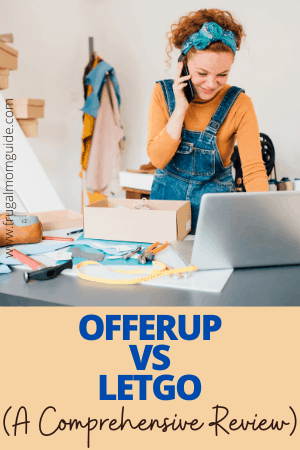 This post may contain affiliate links. This means that we may make a commission if you make a purchase via a qualifying link. You can read our full disclosure for more info.
Let's first look at Offerup vs Letgo.
Both OfferUp and Letgo took on their respective twists to the concept of the modern, online second hand marketplace / consignment store and began gaining popularity right around 2015. It was only natural that an OfferUp vs Letgo rivalry developed.
With OfferUp originating from Bellevue, Washington and Letgo coming out of New York, we basically had an East Coast / West Coast contest in the pre-owned merchandise game. Sounds quite lukewarm when compared to previous rivalries. You 80's and 90's kids would know what I'm talking about.
FAQ: Is Letgo and OfferUp the same thing?
Let's cut to the chase and get it out there that OfferUp acquired Letgo in mid-2020 to now be a powerhouse in the second hand marketplace business. However, Letgo still appears to work independently in certain global locations.
Also, many persons have expressed mixed feelings with regards to how the "new and improved" OfferUp works as compared to the previous separate OfferUp and Letgo apps. Therefore, an OfferUp vs Letgo comparison is still very much valid.
What is OfferUp?
OfferUp is a mobile marketplace and boasts of being the largest of its kind in the United States. They offer a free app on both android and iOS operating devices structured at making your buying and selling experience as simple as possible.
OfferUp claims to be so simple to use that their users can be honing in on their first deal within 30 seconds from registering for their services. You can buy or sell almost anything, new or used, from any smart device.
What is Letgo?
Letgo was also a mobile marketplace specializing in the trading of used merchandise. Yes…you read it correctly…WAS! We'd get into the details later on.
Letgo's mission was to "make second handing second nature". They specialized in promoting the trade of used items with a very bright and inviting site. In addition to the offering of a platform to buy and sell tangible items, they also allowed the advertising of services, jobs and rental items.
In 2020, Letgo was acquired by OfferUp.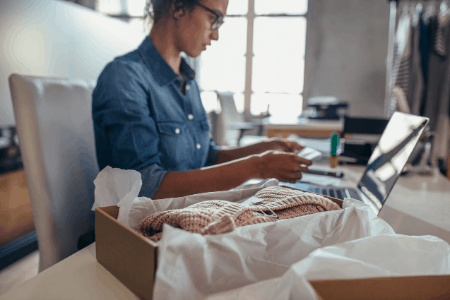 Letgo vs OfferUp – Background Info
Letgo had over 100 million app downloads when it was acquired by OfferUp. This number was almost double that of its new owners, which is pretty cool.
Actually, the Letgo website and app is still active to an extent. From a first glance at the website, and even while navigating it appears as though everything is all honky dory. The app is still available for download at the App Store and Google Play.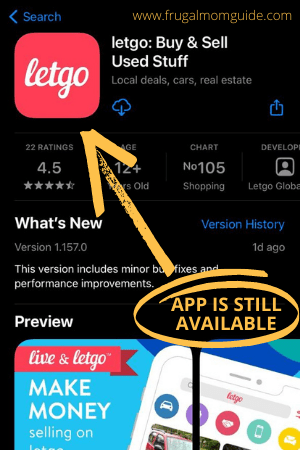 As a matter of fact, I was totally confused when I got to the Letgo site and app trying to figure out whether it was still functioning with an independent interface from OfferUp. After all, a lot of companies function with an independent appearance after they are acquired, even though the revenue still goes to the same pockets. You know…like Converse, even though it's owned by Nike. This is not the case at all!
Letgo still has the full host of sales pitch hooking points on their various homepages, with absolutely no reference to OfferUp.
"We are one of the biggest names in the world!"
"We make all your second hand dreams come true, in a beautiful and modern package!"
"We are the hottest thing since sliced bread and the coolest thing since the tank top!"
Okay…not in those exact words, but you get my point.
All this is wrapped up beautifully in a vibrant and colorfully themed app and website. I mean…navigating through a world painted in a rich coral palette…all whilst having everything that you always wanted…available at your fingertips…at a fraction of the price…SIGN ME UP!
Unfortunately, after downloading the app, the user is now prompted to download the OfferUp app, after stating that the Letgo app is "no longer supported". There are also some minor details with regards to the combination of both sets of resources to better serve you.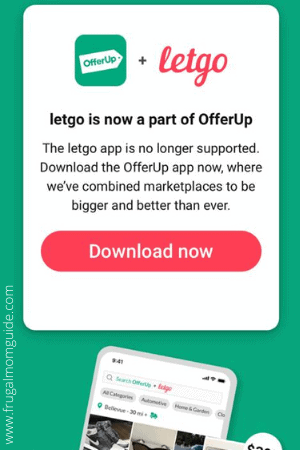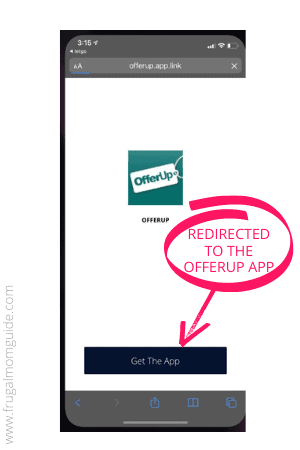 One point to note however is that the Letgo app does still have limited functionality in some global locations. They did make it clear that the app is not being supported anymore so it just may be a matter of time until it is completely unavailable, globally. We'd just have to wait and see.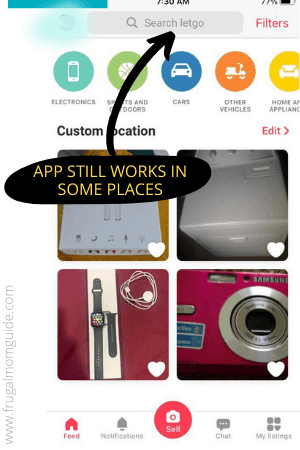 That being said, it is worth exploring some of its features that could be beneficial to you.
FAQ: What is a second hand market place?
A second hand market place is a forum for buying and selling used items. Flea markets are the most common second hand market places and have been around since forever.
However, in the past 10 years or so, we've seen the introduction of several online platforms that are available to do just this. These sites, such as Craigslist, Facebook Marketplace, eBay, OfferUp and Letgo have grown in popularity as they allow users to exchange goods from the comfort of their own homes.
Which is better OfferUp or Letgo?
Letgo is now officially under OfferUp. However it does still have some limited functionality in some locations globally. At the time of acquisition, it was definitely more popular than OfferUp.
With over 100 million app downloads, Letgo was one of the biggest forums for buying and selling used items in the world. All you needed to do was download the app on your smart device to get started. Depending on your location, this is still the case.
Since OfferUp is basically now running the show, you gotta give it to OfferUp. Even if you were a Letgo fan, it's time to start embracing OfferUp.
OfferUp vs Letgo – How do they work?
How does Letgo work?
Even though their website is beautifully constructed, it is simply there for support. All actual transactions take place from the app. After you have the app, you can go through the steps to either review listings or post listings of your own. The very first thing you would be asked to do is to set up a personalized group of listings, according to category.
A very important point to note is that Letgo has a local vibe to it. It is structured to run off your location information to localize a set of listings for you. Therefore, you would not be bombarded with random "competitors" and "vendors" that are of absolutely no threat or interest to you.
Letgo is also completely free. Remember though, depending on your location, Letgo may no longer be available and you will be redirected to the OfferUp app instead.
How does OfferUp work?
OfferUp works similarly to Letgo, as they do have apps on the iOS and android platforms. However, they do also have a fully functional website. OfferUp also makes it very clear that they have acquired Letgo. In fact their slogan is now "Buy. Sell. Letgo."
If you are selling, simply snap a photo and upload it along with a brief description of the item. If you are buying, simply search for the item or browse by category, contact the seller and take it from there.
OfferUp offers payments via Paypal and credit cards as part of their linked services, along with shipping. However, it is always advisable to conduct the transaction in person, as most of the products are used.
OfferUp does have a small charge associated with it which is applied to the seller's account upon making a successful sale, for non cash transactions.
Since OfferUp merged in a lot of the features of Letgo, they also have the narrowed down local community marketplace feature.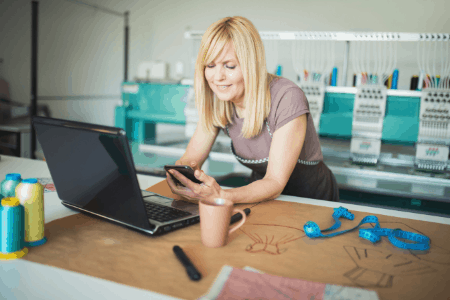 FAQ: Which selling app is the best? / Which Marketplace pays most?
Again, Letgo was purchased by OfferUp so pretty much OfferUp is the only answer here when it comes to the OfferUp vs Letgo debate. Sooner or later, this is what we'd all be faced with.
However, Decluttr, Craigslist and Facebook Marketplace also offer viable options to buy and sell used items. Depending on what you are looking for, you might as well take a shot at the listings in these sites also. If you're debating OfferUp vs Craigslist, note that many people consider Craigslist to be notoriously "spammy". However, many legit transactions have been completed via Craigslist.
The bottom line is that every site has its advantages and disadvantages. When it comes to finding deals and saving money, my advice would always be to check out all of them.
Also, OfferUp does not allow the posting of certain items and services which may be available on Craigslist and Facebook Marketplace. You need to approach your need as a buyer or seller uniquely every time and figure out what is the right forum for you and your specific products.
Comparing OfferUp and Letgo
OfferUp vs Letgo – Similarities
• More or less free to use.
• No charge to list items.
• Paid (premium) users' items would be promoted ahead of non-paying users.
• Make money from selling unwanted items.
• Easy option to de-clutter your home.
• Find items at a fraction of the price (spot deals easily).
• Buy or sell a variety of items including: vehicles, clothes, furniture, appliances, baby, etc.
• In app communication feature for buyers and sellers.
OfferUp vs Letgo – OfferUp (after acquiring Letgo) Advantages
• Free to post and browse the app.
• Buying and selling with cash is free.
• Option to ship items, via the app, is available.
• Pay to promote (premium) feature available.
• Very helpful website full of FAQs.
• Location based, local marketplace filter.
• Profile is customizable to filter items of interest.
• User identities are verified.
• Ratings based system where users can rate buyers and sellers
• Option to now buy / sell or ship to / from anywhere in the US.
Letgo previously did not offer this option. Persons had to physically meet up.
• Payments can be made in app.
Letgo previously did not offer this option. Persons had to physically meet up.
OfferUp vs Letgo – OfferUp (after acquiring Letgo) Disadvantages
• Charge associated with non-cash sales.
Letgo was previously 100% free for sellers.
Letgo only charged a small fee if sellers wanted to increase visibility of their listings.
• Seller is required to pay a fee for more than three vehicle listings.
• App only available in English
• Certain listings that were available on Letgo are no longer available, such as: gift cards, jobs, rentals, services.
• App is heavily populated with ads which may be awkward to navigate through.
• Stores with strictly shipment options are now outweighing the local sellers.
The personal local marketplace warmth is being lost.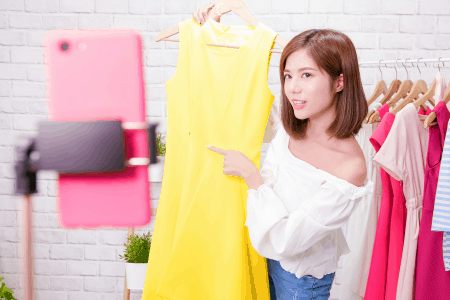 Bonus Tips
If we learnt anything from the OfferUp vs Letgo rivalry is that these forums are constantly evolving. A site that may have started with the purest of de-cluttering intentions and a way to help average Joe survive, could now be selling new items and giving preferences to stores who are willing to pay more for feature posts. That's just how business works.
• Do not be faithful to any one trading forum.
There are a several options for buying, selling and trading used items. Keep checking them out to figure out what is the right option for you.
• Review several options on the same site before agreeing on a deal.
Negotiate with sellers, if possible, to ensure you pay the right market price.
• Review profiles of buyers and sellers to insure reliability of transaction.
• Communication between buyers and sellers should be done using the app to avoid giving out personal phone numbers and email addresses.
• Take good quality pictures of what you are selling.
• Always arrange to meet to review the items and perform the transaction in person, if possible.
Used items can vary in condition drastically. Be sure that both buyer and seller are happy before closing the deal.
• Arrange meetings in public spaces, with relatively high foot traffic.
This is just a tip for personal safety.
• Use cash or PayPal as much as possible.
• Inspect the cash that you are paid for both value and authenticity.
Related Posts on OfferUp vs Letgo
30 Best Consignment Shops Near Me to Make Money this Year
37 Legit Online Jobs for Teens that Pay High
30+ Simple Ways to Make $500 (in less than a week!)
How to Make $50 a day on MTurk
Final Thoughts on Letgo vs OfferUp
Now that we've addressed all your questions on OfferUp vs Letgo, it's time to save / make you some money.
Do you use any other app or site to sell your stuff online? Share with us in the comments below. We'd love to hear from you!
Don't forget to follow us on Pinterest, Instagram and Facebook for more money making and frugal living inspiration!
Liked this post? Pin it!
OfferUp vs Letgo – A Comprehensive Review