Want to learn how to make money online as a teen in 2022? Here's a list of 37 online jobs for teens that pay well.
Your teenage years are probably the toughest and most confusing time of your life. Your body is changing, emotions raging, you're struggling to maintain good grades, trying to find your passion, balance hobbies and maybe even narrow a career path.
To cap it all off, pressure from friends and social media to dress a certain way or to own the latest electronic devices seem to always remind you that you are broke. At this point, you definitely need to consider how to make money online as a teen.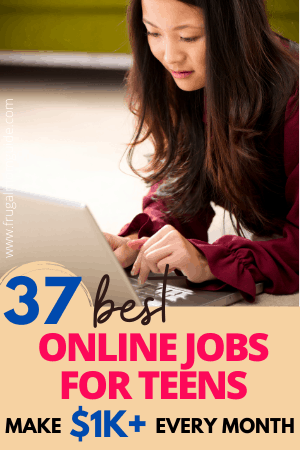 This post may contain affiliate links. You can read our full disclosure for more info.
The good news is that online jobs for teens are a lot more achievable than you may think and definitely within your reach.
If you're currently looking for ways to make extra cash, you're in great company with more than half of America's teenaged population. According to a report on The Motley Fool, more than half of teenagers work outside the home each month, and around 58% of teenagers plan to work part-time during college!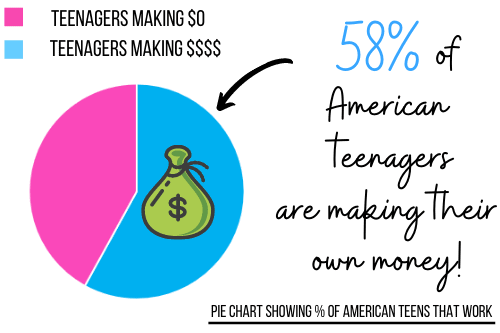 This is great news that American teens are currently money savvy and financially responsible! But why not make things a tad bit simpler by earning all this extra cash right in the comfort of your own home?!
Before we dive into the actual online jobs for teens options, let's examine why you are more qualified than you think.
– You are young, motivated and energetic. You are able to put in more hours awake, without getting tired, than the average adult.
– You are better than most adults at the tech stuff.
– Companies value teenagers' opinions for many products and services and are willing to pay.
– Teenagers are the future adults. Your opinions are important for organizations to plan for the future.
– Get paid doing things you already like to do online like playing games or listening to music.
– You spend most of your time online anyway. You might as well get paid for it.
– Your curfew is a blessing in disguise. Your parents restrict your outdoor time or you have to be at home at a certain time. Use that time to earn cash.
– You are under no real pressure at your age to earn money. You can approach the opportunity to make money online as a teen without stress, since nobody really expects anything from you.
– Use the time and the fact that you are trying to figure out a career path to do exactly that. While exploring online jobs for teens, you may find your calling.
Enough with the teen pep talk. Stay positive and let's explore some remote jobs for teens that may be right for you!
37 Best Online Jobs for Teens who want to Make Money from Home
1. Take Surveys Online
If you are hunting how to make money online as a teen, taking online surveys and getting paid is a great start. Many online forums offer nice payments for the opinions of teenagers.
As a matter of fact, there are a multitude of survey companies that pay to get the opinions of consumers. These sites are hired by companies to gather information as part of market research projects. Believe it or not, as teenagers you occupy a key demographic and there are many products and services which are targeted towards your group.
Companies need to know what you like and dislike in order to observe trends. Essentially, you are assisting companies to continue to market products to take your money and your parent's money. At least you'd get paid and you'd be happy trading it back to get whatever new products are generated due to your guidance.
The minimum age varies from site to site so depending on your age, you need to check out what's right for you. However, there are several great sites that are always in the market with online jobs for teens as young as 13 years old. You can get paid via cash, PayPal, vouchers or gift cards.
What you'll need: Computer, phone or smart device.
Minimum age: 3 years old (with parent support). Typically 13 years and older.
The following survey sites are happy to offer remote jobs for teens: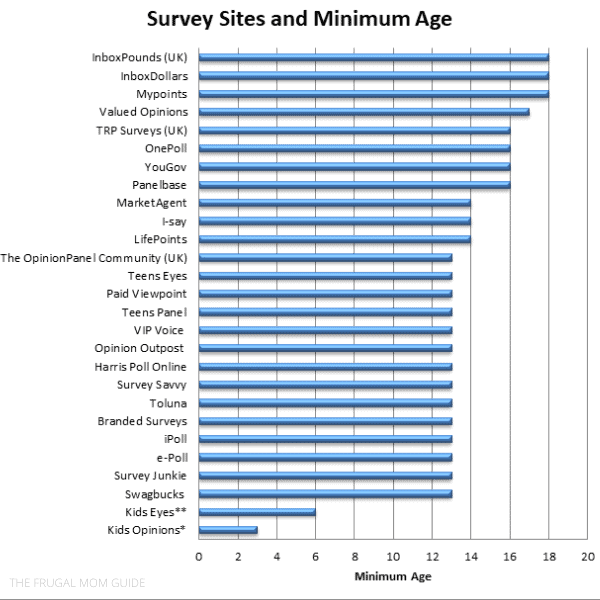 Kids Opinions* – 3 years old minimum age to participate in paid surveys. All surveys require parental consent and partnership.
Kids Eyes** – 6 years old minimum age to participate in paid surveys. Most surveys require parental consent and partnership.
Not sure how to get started with making money from surveys? Here are two survey sites that are great for beginners!
RewardSurvey – Give your Opinion and get $30 immediately (Claim Bonus here)
Reward Fish (US & Canada)
2. Search the internet and get paid for it
Get Paid To (GPT) sites are a fool proof way to make money online as a teen. The bottom line is that they pay you to perform various tasks. Please note that some of these would automatically give free access to minors but there are a few that require parental consent prior to proceeding.
By utilizing one of these methods to surf the internet, you rack up rewards points which automatically translate to cash. There couldn't be a simpler option for online jobs for teens.
The following sites / apps offer browser extensions or supplementary toolbars that you download, along with the minimum age required to qualify for partnership and financial compensation.
– Swagbucks (13 years old +)
– Zoombucks (13 years old +)
– FusionCash (13 years old +)
– Qmee (16 years old +)

The following sites provide a search engine option. By using these sites to perform your searches, you build up money and rewards.
– Bing Rewards (13 years old +)
– CashCrate (14 years old +)
Still wondering how to make money online as a teen? Instead of a search bar or search engine, try using one of these apps below if you prefer an even more fool proof method.
The following are independent apps that simply run in the background of your computer, phone or smart device and record your search trends but keep your personal information anonymous:
– SmartPanel (13 years old +)
– MobileXpression (13 years old +)
– Cross Media Panel (18 years old +)
3. Be a blogger
A blogger is a person who writes for a blog. A blog is an online site which may be based on any topic you choose to write about. It may take a few months before you start earning a decent income, but the more you write and grow your online presence, the more money you can earn.
In fact, I have many friends who are bloggers earning 6 figure incomes. If you love writing, you may want to dabble in blogging. Learn how to start a blog with this step by step guide.
4. Be a Vlogger
A vlogger carries the same concept as a blog but instead or writing journal styled articles, videos are published instead. Vloggers are viewed as influencers and are paid for their advertising abilities and marketing potential.
5. Be a writer
There are many companies that hire freelance writers. If you have a good command of the English language and are actively pursuing online jobs for teens, become a writer and sell your ability.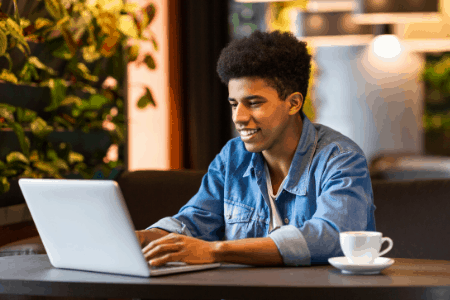 6. Be a Proofreader
Many companies, publishers, professionals and even bloggers employ persons to proofread their articles and various documents. Your task would essentially be reading, correcting typographical errors and rephrasing inaccuracies in written pieces. If you have decent English skills and are searching how to make money online as a teen, check out this option.
7. Be a Customer Service Representative
If you have access to a computer, good internet and a headset and are eager to explore the world of remote jobs for teens, consider becoming a customer service rep. Many companies outsource their roles for customer service liaisons to work from homers.
Popular franchises like UHaul are even willing to contract persons as young as 13 years old to receive calls from customers and to schedule jobs for their company. In addition to your computer or smart device, you may have to invest in a headset.
8. Product Tester
New products are constantly being developed and companies require persons to try them and give feedback in order to work out the kinks. You can sign up to be a product tester where you would be sent items to test in the comfort of your own home, and rate and review online.
9. Voiceover artist
An ever growing opportunity in the field of online jobs for teens is voice acting. If you have a great voice and skilled in the ability to express yourself and emotions using your voice; examining a job as a voiceover artist may be worthwhile.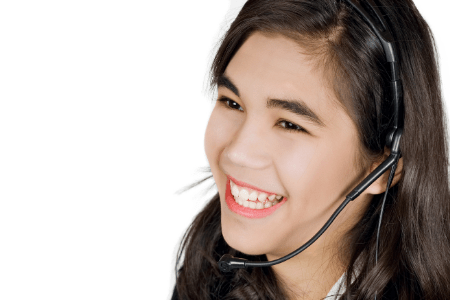 10. Review websites
We touched on Get Paid To (GPT) sites earlier. There are several platforms for online jobs for teens via GPT sites where your job would be to review websites.
11. Review games
Just like reviewing websites, team up with a GPT site to review games for money.
12. Review music
Again, a super easy choice in the spectrum of online jobs for teens is reviewing music. Let your opinion and taste in music influence companies, artists and earn cash doing it.
13. Review phone calls
If you ever spoke to a company's customer service rep on the phone, you probably heard the disclaimer that the call may be monitored to ensure customer service prior to the agent speaking. Many times, third party agents, including teens are hired to listen on to telephone conversations and to offer feedback to the management team of the same company.
Your job would be to review the tone and nature of the discussions and to score the company rep on how well they handled the situation. You may also be asked to suggest areas for improvement.
14. Instagram Influencer
Probably the most adorned but misunderstood of all online jobs for teens, Instagram Influencers can make a decent payday. It takes some time and a genuine marketing strategy and is a valuable avenue to make some cash.
15. Social Media Account Management
As we said at the very beginning, teenagers are generally better than adults at the tech stuff. Also, many brands are structured with teenagers as their target market. Therefore, who better to manage their social media and daily advertising plans? If this is something you may be interested in, it may be worth the research and pursuing.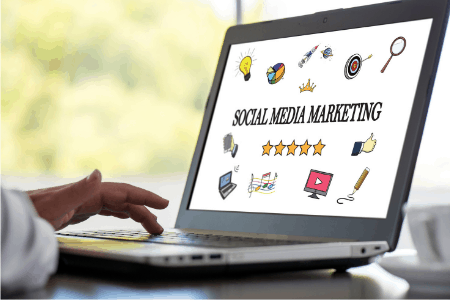 16. Virtual Assistant
A Virtual Assistant (VA) is basically a personal assistant but strictly for online activities. Your job would be to perform online administrative tasks for your employer. This is one of the best online teen jobs!
17. Data Entry Assistant
Similar to the Virtual Assistant, Data Entry Assistants perform a series of online tasks for companies and various businesses. These can be updating payroll information, prices, barcode information, editing online databases, etc. The possibilities are endless and is a good answer when wondering how to make money online as a teen.
18. Sell Stuff Online
Set up an online store or use an existing forum to buy and sell stuff online. The sky is the limit here.
19. Online used bookstore
As you progress through high school you would always be left with your used text books. If you want to be a teen making money online, here's an idea for ya! Instead of allowing them to pile up, sell them off at discounted prices to younger kids. You can even build on this and begin buying and selling used books online.
20. Rewards sites
Sign up with rewards sites to perform various activities online or shop through their resources to earn cash. Sites such as Swagbucks, Rakuten and Top Cash Back are great reward sites. Many of the online survey sites we previously mentioned operate with a rewards concept.

21. Design and sell clothing online
If you are artistic and skilled with a sewing machine, feel free to design and sell clothing online.
You can also invest in a printing press and create unique designs to sell online. Many minor league and youth sports teams or organizations are always on the lookout for cheap, printed uniforms and shirts. This could be a great online opportunity for you.
22. Sell to Consignment Shops
If you have a closet full of clutter and childhood memorabilia that you are finally willing to part with, sell your items to online consignment shops.
23. Flip items
When moving around with your parents, check out flea markets, garage sales, and consignment shops for great deals. You may find hidden gems that just need a bit of polishing or repairing and you can sell them over. Become an online flipper.
24. Sell Homemade Items
If you are artistic or handy in a creative sense, you can sell handmade products online. This can be pottery, paintings, sculptors or even baked goods. Use your imagination. You can sell on your own site, social media account or you can create an Etsy store.
25. Be an online tutor
An increasingly popular online job for teens is becoming an online tutor. Whatever your area of expertise may be, there is someone wanting to learn. Apart from the traditional Math and Science tutorial sessions, there are even international students that would be willing to pay for English tutorials.
FAQ: How can a teenager get a job online?
Remote jobs for teens have become more and more popular in recent years. Companies have lowered their age requirements for several online positions. In addition to taking surveys and selling online, there are now legit online teen jobs such as transcriptionists and proofreaders.
26. Direct Sales
There are many direct sales companies that partner with teens to sell products online. Figure out what product you are interested in; whether it's jewelry, cosmetics, home goods, etc. Team up with the company and become an online agent for them. You would receive a commission.
27. Dropshipping
Dropshipping is the business of shopping online using one online forum and selling it over to a customer, interested in the same product, utilizing another forum. You never stock inventory. If you are desperate for ideas on how to make money online as a teen, dropshipping is worth exploring.
28. Transcriptionist
Transcriptionists get paid to type. They are employed by professional firms to listen to audio files and to convert them to text. These audio files may be live or recorded. In essence, you'd be a professional typist. It doesn't get better than these remote jobs for teens, right?!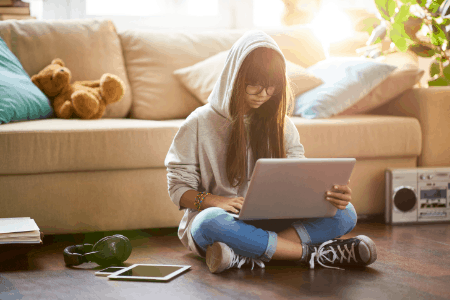 29. Freelance graphics artist
Graphics artists are hired to create unique designs for the purpose of advertising, printing or to be incorporated in general marketing campaigns.
Companies, small businesses or organizations frequently reach out to graphics artists to create letterheads, logos, ads and signs. You may want to use something like Canva to get started.
30. Submit online applications for persons
Never underestimate how bad some persons are at utilizing technology. Persons are willing to pay in order for others to fill out various online application forms for them. If you are looking for online jobs for teens, you can't get easier than this.
31. Rent video games
Take the age old practice of lending video games to friends to a whole new level. Set up an online rental shop for your video games. Even if it's just for kids in your neighborhood or school, this is an extremely easy way to make a few extra bucks online.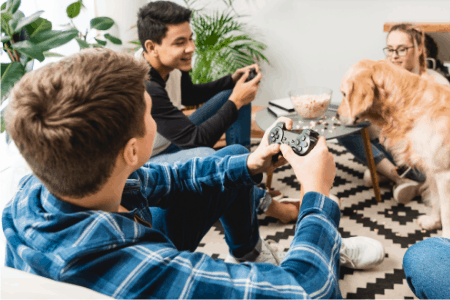 32. Rent sporting goods
Depending on the nature of the sports you are into and your group of friends, you may find an opportunity to rent some sporting goods out. My hubby once told me that growing up he had a bat that his teammates were convinced was lucky and hit the ball the best. His friends paid him to use it. They scored runs and he made money.
If you want to up the game, you can even look into buying and selling sporting goods. Don't be afraid to capitalize on the ever present superstition that exists among sports persons. If your friends believe that a bat, glove, ball, tennis racket or hockey stick is lucky, you are in to make some money.
33. Rent electronics
If you can purchase or already own some decent electronic devices, you can start a small online rental business. Other kids are always willing to rent a TV to binge watch a series for a weekend or music system for a house party. There are several options to explore.
FAQ: How can I make money online as a teen (Under 18)?
Once you do your research and decide on which online job is best for you, you will need a laptop, smartphone or any smart device with internet to get started. Whether you've decided to do surveys, to dabble in GPT sites, start a blog, proofread (or any other online job on this list), you'll just need to dedicate the time to put in the work.
You'll also need your parents' help to set up PayPal or whatever payment method is required. They may need to enter their credit card or bank account info to get you started, but after this is done, it's all up to you to do the work and get paid!
34. Rent tools
Again, be on the lookout at garage sales, consignment stores and any other areas where you may be able to put your hands on some decent hand tools or power tools. You may also already be into working with your hands and already own items such as drills, circular saws, jigsaws, etc.
Many persons performing odd weekend jobs in your neighborhood would be inclined to rent a drill for a day for a few bucks as opposed to buying one. This is a great opportunity for an online rental business. Your customers would need to pick up and drop off.
35. Rent clothes
Everyone has borrowed an article of clothing previously. Whether it was to go to a party or a wedding, we've all done it. Stock a closet full of used trendy clothing and start an online clothing rental business.
36. Rent Party Supplies
If you can afford, purchase a bouncy castle, inflatable slide or dunk tank and start up an online Party Rental shop. Your customers can pick up and drop off the items when they are finished.
37. Be a Disc Jockey (DJ)
We all have that one or two friends that always seem to have the best mix of music. Everyone always goes to those guys for music. That can be you. You can invest time in creating mixes, trendy play lists and sell them off to interested persons.
Remote jobs for Teens: Bonus Ideas
The following are a few additional jobs which do not fully fall into the category of how to make money online as a teen, but are worth mentioning. Definitely, you would need to build your business' reputation and perform all your advertising online but the actual service would have to be done physically in your home.
These are:
– Babysitting
– Petsitting
– Repair person (automotive, small engines, appliances, etc)
There's literally something here for everyone. Regardless of your likes or dislikes, or even how much extra (or how little) time you have on your hands, there's bound to be something on this list you can do to make some extra cash.
This list includes online jobs for 13 year olds, online jobs for 14 year olds, online jobs for 15 year olds, online jobs for 16 year olds, online jobs for 17 year olds, online jobs for 18 year olds… and even for little kids! You get the point!
What I'm trying to say is that it doesn't matter if you think you're too young, or even too old, there will be something here that you can use to make some money!
Say goodbye to being broke!
Related Posts on how to Make Money Online as a Teen
47 Simple Crafts to Make and Sell for Huge Profits
30+ Easy Ways to Make $500 Fast (In Less than a Week)
19 Genius Ways to Make Money Fast Today
21 Legit Ways to Watch Ads for Money
29 Easy Ways to Earn Free PayPal Money Now
Everything you Need to Know about OfferUp vs Letgo
43 Legit Ways for a 13 Year Old to Make Money
Final Thoughts on how to Make Money Online as a Teen
So now you know that there's a world of possibilities out there on the world wide web. And many of these possibilities can make you money.
Are you a teen who is already making money online? Or do you currently have a teen who has tapped into the online world of making money? Share with us in the comments below. I'd love to hear from you!
Liked this post? Pin it for later!
37 Legit Online Jobs for Teens that Pay High in 2022 (How to Make Money Online as a Teen)