Looking for the best freelance proofreading jobs from home this year? I know, I know. There are times when money is tight and we just want to find a way to make some extra cash. We all know that the internet makes this super simple to do these days. There are several different avenues we can take to make extra cash online. But one of the easiest ways for beginners is by landing a proofreading job online! If this sounds like something you'd be good at, check out these best online proofreading jobs (for beginners and the experienced)!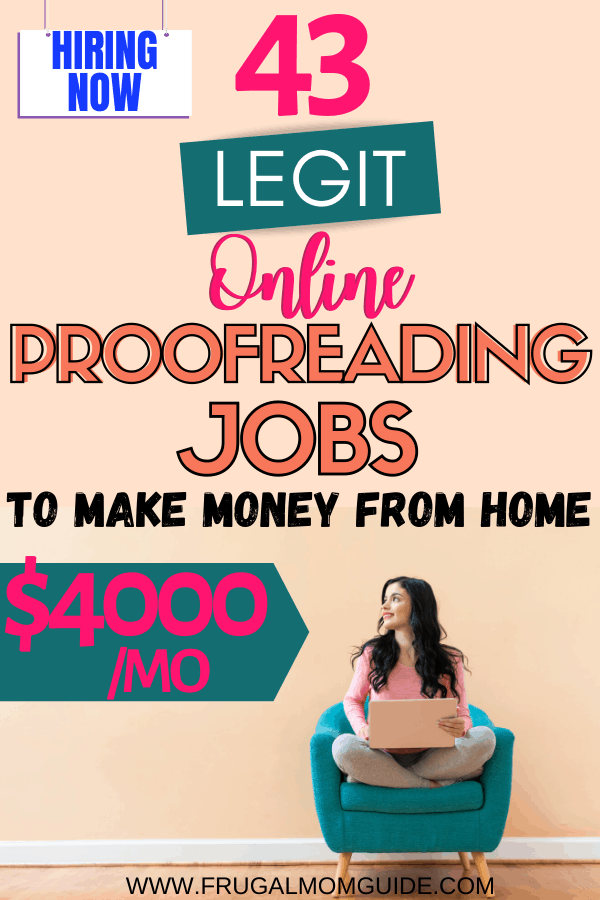 This post may contain some affiliate links. This means that I may make a small commission if you purchase via a qualifying link (at no extra cost to you!) You can read our full disclosure for more info.
Okay. So maybe you're here wanting to make some extra money but didn't even know professional proofreading was even a thing. Maybe you're wondering what exactly is proofreading anyway and why do I get paid for it?
Well, proofreading is when you read and check over a piece of writing for errors. You know when you looked over a text message for your bff before she sent it to her crush/new beau? Well yah… it's something like that! (lol)
Jokes aside though, once you're good as grammar and punctuation, proofreading might be exactly right for you!
Let me clear up any questions you might have before I get to the list of best freelance proofreading jobs from home.
Proofreading VS Editing: What is the difference?
People use the terms 'proofreading' and 'editing' interchangeably but the fact is they are two different jobs. Both require similar skills, however, proofreading is actually the final stage of the revision process.
Editors correct issues and help improve readability and clarity after a first (or second, or third) draft is done. Proofreaders on the other hand, offer a final pair of eyes in the review of the document, looking for any missed surface-level errors.
How do I become a Proofreader online?
So how exactly does one start getting paid to proofread? Well firstly, you must have a good command of the English language (or whatever language you're proofreading of course), an eye for detail (so you can spot errors easily), and good computer skills.
Most likely, you'll be proofreading content for writers before they post on their websites, so you should know how to access content pieces from your email and/or by other electronic means.
Decide what you'd like to proofread. Would you prefer legal documents? How about medical or financial? Check out the list of best freelance proofreading jobs from home below, and choose the one that suits your needs and preferences!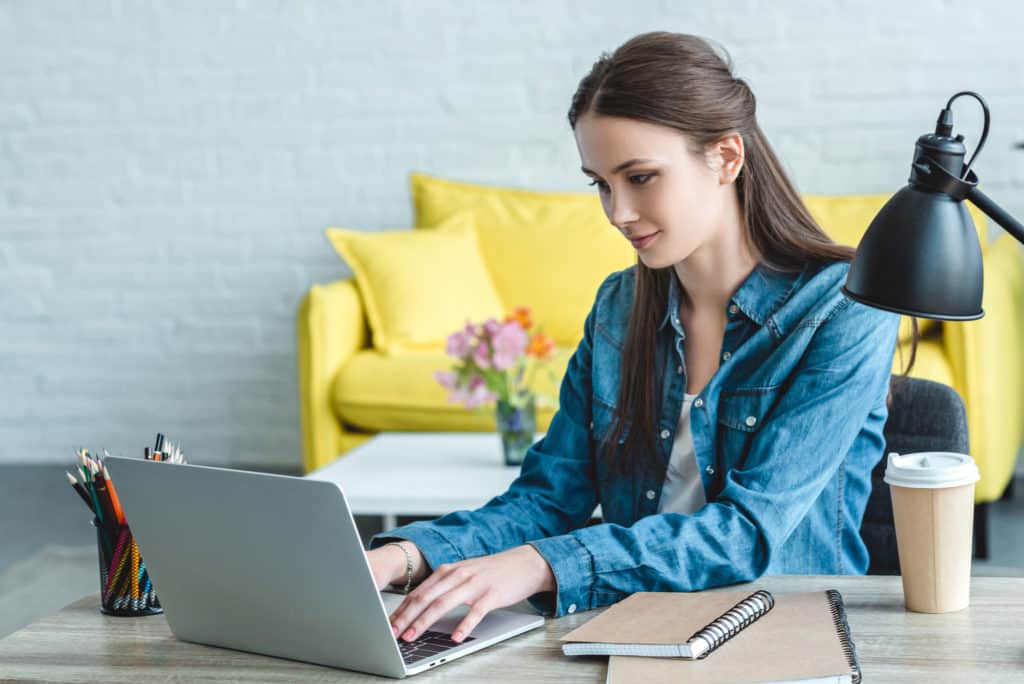 Do you need qualifications to be a proofreader?
You do not need any major qualifications to start as a Proofreader but as mentioned earlier, you must have an excellent command of the language that you are proofreading. You should at least have high school English but other courses such as University/College English, Journalism or Literature will be an asset.
It is important to note that many companies do have strict requirements such as a degree and experience as a proofreader but there are those who give everyone a fair chance to start.
The great thing about being an online proofreader is that you don't need to do all the work on your own. There are free tools (or the paid version, if you prefer) like Grammarly that can do some of the work for you! If you missed an error on your own, Grammarly will definitely catch it for you!
If you have your heart set on landing a high-paying freelance proofreading job from home, you can even take it one step further and get yourself a Proofreading course. This will teach you how to get started, how to market your services and how to find clients as an online Proofreader!
How much do online Proofreaders make?
A Proofreader's paycheck varies from person to person because it depends on several factors, including what type of document you're proofreading. Proofreading court transcripts, for example, can have a higher payout.
Generally Proofreaders can make anywhere from $10 to $45 per hour when you do the calculations. However, professionals can sometimes charge to proofread by the hour with rates as high as $95 per hour!
In fact, according to Glassdoor, the average yearly base pay of a Proofreader is approximately $45 000 but can be as high as $65 000!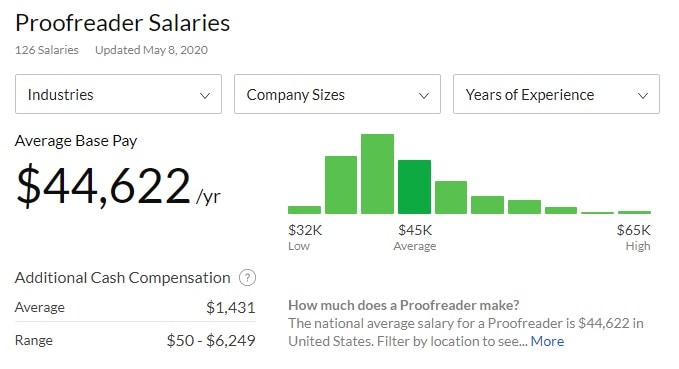 And if you're still not convinced, here's a report from salary.com which also shows how hefty a Proofreader's paycheck can be at the end of the year!
Salary.com states that a Proofreader's average income is approximately $52 000 but can go all the way up to $66 348. Additional bonuses can bump this figure up even higher.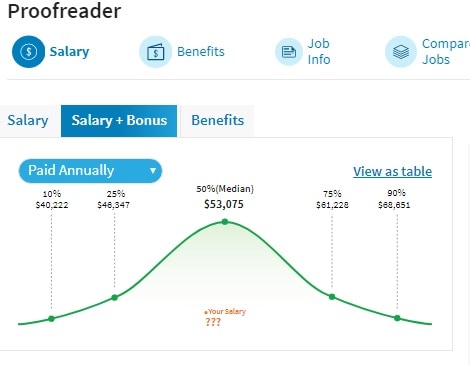 Are Proofreaders in demand?
Yes, yes and yes! Demand for Proofreaders is going up and expected to continue increasing.
If you don't believe me, see for yourself! This article from Recruiter clearly shows the projected increase of Proofreader vacancies in various US states.
Where can I find online proofreading jobs?
Wondering where to find online proofreading jobs? Well you're in the right place! Listed below is a comprehensive list of the best freelance proofreading jobs from home in 2020! Let's get started!
43 Freelance Proofreading Jobs from Home
1. Proofread NOW

Proofread NOW does not always have vacancies but you can check ever so often to see when they are hiring. They require at least 5 years of experience and you must have a reliable internet connection, and up to date software tools like Microsoft Office and Adobe Acrobat Professional.
2. Mulberry Studio

Proofread business, finance, technological, educational, media, and medical documents if you apply to become a proofreader with Mulberry Studio.
3. Managed Editing

Managed Editing from Woodfirm requires a college degree and some experience.
4. Upwork

Browse through several requests for freelance proofreaders on Upwork and choose one that suits your needs (and matches your qualifications).
5. Guru

Guru also provides the opportunity for you to look through postings that request freelance proofreaders.
6. Start your own website


Start your own proofreading services and build your own business. Use social media accounts and create your very own website to up your professional game. Use these to market your services and set up your business for exponential growth.
Not sure how to start your own website? Check out this super simple tutorial with step by step instructions and you can have your site up and running in just minutes!
7. Indeed

Indeed is another site that allows you to browse different online proofreading jobs. You can then choose from the wide variety of options available.
8. FlexJobs

Similarly, FlexJobs also offers the option to browse and choose the best freelance proofreading jobs from home.
9. ZipRecruiter

ZipRecruiter is yet another site that displays a wide variety of proofreading vacancies to choose from.
10. Fiverr

Fiverr allows you to join their community and advertise your services and expertise. People can then contact you from there if they need Proofreaders.
11. Craigslist

Just searching Craigslist can also give you a wide range of options when trying to select the best proofreading jobs for beginners. The great thing is that because proofreading is a remote job, you can search the results for online proofreading jobs in any state and apply.
Choose companies from states with a higher standard of living and offer them a great hourly rate that they can't refuse. They will feel like they're saving money and you can still get paid a pretty penny!
12. LinkedIn
LinkedIn works very much like the other previously mentioned job boards above. You can search through several online proofreading job vacancies and apply.
13. ProofreadingServices.com

ProofreadingServices.com offers both part time and full time remote proofreading jobs. They pay anywhere from $19-$46 per hour.
To apply for a proofreading job on ProofreadingServices.com, you will need to complete a 20 minute preliminary test to determine your English skills. This is timed so ensure that you are not too busy before you get started. You will be contacted if you get a high score.
14. Babbletype

Babbletype doesn't always have vacancies for online proofreading jobs but you can keep checking to see when they become available.
15. American Journal Experts

American Journal Experts pay anywhere from $11 – $25 per hour for proofreaders. They have proofreading jobs in several different fields and subjects.
16. CACTUS

You can browse the list of openings on CACTUS Global to see what is available and if you qualify. Forbes named CACTUS one of the top sites for remote jobs! To start working with them, you will need to complete a preliminary test and if you score high, you will move on to the next round of testing and interviews.
17. Book Editing Associates

Book Editing Associates offers proofreading jobs for individuals who have traditional and self publishing experience. Applicants will have to pass a find-the-errors proofreading test before being considered to join the team. You must be 100% freelance (no day job), have 5+ years of experience and must be based in the U.S.
18. Dotdash

Dotdash was founded in 1996 as About.com and is one of the fastest growing online publishers. It manages many popular sites such as The Balance, The Spruce, Investopedia and ThoughtCo. (just to name a few). As such, they are always looking for proofreaders and also have other remote job vacancies available! Keep checking to see if something you love comes up!
19. Reedsy

Reedsy is a great option for part time online proofreading jobs. It's super simple to list your services on the marketplace and get seen by potential clients.
20. Scribbr

Start working with Scribbr after completing a language quiz, getting your CV reviewed by the Scribbr team, passing another language test and finally completing a few simulation edits in Scribbr Academy. If you are successful at every stage, you will be accepted to the Scribbr team!
21. Polished Paper

Polished Paper also offers online proofreading jobs from home. Just note that you will need to register for a user account, upload your resume and complete a 35-questions test.
22. ProofreadingPal

ProofreadingPal editors and proofreaders typically earn between $500 – $3000 per month. However, to apply for a job as a proofreader with ProofreadingPal, you must have a graduate degree with 5+ years experience OR be currently employed by or enrolled as a graduate/postgraduate student with a minimum GPA of 3.5.
23. Gramlee

Gramlee is always accepting applications from proofreaders. Send you application and they will get back to you if you seem to be a good fit.
The Gramlee application form asks questions like what 'unfair advantage' do you have that makes you the best candidate for the job. Plus you need to answer a little bit about your qualifications.
Beginners can apply but make sure your answers to the open-ended questions count for something!
24. Prompt

Sometimes Prompt has openings for online proofreading jobs. Just keep checking to see when there are vacancies!
25. English Trackers

English Trackers also has vacancies from time to time. Keep checking to see when they are available. English Trackers will give preference to native English speakers, a person with a minimum of two years experience and a PhD holder.
26. Edit 911

Edit 911 hire experienced proofreaders to work from home. Some of their requirements include having a PhD in English (or another related discipline), or the candidate must be a scholar, a teacher and/or book editor with verifiable experience (just to name a few).
Once you meet the requirements, apply by sending your resume and a sample of your writing.
27. Domainite

Domainite also offers great options for freelance proofreading jobs from home. To apply to Domainite for online proofreading jobs, you will need to edit and proofread a piece of sample writing and submit it for review. This gives everyone from beginner to experienced a fair chance at obtaining a job!
28. Net Transcripts

Net Transcripts often has vacancies for proofreaders. Different positions will have different requirements but some that are seen often include:
-Must be U.S. citizen
-English must be your first language
-Must be computer savvy
Anyone can apply for these online proofreading jobs regardless of experience. However, you will be required to complete an assessment process to demonstrate your proofreading skills and your ability to learn their software.
29. Enago

Enago has proofreading jobs in various fields including Medical Sciences, Engineering, Arts, Humanities, Social Sciences and more. Enago requires that candidates have 5+ years of experience and relevant knowledge.
30. Scribe Media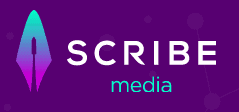 Scribe Media offers both full time and part time vacancies. You can keep checking to see when new jobs pop up, or you can also sign up to receive emails when there are openings!
31. Kibin

Kibin's core mission is to help students become better writers. Their team of editors and proofreaders worldwide focus on helping students take their writing from ordinary to amazing.
If you are hired by Kibin, you may be proofreading student essays, admission essays, research papers etc. Kibin does not always have job openings, but you can keep an eye out for new vacancies.
32. Editor Live

To apply to Editor Live, you must either be currently employed by or enrolled in an accredited university in the US and have a minimum GPA of 3.6, or have a bachelor's degree with at least 5 years of professional experience.
Individuals typically earn an average of $750 to $1800 every two weeks but this will depend on several factors such as the amount of work you actually put in.
Once candidates meet the qualifications and requirements, they can complete the application process, submit their resume and complete the tests (multiple choice exam and two-paragraph practical exam).
33. Scribendi

Scribendi is a great place to find freelance proofreading jobs from home. They do require proofreaders that have a university degree in a relevant field and 3+ years of experience. They also will not consider individuals who reside in certain US states. Check out Scribendi for more info and Apply to Scribendi if you meet the requirements!
34. Edit Fast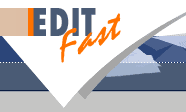 Edit Fast does not have extremely strict requirements like some of the above proofreading companies. However, you must still have a degree from a recognized university, past editing/proofreading experience and a wide variety of reading interests.
35. Wordvice

To land freelance proofreading jobs from home via Wordvice, you will need to have 2+ years of experience and an advanced degree (preferably a master's, doctorate, or equivalent degree), among other requirements. Apply and take their sample editor test. They explain all the details of their application and hiring process on their site.
36. IXL Learning

IXL Learning is an edtech company with products used by 10 million students worldwide. They offer vacancies in several different areas. You can browse through their list of openings and select the proofreader jobs that you see available. They prefer if potential candidates have prior copy editing experience and exceptional attention to detail.
37. Cambridge Proofreading and Editing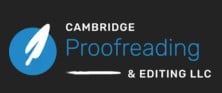 Cambridge Proofreading and Editing offers some of the best freelance proofreading jobs from home. Their minimum requirements include candidates that are native English speakers, who hold at least a bachelor's degree from a well-respected American, British, or English-speaking university, and someone who is able to commit to editing at least 10,000 words per week.
38. Words R U

If you wish to land an online proofreading job with Words R U, you should at least hold a Master's Degree, PhD or equivalent professional experience, have 2+ years of copy editing experience among other requirements.
It is important to note that many of their vacancies are open to candidates from any country. If you meet the requirements, submit your CV and cover letter and wait for a response.
39. Kirkus Media

Kirkus Media sometimes has job vacancies for proofreaders. Just keeping checking to see when they become available.
40. SmartBrief

If you are looking for opportunities for freelance proofreading jobs from home, SmartBrief is a great place to look. They do not always have vacancies for proofreaders but you can keep checking back or you can submit your resume to be kept on file for future opportunities.
41. Wordy

Wordy often offers online proofreading jobs. At the time of the writing of this post, Wordy was updating their platform and had paused editor/proofreader registrations. Feel free to keep checking to see when they open registration again.
42. Writer's Relief

Apply to Writer's Relief for an online proofreading job. The application process is a pretty simple one.
43. OneSpace

OneSpace offers many types of freelancing online jobs. If you want to apply as a proofreader, complete their application form and submit for review.
Helpful Tools for Freelance Proofreading Jobs from Home
Microsoft Word
Laptop
Good Internet Connection
Some companies require more but these are basically all you NEED to get started! Technically you don't need Grammarly, but… HEY! It's Free!
Final Thoughts
Proofreading is a great job for anyone who is trying to make money online. Most companies require some amount of experience, so if you are just starting out, I suggest taking an online course and applying to the companies that give everyone a fair chance.
Remember that you need to have exceptional Grammar skills to be successful in the preliminary tests so if this is not your forte, check out other work from home job options.
Related Reads:
12 Best Transcription Jobs that Hire Beginners to Work from Home
9 Brilliant Work from Home Jobs that Pay up to $100 000 per Year
30+ Legit Ways to Make $500 Fast (in Less than a Week)
How much is a 6 Figure Income (And what you need to do to make it)
21 Easy Ways to Make Money Watching Ads
Have you ever worked as a proofreader? Do you know any other companies that offer freelance proofreading jobs from home? Share with us in the comments below! I'd love to hear from you!
Want to learn more about side hustling, working from home and making money? Follow me on Pinterest! 🙂
Liked this Post? Pin it!