Counter Credit Meaning and Explanation!
Have you ever come across the term "Counter Credit" when reviewing your bank statements? And did it scare the heck out of you for a moment? We've all been there!
Almost everyone has a bank account! Whether or not you understand all the terminology associated with having one, is arguable.
Unless your savings account is located in the Bank of Under your Mattress, you may have seen the term counter credit and it is just one of those expressions that may be confusing to some.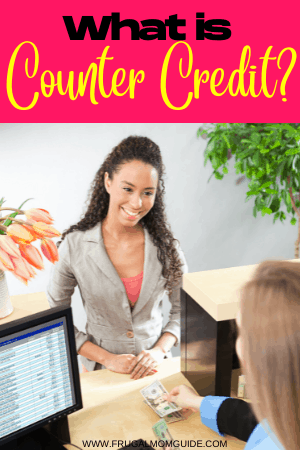 This post may contain affiliate links. This means that we may make a commission if you make a purchase (at no extra cost to you!) via a qualifying link. You can read our full disclosure for more info.
Reviewing a bank statement is already one of the most gut wrenching activities for us frugal people. After all, we pride ourselves on good spending habits, dedication to saving and we side hustle diligently. We just want to review our records and see our money right with nothing to worry about!
Bank statements are the colonoscopy report of financial management!
Dear Mr. Bank, no one wants to do a review and see an unfamiliar or vague term! Can we keep it simple please? What is counter credit and why are you messing with my money?!
Now that I've probably ruined your next statement review, let me assure you that counter credit is nothing to be worried about.
Counter credit is simply a deposit of cash, into your bank account, that was made over the counter.
How was that for an anti-climax? Thank goodness that it's all good! No one was trying to steal your money, there's no back dated charges to your account and no misspending involved. Quite the opposite actually!
What is a Counter Credit in Banking?
There are several ways to get money into your bank account including a host of electronic options, cash or check deposits via the ATM and then there is the counter credit option.
Counter credit is the name given to the old faithful method of lining up at the physical bank branch and giving a teller your money and account number and having them deposit it to your account. To those of you that like face to face, human interactions, this is your time to shine.
The reason why the term counter credit may jump out at you is because it is relatively old school. Electronic bank statements are a modern convenience, utilized by those of us that have embraced technology. The first time it intersects with a manual transaction is bound the set off alarms in your head.
Older persons and persons who just prefer to handle their money traditionally are the ones who typically opt for the counter credit option. Online and electronic banking isn't everyone's cup of tea.

How is a Counter Credit made?
The first step to making a counter credit is to psychologically prepare yourself to leave the house and take on the world and its uncertainties. You're gonna need to intermingle with people. Have a second cup of coffee if you need to.
You have decided to toss convenience at the wind and to grab the bull by the horns as you make your way to the most convenient bank branch location. Once at the bank, grab yourself a deposit slip, fill it out and join the line to meet with a teller.
In some cases, you can just line up and have the teller fill out the deposit slip for you when you get to them. Once at the teller, you simply present the cash and deposit slip. They would then deposit it on your behalf and give you a receipt.
You may be prompted to answer some security questions and to present some form of identification if you cannot remember your account number.
FAQ: What is a counter deposit?
A counter deposit is simply another name for a counter credit transaction. It is the method of depositing money into a bank account over the counter.
You would be required to be physically present in a brick and mortar bank branch and interact with a bank representative to complete the transaction.
What is the difference between credit and counter credit?
Money deposited into your bank account is credit. As long as you or another party transfers funds to your account, it would ultimately be termed credit. Whether you do it over the counter, cash, check, ATM, online or with an app, is beside the point.
All money into your bank account is credit, regardless of the method of deposit!
Counter credit is simply one method of depositing money into a bank account or the term given to the sum of money that was deposited over the counter.
FAQ: How does counter credit differ from a deposit?
Counter credit is simply one form of making a deposit, where you personally go to a physical bank branch and make an over the counter deposit. It is also known as a counter deposit.
The term deposit, when it comes to banking, is an umbrella term that includes: counter credit, ATM deposits, electronic deposits, bank transfers, mobile app deposits of checks and the list goes on.
Can a counter credit be made into someone else's account?
Yes, a counter credit can absolutely be made into someone else's bank account. Someone can even go to a teller and simply give your name and some other secondary confirmation information (your date of birth or address for example) and be able to deposit money into your account via counter credit.
I'm not complaining one bit and I bet you wouldn't either if someone blessed you with some cash like this. As a matter of fact, the first time I saw the term counter credit was when my dad decided to gift me $5K when I graduated from college.
I had just started working and trying to build my life when I saw it on my bank statement. I was absolutely confused because I had just started earning decent income and really had no idea of how much money was in my account at the middle of the month.
Naturally, when I saw it my scammy senses started tingling. I could have sworn I got robbed. Thankfully my dad called just before I made what would have been an awkward call to my bank. God bless his boomer heart!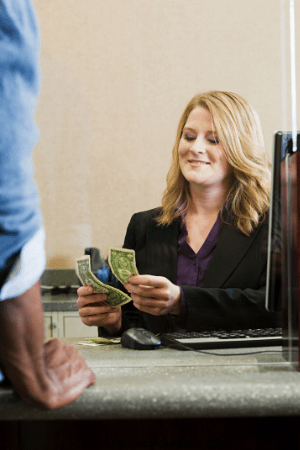 Can you use a counter credit?
Being able to use a counter credit is a very common point of confusion that persons new to the term have. Let's answer it covering both ways that the question can be interpreted. Counter credit, the noun and counter credit as a verb.
Can you use a counter credit to deposit money? As in…can you still use the method of depositing money over the counter to deposit cash today? This is the verb and the answer is yes.
Millions of persons still use the counter credit method to deposit money every day. Well…every bank day. Those bankers sure do have some sweet work hours.
Since we're on the topic of boomers, the counter credit method of depositing cash seems to be a big hit with that generation. We can't judge them too harshly because that's what they grew up with. It's their comfort zone.
Counter credit as a deposit method is widely used by older folk and those that just refuse to adapt to modern technology. Similarly, younger persons who aren't really into the techy stuff also opt to use counter credit.
Legend has it, even Fred Flintstone hated to line up in at the Bank of Bedrock to deposit his money. But, to each his own.
The other interpretation of the question (the noun) would basically translate to be…can you spend a counter credit? Essentially, do you have access to the funds after a counter credit is made. Luckily for you, the answer is also YES.
Depending on your bank or financial institution and their policies, you may have to wait a few hours or even a few days for the cash to become accessible in your account. For checks, you'd definitely have some amount of waiting. Cash deposits are usually available immediately or very shortly after leaving the counter.
FAQ: What does counter credit BGC mean?
BGC means Bank GIRO Credit. This is a term that may appear on your bank statement and also refers to money deposited via cash or check, over the counter. Whether you see "counter credit" or BGC depends on your country and banking institution.
Additionally, GIRO means General Interbank Recurring Order and is the name of an electronic payment service which allows you to transfer funds from one bank account to another.
How long does counter credit take to clear?
There are several factors that affect how long a counter credit takes to clear and for it to actually become active.
1. Your bank or financial institution. The bottom line is that some banks are just more efficient than others and processing times vary. Their general policies would either speed up or delay processing. Typically, banks take between a few hours or up to 5 days to clear a counter deposit.
5 days may sound like a lot to some of you but I need to include this. Some people choose to bank with some shady, super basic financial institutions just to capitalize on decent rates and the ease at which they approve personal loans.
Many counter deposits even become active immediately. It all depends on your financial institution. Actually, many persons prefer counter deposits just for the option of having the funds available immediately.
2. Time of day. Generally, you stand a better chance of a counter credit clearing the same day or the next day, if it is deposited during the morning period of a given day.
3. Day of the week. Bankers have it made and very rarely work on a holiday or weekend. At least, not to clear deposits for us common folk. If you make an over the counter deposit on a Friday or the day before a holiday, just sit and wait for at least the next official work day to see your cash active.
4. Cash or check. Cash clears faster, no two ways about it. As a matter of fact, cash usually becomes active right away.
Depending on if a check is personal or comes from a large institution like a government issued check, the clearance time would vary. Personal checks would take a few working days to clear.
Government issued checks can be cleared within minutes or hours.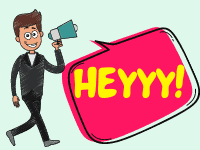 WANT TO MAKE SOME EXTRA CASH?
• Survey Junkie
Complete online tasks for cash or gift cards + Get a $10 sign up bonus
• Swagbucks
Complete online tasks for cash or gift cards + Get a $10 sign up bonus
• Reward Survey
Complete online tasks for cash or gift cards + Grab a $30 sign up bonus
• My Points
Complete online tasks for cash or gift cards + Get a $10 sign up bonus
• InboxDollars
Complete online tasks for cash or gift cards + Get a $5 sign up bonus
Pros and Cons of Counter Credit
Counter Credit Pros
1. Counter credit is more reliable
The main advantage of using counter credit is that you see your money deposited and you immediately receive a receipt confirming that the transaction was successful.
Before we continue, let's examine the things we've learnt over the years from Arnold Schwarzenegger. Yes…the bodybuilder, terminator dude.
1. You can achieve anything through hard work, dedication…and…maybe some steroids.
2. Your dirty secrets will come out eventually…so stay faithful.
3. Absolutely anyone can succeed in politics.
4. Never trust a machine!
There's just something comforting by a friendly face handling your money in front of you, reviewing details of your account and presenting you with a confirmation that all went well. This definitely beats the uncertainty of an ATM deposit.
Hollywood has definitely done a great job of making us super paranoid when it comes to trusting machines. They may not be trying to kill us but you never know if one might try to swindle you out of a couple hundred bucks. Hmmm.
I'm just kidding. No need to go all conspiracy theory and start making aluminum foil hats. Hahaha!
The truth is that you may have coins to deposit or crumpled bills that are just no good for an ATM. It's just too risky and a malfunction or miscount is a real possibility.
Furthermore, card skimming and ATM scams are becoming ever more prevalent so the process has become riskier in the recent past.
However, the machines and electronic services are there to help us and make our life easier. They are also extremely reliable. However, if this isn't your thing or you're packing some old crumpled dough and coins, that's fine. Go ahead and queue up for that counter credit action.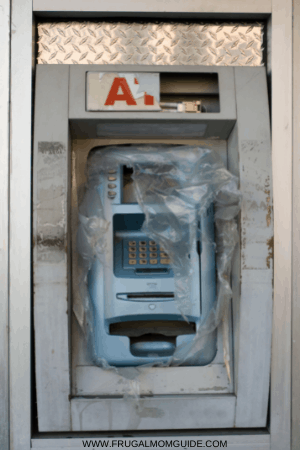 2. The personal touch
Nothing beats a friendly face and the overall experience of depositing cash face to face can be somewhat comforting.
If you are lucky enough to have a pleasant teller, you know the ones who probably graduated from the Chick-fil-A school of customer service, you're about to start your day off right! You'd be smiling and laughing for the rest of the day knowing that your cash is secure.
3. Faster clearance time
A big benefit of depositing cash via a counter deposit is that it is genuinely quicker to clear as compared to the ATM. Many times, the money becomes available instantly or within an hour or two.
This is especially important if you were paid in cash for some goods or services but you need to complete transactions electronically afterwards. By spending a half hour in a line, you may shave days off waiting for your money to be ready to use.
A counter deposit may just be worth the time in line.
4. ATMs are not as safe as bank buildings
We touched on electronic skimmers at the machines and ATM malfunctions. However, handling cash at an ATM can be very unsafe. Muggers often linger around ATMs and handling your deposit can put you at risk for robbery.
Bank branches on the other hand are typically outfitted with reliable security and are very much safer when compared to ATM vestibules.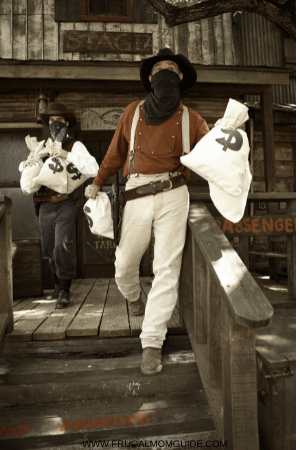 5. ATMs are complicated for depositing large sums of cash
Usually, there is a limit per cash transaction at an ATM. The number of bills the machine accepts per transaction varies by bank and country. Therefore, if you have a large sum of cash this can be very complicated.
It is extremely cumbersome to deposit a large sum of cash in ten different transactions. Just go to the bank and do a counter credit!
6. ATMs can be uncomfortable and crowded
Many times the experience at an ATM to deposit cash can be an uncomfortable one. There is nothing worse than trying to count and deposit some money with a dozen people lined up behind you, breathing down your neck and sighing at every button you press.
Save yourself the irritation and go do a counter deposit. Most banks have a line or barrier that gives persons at the teller some degree of privacy or space from the other persons in the line. This is a luxury that may just be worth the time in the line as it just does not exist at an ATM.
7. It is possible to counter credit even if the bank system is down
You've fought your way through traffic, found a park, ran across the parking lot in pouring rain and got to the ATM only to see that the machine is down or doesn't accept deposits. How annoying!
Even if there is a communication outage and the bank system is offline, a teller will accept your cash or checks. It would just be processed when the system is up and running again. However, you would still receive a receipt for your transaction.
8. Errors can be corrected instantly
Before finalizing your counter deposit, you would be asked to review the details. If anything is incorrect, you can rectify it on the spot. Errors in an electronic transaction can cause serious issues and take weeks to correct.
If you have a tendency to "fat finger" when typing, maybe you should see your nearest bank branch and choose the option to counter credit.
Counter Credit Cons
1. Time consuming
A typical counter deposit can take anywhere between three and three hundred minutes. Yup…5 hours to make a deposit. Counter credit isn't for the busy or emotionally unstable.
As a matter of fact, on a Friday or month's end you can expect to even stay all day in line. Clear your schedule and pack a snack 'cause you're gonna be there from morning to late evening.
Remember, with the presence of online banking and additional services, most persons that need to utilize counter credit genuinely need to do so. Their transactions are often time consuming as tellers need to count money, withdraw, deposit and sort large sums of cash.
When you decide to go counter credit, you are willingly standing behind the guy with the business who was just paid a zillion dollars in small bills and the granny who just popped open her five-gallon bucket of nickels and plans to cash in. Yea…those people.
They simply can't use the other services to deposit money. Of course, in the line there would also be the average Mr. Joe Boomer and his paranoid friends who simply want to see their $500 get to where it needs to be, safely.
Get ready to wait because you'd be there a while.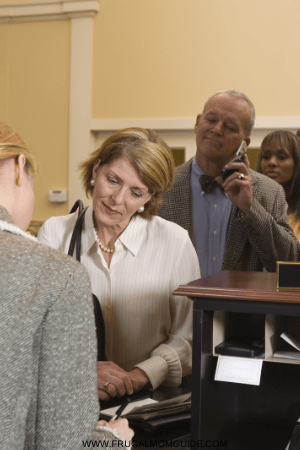 2. Banks get crowded
Unless you're a musician in a concert or a politician in a rally, nobody likes a crowd. Crowds are stifled, smelly and a haven for communicable diseases.
Depending on the time of day / week / month, banks can get very crowded as the lines stack up. Save yourself from catching a cold and skip the counter credit, unless you absolutely need to.
3. Uncomfortable personal interactions
I touched on the nice side of personal interaction as an advantage to counter credit. However, this can turn to quite the opposite more often than not.
As a teller, it's their job to be professional but they are only human. Think about it, a long day dealing with cranky persons in a crowded atmosphere. They're exhausted and hungry. At 4pm on Friday 30th, you're dealing with a time bomb. Unfortunately, a scuff or rolled eye is inevitable.
Not to mention, in a crowded bank you are forced to interact with line cutters, selfish people, crying babies and maybe pets that aren't trained or groomed very well. You are genuinely at the mercy of the world!
A confined space with a crowd of pissed off people and stinky pets…no thanks!
4. Inconvenient
There is no two ways about it, counter deposits are down right inconvenient. In this day and age where electronic banking options and cash wiring services are common, counter deposits should be extremely rare. If you have to leave your home to transfer money, in these times, that's too much.
With apps like PayPal, Cash App, Venmo, Payoneer, ACH (Automated Clearing House), Zelle and Mobile Transfers or Direct Deposits, you should never have to use counter credit. However, as prehistoric and inconvenient as it may be, counter credit is still very much part of conducting business in the 21st century.
Counter Depositing Checks and Cash vs ATM Deposits
We all should have a firm grasp by now with regards to the process of completing a counter deposit or counter credit. Just to recap, you are required to go to your most convenient bank branch, stand in line to see a teller and present them with your cash for depositing.
Depending on the policies of your bank you may be required to fill out and sign a deposit slip when presenting the cash to the teller. Or they may fill out and submit on your behalf. The same procedure for depositing checks apply. The only difference is that it is advisable to sign on the back of the check as a form of validation on your end.
As we covered earlier, the time that it takes for cash or a check to clear when deposited over the counter depends on your bank. Cash deposits are usually ready in your account immediately or within hours when you use counter credit. Checks all depend on the financial institution and can vary from immediate availability to clearance after a few days.
Using an ATM for deposits would always result in longer clearance times for both cash and checks. You should prepare yourself for at least 24 hours of wait time for an ATM deposit to be processed. If you are lucky, the process would be sooner.
Depending on the time of day, week, month and several other calendar related factors you can be waiting several days for your funds to clear. Again, personal checks also have a longer processing time than company or government checks.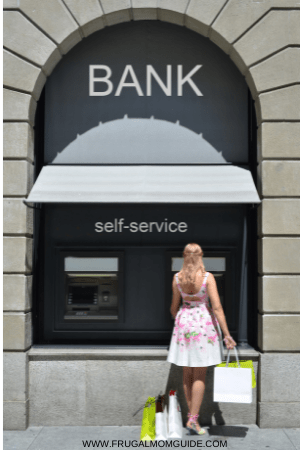 Counter Depositing Checks and Cash vs Mobile Apps
Physical cash can either be deposited via ATM, bank deposit box, professional courier service or counter deposit. Checks can be deposited with those methods also. However, in recent times, mobile banking has become even more convenient and checks can be deposited remotely via banking apps.
(Pause for the applause from the couch potatoes and introverts).
You would be required to sign the check for validation, snap clear pictures of the front and back and upload to your banking app. This should do the trick. Again, you'd need to wait for the bank to process the deposit just like any other check deposit.
One point to note, for the sake of being thorough, is that many banks throughout the world still don't offer this option. If you know you bank with a hole in the wall institution, that's barely one step up from a piggy bank, you may not get this option.
Also, there are usually limits set to the amount and value of remote deposits you can perform via mobile app. This is simply set up for fraud control and prevention.
FAQ: What is Bank of America Counter Credit?
A Bank of America counter credit has the same meaning as for any other financial institution where the phrase "counter credit" is used. It is a deposit made over the counter.
Remember a counter credit to your account can be performed by someone else. Therefore, if funds are shown as counter credit on your statement and you did not do the deposit, don't be too alarmed.
Other Common Bank Abbreviations
We all hate reviewing important documents and meeting terms or abbreviations that we are unfamiliar with. It's downright frustrating at times, especially when dealing with something we're passionate about or genuinely fighting for, like saving money or frugal living.
For the non bankers and accounting duds among us, here's some common abbreviations used by banks that should assist you while striving for financial savviness:
BP – Bill payment
DD or DDR – Direct Debit
CHG – Charge applied to your account
TFR – Transfer of money between bank accounts
SO – Standing Order
OTR – Online Transaction
NSF – Nonsufficient Funds
APR – Annual Percentage Rate applied for service charges like your credit card balance. Basically the interest rate over one year.
APY – Annual Percentage Yield or money that you earned by interest in your account.
Related Posts on Counter Credit
29 Simple Ways to Get Free PayPal Money Instantly (No Surveys)
Survey Junkie Hack: Make Money from Surveys (21 Tried & True Tips)
37 Legit Online Jobs for Teens that Pay High
Final Thoughts on What is Counter Credit
You now know what the term counter credit means and all the pros and cons associated with this form of depositing money. You can now decide whether or not it is right for you.
There are obviously occasions when you may have no other choice but to line up for a counter deposit. These should be rare occurrences. After all, how often does one have their hands on a pile of crumpled cash or a bucket of coins anymore?
However, let's give the benefit of the doubt to the school bake sale presidents and church collection officials among us. You guys have no choice.
If you love and trust the old faithful method of counter deposits or simply have no choice, I wish you nothing but the best on your future transactions. May your lines be short and your tummy never rumble!
Don't forget to follow us on Pinterest, Instagram and Facebook for more money chit chats, frugal living tips and side hustle inspiration!
Liked this post? Pin it!
What is Counter Credit?