Is Survey Junkie safe? Is Survey Junkie legit? Here's a Survey Junkie Hack to Make Money.
Millions of people around the world make money online each and every day. And hundreds of thousands of them make this money doing surveys. Yes, surveys!
Perhaps you've heard of some of these survey sites but you still have your doubts. Maybe you've even heard of Survey Junkie before, but you have legitimate concerns – and rightfully so.
Is Survey Junkie safe? Is Survey Junkie legit? Is Survey Junkie worth it? Do they pay well?
Well don't worry, I have answers to all these burning questions!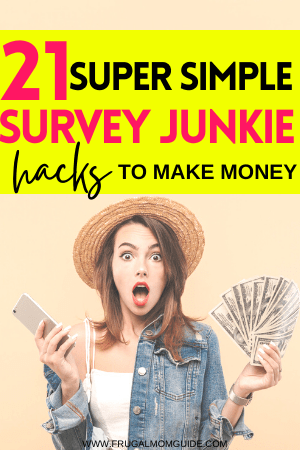 This post may contain affiliate links. This means that we may make a commission if you make a purchase via a qualifying link (at no extra cost to you!). You can read our full disclosure for more info.
Surveys are easy to do and they give you the option and flexibility of making money from home (or anywhere you choose, really!).
According to a FlexJobs study, 4.7 million people were working remotely in 2017 and I'm pretty sure that number has skyrocketed since then! If you want to join in on the ever-growing "work from home" squad, completing surveys online may be a good way to test the waters.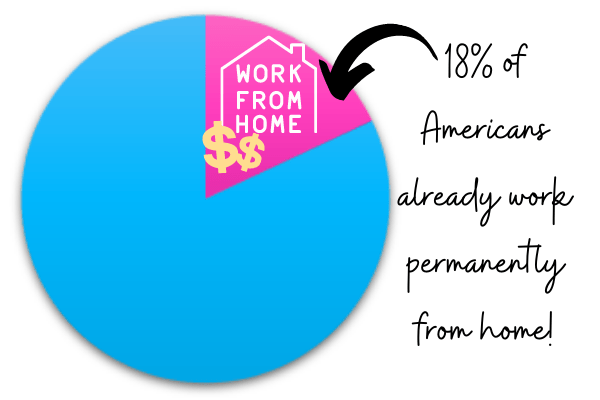 What is Survey Junkie?
Survey Junkie is an online survey reward platform. You join for free and you get rewarded for sharing your opinions and behaviors. The more you participate, the more points you earn. The more points you earn, the more you get paid!
How does Survey Junkie work?
Every day hundreds of brands partner with DISQO (owner of Survey Junkie), to obtain consumer insights. These brands are willing to spend money to get data and info from real people (like you and I) so that they can launch new in-demand products, improve previous goods etc.
This is where the surveys come in. All you have to do is answer simple questions about merchandise such as your personal experience with the product, your thoughts on the quality, and how you use the items, and you'll get paid. Simple right?
You also have the option to automatically share your digital browsing behaviors in exchange for bonus rewards and exclusive perks.
Is Survey Junkie safe?
This is a question that is asked ALL the time! Is Survey Junkie safe? The answer is yes, yes, yes!
Survey Junkie is 100% safe and legitimate. You get paid real cash in exchange for completing surveys and millions of people around the world can vouch for this.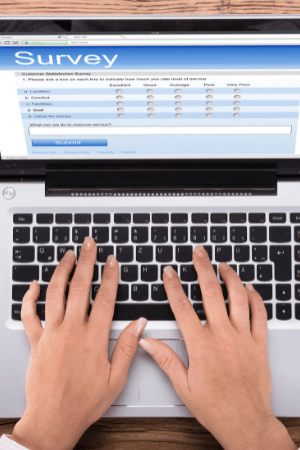 The Best Survey Junkie Hack
Let's get to the point though. The real reason why you're here is to get the details on the best Survey Junkie hack, right? You're wondering how you can make more money completing surveys.
Well quite honestly, my best Survey Junkie Hack is using a combo of techniques to increase those earnings. A combination of these tips will see your Survey Junkie income skyrocket! All of these tips are listed below.
Getting Started with Survey Junkie
To get started making money from surveys, you'll need to set up a PayPal account if you don't already have one. This is a must if you want to get paid. You can always choose to receive gift cards instead of cash, but let's face it – cash is king, right?
If for some reason, setting up a PayPal account is impossible for you, you can choose to rack up some gift cards and then learn how to convert these gift cards to cash.
Also, if you haven't already created a Survey Junkie account, sign up now.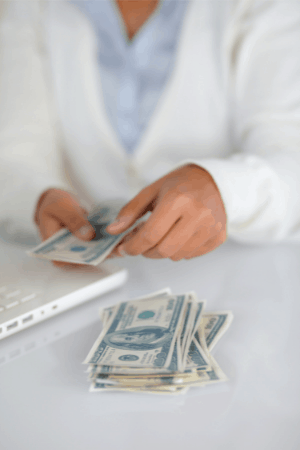 Now that you have everything to get started, let's move on to the Survey Junkie hacks to get you more points and more money!
Survey Junkie Hack: Make Money with Surveys (21 Tried & True Tips)
1. Have a Plan & Set Realistic Goals
I know. I know. This might not seem like a "hack" but it needed to be said. Before you embark on any successful journey, you must first start with a plan.
A plan is like a roadmap for success. Having a proper one instantly multiplies your chances for a positive outcome.
Your plan and goals should align. Needless to say, you can't set a goal of making $350 a month from surveys with only 15 minutes a day of working on them.
On that note, ensure that your plan covers how much you'd like to earn, how many hours you're committing to working on surveys, and jot down what you'd like your schedule to look like.
Take into consideration everything that you already have going on in your life – your family, your 9 to 5, your other side hustles etc. This will help you set a reasonable plan and goals.
This brings me to my other point.
2. Set Reasonable Expectations
Just like you need to set reasonable goals, you also need to set reasonable expectations. Let me set the record straight that nobody ever got rich from just doing surveys. And chances are that you wouldn't either.
So don't expect that completing surveys will pay all the bills or fund a trip to the Caribbean.
What it can do however, is make you an extra few hundreds. I'm pretty sure that this little wiggle room in your budget will be hugely appreciated, right?
If you DO want to get rich from surveys, consider this Survey Junkie hack, and invest your payout instead of spending it. If you're not sure how to get started investing, check out Acorns.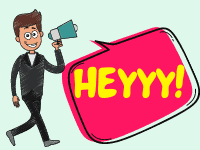 Want to invest in your future, save for retirement and grow your financial knowledge?
Join 9.5 million people who have used Acorns to help their money grow! You can make your first investment with as little as $5!
3. Create a New & Dedicated Email Address for Survey Junkie
If you've committed to making some side cash by completing surveys, it's a good idea to set up a new email address that is strictly for this venture.
This will ensure that promo emails from survey sites will not clutter your personal inbox, and vice versa.
It will also prevent you from missing new job openings that may be time sensitive. Lost opportunities means less money in your pocket.
Having a dedicated email address will also help you keep all your survey-related tasks organized – which will lead to a more efficient YOU.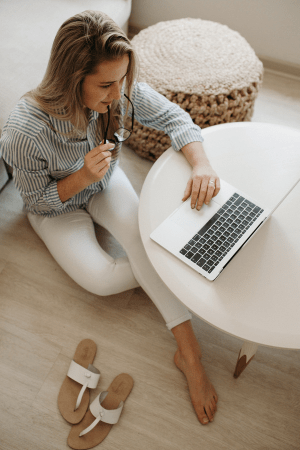 4. Check your Emails Often to not Miss Opportunities
Don't just set up your new email address and leave it sitting there. If you want to make more money, you'll need to keep checking for new openings!
If you don't want to be compulsive about checking, set up a reliable notification sound so that you can be alerted every time you receive an email. This way you can immediately jump on any opportunity that is worthwhile!
Also, ensure that the emails from survey companies are whitelisted so that they never get marked as spam and don't get lost in your junk folder.
Obviously the more you do, the more you get paid. How's that for a Survey Junkie hack?
5. Accept Suitable Offers Right Away
It may come as no surprise to you but the best offers are always grabbed up fast. This means that if you want to maximize your Survey Junkie earnings, you'll need to be quick on the ball!
As soon as you get that high-paying offer in your inbox, you will need to jump on it immediately.
6. Complete your Profile Fully & Accurately
Profile info is what is used to assign surveys to different people – or pass them over. You'll want to ensure that you complete your profile accurately so that you receive the BEST surveys and offers for YOU.
You can choose to list your education background, employment history, your location, gender, age, ethnic background, hobbies and interests. The more info you add, the more opportunities may be presented to you. Just remember to be honest and provide accurate information!
Note that lying in your profile just to get more work and opportunities can get you banned from certain sites – this is a HUGH NO-NO! Many companies even have processes and systems set up to detect when users are lying and then ban them from the site.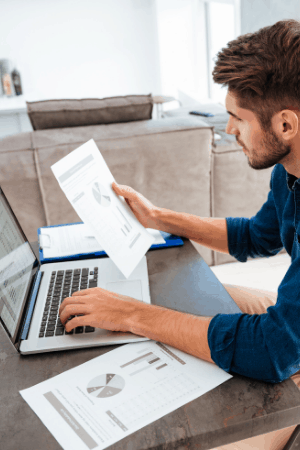 7. Use your Time Wisely
It's easy to get carried away searching for new opportunities. Eventually you may realize that you're spending more time searching than actually completing the surveys.
Think about this. If you look for new tasks every half hour and you take 2 minutes to scroll through the list, it means that you've spent at least 32 minutes of your day just searching for opportunities (using an 8-hour work day).
For a 5-day week, this adds up to 2 hours 30 mins. And for the month, this totals to 10 hours. Yes, TEN HOURS.
I can think of a million better ways to spend 10 hours of my time. No doubt, this 10 hours would be better spent actually doing surveys and making the money.
Of course you do need to search to find the best surveys, but consider spending less time on searching. Decide quickly on whether or not a survey is worth your time, and check back for new opportunities once per hour instead of twice.
You can also save time by using form fillers when possible. You can use the Google toolbar auto form filler or a tool like RoboForm to autofill info each time you need to apply for an offer. It will help you cut down on time wasted.
Learn to use your time wisely. This Survey Junkie hack will make you more money than you'd think!
8. Consider using other Survey Sites also
If you truly want to make a significant amount of money from completing surveys, you can open yourself up to even more opportunities by signing up for other surveys sites also. Aside from Survey Junkie, there are tons of other legitimate survey sites that offer comparable rewards.
And each site has a list with hundreds of different companies offering paid surveys. Signing up with other paid survey networks will assure that you have many survey opportunities.
If this is something you might be interested in, feel free to check out the following reward survey sites to up your earning potential:
9. Know the Companies
Knowing the survey providers and how they operate will put you ten steps ahead of other "lazier" and "disorganized" participants. Getting an idea of how the companies operate will give you a better chance of getting the first grabs for new opportunities.
For example, some companies send their new opportunities via email (remember to set alerts to receive these immediately!). However, others require you to visit their sites to apply. Take some time to understand which of the survey providers are your highest-paying and take note of whether they come to you or if you need to go to them.
Also, it's a good idea to get familiar with the times that they post their new opportunities, whether it be mornings, lunchtime or evenings. This will help you be better prepared, prevent you from missing new surveys and help you to maximize your earnings!
10. Be Organized
As you learn more about each company, add their names to a spreadsheet or printable and keep track of what you know about each.
You'll want to take note of information such as the types of surveys from each company, their rates, how they post new opportunities (email/on the site) and the time of day that they post, how to apply, the dates that they pay, your login details and you can even rate them based on your personal experience.
You can also add survey companies that you desire to work with in the future. Having all this information in one space and being able to track it can really help you up your game, which will help you increase your earning potential!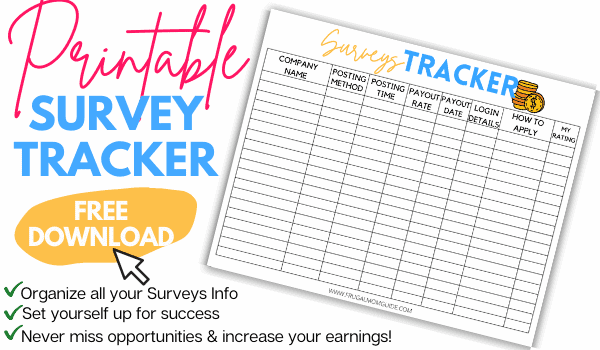 11. Be Consistent
To maximize your earnings, you have to be consistent! If you want to make a significant amount at the end of the month, you'll have to put in the hours every single day.
Don't be surprised to see $3 in your account if you give surveys a try every two weeks.
Being consistent is key when it comes to making money from surveys!
12. Use Forums to Learn the Tricks of the Trade
There are many forums that you can visit to get more information from thousands of people who are already successful in this biz. They've "been there and done that" and they are willing to share their wealth of knowledge for free. You should surely take them up on this!
Forums like Survey Police Forum, Trendri, Free Paid Surveys Forum and the r/SurveySites subreddit all have a ton of information that provide regular updates on the best high-paying surveys to look out for, the best times to look for surveys, the best Survey Junkie hacks, how to deal with taxes and more!
13. Be Honest
When answering surveys, be honest! Remember that companies are relying on you to provide them with accurate market research. In fact, they are PAYING you for honest answers.
Also, don't be shady and try to answer the same survey via two different survey sites. You will be caught, flagged and your work will be rejected. You may also be banned which will put a huge dent in your earning potential. Don't double dip. You'll regret it.
14. Take Advantage of Easy Points
Is there a Survey Junkie hack that earns you points easily? YES!
There are several simple ways to earn more points and you should definitely take full advantage of these! Seriously, you're leaving cash on the table if you don't.
You can easily earn points just by:
• SIGNING UP – 25 points
• COMPLETING YOUR PROFILE – 50 points
Here you'll be asked 16 simple questions like the types of pets you own, your living situation (e.g. renting/living in your own home), your marital status, your ethnicity, if you speak Spanish, your highest level of education etc.
It just takes a few minutes to complete and is so worth the bonus points. Remember to be honest!
• TAKING A TOUR OF "HOW IT WORKS" – 5 points
Here you'll be introduced to the Survey Junkie platform. The tour explains how to earn points and shows you how to check your history.
• COMPLETING THE SURVEY TUTORIAL – 5 points
The survey tutorial familiarizes you with the survey-taking experience, plus gives you bonus points!
• ADDING THE DESKTOP APP – 150 points
Add the Pulse App to get access to exclusive rewards. This is discussed more in detail in #15 below but note that you'll get 150 bonus points just for adding the app. Also, you will get 50 additional bonus points every single month for the next 12 months, after joining. That's a total of 750 points in your first year!
• VERIFYING YOUR EMAIL – 25 points
After signing up, you'll get an email from Survey Junkie asking you to confirm your email address. You'll get a 25-point bonus just for confirming!
• COMPLETING PROFILE SURVEYS – 10 points each
Profile surveys include a Technology Profile, Shopping Profile, Health Profile, Household Profile, Interests Profile etc. You'll answer simple questions based on the technology you own, your shopping habits or your health habits, depending on which topic you're covering. Each survey takes about 1 to 2 minutes to complete and they'll help you rack up some easy points!
Note that, not only will you get extra points for completing profile surveys, but doing this will also give you access to even MORE HIGHER PAYING SURVEYS!
The idea is that your profile becomes more personalized and the extra data makes you eligible for many more survey opportunities. This is a Survey Junkie hack that is a must!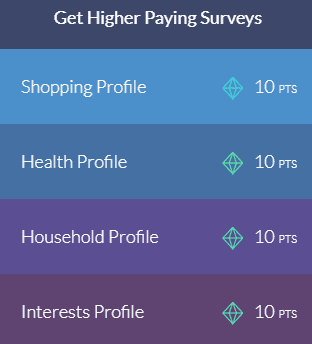 15. Add the Survey Junkie Pulse App
You can maximize your rewards and earnings by adding the Pulse app. Pulse requires you to share your web browsing activity such as your online shopping patterns and apps that you use to give brands insight to the habits of real people. They can then use this to improve their products and services.
By adding the Pulse desktop app or extension, you will have access to exclusive rewards, plus you'll get access to MORE surveys where you're guaranteed to qualify! When you see the "Pulse" icon next to a survey, it means that you are 100% guaranteed to qualify for that survey, as a Pulse user.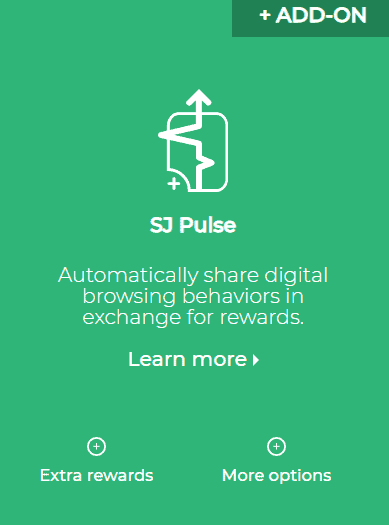 16. Use One Account Only
As the money comes rolling in, you may be tempted to create a second profile or email address. But again I urge you, DO NOT DOUBLE DIP. Just like I mentioned earlier that you shouldn't do the same survey twice, you should also stay away from creating more that one account to cheat the system.
You will be found out and both accounts will be banned. Then what happens? You have no chance of earning from surveys anymore!
17. Join the Survey Junkie Affiliate Program
Did you think that making money from Survey Junkie is just limited to completing surveys? Well I've got some news for you!
Survey Junkie also has an affiliate program that you can join to make even more money every month! It's as simple as just signing up, getting a referral code (or a specific link that is unique to you) and spreading the good news of how simple it is to make money from surveys!
Once your friends and family sign up through your link, Survey Junkie will pay you cash. It's not A LOT – maybe $1 to $2 per signup but this can easily add up in the end.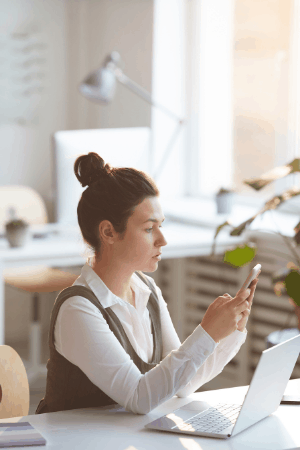 18. Take Advantage of Product Testing
Did you know that you can earn even MORE money (up to $50!) on Survey Junkie by choosing to be a product tester?
As a product tester, you will receive free products and will be paid to provide your personal opinion and experience based on your first-hand experience.
Soon after signing up with Survey Junkie, you will be given the opportunity to state whether you're interested in this market research option. This can seriously increase your earning potential!
19. Take Advantage of Research Activity
If you state that you're interested in participating in research activity, you will open yourself up to be paid up to $100 per research session!
All you'll have to do is make yourself available for an online group meeting, at a set time, where you'll need to share your opinions about a product or service.
20. Take Advantage of Focus Groups
Survey Junkie also offers the option for you to participate in in-person focus groups. These focus groups are quite similar to the online meetings mentioned above.
With the potential to earn up to $150 per session, participating in focus groups can increase your earnings significantly!
21. Take Advantage of Phone Surveys
Believe it or not, you can get paid up to $100 to complete a phone survey. As the name suggests, this is simply a phone interview where you will answer questions about a particular product or service.
This Survey Junkie hack will further increase your earning potential!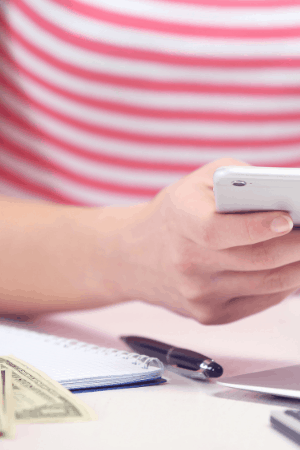 BONUS TIP: To improve your success, start with surveys at the top of the page. I have not tested this personally but this hack comes directly from Survey Junkie themselves!
Additional Survey Junkie Hack Info that May be Worth Your While
FAQ: Does Survey Junkie actually pay you?
Yes, of course! Survey Junkie actually pays you cash money for your work. This is sent via PayPal or via a bank transfer if you live in the US.
You may also choose to accept payment in the form of gift cards from many popular retail stores.
How do you get paid?
Survey Junkie has several methods of payment. As previously mentioned, you can choose to receive cash via PayPal or via a bank transfer if you're in the US. Or you can choose to accept payment in the form of gift cards.
FAQ: Do surveys really pay $350?
Surveys can pay $350 if you work towards this goal. You will need to use a combination of all the tips and hacks mentioned in this post but it is so very possible! In fact, below, I use an example to illustrate exactly how someone can make $720/month from completing surveys.
How much can you earn on Survey Junkie?
You can earn as little or as much as you put in. Generally each completed survey will pay you anywhere from $1 to $4 (Note that Survey Junkie boasts that you can make up to $45 per survey!) A survey takes an average of 10 minutes to complete, so the more you complete, the more money you'll make.
If you want access to more surveys, refer back to Survey Junkie hack #5 on the list above. Ensure that you complete your profile fully. The more information you include, the more surveys you'll be eligible for! This means adding ALL of your hobbies and interests! When signing up, check every single thing that you're interested in!
Doing this will give you access to a long list of surveys.
Let's do some quick Math (and yes, this makes "Math teacher me" very happy! :D).
Let's say John dedicates at least 3 hours of his day to completing surveys, and he takes an average of 10 minutes per survey, how much money can John earn per month?
John's Earnings– He spends 10 minutes on a survey so he can do 6 surveys per hour. If he dedicates at least 3 hours per day to surveys, he can do at least 18 surveys per day. This means that he can do 90 surveys in a 5-day work week. At an average of $2 payout per survey, John will earn $180 per week! (And this is using a very low payout figure!)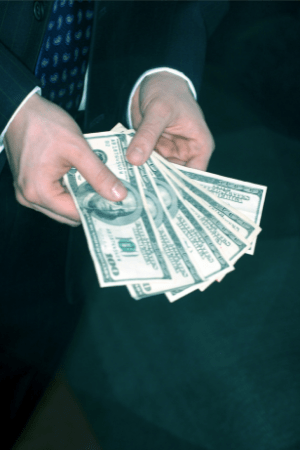 FAQ: Is Survey Junkie worth your time?
Yes, of course! If the above example that shows John's earning potential didn't convince you that Survey Junkie is worth your time, then I don't know what will!
It just takes a good plan, some time and effort on your part, and you can make hundreds of dollars per month – definitely worth your time!
FAQ: DO I have to claim Survey Junkie on my taxes?
Yes. You need to pay taxes on your income from paid surveys. Ensure that you keep track of your paychecks and any expenses that are associated with your paid survey hustle. Some things like a home office or even your internet may be deductible depending on the tax laws in your state. You can reach out to your CPA for details.
If you want a more detailed Survey Junkie Review, check out Mike's video below: