Need to get free money right now? Learn how to get free money in your bank account now

free, free, free

!
We've all been at a point in our lives where we're wondering how to get free money now. Maybe the bills are piling up sky high or you're just wishing to find a way around the mountain of debt in your face.
I can't tell you how many times in the past I checked my bank account and thought to myself, "I need money now for free and fast!"
The one time that stands out the most is when our brick and mortar business was failing. Our credit card was maxed out, plus we had our business loans to repay. I sat on our bed crying not knowing where to turn or where money would come from.
We've all been there. If you are in this position right now, you may looking be for ways to get extra cash and free money instantly. You may not know it but there are BILLIONS OF DOLLARS out there to be had and some of this can be yours!
Let me show you how I got free money mailed to me and let me help you find ways to get free money in your bank account now, free!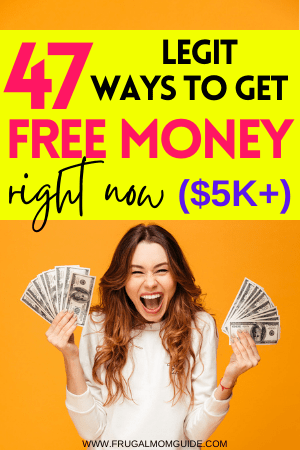 This post may contain affiliate links. This means that I may make a commission (at no extra cost to you!) if you make a purchase via a qualifying link. You can read our full disclosure for more info!
You may be wondering if this is legit and legal, and the answer is yes! There is so much money to be found and some of this free money might have your name on it!
If you need this money now, all you are doing is claiming what is rightfully yours. Believe it or not, a lot of this can be done online or via a phone call, from the comfort of your home!
According to a 2016 article on Learning English, 1 in 4 Americans make money online. I would imagine that this number is even higher today!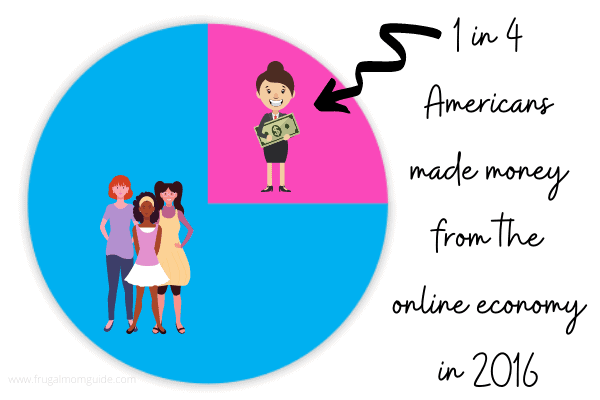 Sometimes getting this free money is as simple as ring-ring or click-click-click. Other times, you may have to put in a little extra work to get your money. Either way, this list contains a comprehensive breakdown of all the ways to get that cash in your pocket right now!
Where can I get Free Money Online?
There are numerous ways to get free money online. There are hundreds of websites that allow you to check for free money now, apply for free money or even work for extra money. With the world wide web, the possibilities are endless! The list below gives a detailed breakdown on some popular ways to get free money online.
How can I get free money instantly?
You can choose various ways to get free money instantly. You can choose to check online for money owed to you, you can apply for free money or you can even complete simple tasks to get free money right now.
Some apps allow you to finish tasks for an immediate payout via PayPal or bank transfer. Others give you an immediate sign-up bonus – CHA-CHING! Browse the list below to choose a suitable method that will get you your free money instantly!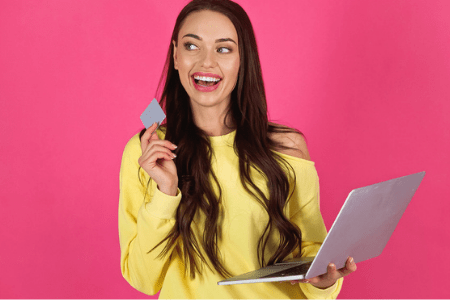 How to get Free Money Now: 47 Ways that are Tried and True
1. Check for Unclaimed Money
One of the easiest ways to get free money right now is to check for unclaimed money. Yes, there is a stash of cash that is sitting in an account that is unclaimed.
Now, what if you can step in and claim some of this cash? Pretty simple way to get free money now, right?
Where does this money come from? Well let's start with unclaimed savings bonds. There are millions of savings bonds that have been long forgotten. As of 2021, there was $17 billion in unclaimed US Savings Bonds. This occurs when the bonds have matured but have not been cashed out by the owner or heir.
Unclaimed money also comes from unclaimed life insurances, forgotten IRAs, bank accounts, unclaimed 401k retirement plans, pension benefits, uncashed checks and more!
Checking for unclaimed money is as simple as visiting one of the sites below:
www.unclaimed.com
www.unclaimed.org
www.missingmoney.com
www.usa.gov
When you are doing your check, remember to include every state that you or your loved one has ever lived or worked in.
Sometimes, your grandparents or great grandparents may have been the ones who took out the bonds. Bonds stop earning interest after 40 years, but you may very well be able to claim it's matured worth.
2. Get your Tax Refunds & Tax Credits
Did you know that there are BILLIONS of dollars in unclaimed tax refunds and tax credits?
Maybe you are one of millions of people who are eligible for this money.
Some people may not have filed a tax return because their wages were below the filing requirements, but were still eligible for a refund or credit. In this case, the refund will go unclaimed. Other times, the refunds go unclaimed because it was lost in the mail.
Whatever the reason, you may be missing out on this money. Have you checked if you are owed?
In addition to refunds, tax credits (in the form of cash) are given to people who fall into a low to moderate income bracket. You will qualify for more tax credits (aka free money) if you have children, dependents, if you bought your first home or have a certain amount in savings.
For example, let's say you have a child in college and you have also decided to go back to school, you will qualify for education tax credits. There is the Hope Scholarship Tax Credit and the Lifetime Learning Credit that will help you offset costs for your higher education.
In 2018, the Hope Credit was as much as $2500! Of course you need to claim to be able to have access to this.
What tax credits are you owed?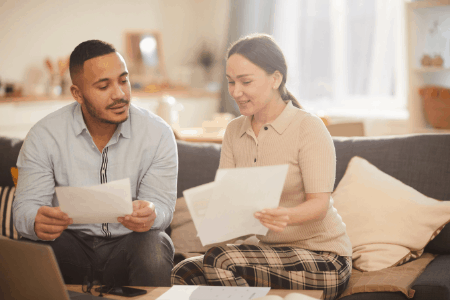 3. Use Free Services
"Free money" can be the equivalent of keeping your own cash in your pocket and taking advantage of free services instead!
What if you could get free internet? Free Starbucks? Free health care? Free dental care? Free Legal Aid? Free electricity? Sounds good, huh?
I'm pretty sure that these free services are as good as a free $2000 in your bank account!
Basically, they add up. Even if you get your essentials at a discounted rate, this means "free money" in your pocket! Any amount saved is "free money" for you, right?
Now, what good would I be if I dangle all this freeness in front of your face and don't show you how to get a slice of the pie?
Here's a list of services you can access for free:
• Free Dental Expenses – Dental schools often offer free services or highly discounted dental care.
• Free Prescription Meds Help – Check out PhRMA's Medicine Assistance Tool
• Free Eye Care – The Kress Vision Program (New York) provides free eye care to members of the community who do not have access to health insurance. Not from this area? You can check out the OneSight Program to see if you qualify.
• Free Legal Aid – Check the American Bar Association for free legal help. There are also many law schools that have pro bono programs. Check law schools in your area for more info.
• Free Legal Advice – Check FreeAdvice.com for professional legal advice on just about any subject.
• Free Health Insurance for Kids – Check out Insure Kids Now
• Free Clothes for an interview – Check out Bottomless Closet
Check out 5 Amazing Freebies you don't Want to Miss for ways to get free food, free subscriptions and even free internet!
4. Convert Gift Cards to Cash
Do you currently have unused gift cards hiding in your wallet or junk drawer? What if I told you that you could convert these unused gift cards to cash?
This is such a simple way to get free money right now!
Maybe you'd prefer to pay your rent instead of buying 100 cups of coffee. Or perhaps you don't need another haul of makeup and would much prefer the cash equivalent instead. Well, converting those gift cards to cash can get you that free money instantly!
5. Get Free Money for Doing Simple Tasks Online
If you need to get free money right now and you currently have a phone in your hand, then you're already halfway there. Believe it or not, you can do simple tasks like watching videos, playing games and doing surveys for an instant payout!
Most of these can be done during your lunch break or while you're lazing on the sofa at night. Being paid to watch a video or play a game is practically "free money". Furthermore, many apps will even give you an immediate sign up bonus that is absolutely free!
If this is something you might be interested in, feel free to check out the following apps that would pay you big bucks:
So go ahead and sign up for all and rack up a sweet $65 now! Then complete a few tasks on each platform to reach your minimum payout threshold and you'll have some extra cash in your bank account in no time!
I have used several of these to get free money mailed to me – thousands of dollars to be honest!
6. Get Free Money for Shopping Online
What do you have on your shopping list for this week? Groceries? Clothes for the kids? A birthday present for a friend? Whatever it is you need to buy, ensure that you shop smartly and take advantage of cash back rewards.
One of the easiest ways to get free money is from cash back. Think about it. You have to make your weekly purchases anyway, so why not get some free money by shopping online instead?
I have used Rakuten for over two years and those cash back rewards add up significantly!
Just look at this screenshot of my lifetime cash back and you'll see for yourself. The proof is in the pudding.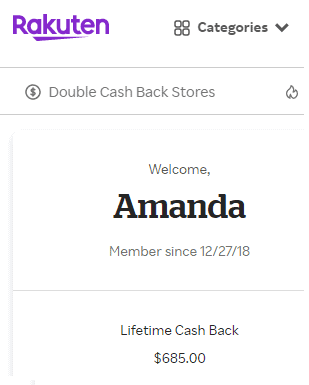 That's $685.00 of FREE MONEY that I didn't have to put in any work for! If that isn't free money, then I don't know what is!
If you'd like to hop onboard this free money train, join Rakuten, do your weekly shopping and watch the free money start rolling in! And to get a jumpstart, be sure to grab a $30 sign up bonus from Rakuten.
7. Get Money from Refunds Owed to You
Did you make any online purchases recently? Did you know that you might be owed a refund? Yes, it's true! Let's say you bought a jacket last week for $29.95. Then the price dropped three days later to $15.00. Believe it or not, you can be refunded the difference in price of $14.95!
So many people go about living their lives without knowing this little trick. You already went ahead and made your purchases being fully comfortable with the higher price. So this refund comes as a pleasant surprise! It's nice free money in your pocket!
But how do you know when prices drop anyway? This is where Paribus comes in handy. Paribus is a platform from Capital One that gets you money that is owed to you.
When you sign up for Paribus, it monitors prices, tracks your shopping confirmation emails, and checks for price changes. When they see that there is a potential saving from a price drop, they get you your money back!
You can even get compensation for late deliveries. Join Paribus and see if you can get free money now from refunds owed to you!
8. Lower your Expenses
You can "free up" some money by lowering your expenses. Planned to buy a new outfit this week? Ask yourself if this is really necessary. If you had already allocated cash for this purchase, you will now have some free money on your hands. And all you had to do was reevaluate your expenses.
Sometimes it's as easy as making a decision to be more frugal. You know…cooking from your pantry, skipping takeout or line drying your clothes instead of using the dryer.
Other times, you may want to do a complete overhaul of your budget and cut all luxuries such as cable and internet (don't forget to check out the free internet from #3 above!).
Honestly, it just depends on how desperate you are to get free money right now. If you can eliminate a current payment from your monthly expenses, you can have an extra few hundred bucks instantly!
9. Get Free Money by Referring a Friend
Did you know you can make money by just referring your friends and family to products and services? Yes, you can get free money right now by convincing them to sign up for your favorite services and download your favorite apps.
For example, if you tried Rakuten and loved getting free cash back, don't be selfish and keep it to yourself. Share how amazing it is and send your family your referral code. Then BOOM! $30 for you and $30 for them! Super simple, right?
Other services with referral programs include:
• Survey Junkie
• Swagbucks
• InboxDollars
• RewardSurvey
Honestly, there are hundreds to thousands of apps and sites that will pay you for referring your friends! Use this to your advantage to get free money now.
10. Enter the Swagstakes
Need to get free money now? Enter Swagstakes! Swagstakes is a sweepstakes that is run by Swagbucks.
Instead of redeeming your SB for rewards, you can instead choose to use some of it to enter the Swagstakes and up your chances of winning. This gives you an opportunity to get a bigger sum of cash in your pocket now!
If you love taking chances, go ahead and give this one a shot for some free money now.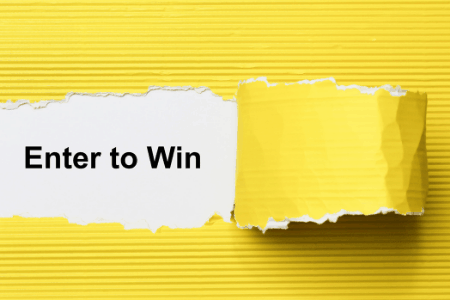 11. Negotiate a Lower Rate
Sometimes getting free money is as simple as making a phone call and doing some negotiation. In this case, you already have the "free money" in your hands, it's just not "free" for you to use yet.
For example, let's say you pay an electric bill ($100), cell phone plan ($100), insurance ($100), cable bill ($50) and internet bill ($50). This means that you are paying a total of $400 in bills every month. But you can get a lower rate for each of those bills if you just call and ask.
Got a new smoke detector? Upgraded your electrical and plumbing? You may qualify for lower house insurance! Similarly, you can call and lower all your other payments.
Thousands of people have negotiated better deals by just calling and speaking to a CSR. It doesn't hurt mentioning that you're thinking about switching to a competitor! And before you know it (if not immediately), you'll have new (lower) payments and you would have freed up an extra $100! Free money instantly!
12. Use your Vehicle to Advertise
If you really need free money now, consider using your vehicle to advertise. You can use magnets, decals and wraps to make your car into a billboard on-the-go!
Car wrap ad companies are always looking for new drivers and are willing to pay anywhere from $300 – $600 per month! And this is just for driving around your usual route every day. If this isn't free money, then what is?!
A good place to get started is with Carvertise. Go ahead and sign up to get your free money now!
13. Refinance your Loans
This free money tip isn't as simple as the others on this list but it's a legit way to get that extra money in your pocket. Refinancing and debt consolidation involves using a new loan to finance your current debts. You can choose to refinance individual loans like your student loan or your home mortgage.
Often your new loan is at a lower interest rate. And many times after refinancing, you get a significant sum of cash deposited straight into your bank account. This can come in handy when you need money now.
Note that refinancing is a major decision to be made and should not be done on a whim. Ensure that you speak to your banker or financial advisor, and consider how this affects you in the long-term before choosing this route to get free money!
14. Declutter for Extra Money
Scan your room right now and see how many things you own that are hardly ever used. If you're in a bind and you need money, decluttering and selling your stuff can get you hundreds of dollars in hand.
The internet makes this so much easier than it once was. No longer do you need to set up tables outside and advertise your garage sale with posters all over town.
There are now platforms like Facebook Marketplace and even apps like Decluttr that take the headache out of selling your used items. In fact, Decluttr has a super simple process that allows you to sell to anywhere in the U.S. and they specialize in tech items like old phones, CDs etc.
So go ahead and turn those unused items of yours into some free money now. Your wallet will thank you!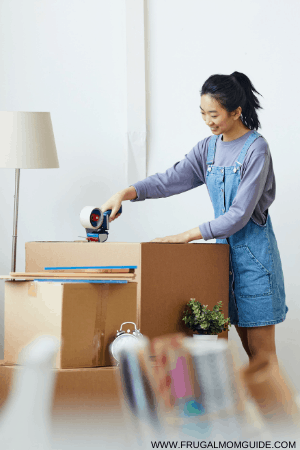 15. Sell pictures from your Phone
Selling pictures is a pretty good way to make some extra cash. You already have everything that you need – a phone camera is sufficient to create beautiful overlays and capture scenic views.
If this sounds like it's right up your alley, give it a shot! Any time you're posing for a new IG pic, take an extra photo or two to sell to sites like DepositPhotos. It'll take little to no effort on your part so it's a good way to get that free money now!
16. Rent a Room
Make some quick cash by renting out a room in your house as an Airbnb. It's a very simple process to become a host and a very easy way to get some extra money when you really need it.
17. Get a Grant
There are grants for everything – education, businesses and even renovating your home. The awesome thing about grants is that it really and truly is free money because you never have to pay it back! You also don't have to be "low income" to qualify for a grant – trust me, it's a misconception.
You can get either a government grant or a private grant. For example, private companies have to give these grants to keep their non-profit status and get their tax exemptions.
So if you want to get free money now, sometimes all it takes is a call to a local company to ask for sponsorship. Maybe even write a letter to explain your project.
There is money sitting out there for you. You just need to claim it!
18. Earn Interest
Earning interest is literally free money in your bank account. Technically, it's not free money now, but it is still free money nonetheless and it's worth mentioning in this list.
If you're looking for a more long-term plan to get free money, open a high-yield savings account and watch that free money start rolling in. Seriously, interest rates on high-yield savings accounts are 20 to 25 times higher than what regular savings accounts pay!
Get started easily by opening a CIT Bank Savings Builder High Yield Savings Account and watch your free money start rolling in!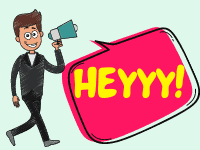 Want to start saving money & earn high interest?
Just commit to saving at least $100 per month and enjoy the benefit of earning one of the nation's top rates (6× the national average) with CIT Bank's Savings Builder! Plus there's no account opening or maintenance fees!
19. Rent your Car
If you have a car but have no use for it right now, you can choose to rent it out for some extra money. There are several car sharing marketplaces to get started:
You can earn hundreds of dollars per month renting out your unused car! What an awesome way to get free money in your bank account now!
20. Use Class Action Suits for Free Money Now
You're here to find out how to get free money and I'm here to tell you all the ways. So this list would be incomplete without me mentioning the use of class action suits to get free money now.
Of course it has to be a legitimate case but if you're entitled and need the money, then by all means go for it! At some point or the other, you may have received a letter in the mail which stated that you're entitled to a settlement from a class action lawsuit. Basically, if a company did you wrong, you're entitled to be paid.
See if you are entitled to money by checking Top Class Actions.
21. Get Free Money by Asking for it
Want to get free money now? Why not just ask for it? Sometimes all you have to do is explain your situation (be honest!) and ask for some help! You can simply call up a friend and ask or go big with a GoFundMe Campaign.
You can even ask them to send you via PayPal, Cash App or Venmo!
22. Get Paid to Review Products
You can get money by simply using a product and sharing your opinion on it. Companies are always looking for ways to improve their goods and they are willing to pay a pretty penny for real users to give honest feedback.
You can sign up through sites like Survey Junkie to be given the opportunity to get paid to review products. You can choose to do this online or in person – whatever suits you best!
23. Get Paid to Volunteer
Did you know you can volunteer and get paid for it? I know that this goes against the true meaning of the word "volunteer" but it doesn't change the fact that you can get a tax-free stipend for some of these gigs. Check out Volunteers of America and Seniorcorp to get started!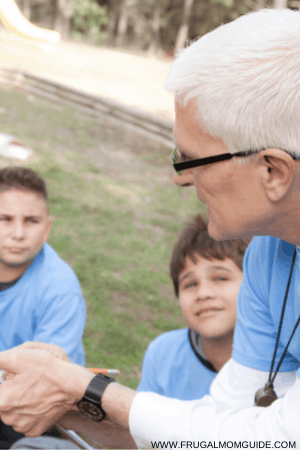 FAQ: How can I make $100 fast today?
If you need $100 fast today, you will have to combine some of the methods listed here. You can sell off some of your items, do some online surveys, convert your gift cards to cash and even do some odd jobs around your neighborhood.
24. Do Print on Demand
Do you think of yourself as creative? Put that creativity to good use by designing beautiful graphics to sell on shirts, hats, mugs, stationery and more.
By doing print on demand, all you'll have to do is market your product. So do you have a large following on IG? Know a lot of people? Then print on demand may be a suitable business opportunity.
Print on demand is a super simple process. You'll have no inventory to keep track of and no stress to ship anything. You'll just need to partner with a company like Printify to get your products out. They will handle everything from the items, to the printing, to the shipping. All you will need to do is upload the graphic to be printed.
It's a pretty good way to get some extra cash.
25. Design Printables to Sell Online
Similarly to doing print on demand, you can choose to make printables and sell online. Printables are strictly digital so there's no need to stock items and keep track of inventory. Joining Etsy to sell your printables will also make the process easier and Etsy will handle your store, payments and delivery.
You can use a site like Canva or even a program like Microsoft PowerPoint to make your printables. And you can do a wide range of items – planners, calendars, budget binders, homemaking binders and more!
26. Write and Sell an ebook
How about writing an ebook to sell to get money? I know, I know. This one will not help you get free money instantly. But it is passive income! This means that you'll put in the work once and get paid for it forever. So it's like free money for the rest of your life!
These days writing and self publishing is so simple. All you need is Google docs and a quiet corner to get started!
27. Flip items for Profit
An easy way to get free money right now is to flip items for profit! You can use cheap, shabby items from garage sales (or from your own home!) to flip for a huge profit!
28. Get Paid to Walk Dogs
Do you enjoy walking dogs? Do you already walk your own dogs daily? Why not add some more company by walking other dogs for extra money? Additionally, you can get paid to dog sit or board them overnight.
Getting started is as easy as signing up with Rover! How easy is that to get free money now?!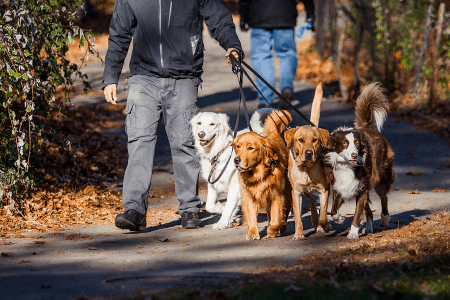 29. Deliver Food for Money
Need money now? Get paid to deliver food for some easy extra cash! Sign up with with Instacart to get started.
30. Use Fat Llama to Rent your Things
Get free money right now by renting (almost) anything on Fat Llama. Not using your camera these days? Is your bike sitting in your garage collecting dust? Rent it out and get some free money!
31. Get Free Money from Illegal Calls
You can get money for robocalls and automatic text messages sent to your device. According to the FCC's Telephone Consumer Protection Act, you can be compensated up to $1500 if the company knowingly committed the violation. If you have no proof that the violation was done on purpose, you can still be compensated $500!
Technically, this will not get you cash instantly, but if you find that you are getting lots of robocalls, consider keeping track of them to get free money!
32. Apply for STAR Credits
The School Tax Relief (STAR) program provides property tax relief to New York State's homeowners. If you live in this area, check to see if you're eligible to STAR credits and STAR savings.
If you're not a New Yorker, a quick Google Search can inform you of similar programs in your area!
33. Apply for Food Stamps
Apply for food stamps. Millions of citizens receive food stamps! Once you qualify, it is free money!
34. Apply for Disability
Disability is available for the people who need it. If you qualify but you haven't applied, you're missing out on free money!
35. Apply for Unemployment
Just like disability, unemployment is also available for those who qualify. If you're eligible and need to get free money now, don't hesitate to send in your application!
36. Get Free Money when you Open a New Bank Account
You can get free money just for opening a new bank account! Take advantage of this bonus if you want to get free money right now! Call around and see which of your local banks have the best incentives now.
37. Use your Credit Card for Free Money Now
If you have a credit card, use this instead of your cash-in-hand to rack up those free points and free money. Then pay it off immediately so that you don't pay any interest. In no time, you'll see your free money rolling in!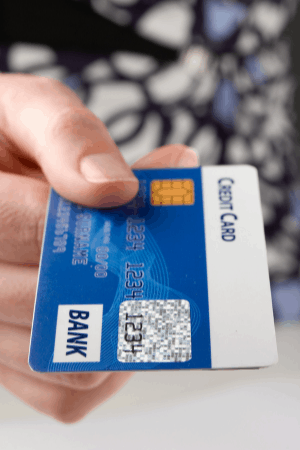 38. Get Paid to Workout
Do you enjoy working out every day? Well you might as well get paid for it! Use an app like Healthy Wage to get free money for losing weight!
39. Get a Loan
Need money now? If you're truly in a bind, consider getting a loan. This can get you a significant stash of cash in hand in as little as a day or two! Do consider all other options before getting yourself in unnecessary debt though.
If you have decided that this is the best option, you can apply online through OppLoans and have up to $4000 by the next business day if you are approved!
You can also check out Lending Tree and see which one works best for you!
40. Get Free Money for your Excess Bandwidth
Did you know that you can get free money for your unused bandwidth? You can check out Honeygain to learn more about get paid to share your internet.
41. Switch Banks to Get Free Money Now
Banks want you as their customer. This is why they are willing to pay bonuses for your business. If you call around and let other banks know you are thinking about switching, they often offer you big incentives (aka free money!) to get you on board!
42. Get Paid to Put Ads on your Phone
You can get free money right now for simply unlocking your phone!
Money lock screen apps like Fronto are 100% free. Every time you unlock your phone you'll get paid! Plus you'll earn for additional engagement such as reading newspapers and downloading apps. Sounds like a pretty awesome way to get free money in your bank account now, free!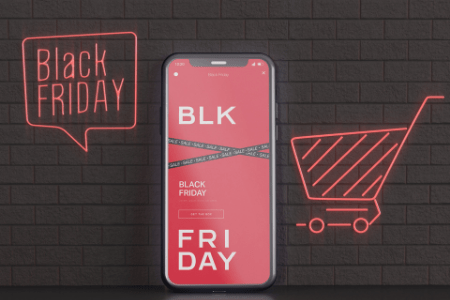 43. Get Free Money for your Junk Mail
You'll want to stop deleting your Junk Mail and instead get cash for your trash! Yes, you can "sell" your insurance, credit cards and telecommunications related Junk Mail for gift cards. These gift cards can then be converted to cash or can be used to offset some of your other expenses. This means free cash for you!
Check out Small Business Knowledge Center for more info.
44. Donate Plasma for Free Money Now
You can donate plasma to be used for pharmaceuticals and get paid for it! You can get $20 – $50 per donation and it's a very simple process.
We have made it even easier to find a Plasma Donation Center near you. Just use our Plasma Donation Center Zip Code Search below!
All you need to do is enter your zip code in the search box and hit the button to find the Plasma Donation Center nearest to you, ranked by real Google Reviews.
45. Rent out your Space for Storage
Got some extra space in your home? Get free money for it! Check out sites like Neighbor and Stashbee to get started.
46. Rent out your Unused Hard Drive Space to Get Free Money
Do you have a hard drive with unused space? Consider renting it out to Storj. Such a simple way to make some extra money!
47. Become an influencer
Technically this doesn't get you money now but as you build up your presence on social media, you will get free money easily! It was worth mentioning as a long term plan to get free money because this is as good as free money gets.
Influencers get free products, plus they get paid to talk about them on their stories, newsfeed etc. It really is a lucrative business and one that you can explore further if you will like to keep seeing the free money rolling in!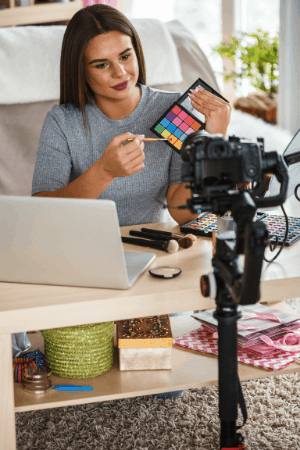 Additional Info on How to Get Free Money Right Now
How can I get $50 ASAP?
If you need $50 ASAP, you can try any of the methods listed above. Some will get you cash in your pocket faster than others.
Some of the fastest ways to get money now are to sign up for the survey sites to collect the bonus and complete tasks to reach the minimum payout, to sell items from your home right now or to donate plasma.
How can I get $20 right now?
Sometimes you need quick cash and just a $20 will do. If all you need is a quick $20 now, you can try selling an unused item from your home. All you need to do is list it on an online marketplace (like Facebook) and you will have cash in your pocket in no time!
How can I get free cash?
All of the methods mentioned above gets you cash in your pocket with little to no effort. This means that there are many, many ways for you to get free money right now. Browse the list again and see which methods suit you best for thousands of dollars extra in your bank account!
Related Posts on How to Get Free Money Now
29 Easy Ways to Get Free PayPal Money Instantly
21 Simple Ways to Watch Ads for Money
How to Make $500 Fast (In Less than a Week)
How to Get Money on Steam (15 Easy Ways that Work)
What Right Hand Itching Means for your Money
What Left Hand Itching Means for your Money
23 Games Apps that will Pay you Real Money via PayPal
25 Highest Paying Plasma Donation Centers Near Me ( Earn $1000 /month)
How to Get Rich Overnight (with no money)
How to Make 100 Dollars a Day (71 Legit Ways to Make Money)
Final Thoughts on How to Get Free Money Right Now
By now I'm sure that you've realized that there are MANY ways to get free money now. What you'll need to do is scan this list again and decide on the method which suits you best. Before you know it, you'll be getting free money instantly added to your bank account on a regular basis!
No longer will you cry, "I need money now for free and fast!"
This will now be a problem of the past! 🙂
Are there any other tips you have to get free money right now? Share with us in the comments below! We'd love to hear from you!
Don't forget to follow us on Pinterest, Instagram and Facebook for more making money hacks and finance tips.
Liked this post? Pin it!
How to Get Free Money Now: 47 Ways to Get $5000+ Free