The best tips on how to get money on Steam
Making money whilst playing video games isn't as farfetched as it sounds. If you're a pc gamer, you may be wondering how to make money on Steam doing something you love.
Are you a regular gamer trying to figure out how to earn money on Steam? Or are you a game developer or designer? Are you a parent with game-obsessed kids?
Whatever it is, I'm pretty sure making money playing games sounds like the dream, right?! Well your dream is about to come true because here are some legitimate ways to make money on Steam right now!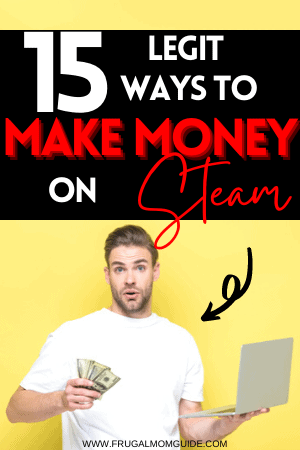 This post may contain affiliate links. This means that we may make a commission (at no extra cost to you!) if you make a purchase via a qualifying link. You can read our full disclosure for more info.
When it comes to making money on Steam, there are several opportunities to earn. You will need to go through the list and choose the options that suit you best. Or you can do them all! And earn.all.the.moneyyy! (lol)
What is Steam?
Steam is a digital distribution platform that offers multiplayer gaming, digital rights management (DRM) and social networking services. It was developed by Valve Corporation, a privately-held company which was founded in 1996 by Gabe Newell (former Microsoft Employee) and Mike Harrington.
Valve announced the release of their Steam platform in 2002. When it launched in 2003, it's original purpose was to be able to automatically deliver and install software patches for Valve's games, especially for online multi-player games like Counter Strike.
It has grown so much since then into a platform where third party game developers can distribute content and users can interact online.
Fun fact: Steam was fully developed by Valve; they actually approached Microsoft and Yahoo but were rejected! (Remember this next time something doesn't exactly go your way)
Today, Steam is a leading platform for the purchasing of PC games, accounting for between 50 – 75% of all online PC game sales! It is now the ultimate program for playing, discussing and creating games. There are over 30 000 games to choose from and millions of users (from teenagers to boomers!) log in to Steam every day!
If you haven't already done so, you can visit the Steam website to join and download, for tons of fun and perhaps to start making money on Steam!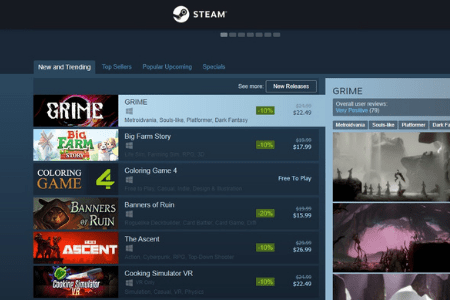 How Steam works
Steam is a platform that enables users to log in to play games, chat about games and even create and distribute games. It is a PC gamer's heaven as users can have instant access to tens of thousands of games! Users get to enjoy exclusive deals, automatic game updates and many other great perks.
The Steam Community allows you to form clans with other game enthusiasts, chat in-game, access strategy guides, check out popular game hubs and more!
Steam also has a program called Steamworks which is a set of tools and services which allow game developers and publishers to build games and distribute on Steam. Quite honestly, there's a lot of money to be made this way! We will get to the details in a bit.
Can you make real money on Steam?
Yes, of course! There are several legitimate ways to make real money on Steam! This post lists some of the methods that will actually get you real money in your pocket (or bank account!).
So next time your significant other argues that you're wasting time on video games, whip this post out and show him / her that you're here for the money, and not just the fun!
Let's clarify something before we get into the nitty gritty of making money on Steam. Some of you are here to learn how to get money on Steam – as in how to earn money on Steam for your Steam Wallet. And some of you want to learn how to make actual real money that you can transfer to your real life bank account.
Remember that there is no way to transfer Steam money out of your Steam Wallet. However, this post will discuss all the ways to earn both Steam money and real money!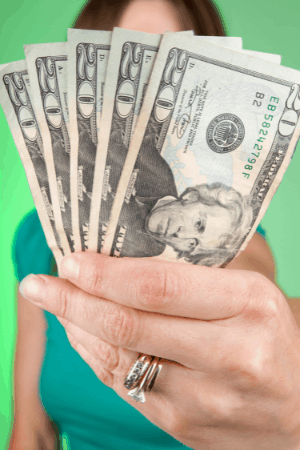 How to Make Money on Steam: 15 Ways that are Tried and True
1. Use Apps to Get Free Steam Codes
Free Steam Codes = Free Steam Money
This is one of the easiest ways to add Steam money to your Steam wallet! Let's face it, you've had your heart set on that new game release for months, and you planned on making the purchase anyway! Am I right?
Well how about saving your real money and offsetting the cost of your gaming habit with some free Steam codes to top up your Steam wallet?
So what's the secret to earning these free Steam codes? Actually it's no magic formula – just smarter money moves.
Using apps like Rakuten and Dosh gets you cash back or points that you can use to redeem free Steam wallet codes.
It's very simple. Whatever shopping you had planned for this week, make your purchases through Rakuten or Dosh. Then watch those points or cash-back start building. Use these points to get Steam codes – such an easy way to make Steam money!
Note that Steam money isn't real money in your real wallet. But it does cover the cost of your gaming hobby that you would have otherwise used from your real bank account. That must count for something, right?
So if you want to get Steam codes, go ahead and sign up for:
Rakuten – Login, find your store, do your shopping as usual and get paid. Grab a $30 sign up bonus when you get started.
Dosh – Download the app, link your card, shop and get paid.
And if you're still not convinced, take a look at how much free money I have gotten from Rakuten. Now imagine this in your Steam Wallet (or maybe even transfer it to your real bank account?).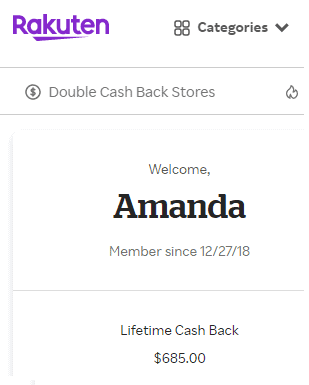 2. Making money on Steam with FREE gift cards
Similarly to #1 above, you can get FREE Steam gift cards by completing simple tasks like watching videos, playing games or completing surveys online.
Basically, you use sites like Survey Junkie to rack up points which you can then redeem for gift cards or cash back. Use your points to get free Steam gift cards, aka free Steam money in your Steam Wallet!
3. Collect and Sell Trading Cards on the Community Market
As a reward for playing games on Steam, you will receive trading cards. Collecting and selling these are a pretty easy way to make money on Steam!
Many Steam games reward you with about 2 – 7 trading cards after a few hours of gameplay. You'll get half of the cards from card drops during game play and you'll have to collect the other cards from community members or booster packs.
For example, Half-Life 2 has 8 cards in its set. You'll get 4 from card drops during game play and you can collect the other 4 from other users or from booster packs.
In reality, you don't need to actually be playing the games to benefit from card drops. You'll just need to have the game open. But hey, what's the fun in that?
Once you play your games and get your trading cards, head on over to the Steam Marketplace to sell them for profit! Some of these may not be very valuable (worth only a few cents) but sometimes you will get lucky and receive a card of high value. These are the ones that will help you make money on Steam!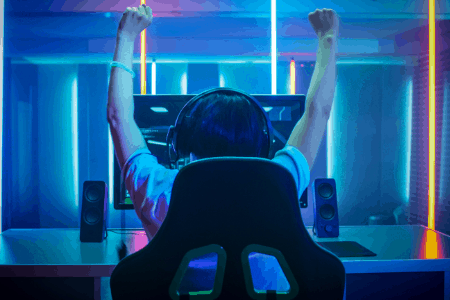 Bonus Tips for Making Money on Steam by Selling Trading Cards:
• A bonus tip for selling cards is to look out for new games that are about to launch a trading card system. The first 15 cards are usually highly valuable and you'll want to ensure that you are playing to collect these. Currently, the Mass Effect Legendary Edition trading cards are expensive and will get you the big bucks!
• Also, foil cards are more valuable than regular trading cards so these are your money makers. Foil cards tend to sell for around $0.25 per piece as compared to the regular ones which go for just a few cents each. However, there are some that will sell for as much as $1 – $2, and the very few that go for $100 – $200!
• Don't miss out on any trading cards! You can see exactly how many card drops are remaining for a game on your badges page. Definitely use this to double check and make sure that you've received all your cards for all your games. Obviously the more cards you get, the more money you can make selling them!
• Try to get a Steam Booster Pack which is a small package containing three trading cards. Sometimes you can get foil cards in this package which you know are more valuable.
Getting a booster pack is simple. You can buy it (really doesn't make sense if you're trying to make money though), generate it with gems, or cross your fingers for a booster pack drop from Steam. Login to Steam each week and keep leveling up to increase your chances of getting a booster.
Note that, for the biggest profit, sell your booster pack as a package deal. By the time you pay Steam Tax (15%) when selling individual cards, you would have reduced your profit significantly as compared to if you had sold them altogether.
• Steam Summer Getaway cards are temporary and expire (2013 was the only year they didn't expire). So don't be trapped investing in these. You can use them to craft badges during the event, but there's no way you can keep them to sell later for profit!
4. Collect high-value Steam Items & Item Drops to Sell on Steam Market
If you're an avid Steam gamer, then you already know all about collecting items and how exciting it is when you receive item drops while playing your favorite games!
You can earn Steam money by selling these items on the Steam Market.
Some of these items may not be worth much but if you're extremely lucky, you might get your hands on a high-value item drop! Believe it or not, this can be sold for hundreds, or even thousands of dollars on the Steam Market.
Generally, you should always be on the lookout for items that you can pay little for, and sell for big bucks. Buy low and sell high. That's the idea.
The prices of items fluctuate based on supply and demand. If there's a lot of the item and not a great demand for it, the value of the item will be low. And if the item is rare, obviously there will be a huge demand for it and it's value will be high.
Now that you understand the concept, keep your eye on the Steam marketplace for low value items that you can collect and keep to sell for profit when the time is right.
Which brings me to the next point…
5. Resell items for profit at the Right Time
The key to making money on Steam is selling at the right time!
You can collect your items, your trading cards, your pre-release content, and everything else – but you wouldn't make a profit if you don't sell at the right time.
Buying and selling items on the Steam marketplace is much like buying and selling stocks. As mentioned earlier, you need to buy low and sell high. And timing is everything.
For example, items sell high when they're no longer available so this is something you need to monitor when you're saving items to sell.
Also, be on the lookout for games that are planning to launch a trading card system. The first cards that are released sell for big bucks. Ensure that you are playing these games to be able to receive the first of their trading cards. This can set you up for a nice, big profit!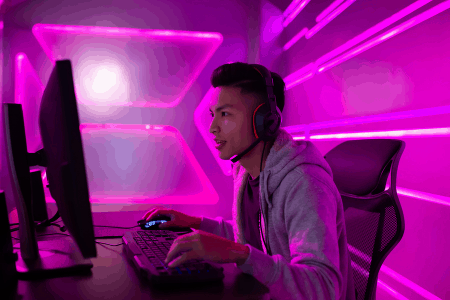 FAQ: How do you get money on Steam fast?
You can get money on Steam quickly by using a combination of the methods listed in this post. Together, every dollar will add up to get you both Steam money (in your Steam wallet), and real money in your bank account!
6. Use Steam Direct to distribute an Original Game
Wondering how to make money on Steam? Real money in your real bank account?
This here is one of the BEST ways to start making money on Steam!
Steam makes it easy for users to create and distribute games via Steam Direct. This means that the other 90 million users on Steam can be your customers if you choose! Just note that there's a $100 publishing fee.
To get started, all you have to do is join Steamworks to use the provided tools and services to build and distribute your game on Steam. Once you start selling, you'll make money – it's as simple as that.
Steamworks manages all the behind the scenes features for you – payment methods, distribution, real-time sales data, fraud prevention, Steam keys and more! All you have to do is create your game and make money.
If this seems like it's right up your alley, check out this book to help you with developing your new game! You can also use Unity or Unreal Engine to get started. They both have integration with Steam which can make things easier for you!
FAQ: How much can I make on Steam Direct?
There is no solid answer for this as you can make how little or how much you want. As with everything else, what you put in is what you get out.
If you want to make more money, then create and distribute more games and market the life out of it! Obviously, the more games you develop, the more money you'll be able to make on Steam Direct!
You can also offer in-game purchases to increase how much money you make. This way, you'll not only earn from the sale of the game itself, but also from the purchases made whilst people are playing!
Another important factor in this equation is how you price your games. You can price your game for as little or high as you wish.
Let's say you price your game at $5 and you sell 500 games. Then you'll make $2500 on Steam Direct. To make more money, you can sell more or raise your price.
• 1000 copies at the same $5 per game will make you $5000
OR
• 500 copies at $10 per game will make you $5000
Note that Steam takes a 30% commission (you are using their platform after all!). So you will actually be taking home $3500 if you make $5000 in sales.
Being an avid gamer, you should already know the sweet spot – a price that is not too high and not too low. It would also depend on the type of game you create and all that it has to offer.
Who knows? You just might have the next Counter Strike at the tip of your fingers!
FAQ: How to increase your sales on Steam Direct?
You can increase your sales on Steam Direct by creating and distributing more games, as well as improving your marketing tactics.
Believe it or not, Steam gets 1 trillion impressions a day, and your goals should be to get your game in front as many of these eyeballs as you can!
Luckily, Steam has a wide array of unique marketing opportunities built directly into the platform that you can use to your advantage!
Using Steam's wishlists, early access, discounts and sales events and even their forums, you can market your games, increase your sales and significantly increase the amount of money you make!
Ensure that your game is fun and exciting and encourages players to leave reviews to boost your sales!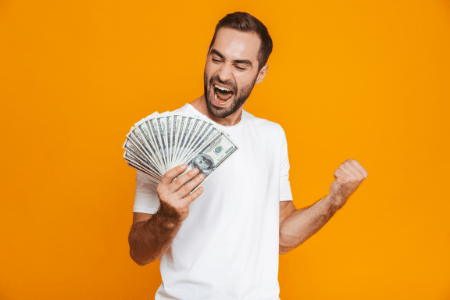 7. Do Freelance Designing and Coding
Are you freelance graphic artist, designer or coder, but not interested in all the logistics behind creating and distributing your own game? Why not offer your paid services to game developers or other Steam users?
There are many users who would like to create and develop games to distribute on Steam, but need expert help. This is where you can your make money. Offer your freelance services and get paid real money. CHA-CHING!
It's important to note that some of these business agreements are done off-site and not directly through Steam. So ensure that you have your bases covered with a good contract. You do not want to be taken advantage of.
FAQ: How do you get free Steam money?
Many of the methods listed here require a little effort on your part, whether it is collecting and monitoring the value of trading cards, or playing games to earn cosmetic crates. These will get you Steam money, but it's definitely not free.
If you want to get free Steam money, my advice is to use tip #1 to get free Steam codes and tip #2 to get free Steam gift cards to top up your Steam wallet! These will still require a little effort, but it's not like you'll be toiling all day long!
8. Take Advantage of Pre-Release Items
Keeping pre-release items to sell at a later date is a great way to make money on Steam!
Often, when a game developer offers a new game for pre-purchase before the official launch, many collectible items will be included with the game.
Sometimes these items are no longer available to users who purchase the game after it is released. This makes the pre-release items extremely rare and highly valuable. You already know what this means.
These items may not be of much value to you, but there are thousands of other gamers who would be willing to pay a pretty penny for them!
Still wondering how to get money on Steam? Keep your pre-release items and sell them later when they're rare and no longer available!
FAQ: Do Steam games make money?
Yes, yes, yes! Steam games make money from the actual sale of the game, plus from in-game purchases. If you have the skills, creating and selling Steam games is definitely one the best ways to make real money on Steam!
9. Sell Cosmetic Crates
Honestly, many cosmetic crates are not worth much but some can sell for big bucks depending on the game. If you're here looking for how to earn money on Steam, it is worth mentioning though!
Everyone gets cosmetic crates for game play, but some cannot be opened without a key (hello, don't forget tip #1 to get free Steam codes and keys!). The potential to get a rare item exists, but it really is unlikely! So you can either take your chances and open them up or head on over to the Steam marketplace to sell them for some easy Steam bucks!
Cosmetic crates can be obtained in several ways. For example, for PlayerUnknown's Battlegrounds (PUBG), you can earn Battle Points (BP) by playing and then use this to purchase the crates.
Your first PUBG crate will cost you 700 BP, the second will be 1400 PB, third will be 2800 BP and so on. This will reset back to 700 BP a week after you purchased your first crate. There's a limit of 6 PUBG crates for purchase per week! You can then sell these crates for Steam money!
Earning crates from game play is great, but I must advise you to stay away from buying and opening crates hoping for a rare item. This is like playing the lottery – there's a very slim chance of you walking away a winner.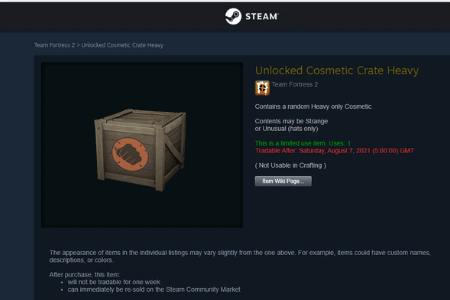 10. Use the Steam Workshop to Create and Sell Modifications
You can make money on Steam by creating and selling mods for various games. Some game developers give users a chance to create modifications such as adding new characters, new graphical features, campaigns and crafting new items.
Mods breathe new life into a game and many times other gamers are more than willing to pay you for your mods and donate money to you for you to continue making more.
Some mods can grow into stand alone products.
Fun fact: Counter-Strike, Dota 2 and Team Fortress all started as mods!
If you've never created mods before, there are many guides and tutorials that will get you started.
A quick search of how to create mods: the name of the game will get you some great instructions! Run wild with these to start making money on Steam!
11. Livestream your games
If you're an aspiring content creator, consider live streaming your games on YouTube or Twitch.
You can then enable ads (once you meet the requirements) to monetize these videos to get real money in your bank account! You can even add affiliate links to related products in your description box to up your earnings!
When you build up your followings, you can end up making $5000+ from your livestreaming content!
12. Put together an esports Team to Make Money
Gaming with friends AND making money at the same time? Yes, please!
Believe it or not, you can make money by joining an esports team. And well… by winning the tournament!
In fact, according to Cyber Athletiks, Dota 2 itself has distributed over $200 million in total prize money over the last few years! Actually, the largest esports prize pool in 2019 was for the Dota 2 International Series – $34 million split amongst the top 18 teams.
The current prize pool for Dota 2 International 2021 is a whopping $40 018 195!
Smaller tournaments have more modest prizes but there's still a lot of money to be had!
13. Sell items
Earlier, we spoke about selling items on Steam Marketplace for Steam money. However, it's important to point out that items can also be sold on sites like, G2A, Gameflip and PlayerAuctions for real cash.
You can sell in-game items, skins, gift cards and more for real money on these sites. Of course, GameFlip and PlayerAuctions will take their share and you will get to keep the rest. It's a great way to get real cash for your items – especially if it's something that is rare!
You can even build and sell gaming accounts on PlayerAuctions. However, I must let you know that this is not advisable as it's against the Steam's Subscriber Agreement. You should never sell accounts or access to accounts that had been registered to a specific person. Remember that you agreed to these terms when you signed up for your account and you must adhere to the rules.
Before attempting to make money on Steam, ensure that you read the agreement and do not violate any of the terms you agreed to. The last thing you want is to get yourself banned or lose your account!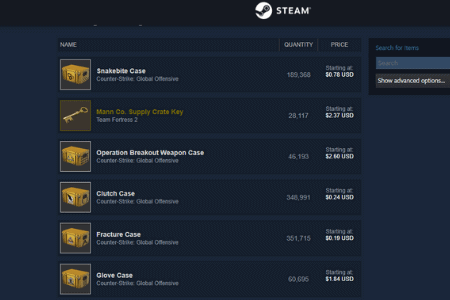 14. Use sites/apps to Make Money from Gaming
Use a site like Bananatic to earn extra from your gaming habit. Bananatic allows users to play Steam games, carry out certain tasks on the platform and earn rewards for it. You can then get paid real cash via PayPal or accept free Steam keys and codes as payment!
15. Refer a friend to Make Money
As a gamer, you already know all the ins and outs of gaming. Sometimes it's as simple as letting your friend know about an awesome gaming related app or site. For example, if you were to check out Bananatic and love it, you could tell your friend all about it, send them your unique referral link or code to sign up, and make real money!
Technically, it's not making money on Steam, but it does involve making money from your Steam gaming hobby and connections!
Additional Tips on Making Money on Steam
Tips for Buying and Selling
Always beware of scammers. Proceed with caution if you have decided to take your business off-site. Never give out sensitive information such as account passwords and banking information.
Additional Info on How to Get Money on Steam
How much money can you make on Steam?
There's no solid answer for this question. It all depends on how much work you put in! You can make cents, dollars or even thousands depending on the money making strategy that you use.
For example, if you decide to create and sell games on the Steam market, you may make thousands of dollars. However, if you decide to stick to collecting and selling trading cards, you may make mere cents in your Steam wallet, none of which will end up in your real bank account.
The potential to make money is there. Livestreaming games can earn you $3000 – $5000 per month, selling mods can earn a few hundred bucks and obviously distributing games can help you rack up thousands as well!
Is there a way to sell Steam Games?
Yes, you can create and develop your own Steam games using the tools and services provided on Steamworks. Once your game is approved by Valve, it will be added to Steam to be sold to their millions of users! If you've ever wondered how to make money on Steam, this is it!
How do Steam games make money?
As mentioned earlier, Steam games make money through in-game purchases and also from the actual sale of the game itself.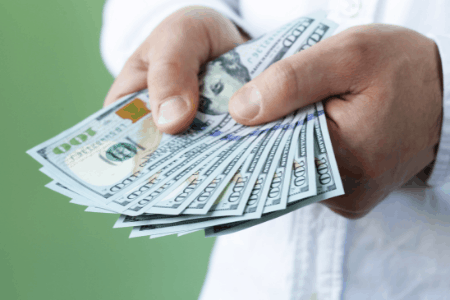 How do you make money selling games on Steam?
If you've decided to create and sell a game on Steam, as a developer, you'll make money for every game that you sell. You are in charge of setting a price that is reasonable and obviously, the more games you sell, the more money you'll make.
You can also include in-game purchases which will increase the amount of money you earn from selling Steam games.
What Steam game can earn money?
Any Steam game can earn money. Once you create your game and it's approved by Valve, you can set a price and market it to other gamers. Obviously, only games that are fun, exciting and high-quality will make the cut, thereby allowing them to be distributed for you to make money!
Related Posts on How to Make Money on Steam
37 Online Jobs for Teens that Pay High
39 Legit Ways to Get Free Steam Codes
43 Freelance Proofreading Jobs to Make Money from Home
Is Right Hand Itching Lottery Luck? (How these People won Millions!)
Is Left Hand Itching Lottery Luck? (+ Its connection with your finances)
23+ Legit Game Apps That Pay Instantly to PayPal
How to Make Money at 13 Years Old (43 Legit Ways)
Final Thoughts on How to Make Money on Steam
Now that you know everything there is to know about making money on Steam, go ahead a choose the methods that suit you best. Before you know it, you'll see extra money rolling in and your Steam wallet and bank account will thank you!
It's important to note that these tips will not get you rich – well unless you create the next Counter Strike – but every little bit adds up!
Some of these methods will give you Steam cash, which cannot be transferred to your actual bank account, but can help offset the cost of your gaming habit. And some of these will actually give you real cash in your pocket!
So now you know how to make money on Steam – go ahead and rack up that cash!
Do you have any additional tips on how to earn money on Steam? Share with us in the comments below. I'd love to hear from you!
Don't forget to follow us on Facebook, Instagram and Pinterest for more money making hacks and finance tips!
Liked this post? Pin it for later!
How to Make Money on Steam (Everything you Need to Know)