What does it mean when your left hand itches? Everything you need to know about the left hand itching superstition and left palm itching meaning!
Have you had an itchy left palm lately and you're wondering what this means? I'm pretty sure you've heard about the saying that itchy palms mean that you're either about to get money or lose money.
Now you're wondering if you should go out there and buy that lottery ticket or if you should prepare yourself for a loss. Is left hand itching lottery luck? What does it mean when your left hand itches? And what does this mean for your money anyway?
If you're a believer in the left palm itching superstition, read on for a detailed insight into what to expect in your financial life after having itchy palms!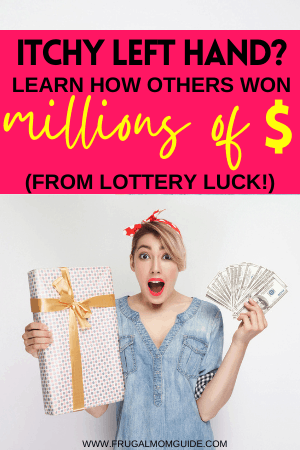 This post may contain affiliate links. This means that we may make a commission (at no extra cost to you!) if you make a purchase via a qualifying link. You can read our full disclosure for more info.
We all know that different countries have different superstitions, but it seems as though the "itchy palms superstition" is one that is quite similar across the board. Almost every group and culture associates itchy hands with money.
Now, which hand is the lucky hand depends. Depends on what? Well, it depends on where you're from, if you're male or female, or even just who you are as a person.
In some cultures the right hand is the lucky hand – which means that the left hand will be the not-so-lucky. And for others, the left hand brings you luck, while the right hand doesn't.
Origin of the Left Hand Itching Superstition
The itchy palms superstition was started centuries ago by the Saxons and Celts. They each had individual beliefs which combined to form the one which is widely known today.
The Saxons had the belief that sicknesses and diseases could be cured by simply rubbing your skin on silver. The Celts, on the other hand, believed that touching wood brought good luck, hence the terms "touch wood" and "knock on wood".
They both believed that itchy palms were related to riches and fortune (whether good or bad). At some point in time, their beliefs got mixed and intertwined to form one common superstition that was passed down from generation to generation. This is why, today, we rub our itchy palms on wood to keep the good luck!
So what is the "left hand itching superstition" anyway?
Today, the most common belief is that an itchy left palm is a sign that money will leave, or money will be lost in some way. According to the superstition, you'd need to rub your hand on wood to prevent this from happening!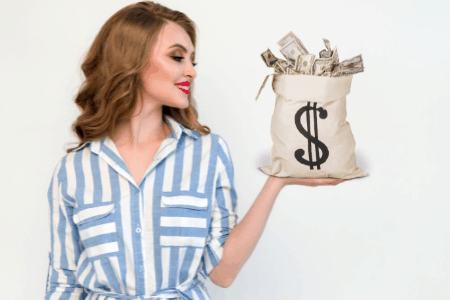 Left Hand Itching Meaning
What does it mean when your left hand itches?
When your left hand itches, the first thing you'll want to do is rule out any chance that you have a medical issue. Itchy palms can be a sign of dry skin, dehydration, eczema or even something more serious!
If you're 100% certain that your itchy left hand doesn't require medical intervention, then you may be curious about if your hand itching has any connection with your money.
Generally, the most common belief is that left palm itching indicates that money is about to leave your hands / pockets / bank account. This could mean that you have bills to pay, your car breaks down unexpectedly, or you'll simply lose 5 bucks.
I know. I know. This is probably not the news you wanted to hear. But maybe, just maybe, you may be one of the few who have lucky left palms. Believe it or not, there are many people who have had good fortune after experiencing an itchy left palm!
Like I said, which hand is the lucky hand depends. Let's delve into the details so you can figure out which hand does what for you!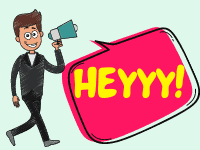 LEFT HAND ITCHING?
GET SOME MONEY IN YOUR HANDS WITH SOME OF THESE OPTIONS!
• Swagbucks gets you free gift cards, cash payout via PayPal (can cash out after earning as little as $5), plus you'll immediately get a $10 sign up bonus!
• Join InboxDollars for gift cards, cash via PayPal ($30 minimum payout) or personal checks, plus get a $5 sign up bonus.
• With MyPoints, you'll get gift cards, cash payout via PayPal (with just $5 needed to be able to cash out), plus get a $10 sign up bonus!
• With Reward Survey you'll get a $30 Bonus Reward when you sign up!
Is Left Hand Itching Lottery Luck?
Maybe you've been battling itchy left hands for quite some time and you're wondering what this means for your finances? Is left hand itching lottery luck?
You'll be happy to hear that many, many people have had lottery luck after experiencing itchy left palms, albeit the common notion that left hand palm itching brings misfortune!
This is why I say that left hand itching doesn't necessarily mean that money will leave, and it all just depends on the person.
One of the most common examples is Mary Shammas, a Brooklyn grandma who won a whopping $64 million after experiencing an itchy LEFT hand!
She was actually on the bus, felt her left hand itching, and immediately jumped off and headed to the Lucky Lotto store to try her luck! And boy was Lady Luck on her side that day!
So can left hand itching mean lottery luck? Why, yes it can!
Lottery Number for Left Hand Itching
What does itching hand play for in the lottery?
If your left hand is itching, and you want to try your luck, you might be wondering what numbers you can play! You may even decide to choose numbers that are related to "hand itching".
Well, different lottery books will give different numbers for "itchy hands". For example, one lottery book lists the numbers 636 and 437 for itchy left hands. It also lists 371 and 616 for just itchy hands.
Another lottery book listed the numbers 553 and 335 for a hand itch. Yet another book gave the numbers 000, 119, 880, 981 and 963 as lucky numbers for left hand itching.
So you see, there are so many books that all claim to have the best match for hand itching. And of course, there's no "right" answer here. The numbers and combo that you choose will be based on the game you are playing and should have some special meaning to you.
For example, Mary Shammas won her $64 million by playing the numbers – 5, 14, 17, 19 and 24 – the birthdays of her family members!
So why not just choose from your heart?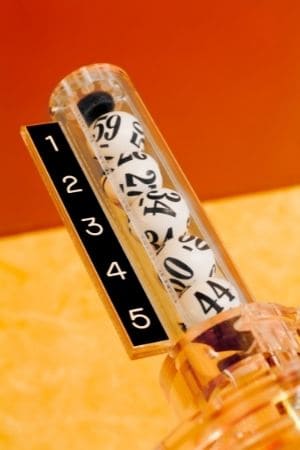 Other cases of Itchy Hands and Lottery Luck
There are countless other cases of lottery wins that stemmed from itchy hands! These winners all mentioned getting itchy hands before purchasing their tickets or right before finding out that they had won!
• This Maryland couple believe that their itchy hands were responsible for their big $50K win in a scratch-off in 2019!
• This Michigan woman won $2 million in her local Mega Million Lottery after having itchy hands for a month! Not surprisingly, her itch stopped when she won the prize!
• This Baltimore woman won a $50K lottery jackpot after her three daughters all told her that they had itchy hands on the same day! Coincidence?
• This Saskatchewan woman noted that she "had very itchy hands" the day she became a $60 million Lotto Max winner!
• An Irish man had itchy hands and felt like something good was coming his way when he purchased a lottery ticket and won €250 000!
• This North Carolina woman won $100 000 in a Crossword Money Multiplier game after experiencing itchy hands!
• This Australian man had an itchy palm the night before the draw that made him a $928 000 AUD winner!
• This Michigan man who won $250 000 credited his win to his itchy hand!
• This Cumberland man won a massive $99 million Mega Millions jackpot after experiencing an itchy right hand!
• This British Granny won £17 million jackpot after experiencing a right hand itch!
• This Waynesboro man won $3K after having an itchy right palm.
Honestly, this list can go on and on. There are SO MANY people who state that they've won BIG after having itchy hands – some with itchy left palms and some with itchy right palms.
It surely shows that there might be some bit of truth to the old wives' tale, right?
Remember though that there are probably thousands of others who took a chance on their itchy hands and didn't quite have this kind of lottery luck! So if you find that you might be having itchy hands too often, you might need a doctor visit, and not another lottery ticket!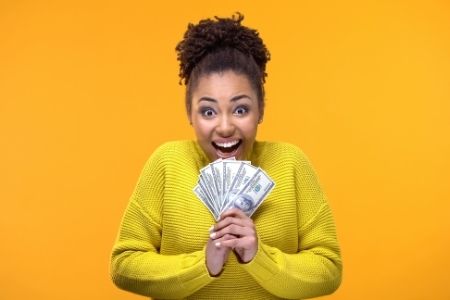 So which hand is the "lucky hand"?
You may have noticed that some of these lottery winners experienced an itch on both palms or just right hand itching when they lucked out. And some of them didn't mention which hand itched when they hit the jackpot. Perhaps the "lucky hand" varies by person.
Generally, it is said that the itchy right hand receives money and the itchy left hand loses money.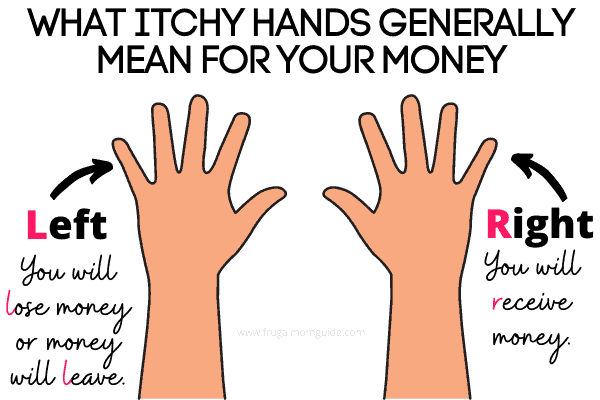 But clearly we can see that this isn't necessarily true! It definitely wasn't the case for Mary Shammas, was it?!
Remember how we said that the "lucky hand" may depend on the person or even where they are from?
Well, in certain countries, like India, it is actually believed that the right hand brings good fortune only for men! So according to Indian culture, if you're a woman, then it means that your right hand would bring bad luck and the left hand would bring you the big wins!
Also, many people throughout the world believe that the "lucky hand" just depends on the person. In this case, next time you feel your palm itching, take note of which hand it is and follow closely to see what kind of financial luck you have in the days that follow.
This is a sure way to figure out which hand does what for you!
What should you do when your left hand is itching?
Is your left hand itching? If your left hand is your "lucky hand", leave it alone! It is believed that if you scratch it, you will scratch the good luck away! Instead, rub your hand on a piece of wood. The older folks believed that this would bring the money to you (while satisfying your urge to itch too!).
Even if your left hand is your not-so-lucky hand, it is believed that rubbing it on wood would prevent the money from leaving you! So either way, rubbing your hand on wood doesn't seem like a bad idea!
Other cultures believe that when your lucky left palm is itchy, you should spit on it and then rub it on your hips! HUH? Maybe I'll just stick to rubbing it on wood!
And still there are other groups who believe that you should grab your hair and rub your palm against it to keep the luck. Apparently, the amount of money you will win / receive will be the equivalent of the number of hairs that you initially grasp!
Last but not least, when you have itchy palms, you can put your hands in your pockets and scratch them in there. This is believed to help the money flow into your pockets!
If you are a believer in the "left hand itching superstition", when you feel that urge to itch, put your hands in your pockets and scratch them in there, grab a bunch of your hair, rub your hand on wood, or even spit on it and rub it on your hip. After you do all of this, take a quick run to the store to get yourself a lottery ticket to test your luck!
Note though that despite the long list of lottery winners listed here, I wouldn't make any major financial decisions just based on my itchy hands. And I definitely wouldn't spend hundreds on dollars testing my luck! But a $5 or $10 chance definitely wouldn't hurt!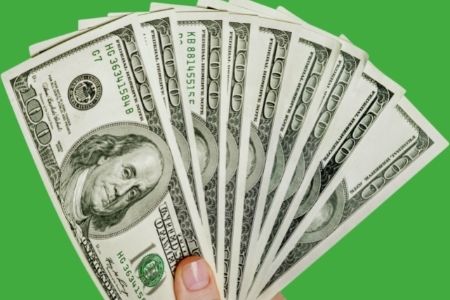 What happens when both of your hands are itchy?
When both of your hands are itchy, it is believed that you will get lucky – and definitely not the $5 in your back pocket on laundry day kind of luck!
As you can see, many of the lottery winners listed above stated that both of their palms were itchy when they won!
Plus, we all know the famous saying:
"If your palms itch, you are bound to get rich!"
So if both your hands are itching, go ahead and grab that lottery ticket. Then, rub your palms on wood, grab a handful of your hair, or spit on your palms and rub them on your hips. And if that last part grosses you out, ask yourself how badly do you want that money?
Left Hand Itching Female VS Male
As mentioned earlier, some places, like India, believe that an itchy left hand is only lucky for females! They believe that for men, the "lucky hand" is the right hand!
The Science
There are always people who have a logical explanation for everything and will not even entertain the thought of a superstition. (I wonder if these people say "bless you" when someone sneezes, or wear wedding rings at all?)
Fun Facts:
-Wedding rings are worn on the left finger because, in ancient Egypt, it was believed to be the only finger with a vein leading directly to the heart!
-People say "bless you" when someone sneezes because it is believed that the soul leaves the body for that second.
Anyways, for the sake of these people, let's look at the scientific reasons why your hands might itch.
You may experience itchy hands due to:
• an allergic reaction
• an infection
• dehydration
• diabetes
• an injury
There may be many other medical reasons for itchy hands, so if you feel like your itchy palms are a serious condition, please see your health care provider!
FAQ: What does an itchy palm mean?
According to superstition, an itchy palm has a connection to your money. Generally, it is believed that an itchy right palm means that you'll come into money and an itchy left hand means that money will leave your pockets in some way.
However, we've also seen the opposite occur for many persons. This means that for some people a left hand itch may be a sign of good fortune on the horizon, whereas a right hand itch may mean a financial loss.
One thing is for certain though, for any superstitious person, an itchy palm is a sign of a shift in your finances, no matter how small or big it is!
Other Money Superstitions
Now that we know about left hand itching and lottery luck, are there other money-related superstitions that are still common today? Here are a few that I know of!
• If a bird poops on you or your car, it will bring your financial luck.
• Sweeping the house after 6:00 p.m. means that you're sweeping away your money and any good fortune.
• Putting your purse on the floor will cause you to lose money.
• Having a lucky bamboo in your home will bring you wealth.
• Only pick up a penny if it is head side up. This will bring you more money.
• Giving money to a newborn baby during your first visit will bring them wealth for life.
• If you have hairy arms, you will be rich.
• Say the word "money" when you see a shooting star for wealth.
• Adding a Money Tree to your window sill can bring wealth and prosperity to your home.
Are there any others that you know of? Share with us in the comments below!
Related Posts on the Left Palm Itching Superstition
Is Right Hand Itching Lottery Luck? (What your itchy right hand means for your money!)
47 Legit Ways to Get Free Money Right Now
23 Easy Ways to Sell Feet Pics Online for Big Bucks
How to Become Rich Overnight (The Ultimate Guide)
Why is My Debit Card Declined when I Have Money (+ How to Fix it)
Final Thoughts on Is Left Hand Itching Lottery Luck
Now that you know all about your itchy palms and what they mean for your money, you can decide whether you want to try your luck or not!
So what do you think? Is left hand itching lottery luck? Have you ever won the lottery after experiencing your left hand itching? Share with us in the comments below. We'd love to hear from you!
Don't forget to follow us on Pinterest, Instagram and Facebook for more money chit chats, frugal living tips and side hustle inspiration!
Liked this post? Pin it!
Is Left Hand Itching Lottery Luck? (What your itchy left hand means for your money 2021)