A Comprehensive List of Ways for Females to Make Money Online (Including Side Hustles for Moms)
We've come a long way from women being just housewives and stay at home moms, with no hope of a career even if she wanted to!
Gone are those days, and thankfully, not only can we pursue successful career paths, but we can also learn how to side hustle our way to an extra income from home!
You too can learn how to make money from home as a woman, so that you can earn a decent income, whilst never even needing to step your foot out the front door!
Oh what a time to be alive!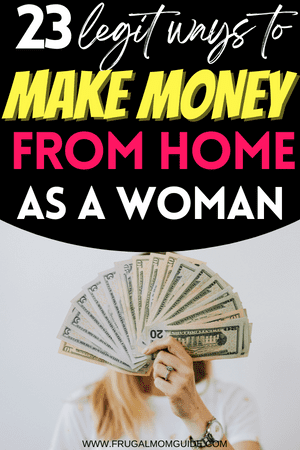 This post may contain affiliate links. This means that we may make a commission if you make a purchase via a qualifying link (at no extra cost to you!). You can read our full disclosure for more info.
According to this article on StrongDM, there are now 3 times more remote job opportunities as compared to 2020! Their research also showed that remote work makes employees happier. In fact, 74% of employees said that they feel happier working from home.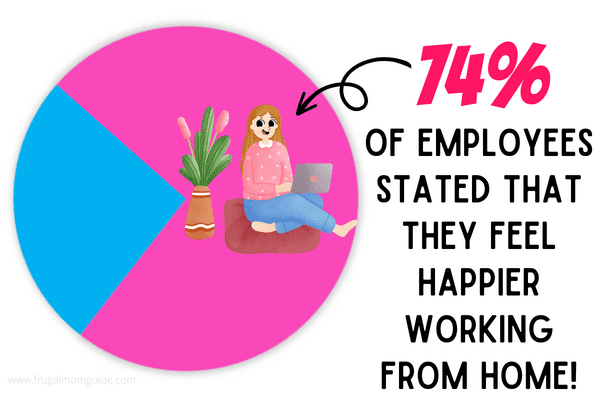 With many women choosing the path to become stay at home moms, wives, or simply looking for a way to supplement their income from home, it's no surprise that the quest to make money from home has become increasingly popular!
Now women can fulfil their duties at home, while still earning an income! It's a win-win!
How to Make Money from Home as a Woman – 23 Legit Ways that Pay High
1. Swagbucks
If you're trying to find ways to make money from home as a woman, Swagbucks is a must! One of the easiest ways to make money online is by taking surveys. And Swagbucks affords you the opportunity to do this from your laptop or phone.
Swagbucks is a legitimate survey company, with legitimate surveys. Basically, you are rewarded for sharing your feedback and opinion on a variety of products and services.
Brands know that the success of their products hinge on the opinions of real, everyday consumers. And they are willing to pay for this. It's simple. You share your honest thoughts, and you get paid.
Swagbucks makes it simple by connecting you to the brands and getting those surveys to you. Start earning straight away by grabbing this $10 Welcome Bonus when you get started!

2. MyPoints
MyPoints is another easy way to make money from home as a woman. It falls under the same parent company as Swagbucks, and they actually encourage you to use both to double your earnings!
Through MyPoints, you'll get paid to watch fun videos, play games, read emails, complete surveys and more.
When you have some spare time during the day, why not give MyPoints a chance? In fact, take advantage of this $10 Welcome Bonus when you first get started!
3. Survey Junkie
Expand your paid survey options by adding Survey Junkie to your list of money-making apps! It's not like you can get rich by taking online surveys, but when you use a combination of several sites, you can go from earning just a few dollars to hundreds of dollars per month!
Take advantage of these Survey Junkie hacks, and all of the ways to make money from home using Survey Junkie. For example, many people stick to answering surveys, without ever exploring the other money-making options provided by Survey Junkie.
However, there are some lucrative ways to increase your Survey Junkie earnings. These include testing products (up to $50!), participating in research activity (up to $100!) and participating in phone surveys (up to $100!).
You wanted to know how to make money from home as a woman? Well, when you sign up with Survey Junkie, it surely helps!
4. InboxDollars
Like the above paid sites, InboxDollars provides an easy way to make money online. You'll get paid for completing online activities such as trying new apps, playing games, doing surveys, shopping online, trying new products and services, and more!
As mentioned earlier, brands know how valuable your feedback is, and they're willing to pay big bucks for this! Since 2000, InboxDollars has paid out over $80 million in cash rewards!
So don't wait another day. Get started with this $5 Sign-Up Bonus and add InboxDollars to your list of ways to make money from home!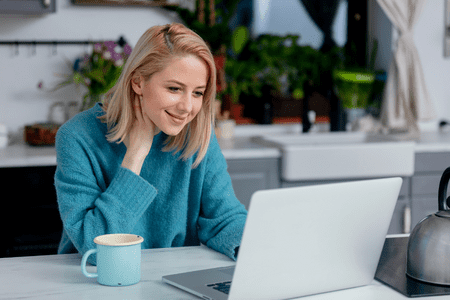 5. Start a Blog
Starting a blog or website is a great option if you're trying to figure out how to make money from home as a woman (or man!). Would you believe me if I told you that this very site makes us a 6-figure income?
Starting a blog requires very little financial investment in the beginning, but instead requires a whole lot of your time, effort and patience. In the long run, it can be a money mine!
Of course, you'll need to dedicate time towards writing regularly about topics that you are knowledgeable in, and that interest you. The best part is that you get to set your own work schedule, and you're your own boss!
If you're interested in blogging as an option to make money from home (seriously, it's one of the best side hustles for moms), be sure to check out our step-by-step tutorial on how to start a money-making blog.
6. Become a YouTuber
Becoming a YouTuber is as simple as starting your channel, filming and editing your first video, and hitting publish! Many, many women have made this their go-to way of making money from home. And YouTubers can make a killing from ads and sponsorships!
Just choose your niche and get started. Personally, I love watching the moms who film themselves cleaning and decorating – like Tiffani Beaston and Ashley from Til' Vacuum Do Us Part. But there are so many different niches to choose from!
What skill do you have that will make you shine on YouTube? If you do decide to start on YouTube, be sure to come back and leave your channel in the comments so that we can subscribe!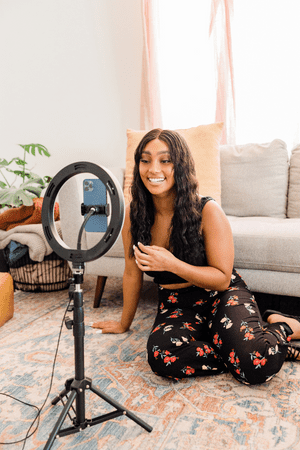 7. Fiverr
Fiverr is the perfect platform for skilled people who want to work from home! Fiverr has a variety of freelance categories for people who want to work for clients, from home. These include digital marketing, lifestyle, graphics and design, writing and translation, programming and tech, video and animation, and more!
All you have to do is create a profile and "become a seller". It's as simple as setting up your gig, offering your price ($5 – $10 000), getting clients from a global audience, delivering great work, and getting paid!
Making money online has never been easier!
8. Create a Shopify Store
You can make money from home by selling through your very own online storefront. You can stock your inventory at home, take and pack your orders at home, and run and maintain your store from home.
Shopify makes it super simple to set up your store's unique website, to help you become the ultimate business woman and boss babe!
FAQ
What can a female do to make money?
There are many ways a female can make money. In addition to traditional jobs, there are also various lucrative online opportunities.
These include doing paid surveys, making things to sell, freelance jobs, proofreading, transcribing audio to text, doing voiceovers, babysitting, dropshipping, and even selling feet pics!
Once a woman sets her mind to it, it's more than possible to make a decent income from home!
9. Sell on Etsy
Selling on Etsy is another great way to make money from home as a woman. Etsy is a global marketplace with a variety of unique and creative products.
If you're good at making jewelry, personalized Cricut crafts, home decor, clothing, and even digital printables, Etsy is the platform for you!
You'll get to have an online storefront, with a global audience. It's no secret that many Etsy sellers make 6-figures! This is also one of the best side hustles for moms.
10. Amazon Mechanical Turk
Did you know you can make $50 – $100 a day on Amazon MTurk? Amazon Mechanical Turk (called MTurk for short) is a crowdsourcing marketplace founded by Jeff Besos. Businesses can outsource work from a global workforce by listing microtasks.
That's right. You can get paid to complete these microtasks daily, from anywhere in the world, and from the comfort of your home!
No matter how advanced technology gets, there are just some things that algorithms and robots cannot do. And so, companies are willing to pay you to do them! On MTurk, you'll get paid to do things like completing surveys and transcribing audio files to text.
It's a great option for making money from home!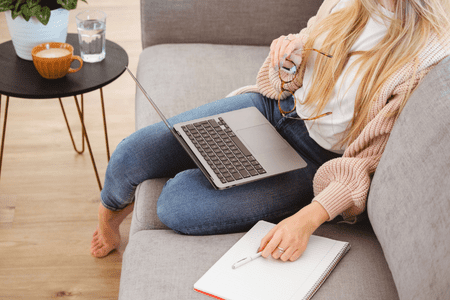 11. Become an Influencer
These days social media sites like Instagram and TikTok make it super easy for anyone to become an influencer. Of course, you'll need to put in the time and effort to learn the algorithm and create content to post regularly.
It doesn't make you money straight away, however, as your followers and engagement increase, you'll start benefitting from sponsorship deals and affiliate marketing payouts. This means big bucks will start rolling in.
Social media influencers can potentially earn a 6-figure income and is one of the best ways for females to make money online. Pretty faces make money, so if you ask me how to make money as an attractive female, I'd definitely tell you to jump on the influencer train!
12. Sell Feet Pics
If you're an introvert and want to know how to make money from home as a woman, then it's time to sell feet pics! Believe it or not, with the right strategy and enough effort, there's the potential to earn a full-time income selling feet pics.
Best of all, you never have to show your face if you're uncomfortable pursuing this money-making avenue. Getting started is as simple as setting up an Instagram profile and creating content to grow your followers. You can then set up a paywall for exclusive feet photos.
Other options also include Facebook, TikTok, Snapchat, Twitter, Instafeet, Patreon, and of course, the famous OnlyFans!
13. Become a Virtual Assistant
A Virtual Assistant provides administrative services to clients, remotely. These tasks can include reading and responding to emails, creating content for social media and managing the client's appointments and meetings.
It's a great work-from-home option for a stay-at-home mom or wife. You can join a site like Upwork to land your first VA job and to start building your clientele.
FAQ
How do I make money while I'm at home?
There are many ways you can make money while you're at home. Let's start with the paid survey apps. You can get paid to do surveys, watch videos, play games and more, using sites like Swagbucks, MyPoints and InboxDollars.
You can also use a skill you have to make money while you're at home. For example, if you're good at baking, try baking cakes to sell. If you've got a green thumb, set plants and then sell them. If you're good at graphic design, become a freelance graphic designer.
Additionally, you can try your hand at dropshipping, proofreading, doing voiceovers or transcribing audio to text.
When it comes to making money from home, the options are limitless!
14. Become a Freelancer
Freelancing is a great option for a side hustling woman. Freelancing was mentioned earlier, and Fiverr was cited as a platform to try out. However, the freelance categories on Fiverr can sometimes be limited.
If you don't want to be constrained by the categories on Fiverr, you can try sites like Upwork, or even search for Freelancer Facebook groups to land your first client. The advantage is that you can become a freelancer in absolutely any field that you're skilled in.
This means you can become a photographer, a copy writer, an accountant, or even a PR manager. The options are endless! All of these can be done from the comfort of your home. The first step is advertising your services, and then finding interested clients.
15. Make things to Sell
This is the "Old Faithful" when it comes to making money from home, and for good reason – it works! When it comes to making money from home, you can make anything to sell!
You can make crafts items to sell, bake cupcakes or cakes, cook food to sell, make candles to sell, make resin items, grow plants to sell, and more. You can even buy products wholesale and resell to make a profit. Honestly, this list can go on and on.
Once you decide on what you're selling, you can create social media profiles and start marketing your products online. This can be an extremely profitable venture with enough strategy and effort!
FAQ
What can I sell to make money?
There are many things that can be sold to make money. Firstly, let's start with the things you can make to sell. These include food, cakes, candles, jewelry, crafts, clothes, planners, digital printables, and personalized items.
You can also buy products in bulk from wholesale suppliers, to sell individually for a profit.
Remember that you can also sell used items that you no longer need, such as clothes, furniture, books and small household products.
16. Dropshipping
You can start making money from home by starting a dropshipping business. Dropshipping allows you to run an online store without ever needing to stock inventory.
Instead, you fulfill your orders directly from the manufacturer or supplier. The products never pass through your hands.
It's extremely simple. The customer places an order, you instruct the the supplier to ship it directly to the client. Many people make a full-time income with dropshipping and there are many sites that facilitate you starting up.
17. Become an Online Tutor
If you have the skills, qualifications and patience to teach, then becoming an online tutor is a great option to make money! You can use an online platform such as VIPKid to get started with teaching English to little kids from around the world.
Additionally, you can set up your own independent tutoring sessions via Zoom or Google Meet. Market your classes and skills, because the more students you get, the more income you earn.
18. Use a Money Saving App
Money saved is money earned. And so, a money saving app will contribute significantly to your money stash! While finding ways to make money online, you should also utilize a money-saving app to ensure that you're never leaving money on the table!
An app like Rocket Money can help with this. The Rocket Money app will help you track your spending, lower your bills, cancel your subscriptions and more! 80% of people save money by using Rocket Money. What would you do with all the extra cash?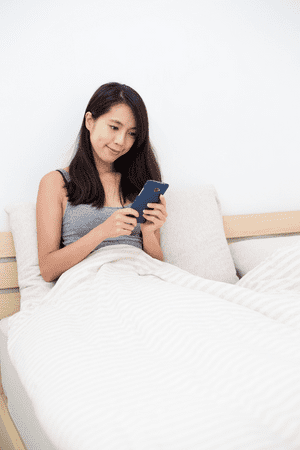 19. Get Paid to Type
Becoming a Transcriptionist and getting paid to type is one of the best online jobs for women! As a transcriptionist, you will convert audio to written text or reports.
Legal and medical transcriptionists are often paid the highest wages but because transcribing is a flexible job, you can easily make $3000-$4000 per month by putting in the hours.
There are many transcription companies that are always looking to hire beginners. If you're interested in converting audio files to text, firstly, take advantage of this free General Transcription Mini-Course and then check out this list of companies who are hiring beginner transcriptionists!
20. Get Paid to Proofread
Proofreaders can earn around $4000 per month, working from home! If you want to become a Proofreader, you'll need to have a good command of the English Language (or whatever language you're proofreading), good computer skills, and a sharp eye to spot mistakes.
If you think you have what it takes to become a proofreader, be sure to check out this list of best Proofreading Jobs from home!
21. Get Paid to do Voiceovers
Like transcribing and proofreading, doing voiceovers is a great option for making money from home as a woman! There are sites like Voices.com and Voice 123 that are solely dedicated to voiceover projects. You can browse the new jobs, and then audition for projects once you meet the requirements.
If you're confident in your voice, this might be the winning option for you! Be sure to give your best effort when producing every single voice sample. You never know which one can give you your lucky break!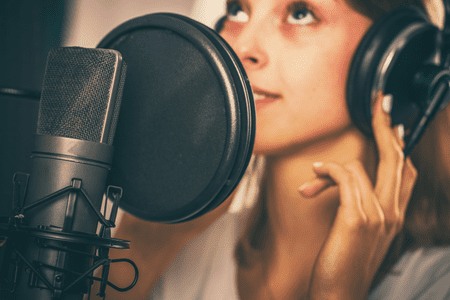 22. Invest
If you're trying to figure out how to make money from home as a woman, and you have a little money, you can try investing! Investing is when you put money into something with the expectation that it will eventually earn income or turn a profit.
If you're looking to make money instantly, this is not the right option for you. Investing is usually a long-term game but can reap huge profits when done right.
If you're not sure how to get started investing, Acorns makes it super simple. All you need is $5 to start, and you can see a hundred-dollar profit in just a few short months.
Grab this $10 Bonus Investment when you first get started!
23. Babysit
Offering babysitting services at home is a tried-and-true method when looking at how to make money from home as a woman! In fact, even my mom did this at one time, to gain financial independence and make some extra money.
You can have your clients drop and pick-up the kids, making this super convenient for you. You can even consider babysitting a few kids at a time to increase your earnings. Just ensure that you do not overbook to a point where it's too much for you to handle!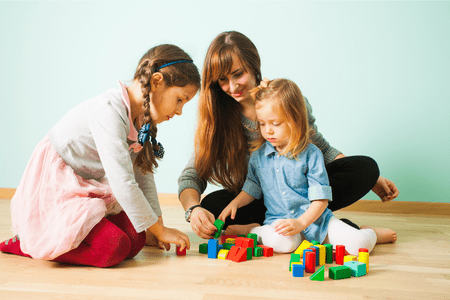 Ways for Females to Make Money Online – FAQs
What can you do on OnlyFans to make money?
It's no secret that OnlyFans is a platform that is used to create and post raunchy content. Content creators on this platform make money when they grow their paid subscribers fan base.
I'll be honest, this is not my cup of tea. However, it must be included on our list of how to make money from home as a woman, because quite frankly, it is one of the most popular and high-paying ways.
Some content creators on this platform have been known to make 6-figures in just one month! If this is something you want to try anonymously, you can try using the platform to sell feet pics only.
How can I make $100 a day from home?
With some effort and strategy, many of the options on this list can make you $100 a day from home.
Freelance jobs can pay $100 a day, and so can babysitting, if you have a few babies. Bloggers and YouTubers can make hundreds of dollars per day!
Proofreaders, transcriptionists and voice artists can also make this kind of money. Any job can pay high if you're willing to put in the effort and the hours!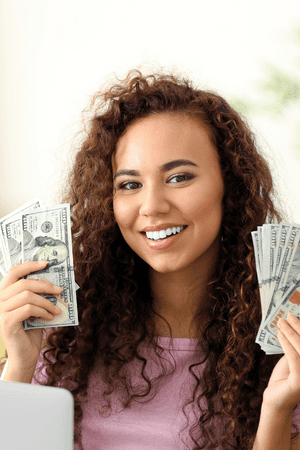 Related Posts on How to Make Money from Home as a Woman
12 Cash App Hacks to Make $1000+
Legit Envelope Stuffing Jobs from Home
33 Real Ways to Make $3000 Fast
Final Thoughts on How to Make Money from Home as a Woman
Now that you have a full list of options for how to make money from home as a woman, you can select one that suits your skillset and your schedule to get started!
Many women around the world are making full-time incomes from home. If they can, you can too!
Do you know of any other legit ways for females to make money online? Share with us in the comments below. We'd love to hear from you!
Don't forget to follow us on Pinterest, Instagram and Facebook for more money chit chats, frugal living tips and side hustle inspiration!
Liked this Post? Pin it!
How to Make Money from Home as a Woman: 23 Legit Jobs that Pay High