The rain is pouring, you're wrapped up under a blanket on the couch with a cup of coffee (reheated for the third time, ha!) in hand. Personally, I love those days where I can just laze around and enjoy the sound of the rain pouring down on my roof. My kids? Not so much. For them, it means being stuck in the house all day. However, these fun rainy day activities for kids are a game changer!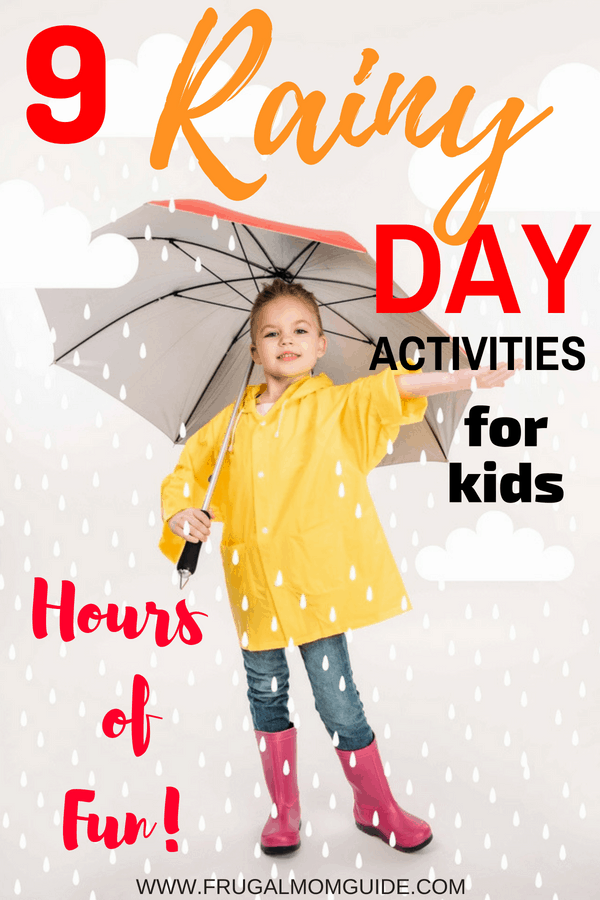 I remember seeing an episode of Peppa Pig where Mommy Pig and Daddy Pig were playing rainy day games with Peppa and George. My kids loved that episode! And since it has been quite rainy here recently, we played a few of our own.
Fun Rainy Day Activities for Kids
1. Hidden Object Game
First on this list is the very game played by the Pig family. In that particular episode, Mr. and Mrs. Pig hid an apple within sight but camouflaged so that it could blend in within its surroundings. Peppa and George had the fun task of trying to find it. They both took turns trying to find the apple. What's fun and easy about this is that you can choose almost anything to hide and the kids can even take turns hiding objects for each other.
2. Hide and Seek
I am absolutely unashamed to say that sometimes I enjoy this game even more than my kids! Currently, I even have a secret spot where they can never find me (don't judge me!). This game is one of my absolute favorites to play with my littles and it often results in hours of fun! There's just something about those dark, gloomy days, running around our home looking for a hiding spot in the darkest nooks and crannies and the sound of the raindrops pattering against our windows. What fun!
3. Painting & Coloring
This is one of my kids' favorite rainy day activities. Set them up with their paints, crayons, markers, glitter and several sheets of paper, sit back with your cup of coffee and watch them have tons of fun creating their own, unique masterpieces.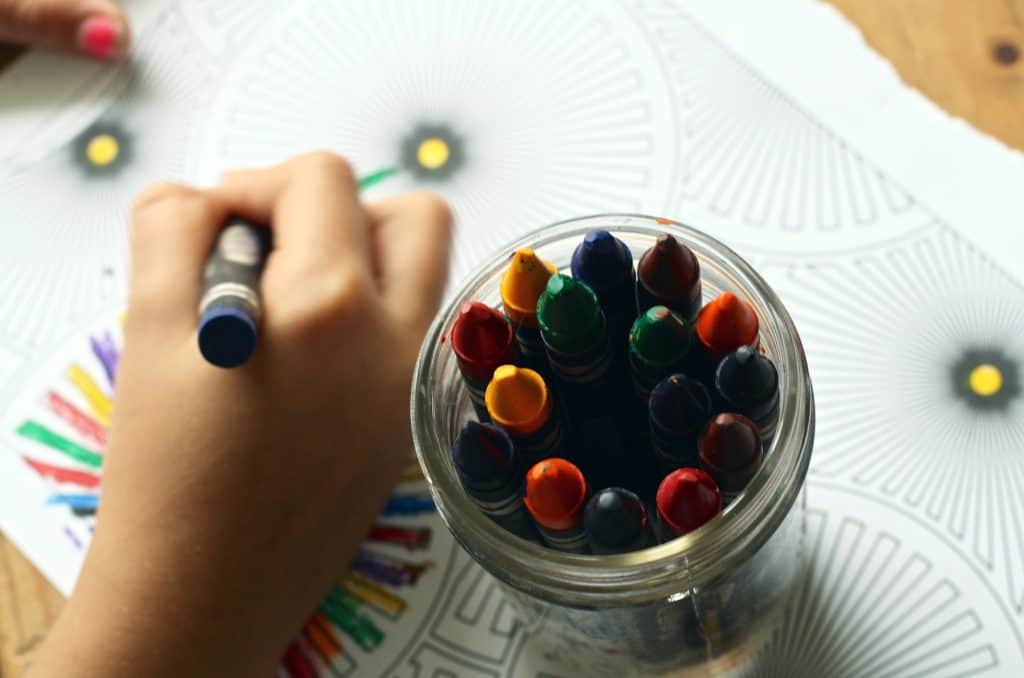 4. Playdoh Fun
I see that face you're making, Mama. Playdoh – the word dreaded by parents around the world. But the kids love it! And I've found the perfect solution. Every time my kids want to play with playdoh, I spread a large blanket (I have one especially for all their messy activities) and they are only allowed to play with the playdoh in this designated area. I sometimes put our large toy tub cover on the blanket so they can have a hard, flat surface to do their rolling and molding. I don't know but there is something magical about playdoh that engages kids for hours at a time, and the best part is that it allows them to be creative and have fun!
Related: 12 Ways to Entertain your Kids at Home when you're Exhausted
5. Build a camp
Can you remember the joys of building a camp/fort when you were younger? Use sheets, furniture, pillows and blankets and build up the coolest camp of all time. Your kids may not remember everything that you do at present, but cool camps with passwords and secret entrances are sure to make lifetime memories!
6. Reading
When you read to your kids, you are forming bonds and teaching life skills at the same time. Kids love when parents read to them. Let them choose their favorite books and bundle them up next to you. Use different voices for different characters, read with expression and have fun with it! The best part? You don't even need to leave the bed or couch!
7. Paper & Pencil Games
Tic Tac Toe, Boxes, and Boy, Girl, Animal are all great games that can be played to pass time indoors on a rainy day. If you're not sure how to play these fun games, check out the short tutorials below.
Tic Tac Toe (2 players only)
Draw two vertical lines and two horizontal lines to make nine spaces. One player uses X and one player uses O. Each player takes a turn to insert their X or O into the available spaces. The goal of the game is to be the first to get three in a row, diagonally, up or down.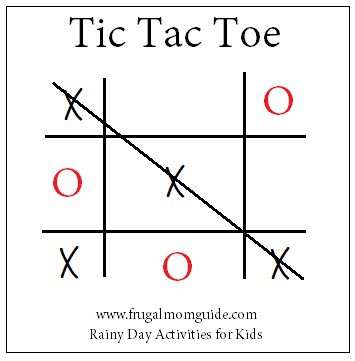 Boxes
Draw several rows of dots equal(approximate) distance apart on a sheet of paper. Each player takes a turn to draw a line to connect two adjacent dots. The line can be horizontal or vertical but not diagonal. When a player has the opportunity to draw in the fourth line that closes a box, he gets to write his initial in the box and gets another turn. If he has a chance to close other boxes, he can continue to do so. When he can no longer close a box, he can look for another space to draw a line but ideally, this play should not help the other player close a box during his turn. The winner of the game is the one with the most closed boxes at the end.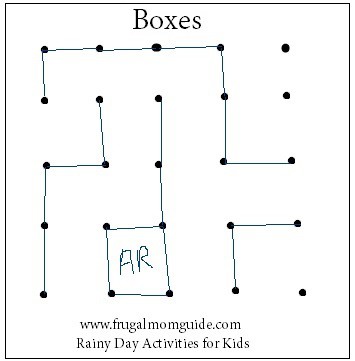 Boy, Girl, Animal, Place, T.V Show, Thing
Draw seven columns on a lined notebook page. Label them with the headings listed above. The seventh column has the heading 'Total'. One player tells another to START. The second player starts saying the alphabet silently until he is told STOP by the first player. The second player then tells everyone the letter that he was on when he stopped.
Let's say he stopped on G. Then every player now has to write a boy name that starts with G, girl name starting with G, an animal that starts with G etc. Everyone writes their answers secretly and as quickly as possible because when Player One calls STOP again, everyone has to stop writing even if they aren't finished.
Check here for full instructions on how to play and score for this game.
8. Board Games & Card Games
Monopoly, Scrabble, Chess, Checkers, Pictionary, Uno, Solitaire with real cards… Whatever it is, there's no day more perfect for board & card games than a rainy day!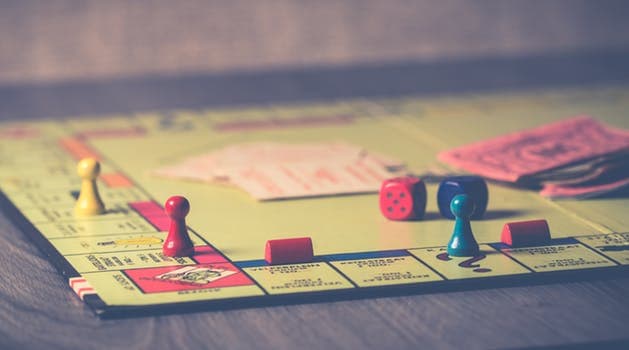 9. Other Fun Games
Memory game
Place 10 random objects on a table and cover them with a cloth. Remove the cloth and let your kids see the items for about 10 seconds. Put back the cloth and see how many they remember. You can give younger kids more time and give older kids less time. This is so much fun AND helps with brain development!
Charades
Let one person act out different scenarios and have the other try to guess what it is.
Rainy days don't have to be boring! What fun activities do you do on rainy days? Share with us in the comments below so that other mamas can turn rainy days into memorable ones too!
Don't forget to pin and share these fun rainy day activities! While you're there, I'd love for you to follow me on Pinterest!
Until next time,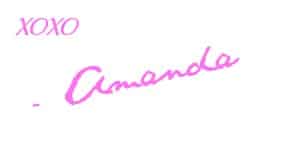 You may also like:
This One Habit can Make You a More Patient Mom
10 Habits of Parents who Raise A+ Students
The Ultimate Summer FUN List – 60 things to do with your kids this summer