Hey girl! Are you an overworked mom? Do you find yourself with a million things to do and very little time to do them? Do you find yourself forgetting to take your daily vitamins or forgetting to pack lunch for your kids (Oops)? Have you tried lists or setting alarms to try to remember and still failed? What if you could keep your life on track AND relax at the same time? Yes, you read that right. I kid you not! These bullet journal ideas will help you organize your life in no time! I've included some inspiration to help you create your very own bullet journal weekly spreads and monthly spreads. Having a bullet journal can be fun and easy AND helps you to keep track of things! That's a win-win for me! Get started with these super fun and creative bujo ideas!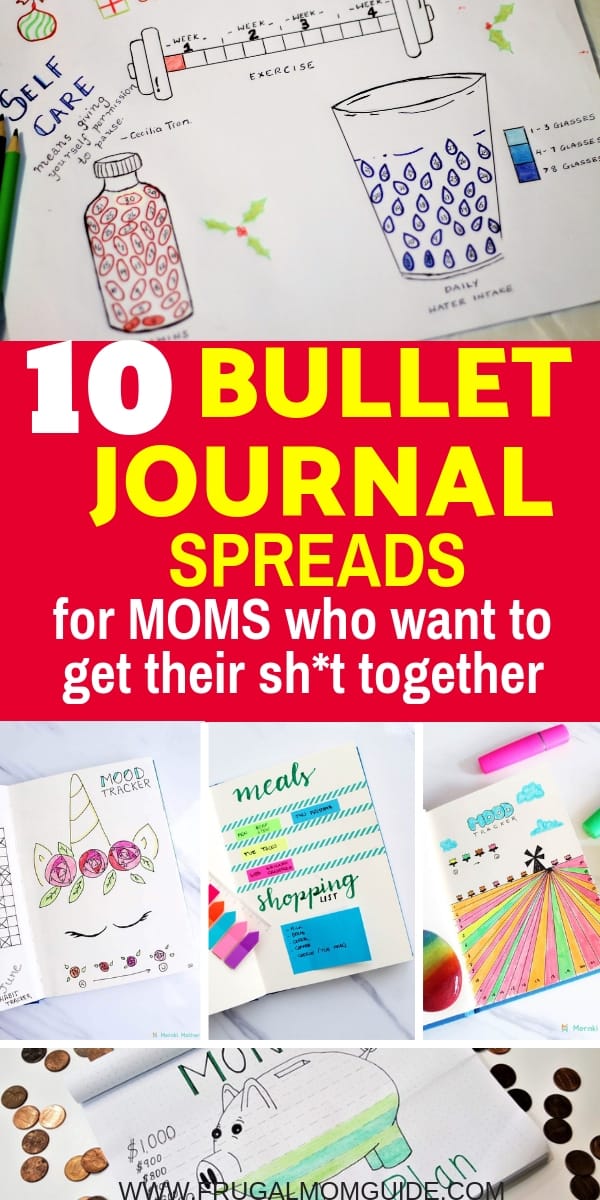 This post may contain affiliate links. You can read our full disclosure for more info.
Lately, I've been feeling super tired and overwhelmed by all my responsibilities from day to day. Adulting is so tough. I go, go, go from 5 a.m. to 11 p.m. every day. And quite frankly, it's draining. I know there are some of you who do even more hours than this daily! Girl, you rock!
Making breakfasts, packing lunches, sending kids off to school, going to a 9-5 or taking care of a million and one household chores (whilst taking care of littles), picking up kids, dropping off to extra-curricular activities, making dinners, doing home work, trying to get in some time to exercise, wife-ing… Sounds familiar? The list goes on and on. Remind me again why we wanted to grow up so quickly?
We mamas have a lot on our plates. And with my on-going 'pregnancy brain' (no, I'm not actually pregnant but it has never been cured since my last pregnancy 3 years ago and has now permanently turned into 'mom brain' UGH See? Now I've been rambling about 'pregnancy/mom brain' and forgot what point I was trying to make…and now this sentence is WAY too long for brackets lol)…OHH YEAH… I was saying that I have way too many things to remember and keep track of.
Did I give my kids vitamins this morning? Did I drink enough water yesterday? Did I pay my electric bill yet? Are these questions that randomly pop into your mind?
Why not keep track of these things using a bullet journal?  These bullet journal ideas can help you track each and every one of these! In fact, the site Bullet Journal states that bullet journals and bullet journal spreads can help you "go from passenger to pilot of your life through intentional living."
With that being said, here are some amazing bujo ideas that are so beautiful, you'll definitely want to steal them!
10 Best Bullet Journal Ideas for Moms who Want to get their Sh*t Together
1. Want to keep track of ALL.THE.THINGS? Rhoda from Lemony Fizz has these amazing bullet journal weekly spreads to track your workouts, your mood, your habits, to do list, daily activities and meal plans. If this doesn't help you get your sh*t together, then I don't know what will!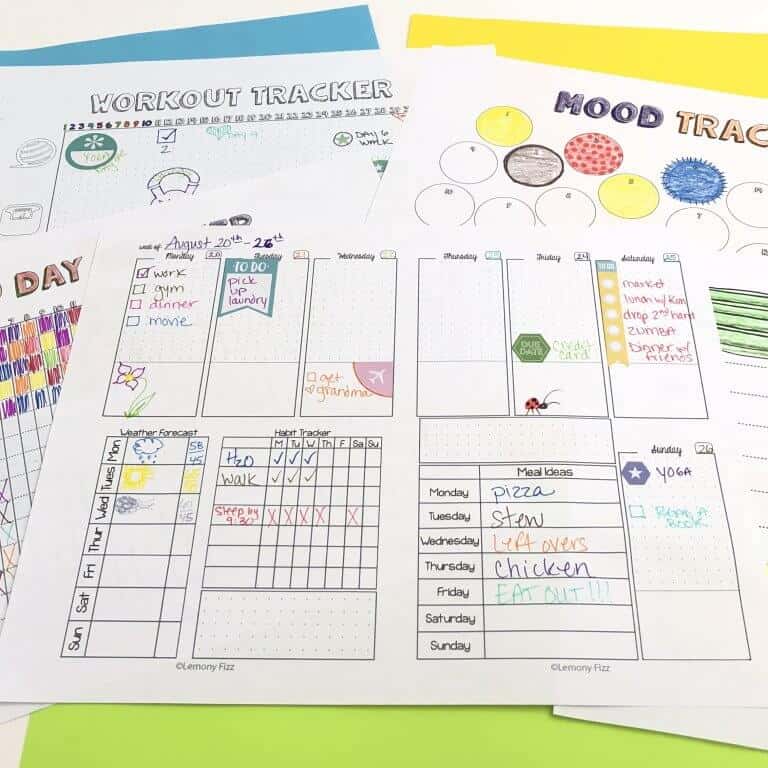 2. Traci from Wildflowers and Wanderlust has a great savings spread. Traci has made this one readily available for you to download and print. It's perfect to keep track of your savings and this bujo idea is super easy to copy!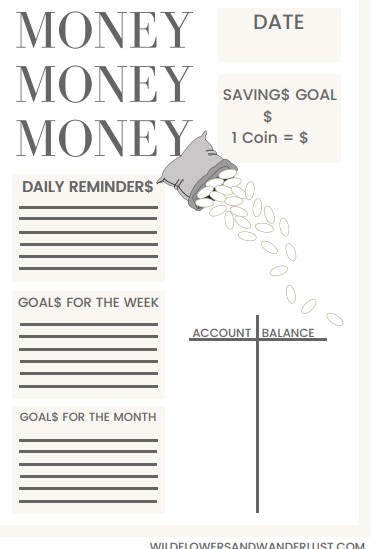 3. Sasha from Life's Carousel has some awesome bullet journal ideas for money management also. This piggy bank bujo idea is super cute and so easy to copy! It's such a good way to keep track of your savings!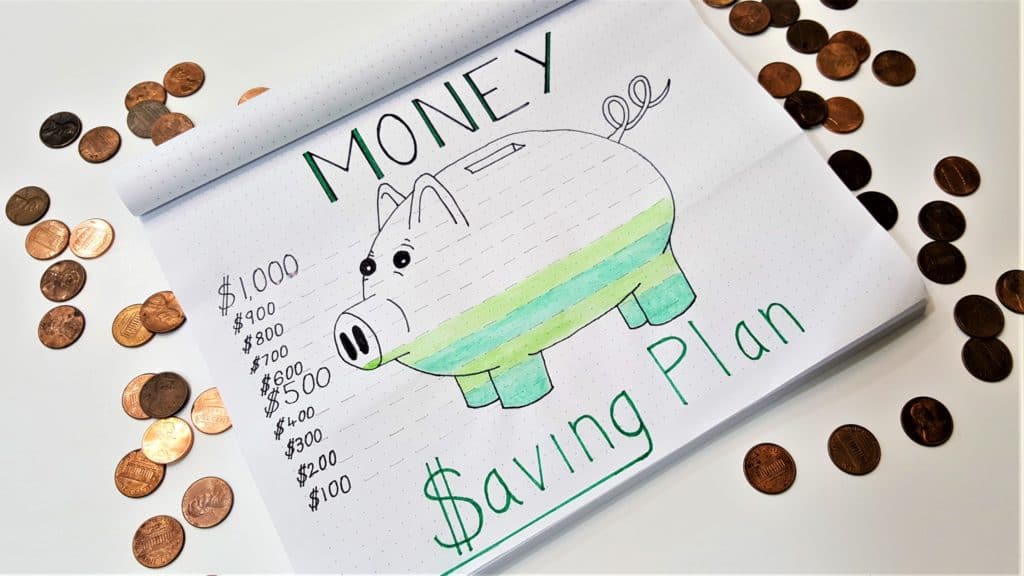 4. This is another gorgeous money management bujo idea from Sasha. This one helps you keep track of your spending. This bullet journal weekly spread is perfect to keep you in check if your on a budget.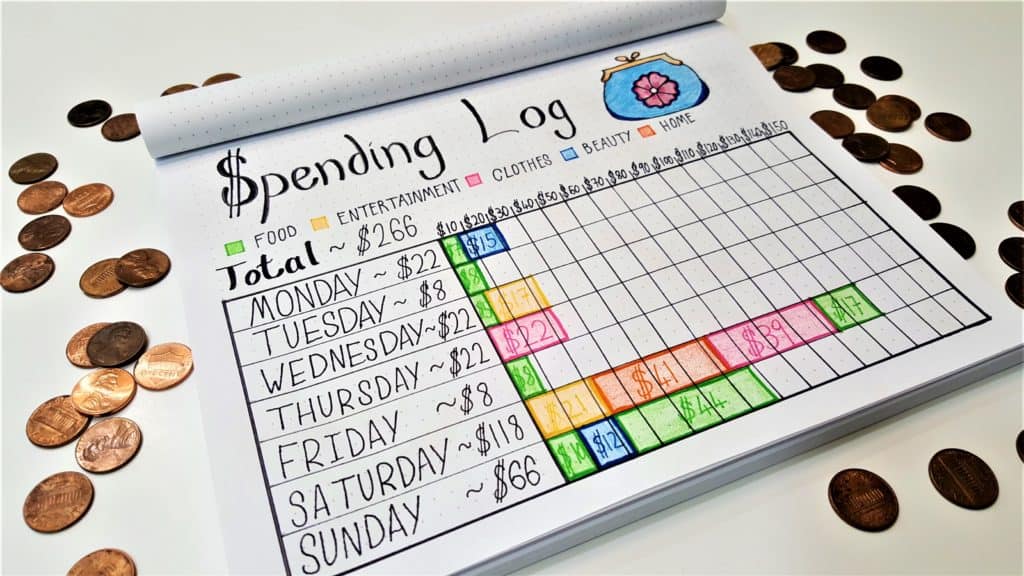 5. This is yet another savings bullet journal idea from Sasha! It's easy to copy and fun to help you keep track!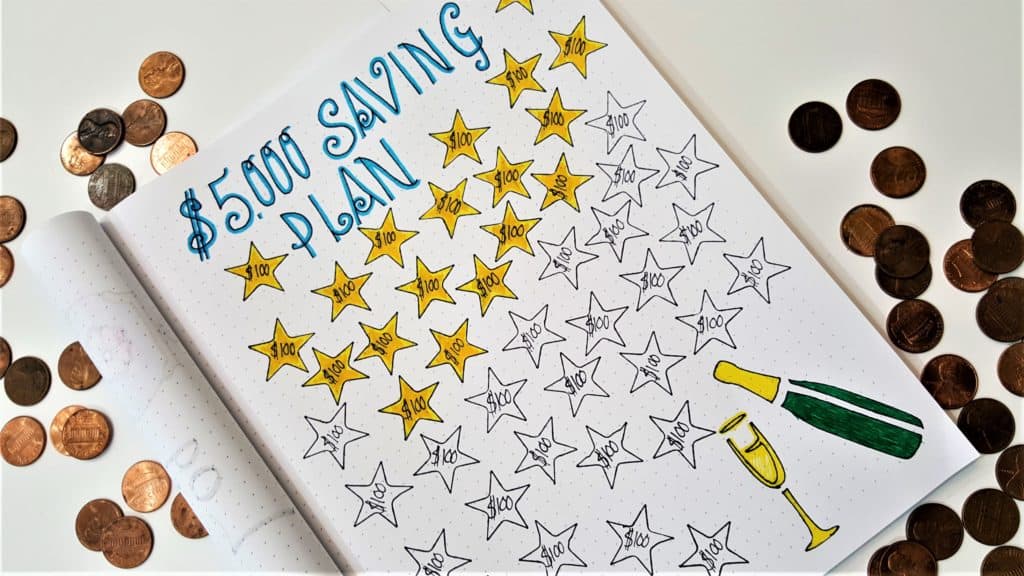 Related: DIY Family Portrait Ideas on a Budget
6. As a mom, our kids can sometimes drive us from smiling to angry in 0.00001 second, right? How awesome would it be to look back on the past few weeks to see how you were feeling? Sometimes this can help you take a step back and analyze your life and emotions. Or maybe you can just choose to have fun tracking your mood. Check out this beautiful mood tracker bullet journal spread idea from Meraki Mother.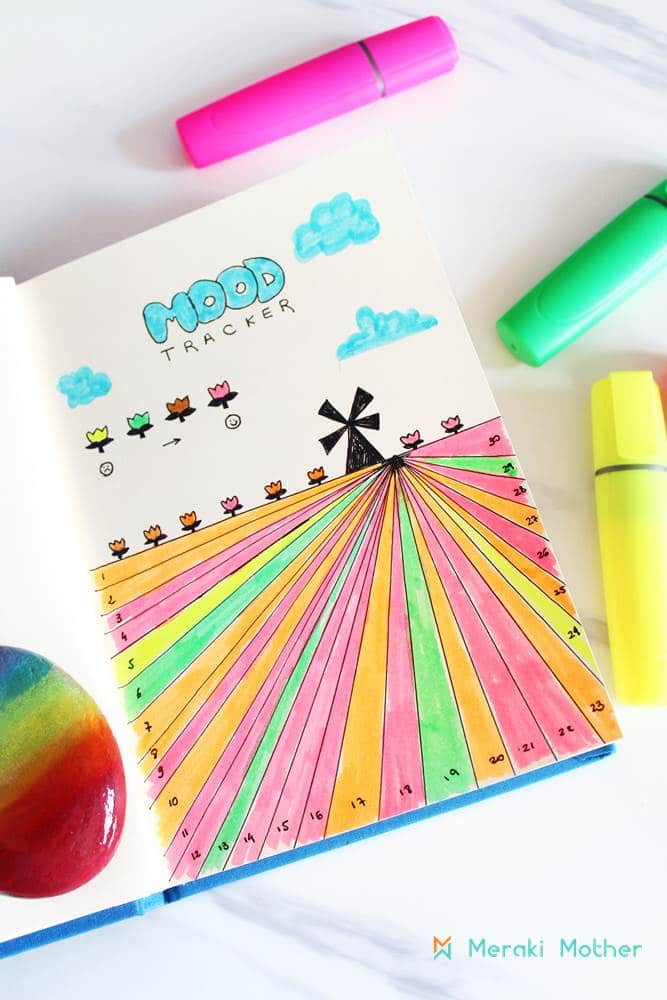 7. Here's yet another beautiful unicorn themed mood tracker bujo idea.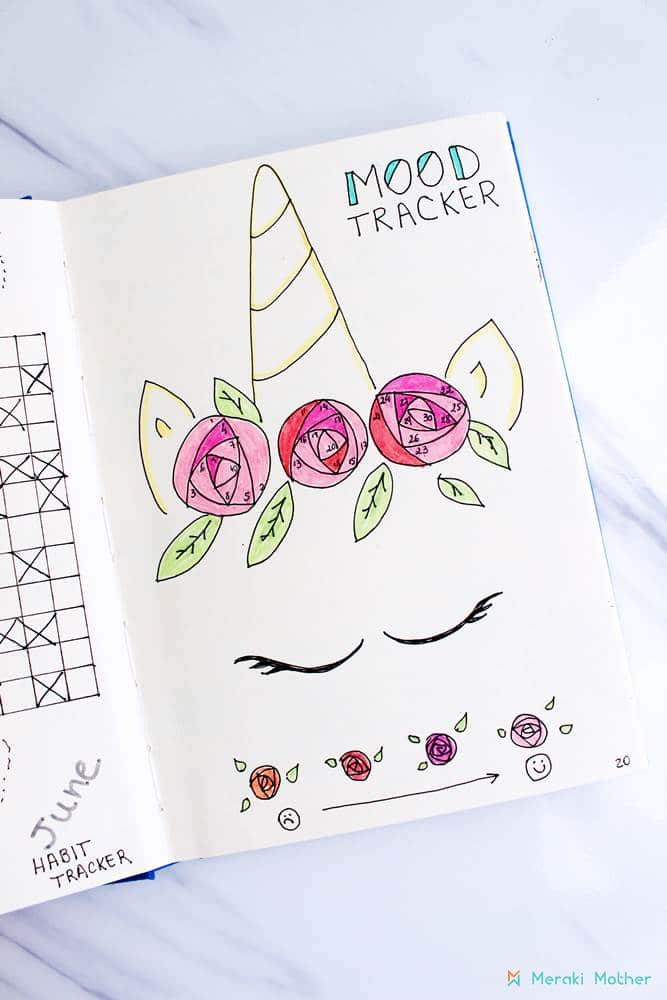 8. Are you always lost about what to cook for dinner each evening? Are you always scrambling for ingredients to get dinner done? Get your meal planning organized using this awesome meal planning bullet journal weekly spread  from Diary of a Journal Planner.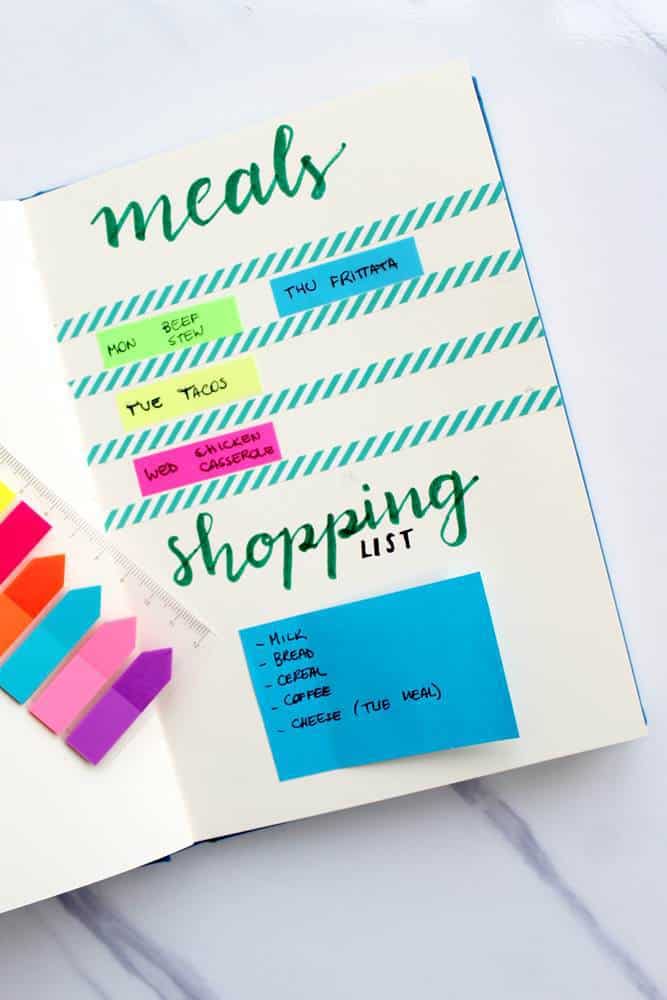 9. This beautiful bullet journal spread idea is from Rose of Little Miss Rose and can be used to help you track your diet, spending and writing/reading (you can actually swap this out for whatever activity applies to you). How gorgeous is this?!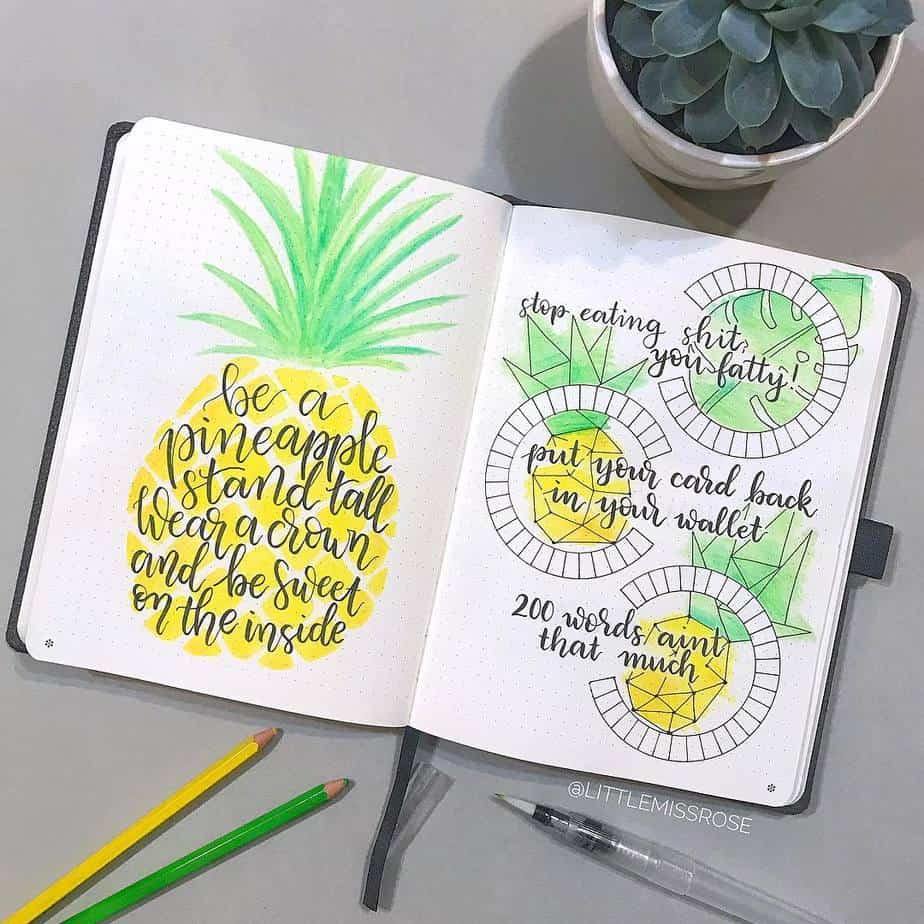 10. This last bujo idea is my very own.
You can use this to help you track your self care routine. Us moms are always giving and giving and barely have time to take care of ourselves. I am always forgetting to take my vitamins and drink enough water. I figure tracking it with this bujo spread is the best way to keep me in check. I'm not so good at drawing so if I could draw this, I'm pretty sure you can do even better than me!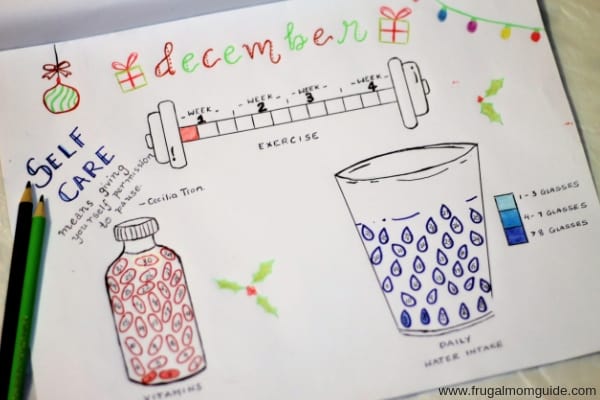 Weren't those bullet journal ideas gorgeous? Plus they're super easy to copy for yourself, and they make for tons of bullet journaling fun! Bullet journaling brings out the creativity in you and also calms your soul.
Whoever thought that you could organize your life AND become more calm AT THE SAME TIME?!
Now, over to you.
Are you already a bullet journal fan? Or are you now deciding to give it a try? I must warn you, it's pretty addictive! And now you're gonna be one of those moms who has her sh*t together! If you're interested in creating your very own bullet journal ideas and spread, feel free to browse some of the following materials which can make bujo fun! (BTW, none of these are necessary but can make doodling wayyy more fun!)
Is there any other bullet journal idea that you'd add to this list? Or is there one you'd like to see me do? Share with us in the comments below. I'd love to hear from you!
Don't forget to share and pin for later!
Until next time,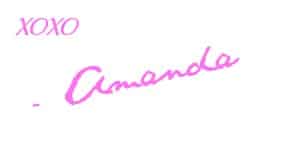 You may also like:
This ONE Habit Makes you a More Patient Mom
10 Parenting Skills you Need to Adopt if You want to Raise Good Kids
12 Habits of Parents who Raise Smart Kids