Hey guys! Today I've been thinking a lot about blog traffic and the various methods to increase it. As some of you may know, I'm not a newbie blogger but The Frugal Mom Guide is a new blog. I only started this blog at the end of June 2018 and since then, I've been literally spending ALL of my free time building it. It's no easy feat since I also have a full time job plus the added responsibility of 'momming' but I have a dream that this blog will make me a full-time income by July 2019 and I'm going to put my sweat and tears into it to make this happen. I'm sure you would have learned by now that the absolute best way for most new blogs (and older blogs too) to gain tons of traffic quickly is from Pinterest! But the secret to winning at Pinterest is creating gorgeous pins that will convert into click-throughs and result in a nice boost in your blog traffic. Many bloggers haven't quite gotten the hang of creating the perfect pin and that's okay (I sucked horribly at first too) so here are a few viral pin tips for Pinterest that will skyrocket your blog traffic.
Related: 100+ Pinterest Group Boards to Join to drive your Blog Traffic through the Roof
As a blogger with several past viral pins, I want to share what I have learned and observed about most pins that go viral. I am going to share what works for me and what has worked for other bloggers too.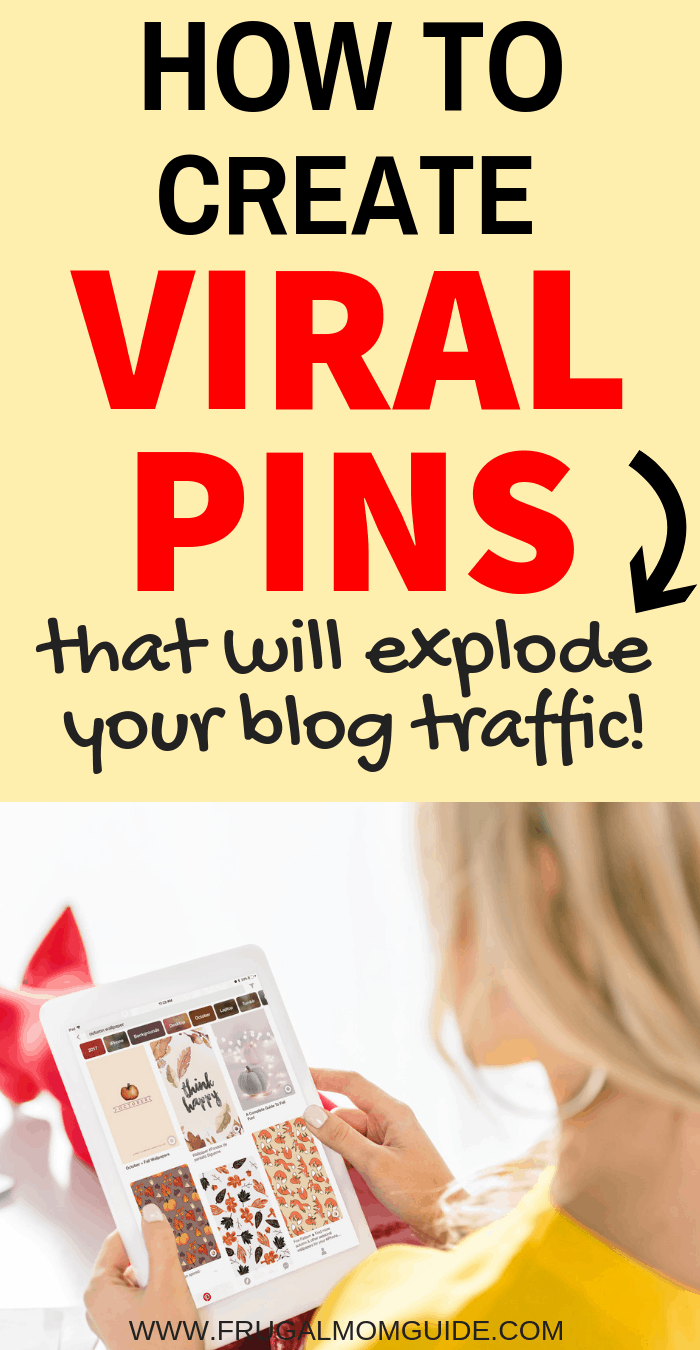 This post may contain some affiliate links. You can read our full disclosure for more info.
What is a Viral Pin?
Viral can have different meanings to different people. To one person, a viral pin has been one that has over 10 000 repins whereas, someone else may consider over 1 000 repins to be viral. Whatever your definition, a viral pin deserves a huge celebration! It's a milestone, a sure sign of progress.
Learning from Others (AKA Stalking) 
One of the best ways to see what's working is to study the pins of successful bloggers and observe trends in the types of pins that do well for them. We can learn so much by studying stalking our favorite bloggers. Guys, I have zero shame in admitting that I stalk my favorite top bloggers every single day HA! Some of my favorites include Michelle from Making Sense of Cents (Hey Michelle! I've been a fan for years!) and Carly from Mommy on Purpose. In fact, I even purchased Carly's Pinteresting Strategies ebook which has been helping me SO MUCH with this new blog. It's so awesome, I was able to apply some of her strategies which led to me making $200+ in my first month of blogging and I tripled my pageviews in my second month!
Related: How I Mastered Pinterest SEO and got my New Blog to Rank High in a Pinterest Search
Viral Pin Tips for Pinterest
1. Size
This might be the most important of all the viral pin tips for Pinterest. Vertical images and pins are a must if you want Pinterest Success and a blog traffic boost. A pin with a 2:3 ratio is most common so a 600 x 900 px image will perform well on Pinterest. I've noticed that longer pins do even better. Some of my most popular pins are 700 x 1350 px. Try not to create pins that are longer than this or wider than 736 px since they can be cut off and wouldn't be displayed properly. Play with different sized pins and see what works best for you.
Use Pinterest Analytics and Google Analytics to see exactly which of your pins are performing best and stick to these sizes. Another trick is to use at least three different vertical images in each post and you can make each of these different sizes. You can then observe trends and monitor which ones drive the most traffic to your blog. Use sites like Canva, PicMonkey and Snappa to create awesome, attractive pins.
2. Text
Your text MUST be large and clear enough to read. Sometimes you see pins with fonts that can barely be recognized. Simple is best. Use a good combination of different font styles and different sizes, once they are large and clear to read. Be conscious of your font colors and the backgrounds. For example, yellow text will not be seen properly on a white background. A good rule of thumb is to immediately check how your pin looks on your phone right after creating it. Your main goal is to have text that stands out in the large sea of pins that is Pinterest.
When I first started blogging 5 years ago, I had some really horrible pins go viral. What's clear now is that there are SO MANY bloggers today and SO MUCH competition that we absolutely need to do our best to make our pins stand out.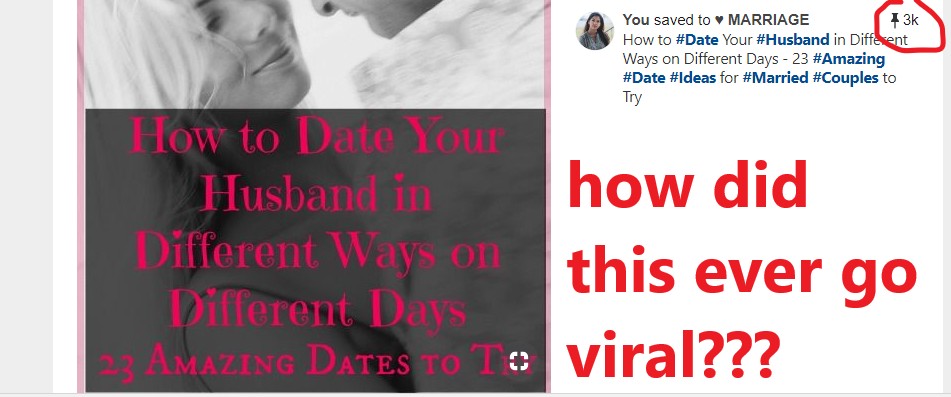 The above is a pin of mine that went viral 5 years ago on one of my previous blogs. The text isn't bold and clear and the quality just downright screams 'lazy pin design.' The recent competition in the blogging world has definitely forced me to UP my Pin Design game and you should too!
3. Colors
Pinterest trends show that people are more drawn to warmer colors such as oranges, reds, yellows, browns and even pinks. Pins that somehow incorporate these colors get way more repins and click-throughs than others.
You're free to test this theory out on your own. Scroll through your Pinterest feed quickly and stop only when something catches your eye. Observe the characteristics of these pins and mimic your own pins around these.
4. Images
The best pins have a suitable picture included. Remember that Pinterest is not just a search engine, it's a VISUAL search engine. The photos you use need to be attractive, high-quality images that will stand out in the middle of millions of other pins. Taking Viral Pin Tip #3 into consideration, choose photos that have some sort of orange, red or yellow incorporated into it. This will tie in well with the use of these color fonts as well.
Some of the best stock photo sites that offer free stock images include Pexels, Canva and Unsplash. When creating your pin, you can rotate, crop and flip your stock photos so that they don't look like EVERY OTHER pin on Pinterest. Many bloggers use free stock photos from these same sites and if you want your pin to stand out and look different, you will need to edit the photos so that they do not look the same. Of course, you can always choose to take your own photos or purchase a stock photo membership (this is what I did).
Also, be reminded that you cannot just go to Google Images and use photos without permission. There are several stories around where bloggers talk about having to pay THOUSANDS of dollars for just grabbing an image off Google. YOU CANNOT JUST DO THIS. Chrystie from Living for Naptime explained how she had to pay $7500 for a photo of a green pepper that she grabbed from Google Images. I love that she shared her story so that other bloggers could learn from it too!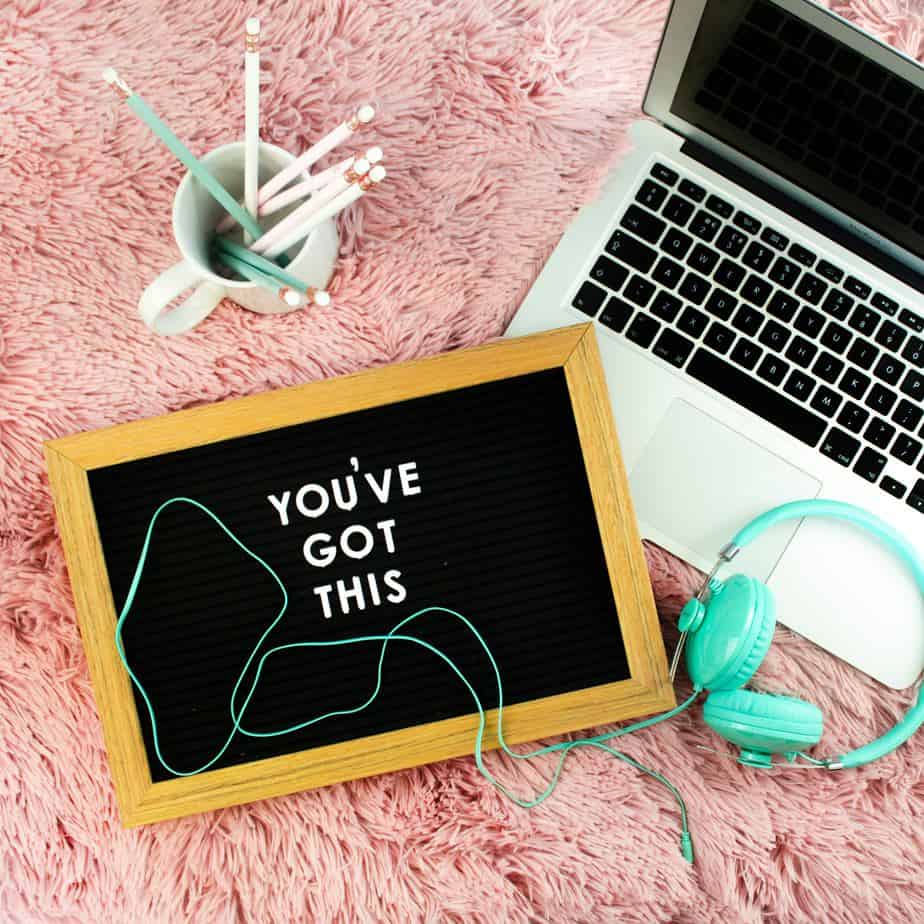 5. Titles
Titles are SO VERY important! In order to get click-throughs, your title must have the right wording in a way that makes the Pinterest user WANT to click to read more. You can always follow the 'What's in it for me' rule from Silas and Grace from Chasing Foxes. Basically, you must always consider the fact that a reader will only click a pin if there's something in it from them. They will only click if they are learning something new, if there is some new trick or hack to be learnt or if they can gain something from your post. Your pin should always reveal what's in it for them.
Good titles to use to increase chances of a viral pin include:
How to _________
The Secret to __________
7 Tips to ___________ (List posts are quite popular and trends show that odd numbers result in more click-throughs)
An Ultimate Guide to ___________
5 Mistakes Made by _____________
Use words that will make posts relatable:
7

Simple

Breakfasts for

Tired

 Moms (Moms are ALWAYS

tired

and are always looking for ways to make life

simple

)
The

Best Hacks

for

Busy

Bloggers (Who doesn't love hacks? And which blogger isn't busy?)
Got it?
6. Promotion
You can have the best pin in the world and it wouldn't go viral unless it gets seen. This one is a bit of hard work combined with luck and patience. You need to share, share and share some more to get your pins out there. Use Facebook group share threads, Pinterest Group Boards, Tailwind and Tailwind Tribes(get a free month of Tailwind here – no credit card required), manual pinning, Reddit, Mix, Snapzu, Twitter, Instagram and whatever other social media platforms you can to share your pins!
Remember to have patience because sometimes it takes weeks or months for a post/pin to gain traction. Keep promoting and keep sharing. All it takes is one big blogger to share it at just the right time and it will take off. One morning you will wake up and (BAM!) there would have been thousands of visitors to your site before you even woke up and you'd smile knowing that all your hard work is finally paying off.
So there you have it – the best viral pin tips for Pinterest. Now you can go on and create the prettiest, click-worthy pins and watch your blog traffic skyrocket like never before!
By the way, creating pins is one of my favorite aspects of blogging! I get so excited when I'm finished with a post and it's time to get creative with my pin design (which is NOW for this post! YAY!). Do you love creating pins? Share your thoughts in the comments below. I'd love to hear from you!
Don't forget to share and pin for later!
OHH, and I'm on Pinterest! 🙂
Until next time,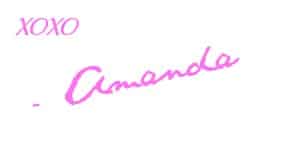 You may also like:
How I Made $200+ in my First Month of Blogging
How I Mastered Pinterest SEO and got my New Blog to Rank High in a Pinterest Search
How I Tripled my Pageviews and Earned Money in my Second Month of Blogging