This year I've seen many reminders about the 18 summers that we have with our kids. It got me thinking about all the fun things we can do to make these summer moments memorable ones.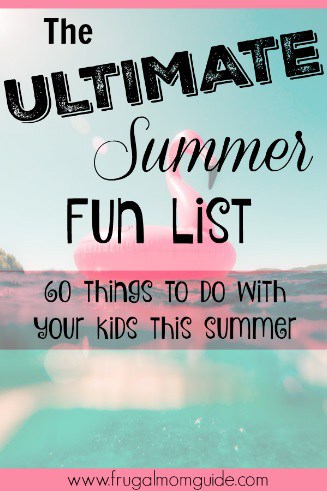 Here is a list of 60 fun things to do with your kids this summer.
Have a water fight with water balloons, water guns and the hose.
Make lemonade, set up a stand and help them sell.
Bake a cake together.
Make ice lollies/ice cream together and enjoy.
Camp out in the backyard.
Make a camp fire and make smores.
Play hide and go seek.
Make finger puppets and do a finger puppet play.
Paint pictures.
Make slushies and blow bubbles outside. (Check out this yummy Summer Peanut Punch Recipe)
Have a dance party.
Have a pretend party. Blow balloons, stick a candle on a cupcake, sing 'Happy Summer to you' & play games.
Play hopscotch.
Play skipping rope.
Read all evening.
Play dress up. Dress up as a robot, space alien, princess, ninja turtle etc. using everyday items from home.
Make up your own game with your kids with proper rules and play it.
Set up a nursery rhyme karaoke.
Make a treasure hunt with a real treasure map (made by you of course!).
Plant flowers/plants and take care of them together everyday.
Make pizza together.
Make up your own story together and make it into your very own book at home.
Play with building blocks together.
Have a pool party at home.
Use toy instruments and pretend you're in a band.
Draw and color.
Let your children sort and choose toys to donate to the less fortunate.
Pop popcorn and watch movies in pajamas all day.
Set up your own pretend bowling alley at home and play.
Ride bicycles outside.
Bake cookies in summer shapes. e.g. sun, flip flops etc.
Play card games.
Put on a concert together at home with performances by you and your kids.
Build puzzles.
Make a camp in your living room.
Cook an entire meal together, set the table, dress up and eat a formal dinner at home (without any screens).
Learn the bible and pray together. (Check out this post on Raising Godly Children)
Make a bird feeder, put it out and look out together at the birds.
Look at the clouds and try to name what shapes they look like.
Sew new clothes for the toys.
Make a scavenger hunt.
Play an outdoor sport.
Have a pillow fight.
Dance and sing in the rain.
Help them map out their future goals.
Make sandwiches together and have an outdoor picnic.
Pick flowers and arrange a beautiful bouquet for their room together.
Make a kite and fly it.
Make your very own stuffed toy together.
Put together your very own awards ceremony. Present 'trophies' for the 'most helpful', 'good manners' etc.
Go to the beach.
Go fishing.
Go to the zoo.
Visit your local pet shelter and adopt a furry friend.
Go horseback riding.
Take them to the play park.
Jump on a bus and take them on a city tour.
Go to the library and get books to read.
Volunteer to feed the homeless.
Show them pictures and videos of when they were babies and how they have grown and let them know how much they are loved.
Whether this is your first summer or your eighteenth summer with your kids, fill everyday with joy, laughter and love. Enjoy each moment, from the meltdowns to the heart-melts and everything in between. Have a happy summer!
Are there any other fun activities you would add to this list? Share with us in the comments below!