All You Need to Know about Amazon Direct Shipping and Amazon Direct Ship Freebies
The only thing better than free stuff is free stuff sent directly to your door! That's pretty much Amazon direct shipping and how it works as far as you are concerned.
Basically you can get products that are advertised on Amazon absolutely free, in the form of Amazon direct ship freebies. I'll discuss the details on how it works, what's in it for the retailers and what you are required to do.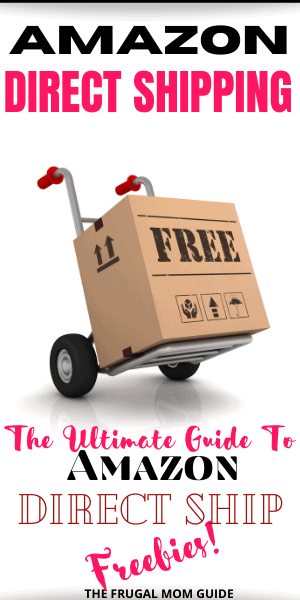 This post may contain affiliate links. This means that we may make a commission (at no extra cost to you!) if you make a purchase via a qualifying link. You can read our full disclosure for more info!
Just to ensure that you aren't here wanting free trinkets from the jungle in South America, I'm talking about Amazon.com, the technology company that is one of the largest retailers in the world.
Bezos, not botany! (haha…I crack myself up!) Now we're on the same page!
The bottom line is Amazon direct shipping is a relatively fool proof and catch free way to get yourself a ton of items 100% free of charge.
Hear this secret…You would actually be doing the vendor a favor. If there ever was a win-win situation, this has to be it! I'm sure you are now intrigued. After all, mastering frugality is all about capturing opportunity!
Let's get going so you can start rescuing those merchants by filling your homes with a bunch of Amazon direct ship freebies.
What is Amazon Direct Shipping?
Amazon direct shipping is an arrangement whereby persons are sent products from Amazon vendors, directly to their specified address, absolutely free of charge.
The transaction does not actually take place on Amazon. However, the Amazon direct ship freebies are shipped straight from the Amazon warehouse.
What you need to understand is that even though these sellers are totally legitimate Amazon vendors and the goods are advertised for sale on Amazon's online platform, the arrangement is done directly between the seller and the consumer with no mediation by Amazon.
Also, none of the products that qualify for Amazon direct shipping would be Amazon manufactured items. So items such as the Fire Stick, Kindle and Amazon Echo are a no-no, as these are manufactured and distributed by the Amazon company.
Amazon direct ship freebies come from the Amazon warehouse, but the process isn't conducted via the Amazon website…and…the vendors are happy to do it? Confused? Good!
The Amazon direct shipping puzzle is about to come together! I promise!
FAQ: Is Amazon Direct Shipping free?
Amazon direct shipping and receiving freebies is 100% free.
All it takes is a simple sign up process. You do not need to provide any banking or credit card information whatsoever.
How does Amazon direct ship freebies benefit the sellers?
Have you ever heard about FBA? FBA or Fulfillment by Amazon is a logistics service run by Amazon and you need to understand how it works in order to appreciate why vendors need Amazon direct shipping.
Amazon has mastered the art of good customer service and understands how important free shipping and reliable delivery are to its customers. They set up the FBA process in order to maintain customer satisfaction by offering a very reliable service.
Through FBA, Amazon does all the handling of the items on behalf of the vendors including storage, packaging, delivery and returns. This obviously comes with an added cost to the sellers.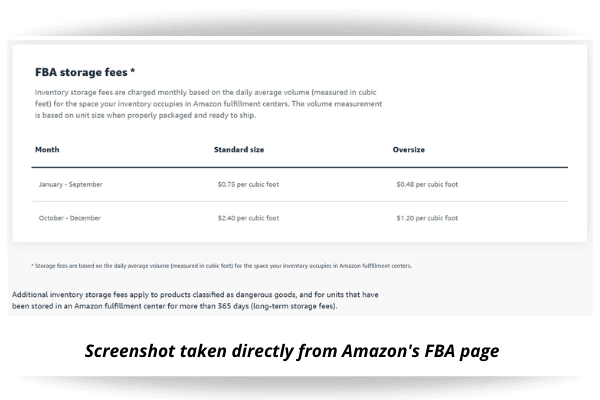 Sellers basically rent their space in the Amazon warehouse and when their inventory isn't selling as they hoped, there comes a time where it becomes more financially sensible to give away the items as Amazon direct ship freebies than to continue paying their associated FBA fees.
More so, Amazon charges their merchants additional fees to store products more than 365 days. The process is set up whereby the items move into "long-term storage" after 1 year. At this point in time sellers would be desperate to get rid of the items.
Giving away items to consumers with Amazon direct shipping is a straight business decision. There are no catches or gimmicks involved! It's just a matter of mounting costs and warehouse fees on the side of the seller where it becomes no longer feasible to keep the items.
As strange as this practice may sound, it is very common in the world of business to release or redeploy inventory. Companies always monitor their inventory turnover as goods sitting in any warehouse always comes at a cost. Even if it's their own warehouse or third party, there is always a cost attached to an item.
It may just be 1% of the warehouseman's pay or a smidgeon of the electric bill – storing inventory always has a price fixed to it. In the case of a third party facility, this can get very expensive.
Large companies may even destroy items as a "write-off" to get the costs off their books. They also offer them free of charge to potential or existing customers as what appears to be incentives to strengthen business relationships. Conversely, this is more usually a ploy to get certain products off the shelf as they become liabilities.
The same principle applies to vendors and the concept of Amazon direct shipping.
You may not quite be on your way to sainthood but accepting Amazon direct ship freebies is actually helpful. Sign up for Amazon direct shipping today! Do the right thing! Haha!
Cool Fact!
Did you know that over 40% of Amazon sellers are based in China? This number is also set to rise as currently, 75% of new sellers are from China.
This means that in order for Chinese and other international vendors to successfully sell via Amazon, they need to pay and make use of the Fulfillment by Amazon process.
A vendor that utilizes the Amazon FBA service shows up as their registered name next to the "Sold by" category, during an Amazon transaction, but Amazon shows up next to the "Ships from" category.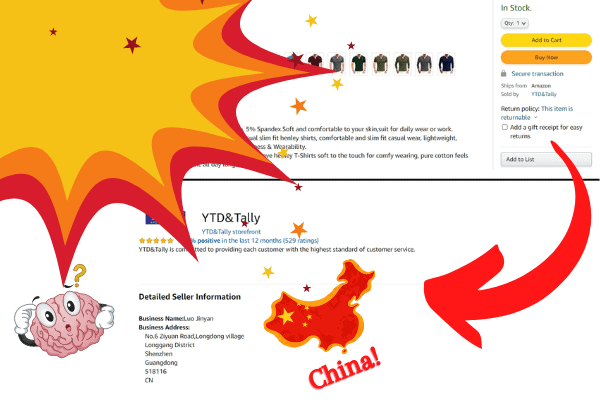 Is Amazon Direct Shipping legit and what are Direct Ship Freebies?
Amazon direct shipping is 100% legit and is just a way for legitimate Amazon sellers to offload some of their merchandise that is stored at an Amazon fulfillment center.
These products would not have been doing well in terms of sales and it would actually be cheaper to release them for free than to continue paying their associated FBA fees. Vendors would then opt to send you Amazon direct ship freebies than to carry on with losing money.
Just keep in mind that the actual Amazon direct shipping process does not take place on Amazon but is a private arrangement between you and the vendor.
That being said, there are lots of con artists out there so signing up to receive Amazon direct ship freebies should be approached with caution. Never give away too much personal information and always stop if a seller makes you uncomfortable.
We'd get into a detailed breakdown on how to avoid scams later on.
FAQ: Does Amazon give away free stuff?
Amazon direct ship freebies all come from external vendors, most of which are bound to the FBA agreement.
The Amazon company has nothing to do with this transaction and none of their manufactured products are available via Amazon direct shipping.
In order to get free merchandise from Amazon such as Kindles, you can sign up for Amazon Prime (Grab a 30-Day Free Trial) and make your purchase. Additionally, you will receive free two day shipping and TV entertainment packages with your subscription!
Drop Shipping vs Amazon Direct Shipping
Just to clear the air, drop shipping is not direct shipping!
In this post we explore the ins and outs of direct shipping and in particular, Amazon direct shipping. You may have heard the term drop shipping before and it is a totally different concept. Basically, the only similarities between the two business models is that they are both online and involve retailers.
Drop shipping is a business by which retailers sell via an online platform where they advertise products and receive payments but the products ship directly from a third party vendor to the customer. Ideally there is no actual handling of the items by the drop ship salesperson.
The advantage of this model is that it is relatively hassle free and sellers are not required to retain any inventory. However, profit margins are lower than conventional sales businesses and competition is high.
People who market personalized products and artistic types are big fans of drop shipping as they can utilize sites like Zazzle or Etsy to market their products.
Drop shipping giant, Shopify, has taken the online retail world by storm by making successful entrepreneurs out of persons who did not have any large degree of resources available. They boast of over 446K business persons that utilize their services for drop shipping.
Please note that Amazon does allow drop shipping via their platform but they have stringent guidelines and a full drop shipping policy.
What products are available with Amazon Direct Shipping?
The actual Amazon direct ship freebies that you receive is up to you and the sellers that you sign up for. Once you are on a seller's list, whatever extra items they need to offload, you'd get. Ever so often you'd receive packages at your door with various goodies inside.
It's like signing up for the ultimate game of Secret Santa! There's no telling what you may stumble across and what exactly is up for grabs.
After all, Amazon sells over 12 million products on their site. It is just mind blowing as to the possibilities and the range of Amazon direct ship freebies that are available. Amazon sells everything from toys, automotive, household, office to clothing, beauty, electronics and the list just goes on…
Talk about an all you can eat FOR FREE buffet!
However, realistically speaking, you will end up receiving a host of random items. Even if you sign up to be on a particular seller's Amazon direct shipping list and he specializes in household goods, you may end up with a dozen beautiful towels one month and a family of weird garden gnomes the other.
Whatever you get, you can either sell, gift to someone or use yourself. A year's supply of paper rolls or 500 dog chew toys can easily be sold. Keep whatever T-shirts you want and donate the other 300 to charity. You catch my drift?
Here's the thing about free stuff…even if it's bad, it's good! There's no way Amazon direct ship freebies can be bad!
Unless you're as bitter as Eeyore, Winnie the Pooh's pessimistic donkey friend, you can never be disappointed with your Amazon direct shipping results!
It's all free anyway so it's all good!
Be a good Samaritan and relieve a struggling vendor of some unwanted warehouse fees. Accept some Amazon direct ship freebies and smile your way to the bank…or storage unit.
Please be warned that a lot of these items would make you smile but many may embarrass the heck out of you! If you know you are the shy type, don't open your Amazon direct shipping packages in front of your parents! You never know what raunchy articles may be hidden inside.
Helpful Tip!
Keep what you want! Get rid of what you don't want! (Thanks Captain Obvious!)
As you would have gathered by now, there is no way to plan what and how many items you receive.
What do you do with the Amazon direct ship freebies that you don't want?
1. Sell off what you don't want
Use Facebook marketplace or other apps and social media forums to sell your unwanted items. You can even check out your neighborhood thrift stores.
Why pass up on an opportunity to make a quick buck? Sell those items and gather up some extra funds.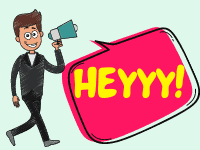 Want to Make Some Extra Money?
Check out these options that make me $1000+!
• Survey Junkie
Complete online tasks for cash or gift cards + Get a $10 sign up bonus
• Swagbucks
Complete online tasks for cash or gift cards + Get a $10 sign up bonus
• Reward Survey
Complete online tasks for cash or gift cards + Grab a $30 sign up bonus
• My Points
Complete online tasks for cash or gift cards + Get a $10 sign up bonus
• InboxDollars
Complete online tasks for cash or gift cards + Get a $5 sign up bonus
2. Give some items as gifts
You can simply opt to look like the most generous person in your family by distributing your new found bounty of toiletries and bed sheets to your relatives as surprise gifts. Or save them for special occasions such as weddings, Christmas, birthdays and anniversaries.
You gauge what you want to save and what isn't worth the effort.
3. Donate to charity
Charities such as Goodwill and The Salvation Army are always ready to receive items in aid of the less fortunate. Share your blessings and good fortune with others.
You can also reach out to your neighborhood church, school or elders in an attempt to reach those less fortunate.
4. Donate to fundraising events
Churches and schools also accept gifts in order to resell at fundraising events. Go ahead and give up your extra Amazon direct ship freebies to these institutions for a good cause.
When can I receive Amazon Direct Ship Freebies? How often and how many can I expect to receive?
The bottom line is that there is no way to tell, or plan for the receipt of Amazon direct ship freebies. Sellers may have hundreds or thousands of products at any given point in time, each of which may have entered the FBA schedule at contrasting dates.
A combination of a sellers need to rotate inventory as well as other warehouse factors would play a part in the Amazon direct shipping schedule of that particular seller. Not to mention the fact that each would have several applicants for Amazon direct shipping which would complicate things even further.
The truth is that it may even take months for you to receive your first set of Amazon direct ship freebies. Be patient! This is quite normal.
These are a few key points to note:
When will payment of warehouse fees against a particular item no longer become feasible for the vendor?
There is no rocket science here. If you are paying $1 rent per month in an attempt to sell an item for $5, you're better off giving it away after 5 months. Beyond this time, it is costing you money the longer you keep it.
At this point a seller would gladly toss the items at you as Amazon direct ship freebies!
When will the sellers' long term storage fees begin?
Once items start encroaching on the 365 days of storage mark, it becomes even costlier to keep in storage. At this point it may even be cheaper for the seller to give away the item for free and purchase fresh stock yet again.
Of course a vendor would like to keep the item as long as possible in an attempt to make a sale without losing money. It would be up to them when they want to part with it based on their own sales strategy and sales experience.
For example, a salesman that stocked Christmas ornaments in October 2020 would have all his unsold goods moved to long term storage in October 2021. As much as he would have liked to get it sold for the 2021 season, it may be more worthwhile giving it to you for free.
When did you fill out the application form?
If you are one of the first persons to fill out a sign up form for a particular seller, you are more likely to get first preference when they are shipping out. This is as plain and simple as it gets!
How long does it take to arrange the shipping?
We all love the convenience and reliability of Amazon. After all, they spend a lot of energy and put a lot of things in place to guarantee on time delivery and customer satisfaction. Obviously Jeff Bezos didn't become a billionaire by mastering mediocre service.
That being said, your Amazon direct ship freebie offers are not arranged by Amazon! Your seller needs to turn on his computer, call a shipping company, work out the details himself and send the goods to you. The time of your delivery depends on all these external factors.
Where do you live?
If you are next door neighbors with Little Red Riding Hood's grandma, your package may take a while to arrive. Let's face it, some of you are lucky to have electricity where you live. Hehe!
Expecting next day delivery of a free package, arranged by someone from halfway around the world, may be a bit ambitious. Not to mention a tad unappreciative.
The logistics associated with some locations are just plain complicated so it may take a while to send over your Amazon direct ship freebies.
Similarly, it may just be plain cheaper for a seller to dispatch goods to someone else. This is based purely on location and associated costs.
The Amazon sellers are giving up their goods and covering the shipping costs in order to save money so they would obviously select candidates with the lowest shipping costs.
How many people are on the seller's Amazon Direct Shipping list?
Remember you aren't the only one that is on the seller's list to receive Amazon direct ship freebies. That being said, the seller may have to distribute his excess merchandise across many persons.
The process of dividing the goods and ultimately shipping it is definitely time consuming. Again, we definitely just need to be grateful and wait for our random surprise packages to show up.
How much and type of stock does the seller have to release?
Sometimes a seller may have hundreds of items to dispatch and sometimes just a few. Items also vary in size and complexity. It all depends on what the seller has left at the time that release is required.
That being said, sometimes you would receive two or three articles and on other occasions several dozens. There's no way to plan the type or quantity of what you receive.
Also, you may experience a time where you receive tons of Amazon direct ship freebies and then a long dry spell may occur. This is normal as it all depends on what / if the seller has any leftover items.
Obviously if a particular item isn't selling well, chances are the seller would not restock those.

Helpful Tip!
Do not contact any seller directly asking for Amazon direct ship freebie offers!
Fill out the required application form and wait in line. This is simple courtesy as it is just plain rude to start pestering sellers for free products!
This is a good way to get blacklisted and to never receive free stuff.
How can I find Amazon Direct Ship Freebies?
1. Facebook
With approximately 2.89 billion active users on a monthly basis, Facebook is hands down the biggest social networking site in the world. It's also absolutely free!
One of the best features of Facebook is that there is a group about pretty much every interest there is. Additionally, the search feature makes it super easy to find these groups. Just log in and do a quick search for Amazon direct shipping or Amazon direct ship freebies and join as many groups as you wish.
These groups are golden when it comes to sellers as well as consumers sharing the inside scoop on sign up forms as well as successful experiences they've had. You can also interact with each other to find out additional tips, tricks and even external websites packed with opportunities.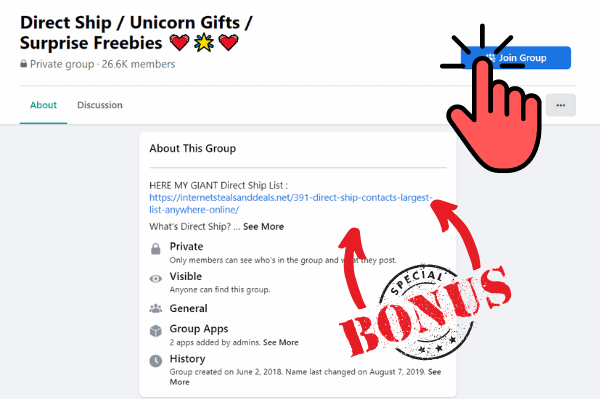 One point to note is that every Facebook group is controlled by admins and usually there are rules to follow. Ensure that you read, understand and abide by the rules of the group.
Remember the more groups you join and actively participate in, the better your chance at scoring some sweet Amazon direct ship freebies. The truth is that some groups are simply better than others at sifting out the trash and providing quality links.
Eventually you'd find a few groups that you are comfortable with and you can opt out of the others.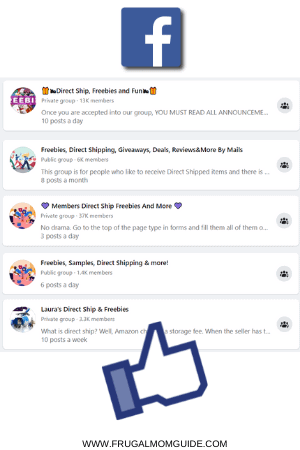 2. Reddit
Moving on from one social media platform to another, let's examine how Reddit can help you get going with Amazon direct shipping.
Reddit is another tool that you can use to search for topics that may be of interest to you. What you would encounter would be countless discussions regarding that topic and a multitude of groups of persons that share that same interest. In this case, it's Amazon direct ship freebies.
On a daily basis, persons would issue posts regarding the topic and other persons would comment on it. Persons then vote either for or against these comments whilst additional comments are also posted.
Obviously experts on Amazon direct shipping would post factual comments, and successful links to sellers would be liked by a large number of persons.
The more persons agree with a particular comment, by up voting, the higher it appears on the thread. Naturally the good stuff would be filtered to the top and the garbage settles to the bottom.
The individual posts and topics are discussed in detail in sections of the website called sub-Reddits and is amazing when it comes to receiving solid information as thousands of other users scrutinize the trash and promote the good content right into your lap.
Just like Facebook, you need to use the search bar to punch in keywords like "Amazon direct shipping", "direct ship freebies" or any variations of those and you'd be well on your way. Go ahead and join the communities of sub-Reddits that pop up or simply look out for posts and comments that are up your alley.
One point to note is that you do not need to be a Reddit member in order to see posts, comments or offers associated with Amazon direct ship freebies. However, if you wish to join a sub-Reddit which specializes in the topic, you'd have to create an account. It's all free by the way so no biggie.
You can search directly from the "Search Reddit" bar or have a kick start with some free stuff with r/freebies. From here you can filter through to narrow down some Amazon direct ship freebies.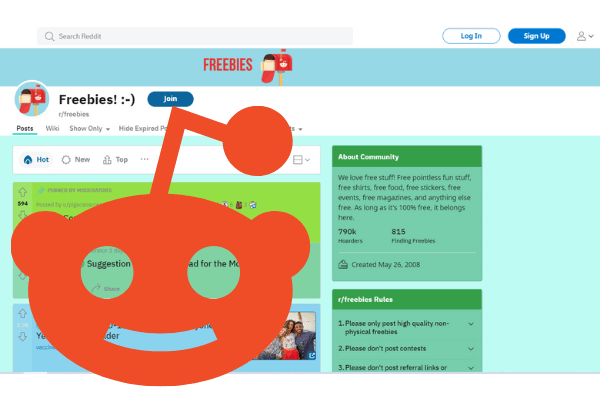 3. Websites
If we're willing to use their search feature, why not turn to the biggest search engine of them all…Google!
Go ahead and put that algorithm to work! Utilize Google or whatever search engine you prefer to do a quick internet search for "Amazon direct shipping websites", "Amazon direct ship freebies", "freebies online", "how to get direct ship freebies" or any other variation that you can think of.
When it comes to search engines, it's all about manipulating your keywords to search and get different options for what you need. You'd find loads of websites that specialize in freebies in general and many of which would have solid content regarding Amazon direct shipping in particular.
There are thousands of websites out there that promise you great deals and freebies! That's excellent! Unfortunately, the problem is also exactly that!
The downside of website searches versus Social media platforms is that basically you are on your own and you are exposed to all the risks, fakes and frauds out there.
Remember, the social circles available on Facebook and Reddit have already weeded out the majority of the useless and harmful sources for you. Also, the good websites more than likely would be topics of discussion on social media already.
My advice would be to use the networking sites primarily and if you do end up on a website, let it be based on the recommendation of personssss (PLURAL!) on these sites.
If you have decided to brave the world of Amazon direct ship freebies as a renegade soldier, battling your way through uncertainty in pursuit of glory, or…a few dozen bed sets ever so often…go on! You maverick!
Pro Tip!
If you've found a new website or link on your own, confirm its legitimacy with members of a Facebook group or Reddit community.
Those guys are constantly reviewing Amazon direct shipping sellers so if it's legit, more than likely they would have come across it previously. This is just cheap insurance!
If you are confident enough to take on the internet with Google as your Excalibur, go right ahead! However, just because I like you, here's a little head start:
Consumer Queen – Every King Arthur needs his queen! Since you're looking for the Kingdom of Amazon direct ship freebies, I'd like to introduce you to Consumer Queen and her ginormous list of direct shipping sign up forms.
There's also a long list of the email addresses of sellers that are confirmed to have Amazon direct ship freebie offers from time to time.
Upfreebie – Upfreebie also has a decent list of sign up forms available where you can go ahead and apply to receive Amazon direct ship freebies. There are also additional tips associated with the sign up process.
Internet Steals and Deals – Rebecca, aka Becky, aka the Freebie Lady has compiled a list of over 391 contacts for direct shipping opportunities. She boasts that it is the largest list currently available online.
You can also find the sign up forms! She also has the rundown on hundreds of other free offers. Freebies are kinda her thing!
Gimmie Freebies – Last name Freebies, first name Gimmie…and Amazon direct shipping merchants are their specialty!
You can find a list of hundreds of sellers that offer Amazon direct ship freebies as well as their associated sign up forms. Get at 'em!
Shane's Freebies – Here you'd be able to find a couple dozen forms that are tried and true. Get your name and address out there to start receiving free stuff!
Guide2free – Guide2free has compiled quite a few application forms for Amazon direct shipping also. It's worth checking out!
4. Pinterest
Pinterest is yet another social media site that can be used to get on the right track as far as Amazon direct shipping is concerned. Persons share images, or "pins" with the intent of sharing information or in order to lead you to external sites.
This is more of an honorable mention as website owners or group admins of Facebook and Reddit freebie pages would share posts on Pinterest, that ultimately get you back to either their website or Facebook and Reddit.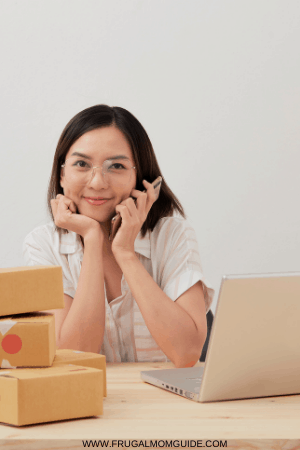 How to sign up for Amazon Direct Shipping?
Filling out and submitting an Amazon direct shipping form is extremely simple and usually where the line ends for you.
By this point you would have combed through lists of websites, social media group recommendations (Facebook and Reddit) and pinpointed the ones that caught your attention. As I said, those guys would narrow down the good stuff and all you'd need to do is click a link in order to access the form.
It is not recommended to proceed without firstly getting the approval from the Amazon direct ship experts in those social circles.
Also, you should always fill out as many forms as you can. As long as the sender has proven, positive feedback you should get your application in.
For the most part, filling out your official request for Amazon direct ship freebies is a simple matter of filling out the information that you have been prompted for and hitting "submit". Super easy stuff!
This information includes: your name, email address, mailing address and a telephone contact number in some instances.
Filling out an Amazon Direct Shipping Google Docs Form
Many forms that you would come across would have their special formatting in a fancy colored page. However, many may just be plain and simple Google docs forms.
Most sellers opt for the Google docs format for reaching out to applicants as it is very versatile, free and easy to use. Once you click the link you will be taken to the document where you can review the information provided and requested.
You should review the business name and maybe do a quick search to check out the nature of the merchandise that they sell. At least you'd have an idea of what you can expect and even decide whether or not you are interested.
As far as the form goes, completing would be fairly straightforward. Once you are familiar with opening and editing word documents or spreadsheets, you'd be good to go!

Expert Tips when Signing up to Receive Amazon Direct Ship Freebies
1. Fill out more than one form
Think about it like the lottery. The more chances you take, the better your odds. Instead of purchasing tickets, you'd be filling out forms. The more you sign up, the better your likelihood of hitting the freebies jackpot.
2. Join as many groups as possible
The more groups you join, the more you would be exposed to reliable sign up forms. Also, these groups skim out the frauds so you are putting yourself in a good position to score big time freebies.
3. Stay active and participate in social media discussions
Again, participation in social media groups and freebie communities is vital. Build your network and your freebie friends will guide you along.
4. Like and follow the vendors on social media
This is a two way, win-win situation. By liking and following vendors' social media pages, they get the publicity. This is the least you can do in return for the free goodies you will receive.
Additionally, this may create a channel for direct interaction with them. They may use this to reach out to you with free offers in the future. Again, you do not want to pester them for freebies. Let them come to you.
Expert Tips to Avoid Amazon Direct Shipping Scams
The sad reality is that there are scammers and persons with malicious intent all over the internet, preying on the innocent, naïve and uninformed. It's okay to be paranoid!
The good news is that there are several work arounds that you can deploy whilst still capitalizing on that free merch.
1. Sign up for an alternative phone number
Many vendors do not require you to enter a phone number when signing up but there are a large number that do. If you have reservations about giving out this information you can sign up or purchase an alternative phone number just for conducting these sort of transactions.
For example, you can use an app like TalkU to sign up for an additional phone number.
2. Sign up for an alternative email address
A burner email or disposable email address is an email address that can be used for subscriptions and online transactions as a precaution in case your inbox becomes flooded with spam, or in case your account is hacked or leaked.
This way your confidential information will not be leaked and your main email address would not become flooded with junk. Any email service provider can be used including free options like Gmail and Yahoo.
3. Utilize a PO Box address
A Post Office Box (PO Box) or even Post Office Bag (PO Bag) in some cases is a uniquely addressed, lockable box or bag at a post office which you can apply for.
This would give you a new mailing / shipping address that you can use for signing up for your Amazon direct ship freebies. By doing so your personal address does not have to be revealed to the Amazon sellers.
4. Research sellers and use those that come recommended
At this point, this topic has been bludgeoned to death. I cannot help but stress how important it is to use the sellers that are recommended by the Direct Ship communities on Facebook and Reddit.
5. Do not pay for anything!
If you are asked for a penny to purchase even the cardboard box that your items are supposedly set to arrive in, it's a scam! Do not pay for anything!
Do not provide any banking information! Do not provide any credit card, debit card or even gift card information! You are to pay for nothing!
Amazon direct shipping is completely free for the receiver.
6. Do not reveal your Social Security information!
Merchants do not need your social security number to give you Amazon direct ship freebies. If you are asked for this just walk away. It's a scam!
Pro Tip
Less is more when it comes to signing up for freebies. Stick to basic personal information such as your name and the email address, shipping address and phone number that you have decided to use for the application.
Do not divulge any financial information or your social security number.
Leaving Product Reviews for Amazon Direct Ship Freebies
Do not do it! As much as you may be in love with the Amazon direct ship freebies that you've just received, you should not leave any review on the product on Amazon.
The vendor may be a gem of a person and the embodiment of the true American spirit, however it is against Amazon's policies to leave a review for your freebies.
Save yourself the hassle and skip the review!
Advantages of Amazon Direct Shipping
1. Get free merchandise. The bottom line is you receive a ton of free items and you just cant beat that.
2. You have the option to sell the extra items or even all of it for some bonus cash in your pocket.
3. Get free gifts for your friends and family. No need to go shopping for the holidays! Get all your gifts sent directly to you absolutely free.
4. You get to try out products that you would not usually buy yourself. Amazon direct shipping is a great way to get exposed to new stuff.
5. It's exciting! You never know when the delivery guy is gonna show and what goodies he has. It's mind blowing!
Disadvantages of Amazon Direct Shipping
1. There is no way to decide what you will receive. Your freebies are randomly selected and delivered.
2. There is no way to determine when or if you will receive your items.
3. There is no way to figure out how many items you will receive.
4. There are many scams that you need to be conscious of. Never release sensitive information!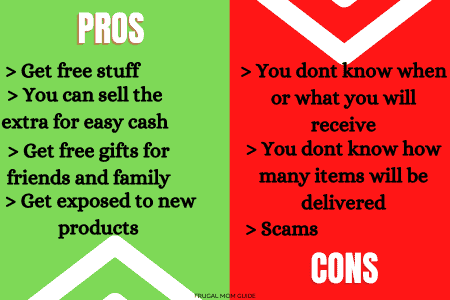 Related Posts on Amazon Direct Shipping
10 Legit Ways to Transfer Visa Gift Cards to your Bank Account
33 Cheap Alternatives to Lego that are Fun & Engaging
5 Amazing Freebies you don't Want to Miss
89 Ways to Get Free Books for Kids by Mail
Final Thoughts on Amazon Direct Shipping and Amazon Direct Ship Freebies
Now that you know all about Amazon direct shipping and how to get those freebies to your door, go ahead and sign up to get your name on some sellers' lists. Before you know it, and when you least expect, those boxes of goodies will show up!
Have you ever done Amazon direct shipping? Do you already get tons of Amazon direct ship freebies? Do you have any additional tips? Share with us in the comments below. We'd love to hear from you!
Don't forget to follow us on Facebook, Instagram and Pinterest for more frugal living hacks, money making inspiration and finance tips!
Liked this post? Pin it!
Amazon Direct Shipping – The Ultimate Guide to Amazon Direct Ship Freebies!