33 Best Survey Apps for Money & Quick Pay Survey Sites for Fast Payouts
Survey apps are always a quick and easy way to make some extra cash from the comfort of your home! I always say if you have a smart phone and wi-fi connection, there's absolutely no excuse for being broke.
With the internet at our fingertips, there are so many options to make money online today. Survey apps are just one of these ways – it's as simple as getting paid for your opinion!
So, if earning cash for answering some short questions sounds like a sweet deal, you'll definitely want to check out our list of best survey apps for money below!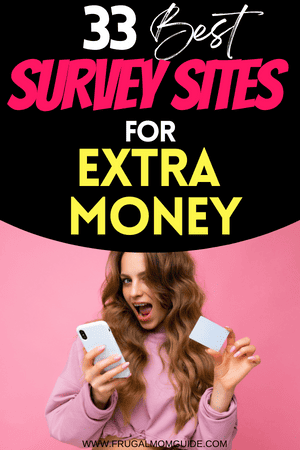 This post may contain affiliate links. This means that we may make a commission if you make a purchase via a qualifying link (at no extra cost to you!). You can read our full disclosure for more info.
Imagine this. You're home after a long day of work. You grab a plate of your favorite food, turn on the TV and make yourself comfortable on your couch. Your phone is in one hand and you're eating with the other. You've mastered the art of doom scrolling, while paying no attention to the TV show that's on.
Before you know it, an hour or two have passed. Am I right? Now imagine how much extra cash you can have each month if you used that extra hour to answer questions, share your opinion and complete small online tasks!
What if you switch out the "doom scroll" for a "survey poll"?
No doubt, the internet has now made working from home easier than ever. In fact, according to a Forbes article, by 2025, 32.6 million Americans will be working remotely, which is about 22% of the workforce!
Whether you're looking for a way to supplement your current 9 to 5, or you're actively pursuing remote job options that can actually replace your day job income, our list of best survey apps for money will help you dabble and wet your toes in the online world of remote work!
Are survey apps legit?
Yes, absolutely! Survey apps are a totally legit way to earn some extra money, right from your phone! Companies are always looking for ways to improve their products (and increase their profits) and sometimes this means investing in consumer research.
What better way to do research than by getting the answers directly from the horse's mouth? By asking real people who use their products every day, they can get useful feedback to improve products, sales and profits.
These companies know that your opinion and feedback are valuable, and they're willing to pay you for it! And so, they partner with survey apps, making it easy for you to answer their questions and get paid!
Now, not all survey apps are created equal. Some are more popular than others, and with good reason.
Some have higher payouts; some have flexible payout methods and of course some will provide you with various ways to earn! This means that when there are no more surveys to complete, you can always make up part of your rent payment by watching some funny videos or by sharing your internet!
All things considered, here are the best survey apps for money – in our opinion anyway!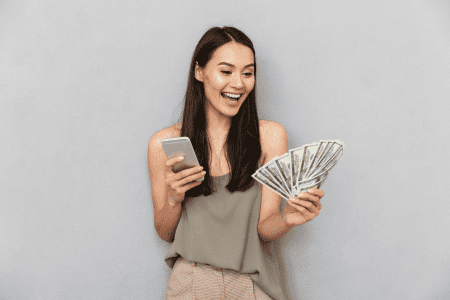 33 Best Survey Apps for Money
1. Pawns.app
With Pawns.app, you can earn cash by completing paid surveys on various topics. Brands will ask your opinion on different subjects, you'll answer and then get paid!
How much you'll earn depends on how much time you put in and how many surveys you complete. But what makes Pawns.app all the more amazing is that you can skyrocket your earnings by sharing your internet!
Yup, you read that right. You can actually earn money for your unused bandwidth!
You're already paying for your wi-fi connection. So why not get paid for your unused bandwidth?! It's such an easy way to make passive income while you casually go about your day-to-day business.
Start earning instantly with this $1 Pawns.app Bonus!
2. Swagbucks
Swagbucks is always a popular choice when it comes to the best survey apps for money! This is because there are SO MANY ways to earn extra cash.
Apart from paid surveys, you can also earn from cash back rebates for online shopping, from playing games and from redeeming swag codes.
You can also get paid to search the web when using the Swagbucks search engine (Hey! You can easily "Swagbucks" it instead of "Googling" it!). Or earn cash when you enter Swagstakes, watch entertaining videos, install the Swagbucks browser extension or even scan receipts from recent purchases.
When you combine all these earning methods, you're sure to pocket a few hundred bucks every month!
Get started with this $10 Sign Up Bonus from Swagbucks!
3. Survey Junkie
Survey Junkie offers many different ways to earn online. When it comes to paying you for your opinion, not only do they offer paid surveys, but also paid focus groups!
If you qualify, you'll be paid $100+ to participate in live focus groups (both online & in-person) where you can share your opinion on products and services. Brands conduct these for market research and are willing to pay big bucks for your input!
There are many ways to earn money online using Survey Junkie. Check out these Survey Junkie Hacks to increase your earnings!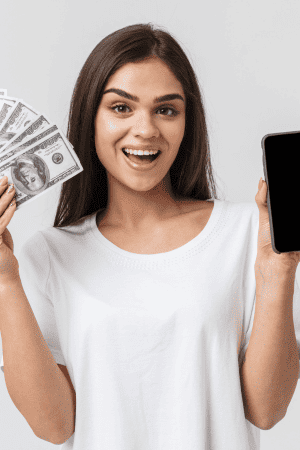 4. MyPoints
How would you like to get paid to play your favorite games such as Bingo, Wheel of Fortune, Scrabble Cubes and more? Well, MyPoints provides many opportunities to earn, including playing fun games!
Aside from getting paid to answer survey questions, MyPoints will pay you for grocery and online shopping and for trying new products, apps and trial services from hundreds of trusted brands!
They offer fast payouts and various reward options. Take advantage of this $10 Welcome Bonus when you get started with MyPoints today!
5. InboxDollars
InboxDollars is a must on our list of best survey apps for money as it is one of the highest paying and offers a variety of ways to earn.
InboxDollars will pay you for completing surveys, playing games, reading emails, and will also give you cashback for online purchases and grocery shopping.
The paid surveys on InboxDollars range from $0.50 (for extremely short ones) to $20+ if you match the exact demographic that the company is looking for. It's such an easy way to pass time while in line at the bank or while lounging on the couch after work!
Get started with this $5 Welcome Bonus from InboxDollars.
6. Branded Surveys
Branded Surveys is yet another easy option when it comes to getting paid for your opinion! It's as simple as signing up, answering a few basic questions so that you can be matched with surveys, sharing your opinion and getting paid!
If you're opting for Branded Surveys, know that they have a points system in place where you'll earn points for completing the paid surveys, which can then be redeemed for cash or gift cards.
It's easy, efficient and a perfect way to earn money during your spare time! Get going with this 100 Points Welcome Bonus.
---

Are you tired of the daily grind and looking for a way to make money from the comfort of your home? Maybe you're just tired of pinchin' pennies and wish you could EARN MORE?
Learn how I started Affiliate Marketing (getting paid to share products for companies like Amazon and Walmart) as a complete beginner, growing from zero to 5-figures a month!
Why not grab our eBook which outlines our exact strategy? It's totally free!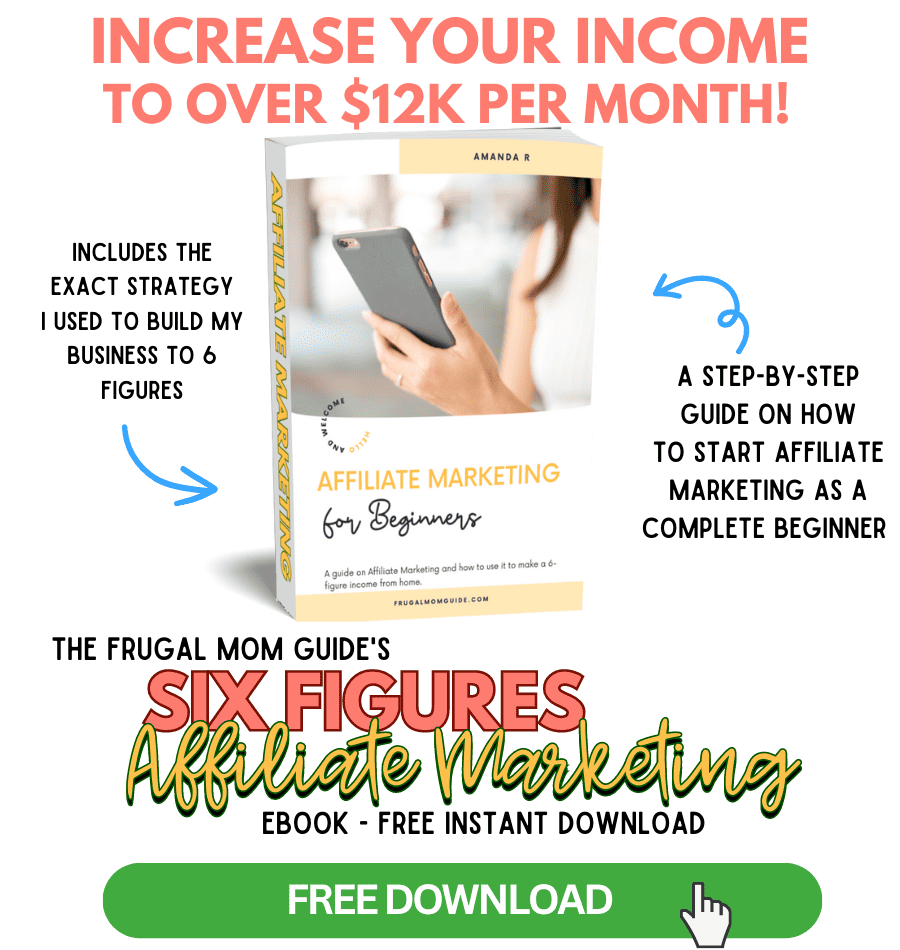 ---
7. ySense
Earning extra cash with ySense is as simple as completing their variety of paid surveys, trying new products and services, watching videos and downloading apps. Unlike some of the other survey apps, ySense is available worldwide, making it super simple to earn from anywhere!
Start earning with ySense today!
8. Poll Pay
With over 10 million app downloads, Poll Pay is a pretty popular survey app to earn money rewards! With millions of paid surveys to be completed, Poll Pay makes it really easy to participate in market research and get paid for your opinion.
Get rewarded actual cash after completing the surveys, and cash out via PayPal or gift cards.
9. Zap Surveys
You can become a "Zapper" and get paid for your opinion by completing surveys on Zap Surveys. One of the advantages of Zap Surveys is that you can choose from a variety of payout methods including PayPal cash, Visa and Amazon gift cards!
By signing up with Zap Surveys, you'll get access to tons of different surveys – daily surveys, high-paying surveys, location surveys and more!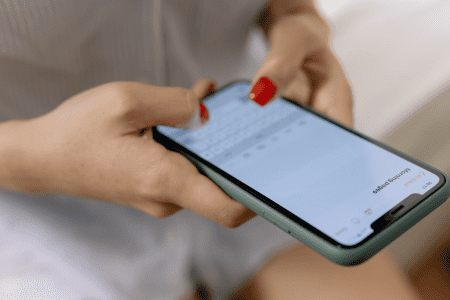 10. Qmee
Qmee boasts of paying you cash directly for your opinion – no need to think about building up points to redeem later. With no minimums needed to cash out, you'll be able to access your cash earnings instantly.
And on the odd occasion that you don't actually want the cash itself, don't worry, you can skip the PayPal and Venmo withdrawals for popular gift cards instead!
If that wasn't amazing enough, Qmee will even pay you to play fun games, to try new apps and for shopping online.
11. Google Opinion Rewards
Google Opinion Rewards offers many short and simple surveys that can be completed in less than a minute! Best of all, there's no minimum needed to cash out via PayPal, or you can even choose Google Play credit as your reward.
And if you're still on the fence about giving Google Opinion Rewards a chance, the fact that this app has over 50 million downloads speaks volumes!
12. LifePoints
LifePoints makes it easy to sign up, answer surveys and get rewarded! Once you've signed up, be sure to keep your eyes on your inbox for new surveys and check out your survey dashboard for opportunities such as product tests and polls.
Every time you complete a survey, you'll be racking up virtual points called LPs which you can redeem for e-gift cards, and of course, cash via PayPal!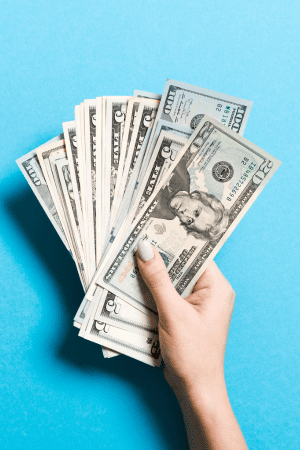 13. Surveys On The Go
Surveys On The Go was one of the first apps to offer paid surveys from your smartphone. They'll pay you real cash for giving your feedback and answering surveys.
And if you're comfortable, allow location services for the app, so that the app knows where you've been and can serve you the highest-paying surveys based on your habits and activity.
Surveys range from 10 cents to 10 dollars, and once your hit the $10 minimum threshold, you can cash out via PayPal or choose gift cards.
14. Toluna Influencers
Toluna Influencers makes it easy to voice your opinion and get paid. As the name suggests, your feedback is valuable and by completing these surveys, you'll get the chance to "influence" and shape the future of brands and products.
Simply choose from the various types of surveys, participate and get paid.
15. iPoll
Believe it or not, iPoll has been rewarding opinions for more than two decades! And according to iPoll, "your unique perspective is your gain"!
They will pay you for your feedback in short surveys, for testing prototype products and even for completing real-world missions in your local area!
As you complete your tasks, you'll be rewarded with iPoll currency which can redeemed for PayPal cash or gift cards.
FAQ
Which survey app pays the most?
Most surveys apps pay around $1 – $2 for short surveys. However, the highest-paying survey apps are the ones that have additional ways to earn such as Survey Junkie (with focus groups that pay $100+) and Pawns.app (with the opportunity to sell your unused internet bandwidth for up to $96).
16. Mindswarms
The Mindswarms app provides you with studies and surveys to answer for extra cash. You can even record 40 – 60 second videos to respond to the study questions. The Fabric Surveys app by Mindswarms also provides people with the opportunity to complete paid surveys and studies.
17. AttaPoll
AttaPoll will pay you for sharing your insight and feedback with local and global brands! With a low payout threshold of $3, it's easy to answer the questions and get paid!
18. Survey Pop
Survey Pop boasts that 82% of their members earn at least $5 within one day of downloading their app. And with a minimum cash out of $5, this means you can have some extra cash in hand (errr… well… in your account) almost immediately!
These are pretty impressive stats, and so, Survey Pop is a must on our list of best survey apps for money!
Grab their $1 Sign up Bonus and be sure to refer your friends to double and triple your earnings!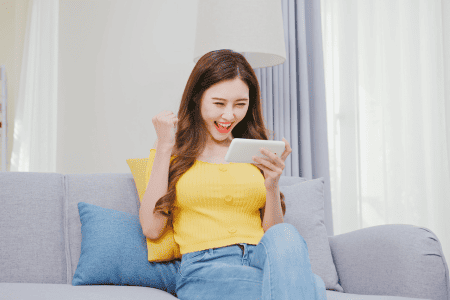 19. PaidViewpoint
PaidViewpoint is another quick pay survey site that will straight up pay your cash, skipping the points system.
20. Kashkick
Kashkick makes is super simple to start earning money online. There are many high-paying offers, some of which will pay over $125! The tasks easily add up, from paid surveys to playing games.
Kaskkick is definitely one of the best survey apps for money!
21. SurveyMagic
When you join SurveyMagic, you'll get to answer paid surveys for brands, companies and even universities! Yes, you'll actually get to shape the future of education… and get paid for it!
There's no limit to how much you can earn. Obviously, the more surveys you answer, the more money you'll make!
22. BananaBucks
From the same parent company (Kowzha) as SurveyMagic, BananaBucks will also pay you to answer surveys for brands, companies and universities.
BananaBucks is available in all countries and guarantees $1 for your first survey.
FAQ
How do survey apps pay you?
Most survey apps will pay you cash via PayPal. However, they also offer other ways to cash out such as Visa gift cards, Amazon gift cards and gift cards to other popular retailers. Some also offer payments via Venmo, Bank Transfer and even a Bank Check.
23. Reward Time
Reward Time offers a variety of ways to earn extra cash such as paid surveys, playing games and completing simple tasks! Reward Time literally rewards you for putting your spare time to good use.
When you answer surveys, install apps and play games, you'll be raking in in-app coins which can then be redeemed for real PayPal cash, or gift cards!
24. Happy Surveys
Happy Surveys has some of the highest paying surveys – up to $15 for 10-15 minutes! This means in just a few minutes, you could have your Netflix payment covered!
If that doesn't put the "happy" in "Happy Surveys", I don't know what will!
Happy Surveys makes it easy and reliable to get paid for your feedback.
25. Curious Cat
Curious Cat will pay you real money for taking paid surveys. The app itself is super simple to use, navigate and get paid. Their smart algorithm will find you the highest paying surveys and you can cash out with as little as 100 points!
26. Cheddar
Cheddar (previously MegaWallet) provides you with the opportunity to take paid surveys, complete tasks and earn cashback rewards to increase your payouts. Best of all, Cheddar has many payout options including PayPal, Venmo, Visa and even direct deposit!
The app itself is user-friendly and the cash out process is hassle-free.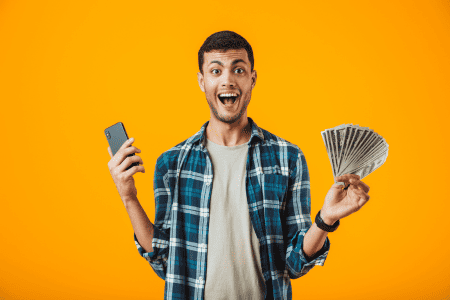 27. ChillSurveys
From the same parent company (Kowzha) as SurveyMagic and BananaBucks, ChillSurveys will also pay you to answer surveys and complete daily polls.
28. SurveyParty
SurveyParty is another survey app that falls under the same Kowzha umbrella. Like their other survey apps, SurveyParty guarantees a free $1 bonus on your very first survey!
29. CashCamel
CashCamel boasts of paying 30% more money (through PayPal) than other survey apps, and so, is a must on our list of best survey apps for money. They use AI to pre-qualify you for surveys, ensuring that you're a perfect match so that you can earn more money.
Just download, answer surveys and get paid!
FAQ
How can a beginner make money online?
There are many different ways for a beginner to make money online. Survey apps are just one of many options in the online world of "work". Higher paying opportunities include affiliate marketing, blogging, freelancing, transcription and proofreading.
30. Panel Opinion
Panel Opinion is perfect for folks in the UK! In addition to paid surveys, they also offer daily mini polls and monthly star draws with the chance to win valuable prizes.
And when you're ready to cash out, you can choose from a variety of options including PayPal, Bank Transfer or even Bank Check (*ahem Cheque*).
31. Surveyeah
With Surveyeah, you can earn cash for answering surveys via PayPal, Skrill, Western Union and even Moneygram! If you choose, you can also receive payment as Amazon gift vouchers or donate to charity.
Simply sign up, answer surveys and earn cash!
32. Surveytime
With Surveytime, there are both pros and cons. One of the pros is that it is global, and you can earn money from anywhere in the world. Another is that there is no withdrawal threshold.
However, the downside is that you don't actually get paid in cash – only gift cards. Another feature (that can be a pro/con depending on how you look at it) is that all surveys pay $1, regardless of how long you take to complete it.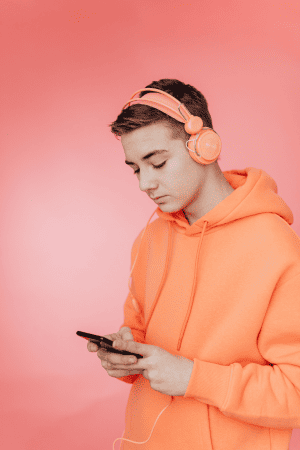 33. RewardSurvey
Using RewardSurvey, you can get access to short, simple surveys. Participate, earn rewards and redeem your points instantly!
Now, here's the deal. You can only redeem your points for subscriptions to magazines, downloadable audiobooks and gift vouchers. Your points are not redeemable for cash.
Additional Info on Best Quick Pay Survey Sites for Money – FAQs
Which survey is legit money earning?
All of the survey apps listed above are legit money earning apps! It's as simple as hitting download, answering the surveys and getting paid!
What survey apps are verified to make money?
All of the apps on our list of best survey apps for money are verified and legit. They are all reliable, safe and perfect for your online making-money ventures!
Which online surveys actually pay?
Again, all of the survey apps on our list are legit and actually pay what they state. Payment amount will depend on the length of the surveys and the user demographic. Some pay cash and some reward with points that can be redeemed for cash.
Either way they all pay. Just take note of the minimum payout thresholds because you will not be able to access your cash until you reach this amount.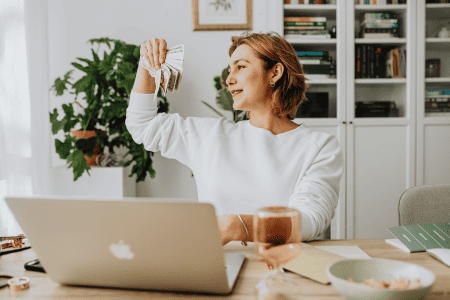 How to get high paid surveys?
Higher paying surveys are either longer or extremely targeted and matched to you. Getting surveys matched to you is easy. The first step is answering the questions as accurately as possible during the onboarding process.
For example, if a company is looking specifically for feedback from a Miami mom of 5, if you entered your location and number of kids, you will be immediately matched to this survey if you're a Miami mom of 5! This also means that these particular surveys will pay higher than the generic, daily ones.
Another way to get high paid surveys is by allowing your location for the survey app. Once you're comfortable doing this, the app will be able to track your daily habits and activities, such as which stores you shop at. They can then use this info to match you to higher paying surveys specific to your lifestyle and location.
If you want high paid surveys, you should also ensure that your app notifications are turned on and you should keep your eyes on your inbox. This will ensure that you never miss out on new survey opportunities!
Finally, if you have the spare time, consider completing the longer surveys. These will pay higher as they require more of your time and effort.
Related Posts on Best Survey Apps for Money
21 Legit Cash App Survey Sites to Earn Money
Survey Junkie Hack: 21 Tips that Actually Work to Make Money
19 Best Apps with an Instant Sign-Up Bonus
Final Thoughts on Best Survey Apps for Money
Survey apps are a great way to make some extra cash but definitely not a proper means of covering all the bills. With an hour or two during your daily commute of while scrolling your phone at night, you can easily rack up $100 – $200 a month.
The amazing thing about some of these apps is that you can earn passive income from using features such as their browser extension or by sharing your unused internet bandwidth. You can also use several apps at a time to increase your earning potential!
All in all, the extra cash sure comes in handy!
Anyways, have you used any other high-paying survey apps? Would you like to add any other options to our list of best survey apps for money? Share with us in the comments below. We'd love to hear from you!
Don't forget to follow us on Pinterest, Instagram and Facebook for more money-making tips and inspiration!
Liked this post? Pin it!
33 Best Survey Apps for Money