Easy, Delicious & Cheap Crockpot Meals that are Perfect for Tight Budgets
Anything that can save me both time and money is a huge gamechanger, in my opinion. That's exactly what cheap crockpot recipes are for me – a gamechanger!
These budget crockpot meals are comforting, hearty and full of flavor. Without a doubt, they will simplify your cooking, your life and your finances, as they use cheaper ingredients and require very minimal effort.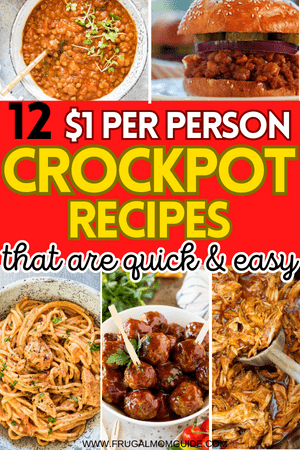 This post may contain affiliate links. This means that we may make a commission if you make a purchase via a qualifying link (at no extra cost to you!). You can read our full disclosure for more info.
A crockpot is a must in the kitchen! If you don't already have one, trust me, it's an investment and you should get it! The features and brands of different slow cookers vary. You can actually shop around and choose one that suits your needs and your budget.
This mid-range option on Amazon has MyTime Technology and is programmable. But then there's also this super cheap crockpot option if you just want to test out the waters as you get started.
Either way, a crockpot is always a good buy!
• It saves you money. Crockpot meals help you cut food costs as they usually use cheaper cuts of meat and vegetables.
• It saves you time. Crockpot meals require minimal prep and can be left to cook for several hours.
• It's less messy. There are fewer pots and pans so less clean up. Who doesn't love not having a messy kitchen after cooking? ME!
• It's versatile. Crockpots can be used to cook a variety of dishes, from meats, to stews, to pasta, and more!
And here are some of these delicious, budget-friendly crockpot meals! You're welcome!
12 Cheap Crockpot Recipes that Cost $1 Per Person
1. Slow Cooker Lentil Curry
This creamy Slow Cooker Lentil Curry from Recipes from a Pantry is simple to make, super affordable and uses just a few pantry staples. Best of all, it's also gluten free and vegan, and packed with nutrition! This recipe is perfect for busy days and tight budgets!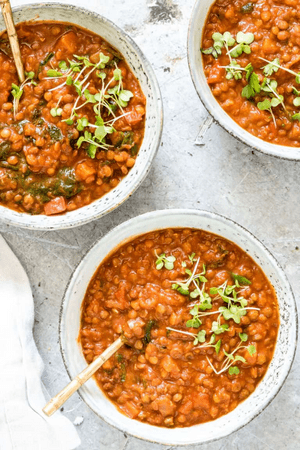 2. Crockpot Garlic BBQ Chicken
If you're looking for an affordable recipe that uses just 3 ingredients, and one that takes just 5 minutes to prep, you've got to check out this Garlic BBQ Chicken from JackSlobodian! It's tender, juicy and oh-so-delicious – the perfect addition to weeknight dinners!
If your budget allows it, splurge a few extra dollars and pair this with a wrap or some toasted burger buns. Yummy!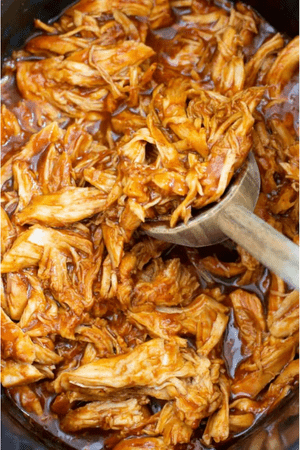 HEY!
If you struggle with finding meals that are CHEAP, yummy and kids-approved, then the $5 Meal Plan is a must!
This is for you if:
✔️ You struggle with finding quick, easy, healthy & cheap meals
✔️ You struggle staying on track with your meal budget
✔️ You want to kick your 'takeout addiction' to the curb
✔️ You want to save an extra $200 – $300 every month
The $5 Meal Plan makes meal planning simple and effortless. You'll save time AND money as you'll get a customized meal plan sent directly to you each week. The best part is that each meal costs around $2 per person (or less)!
So if you just want to check out $5 meal plan (with no strings attached), try it here for free (for 2 weeks).
3. Grape Jelly Meatballs
This Grape Jelly Meatballs recipe from Dinner at the Zoo features homemade meatballs tossed in an easy two-ingredient sauce, slow cooked to perfection! This is a super affordable option for an appetizer, or even as an addition to the dinner table. Your family will be begging for more!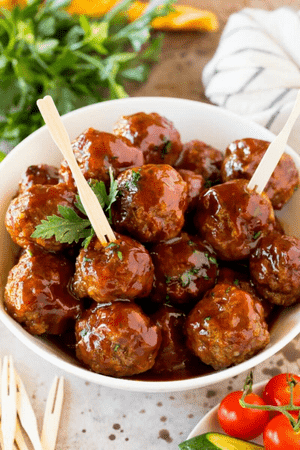 4. Red Lentil & Chickpea Curry
Looking for a hearty, filling and nutritious recipe? Then Kitchen Treaty's Red Lentil & Chickpea Curry is a must! Add potatoes, peas, and serve with a side of rice, for a complete (but affordable) meal!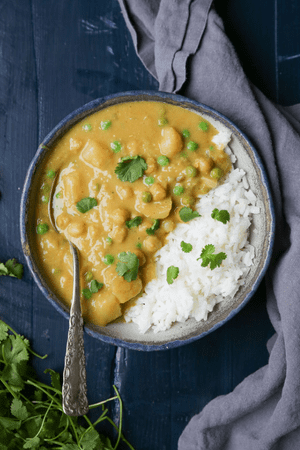 ---
Pssst! Did you know you can save more money by meal planning? Meal Planning saves me thousands of dollars every year! Not sure how to get started? Grab a copy of my free Meal Planning e-guide below.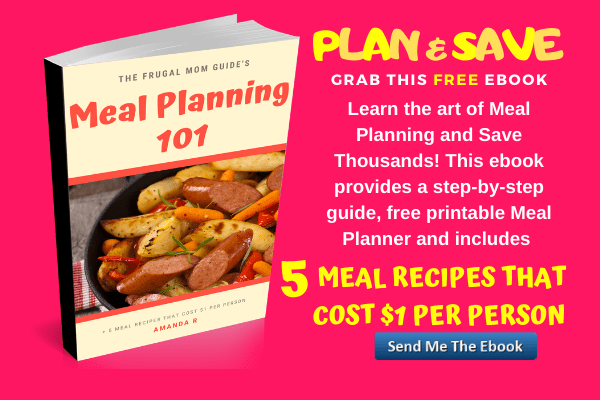 ---
5. Mississippi Pot Roast
This delicious Mississippi Pot Roast recipe from Adventures of a Nurse is a perfect budget-friendly option to add to your weekly meal plan line-up. It uses basic pantry essentials and it so simple to make.
This recipe also requires very little prep and pairs well with mashed potatoes, rice or even on a bun! How yummy is this?!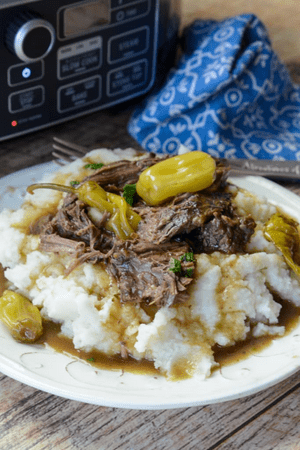 6. Crock Pot Pepper Steak
Eating on a budget doesn't have to be boring! With options like this Crock Pot Pepper Steak from Amanda's Easy Recipes, your weeknight dinners can be absolutely delicious without straining your wallet.
This recipe uses just a few ingredients and is so versatile as it can be served in many different ways!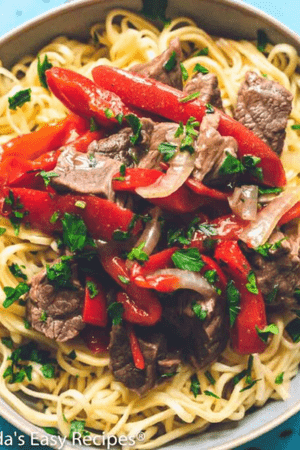 FAQ
How can I feed my family on a very small budget?
With rising food prices, it's important to find creative ways to continue feeding our families well, on a very small budget. This means planning cheap (but nutritious) meals and cooking from scratch to save money.
You'll also need to stick to store brand and cheaper ingredients to further maximize savings. Remember to take advantage of sales, coupons and deals on bulk buys. And when you're done with your shopping, don't forget to scan your receipt on MyPoints to get huge cash back on your grocery shopping!
If you're on a small budget, it's no surprise that skipping the extra snacks and sugary drinks will also save you money. Seriously, your wallet (and your body) will thank you!
Additionally, try shopping at discount stores where possible, limit meat consumption and get creative with your leftovers to avoid waste and save money!
Finally, put your green thumb to the test by growing your own food. Start a simple garden and watch plants and your savings grow!
7. Potato Corn Chowder
Lemon Blossom's creamy, thick and flavorful Potato Corn Chowder recipe requires minimal effort and is truly comfort in a bowl! It is hearty and delicious with chunks of potatoes and creamy corn. This will quickly become a family favorite!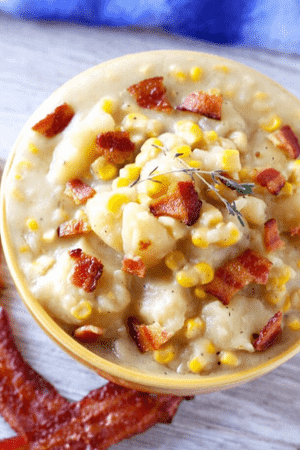 8. Slow Cooker Chicken Spaghetti
This Creamy Chicken Spaghetti from Budget Delicious is slow cooked in a rich tomato sauce. This meal is made with affordable pantry ingredients and is quick and easy – perfect for lazy days! When you're on a budget, pasta is always the answer!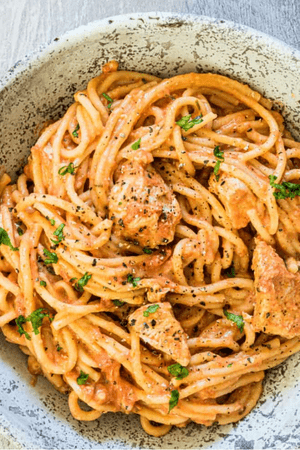 9. Creamy Chicken Pasta
Since pasta is always a delicious, budget meal, you may also want to give this Creamy Chicken Pasta from The Forked Spoon a try!
Using simple ingredients, this pasta is packed with rich, creamy goodness, without putting a strain on your pockets. It's also the kind of meal that the entire family will love! Win win!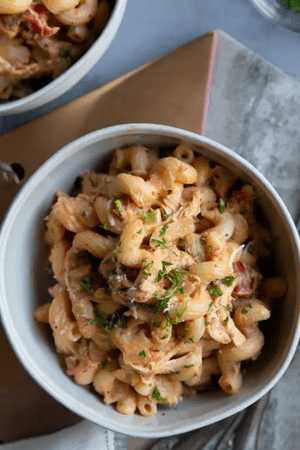 10. Slow Cooker Cuban Mojo Pork
This Slow Cooker Cuban Mojo Pork from Lemon Blossoms is tender, juicy and packed with flavor! It's slow cooked in a mixture of citrus juices, garlic and spices – it'll quickly become a staple in your weekly meal plan line-up!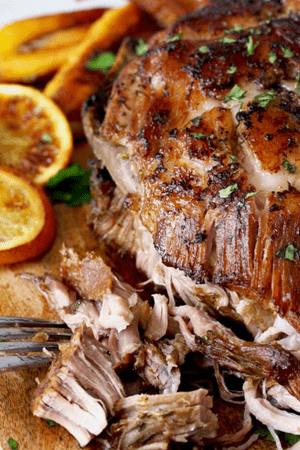 11. BBQ Chickpea Vegan Sloppy Joes
This is yet another delicious and budget-friendly recipe from Kitchen Treaty. Who doesn't love a mouthwatering Sloppy Joe meal?! This BBQ Chickpea Vegan Sloppy Joes recipe is tangy, hearty and so easy to make!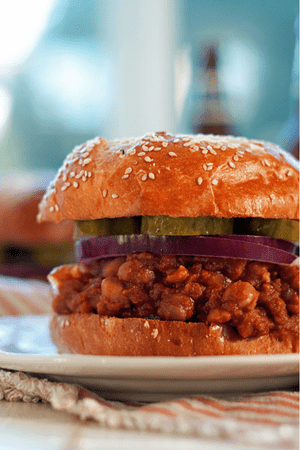 12. Poor Man's Stew
The name of this recipe literally suggests how perfect this meal is for low budgets!
This Slow Cooker Poor Man's Stew recipe from Cook at Home Mom will show you how to use budget ingredients like ground beef, potatoes, carrots and simple seasonings to cook up a hearty, comfort meal that is super cheap, but nutritious!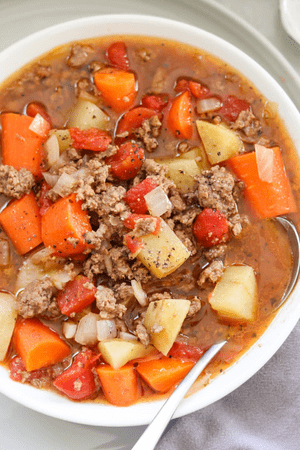 Bonus Money Saving Tips when Preparing Cheap Crockpot Meals
• Meal Plan
It's no secret that meal planning is a huge money saver when it comes to lowering your food budget. If you're trying to feed your family on a small budget, weekly meal planning is a must!
All you have to do is select some simple, budget-friendly recipes for the upcoming week (hello yummy crockpot recipes listed above!) and make your basic grocery list based on the meals you've selected.
Remember to check your pantry for ingredients that you already have, and you can even plan meals that utilize these ingredients. Shopping your pantry can double your savings!
Meal planning doesn't have to be difficult. I love asking my family for their input – my kids each get to add their "special request" to the list, and my hubby often makes his contribution also.
Meal planning saves money since you're cooking (affordable) meals at home from scratch and you're more likely to avoid blowing your budget on takeout at the last minute.
To successfully save money through meal planning, remember to set realistic goals, stick to cheap (but nutritious) meals, and allow for flexibility in case of unexpected changes.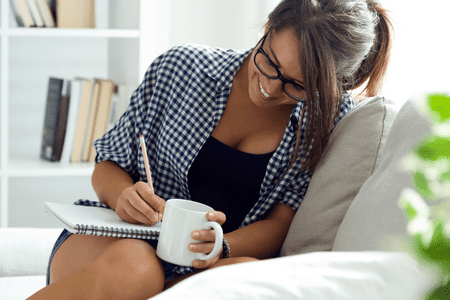 • Make One Designated Grocery Run & Stick to your Grocery List
So you've created the perfect meal plan for the upcoming week, looked through your pantry for the ingredients that you have, and created a grocery list with just the items that you NEED. What comes next?
Well, you can either make ONE quick grocery run, or order online and have your groceries delivered. This reduces the added temptation of impulse purchases over the course of the week.
If ordering online, be sure to stick to the list and take advantage of coupons and cash back apps such as MyPoints (which I elaborate on below).
If shopping in-store, you can also use clipped coupons, shop sales, buy certain products in bulk (such as pasta, rice and canned goods), opt for store brands, avoid shopping while hungry and consider buying frozen instead of fresh to save money!
When all of these tips are used together, and once you stick to your grocery list, you can end up saving hundreds of dollars each week!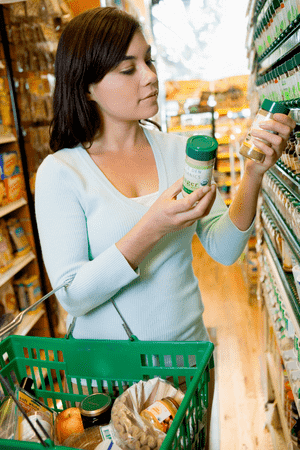 • Take Advantage of Cash Back / Money Saving Apps
If you're not using Cash Back Apps when grocery shopping, you're leaving money on the table! If someone is willing to pay you money for purchasing the items on your grocery list, why refuse their offer? I promise that there's no catch and this is 100% legit.
Apps such as MyPoints, InboxDollars and Drop all offer the option to get cash back just for doing your grocery shopping. They all work in a similar way so whichever one you choose to use is totally up to you and your personal preference.
MyPoints allows you to scan your receipts and get cash back so that you can save on every purchase including your groceries and household staples. This includes purchases from Walmart, Target, Kroger, Safeway, and more!
But on top of this, MyPoints also provides ways for you to earn extra money through online surveys and playing games! Yes, you read that right. Start saving and earning instantly when you grab this $5 MyPoints Sign up Bonus!
Similarly, InboxDollars will give you cash back for online shopping, plus you'll get access to free samples, extra discounts and more! When you scan your grocery receipts, you'll earn cash just for grocery shopping, or for trying featured deals. Take advantage of this $5 Sign Up Bonus when you get started with Inbox Dollars!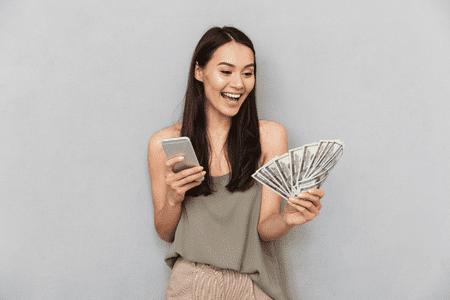 • Use Weekends to Meal Prep
After you've planned your week of cheap crockpot meals, collected your grocery order and saved a bunch of money through MyPoints, it's time to meal prep your way to success.
This means washing produce, cutting up and prepping veggies and meats, and storing all ingredients in air-tight containers. This makes cooking during the week less stressful and tedious, and you'll be less likely to grab takeout on a tiring evening after a long day of work.
Meal prep helps you stick to your meal plan, and so, it's a very important step that shouldn't be skipped!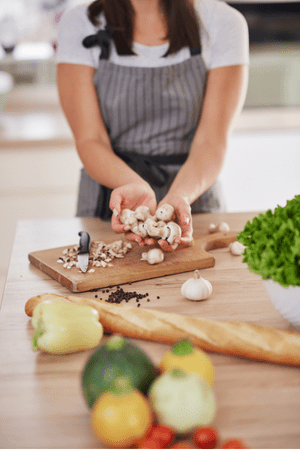 FAQs – Additional Info on Cheap Crockpot Meals
Does a crockpot save money?
Yes, a crockpot can save money since it simplifies the cooking process. One of the main reasons people tend to blow their food budget is when they grab takeout after a tiring day. Not only is this expensive, but it's also not the healthiest option!
When you know a comforting, hearty meal awaits you on an evening, it takes the guesswork out of planning dinner, helps you stick to the meal plan and also stick to the budget.
Of course, you'll need to ensure that you are cooking cheap crockpot meals if you really do want to save money. So, be sure to choose cheaper ingredients (such as less expensive protein sources) and buy ingredients that are in season and on sale.
What can be cooked in a crockpot?
Almost any recipe can be tweaked to create a crockpot version! A crockpot is super versatile and can be used to make a variety of dishes. These include slow cooked meats, soups and stews, rice and grain dishes, pastas, desserts and more! Honestly, the possibilities are endless!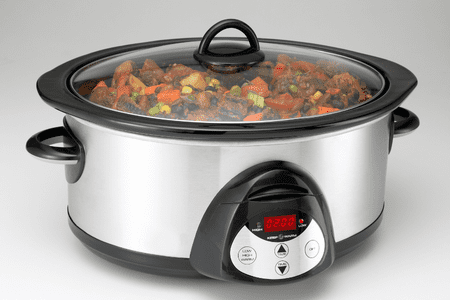 Is it cheap to cook in a slow cooker?
Yes, it is cheap to cook in a slow cooker. Once you choose cheaper ingredients, such as cheaper cuts of meat and inexpensive veggies, you can have a hearty meal for dinner, with just a few minutes of prep time in the morning.
Also, a slow cooker is very energy efficient, and so, will not rack up a high electric bill as a trade-off for your time. You can definitely save money by cooking cheap crockpot recipes!
How can I save money in a slow cooker?
Saving money in a slow cooker is as simple as using cheaper ingredients to cook with and sticking to cheap crockpot meals!
Related Posts on Cheap Crockpot Recipes that Cost $1 Per Person
12 Cheap Dinner Ideas that Cost $1 Per Person
12 Cheap Breakfast Ideas that Cost $1 Per Person
12 Budget-Friendly Recipes that Cost $1 Per Person
Final Thoughts on Cheap Crockpot Recipes
With enough effort and commitment, these affordable crockpot and slow cooker meals can surely simplify your life and your finances. During your next upcoming meal planning sessions, be sure to add in one or two of these recipes to your weekly line-up.
Are there any other delicious and cheap crockpot recipes that you'd like to share? Let us know in the comments below. We'd love to hear from you!
Don't forget to follow us on Pinterest, Facebook and Instagram for more budget-friendly recipes and money saving inspiration.
Liked this Post? Pin it!
12 Cheap Crockpot Recipes that Cost $1 Per Person