Looking for Cheap and Easy Thanksgiving Sides? These Cheap Thanksgiving Dinner Recipes are a Must This Year!
If you're hosting Thanksgiving this year, you may already have an idea that things can get a bit expensive. Here's where you'll have to strike up that balance between having a nice dinner without totally blowing your budget.
And luckily for you, I'm here to help you find that balance!
I went looking for the best Thanksgiving dinner recipes around that are both budget-friendly and delicious enough to impress the in laws!
Sure, the turkey is the star of the show, but the side dishes are what fill up the plate! And the great news is that calories don't count on Thanksgiving.😆 So make as many of these cheap Thanksgiving Sides as you please… because they'll be easy on the wallet, and easy on the waistline (lol).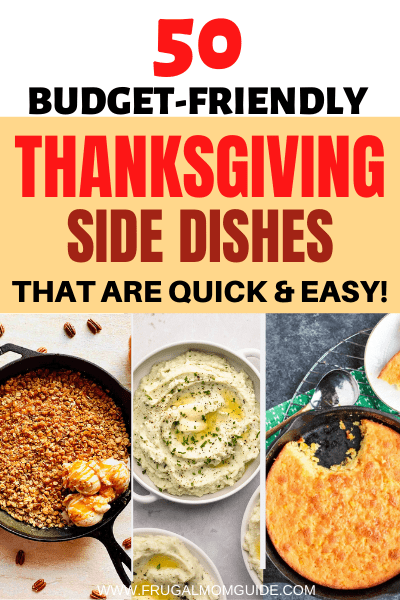 This post may contain affiliate links. You can ready our full disclosure for more info.
Personally, I don't fancy meats so the side dishes are where it's at for me! There are so many different options here to choose from. If I had no limit to my budget and no limit to my energy levels, I'd probably make all, and eat all too! 🤣
At least Thanksgiving is the one day of the year that you can load up your plate, have seconds (& thirds) and nobody would judge you!
Before, starting the list of recipes below, why not grab our free Thanksgiving Cheat Sheets to use as a guide? There are spaces to write in the side dishes that you've chosen, the ingredients needed and the website that it is from so that you'll never lose the recipe!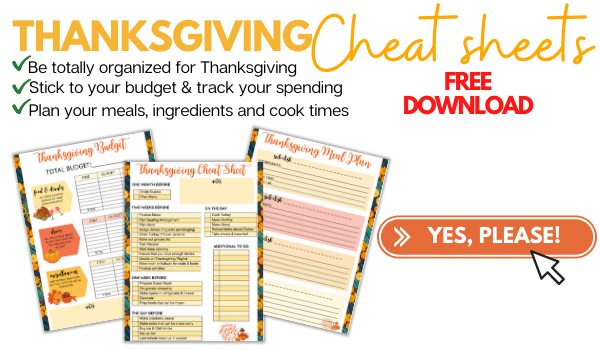 50 Cheap Thanksgiving Sides that are Easy & Yummy
1. Homemade Baked Mac and Cheese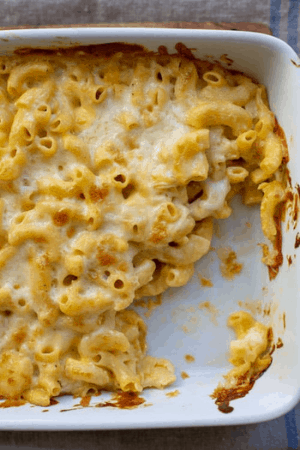 This Homemade Baked Mac and Cheese from The Travel Palate is the perfect side dish any time, but especially around the holidays.
2. Kale Salad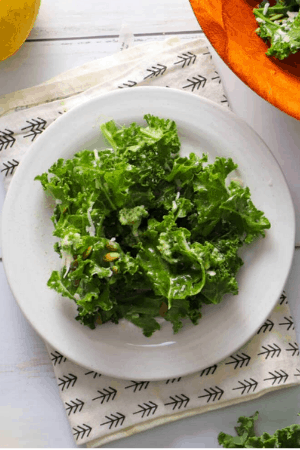 Delicious and hearty kale salad with a poached-garlic and parsley vinaigrette and Pecorino Romano cheese – perfect complement to any Thanksgiving dish! Get this Kale Salad recipe from Urban Farmie.
3. Roasted Dutch Carrots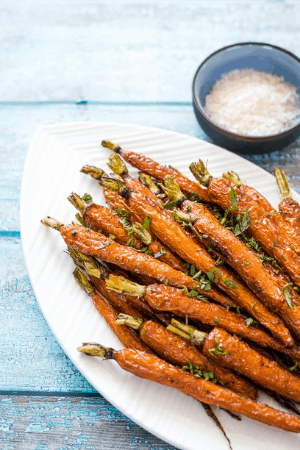 These simple roasted dutch carrots from Whole Food Bellies may just be the star of your next meal. They come together so easily, require no technical skills and use easy to find simple ingredients.
4. Crockpot Mashed Potatoes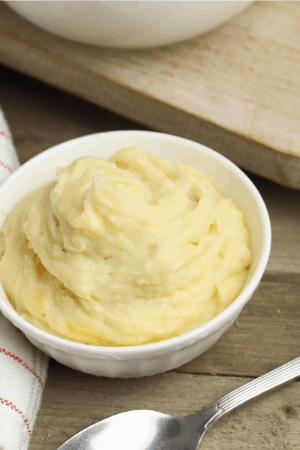 Try this delicious Crockpot Mashed Potatoes from Brooklyn Active Mama! It would make the perfect addition to any Thanksgiving line up!
5. Jiffy Cornbread Casserole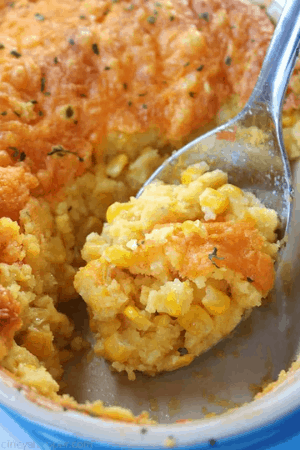 This Jiffy Cornbread Casserole from Cincy Shopper is an easy side dish for your Thanksgiving or everyday meals. I like to describe it as a gooey cheese cornbread. I think some might call it cornbread pudding. Whatever you call it, it is a perfect holiday side dish.
6. Oven Roasted Artichokes With Gouda Cheese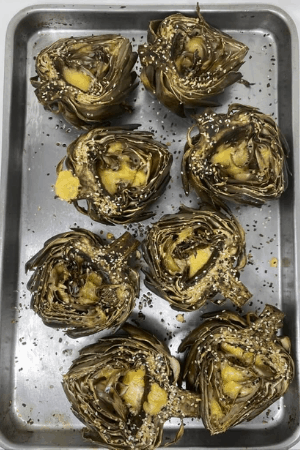 Artichokes are healthy and delicious. They make a great affordable side dish for Thanksgiving. Check out this Oven Roasted Artichokes With Gouda Cheese from Any Reason Life.
7. Grandma's Easy Vegan Stuffing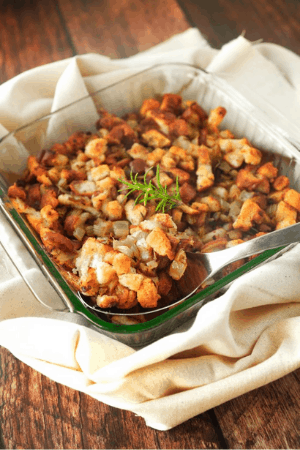 This Easy Vegan Stuffing recipe from Wow, It's Veggie?! is actually very budget friendly and easy to make. It uses a family traditional recipe that has been passed down for decades and just happens to be 'accidentally' vegan so all can enjoy.
8. Vegan Stuffed Butternut Squash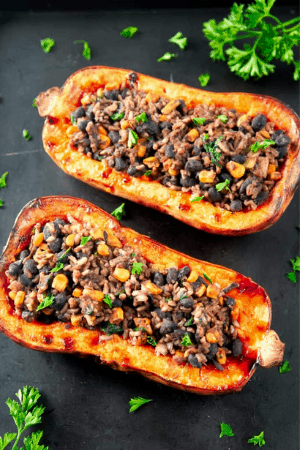 Stuffed butternut squash is such a simple and affordable main dish or side dish for your Thanksgiving dinner. Plus it's easy and uses seasonal food and pantry staples. Get the recipe from Wow, It's Veggie?!
9. Twice Baked Mashed Potato Souffle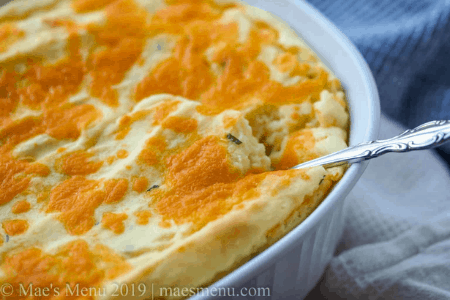 Like mashed potatoes but better, this twice baked mashed potato souffle from Mae's Menu, is light and fluffy while being rich and creamy, making it the perfect Thanksgiving side dish.
10. Air Fried Green Beans with Lemon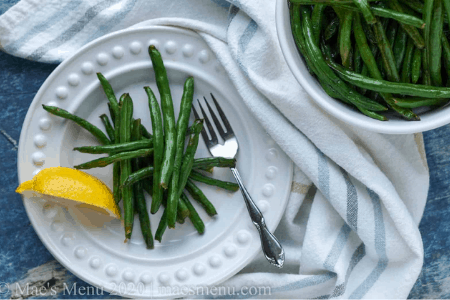 Elevate your green bean side dish game with these Air Fried Green Beans with Lemon from Mae's Menu. With just 4 ingredients, 3 steps, and less than 25 minutes you will have a budget-friendly and quickly disappearing Thanksgiving side dish the whole family will love.
11. Cream Cheese Corn Casserole with Green Chiles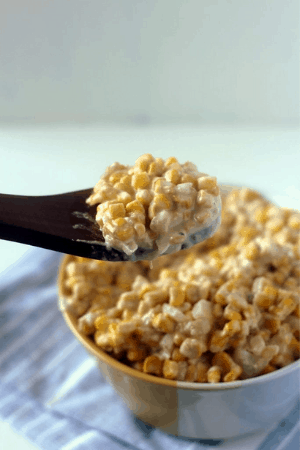 This Creamy Corn Casserole from Blackberry Babe is inexpensive and easy to make. It's one of those recipes that you'll make every year, because your guests will request it!
12. Sweet Corn Spoon Bread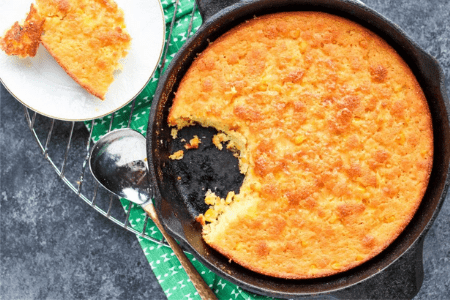 This Sweet Corn Spoon Bread recipe from Blackberry Babe is a rich and creamy corn bread that can double as dessert! Easy to make and starts with a box of Jiffy mix!
13. Creamed Peas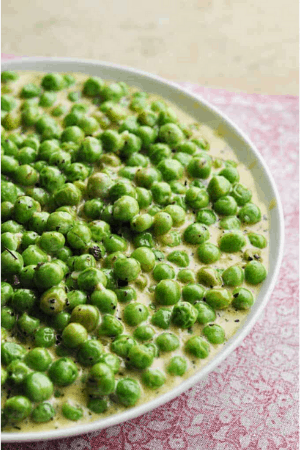 These Creamed Peas are very quick and tasty. Even if you thought you didn't like peas you may very well change your mind after trying this recipe! Get the recipe from Savory with Soul.
14. Sauteed Broccoli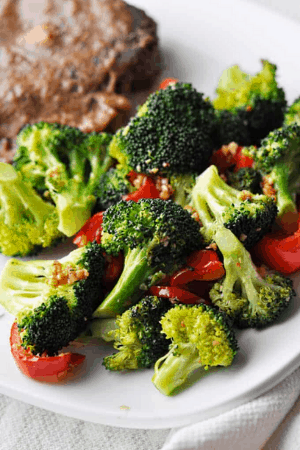 This Sauteed Broccoli from Savoury with Soul is an easy and quick pan-fried broccoli that includes red bell pepper for added flavor, crunch, and beautiful color!
15. Brown Sugar Glazed Carrots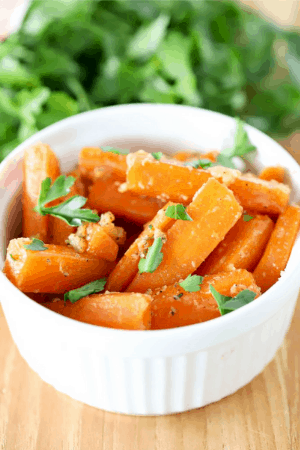 This Brown Sugar Glazed Carrots recipe from Yummy Healthy Easy is an absolute family favorite side dish! The carrots are cooked to perfection and are full of sweet and savory flavor!
16. Instant Pot Mashed Cauliflower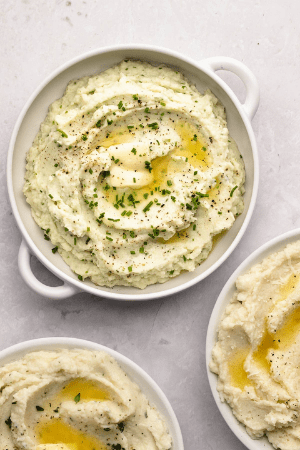 Instant Pot Mashed Cauliflower is fast, easy and you can make it ahead of time! Choose from three delicious flavor combinations! Get this recipe from The Recipe Well.
17. Cajun Coleslaw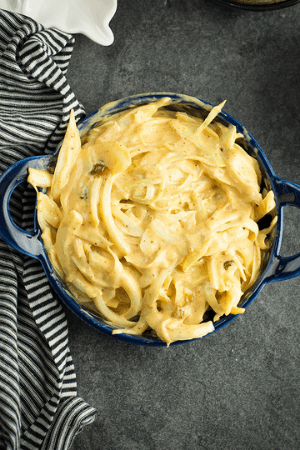 If you're looking to add some low carb recipes to the mix, try this Cajun Coleslaw from Pepperpot! Cajun coleslaw Is a simple low carb recipe that tastes delicious. The texture and the flavors will give you comfort with every spoonful.
18. Air Fryer Potatoes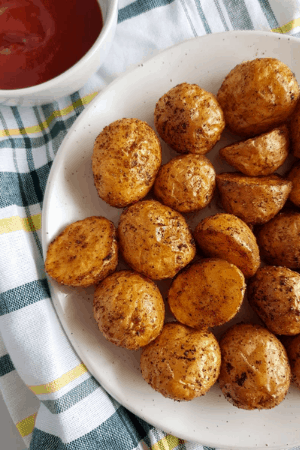 Easy, crispy roasted Air Fryer Potatoes are really easy to make, and packed with flavor. It's an excellent option for Thanksgiving! Get the recipe from Hint of Healthy.
19. Green Beans Almondine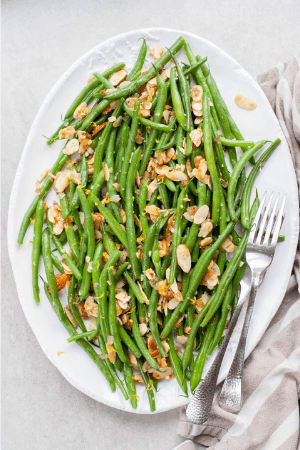 Green Beans Almondine is an amazing green beans side dish. You only need a couple of ingredients, but they take simple green beans to another level. This dish is easy and quick to make but also very flavorful and impressive so you can serve it on a special occasion. Get the recipe from Everyday Delicious.
20. Maple Roasted Mini Potatoes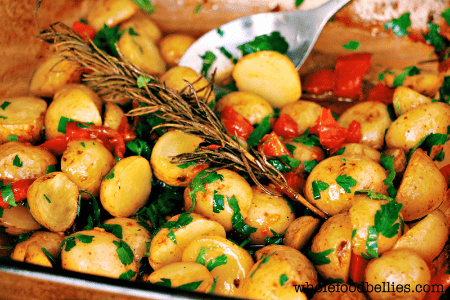 Maple Roasted Mini Potatoes make a great little side dish that is effortless, simple and delicious. It's a great addition to the Holiday table or served with a roast on a Sunday night – one pan and easily prepped ahead of time. Get the recipe from Whole Food Bellies.
21. Parmentier Potatoes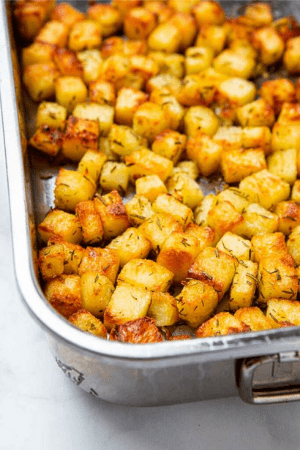 Give Thanksgiving a French twist this year with these Parmentier Potatoes from Greedy Gourmet. They are essentially herby cubed roast potatoes.
22. Maple Balsamic Roasted Brussels Sprouts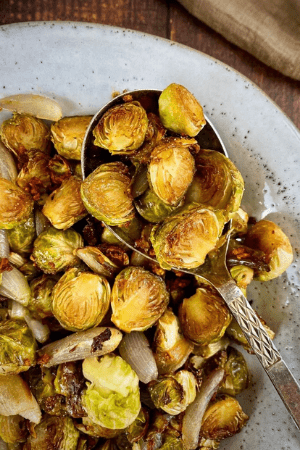 These Maple Balsamic Roasted Brussels Sprouts from No Sweat Vegan are crispy, beautifully caramelized, and full of rich flavors. An elegant yet affordable side dish for your Thanksgiving feast!
23. Roasted Asparagus with Tajin Spice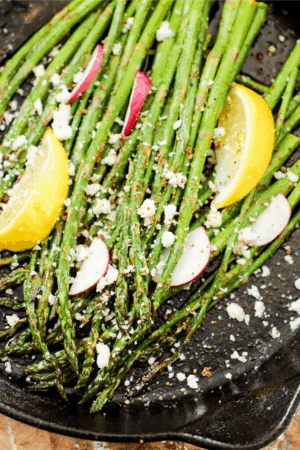 Roasted Asparagus with Tajin spice is a great way to transform simple asparagus into the best asparagus ever! Get the recipe from Latina Mom Meals.
24. Instant Pot Baked Potatoes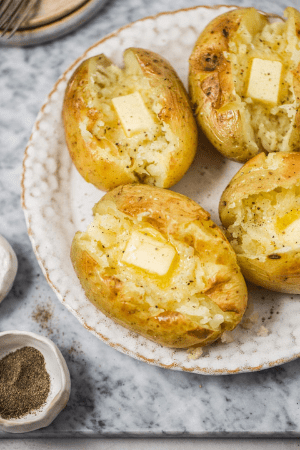 Fluffy and fork-tender Instant Pot Baked Potatoes from the inside and golden and crispy from the outside! This is a great way to bake potatoes on busy nights. Get the recipe from Nourish Plate.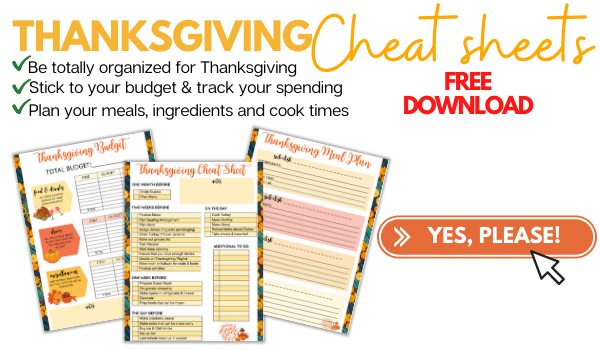 25. Instant Pot Mashed Sweet Potatoes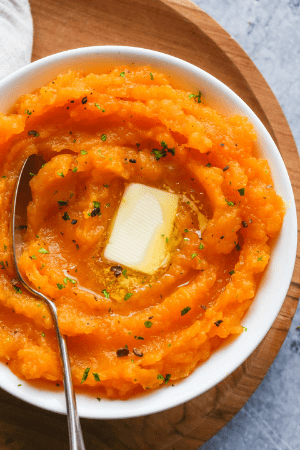 Instant Pot Mashed Sweet Potatoes recipe is an easy and quick side dish that is filling and full of nutrients. It's a good variation from the classical potatoes mash, and is perfect for Thanksgiving! Get the recipe from Nourish Plate.
26. Mushroom Rice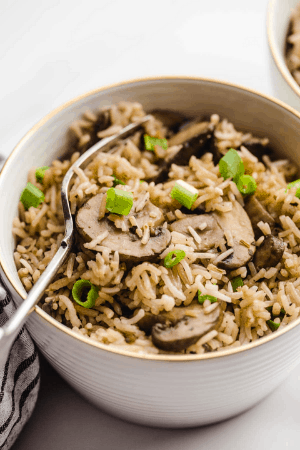 This One-pot Mushroom Rice from Little Sunny Kitchen is so full of flavor, ready in under 30 minutes, and so easy to make! It's so good that it can be served on its own or as a main dish. All you need is a large tray of mushrooms, garlic, onion, rice, and green onions!
27. Air Fryer Cauliflower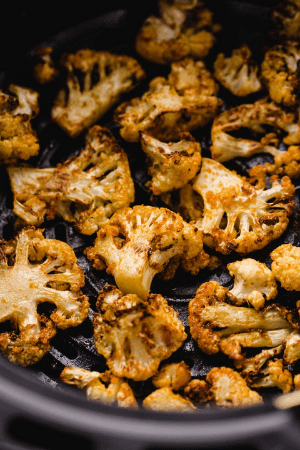 This is a simple and delicious crispy Air Fryer Cauliflower! Thanks to the Air Fryer, you can easily and quickly make tasty cauliflower with just a handful of ingredients and in no time. Get the full recipe from Little Sunny Kitchen.
28. Slow Cooker Mashed Sweet Potatoes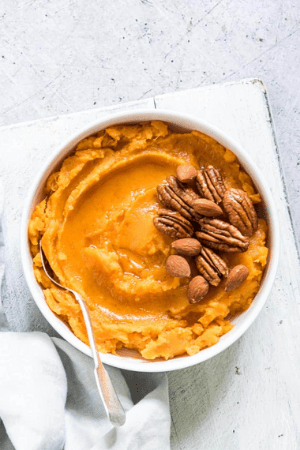 Your whole family will love this super cozy and easy to prepare Slow Cooker Mashed Sweet Potatoes from Recipes from a Pantry! It is a great comfort food side dish for everyday family dinners, Fall gatherings, Thanksgiving, Christmas and even breakfast. This is another variation to try if you don't have an Instant Pot!
29. Spicy Penne Pasta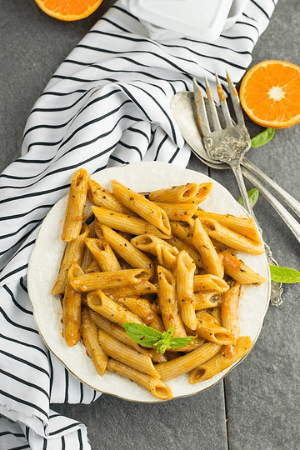 This Spicy Penne Pasta from Pepperbowl is made with the Instant Pot. It's a super quick and easy recipe that is crowd pleasing.
30. Rosemary and Garlic Infused Roast Potatoes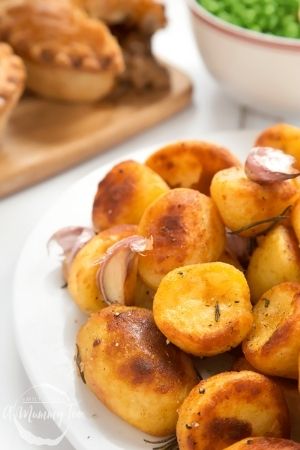 A quick trick to take frozen roast potatoes to the next level by infusing them with rosemary and garlic and a good helping of cracked black pepper. Get this Rosemary and Garlic Infused Roast Potatoes recipe from A Mummy Too.
31. Keto Cheddar Broccoli Soup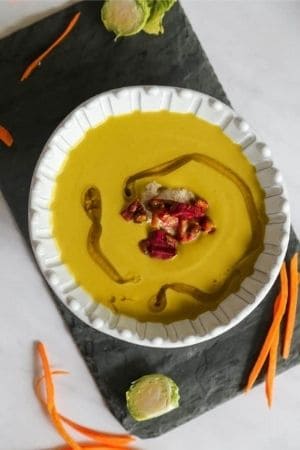 This Keto friendly Cheddar and Broccoli Soup from Eating Works is velvety smooth and creamy. It's perfect for a quick dinner because it takes 30 minutes or less to make! This is a must if you have guests who are on the Keto diet coming over!
32. Keto Creamed Spinach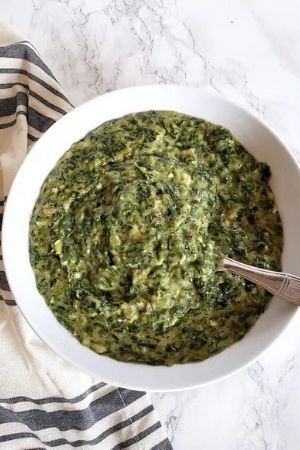 Prepare restaurant style Creamed Spinach right at home using this quick and easy recipe. Added bonus, this recipe makes creamy spinach that is low in calories, velvety smooth and delicious! You will love this Low carb – Keto, vegan, gluten free and dairy free version of classic Creamed Spinach from Profusion Curry.
33. Sweet Pear Flatbread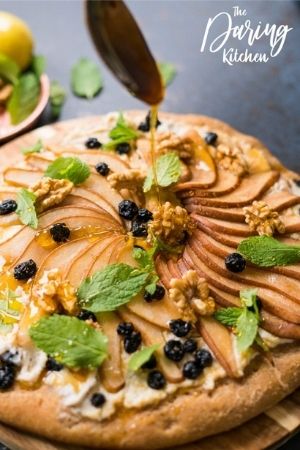 This Sweet Pear Flatbread from The Daring Kitchen is a must try! The great thing about this recipe is that you can easily customize the toppings to suit your taste and budget!
34. Lemon Parmesan Orzo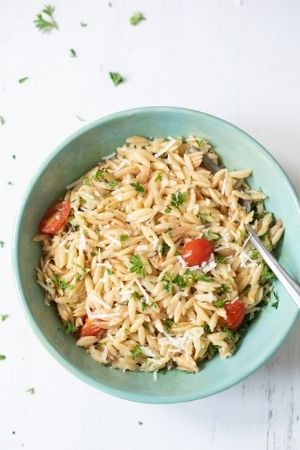 This Instant Pot Lemon Parmesan Orzo from Piping Pot Curry is simple and quick to make. You can also change up some of the ingredients according to your preferences and budget.
35. Wild Rice Stuffing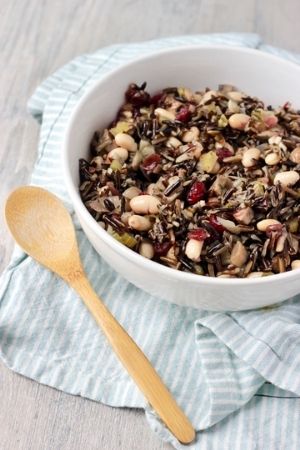 This Wild Rice Stuffing from Alternative Dish is perfect for those needing to eat gluten free or meat free. It is a dish that even meat eaters have raved about.
36. Hasselback Potatoes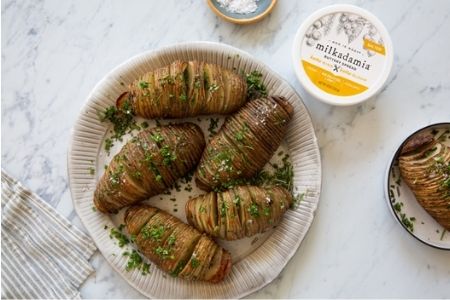 Hasselback Potatoes are the perfect salty, crispy, roasted way to serve potatoes. These potatoes are thinly sliced potatoes that are roasted to golden brown perfection, then topped with cheese, bacon, sour cream and green onions. Get the recipe from A Princess and her Pirates.
37. Sweet Buttered Rutabagas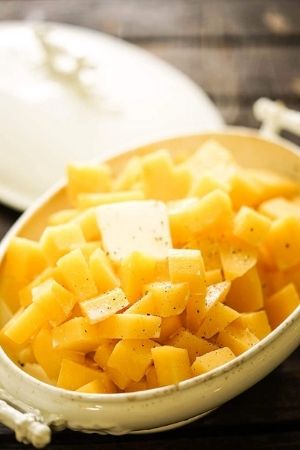 This Sweet Buttered Rutabagas recipe from Bowl Me Over is easy and inexpensive to make. They are boiled until tender then drizzled with cream and topped with butter – delicious!
38. Instant Pot Scalloped Potatoes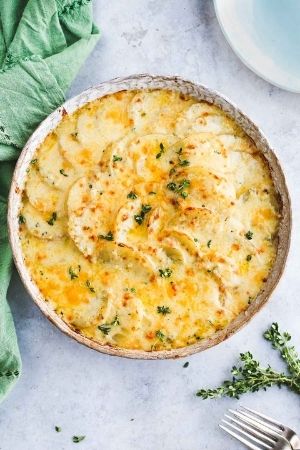 Here's a recipe for super creamy, garlicky, delicious and cheesy Instant Pot Scalloped Potatoes from Little Sunny Kitchen! Baked in a rich cheesy sauce till perfection, this side dish is perfect for your next holidays dinner.
39. Roasted Fuyu Persimmons, Pear, and Brussels Sprouts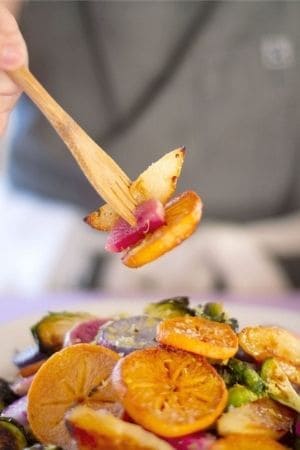 Roasted fuyu persimmons, pear, and brussels sprouts make the perfect sweet and savory side dish. Serve this colorful and nutrient filled dish with your Thanksgiving dinner instead of plain roasted brussels sprouts. Get the recipe from Healthy Feels.
40. Sweet Potato Mac and Cheese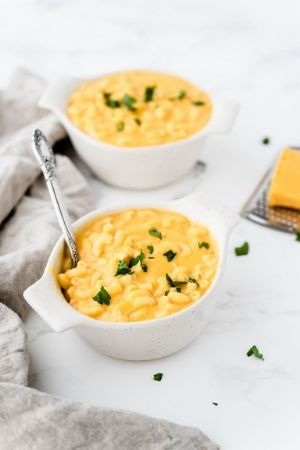 This Sweet Potato Mac and Cheese from Food Doodles is incredibly creamy and sneaks in a little added nutrition thanks to the sweet potato! Included are gluten-free and whole-grain options.
41. Sauteed Apples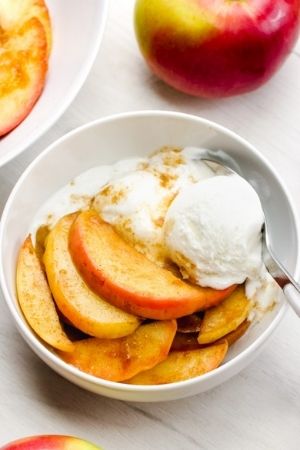 These Sauteed Apples from Texanerin Baking are lightly sweetened with maple syrup and are quick and easy to prepare! They're a great side dish for Thanksgiving.
42. Easy Potatoes Romanoff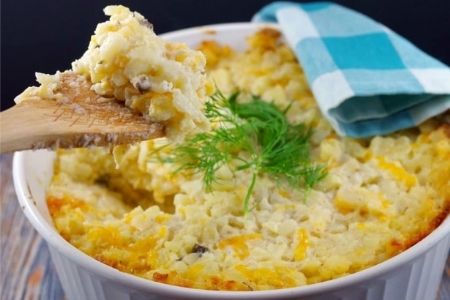 This Easy Potatoes Romanoff Recipe from Food Meanderings is not only classic comfort food, it's the ultimate potluck dish. Made with frozen hash browns, low-fat sour cream, cheddar cheese and mushroom soup, it's a little lighter than the usual, but delivers on taste! It can also be made in a slow cooker.
43. Mom's Crockpot Broccoli Casserole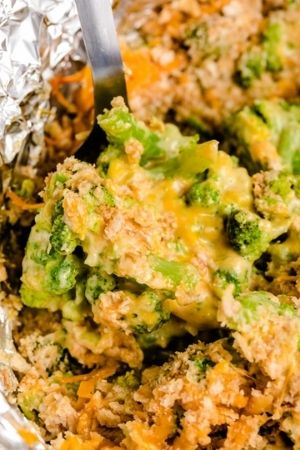 Mom's Crockpot Broccoli Casserole from Easy Budget Recipes is a comfort food classic. It's creamy, cheesy, and so easy to make. This recipe serves 12 and costs $9.69. That's just 81¢ per serving!
44. Baked Chickpeas with Butternut Squash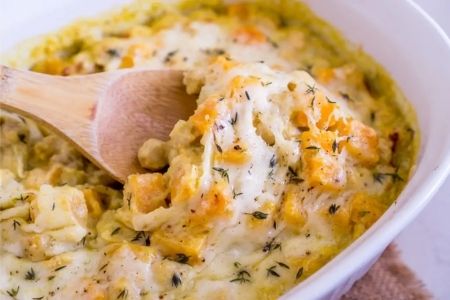 This Chickpeas with Butternut Squash Casserole from Babaganosh combines two budget-friendly ingredients for a vegetarian holiday side dish that the whole family will love!
45. Air Fryer Everything Bagel Crescent Rolls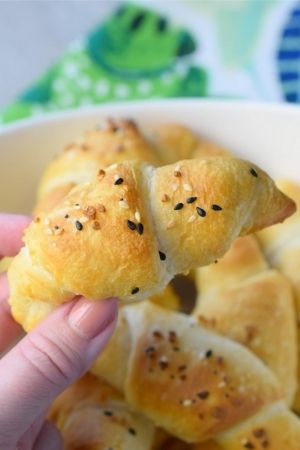 This Air Fryer Everything Bagel Crescent Rolls recipe from Snacks and Sips is the perfect addition to your holiday menu. Easy to make, you'll love this flavorful side made easy & quickly.
46. Frozen Cranberry Salad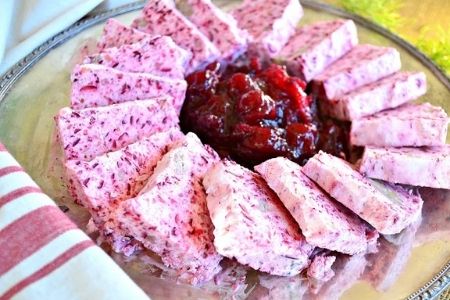 Cranberry Freeze is so good that everyone always asks for the recipe. Adults and kids love this simple side dish that can be made ahead! Get the recipe from This is How I Cook.
47. Vegan Potato Dauphinoise Gratin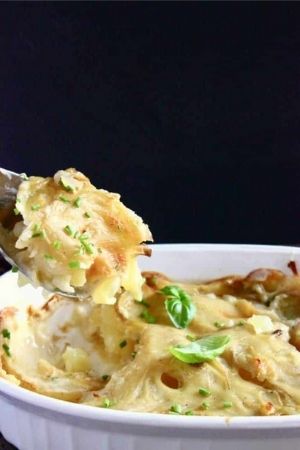 This Vegan Potato Dauphinoise Gratin from Rhian's Recipes is the perfect rich and indulgent yet surprisingly healthy side dish: think tender potatoes enveloped in a velvety, creamy sauce – also gluten-free.
48. Cast Iron Skillet Apple Crisp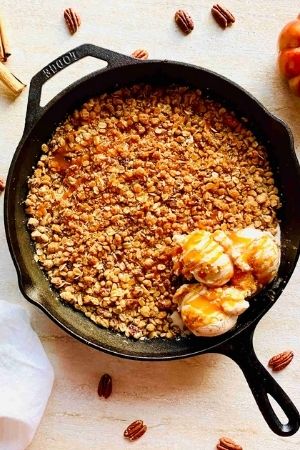 This Skillet Apple Crisp baked in a cast iron skillet is easy, delicious and the perfect holiday dessert to serve for Thanksgiving or Christmas! Get the recipe from Aubrey's Kitchen.
49. Chayote Egg Salad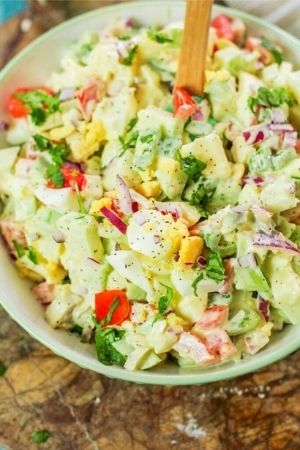 This Healthy Egg Salad from Latina Mom Meals is one for the books! Using fresh ingredients, such as red onions, tomatoes, red and green peppers, and the amazingly juicy chayote, this recipe will make a great Thanksgiving Side Dish!
50. Dill Pickle Pasta Salad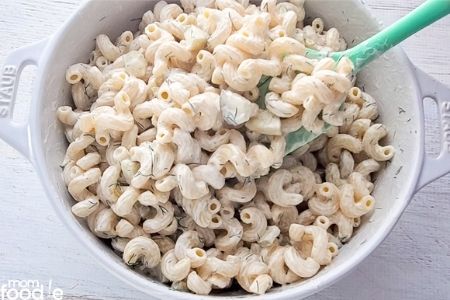 Dill Pickle Pasta Salad is an inexpensive cold side dish that adds variety to the holiday meal. It also goes great with those turkey sandwiches we will all be eating for a couple days post-holiday. Get the recipe from Mom Foodie.
BONUS Top Tips on Making Cheap Thanksgiving Sides
Choose side dishes that use cheaper ingredients. It's easy to turn cheaper ingredients like pasta and grains into awesome and delicious side dishes!
Don't underestimate Make Ahead Meals. You know I love saving both time and money. So if you can make some of your side dishes ahead of time, you may be able to have a more stress free Thanksgiving this year!
Test meals ahead of time. Test out these side dishes in advance. This way you can be prepared and know if you need to make any changes to the ingredients to suit your family's preferences etc.
Save Money while spending. There's no way around it; you'll have to spend some money. But you shouldn't spend more than you need to, and you should take advantage of cash back apps! Use a program like Rakuten to save tons of money on your Thanksgiving groceries!
(PRO TIP: Use Rakuten to save money on all your purchases throughout the year, and not just for Thanksgiving!)
Check this out. 👇

This was CASH… not gift cards… not points… but CASH that I was paid via PayPal. And this was earned just for purchasing my usual items!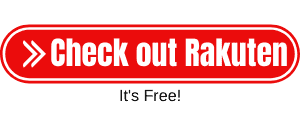 Related Posts on Cheap Thanksgiving Dinner Recipes
12 Budget Friendly Recipes that Cost $1 per Person to Make
37 Best Cheap Keto Meals to Save Money and Get Fit
The $18/Week Meal Plan for when Money is Tight (Includes Shopping List + 21 meals)
Final Thoughts on Cheap Thanksgiving Sides
I really hope you found at least one cheap Thanksgiving side dish on this list that you're stoked to try this year!
Do you have any cheap thanksgiving sides that you swear by? Didn't see it on this list? Share with us in the comments below. I'd love to check it out!
Don't forget to reduce your stress and anxiety of planning for Thanksgiving with our free Cheat Sheets below!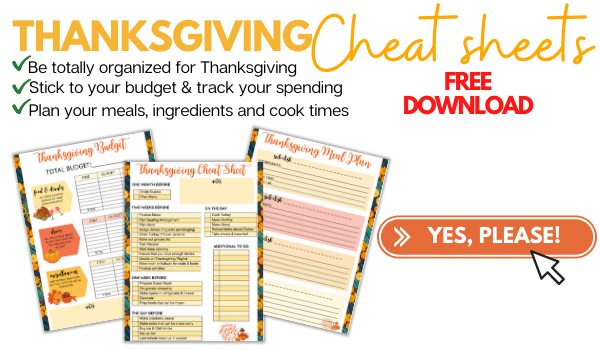 Liked these Cheap Thanksgiving Dinner Recipes? Pin it for later!
50 Cheap Thanksgiving Sides that are Easy and Delicious