A List of the Best Cheap Fall Soup Recipes that are Simple and Comforting
Fall is probably my favorite season of the year. There's just something about the leaves changing color, the cooler temperatures, the smell of pumpkin spice, and the feeling of Christmas being right around the corner! It's so cozy (and romantic!).
Of course, what makes it even more perfect is a warm, comforting bowl of soup on a cold evening, after a busy Fall day. Soups are usually quick and easy to make, and are also easy on the pockets.
So if you're looking to add more recipes to your soup line-up this Fall, here's a list of my top recommendations for easy cheap Fall soups! May these bring joy and comfort to your Autumn evenings this year!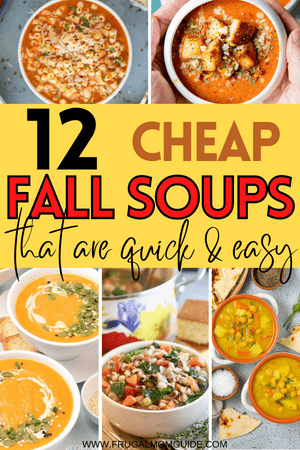 This post may contain affiliate links. This means that we may make a commission if you make a purchase via a qualifying link (at no extra cost to you!). You can read our full disclosure for more info.
One of my most memorable and favorite moments in life was a date night I had with my hubby, one chilly Fall evening, a few years ago. A hearty bowl of soup warmed my body and my soul, as I looked out of the huge restaurant windows. I could see the trees swaying in the strong Autumn breeze. All I could feel in the moment was grateful and blessed.
A warm bowl of soup can somehow make all of life's stresses melt away. It really is called "comfort food" for a reason! Isn't it?
The wonderful thing about soups is that a few ingredients go a long way. For just a few dollars, you can feed a large family, several times over!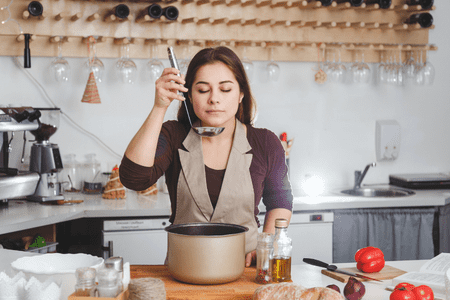 This Fall, as I try to find affordable soup recipes to add to my weekly meal plans, I've put together a list of the best recipes that are delicious, but yet would not break the bank!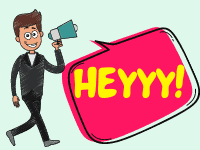 WANT TO MAKE SOME EXTRA CASH FROM YOUR PHONE IMMEDIATELY?
Join Swagbucks to complete surveys and do other simple online tasks to make extra cash and get free gift cards every month.
I make $1000+ from this!
Why wait? Join now to start making money!
Now, let's get straight to our list of yummy and cheap Fall soup recipes!
12 Easy Cheap Fall Soups that your Family will Love
1. Leek and Potato Soap
This Leek and Potato Soup from What a Girl Eats is a classic French soup, that is super easy to make. This recipe requires just a few basic ingredients, making it extremely budget-friendly!
This is a perfect Fall soup for when money is tight.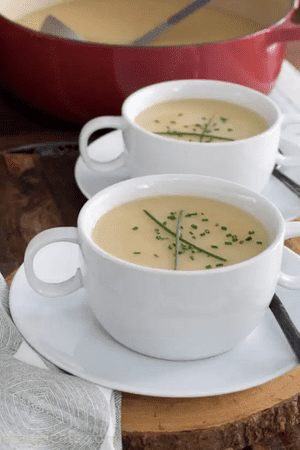 2. Vegetable Barley Soup (Vegan)
This delicious Vegetable Barley Soup recipe is from From The Comfort Of My Bowl. It is nutritious, hearty, and loaded with wholesome veggies and barley, simmered in a flavorful broth.
If you're vegan, this is a must for a chilly Fall evening!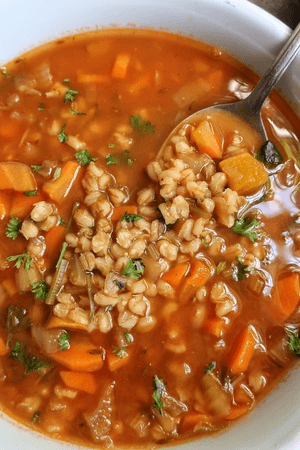 3. Spiced Carrot Ginger Soup
If you love spiced, nourishing meals, you've got to try this Spiced Carrot Ginger Soup from Masala Herb! This recipe uses just a few cheap ingredients, making it a super affordable comfort meal.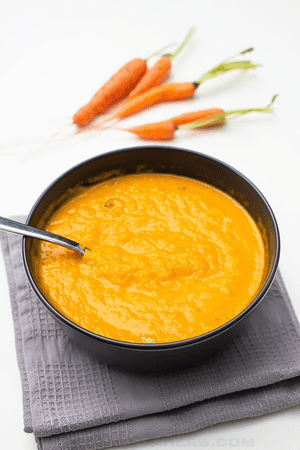 4. Slow Cooker Italian Hamburger Soup
This Hamburger Soup from Platter Talk is made with a slow cooker, with an Italian twist! This soup is made using just a few ingredients, but will add loads of warmth and comfort to your home on cold Fall evenings!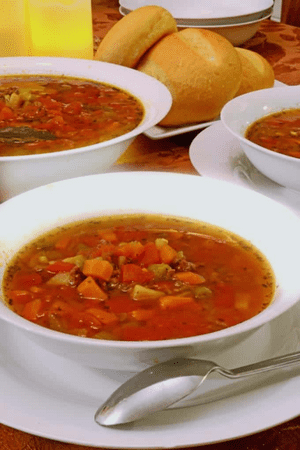 5. Pasta Fagioli Soup
Pasta Fagioli combines two of my favorite ingredients to make "comfort in a bowl". It's a traditional Italian soup made with beans and pasta, and it is absolutely delicious!
Better yet, it is super budget-friendly, and actually originated as a "peasant dish" because it is made using inexpensive ingredients!
If you want to give it a try, check out this amazing Pasta Fagioli recipe from The Clean Eating Couple. It is healthy, vegetarian and easy to make!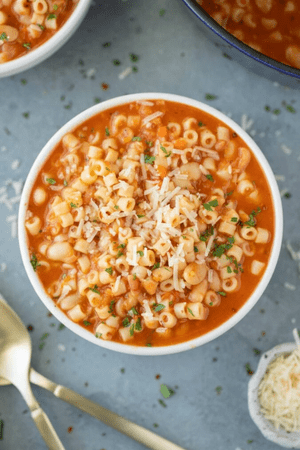 FAQ
Is it cheaper to make your own soup?
It's always cheaper to cook at home, so yes, it is definitely cheaper to make your own soup! Soup itself originated as a "peasant dish" in several cultures because of how affordable it is to make!
Soups can be made using just a few basic ingredients, and it often yields a large pot with several servings. For just a few dollars, you can serve several family members. You'll even have enough left over for the next day!
And although it's okay to buy soup sometimes… yes, sometimes we do crave the taste of gourmet soup dishes… it will always be cheaper to make your own.
Most restaurants serve soups made with high-quality ingredients, and prices are obviously marked up. If you're trying to satisfy your soup craving, on a budget, it might be better to make it yourself!
6. 15 Bean Soup
This 15 Bean Soup from The Clean Eating Couple is yet another budget-friendly soup recipe to add to your Fall line-up this year! You'll only need a few pantry staples, and this soup is the definition of comfort food!
This 15 Bean Soup comes in at less than a dollar per serving! Talk about a frugal win!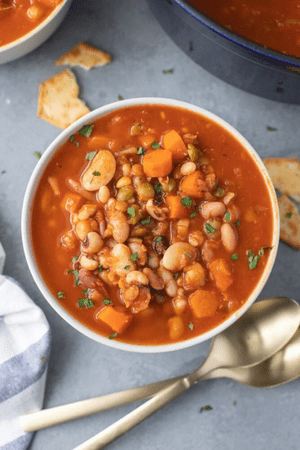 7. Tomato Basil Soup
This easy Tomato Basil Soup recipe from Mom's Dinner is to die for! It takes just 10 minutes to make, and is very affordable. This will surely become a family fave in your household!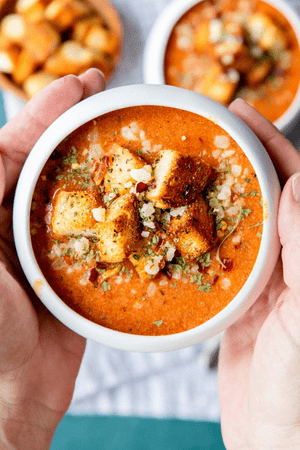 8. Roast Pumpkin and Sweet Potato Soup
What is Fall without pumpkin? Add this Roast Pumpkin and Sweet Potato Soup from Recipe Pocket to your Fall weekly meal plans this year!
This soup is full of flavor, velvety smooth, and costs less than $1 per serving!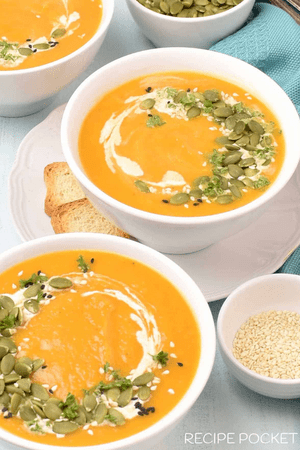 FAQ
How can I add flavor to soup quickly?
If you're looking to make your soup more flavorful, you can try adding fresh herbs or dried seasonings. such as celery, parsley, thyme etc. You can also add spices such as paprika, chili, pepper flakes and ground tumeric.
If your soup is bland, and it's still simmering, you can also add flavor quickly by adding more chicken stock or beef stock to your pot.
9. Instant Pot Czech Stuffed Pepper Soup
This Czech Stuffed Pepper Soup from Mooshu Jenne is loaded with tomatoes, bell peppers and paprika. It is slightly different from traditional American styled stuffed pepper, but just as delicious!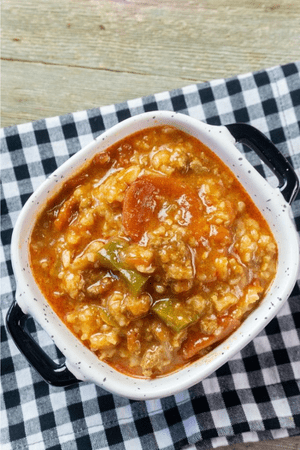 10. Black-eyed Pea Soup
If you have leftover ham, be sure to give this Black-eyed Pea Soup a try! This recipe is from Grits and Pinecones, and it's nutritious, delicious and budget-friendly!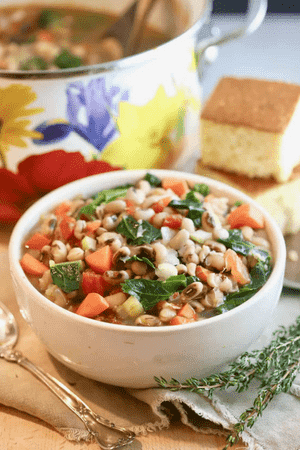 11. Creamy Broccoli Soup
This Creamy Broccoli Soup recipe from The Bella Vita is one of the easiest soup recipes you'll ever encounter. It can be made in as little as 30 minutes!
In addition to the short prep and cook time, this soup is creamy, delicious, and packed with nutrition! This easy cheap Fall soup is a must-try this year!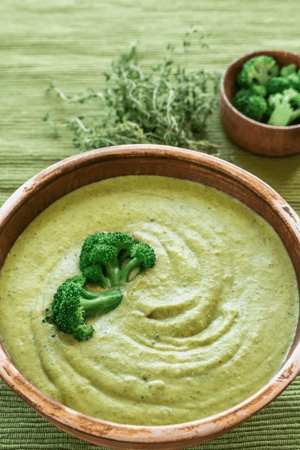 12. Curry Chickpea Soup
Personally, curry is already a comfort food of mine, and so is soup. So imagine my excitement when I found this Curry Chickpea Soup recipe from A Virtual Vegan! It's two of my favorites combined as one! YAY!
This soup recipe is hearty and cozy, whilst being packed with spiced flavor. So yummy!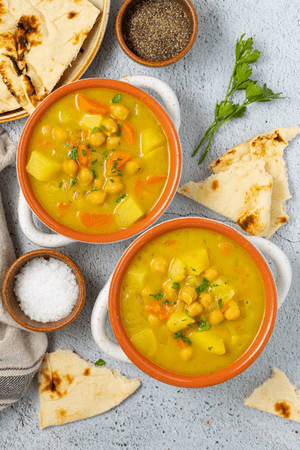 Bonus Tips for Cooking Cheap Fall Soups & Other Meals
It's no secret that food prices are now sky high. We need to use every money saving trick in the book to be able to live comfortably. Here are some of the things I do to keep my grocery budget low and affordable!
• Set a Grocery Budget & Meal Plan Accordingly
After paying my bills each month, I know exactly how much money I can allocate towards my food bill. This influences the grocery budget that I set for my family.
Once I have my budget, I plan meals according to how much money I can spend. Most times, I plan cheap meals that are family favorites.
---
Pssst! Did you know you can save more money by meal planning? Meal Planning saves me thousands of dollars every year! Not sure how to get started? Grab a copy of my free Meal Planning e-guide below.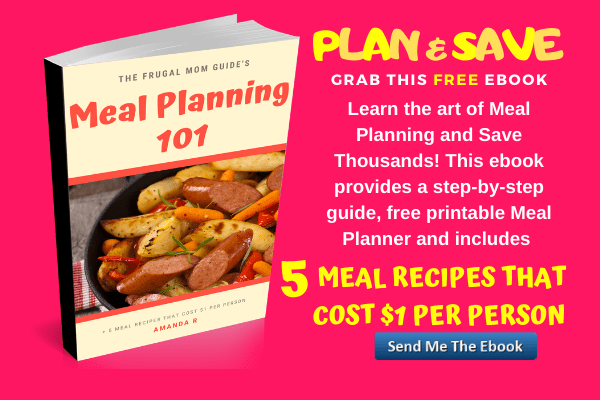 ---
• Shop the Pantry & Stick to the Grocery List
When I've planned all meals for the upcoming week, I write my grocery list based on the ingredients that I need. Of course, it's important to double check your pantry so that you don't spend on ingredients that you already have at home.
When you go grocery shopping, remember to stick to your grocery list! Ordering online for pick-up or delivery can help with this, and minimize impulse purchases.
• Meal Prep and Cook at Home
Stick to your plan and cook at home! Avoid the temptation of grabbing takeout after a long day by meal prepping meats and veggies in advance. If you know you have some busy days in the week ahead, plan your meals accordingly.
You can plan easy meals like sandwiches for days like these, or you can even plan to get takeout for this day. Better yet, you can get some help by using a service like freshly.
In fact, here's a special code that will get you 12 FREE meals off your freshly purchase, over your first 5 orders! ($120 Value)
Keeping your financial goals in mind can help you stay on track and maintain your self discipline!
For the weeks that you are super busy and you absolutely CANNOT cook at home, at least have some control over how much you spend on takeout and how healthy your meals are. When it's impossible to cook at home,
freshly
will deliver chef-cooked, healthy meals to your door. AND if you're anything like me, you'll love a good deal.
Additional Info on Cheap Fall Soup Recipes – FAQs
What is Autumnal soup?
The word "Autumnal" meals occurring in Autumn, or having characteristics of Autumn. This means that an Autumnal soup is simply a Fall-inspired soup.
When you're looking for comfort on a chilly Fall evening, any warm bowl of soup can be considered an Autumnal soup! However, if you'd like to stick to Fall flavors only, a perfect Autumnal soup can be any that has flavors like pumpkin, ginger and cinnamon.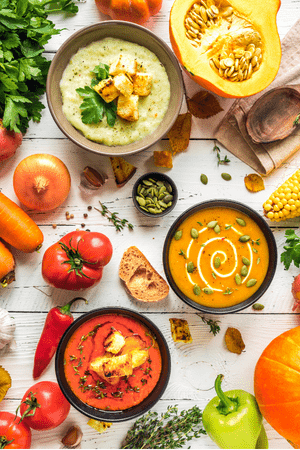 What is the most popular kind of soup?
The most popular kind of soup is Chicken Noodle Soup. When I hear soup, this is the name that immediately comes to mind. And when someone is sick, a wholesome and nutritious bowl of Chicken Noodle Soup is what we use to nurse them back to health!
When looking at canned soups however, Campbell's Cream of Mushroom Soup is the most popular. According to this article on 24/7 Wall St., Campbell's Cream of Mushroom Soup was #1 on the list of top-selling canned soups in America!
Ramen is also quite popular because of how simple and cheap it is. It's perfect for when you're on a tight budget. Of course, we all have different tastes, budgets and lifestyles, so the most popular vegan soup may be a hearty bowl of Vegetable Soup.
What to add to soup to spice it up?
To spice up soup, you can simply add ground spices such as paprika, chili powder or pepper flakes. You can even add chopped hot peppers, chili peppers or hot sauce.
Depending on the type of soup, adding spices like tumeric is also a good option!
Related Posts on Easy Cheap Fall Soups
37 DIY Fall Decor Projects that are Easy and Cheap
50 Cheap Thanksgiving Sides that are Absolutely Delicious
9 Fail-Proof Tips to Keep your Holiday Spending Low (with Free Planner)
Final Thoughts on Easy Cheap Fall Soups
There are so many cheap Fall soup recipes that your family will love! These recipes make it possible to cozy up on a cold evening, with a comfort bowl, without breaking the bank. Plus they are easy to make, and oh so delicious!
Do you have any other frugal and easy cheap Fall soups that you swear by? Do you have any other affordable Autumn recipes? Share with us in the comments below. We'd love to hear from you!
Also, don't forget to follow us on Pinterest, Instagram and Facebook for more cheap meals, frugal living tips and money saving inspiration!
Liked this post? Pin it!
12 Easy Cheap Fall Soups that are Absolutely Delicious