Do you want to know how you can save money without sacrificing a lot? Here's a little secret for ya. You can look for cheaper (but just-as-awesome) alternatives. And this is exactly what the Dollar Tree gives us! This post lists the very best things to buy at Dollar Tree to save money every single month.
You know I am always talking about evaluating your wants before needs when you're trying to buckle down to save money. I always tell everyone that they need to trim the excess fat and lower their spending in whatever ways they can. But what if you've already cut all the extras in your household expenses? Is there anything left to cut then? Well, yes and no!
You obviously cannot cut soap and toothpaste from your list… but you CAN switch from a name brand bottle of soap to a just-as-effective bottle from the Dollar Tree!
Seriously, you can save hundreds of dollars when you switch out some of your regularly bought essentials, and your pockets and bank account will thank you!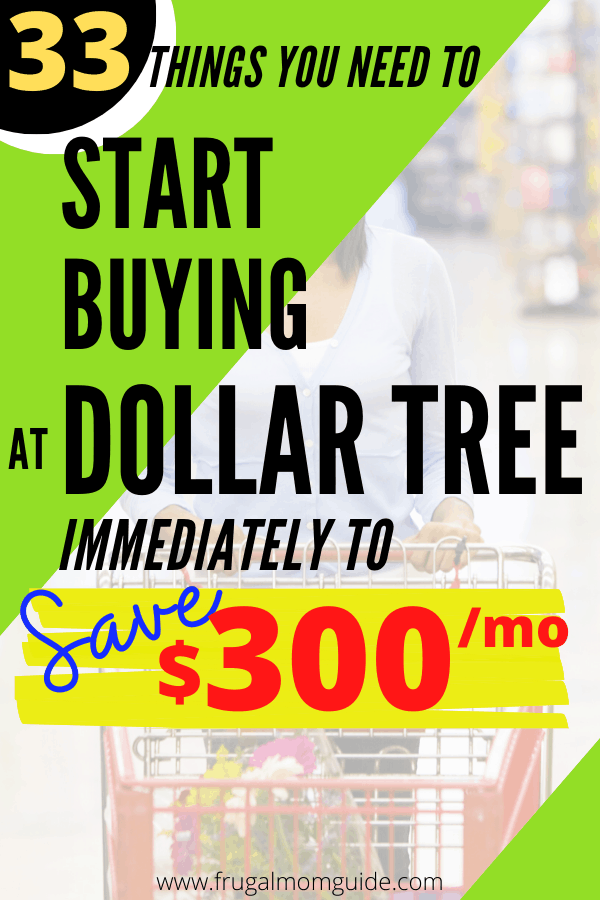 This post may contain affiliate some links. This means that I may make a small commission if you purchase via a qualifying link (at no extra cost to you!) You can read our full disclosure for more info.
I love hopping in to a Dollar Tree whenever I have some free time. I love browsing what's new and looking for cheap finds. I guess it helps compensate for my overly frugal lifestyle, and when I feel to indulge, I don't feel bad for spending a few extra dollars.
It's the perfect balance between Thrifty-me and Shopaholic-me (from the past). Of course, you need to practice self control because you are heading into dangerous territory every time you decide to go to Dollar Tree to 'browse' aimlessly.
I try to limit my trip to once or twice a month when I do have to pick up the necessities.
But what are the necessities anyway and do they really save you THAT much money?! Heck, yah!
When you add up your savings on each of these items, you can rack up at least $300 savings per month… especially when you choose to grab food items here. Do you know how you can put $300 to better use? Well going on a holiday weekend or taking a class sound like pretty good ideas to me!
Let's get straight to how we can save this money.
33 Things to buy at Dollar Tree to Save Money
1. Soap
As mentioned above, Dollar Tree is a great place to buy soap. Why pay more elsewhere when you can score a steal of a deal at Dollar Tree. I recently got a name brand Jergens Extra Moisturizing Hand Soap ($8.00 elsewhere) for ONE DOLLAR!
2. Stationery
If you're anything like me, you cannot walk past a stationery aisle without checking it out. There's just something about pens, pencils, post its, note books and other office supplies that makes me feel like I've got my life together. Ya know?
And Dollar Tree has got it all!
3. Teaching Supplies
As a high school Math teacher, I go crazy for the little Teachers Corner . But really, so many people can benefit from the teaching supplies from Dollar Tree. Homeschooling moms and any parent who loves finding creative ways to teach their kids can use the teaching aids and instructional materials from Dollar Tree instead of other high price stores.
4. Calendars & Planners
I love the calendars and planners at Dollar Tree! I am total planner freak. I mean I love the planners, stickers, accessories – the whole deal. Planners and accessories can be quite expensive (that's why I also make some of my own) at other stores but the Dollar Store makes this habit a pretty affordable one!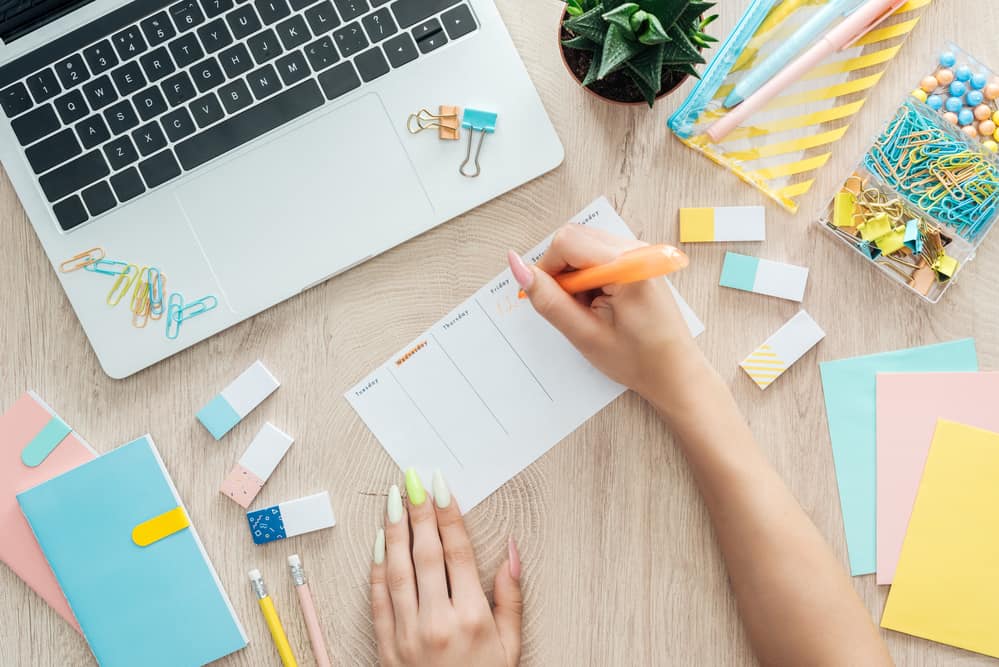 Pssstt! Are you a planners and printables kinda girl too?
Get this FREE Printable Budget Pack to make each step simpler, stay on track and stick to your budget!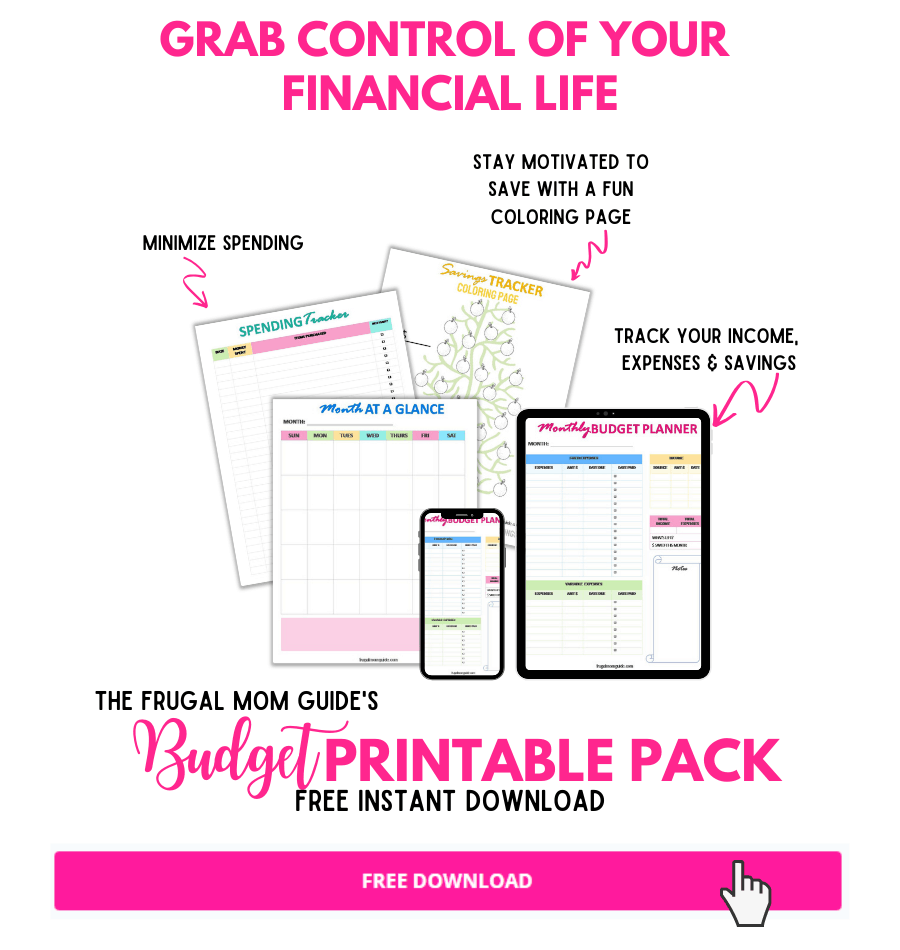 5. Stickers
STICKERS! Dollar Tree has so many stickers! Stickers for your planner, stickers for kids – Dollar Tree has 'em all!
6. Puzzles
My kids absolutely love building puzzles. The great thing is that Dollar Tree has so many options – different characters, different sizes, a various range of difficulty levels and for several ages.
7. Books
You can also find story books, activity books, coloring books and puzzle books such as crossword and word search. These books can keep kids occupied for hours at a time! And you have each for just one dollar!
8. Toys
Dollar Tree carries a wide variety of toys for both girls and boys. Some of the toys you can get include dolls and dolls accessories, trucks, toy instruments etc. Just make sure that the toy you choose is age appropriate and does not contain little pieces that can be a choking hazard.
Personally, I love stocking up on suitable toys for my two kids as 'rewards' when they deserve it.
9. Craft Items
Thrifty crafters LOVE Dollar Tree. You can make a ton of cool projects using cool Dollar Tree finds. For example, who knew you could make a lovely wreath using a pizza pan and a table mat?!
From wire wreath frames, to mod podge, to ribbons – Dollar Tree makes crafting quite affordable!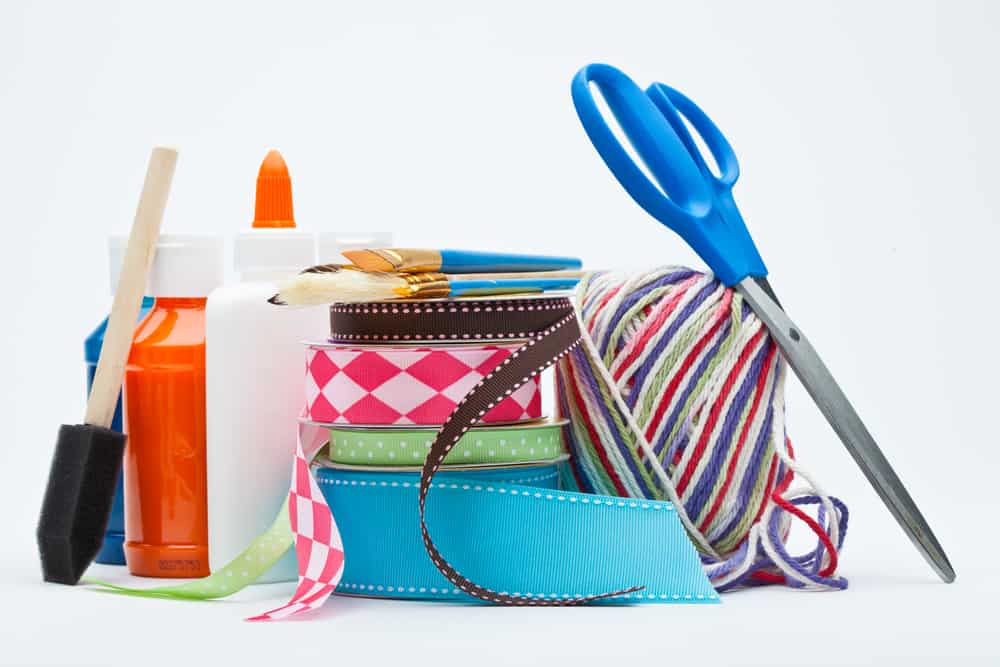 10. Party Supplies
Dollar Tree is the perfect place to get all your party supplies for upcoming parties, on a budget. Get party supplies for birthday parties, baby showers, bridal showers, graduation parties and more! There's everything from party favors to games, balloons, birthday candles and more!
But wait! Got a party theme? No worries! Whether your theme is dinosaurs or unicorns, Dollar Tree has got it covered.
You can throw your cheapest party yet… But still have it look like a million bucks!
11. Gifts
You can look around for a great gift item. There are so many things to choose from even though you're on a budget. You can even choose to put together a package using a few different items from the store.
12. Greeting Cards
Greeting Cards from Dollar Tree are another great buy. Greeting Cards can be pretty expensive in other stores but at Dollar Tree, you can get 2 cards for $1.00!
13. Gift bags and Gift Wrap
After you grab your gifts, you can get gorgeous gift bags and gift wrap from the Dollar Tree too!
14. Paperware and Plasticware
You can get all your paperware and plasticware for way cheaper at Dollar Tree than if you were to buy them elsewhere. Whether it's for an event or to just keep at home, you can grab various colors, patterns and styles.
Plastic tablecloths are so versatile because they can be used to change up the feel of a room, for outdoor events, for picnics, and even for crafts such as a Plastic Tablecloth Wreath!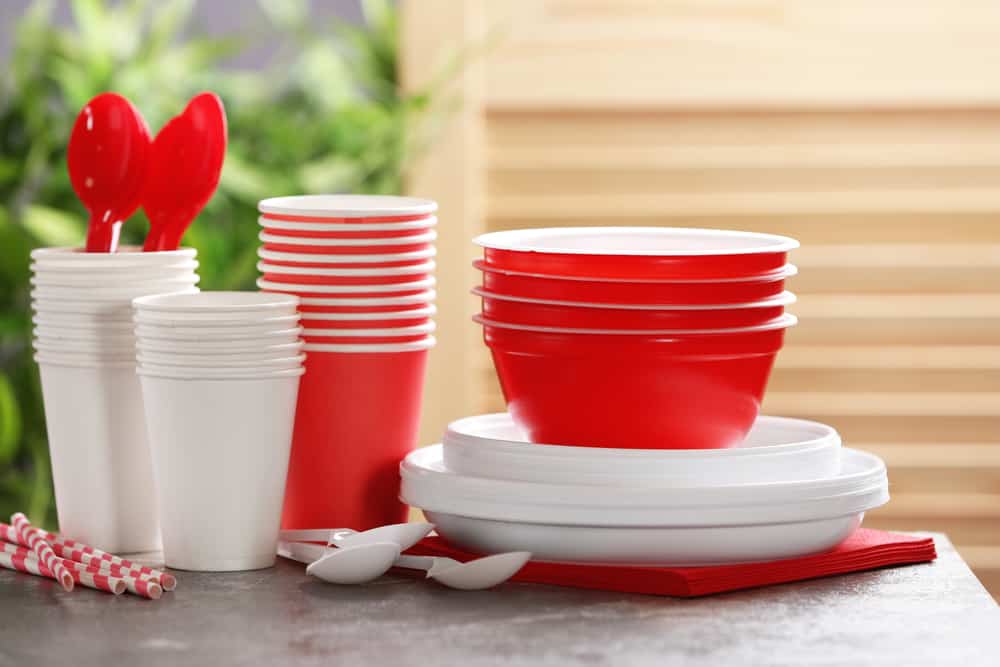 15. Snacks
Dollar Tree can also satisfy all your snack needs without putting a strain on your wallet! Popcorn, cookies, chips, crackers, snack cakes, candy, gum and so much more – all just $1.00. Just check the expiry date and you're good to go!
16. Toiletries
Lotion, shampoo & conditioner, shaving cream, feminine items, cotton balls and swabs can all be bought from Dollar Tree to save money. Of course I don't recommend buying brands that you've never tried or heard of, but surprisingly, you can often find reputable brands for the usual $1.00!
Related Reads:
29 Things We Stopped Buying to Save Money
How to Save Money from your Salary Every Month (Even if your income is low)
The $18/Week Meal Plan for When Money is Tight
15 Brilliant Money Saving Tips for the Kitchen you'll Wish you Knew Sooner
17. Makeup & Cosmetics
Believe it or not, I am a makeup junkie (I've actually done a professional course in the past) and I still buy makeup from Dollar Tree. I don't buy things like foundations and powders that can aggravate my skin but I do grab mascaras, eye liners, lip liners etc. And they work great!
Some of my prettiest nail polishes have also come from Dollar Tree (and they were 70% cheaper than other stores).
18. Oral Care Items
Oral care items such as toothpaste, toothbrushes, floss and mouthwash can also be bought from Dollar Tree to save money!
19. Hair brushes and Hair Accessories
Need a new hair brush or comb? What about hair accessories? Get all these and more at Dollar Tree. Why pay higher prices in other stores, right?! Get styling gels, hair colors, styling tools, headbands, hair elastics, scrunchies, clips, trimming scissors and all your other hair needs for just $1.00!
20. First Aid Supplies
You can even build or top up your First Aid Kit, on a budget, using items from Dollar Tree!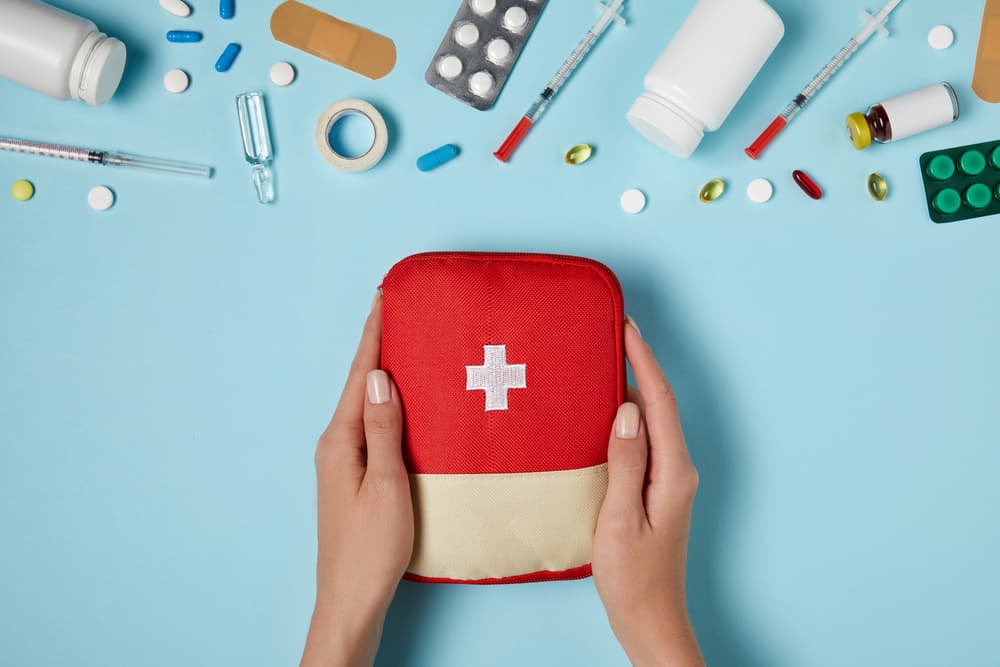 21. Kitchen Items
Utensils, cookware, bakeware, towels, mittens and more can all be bought from Dollar Tree! Some of these items will be 2 or 3 times the Dollar Tree price when you check other stores.
22. Plastic Containers
You can never have enough plastic containers! Maybe I am still guilty of hoarding my mother in law's plastic containers when she sends food for us, but Dollar Tree makes it really easy to stock up too! Plastic containers are great for storing leftovers or marinating meats and storing cut-up veggies when meal planning!
23. Food
Food can also be a great buy from Dollar Tree. I know that everyone will have their own opinion on this. But you can often find awesome choices for breakfast such as cereals, canned goods, pasta, condiments, spices, sauces, drinks and so much more!
Combine this with other budget grocery shopping tips and your savings will quadruple in no time! Just be sure to check expiry dates as usual.
BONUS TIP: You can even get cash back (which means even GREATER SAVINGS) by shopping at Dollar Tree Online and cashing in on huge deals with Rakuten). Imagine huge deals on top of prices that are already so low!
Here's what members have earned so far from Dollar Tree: $7,990 in Total Cash Back to date.
I use Rakuten for my very own savings and cash back too!

24. Coffee Filters
As a coffee lover, this had to be its own point. I drink A LOT of coffee and coffee filters can be an unnecessary additional cost. Most times I skip the coffee filters altogether but for those of you who can't, you can always grab a pack at Dollar Tree.
25. Home Decor
Dollar Tree has a wide variety of home decor pieces such as frames, candles, vases, decorative storage cubes etc. Whether you choose to change them up is totally up to you. I mean, a Dollar Tree frame paired with a printable quote from online can make your home look like a million bucks.
26. Seasonal Decor
If you're looking for seasonal decor for any occasion whatsoever, Dollar Tree is your place! For Christmas, Thanksgiving, Easter, 4th of July or for Summer on a whole, you can find cheap decor to help you spruce up your home.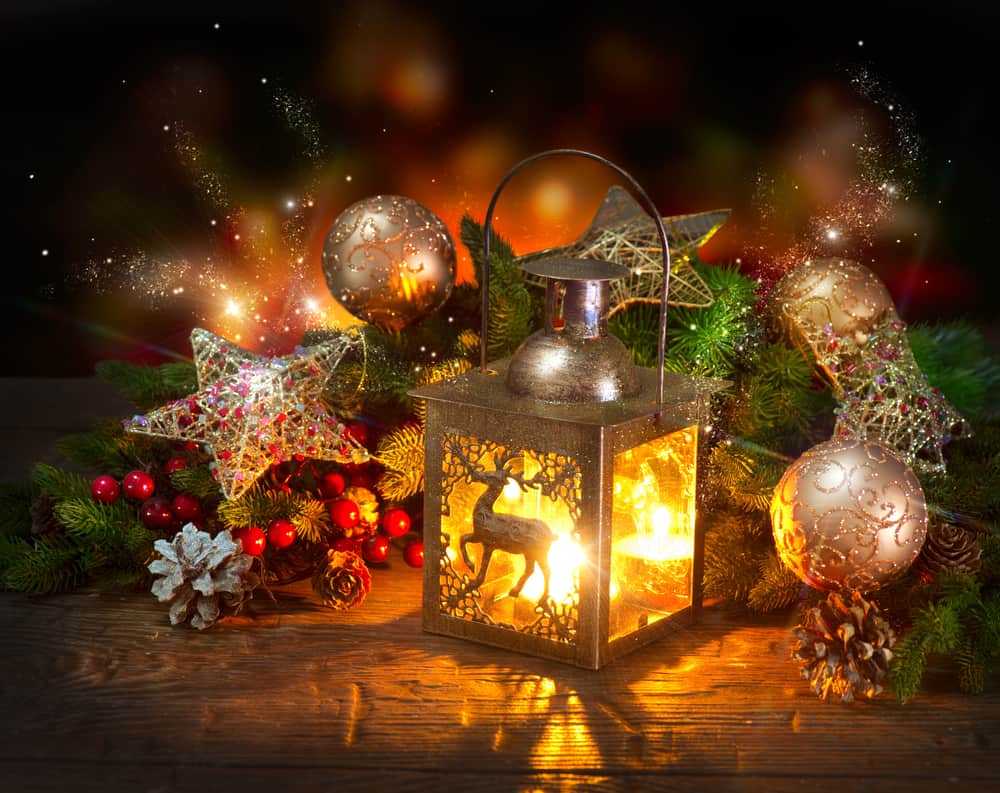 27. Storage bins & Plastic Baskets
Aside from decorational storage cubes, if you're looking for storage bins and baskets to store toys, out-of-season clothes, or anything else really, the storage bins from Dollar Tree will help you do so easily on a budget!
28. Cleaning Supplies
Cleaning Supplies is another must-buy from Dollar Tree. They have everything from all purpose cleaners to floor cleaners.
By now, you may have realized that you might as well schedule a monthly Dollar Tree run, with your usual grocery run!
29. Paper Products
And while you're making your Dollar Tree run, be sure to grab your much needed paper products such as napkins, paper towels and toilet paper. You will save so much from getting them there!
30. Light bulbs
Light bulbs are yet another good buy from Dollar Tree that can end up saving you huge bucks!
31. Reading Glasses
You can grab a pair or two of reading glasses from Dollar Tree if this is something you usually use. With glasses being kinda in these days, you can just pick it up to make a fashion statement. Hey, it's just a dollar!
32. Pregnancy Tests
Pregnancy (and ovulation) tests can be super expensive… especially when you're trying to conceive and you're a compulsive tester. Dollar tree eases the burden a bit with cheaper but just as effective tests!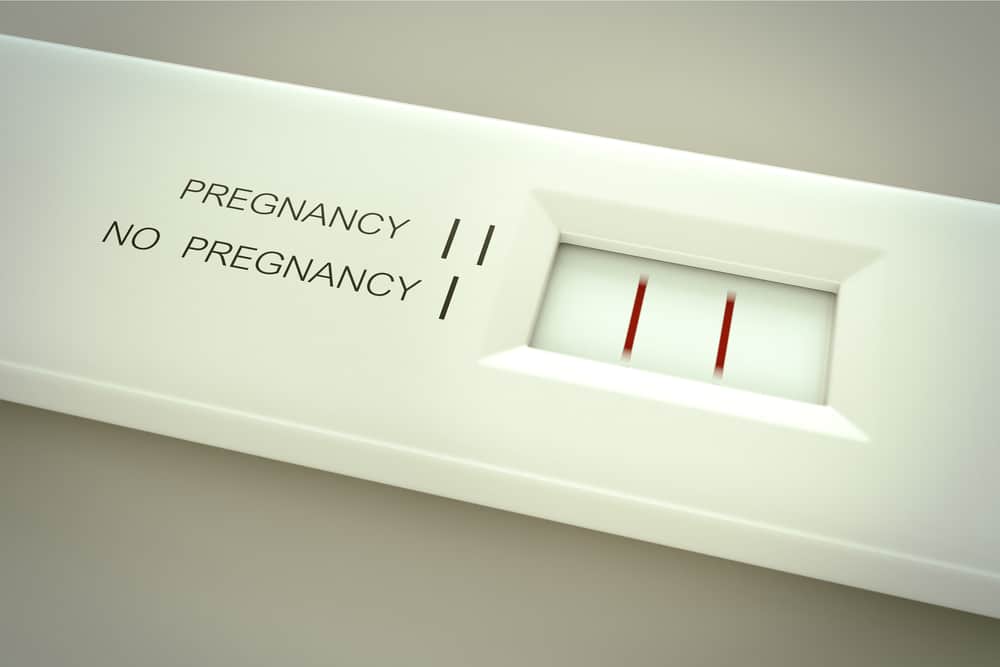 33. Socks
I love socks. My husband loves socks. Our kids love socks. You get the point.
I live in pjs and socks at home. And whenever my kids are not feeling well (which is quite often, thanks to kindergarten), I apply some vapor rub under their feet and cover it up with warm socks. Plus my husband is into funky socks for work these days. Anyway, we get the cutest socks at Dollar Tree – without spending a ton!
Final Thoughts
Obviously some of the things on this list may not be absolutely necessary but remember that sometimes you need to spend a little to save a lot! Don't go crazy every single time. But give yourself a little wiggle room and have fun with it! At the same time, don't buy things just because you can. If you don't want it and you wouldn't use it, don't waste your money!
Definitely take advantage of the good deals that you can get on the things that you NEED. Things like cleaning products, toilet paper, and food can help you save a lot! Some of these items can actually save you up to 75%!
Are you already a super saver at Dollar Tree? Are there any other items that you usually buy that was not included in this list? Share with us in the comments below. I'd love to hear from you!
Liked this post? Pin it!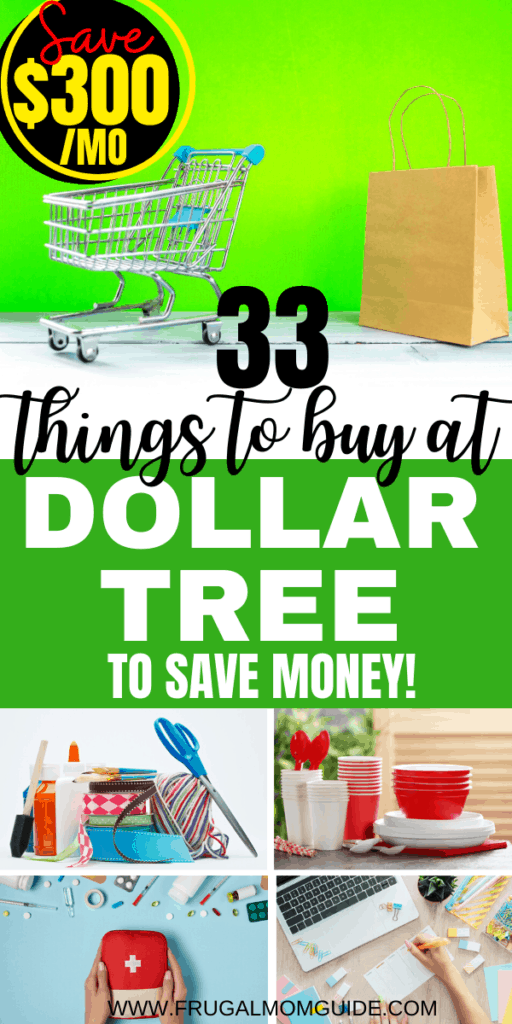 Until next time,