The Complete Guide to Digital Real Estate Investing
In the digital age, if your goal is to become a millionaire, "What is digital real estate investing?" is definitely a question you should be asking yourself!
There is no secret that the best way to become a multi-millionaire is by investing! With the rise of the tech industry, it only makes sense to invest in tech.
Digital real estate investing! That's definitely the secret sauce to becoming rich in this day and age!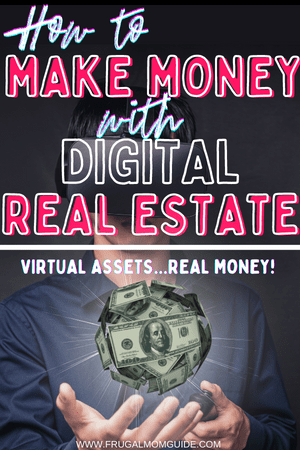 This post may contain affiliate links. This means that we may make a commission (at no extra cost to you!) if you make a purchase via a qualifying link. You can read our full disclosure for more info.
Behind finance and investments, and manufacturing, the tech industry is the third most profitable industry in the world for billionaires!
It's common knowledge that informed financial decisions, strategy and investing in a diversified investment portfolio is a pretty solid plan to obtaining financial success.
Your best way to becoming a billionaire or millionaire is by investing!
Considering that the third most lucrative industry in the world is the tech industry, what about investing in tech and technology related assets?!
What is digital real estate investing? It's investing in digital, internet related assets or space, instead of the typical physical, tangible property like land or buildings.
That's basically merging two of the top three industries globally into a powerful, financially secure, modern and future driven business model.
Digital real estate investing is a cocktail that you should definitely take a gulp of, if you're looking to becoming a millionaire within the foreseeable future!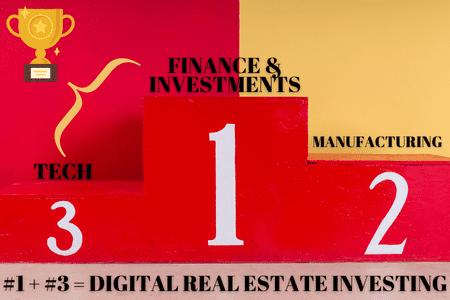 Becoming a commercial success in a modern society requires a modern approach to business. Getting rich requires a relevant, yet future focused approach to investing.
A small business or brick and mortar type model may only get you so far. Low budget apartment rentals and small scale real estate investing can also be restrictive.
These money making techniques, whilst they have been proven over time, are somewhat played out and the market is a bit saturated.
In order to think about becoming rich tomorrow, next week, months or years from now…you need an investment strategy for tomorrow's world also!
Let's explore what is digital real estate, digital real estate investing and learn how to make money from digital real estate!
What is Digital Real Estate?
Digital real estate are digital assets or virtual property. These are items of value that are in electronic form and on the web. You can buy, sell and trade in a similar manner to physical real estate like land, buildings or other property.
You can purchase or develop your little piece of internet real estate and use it as virtual money making property or as an investment for its future potential value.
There are many different forms that digital real estate can appear as. Websites, blogs, apps, social media accounts, electronic channels, profiles, NFTs and other electronic property can all be classified as digital real estate.
On a basic level, digital real estate are the places on the internet that people explore. These are called "domains" by technical experts.
Considering that billions of people surf the internet and access websites or "domains" on a daily basis, owning a piece of digital real estate is definitely the way to go, especially if you understand how to fully monetize its potential.
Most people view websites and the internet on a whole, as just a free luxury that comes with paying a monthly internet bill. Very few understand the value of it from a digital real estate perspective.
Only when we understand what is digital real estate, and consider the internet from that angle would we be able to truly appreciate it for its income earning potential.
Popular Examples of Digital Real Estate
What do you think of when you hear "Google", "Amazon", "Apple Inc"? Are those just websites you go to when you want to find out the answer to question, do some shopping or burn off time when you are board?
Those companies are worth a fortune and control billions of dollars of digital real estate!
Apart from the physical assets that they own, their domains "Google.com", "Amazon.com" and "Apple.com" impose a solid footprint on the internet.
Their domain names are world famous and their domains are worth billions! This is because of the rental income it brings and the sales value that it has. We'd explain how it works later on.
These companies also continue to invest in research and development, improve their sites and the services that they offer and therefore there domain's value constantly appreciates. Therefore, their digital real estate's value continue to grow!

What is Digital Real Estate Investing?
Digital real estate investing is the investment of money, time and effort into virtual property with the intention of making a profit. It is the buying and selling, buying and renting or developing and selling / renting of online assets, to make money.
Investing in websites, apps, online stores (e-Commerce) and creative or intellectual property online are all examples of digital real estate investing.
More recently, NFTs (non-fungible tokens) and metaverse real estate have also entered the realm of digital real estate investing.
All these avenues are financially valuable because of the sales or rental income they bring. Virtual assets…real money!
How Does Digital Real Estate Investing Work?
As stated earlier, digital real estate investing is investing in online assets for the sales value or rental income that they possess. Buy, create or further develop a form of digital real estate and use it to earn money. The goal is making a profit!
Since we are drawing a parallel between digital real estate and conventional real estate, we are using terms such as sales and rental since those are the familiar money making terms when it comes to land, buildings and other tangible assets.
Let's now explore exactly what these mean in the realm of virtual property.
How to Make Money from Digital Real Estate Rental?
Think about your piece of digital real estate like a physical rental property. Your app or website is like a hotel.
In order for persons to stay in your building, they need to pay a rent.
Now let's take it up a notch!
When you think about how to invest in digital real estate, you can consider your online property more like owning a theme park, with a hotel!
In addition to the charge to stay at the hotel, you may have an entrance fee to the park, plus charges for the various events and services.
At the theme park, you may receive income for posting ads on billboards as well as sponsorship agreements to promote certain brands at the expense of others.
For virtual real estate, the rental comes from visitors to your website or app. You may have a subscription fee, a charge to download the app and charges for specialized services.
To top it off, your app or site would generate advertising income.
You own the digital property, and you will make continuous income, as long as it is up and running!
The "rental income" is legit money that is paid for your online services and may come in various forms. It all depends on how your business is managed, when it comes to monetization.
Income from digital real estate can be derived from:
Subscription Fees
Depending on how your online business is set up, customers may need to pay a subscription fee to view your content or utilize your services.
Customers may need to pay a fee to download your app, a registration / sign up fee or even a monthly service charge to access your services and content.
Advertising Income
Owners of digital real estate make a considerable chunk of income from advertising. You can choose to run Google ads or even partner with an advertising agency to post advertisements on your platform.
The higher the traffic you receive, the more money you make. It's that simple. When done right, you can easily earn six figures from ad income alone!
If you are looking at building a passive income stream, how to create digital real estate is definitely something to look at.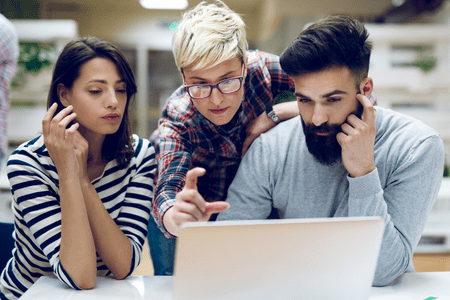 Affiliate Income
Depending on the nature of your site or app and the content that you produce, your slice of digital real estate may fall into a certain niche market.
From a marketing standpoint, it can fall into categories such as: finance, entertainment, lifestyle, outdoors, home and décor, etc.
Within your specific niche market, brands and companies may choose to partner with you to promote their products and services, with some form of paid agreement.
You can earn income from sign ups and sales commissions when you win customers for them, via your platform. This can run into hundreds of dollars per day!
Sponsored Content
Brands or persons may reach out to you for customized content, reviews, special services or to take part in specific advertising campaigns.
Creating custom products, services or participating in any activity outside of your routine and regular schedule, at the request of a third party, is considered sponsored content. You negotiate your rate and receive special payments for this!
You may be considered an area authority or expert in your niche market or persons may just like your work for various reasons.
There is money to be made from sponsorship agreements, promotional activity or from selling custom content.
Depending on the complexity of the task, a simple review can earn you a few hundred dollars and more complicated promotions and videos can run into thousands!
How to Make Money with Virtual Real Estate Sales?
Now that you understand exactly what is digital real estate, you can appreciate the fact that selling digital real estate is a multi billion dollar industry!
Buying and selling digital assets is a huge business and is extremely profitable!
I was dumbfounded the first time I received a multiple six figure offer from a company interested in purchasing The Frugal Mom Guide, considering it took just a few dollars to purchase the domain and to get set up.
You can check out How to Start a Blog to learn how to grow a few bucks into hundreds of thousands of dollars, and even millions!
A blog is just one example of digital real estate. We'd examine some other options later on.
Just like physical property, you can earn money from selling virtual real estate by:
1. Purchasing fresh digital "land" and developing it with the sole purpose of selling.
2. Buying an existing, established digital property and "flipping" for profit.
What is Digital Real Estate Selling?
This is similar to the approach of a conventional real estate developer whereby a property is built from scratch with the intention to sell.
If you are tech savvy you can create websites and apps strictly for the purpose of selling them. Persons can come to you to develop their ideas and to make their virtual dreams come true.
You can also develop ideas for online businesses and once they gain traction and become profitable, you can sell them off for decent profit.
Even if you are not techy, but simply technically creative, you can team up with online support to build virtual property for sale.
What is Digital Real Estate Flipping?
Buying virtual real estate, improving them and selling over for profit is digital real estate flipping!
You can buy apps or websites that already have decent traffic, utilize your skills with regards to search engine optimization (SEO), include other features or services and grow the monthly income that the domain generates.
The more you improve the domain's monthly income by, the bigger the figure that it can be sold for! Therefore, more profit!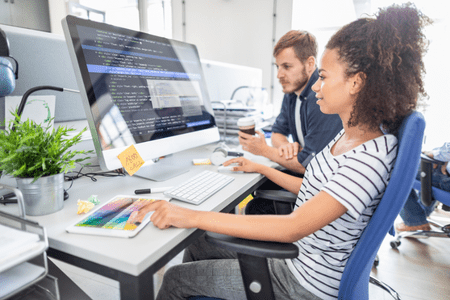 How to Invest in Digital Real Estate?
The first step to investing is to determine which form or type of digital real estate that you are comfortable with.
On a basic level, domains and digital real estate options out there can essentially boil down to: websites, intellectual or creative property, smart device apps or e-commerce stores!
You can simply go to a domain hosting agency like Bluehost, and they would get you on your way with a package for the option you are interested in!
Investing in NFTs and metaverse real estate are a bit more complicated. We'd get to this in a bit.
Pick the digital real estate option that excites you best and then decide whether you want to:
1. Buy something established, try to negotiate a decent price and immediately sell for profit.
2. Buy for a low price, develop, boost the income and sell for a higher price eventually.
3. Buy something established and keep just for the monthly income generated.
4. Buy an established domain, improve and boost the income, and retain ownership.
5. Create something new and sell for profit immediately.
6. Create a new virtual product or service, develop and sell after some time.
7. Create something new, develop and retain ownership for the constant income generated.
8. Partner with another investor or investors and flip domains.
9. Set up a partnership, make a purchase or purchases and split the monthly income.
Digital Real Estate for Beginners
When it comes to digital real estate investing for beginners, the following are the best and most popular options:
Creative or Intellectual Property
Did you know that there are thousands of creative people making thousands of dollars every day by posting their work or content on the internet?
Bloggers, vloggers, social media influencers, crafters, artists, inventors and other creative minds make a lot of money online with their creative and unique spin on digital real estate.
Just build a following and you can earn a ton of advertising or affiliate income! Sponsored content can also earn big money, as well as product sales.
If you are an expert on a particular topic, interested in a particular niche market or just master the art of creating online content with SEO in mind, you can even flip niche blogs and sites.
The financial possibilities are endless and there is no cap on the profit that you can churn out.
E-Commerce Stores
There are millions of sellers on Amazon world wide, each one owning a portion of virtual real estate in the form of their particular e-commerce shop.
Online forums such as eBay, Etsy and Shopify make digital real estate investing, by owning an e-Commerce store, totally simple.
From selling Chinese white label products on Amazon, under your own brand name, selling personalized products on Etsy, drop-shipping with Shopify or flipping used goods on eBay…there's a piece of online real estate for everyone!
Obviously you can take it even further and set up your own online store to sell actual products or services. In this case, you can possibly earn advertising as well as sales income, depending on how you set up and manage your site.
Similarly to a brick and mortar business, your website as well as your products would have an evaluated sellable value. Therefore, your digital assets can be sold off for profit if you wish.
Websites
Buying and selling websites, creating websites for sale, as well as using them for their advertising income, is another very common form of digital real estate investment.
You can purchase boring, poorly managed, "expired" domains and flip them for profit.
You can even develop some technical skills and build your own websites for sale.
Just be sure to understand that domains that end with ".com" are the ones in highest demand and generally more valuable than the ones that end with ".org" and ".net".
Apps
Smart device apps are a digital real estate investing goldmine! In addition to the potential initial sales value for paid downloads, they also offer a platform for advertising income as well as "in-app" purchases.
Therefore you get, affiliate income, sales income, advertising revenue and you may even get the opportunity to use it for sponsored content. The possibilities are endless!
Not to mention the fact that once your app gains popularity and income grows, it's sale value also increases. So selling the rites to the app for a ridiculous amount of money is also a possibility.
If you are not tech oriented enough to develop your own app, you can use your idea to partner with a developer to have this done.
What is Metaverse Real Estate?
Metaverse real estate are virtual assets on the metaverse, which is the next generation of the internet. This emerging concept includes: virtual parcels, digital currency (crypto) and non-fungible tokens (NFTs).
The metaverse is a virtual, 3D universe where persons can exist, interact and conduct transactions online. There are multiple virtual spaces, or worlds, but only one metaverse.
Digital real estate on the metaverse is typically some form of NFT, in a stipulated virtual space or world.
NFTs are unique cryptographic assets that are stored on a database and they cannot be duplicated. Therefore, you can purchase and it would be officially assigned to you, just like physical property.
Virtual worlds such as Decentraland, The Sandbox and Axie Infinity, create plots, properties, entertainment venues and virtual events, similar to real world real estate.
They are available for purchasing and investing as metaverse real estate.
Prices for metaverse real estate vary based on supply and demand just like physical real estate. Bidding wars can even drive prices up.
Metaverse real estate is an up and coming concept and the future of digital real estate!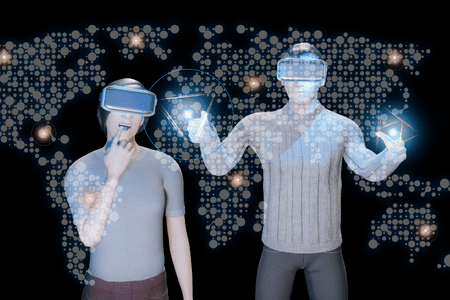 Advantages of Digital Real Estate vs Conventional Real Estate
1. Value Increases Quickly
It is not uncommon for digital asset values to multiply five times over in a year!
That's an astonishing rate and makes investing in digital real estate very profitable. Keep in mind that physical real estate values appreciate by just a few percent annually.
2. Easier to Maintain
A computer or smart device is all you need to maintain and monitor your virtual real estate investment!
There are no plumbing issues, floods, natural disasters or wear and tear to worry about! The maintenance overheads are way lower for virtual assets!
3. Easier to Manage
You don't need to physically post ads, set up signs, physical billboards or hunt for tenants. Everything is online!
4. Relatively unaffected by seasonal trends
The holidays, snow, hail, time of the year or extreme weather patterns are hardly likely to affect the value of your digital property.
This is unlike vacation rentals or properties that specialize in outdoor activities.
5. Unaffected by Economic Crisis
Digital real estate values are unlikely to be severely impacted by recessions or economic crisis, as opposed to physical property whose values pivot upon the concept of supply and demand.
6. Higher profit margins than traditional real estate
Just due to the fact that the value of digital real estate sky rockets over time and they are super low maintenance, the profit margins are amazing.
You can flip virtual assets and make a ton of money!
7. Valuation of physical property is more risky that digital assets
There are a host of factors that need to be considered when valuating physical property. Market trends, location, supply and demand, the property's physical condition and the list goes on.
A digital asset is valuated mainly on it's current profit yielding potential. It makes a certain amount of money per month, and you negotiate a sale value based on that. Easy as pie!
8. Less Competition for Digital Real Estate
The internet is huge, with the entire world having access. This makes whatever you are selling or renting accessible to billions of people, as compared to physical real estate which is limited to a particular location.
Disadvantages of Digital Real Estate
1. Volatility
Nobody knows what the future holds and what the internet would look like years from now. It is difficult to predict the long term value of digital real estate.
Discussing digital real estate in the future, with the rise of the metaverse, is like talking about the internet 50 years ago. It's just hard to understand or predict.
2. Uncertainty
We are all aware of the rise in popularity of new concepts such as cryptocurrency and NFTs. Are these just fads that will soon be phased out. Nobody knows.
Cryptocurrency is also very unstable and it's difficult to predict values and how they would behave over time.
Also, are all governments going to accept these NFT and crypto related ideas? Many governments around the world currently don't recognize them as being legitimate.
Will taxes taxes be imposed and what rate? Afterall, if they are considered assets…assets are taxable!
Tips for Investing in Digital Real Estate for Beginners
1. Promoting or Digital Marketing
Be sure to promote your website, app, content or brand via multiple channels. Utilize social media and other means of advertising to get the word out!
2. Technical Education
Even though you don't need to be a tech guru to succeed with digital real estate investing, it definitely helps to know some stuff.
Having some knowledge on how programming language and code works will always be an asset!
Knowing your way around certain software applications or at least being comfortable enough to learn as you go along would get you very far.
3. Search Engine Optimization (SEO)
SEO is probably the biggest key to your success in digital real estate! Invest time and effort into understanding this and you'd get to reach your target audience.
At the end of the day, people utilize search engines to help them find solutions to their issues and to navigate them to what they want.
You want your target audience to find you! Knowing SEO is critical!
4. Create a Product that People Want
Don't waste your time and efforts building digital property angled at a very small portion of people. You want something that sells and a lot of persons are interested in!
5. Know Your Competition
Ideally, you'd like to create or develop something unique. However, the internet is big so you should still be able to turn a profit, even though there may be similar digital products out there.
Knowing your competition, plus SEO knowledge, will get you the financial success you desire!
6. Be Patient
Success doesn't happen over night. Be confident and keep working on building your digital real estate empire, while being patient.
With hard work and the right approach, you would be successful in time.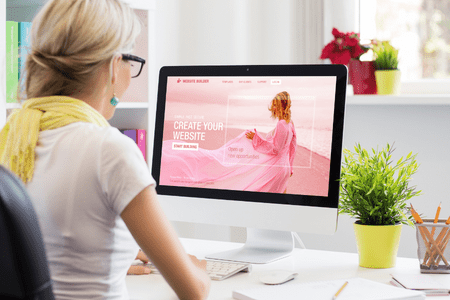 Frequently Asked Questions for What is Digital Real Estate
FAQ: How to buy digital real estate?
Buying digital real estate is as simple as setting up a website and monetizing it!
You can check out Bluehost to purchase a domain and to get started with your virtual plot of land for building a website, blog or online store!
For buying metaverse digital real estate, you can check out: Decentraland, The Sandbox and Axie Infinity.
FAQ: Is Digital Real Estate Legit?
Digital real estate is completely legit! You can chose to invest in established digital real estate options like: websites, apps, intellectual property online, e-commerce stores, or even up and coming and more volatile concepts like NFTs and metaverse real estate.
FAQ: Is Digital Real Estate Investing Profitable?
Digital real estate investing is a very profitable 21st century business model. Just like physical real estate, there are some areas such as NFTs that may be highly profitable but risky, and other safer and established options like apps and websites.
Investing in a website or an app can bring in a steady 6 figure income over time.
FAQ: What is a digital property?
Digital property are virtual assets or online property. They can be in the form of websites, apps, social accounts, online stores, NFTs and metaverse real estate.
FAQ: How do I buy digital land?
If you are interested in purchasing a parcel of digital land, you can check out Decentraland, The Sandbox and Axie Infinity. These virtual worlds on the metaverse offer digital plots and property for sale.
You can checkout Bluehost if interested in purchasing digital land, for hosting services and setting up a website.
FAQ: How do I invest in the metaverse?
Investing in the metaverse can be as simple as creating apps and websites, which are familiar concepts, or getting metaverse specific with purchasing virtual property, digital currency and NFTs.
The most popular metaverse worlds for investing in real estate are: Decentraland, The Sandbox and Axie Infinity.
FAQ: How do digital assets make money?
Digital assets make money by: the asset value increasing over time, rental income in the form of ads and subscriptions, or from affiliate income and sponsorships.
FAQ: What is the cheapest digital real estate?
The cheapest digital real estate is a social media account. You can set this up for free and use it to earn money from sponsorships and ads.
You can also purchase a domain for a few dollars and set up a website or blog.
FAQ: What is the easiest form of real estate?
The easiest form of real estate is digital real estate. It is way easier to start up, monetize and manage than conventional, physical real estate!
FAQ: What is the best real estate to start with?
The best real estate to start with is digital real estate in the form of a social media account!
Set up this platform for free and use it to grow your following, reputation and to start earning income.
You can also use it to drive more complexed digital real estate ventures later on.
FAQ: Can you make money with digital real estate?
You can definitely make money with digital real estate. It is easy to set up, manage and with minimal technical knowledge you can build a steady 6 figure income.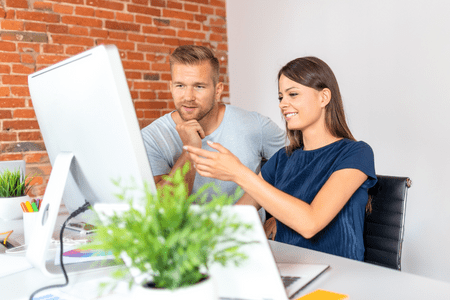 FAQ: Is digital real estate worth it?
Investing in digital real estate is worth it and 100% profitable. You can decide on how much money and time you'd like to invest and pick from several options to start earning decent money.
Depending on your approach and efforts, there is a lot of money to be made!
FAQ: Is virtual real estate investing legit?
Virtual real estate investing is completely legit! The emerging trend is metaverse real estate and it is already a trillion dollar industry.
However, you can stick with investing in more established and less volatile options like websites, social accounts and apps. These form a multi-trillion dollar industry.
FAQ: What is a digital real estate business?
A digital real estate business is any virtual business or money making venture that is based online.
Websites, smart device apps, online creative or intellectual profiles, e-commerce stores, metaverse worlds that deal in NFTs and other digital real estate, are all examples of digital real estate businesses.
Related Posts to What is Digital Real Estate
How to Flip Money (Turn $100 into $1000!)
30+ Online Focus Groups for Extra Cash (Earn $1200+)
5 Legit Cash App Flips that will Make you Extra Cash
Final Thoughts on Digital Real Estate Investing
Now you have a complete understanding of what is digital real estate, as well as an appreciation for digital real estate investing. I'm sure that it's way simpler than you initially thought!
Anyone can acquire a domain and use that space to generate income! Established digital real estate investing is too easy to pass up and the money making opportunities are endless.
You can even dive in and invest in a portion of the metaverse, if that excites you!
Do you have any other tips for digital real estate investing? Share with us in the comments below. We'd love to hear from you!
Don't forget to follow us on Pinterest, Instagram and Facebook for more money making tips and side hustle inspiration!
Liked this Post? Pin It!
What is Digital Real Estate & Digital Real Estate Investing?